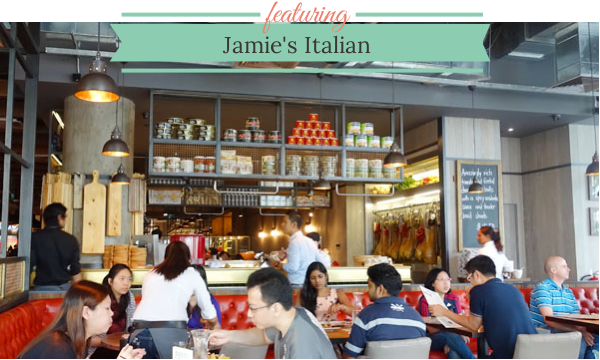 It's funny, the power a new restaurant can have in Singapore. Actually, more like the power food has in Singapore.
When Jamie's Italian first opened at Vivocity a few months ago in July 2013, it was MADNESS. I was kinda amazed (mostly freaked out) and the psychotic rush to eat there. The restaurant boasted that they were booked-out for months (!) and the queue outside made me wonder if food was being served for free.
But last week, 3 months after they opened, Chris and I walked straight in at dinner time on a weekday. The restaurant was about 70% full. No queue.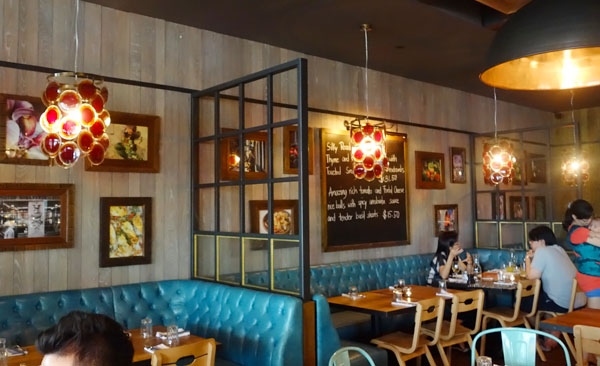 What surprised us were the number of children dining at the restaurant. 2 out of every 3 tables had kids there. Being a "celebrity chef restaurant", I'd expected it to be relatively unpopular with families, but I was wrong. It's VERY popular with the kids!
The restaurant obviously knows this, and caters well for the children. The kids menu is presented in a Viewfinder toy.
I'll repeat myself.
THE KIDS MENU IS PRESENTED IN A VIEWFINDER TOY.
How cute is that?!?! Obviously this interests only older kids (Carter was only interested in trying to eat it), but it is a super cute concept and, to be honest, the kids menu photos looked really really enticing.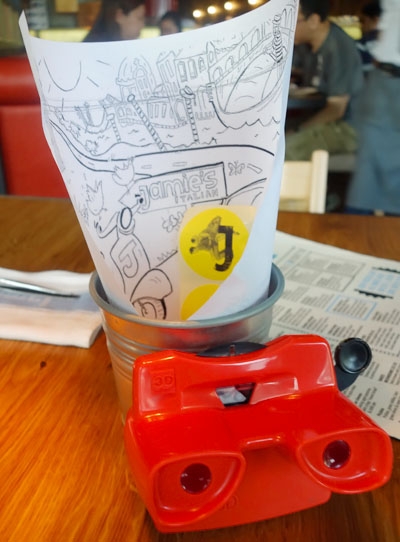 We got the Crispy squid ($11.50) which came in such a tiny portion I thought the empty half of the plate was empty because a waiter had accidently tipped half the food out. Unfortunately, that really was the size of the dish. That said, the squid was fried to perfection. The squid was tender and easy to chew (I cannot stand rubbery squid), and the batter was delicious crisp and the seasoning was so tasty. A lovely little snack.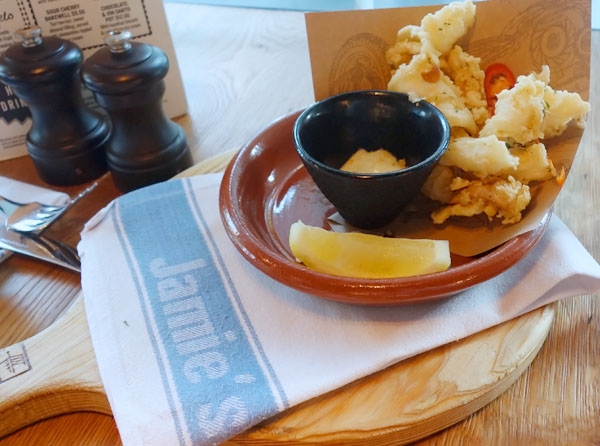 The Crispy stuffed risotto balls ($11.50) were more filling, but I thought something in the crispy exterior made the whole thing taste…. raw. Almost like crispy uncooked rice, or something like that. There was very little flavour in the rice and exterior crust, so it relied solely on the stuffing to bring out the flavour, which wasn't sufficent. Fortunately, it came with a small saucer of salsa which was a refreshing change of taste.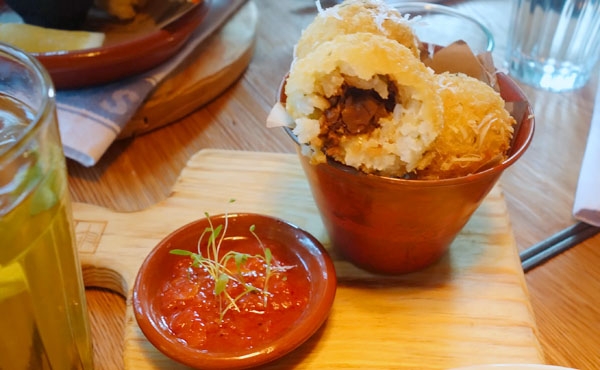 I'd heard complaints that their pasta portions were tiny, so I was a bit wary when we ordered the Jools' Favourite Silician Tuna Fusili ($21). This was the larger size, you can opt for a smaller size at a cheaper price. It definitely wasn't a large serving, but it wasn't teeny tiny either. Sufficient for an average eater, if you order an appetizer or a dessert as well.
The pasta was well-cooked, and I liked the chunks of tuna tossed through the dish. The breadcrumbs were a nice addition and brought texture to the dish. I enjoyed the tomatoes and garlic in the sauce, which wasn't overpowering but blended well with the flavour of the tuna.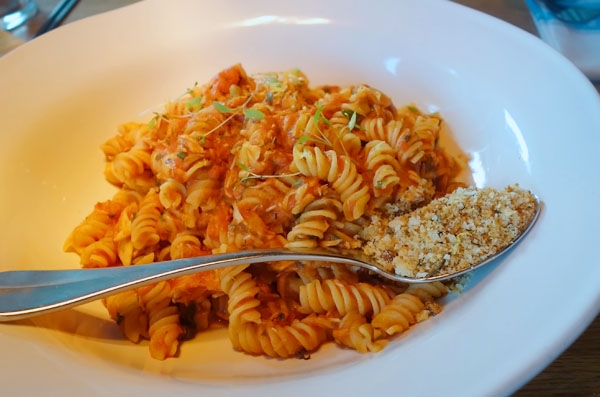 We were undecided about my Basil Iced Tea. I was alright with it, but Chris said something about the flavours just didn't agree. That said, it was pretty 🙂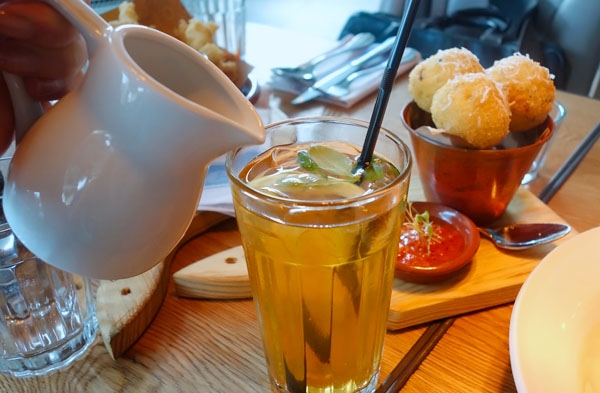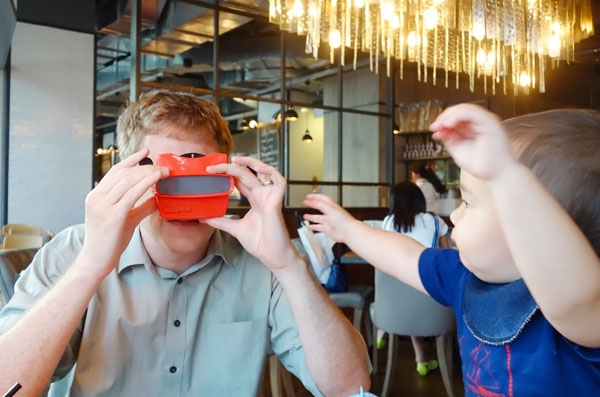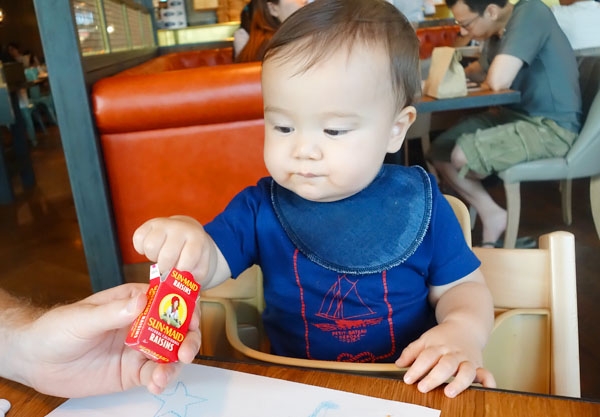 Last Bite: Jamie's Italian is a must for all Jamie Oliver fans. The ambience is casual, it's popular with families, and food is small-portioned but does hit the spot.

Highchairs: Yes
Easy access: Yes
Change tables: Yes (in the mall)
Kids' menu: Yes
Jamie's Italian
Vivocity
1 Harbourfront Walk
Singapore 098585
Phone: 6733 5500
Prices: $$$
Hours:
Mon – Thu: 12:00 pm – 10:00 pm, Fri – Sat: 12:00 pm – 11:00 pm, Sun: 12:00 pm – 10:00 pm