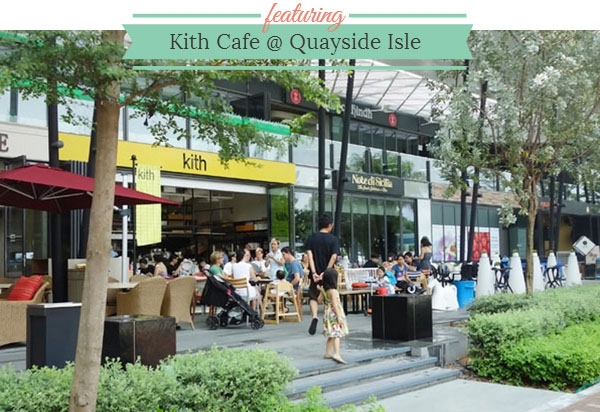 I'm already a big fan of Kith Cafe at Robertson Quay. However, that one now seems like a dinky little cafe compared to their gigantic new one located at Quayside Isle in Sentosa.
Quayside Isle is an area that's been newly developed, and boasts top notch restaurants. Kith is one of them. I've been on a weekday AND a weekend, and it is the one and only cafe there that is packed to the brim. That speaks for itself.
Kith deserve the crowd, because their location is gorgeous (it overlooks the harbour and yachts), the food is top notch, and the service is impeccable.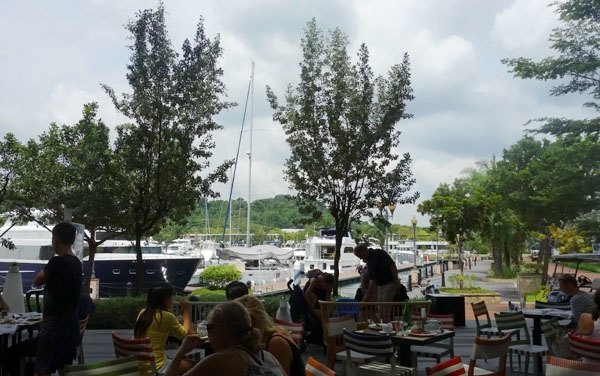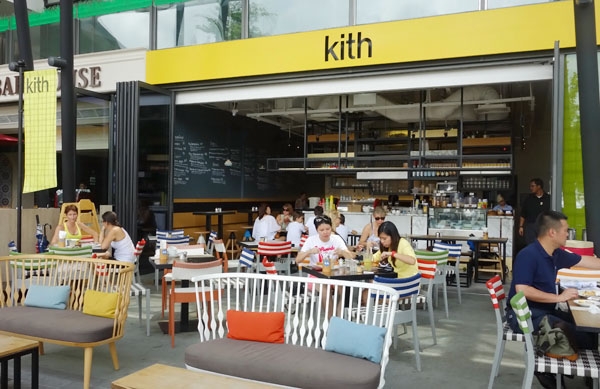 We liked the outside play area, that offers plastic animals for kids to climb/push/crawl over, as well as the boardwalk that's huge and largely empty. It's FANTASTIC for kids to scooter and bicycle up and down! Excellent way to wear off their energy before sitting down for a meal.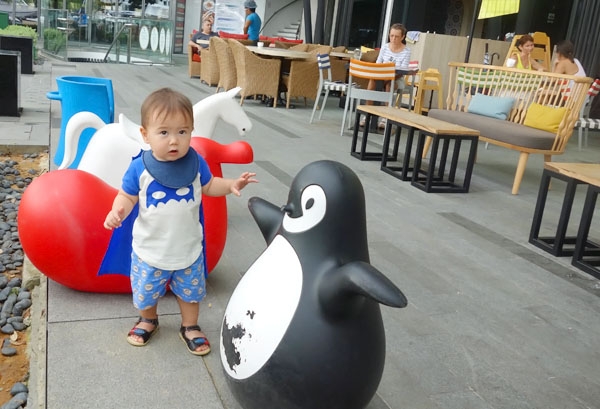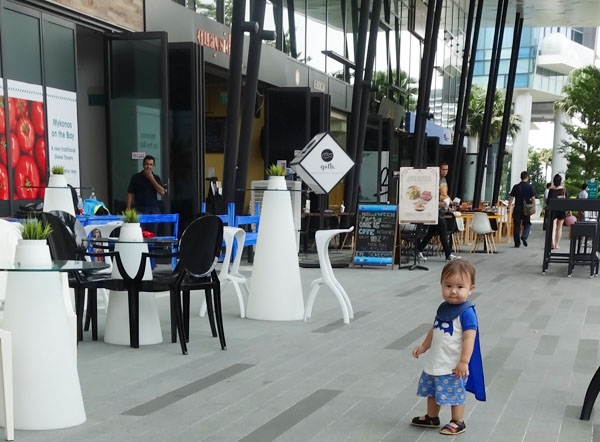 My Iced Latte was lovely. It was strong enough – I abhor iced coffees that are too heavy on the ice and too weak on coffee.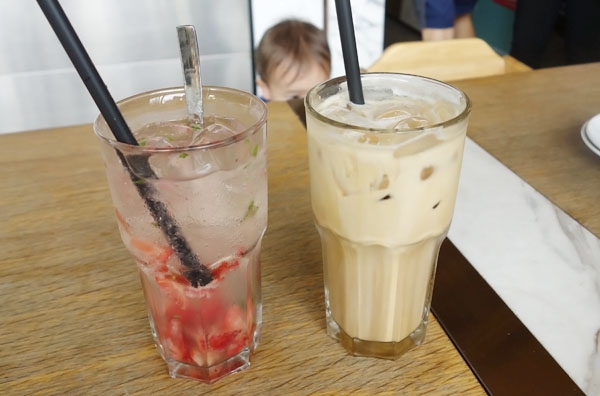 Did I mention that their service is great? They are so patient with kids! Even kinda crazy ones like mine……………
Carter was determined to take every fruit out of their fruit bin (argh), and they patiently took back each piece of fruit and popped it back in.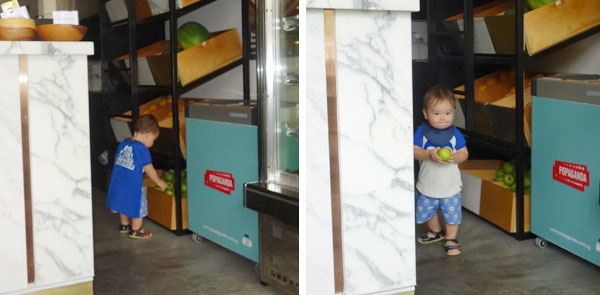 And I know this sounds silly, but I was so impressed with their kids cutlery! It's not the standard Ikea stuff, but really good quality plastic ware. The fork and spoon were also the perfect size for toddlers, and I loved the vibrant colours!
And see that little yellow train thing behind the plate? They whipped it out for Carter to play with at the table. A small but nice gesture.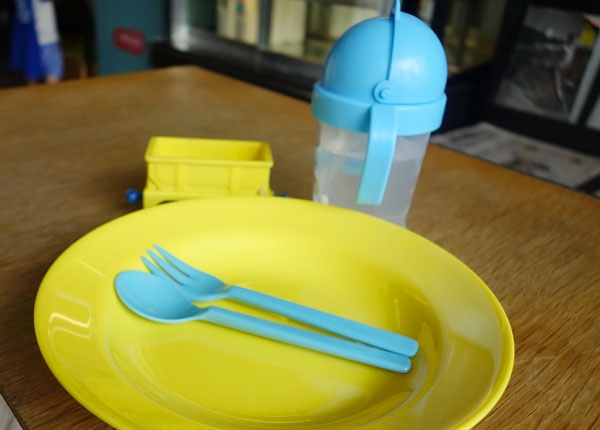 I was really eager for the Pork Belly fried eggs ($20), which sounded so good. I never turn down pork belly when I spot it on a menu – it would be criminal to.
The bread was served in two large pieces, with two fried eggs on top. The scattering of pomegranate was redundant and we quickly picked it all off. I enjoyed the grilled tomatoes which were cooked perfectly.
However… the pork belly did not impress! It was a large slab (thumbs up), but was slightly on the tough side, and quite dry. I'd envisioned a very moist, tender, and succulent pork belly. This was the exact opposite. It wasn't inedible, but it definitely had a bite to it and didn't pair well with the rest of the dish.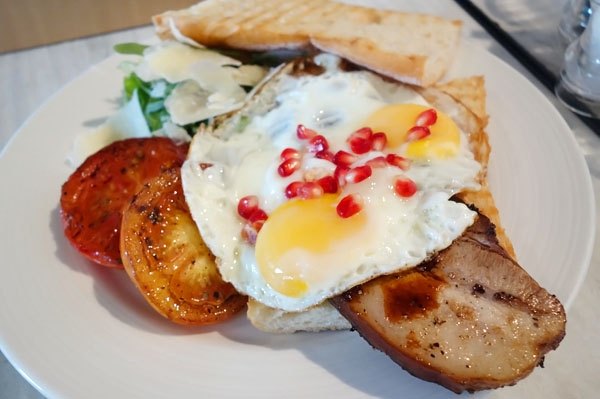 Things picked up considerably with their impressive Big breakfast ($17). Incredible value for money, this arrived on a tray (!) and boasted a FAT slice of brioche, creamy scrambled eggs, a delicious smoked bratwurst, grilled tomato, beans and spinach.
I was a bit silly and didn't notice that the baked beans are labelled as "spicy tomato beans" on the menu, and we fed Carter a big mouthful of it. Little did we know there were big flecks of chilli pieces in the beans!!! His eyes watered, his tongue slobbered out, and he wailed miserably!! We felt so bad, seeing his tomato-red face 🙁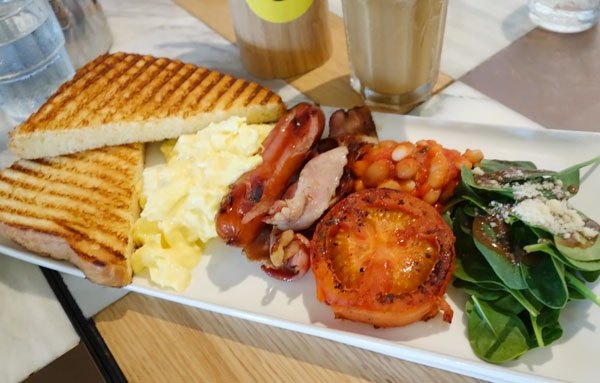 The pastas that we ordered at Kith were more expensive than the breakfast items, but were a lot smaller. The portion size is petite, perhaps enough for a young lady but not enough for a big man (or a lady with a hefty appetite, not pointing fingers here..).
The Granchio – spinach pasta, crab meat, tomato, vodka, cream ($24)  was a stunner. Tender slippery strands of spinach-infused pasta, coated with a creamy but light sauce and studded with tons of crab meat. The kids loved this! I think Carter ate half the plate…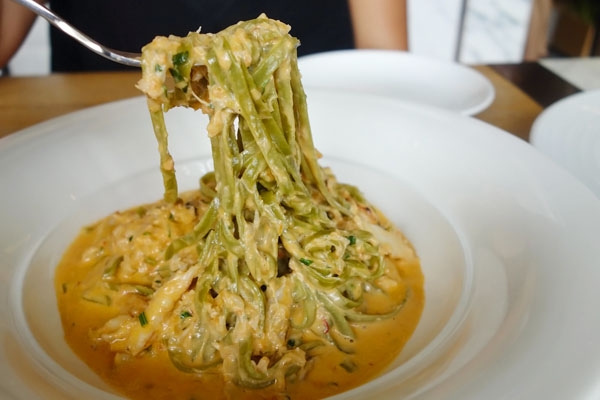 I particularly liked the Fagotoni – sweet pear filled ravioli, gorgonzola cheese, cream, parmesan cheese ($22) because it was so…. different. The pasta really was sweet from the pear, and the saltiness of the gorgonzola cheese sauce really sparked a tingling contrast. It was flat out DELICIOUS.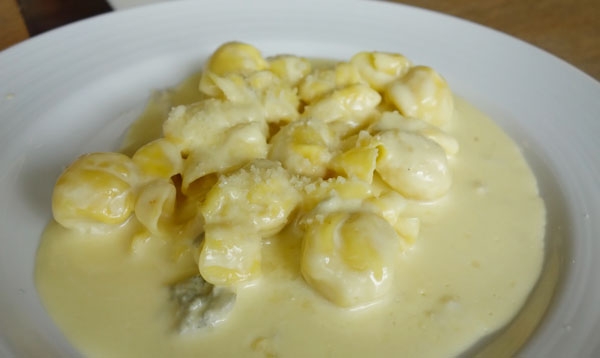 Carter decided mid-meal that he'd had enough of sitting in the high chair, and so started fussing and wailing in a rather annoying manner. Thankfully, we were outdoors and so didn't disturb other diners too much. I think.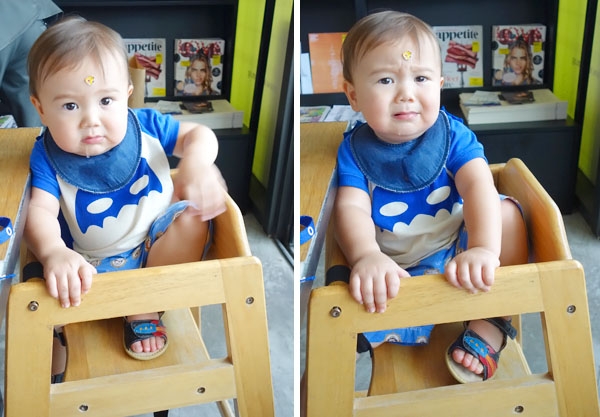 He was mildly appeased by a 50c cup of kiddie biscuits.
Until he gobbled them all up in about 5 seconds.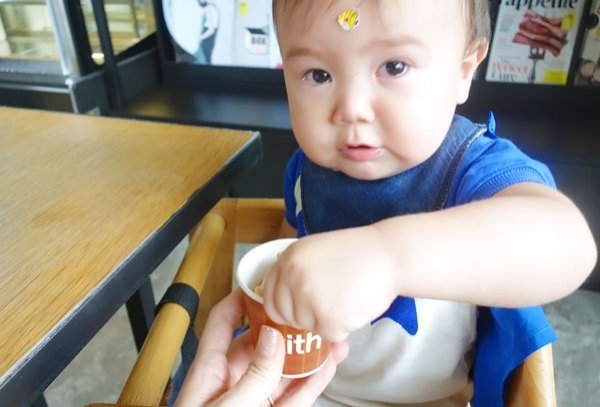 Fortunately, the cafe is designed such that I could keep an eye on him whilst I finished off my meal and coffee. So he just pottered around, amusing himself. His little friend was OK sitting in the high chair the whole time, so at least we didn't have TWO crazy kids running around!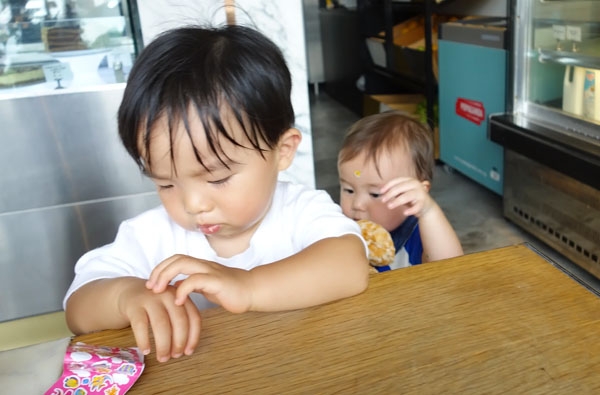 Last Bite: Kith cafe @ Quayside Isle is the place to go for brunch-with-a-view. Food is excellent, and their coffee and milkshakes are delicious. The boardwalk just outside is a sure hit with kids that like to scooter or bicycle!

Highchairs: Yes
Easy access: Yes
Change tables: No
Kids' menu: No
Kith @ Quayside Isle
Quayside Isle #01-08
Sentosa Cove
31 Ocean Road
Phone: 6734 9007
Prices: $$$
Hours: Daily 8:00 am – 10:00 pm