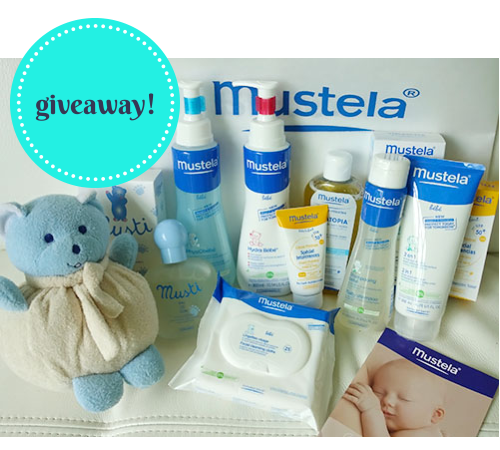 Hope you've been having a fabulous week! If not, it's Friday night anyway, and you know what that means – HELLLOOOOOOO WEEKEND 😀
This Friday, we have a very famous brand all the way from France: Mustela!
Mustela really needs no introduction. Skincare experts for babies and mums-to-be since 1950, their huge range caters for delicate skin with their natural formulas. Their new Rebirth! launch of the Bébé range focuses on Avocado Perseose which works to preserve your baby's skin.
Mustela are generously offering THREE winners any Mustela product of your choice + facial wipes!
a Brunch With My Baby giveaway

You can submit some of the entries more than once a day, so come back tomorrow to get more entries in the draw.
Giveaway will run from 24 Oct to 31 Oct 2013 inclusive.
Winner may select and pick up their prize at the Mustela headquarters in Singapore.


My kids and I are heavy users of Mustela products. You'll often find a bottle (or three) of their stuff lying around in the bathroom or the childrens' bedroom.
In fact, I ended up 'representing' my favourite Mustela product in a couple of magazine ads this month. It was a feature on the Mustela launch that I attended, and had a section where I had the honour of appearing next to a few other mums (some of them are personal friends too, yay!). Click the pic below to see the full-size copy.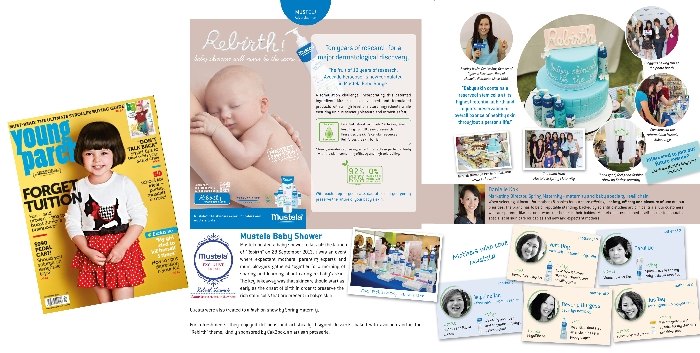 Here's some of the Mustela goodies I tried recently…..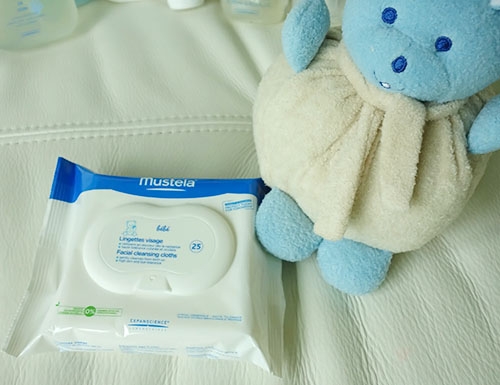 The Mustela facial cleansing cloth wipes (these are the ones included in the giveaway above) are more expensive than generic brands, but if you try one, you'll see why. They are thicker, more plush, and feel superior. Huge props for the plastic clip-lid – I cannot stand brands that offer a sticker to keep it shut. It's completely useless since it loses the stickiness so quickly! On the downside, since these are more expensive, I tend to make sure my kids are reaaaallllyyyy messy before whipping one out 😉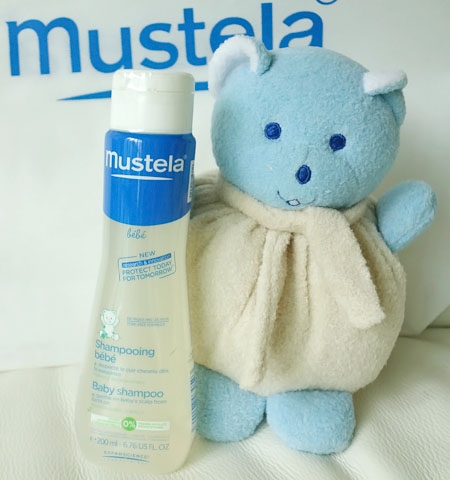 I'm a fan of the Mustela baby shampoo. It's very mild with a subtle scent, and foams up well. The kids haven't kicked up a fuss with it, so I guess they're all good with it! It makes their fine baby hair really soft afterwards. No need for conditioner.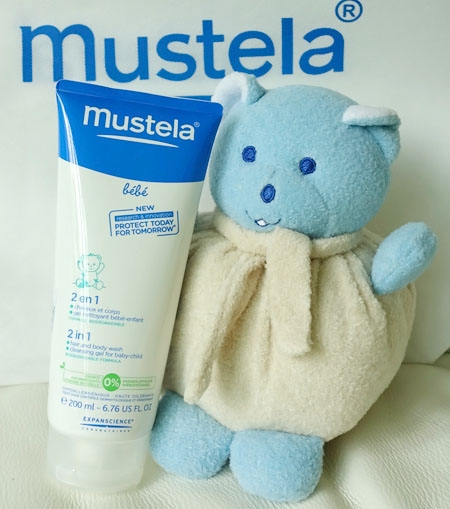 For those of you that don't like too many products in the bathroom, or if you're travelling, the Mustela 2-in-1 Hair and Body Wash works really well. Just one tube and you're done from head to toe! Kids are squeaky clean and smelling great, but this formula doesn't dry out their hair or skin.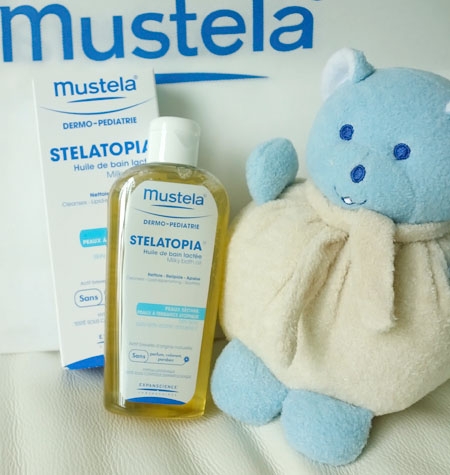 Ahhh.. this Mustela Stelatopia Milky Bath Oil is Hunter's favourite. He will always ask for this at bathtime, every night. The word "oil" sounds a bit freaky (just sounds messy to me!) but it transforms into a soft milky formula in the bath, and doesn't leave my tub oily and slick. It does make the kids' skin really soft though.. obviously so. And it has no scent, which is great for sensitive skin.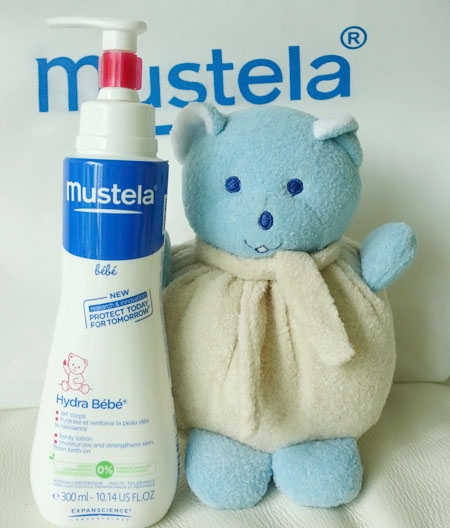 I've been through maybe 4 bottles of this Mustela Body Lotion. It's one of my staples because it's easy to use (the pump is a great idea!) and the lotion absorbs quickly and easily with little-to-no scent. It's really nice for adults to use too, if you feel like a bit of pampering. I often steal some of this to use as a face lotion on myself.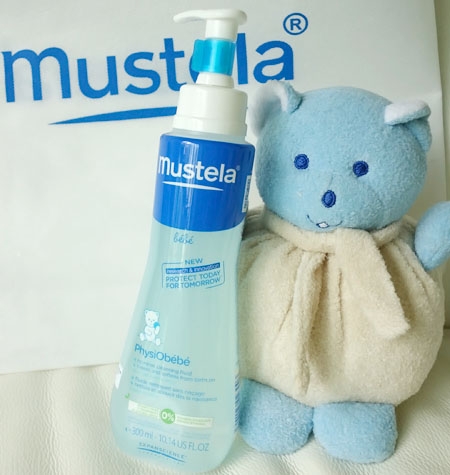 Ahhh… the Mustela PhysiObébé. I don't think I could've survived without this back when Hunter was born in China. I was afraid of using tap water (it's unsafe to drink) on his face or diaper area.. and this no-rinse cleansing fluid worked SO well as the last step when changing poopy diapers I didn't like using just wet wipes as I felt they left a (potentially irritating) residue, so I used cotton pads dampened with PhysiObébé and cleaned him up. I used it on Carter too when he was a newborn, and continue using it to this day to clean Carter's bum after a poo. My favourite product. LOVE it!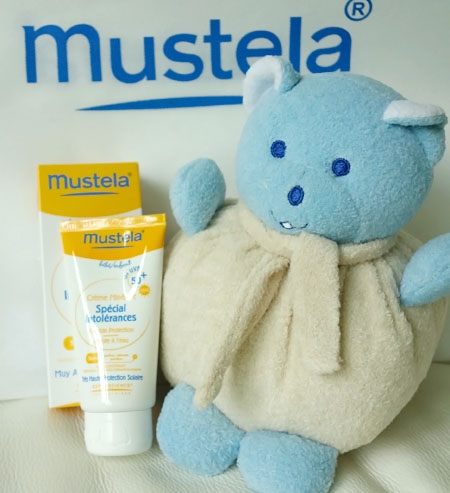 Since my kids are half-Aussie, suncare is pretty critical in our swimming routine. The Mustela Special Intolerances SPF50+ Suncream is our favourite so far. The tube is small and portable, it's a mineral sunscreen with a high SPF, and it protects the kids really well. I steal some for my face 🙂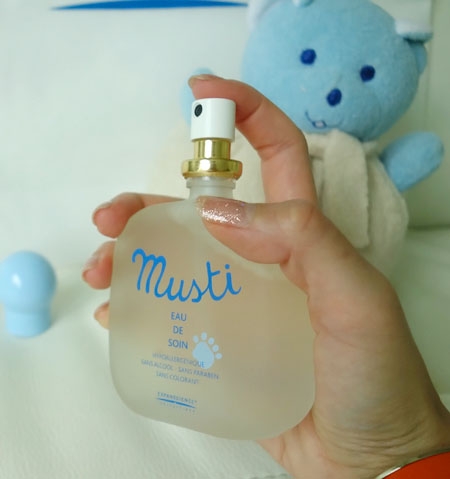 And this Mustela Musti Eau de Soin is something that's mine. ALL MINE!!!! Lots of parents have fallen in love with Mustela's signature fragrance (though they have a line that is fragrance-free if you prefer that), and this spray caters exactly for that. It's Mustela's signature fragrance… that I can use 🙂 It's alcohol-free, very light on the skin, and has a beautiful fragrance that reminds me of sunshine in a field of daisies. This has kickass reviews online, and I can see why. I've been using it daily as my fragrance.
Mustela products are available at: Takashimaya, Robinsons, OG, Kiddy Palace, selected Spring Maternity, Mums & Babes, Motherswork, selected Watsons and Guardian.
Thank you Mustela!!