Treetops Adventure St Ives
Soar to new heights on the rope courses and ziplines at Treetops Adventure St Ives, located at the St Ives Showground on the southern border of Ku-ring-gai National Park, Sydney.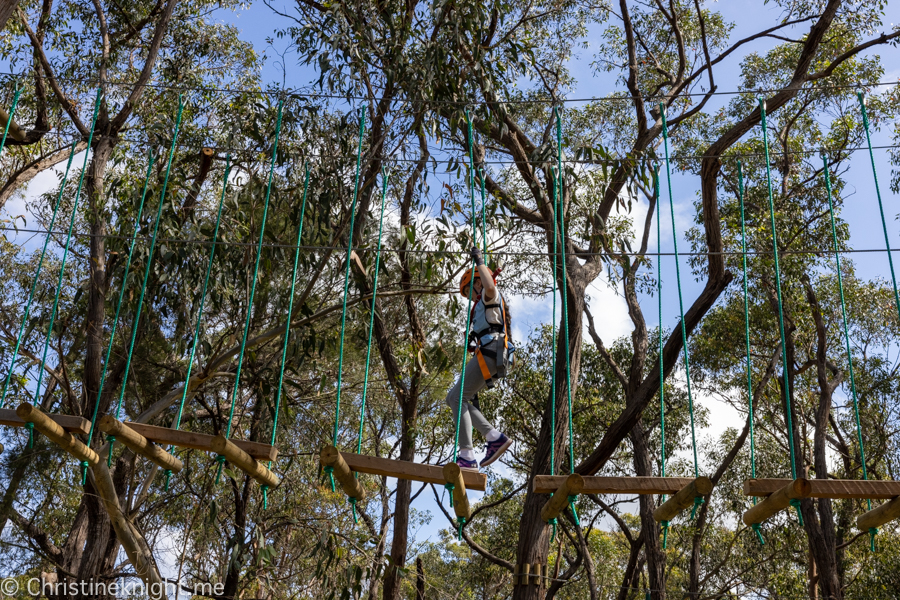 The newest in the Treetops Adventure parks, St Ives Tree Ropes Course Park boasts 95+ aerial obstacles and 10+ ziplines which can be experienced on their 8 tree ropes courses. Courses start at 1m for the littlest climbers, up to 15 metres for older kids and adults.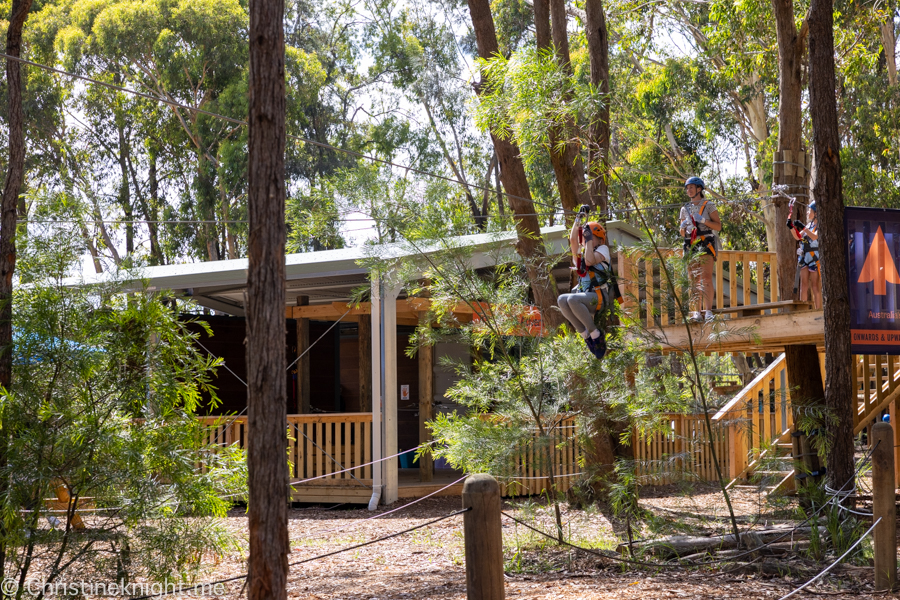 Each climbing session at Treetops Adventure St Ives goes for 2.5 hours, which includes gearing up and a safety talk.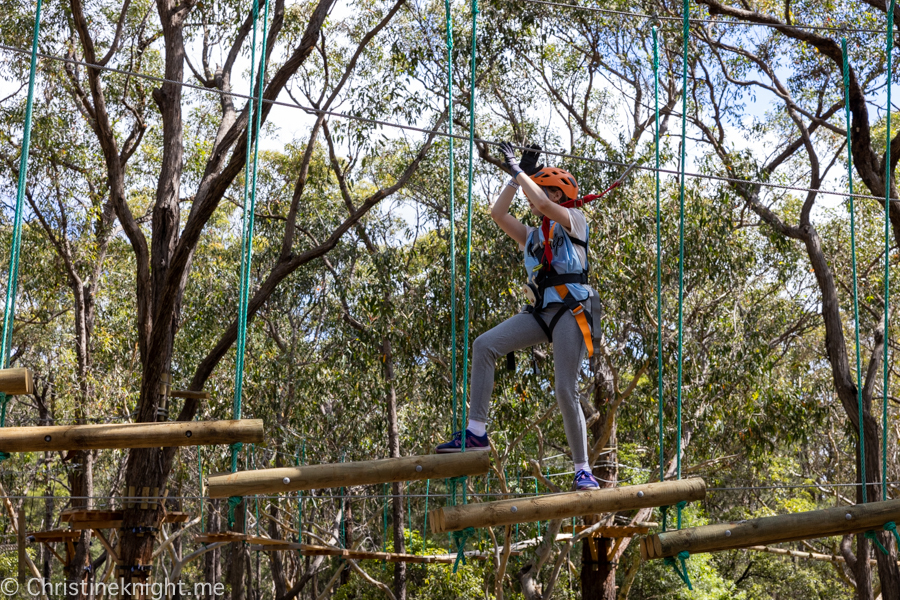 The climbing sessions run somewhat differently now at all of the Treetops Adventures parks, regarding children who can climb alone and those who need an adult to climb with them as a course supervisor.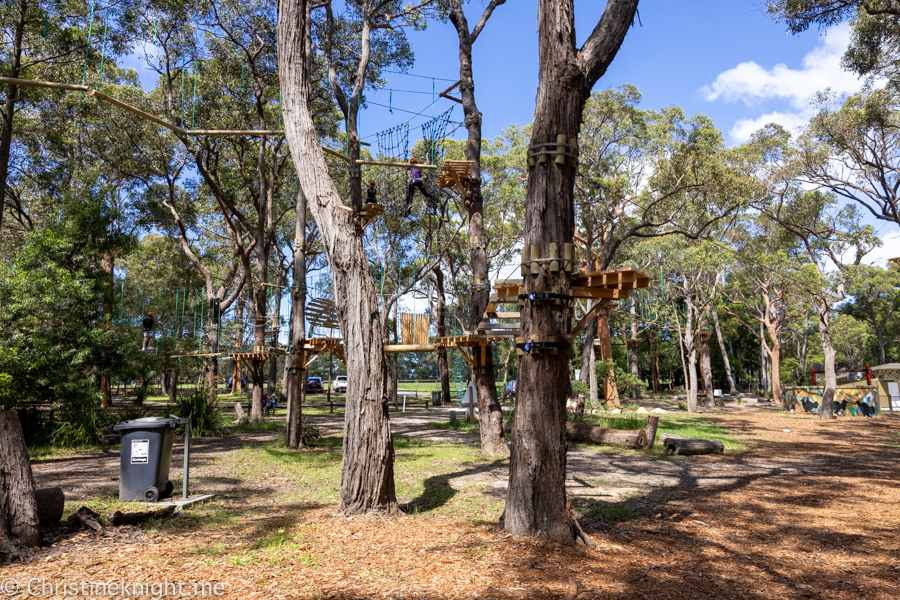 Tickets are required for grown-ups who will be climbing as course supervisors. Tickets are not required for ground supervisors. See below for details on the age groups, courses and adult supervision required.
Juniors (3-7)
No Grown-Up access on Junior & Junior Pro courses
1 Adult : 4 Juniors
Ground supervision only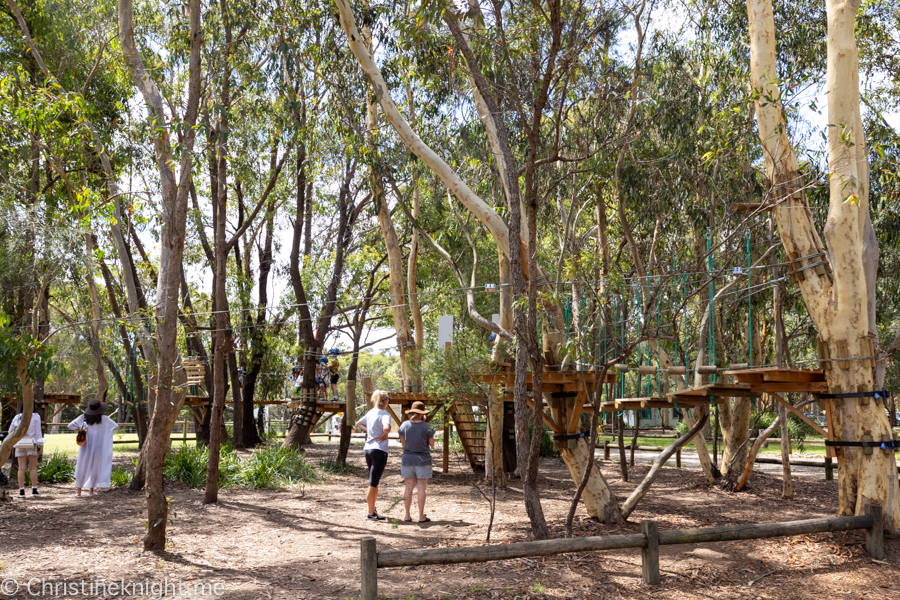 Child (8-12 yrs)
1 Adult : 4 Children
Course supervision required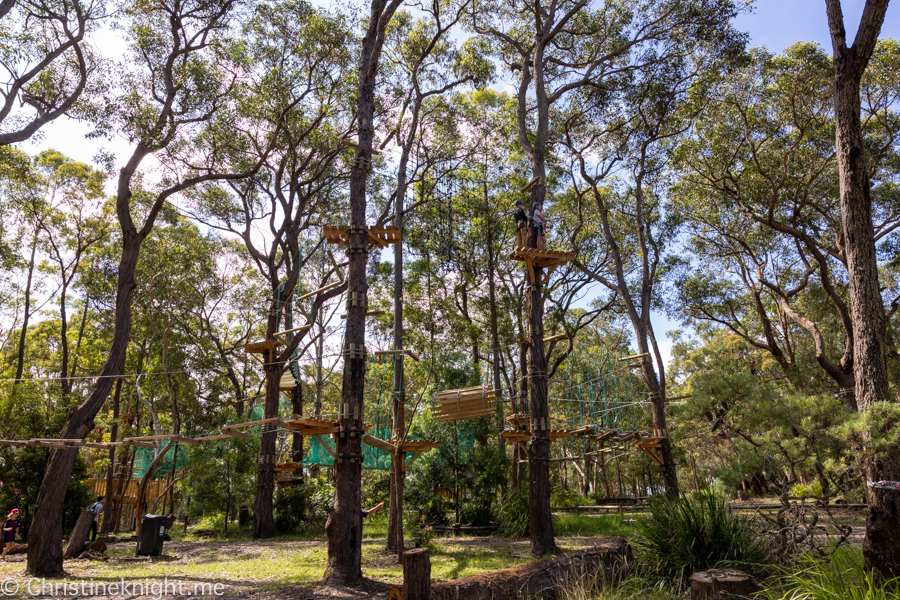 Child (13-17 yrs)
1 Adult : 15 Children
Ground supervision only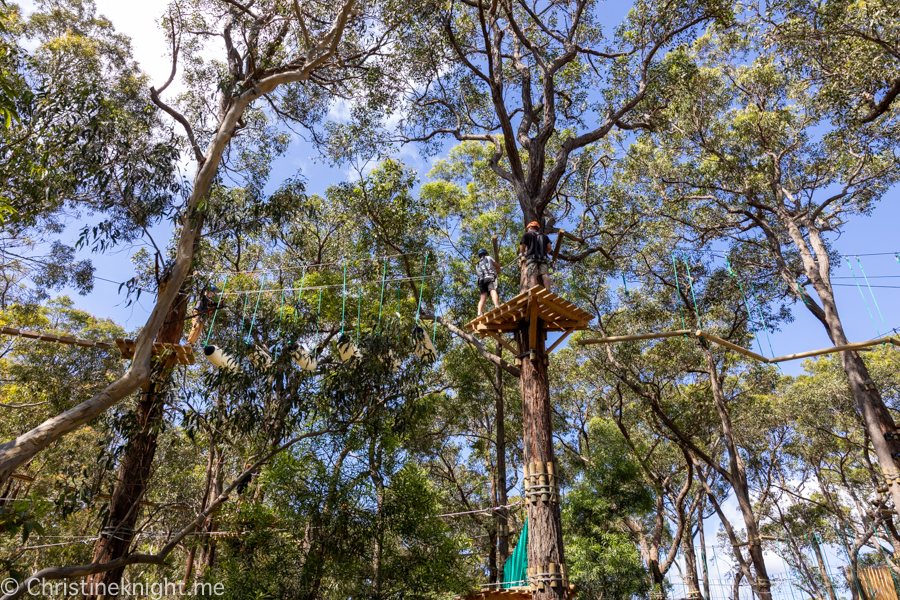 Courses available for each age group
JUNIOR
3-7 YRS
2 courses
BEGINNER
8+ YRS
2 courses
INTERMEDIATE
8+ YRS
2 courses
ADVANCED
10+ YRS
1 course
EXPERT
13+ YRS
1 course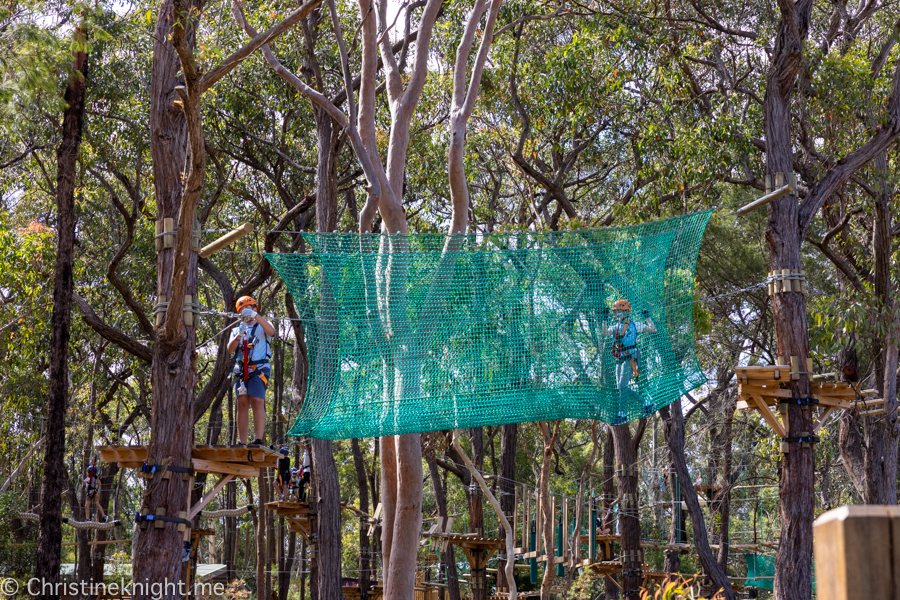 What to wear
Secure, enclosed shoes (such as sneakers) are required. Treetops recommends wearing appropriate clothing, suitable for both the harness and physical activity. They do not recommend crop-tops, shorts and skirts that can ride up when worn with the harness. Long hair must be tied back. Gloves are provided but you're welcome to bring your own gloves or purchase your own pair at check-in.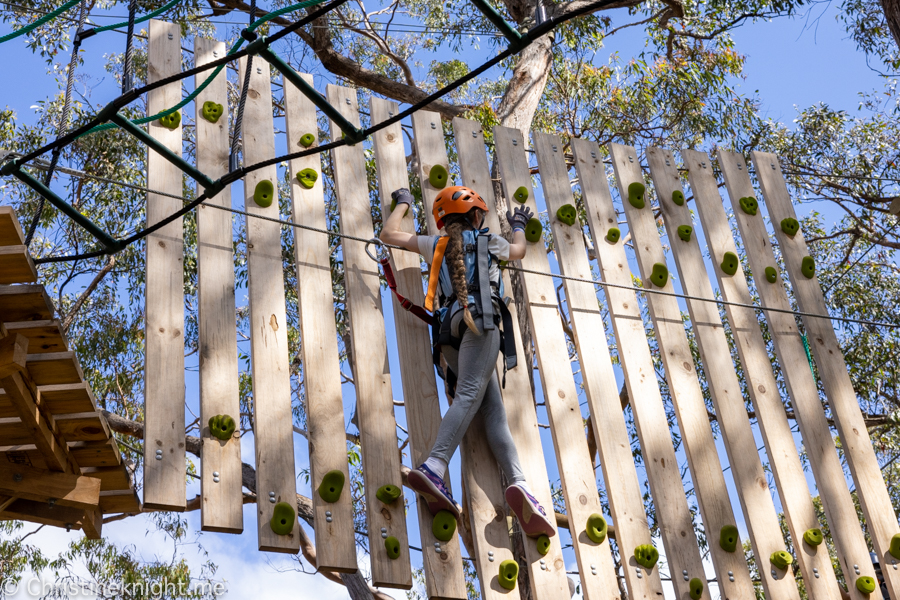 KidZip sessions are available if you would prefer any kids aged 8-12 to climb without a supervising adult from your own party. In the KidZip sessions, a group of 20 or so climbers are taken through the various courses with a Treetops Adventure staff member.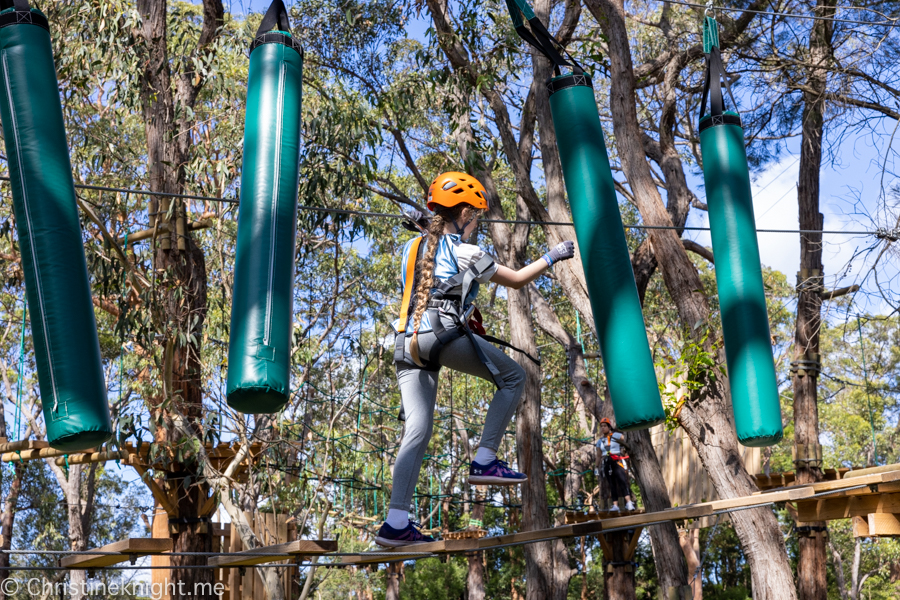 While the KidZip option is an excellent one if you prefer not to climb yourself, be aware that the group is large (20+ climbers) and moves extremely slowly with only one staff member supervising. In our sessions, the kids only completed three ropes courses in the two hour period and spent a lot of the time waiting for the rest of the group to catch up. I would certainly advise the better option to get better value and more exercise would be to climb as a group with your own supervising adult.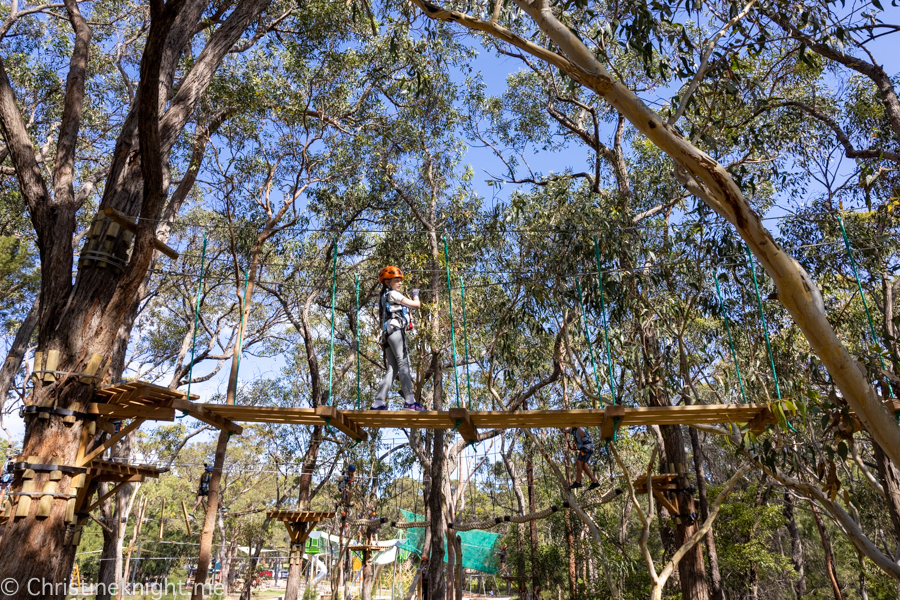 There are drinks, ice blocks and snacks available at the check in / booking desk, however there is no cafe at the facility or nearby. There are plenty of picnic tables to bring your own food however.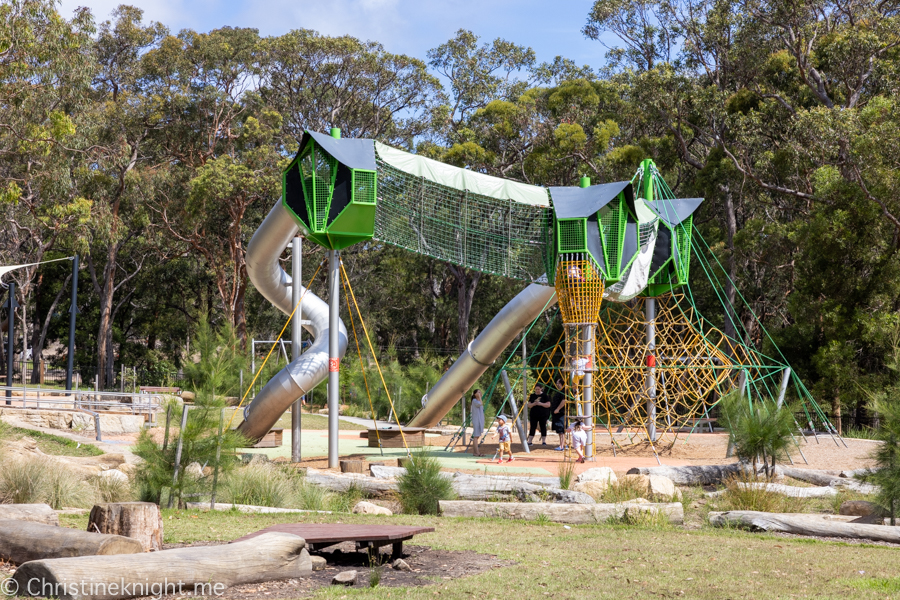 Before or after the climb, check out the excellent St Ives Showground Playground.
There is plenty of parking available – drive all the way to the Treetops Adventure through the St Ives Showground.
Treetops Adventure St Ives
450 Mona Vale Rd, St Ives
Hours: School Term Mon-Fr, 10am-5pm, Sat & Sun, 9am-5pm
School & Public Holidays Mon-Sun, 9am-5pm
Closed Christmas Day & New Years Day
0434 377 865
stives@treetopsadventure.com.au
treetopsadventure.com.au/location/st-ives
More things to do in Sydney
Find a list of the best things to do in Sydney with kids.
Find things to do in Sydney for free.
Explore the best Sydney gardens and parks.
Get a list of the best kid-friendly beaches in Sydney.
Find the best animal experiences in Sydney.
Chase waterfalls in Sydney.
More things to do on the Central Coast.
Visit the best kid-friendly restaurants in Sydney.
Find the best high teas in Sydney.
Things to do in the Southern Highlands.
Head to one of the best museums in Sydney.
Check out things to do in Sydney on a rainy day.
Enjoy one of the best ocean pools in Sydney.
First time visiting Sydney? Get tips for first time visitors to Sydney.
Cool down at one of these free water parks in Sydney.
Find the best vegetarian and vegan restaurants in Sydney.
Get a list of the best playgrounds in Sydney.
Find the best ice cream and gelato in Sydney
Things to do in the Blue Mountains.
Plan amazing NSW road trips.
Pick your own fruit: fruit picking Sydney.
The best things to do in Western Sydney and Parramatta with kids.
Visit the most beautiful Sydney gardens.
Explore Sydney's best parks.
Find things to do in Wollongong.
Find the best high teas for kids in Sydney.