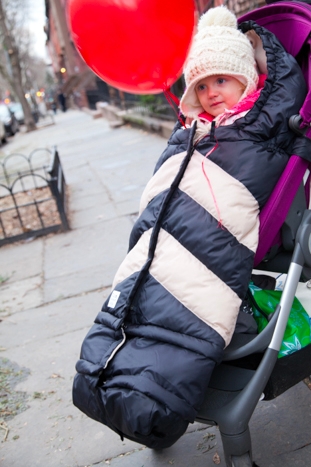 New York winters are brutal. Icy winds, sleet and snow, and long, gloomy days. What you need to survive the long cold days is warm things, lots and lots of them, for you and your baby. We are particularly enamoured with the new stroller bunting from 7 A.M. Enfant — the Blanket 212 Chevron. You might be freezing as you're trudging through grey sludge, but at least your kid will be so warm and snug that you'll want to climb in there with them.
If you haven't heard of the 7 A.M. Enfant brand before, they are known for their innovative, high-quality line of baby and children's products, particularly those suited to the cold. Designed by French designer Rebecca Campora, the brand is colorful, playful and stylish, using the kinds of luxurious fabrics that you wish your own bags and clothes were made out of.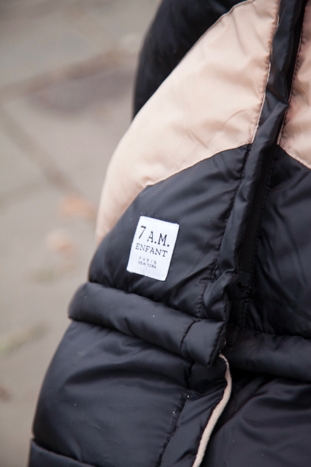 Their latest version of the popular 212 stroller bunting is called the Chevron. As well as being the most attractive and eye-catching bunting we've ever seen (CHEVRON!), it fits any stroller, so you can easily use it on your SUV-sized or umbrella stroller equally well. The new Chevron pattern comes in six color combinations, from bright pinks, greens and reds, to subtler blues and the black and tan one pictured.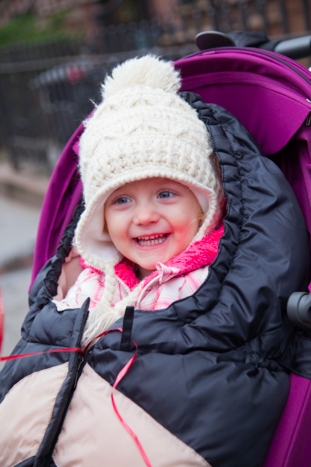 The exterior is a water-repellent shell, designed to withstand rain and snow, with ultra-soft premium fiber insulation (read: super, super, super warm). The interior is anti-pilling micro-fleece that is not only warm enough for extreme New York winters, but also comes out of the washing machine looking like new. They're not lying about the anti-piling — that feature alone makes this bunting worth its cost.
Other features you'll love:
2 length extensions so it grows with your child

Ergonomic hood with safe buttoned elastic adjuster

5-point harness openings for securing into any stroller and car seat

Side strap attachments to secure the footmuff

Anti-slip back panel

Large front pocket
As mother to one very squirmy child, what I also love about this bunting is the strong zip up the middle. It means that tricksy toddlers like mine can't kick it off – they must submit to being warm.
Bottom line is, this is an investment piece. A gorgeous-looking bunting made from high-quality materials, that's made to last. Not kidding — you will pass this bunting down from kid to kid to kid, and it will still look fantastic when toddler number three is using it.
Brunch With My Baby was provided with a sample for reviewing purposes. All opinions are our own.