On a cold winter's day, we made a trek on the G train to Williamsburg to visit friends and try out Cafe Colette. With a lot of restaurants cramped with elbow-tight tables, it can be hard to find kid-friendly restaurants in the 'Burg. This little gem was a lucky find for this hungry family.
Serving New American cuisine, Cafe Colette serves up primarily locally-sourced in a menu that is influenced by flavors and techniques from Spain, Italy, Central America, and beyond.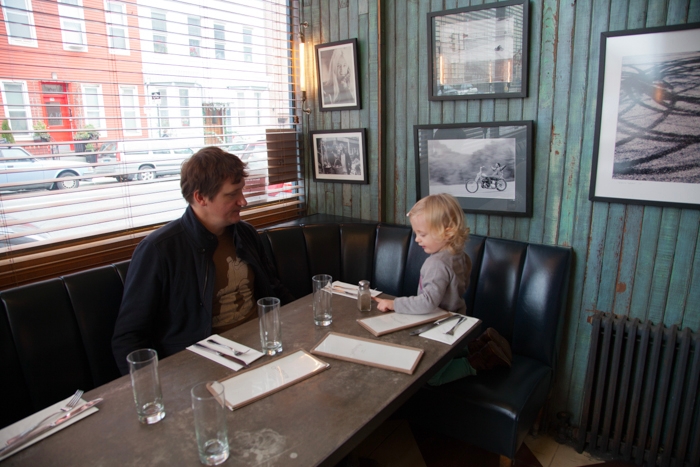 The vintage feel, with the tin roof and cosy booths, conjours up a scene from a movie. Luckily for us, we arrive just when the cafe opens, and are shown to the corner booth, where there is plenty of room to park our stroller (and toddler).
The staff are welcoming and friendly to our crazy two-year-old. Missy E chose that morning to wake up pre-dawn, and so, by brunch-time, was a hot mess. While we felt stressed out by her antics, the staff showed no signs of dismay or judgement (thank you!!) and could not have been nicer, even when she tipped over a large glass of water all over the floor, requiring mopping.
We visited on a Monday and were served the lunch menu. I chose the Soup and Sandwich (tomato soup and grilled cheddar cheese on sourdough, $11) and the Hand Cut French Fries, $6, hoping missy E would eat some, and the rest of our party selected Breakfast Sandwich (fried farm eggs, cheddar cheese, smoked paprika aioli, lettuce, choice of bacon or sausage, $10), Garlic Herb French Fries (red chili oil, cracked black pepper, $8), Grilled Flatbread (caramelized onions, arugula, pecorino romano, garlic chili oil, $11) and the Grilled Fish Tacos (cilantro, red cabbage, pickled onions, chipotle mayonnaise, $12).
Miss E did indeed enjoy my lunch choice — after she ate all the fries, she progressed to demanding my soup to feed to herself (not a good idea, let it be noted). She's a fussy eater, so it was actually great to see her wanting to try something like tomato soup, even if it had messy results. She wouldn't try my grilled cheese, but I enjoyed it immensly. I adore sourdough, and this was good sourdough (not the fake kind with vinegar), with the right amount of cheese (not too little so it's dry, but not too much to make it artery-clogging).
Missy E was a manaic and I spent most of the time trying to stop the tomato soup flying through the air. Alec and our friends enjoyed their meals, although the flatbread and garlic herb fries were deemed a bit too hot (both contained chili oil).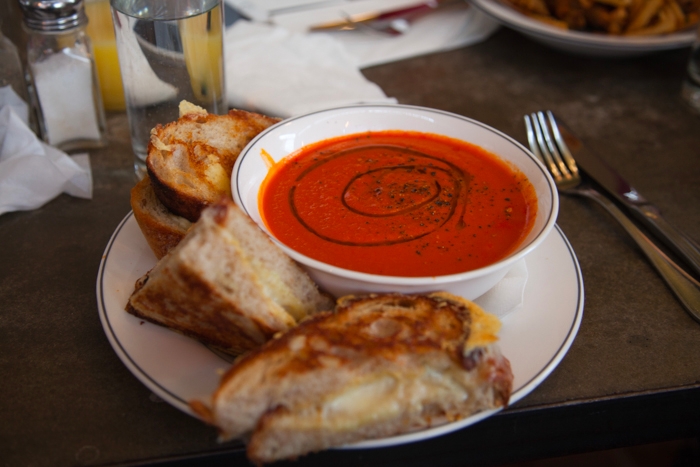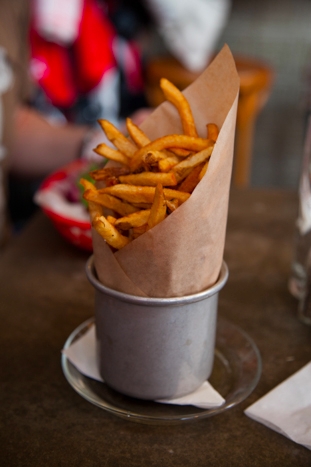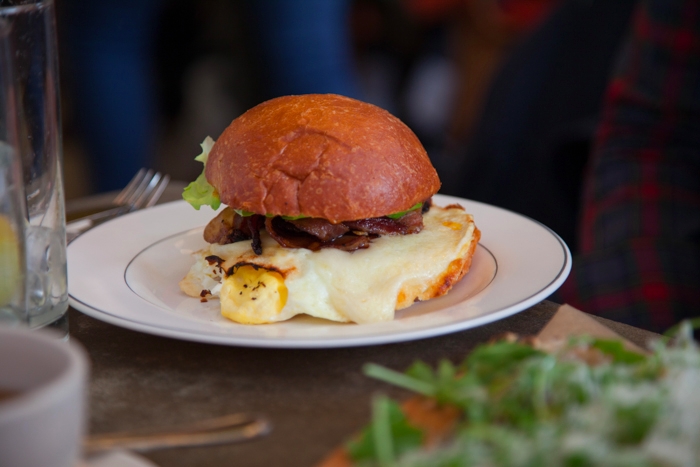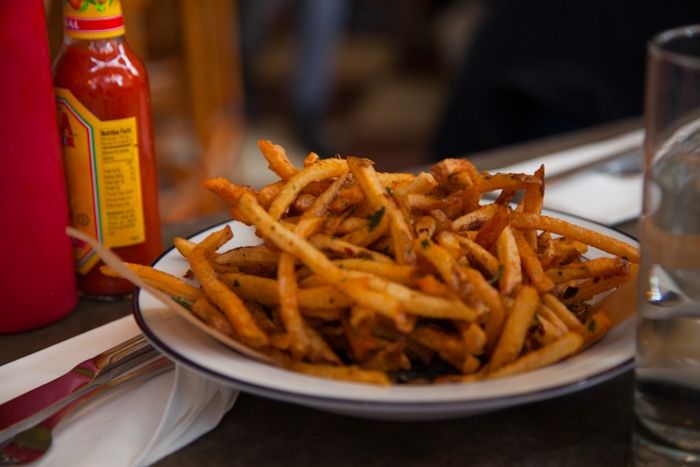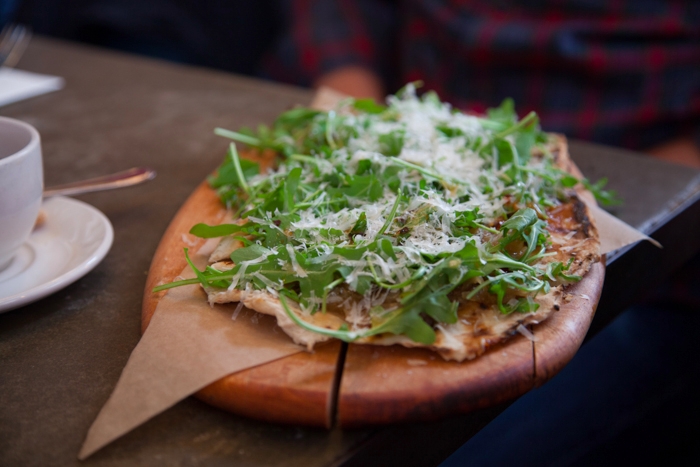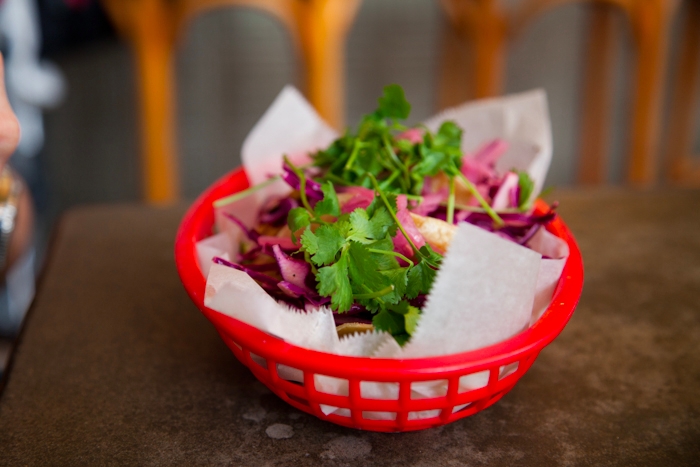 Last Bite: A bustling brunch or lunch joint, perfect for a casual lunch with friends AND a crazy baby or toddler. 
Highchairs: No.
Stroller storage: Minimal.
Easy access: Yes.
Change tables: No.
Kids' menu: No.
Cafe Colette
79 Berry St,
New York, NY 11249
Phone: (347) 599 1381
Prices: $$
Hours: Mon-Thur 11am-12am, Fri 11am-1am, Sat 10am-1am, Sun 10am-12am
Get directions