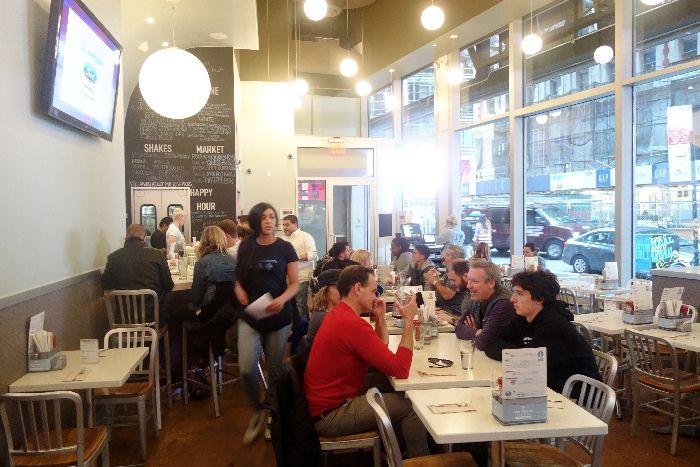 I'm not ashamed to admit that I'm a picky eater. I've gotten a lot better as I've gotten older and have forced myself to keep trying new foods, but the fact remains that I am indeed annoyingly picky. So nothing makes me happier than to be able to choose every ingredient in my food (A.K.A. control freak syndrome).
Back in Sydney, I used to frequent The Counter, a choose-your-own-burger-adventure restaurant on Sydney's North Shore. Delighted is an understatement to describe how I felt when I discovered The Counter also had a home in Times Square. I usually avoid Times Square like the G train, but I often end up in the area, starving after seeing a show, and The Counter is my go-to to escape the Times Square crazy and indulge my food OCD with a really fine burger.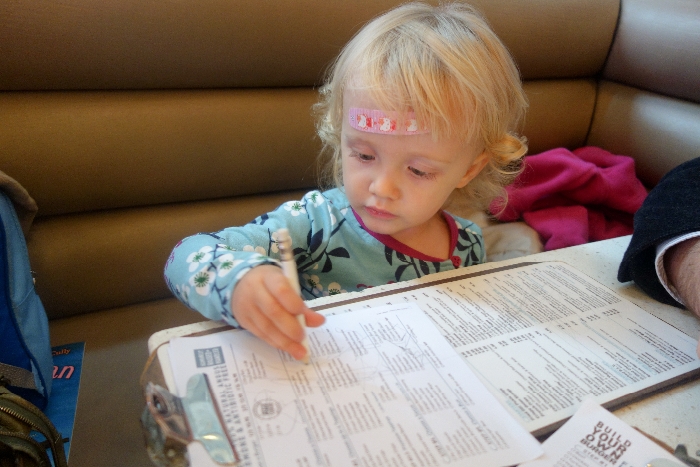 We ended up back at The Counter after taking Cheese to see a dance/theatre show for kids called Ballerina Swan that was playing in a theatre nearby. After an hour of watching some very athletic people on stage, we were all famished.
When you sit down at The Counter, you're handed a massive menu. The top portion is for you to fill out with your burger requirements. Burgers start from $10.95. Choose your size and type of meat, bun type and toppings. Not eating carbs? Select the burger in a bowl, with salad instead. The Counter caters to lots of dietary restrictions, with gluten-free burger buns and a vegan veggie patty. The menu also serves as something for toddlers to scribble all over while you're waiting for your meal.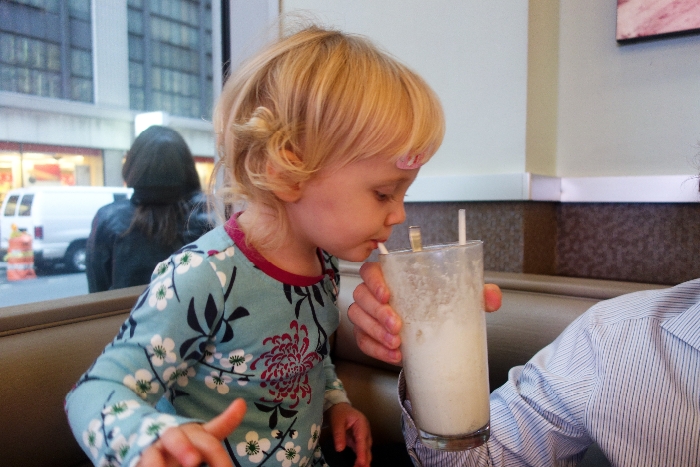 The Counter makes amazing shakes. We always order one to share — this time it was Butterscotch with Malt ($6.50). There is no kids' menu, so Cheese makes do with shake, fries and bites of our burgers.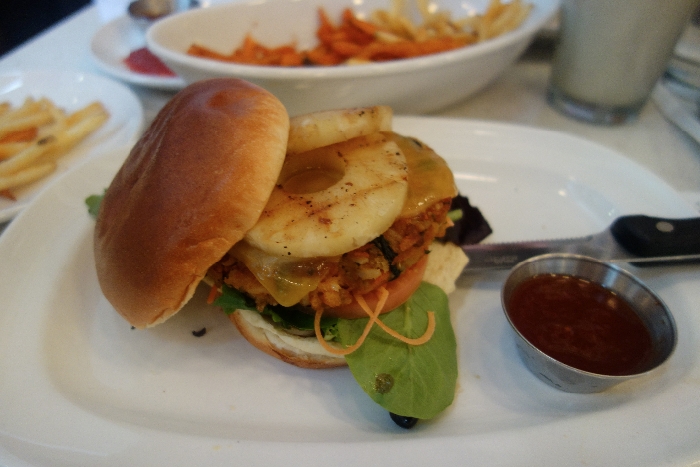 I always order the same burger — I have it perfected finally, after multiple visits. I get the 1/3lb vegan veggie patty on a whole wheat bun, with baby spinach, tomato, carrot, pineapple and Tillamook cheddar cheese.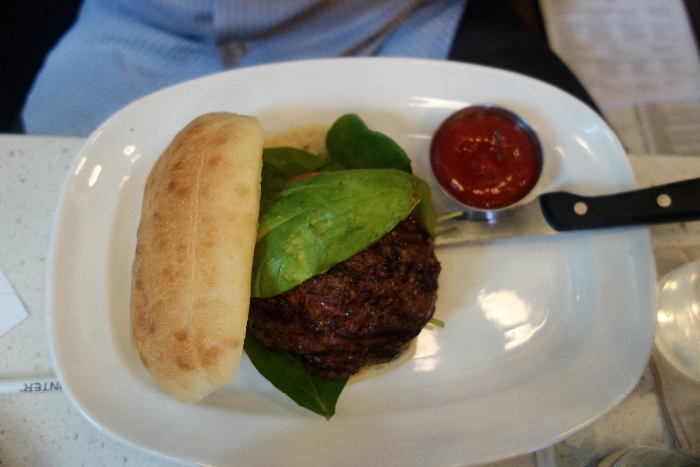 Alec had the 1/3 lb beef burger (100% natural angus beef, hormone and antibiotic-free), on a ciabatta bun, with baby spinach, tomato, avocado, and Tillamook cheddar cheese.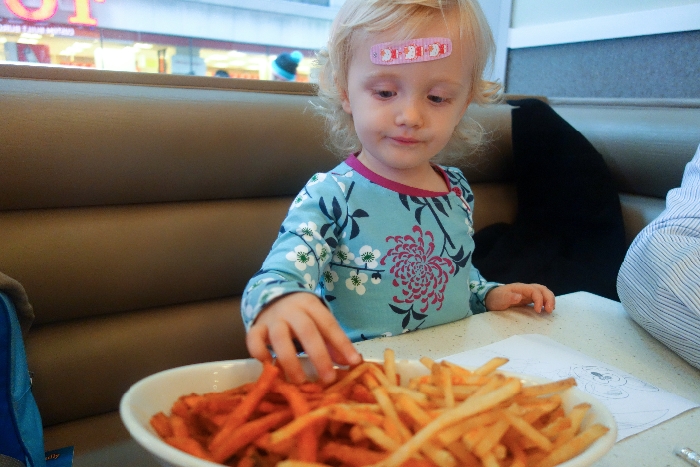 It's important to order fries at The Counter. We always get the Fifty-Fifty ($6) with half regular fries and half sweet potato fries. They are just so good. Trust me.
The atmosphere at The Counter is great for kids. Upbeat music playing, friendly staff and lots of chatting means you don't have to stress over how your kid is behaving. It's a low-key, great meal option in an area of NYC that's devoid of really great places to eat.
Looking for somewhere nearby to play? If it's cold, let the kids roam around the Disney or Toys R Us stores — endless (warm!) fun.
Last Bite: Build your own burger at this kid-friendly restaurant in Times Square. The Counter delivers on great food and a no-stress attitude. 
Highchairs: Yes.
Stroller storage: Minimal – bring an umbrella stroller if possible.
Easy access: Yes.
Change tables: No.
Kids' menu: No.
The Counter
7 Times Square (41st & Broadway)
New York NY 10036
Phone: (212) 997 6801
Prices: $$
Hours: Sun-Wed 11am-11pm, Thur 11am-12am, Fri-Sat 11am-1am
Get directions