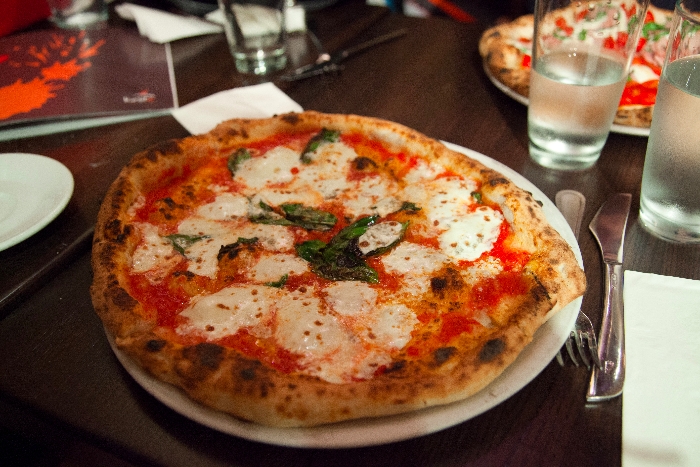 In my early days in New York, I was introduced to Kesté Pizza & Vino on Bleeker Street, by my Aussie expat friends. It was a welcome respite from the chaos in my life at that stage — pregnant, moving to New York City and starting my life from scratch. Inside Kesté, life was simpler. It was relaxed and casual, with welcoming staff, a cozy vibe, uh-mazing pizza, and understanding friends.
Missy E ate a lot of Kesté pizza when she was in utero, but none since popping out of it until my last birthday, when we decided to drop in for a casual lunch. As always, the staff was inviting and sat us straight away on an early Saturday afternoon, in a tiny little corner booth, backed up against the open kitchen.
It was pretty squishy at the table, but our location turned out to be a blessing when I realised that the glass behind me peeked straight into the kitchen and that Miss E could be briefly entertained by watching the pizzas being made from scratch, and then being baked in the oven. She also thought it would be fun to play with the wine bottles.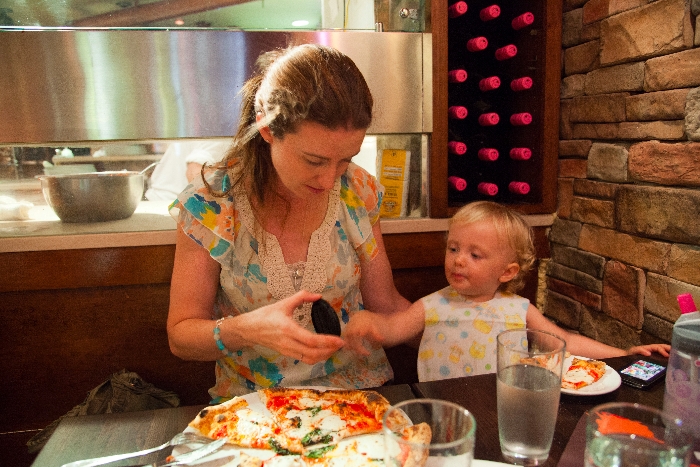 Even though it was my birthday (or maybe especially because it was my birthday?), Miss E was being a total demon child. Up, down, no, no, noooooooooo. The iPhone and then pizza occupied her briefly, but sadly this was one of the fastest and least relaxing visits I've had at Kesté. Ever.
Our visit might have been improved if the staff had been a bit friendlier towards us — especially towards Miss E. Yes, I know she can be INCREDIBLY annoying (such as on this particular day), but it would have made our lunch just that much more enjoyable and less stressful if we'd felt that they liked kids a bit more (or at least pretended to). While the staff were very efficient, we felt like they were really rushed on this particular day and our food was thrown at us, with no effort to make us comfortable, such as offers to get us things like a plastic cup for the child (I think we actually asked for this and it was ignored), or just basic welcoming conversation. It could just have been because we arrived during a busy time and the staff were super busy, so I would absolutely return with Miss E to give it another shot — if only because their pizza is SO FRICKING GOOD.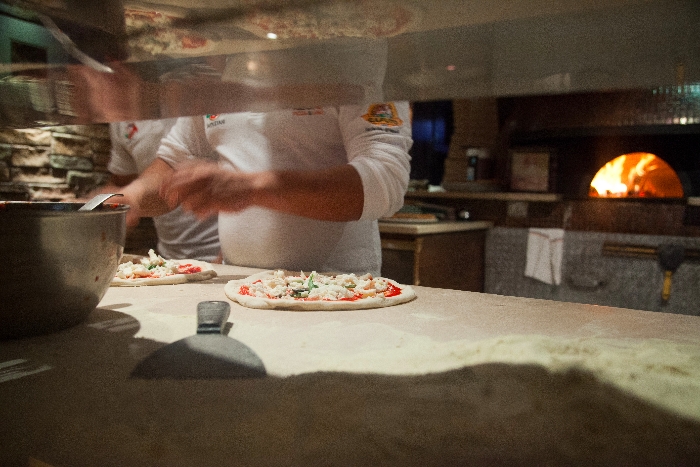 At Kesté, they make each pizza to order, from the crust up, so the pizzas super fresh in every possible way. They even make gluten-free pizzas for those who request them.
The tomato sauce on my Margherita ($13) is the perfect sweet tomato blend, with giant gloops of fresh mozzarella and little basil leaves. We ordered a pizza per adult — between the two of us, Missy E and I polished ours off. Alec was so hungry he ate his entire pizza.
We hope to return to Kesté on another day when our daughter is not trying to destroy our souls.
Last Bite: One of the best pies you'll get in the city, at one of the most reasonable prices. The perfect place to introduce kids to what a quality pizza actually tastes like.
Highchairs: No.
Stroller storage: Minimal. Fold up strollers only.
Easy access: Yes
Change tables: No.
Kids' menu: No.
Kesté Pizza & Vino
271 Bleecker St (between Jones St & Morton St)
New York, NY 10014
Phone: (212) 243-1500
Prices: $$
Hours: Mon-Thur 12pm-3:30pm, 5pm-11pm, Fri-Sat 12pm-11:30pm, Sun 12pm-10:30pm