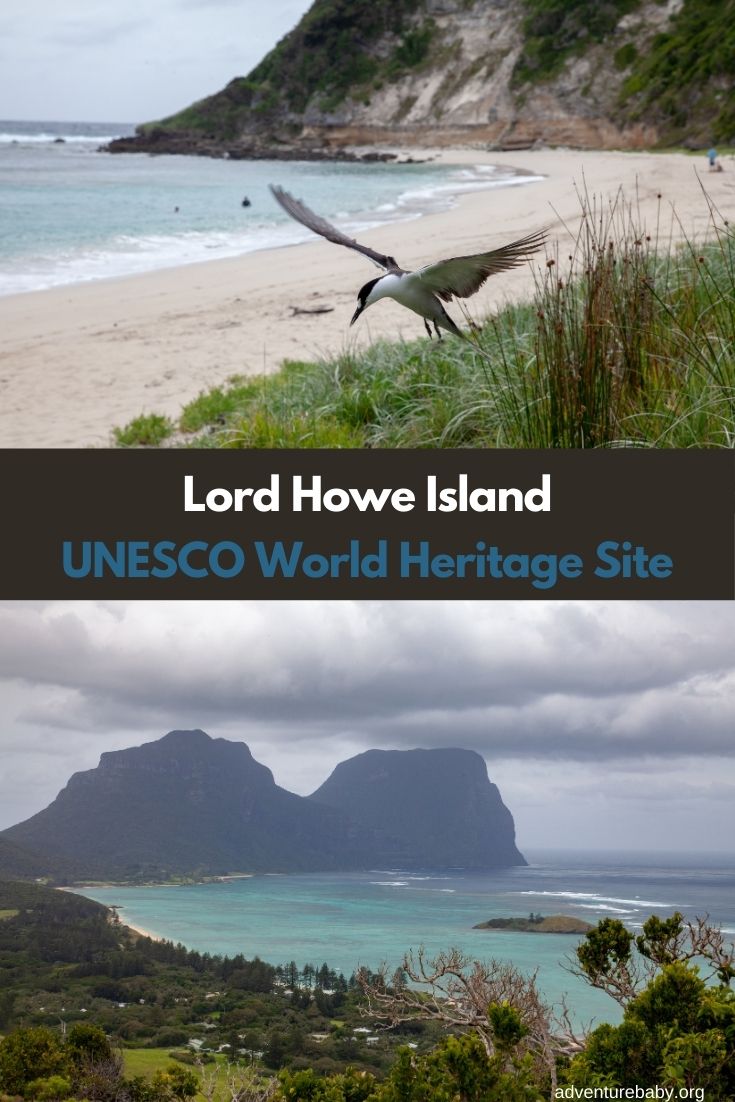 Lord Howe Island Holiday Tips
Enjoy a Lord Howe Island holiday, at a natural paradise that can be reached in less than a two-hour flight from Sydney or Brisbane. The world's southernmost coral reef is a spectacular destination that, once you've seen it in person, you'll long to return to over and over again.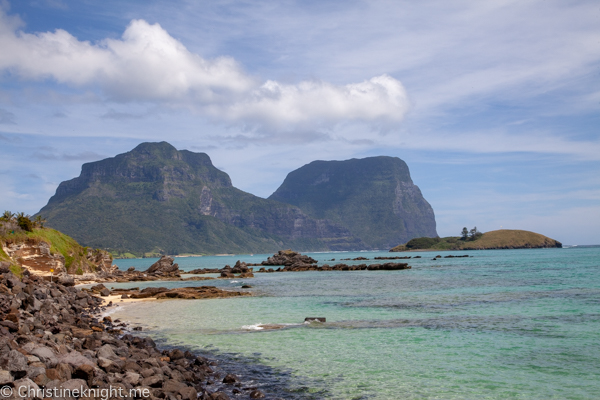 The World Heritage-listed island is often voted as one of the world's top island destinations for a very good reason – its spectacular scenery, abundant wildlife and limit on visitors makes this breathtakingly beautiful spot feel remote and untouched.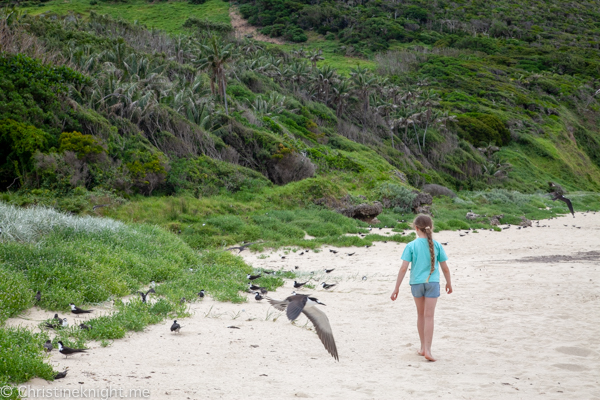 Lord Howe Island is just 11 kilometres (6.8 miles) long and 2.8 kilometres (1.7 miles) at its widest. With only 400 visitors allowed at any time, and just 300 permanent residents, the island never feels busy, even when it's reached its maximum visitor capacity.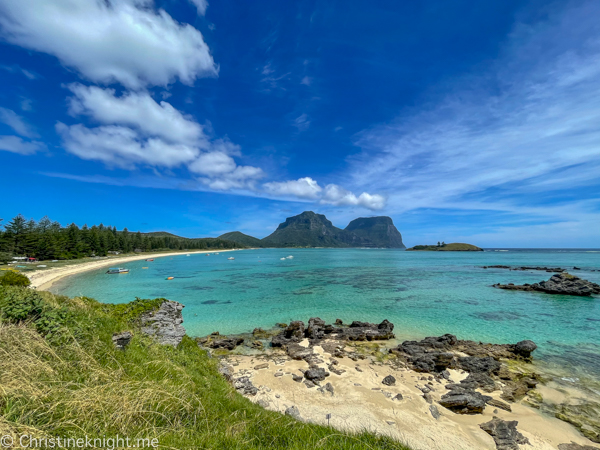 When we visited Lord Howe Island last December it felt to us like the land that time forgot. With the main mode of transport push bikes, the pace on the island is slow, and shoes are optional. There is no mobile phone service on the island, which can feel panic-inducing to imagine, but in reality is a welcome relief from the constant pressure to be available at all times.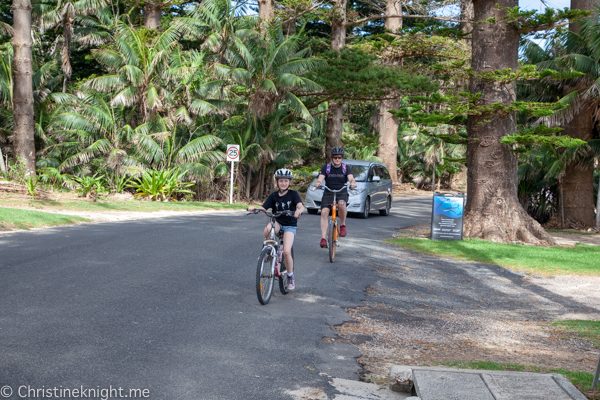 To truly unplug and unwind from the fast paced world in which we usually live in Sydney, a week on Lord Howe Island was, for us, just what the doctor ordered.
What makes Lord Howe Island so special
Lord Howe Island was formed after a volcanic eruption seven million years ago. The island became a haven for plants and seabirds, with an abundance of rare flora and fauna including 64 unique species of flowering plants and more than 130 bird species, like the endangered flightless woodhen.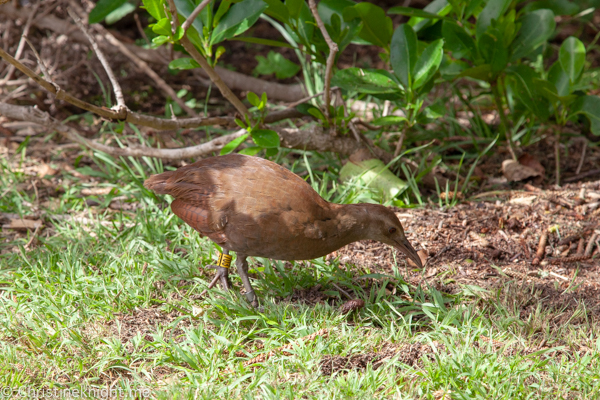 This unique island is made up of 75% protected park preserve, and surrounded by a marine park, making it a pristine paradise that has remained untouched thanks to a century of world-class conservation efforts.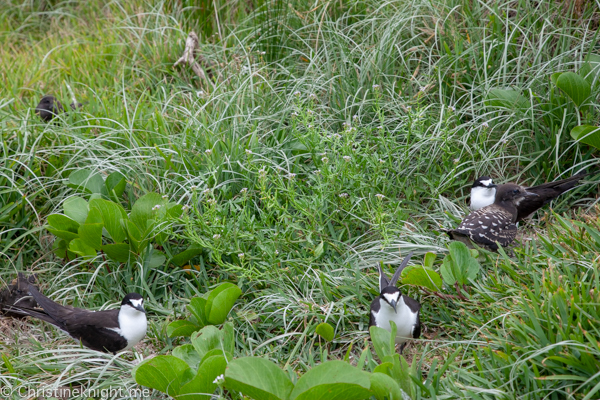 In 1982, The Lord Howe Island Group was UNESCO World Heritage-listed, including the main island, offshore islets and Balls Pyramid, totalling about 1,455 hectares of land. A further 145,000 hectares of marine environment are included in the World Heritage Area.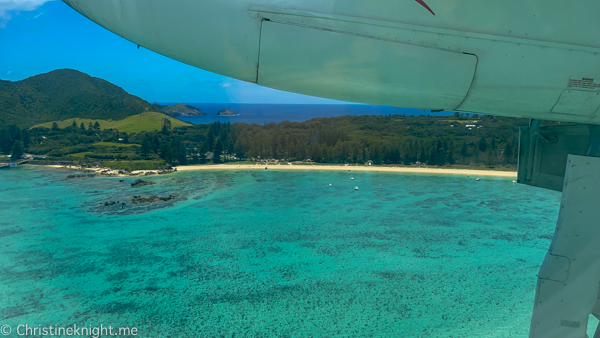 Arriving on Lord Howe Island is a bit of a "Jurassic Park" moment. The tiny island rises up out of nowhere, in the middle of the ocean, its landscape of mountains, valleys and cliffs largely undisturbed by mankind. Approximately 75% of the islands natural vegetarian remains untouched, similarly is beaches and coral reefs.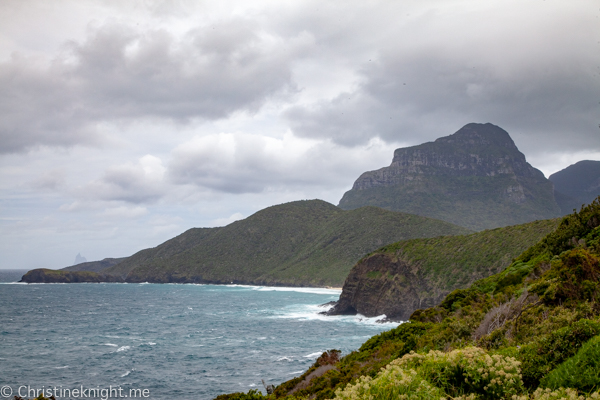 Lord Howe Island is tremendously important for its unique flora and fauna. There are over 70 endemic vascular plant species found on the island (plants that transport water), and 241 species of indigenous plants of which 113 or 47 per cent are found no where else in the world.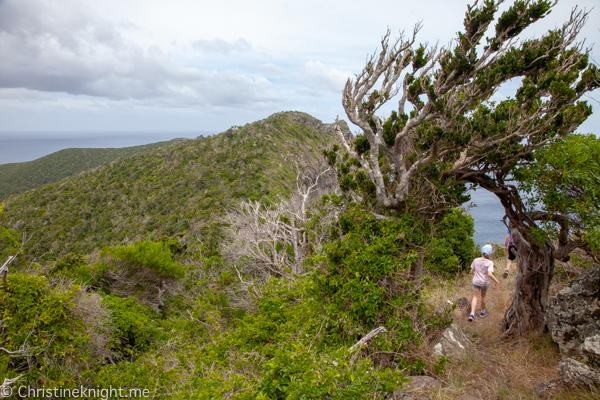 The island is also a haven for birds, with 207 different bird species recorded as visiting, 32 of which breed on the island, including the endangered Woodhen. The Lord Howe Island Woodhen wanders around the island, unperturbed by people passing it on bikes, the result of a highly successful captive-breeding and rodent eradication programme.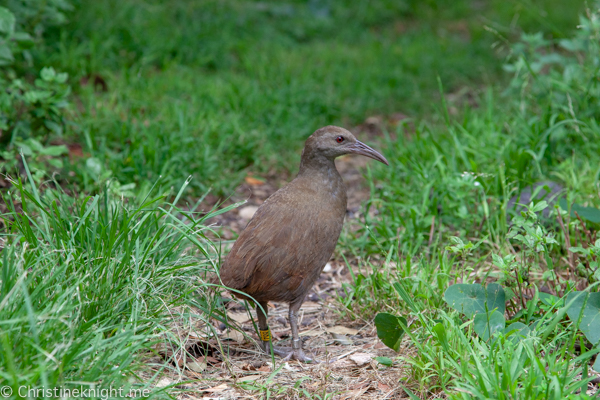 Lord Howe Island is reputed to have more seabird species breeding in higher numbers than anywhere else in Australia, making it a prime spot for twitchers to visit. Bird lovers can be seen lying low in the grass for hours at a time, in search of the perfect bird photograph.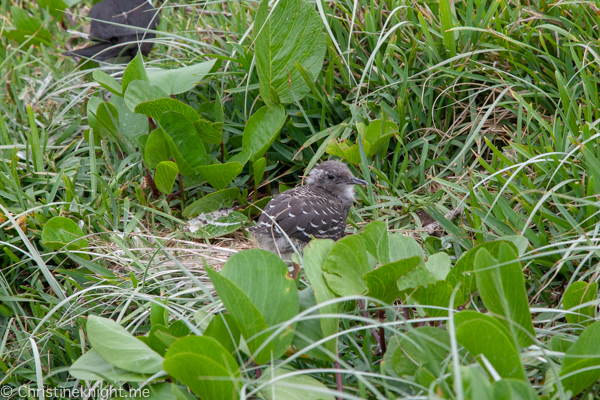 Insects are also in abundance on Lord Howe Island, with more than 1,600 terrestrial insect species having been recorded, approximately 60% of which can be found nowhere else. We were drawn to Lord Howe Island after reading about the Lord Howe Island Phasmid, the world's largest stick insect. Thought to be extinct, the LHI Phasmid was rediscovered in recent years on Balls Pyramid, a 550 metre high volcanic stack rising from the sea, 23 km from the island.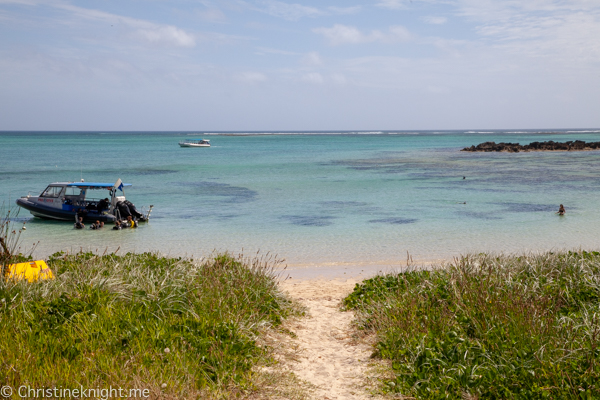 The life under the sea surrounding Lorde Howe Island is no less spectacular, with over 500 species of fish and 90 different coral species in the marine park off the island's shores.
Getting to Lord Howe Island
Lord Howe Island lies approximately 600 km northeast of Sydney and southeast of Brisbane, Australia, at the same latitude as Port Macquarie, NSW. It is part of the state of New South Wales.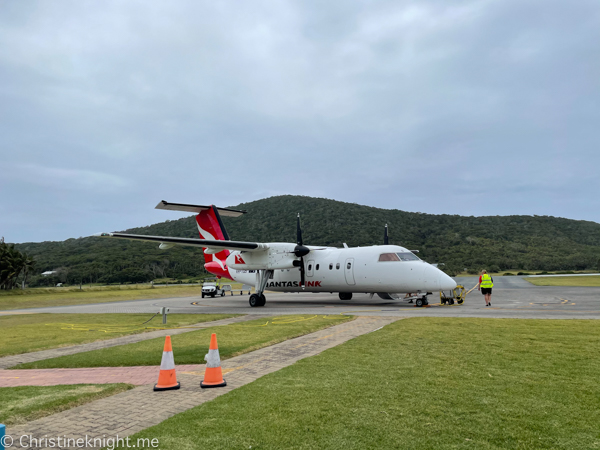 The only way to reach Lord Howe Island, other than sailing your own yacht, is by air. QantasLink offers year-round scheduled services, with flights departing from Sydney most days (twice a day in peak season during the week, three times a day on weekends). Direct flights are also available on weekends from Brisbane. Flight time is under two hours.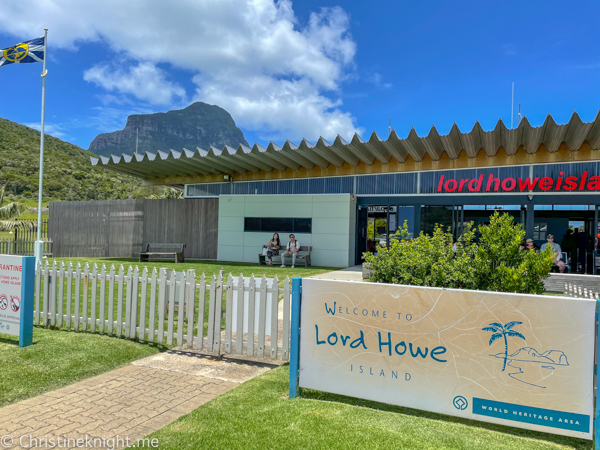 Eastern Air Services also offer a regular flight schedule with three flights per week from Port Macquarie and a new flight schedule from Newcastle Airport. Eastern Air Services will soon be offering direct flights rom the Gold Coast to Lord Howe Island.
Your accommodation will pick you up from the airport and drop you back again for your return flight home.
Baggage Allowance
This is a big deal and should really be in the biggest text available because it's in such fine print on the flight booking pages. Each passenger travelling to Lord Howe Island is permitted 14kg per person of checked baggage and 7kg of carry-on baggage.
This is not negotiable! There are strict weight restrictions placed on aircrafts travelling to the Island. While extra luggage may be purchased, there is no guarantee it will make it to the island with your flight. It's very common for luggage to be offloaded and sent on another flight. In fact, on both of our flights to and from the island, our luggage did not arrive with us. On the flight to the island, our luggage arrived on the afternoon flight thankfully, so we received it later in the day.
On our flight home, however, our luggage was offloaded and was not sent home to us for three days. I highly recommend packing essentials in carry on – like swimmers, sunscreen and hats.
Accommodation
Another tip that needs to be in the biggest text available. Do not book flights until you have booked your accommodation, and absolutely do not fly there without a confirmed accommodation booking.
The tourist bed limit on Lord Howe is capped at 400, and in high season completely books out. I would highly recommend booking as far in advance as possible to get suitable accommodation.
Where to stay on your Lord Howe Island Holiday
The majority of accommodation on Lord Howe Island is villa-like cabins with kitchenettes or kitchens. Which you chose depends on your needs. If you have small kids or are not a keen walker or cyclist, then I suggest staying near the main settlement for easy of getting around.
In the image below, the airport is the yellow star and the accommodation is marked with blue dots.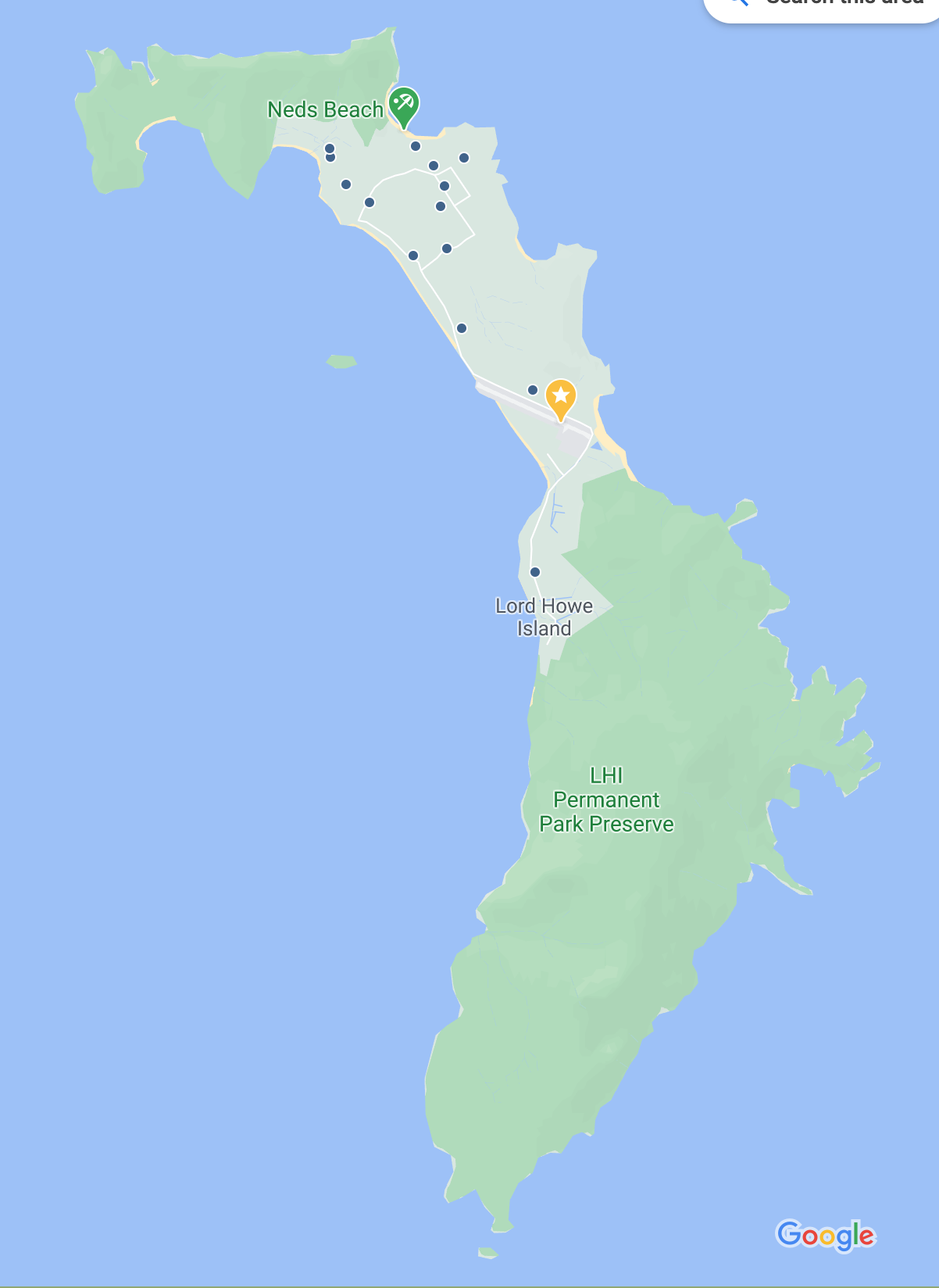 We stayed in Ebbtide Apartments, comprising of five self-catered villas with an excellent kitchen. We loved Ebbtide and the lovely grassy area surrounding the villas, however it is also at the very top of a steep hill, which should be taken into consideration if biking or walking is difficult for you or your party.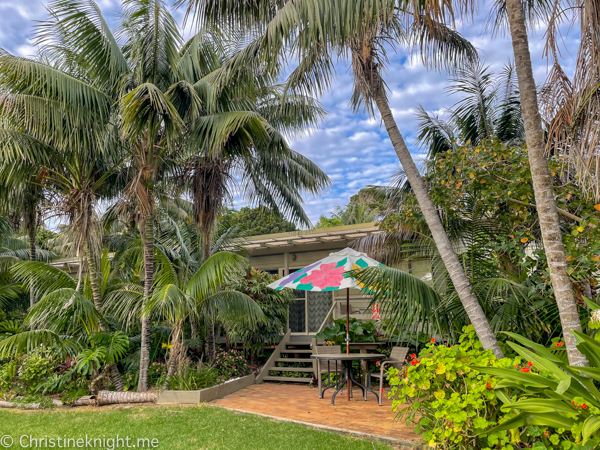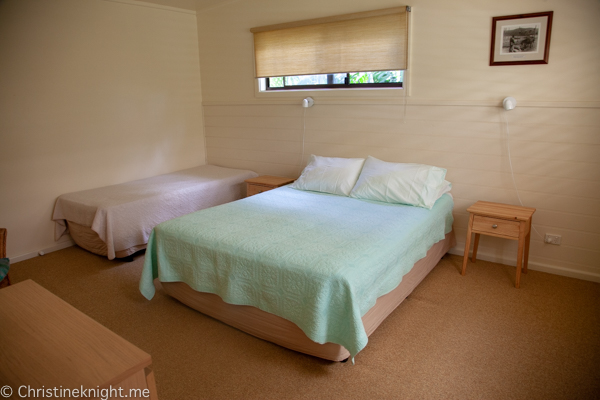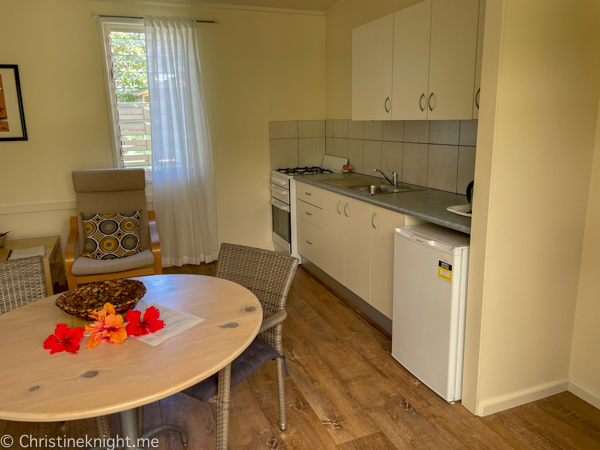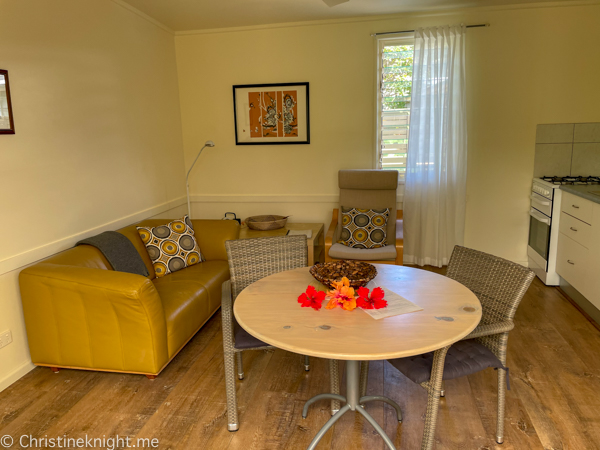 There was no TV in our room so if you desperately need to watch some shows, download them to your phone/iPad or computer beforehand. Most accommodations will have a bookshelf like ours did. I had the most amazing reading week and read about five books.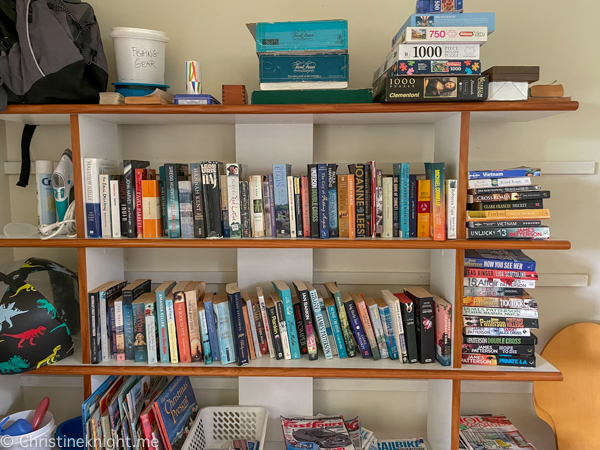 For an all-inclusive stay, check out Pinetrees, or Arajilla Retreat. For the most luxe, all -inclusive stay, have a look at Capella Lodge.
My recommendation for ease of accessing the island facilities such as the best cafe and coffee shop (The Anchorage), getting groceries and biking around the flat paths, would be to stay near the Anchorage.
You can see a full list of the various accommodations here.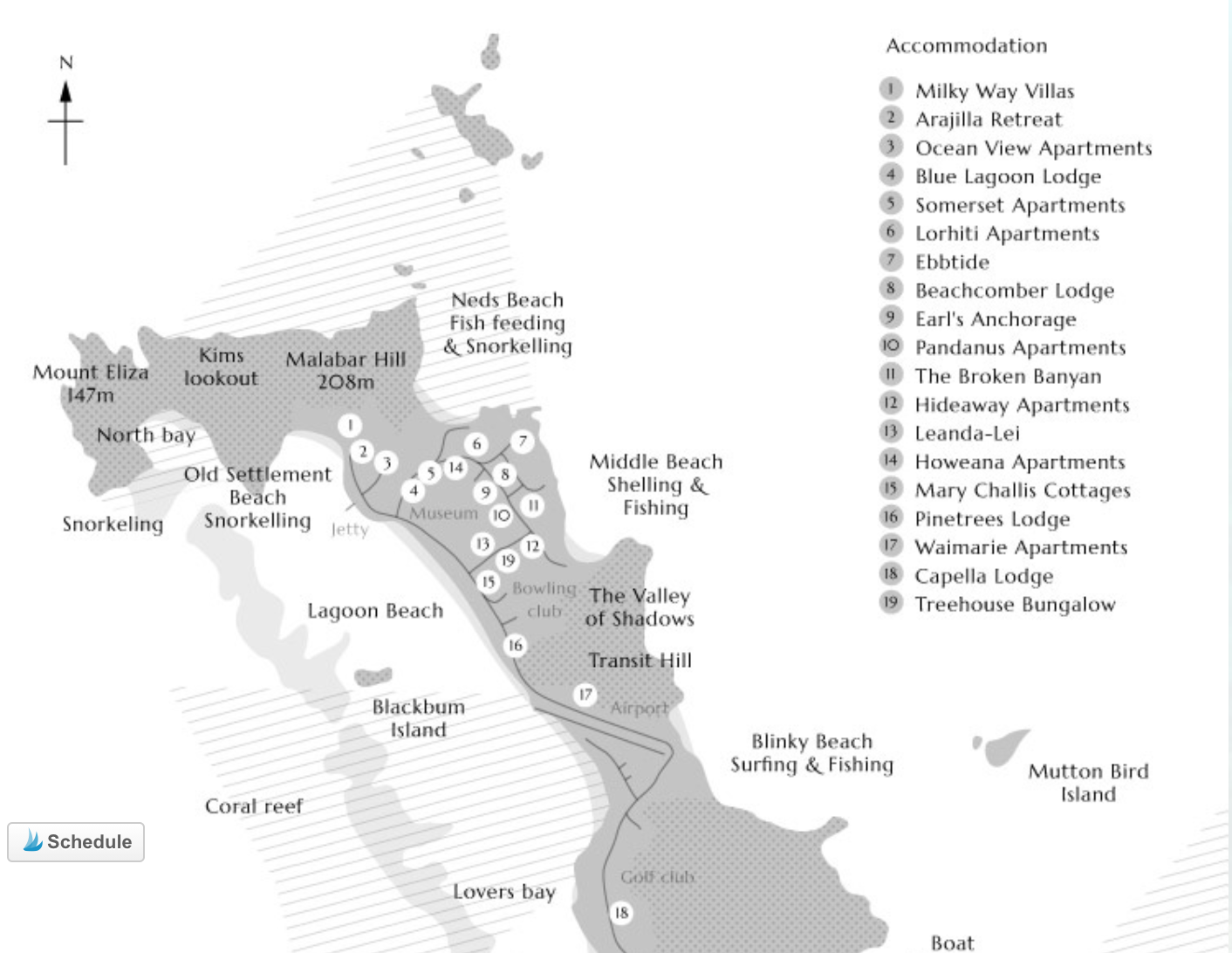 Groceries on Lord Howe Island
Since the majority of accommodation on LHI is self-catering, the groceries deserve their own section. Since the island is part of NSW, you can bring whatever food you like as long as it fits in your luggage allowance. If you have particular dietary requirements, then I highly recommend you doing this.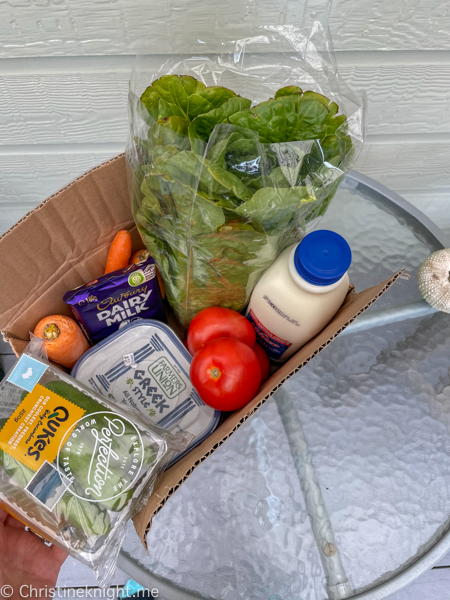 There are a few options for groceries on Lord Howe Island – all of them are expensive. Thompson's is the cheapest but has the smallest selection. The Anchorage has the best fruit and daily fresh bread. Joy's has the largest range but is the most expensive.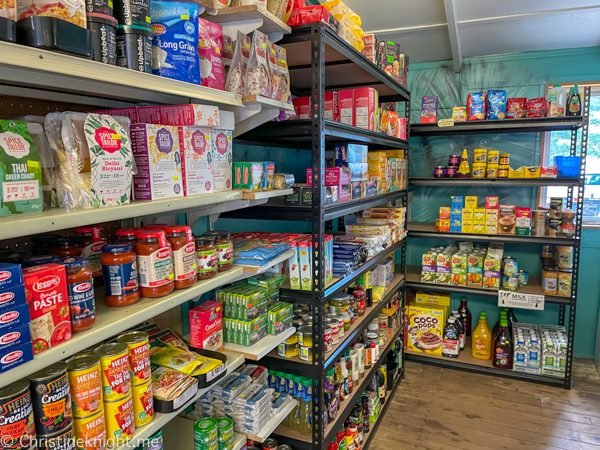 There are no plastic bags on Lord Howe Island so bring your own reusable shopping bag, or purchase one of the screen printed reusable canvas bags – they make for great island souvenirs too.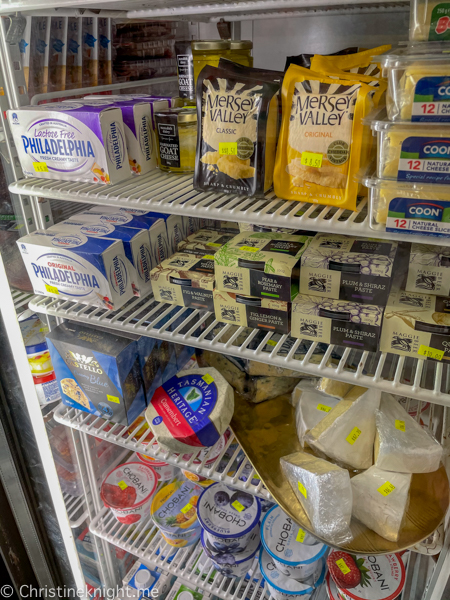 Regarding milk – most of the island uses and sells long-life milk. If you want fresh milk, you will find it at Joys.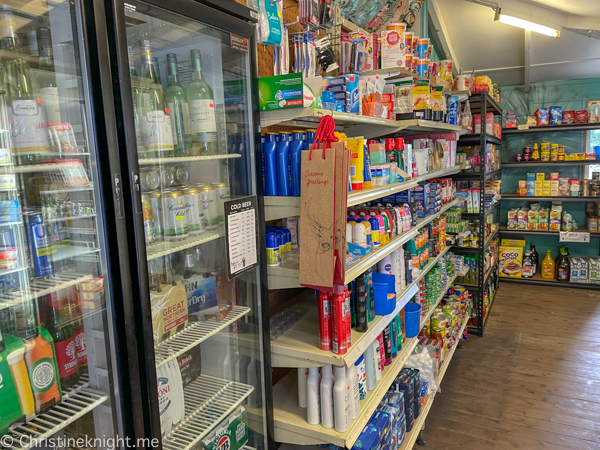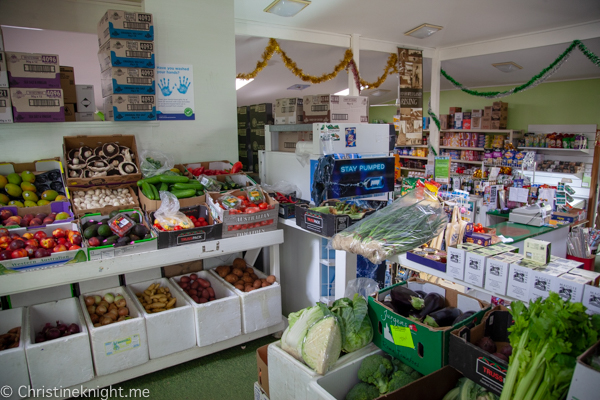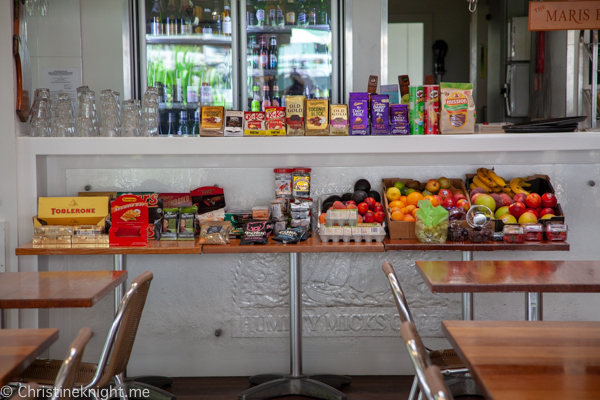 Getting around Lord Howe Island
The primary mode of transportation is bicycle. Upon arriving on the island, head straight to Wilson's Bike Hire (it's near the main settlement) and hire a bike for your entire stay. There are children's bikes available as well as bike seats and wagons. Bikes cost us $60 per week per bike.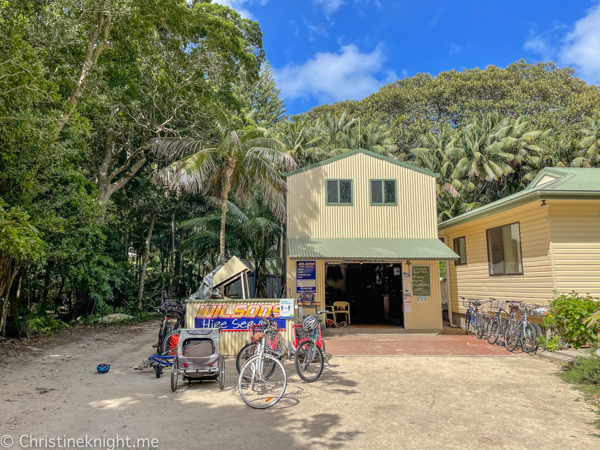 There are a small amount of cars available for hire if mobility is a challenge for you – call in advance to book.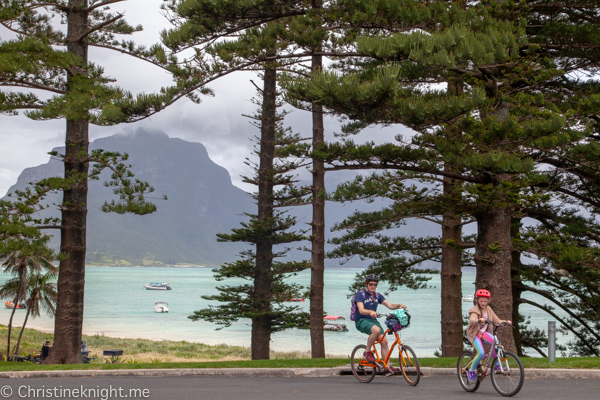 Guests at Capella Lodge, which is the furthest accommodation from the settlement, can hire a golf cart buggy to drive around the island.
Planning your time on Lord Howe Island
After collecting your bike, head to the Lord Howe Island Museum and Visitors Centre. This is where you can collect detailed weather forecasts, restaurant guide with locations and days/ hours of service, and daily activity guides, as well as lots of info about the island such as maps with walking tracks.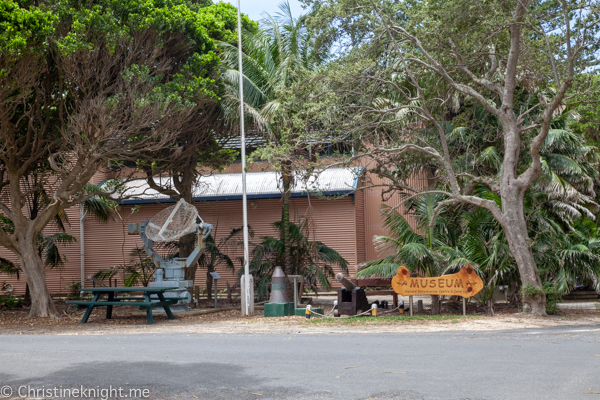 The Lord Howe Island Museum opened in 2002 and has a range of innovative displays on the island's World Heritage environment, community and history, going back to 1788 when the Island was discovered by HMS Supply of the First Fleet. Covering 166 years of continuous settlement since 1834, the Museum is a great first spot to visit to learn about and appreciate the island's uniqueness.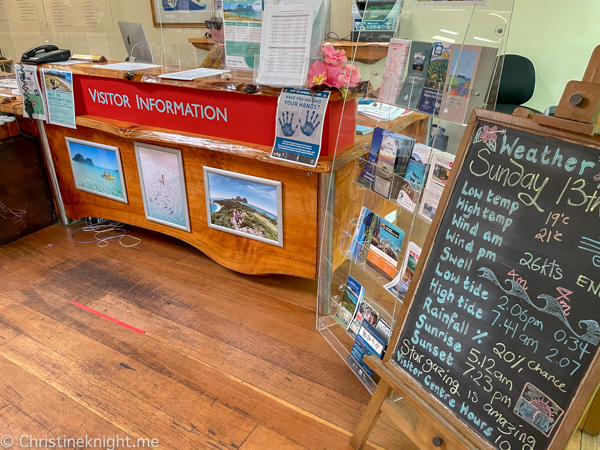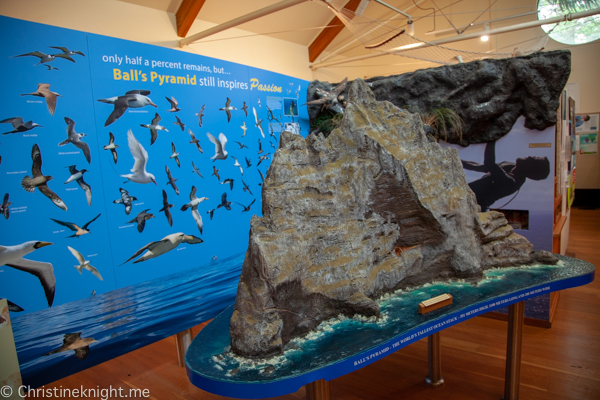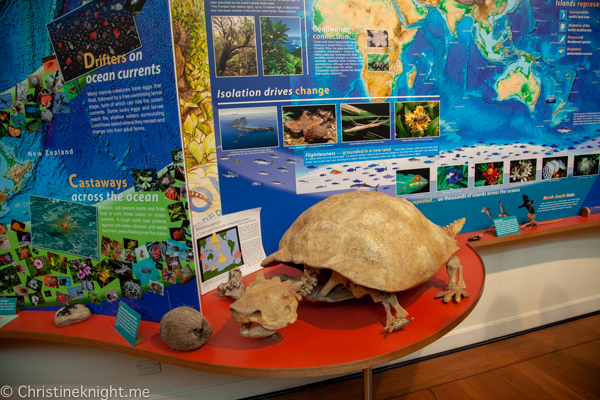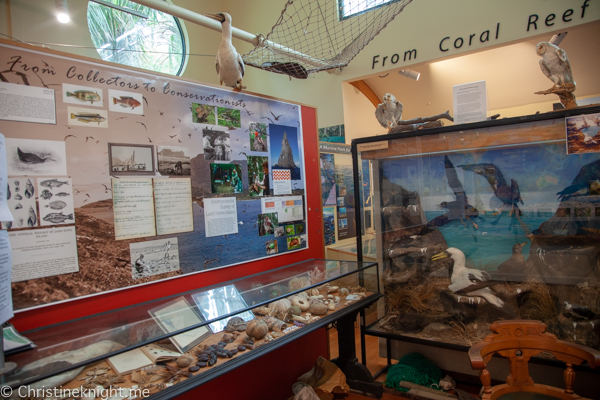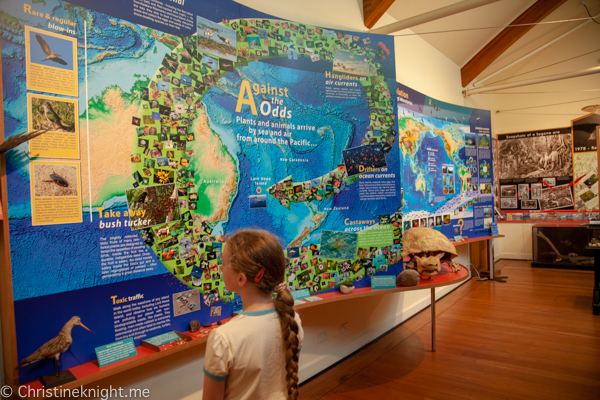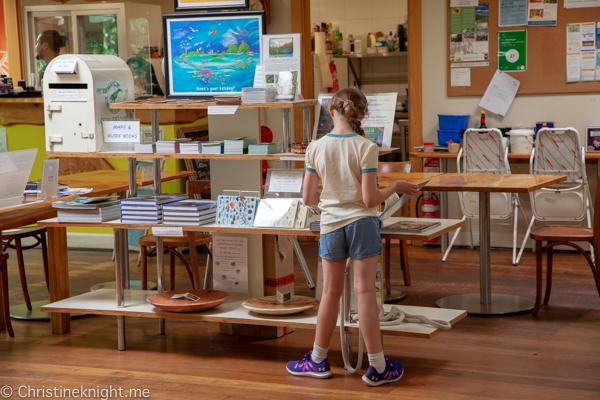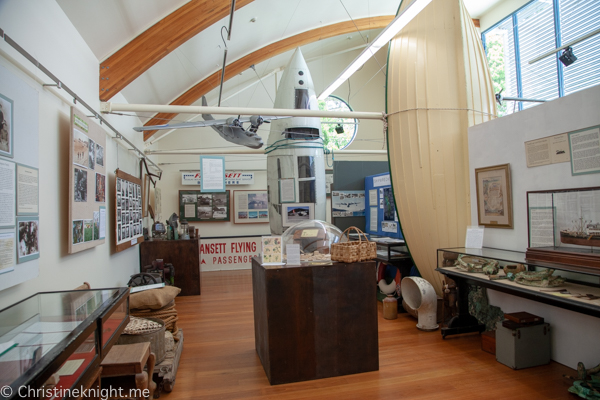 At the Lord Howe Island Museum and Visitors Centre you can also find internet access and the Coral Cafe, plus the Tropicbird Museum Shop, which has the best selection of unique Lord Howe souvenirs and gifts.
Dining out
There are a few restaurants and cafes on Lord Howe Island and in peak season all book out. After picking up your bike and dropping by the Museum and Visitor's Centre for dining information and a map, the nest thing you should do is plan any eating out you plan to do for the week. Each restaurant and cafe only opens certain days and hours so it requires some planning.
Take a look on the guide and call each restaurant using the landline at your accommodation to book your spot. Your accommodation will transport you where necessary to evening dining reservations, with the restaurant providing return transport.
Our favourite place to dine was the Anchorage, for both lunch and also dinner. It had the most delicious egg dishes, freshly baked muffins and cut fruit, and we ended up eating there daily for one meal, while making the other meals in our apartment.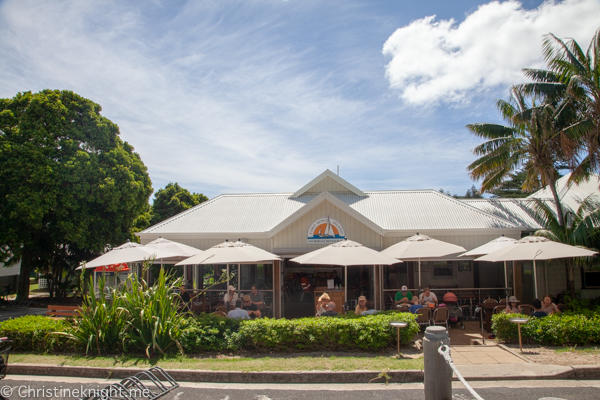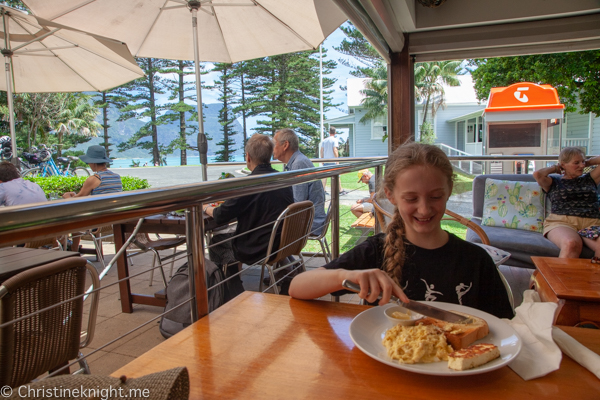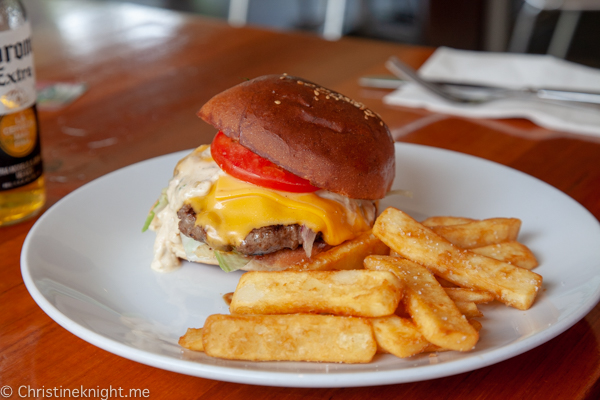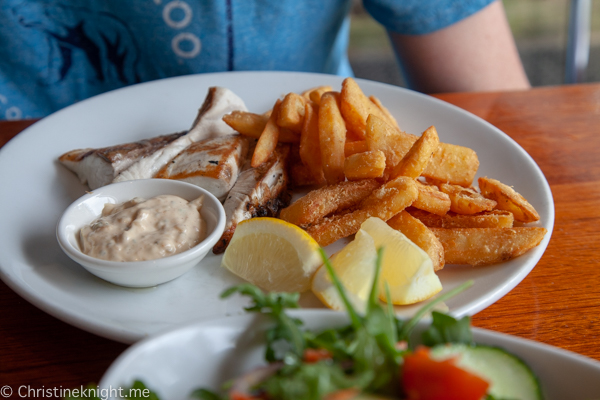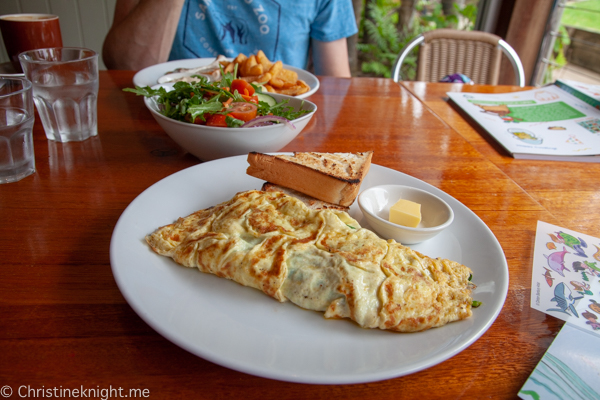 Dining out on Lorde Howe Island is also expensive, but the location of waterfront dining cant be beat!
See all Lord Howe Island dining options. Note that menus are not available online.
Things to do on a Lord Howe Island Holiday
Lord Howe Island has activities to suit everyone, from those wanting a relaxing holiday doing nothing to divers and snorkelers, twitchers and hikers. The flight out to the island is one of the most entertaining people watching experiences as the small group will have, like on our flight, luxe travellers, people in mountain trekking boots, families with small children and everyone in between. Lord Howe Island does the impossible – pleases every age and interest group imaginable.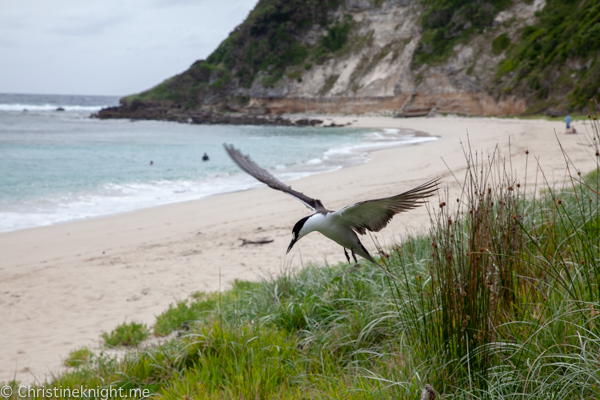 A holiday on Lord Howe Island can include guided tours, fishing, snorkelling, diving, bird watching, water sports, land sports and hiking. You can find a full list of activities available on Lord Howe Island here.
Unmissable highlights
Snorkelling and swimming in the lagoon
You can hire flippers and snorkels for the week at several of the dive shops on the beachfront by the lagoon. We hired ours for $10/day or $30 per week. Child-size snorkels and flippers are available, as are child-size wetsuits.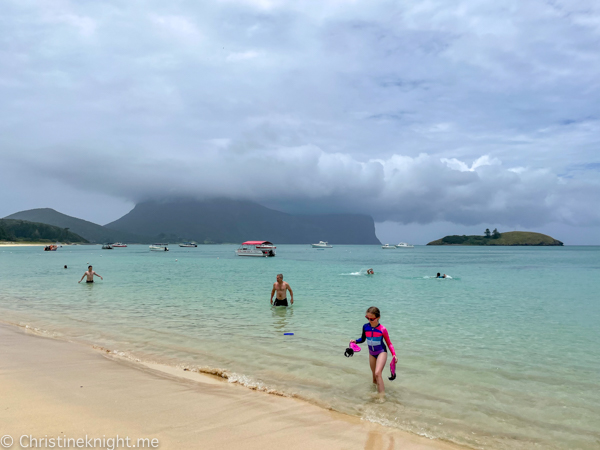 The lagoon is an easy place for snorkelling, even for kids. There is also an anchored pontoon that is great for kids to climb up onto and then jump off into the ocean.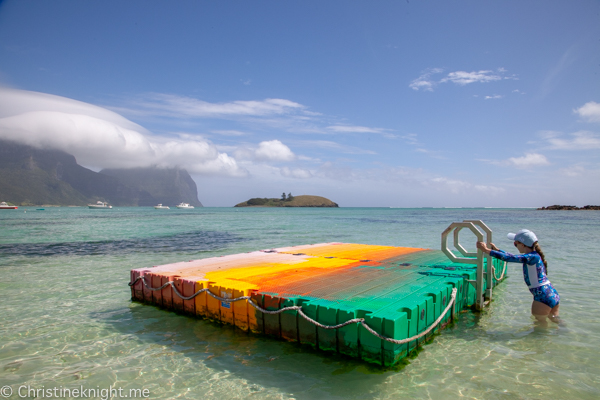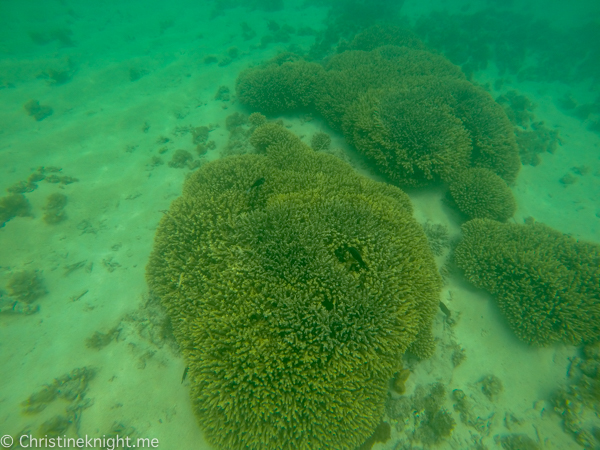 Kayaking
There are several spots that can be kayaked to, so make a day of it and pack a picnic lunch if you'd like to do some exploring.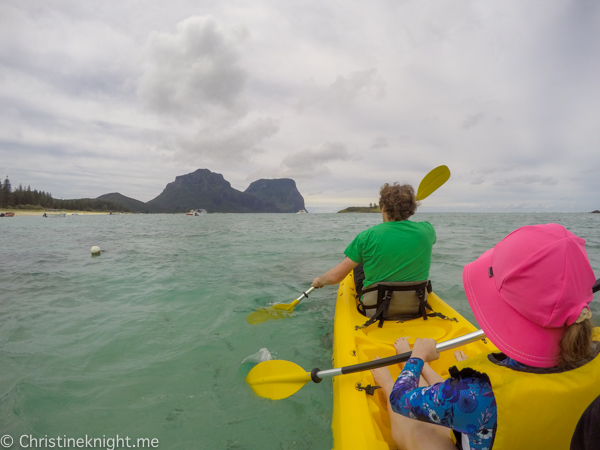 We kayaked to Blackburn Island and back, but a popular spot to kayak to is North Head where there is excellent snorkelling. North Head is difficult to reach by foot so kayaking there is a good option. If you kayak to Blackburn Island I suggest taking reef shoes with you as it's extremely rocky on the shore.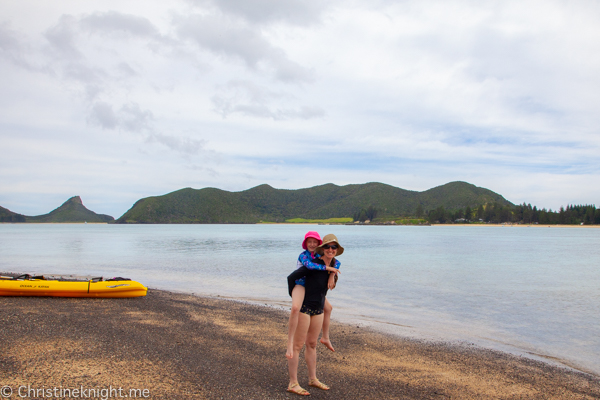 Hire a kayak for $20 per hour, $15 for subsequent hours. We fit two adults and one child in our kayak.
Hand-feeding wild fish on Ned's Beach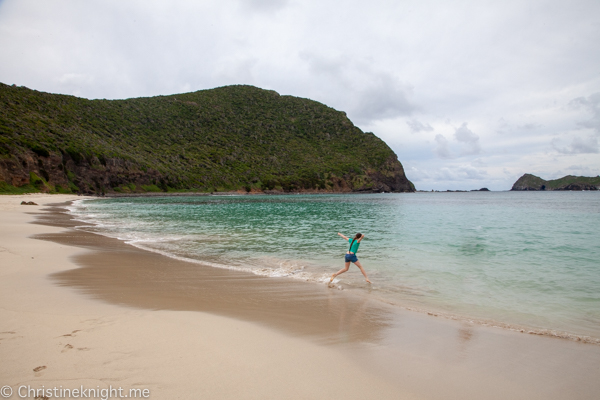 One of the most popular things to do on the island. the wild fish at Ned's Beach are extremely friendly and will eat fish food from your hand. Food is available from a shack just off the beach, There is an honesty box to put $1 or $2 coins in. Ned's Beach is also great for swimming and snorkelling.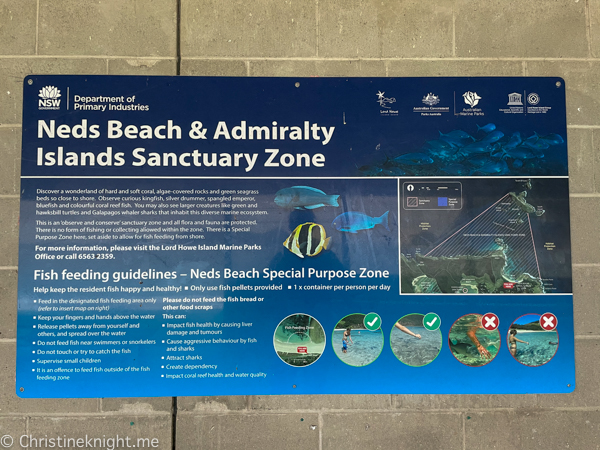 Hiking one of many walking tracks
Pick up a map from the Visitor's Centre. There are a surprising number of stunning walks around the island of varying lengths and difficulty levels.
Walks we did:
Malabar to Dawsons Point Ridge: (1.5km) Class 4 and Max Nicholls Memorial Track to North Bay: (1.5km) Class 3 walks combined, which was quite the challenge but gave us spectacular views.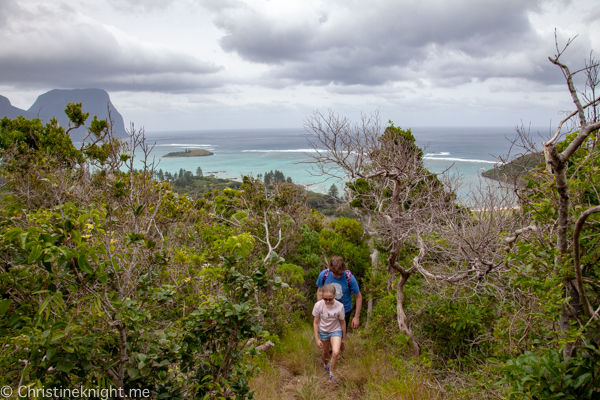 Clear Place: (1.2km return) Class 2 – this one went through the rainforest and included jungle swings.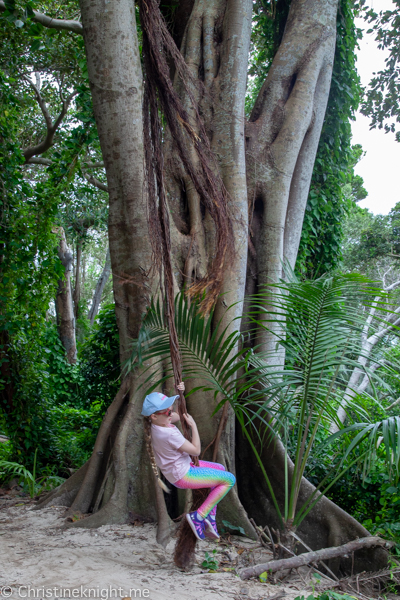 Little Island Track: (1.4km) Class 2 – this one is flat and easy and wraps around the coastline under Mt Gower. Spectacular.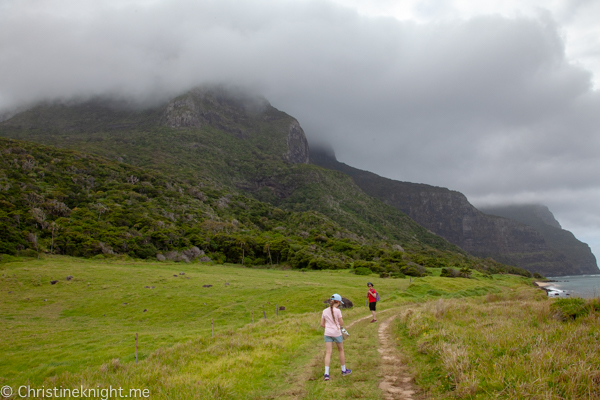 Bbq on the beach
There are free BBQs set up on the beachfront all over the island. Just BYO food and equipment. The BBQs are very popular at lunchtime and sunset so plan ahead.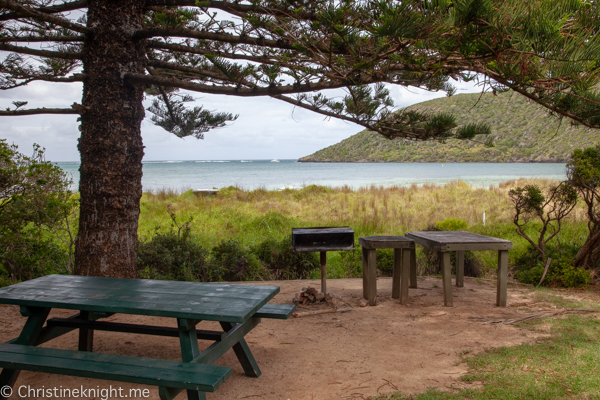 Coffee and muffin from the Anchorage
This was our daily routine. The coffee and fresh muffins were amazing.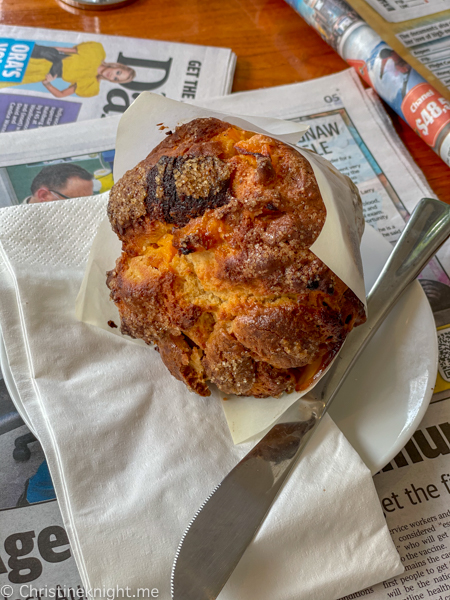 Sunset on the lagoon
A must-do at least once during your stay on the island.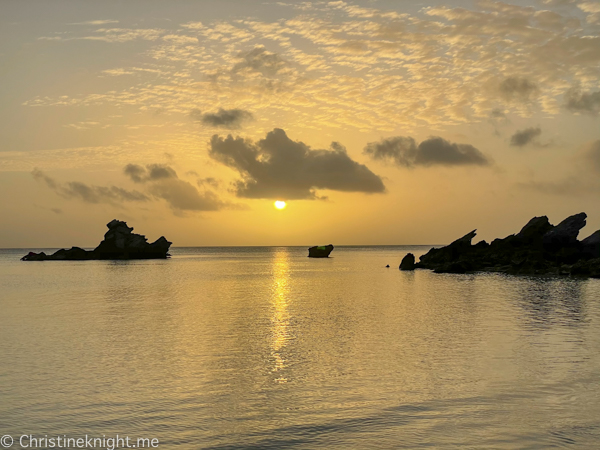 Watching sea turtles at Old Settlement Beach
We were lucky enough to see sea turtles at Old Settlement Beach. This is their local hangout and can be seen here frequently.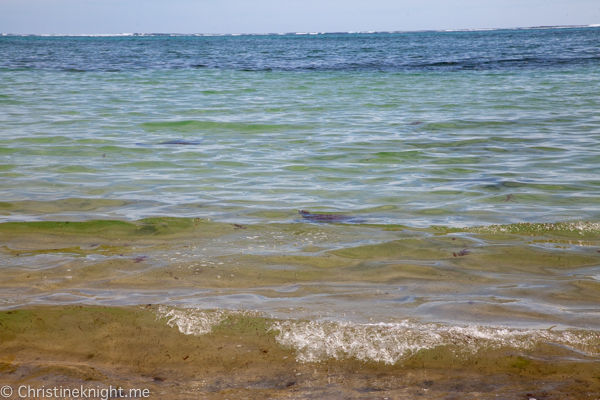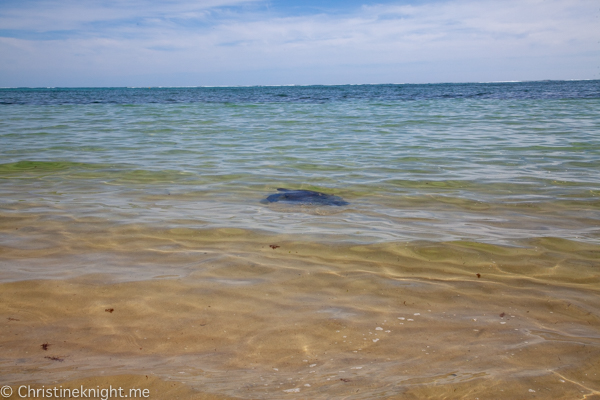 Bird watching
Birds are everywhere! During our December stay we were lucky enough to see terns and their teenage offspring in their thousands at Ned's Beach. Just amazing. Watching the birds, fearless of humans, nesting with their young was probably the number one highlight of our Lord Howe Island holiday.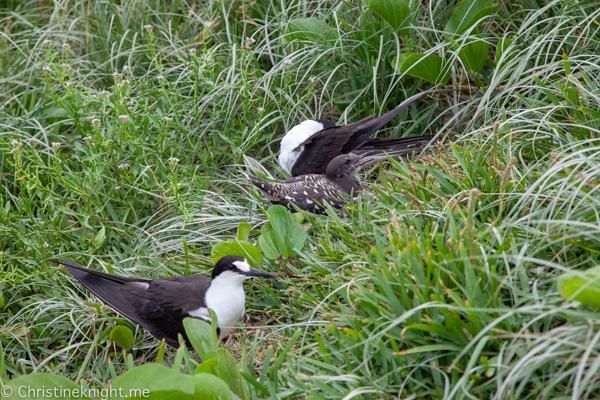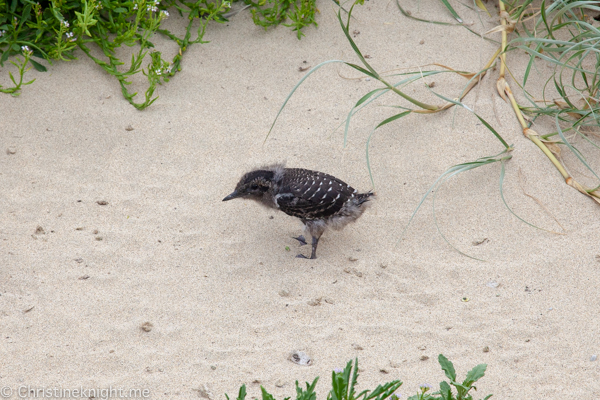 When to visit Lord Howe Island
Lord Howe Island's climate is mild, year-round. Maximum temperatures on the island hover around 25° celsius throughout summer, dipping to an average of 19° c in winter, while daily minimums range from 20°c in summer falling to around 12-14°c in winter. Basically you can plan your Lord Howe Island holiday for any time of year and it will be amazing.
The water even in summer can be cold, however wetsuits are available for hire, including children's sizes.
Accessibility
Lord Howe Island is old school, and this includes accessibility for disabilities and strollers from what I noticed. If mobility is a challenge or you are visiting with a wheelchair, I suggest calling LHI directly to discuss options.
Playground
There is one playground on the island for kids located behind the lagoon.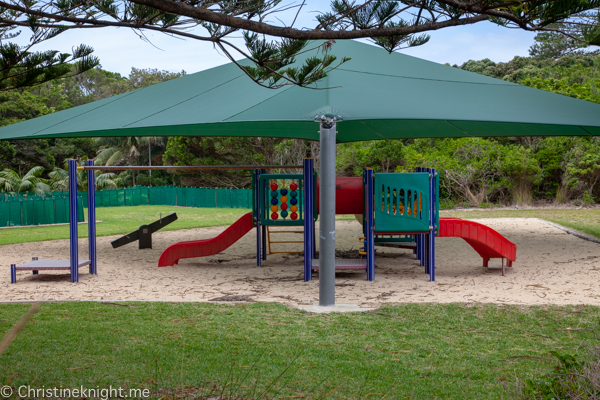 What to pack for your Lord Howe Island Holiday
From the Lord Howe Island website:
Dress is casual, smart casual for evenings.
Swimming costume, hat and sun protection.
Shoes for bush and reef walking, flip flops.
Day pack for walks and beach trips.
A raincoat and windcheater are recommended owing to occasional showers and squalls that can occur at any time of the year. (It rained most days when we visited in December)
Pack required medication in your carry-on baggage for travel on Qantas Link.
I would add to this: swimsuit, hat, sunglasses and sunscreen in your carryon luggage. Sunscreen is available to purchase on the island for a reasonable cost if you run out.
Medical facilities are limited so bring everything you might need.
Long-sleeve rashies/swimsuits and light cotton coverups – the UV index is high in summer.
Communications / internet access
Your mobile phone will not work on the island. I suggest giving the phone number and email address of your accommodation to family members to reach in case of emergency. Public phones are available and the Visitor Centre is open Monday to Friday 9am to 3pm and on Sunday 10am-1pm – internet is available here for visitors and locals.
Wifi is also available from the Anchorage restaurant. Be warned however that the internet available is limited and you won't be able to do much more than download emails. No video streaming services, so download TV shows or moves before you leave home.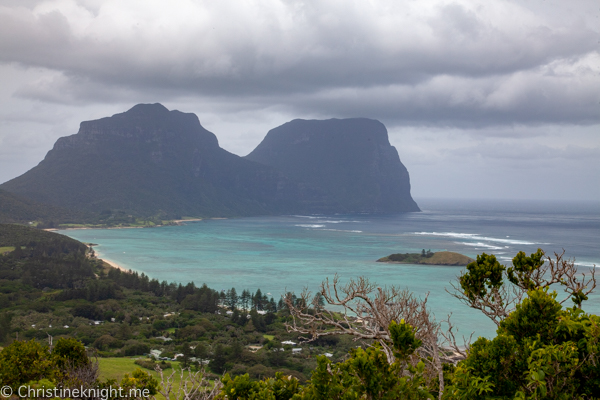 Medical facilities
A small hospital and dispensary is situated on Lagoon Road. Consulting and dispensary hours at this four-bed hospital are 9.00am to 12.30pm Monday to Friday. The doctor and nursing staff are on 24-hour call in case of emergencies.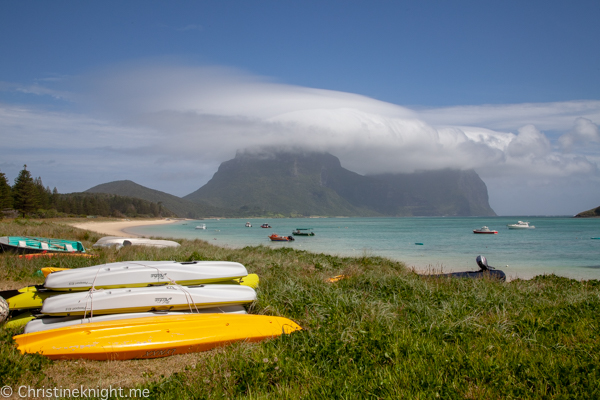 Time


Australian Eastern Summertime during daylight saving. Winter is 30 minutes ahead of Australian Eastern Standard Time.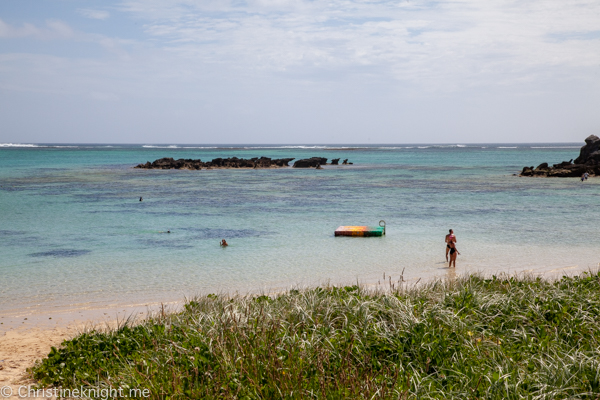 Banks, Credit Cards and Money
The currency is Australian Dollars. The Westpac agency operates through the Post Office, open hours are Mon-Fri 10am-1pm and 2pm-4pm. Credit cards are accepted widely but not everywhere. There is an automatic banking teller available for use at all hours at the Lord Howe Island Bowling Club.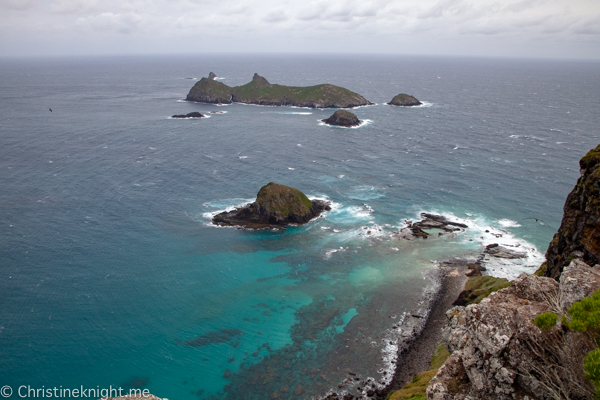 Electricity


240V AC 50 cycles, three-pin plug – the same as mainland Australia.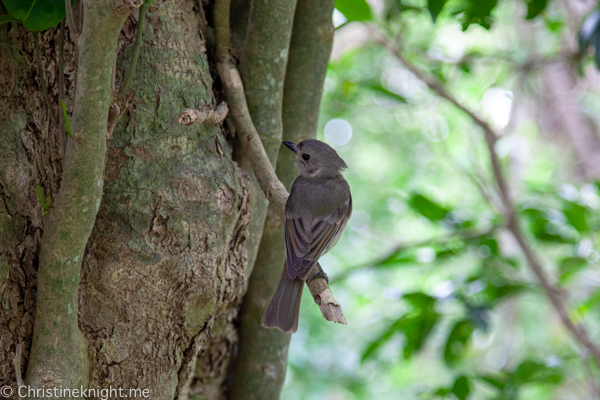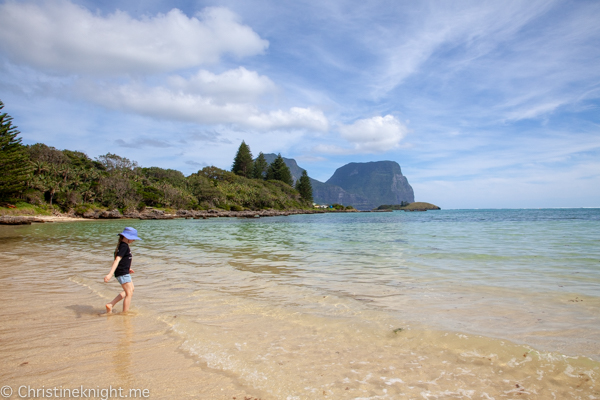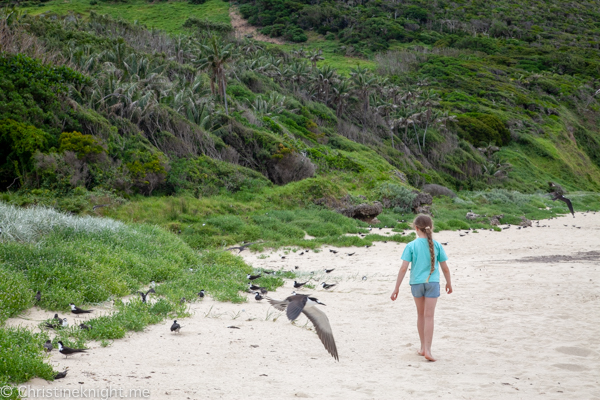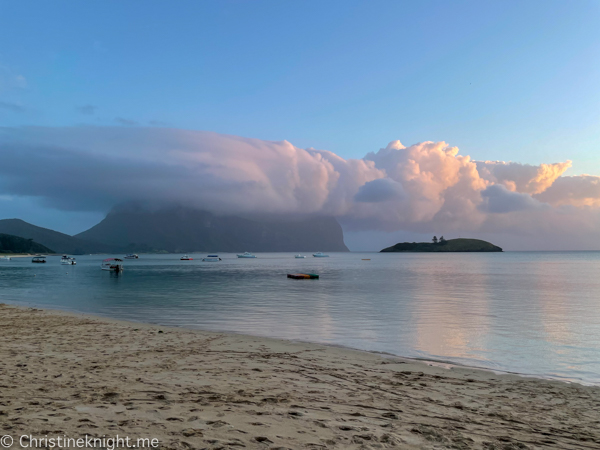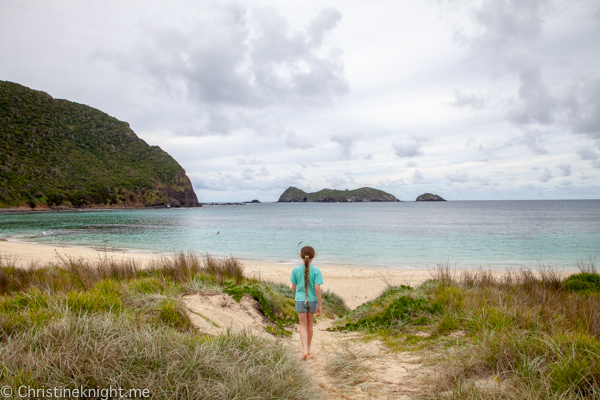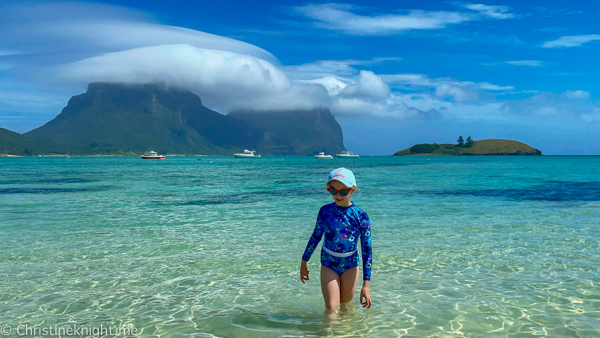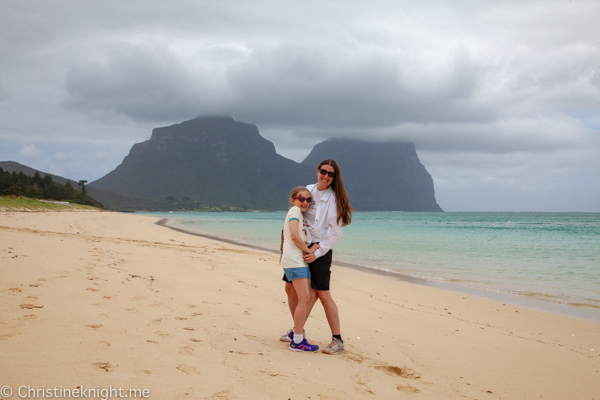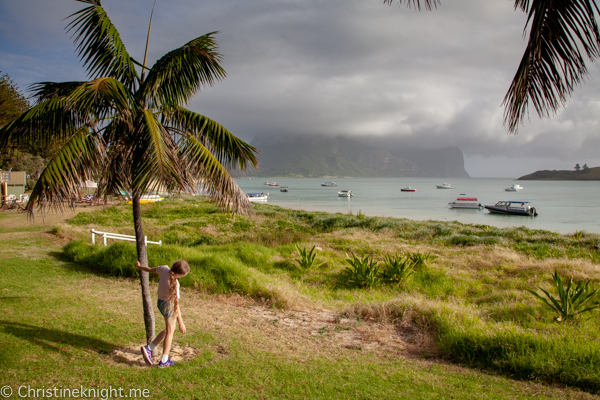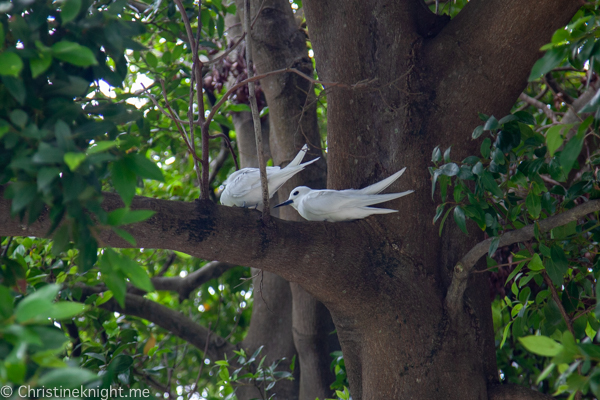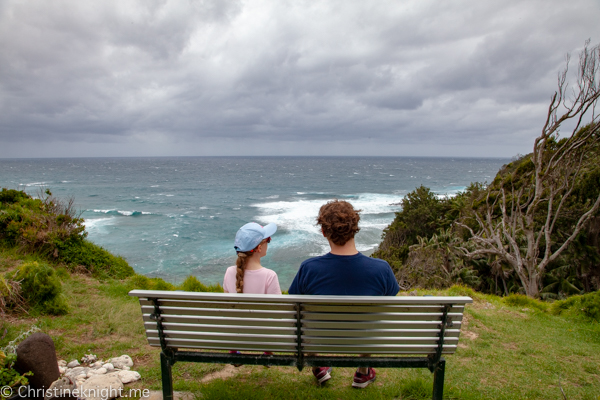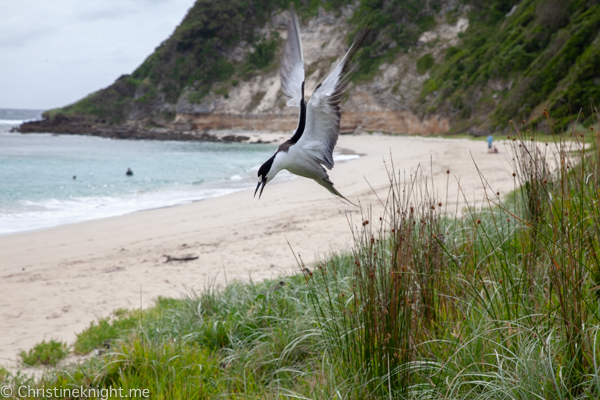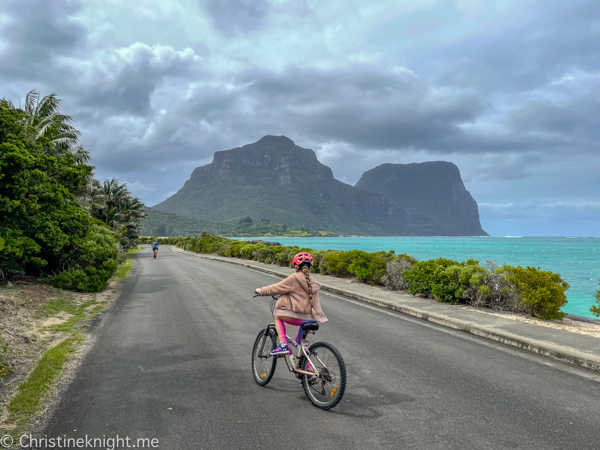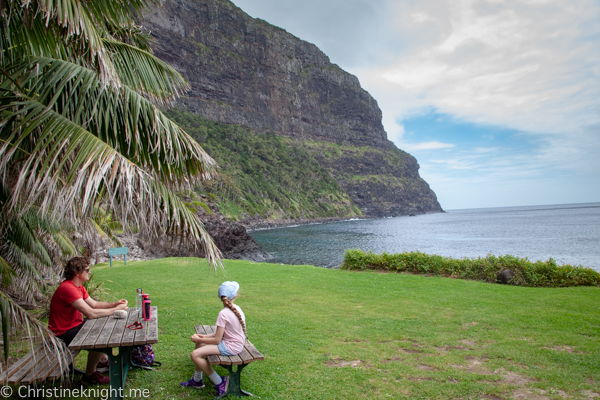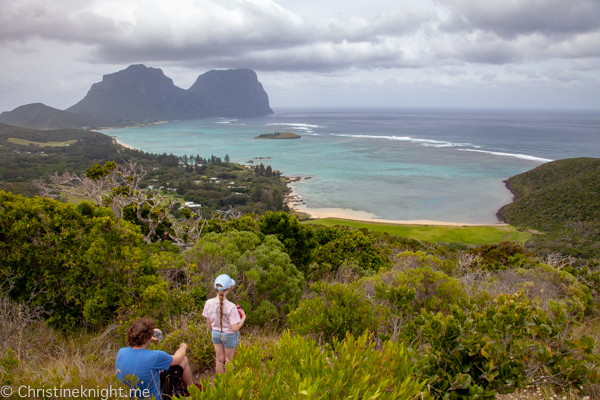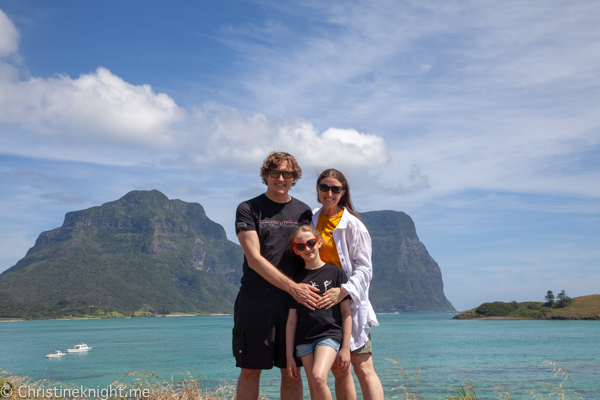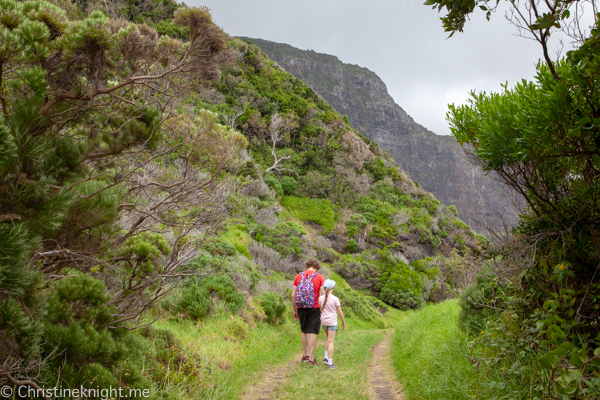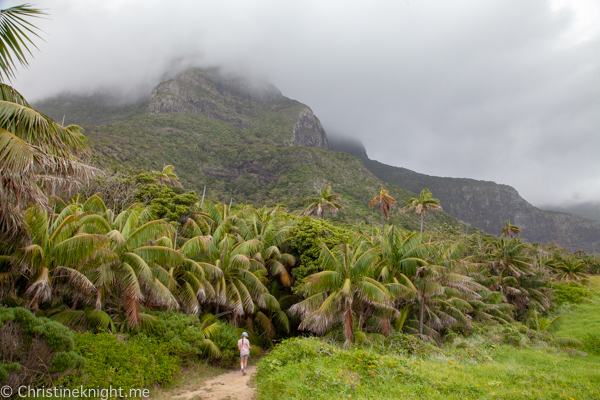 Lord Howe Island
http://www.lhib.nsw.gov.au/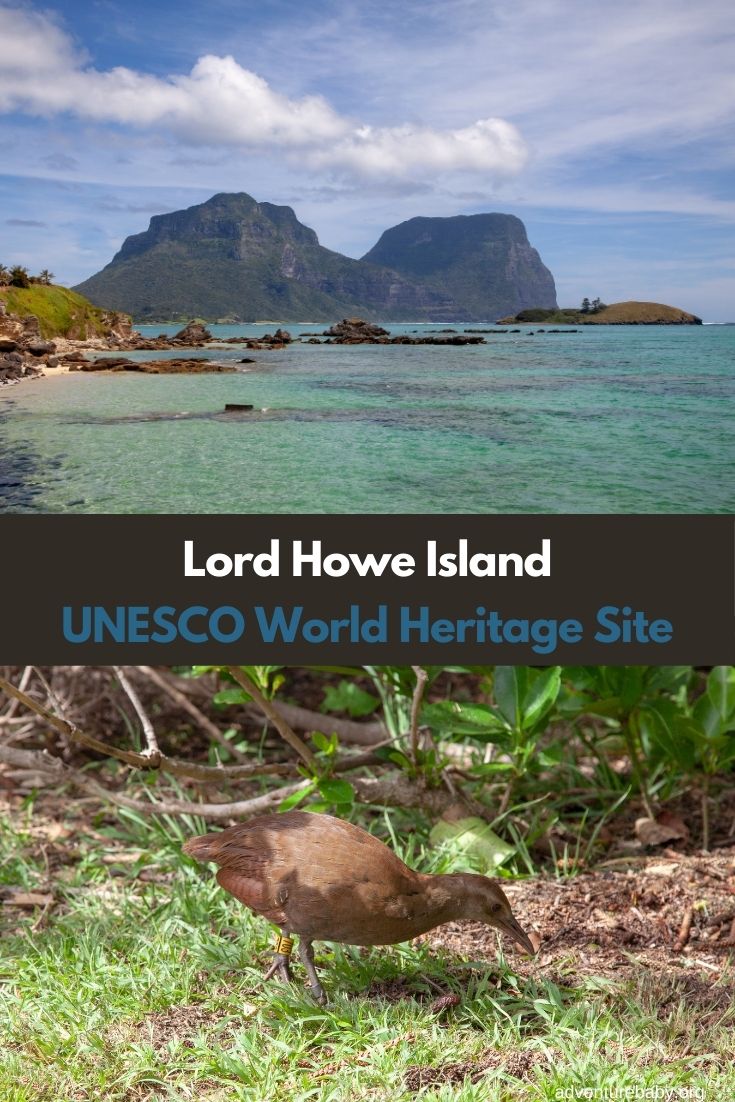 More things to do in Sydney
Find a list of the best things to do in Sydney with kids.
Find things to do in Sydney for free.
Explore the best Sydney gardens and parks.
Get a list of the best kid-friendly beaches in Sydney.
Find the best animal experiences in Sydney.
Chase waterfalls in Sydney.
More things to do on the Central Coast.
Visit the best kid-friendly restaurants in Sydney.
Find the best high teas in Sydney.
Things to do in the Southern Highlands.
Head to one of the best museums in Sydney.
Check out things to do in Sydney on a rainy day.
Enjoy one of the best ocean pools in Sydney.
First time visiting Sydney? Get tips for first time visitors to Sydney.
Cool down at one of these free water parks in Sydney.
Find the best vegetarian and vegan restaurants in Sydney.
Get a list of the best playgrounds in Sydney.
Find the best ice cream and gelato in Sydney
Things to do in the Blue Mountains.
Plan amazing NSW road trips.
Pick your own fruit: fruit picking Sydney.
The best things to do in Western Sydney and Parramatta with kids.
Visit the most beautiful Sydney gardens.
Explore Sydney's best parks.
Find things to do in Wollongong.
Find the best high teas for kids in Sydney.