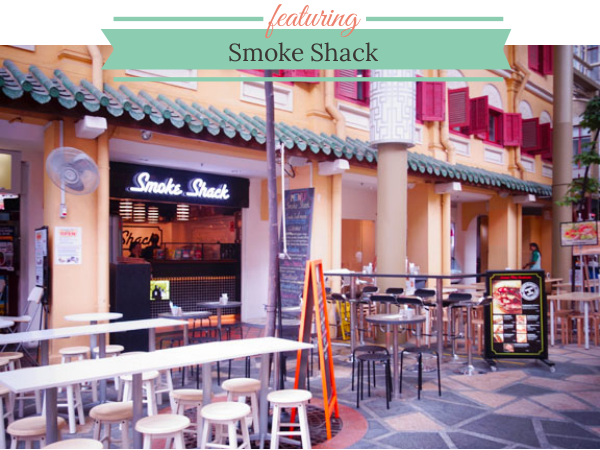 So after my Bodytec workout, I was looking for calories to put back in. Hey, a good workout deserves some kinda reward, right??
I was poking around the area and, wahey! Stumbled upon Far East Square. Within the ground floor alley (I love how it's made to look like vintage shophouses), there were lots of little eateries and Smoke Shack, a sandwich shop, caught my eye.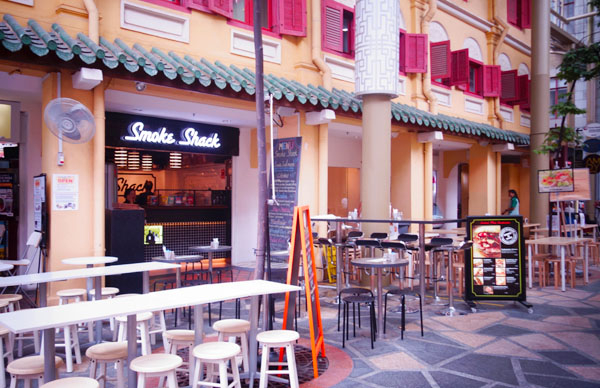 Their menu features 8 sandwiches, and that's it. All seemed fairly similar to me, so it took me ages to decide!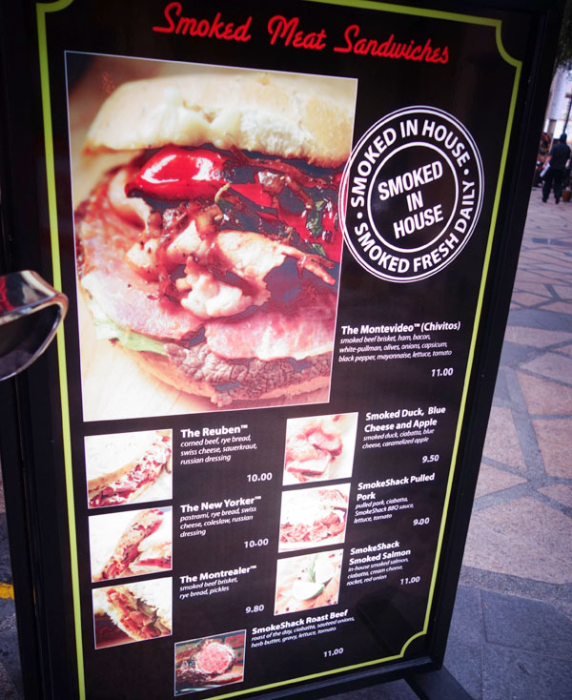 I always declare "I don't like sandwiches". But that's because I rarely find sandwiches made well. Here's what impresses me in a sandwich:
It has to be warm. I just can't stomach cold sandwiches (soooo boring!)
The bun has to be fluffy and soft. Crusty hard rolls are a no-go for me. I don't like gnawing away like a beaver does on wood.
The insides have to be moist. A dry sandwich is a crime!
The meat has to be absolutely tender. Nothing worse than taking a bite, and having ALL the meat drag out because it's too tough for your teeth to cut through. Ugh!
So how does Smoke Shack's Roast Beef ($11) stack up?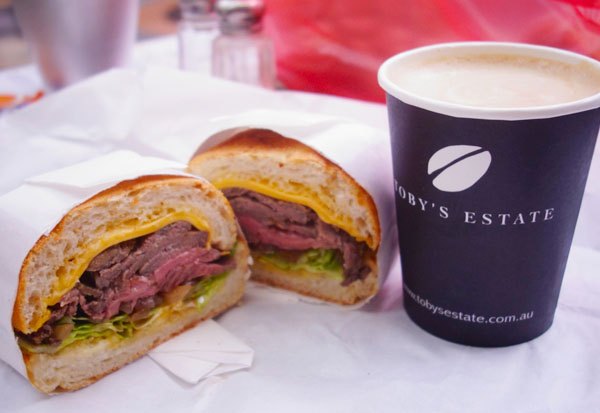 This, my friends, is PERFECTION. I was really stunned that such a gorgeous sandwich existed. It looked good, and it tasted good. Oh my, it really really tasted good!!
The bun was so fluffy and fresh and soft and warm. That alone already made made me happy. I loved how the ingredients were all stacked in neatly, and cut with a super sharp knife. An un-sloppy looking sandwich always looks so pleasing.
But the star was the roast beef – whoooaaaaaa. It was so tender that the beef just bit straight through. You'll see in the photo below my bite marks through it. No weird tendon bits, no chewy pieces that pulled out of the sandwich cos my teeth couldn't cut through it.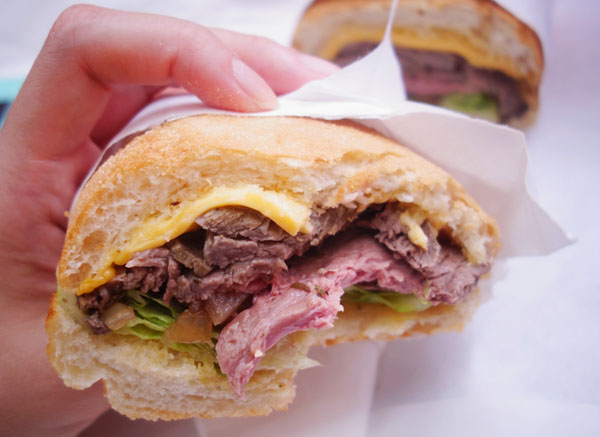 So is the place kid-friendly? It's a bit like sitting in a (nice) food court, so it depends if your kids fare well in that sort of scene or not. However, the area there allows kids to wander up and down where they'll be in plain sight. There are some water features nearby (also within viewing range) that they can check out.
If your kids are into burgers and sandwiches, Smoke Shack is a fantastic alternative to standard fast food joints.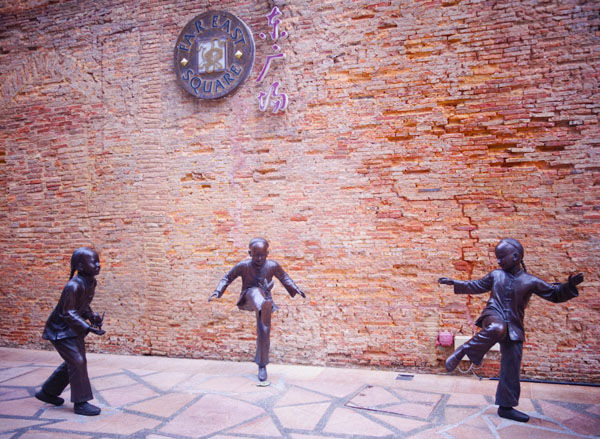 And just down the road is Tan Hock Seng Cake Shop (86 Telok Ayer St)! I stumbled upon it and learned that it is a 70 year old bakery, that is about as old school as it gets  – complete with their goodies stacked in cardboard boxes and a whole variety of edibles that I couldn't identify. I settled on just three types, but am planning to go back and try more!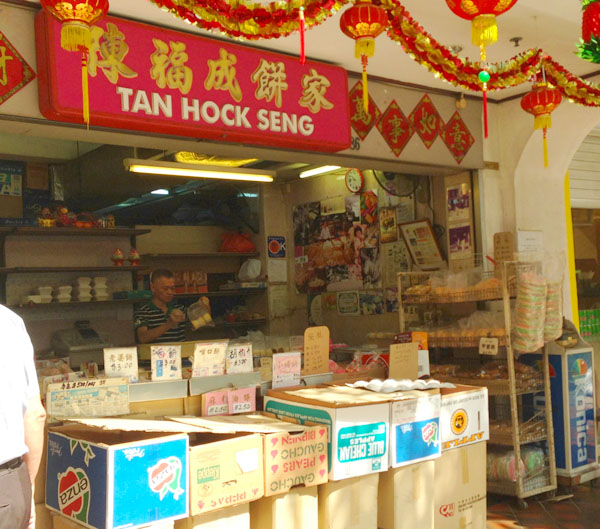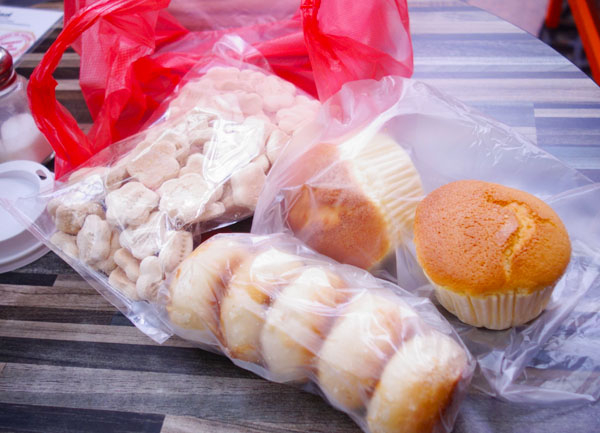 Last Bite: Smoke Snack is tiny (in both cafe size and menu size), but serves up some incredible sandwiches. The Roast Beef sandwich was divine!

Highchairs: No
Easy access: Yes
Change tables: No
Kids' menu: No
Smoke Shack
2 Amoy Street
#01-01 Far East Square
Singapore 049945
Phone: 6557 2214
Prices: $$
Hours: Mon – Fri: 7:30 am – 7:30 pm