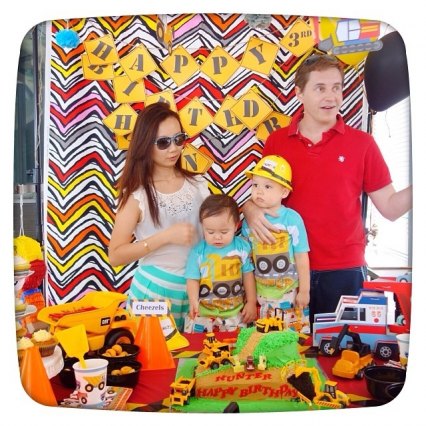 Planning a kid's birthday party: I go by the theory of what doesn't kill you makes you stronger.
But if you're a bit of a perfectionist like me, it's gonna come reaaaallllll close to killing you!
I've done (ie. planned, purchased, created, set up, take down) 3 birthday parties for my kids so far. That doesn't sound like much, and it isn't, but I went all-out with the decor each time (driving myself half-mad in the process). And based on those parties, I've learned each time what works, and what doesn't work.
I hope you find these little tips helpful!
WHAT YOU SHOULD FOCUS ON FOR YOUR KIDS PARTY:
Pick a theme – if you're like me and like structure and order, having a theme is the way to go. Plus, guaranteed your child is madly into some sort of toy/concept right now, be it Barbie, Disney Cars, Ben10, etc etc. Having a theme makes all the decor cohesive, and actually makes it easier to buy in shops or online (you have a keyword to use!). Most importantly, nothing beats the look of sheer delight when your kid sees the party area decorated in their favourite thing of-the-moment!
Get a 'wow' cake – this isn't an open invite to spend top dollar on The Cake 😉 In fact, one of the more memorable cakes my kids have had was a simple chocolate cake from Lana, that had the words "Happy Birthday" iced on it. What made it stand out was just some simple tiny candles in spaceship shapes, that we stuck around. It was the most basic of decor, but somehow, it worked. The kids there were captivated with the wee candles! That said, we've also gone the whole shebang and gotten one of those fancy fondant multi-tiered cakes. I don't regret that either, because it was delightful seeing the kids' faces when the cake was wheeled out, and the photographic memories of that awesome cake last forever. Considering The Cake is often the main feature of the party, it's worth making sure it's memorable. Try baking it yourself too – a cake baked with a parent's love will steal the show!
Have a main event –  throw a bunch of kids into a limited area and you'll have a disaster on your hands unless you have at least one form of entertainment for them. This can be something simple like a poolside party (which has always worked a charm for us), or something captivating like a magician or face painter. I've always been averse to the cost of paying for something like a Magic Show, but after seeing one first-hand at a recent party we attended (and seeing how completely enthralled and delighted the kids were), I'm having second thoughts and seriously considering getting one, if budget permits!
WHAT'S NOT WORTH YOUR TIME:
Party favors – from observation and doing random checks with friends, hardly anyone remembers what their kid received as a party favor. More often than not, the stuff just gets chucked out after the kid's had 5 minutes with it anyway. I'm not saying don't give them out, because it's still a sweet 'thank you' gesture to give a small present to your kid's friend, but there's no need to go overboard wringing your head for ideas on what to pop in. Try focusing on giving just ONE quality item as the favor, something that the kid will enjoy and use for awhile. Beware though, it also translates to more expensive, and if you x10 or x20 the number of favors you'll need, the cost can get quite prohibitive. If you're in this pickle, just get some really cute (and disposable) cheap toys and some lollies and chuck it into a simple bag, and you're done!
Making your own food – I've been to parties where the parents made their own food, and they've all complained later they wouldn't try doing that again! Unless you're cooking/baking for a relatively small party, outsource. It can be tasteful and simple (the afternoon tea pastries from Delifrance work a treat!), or something more filling (there are loads of hot food caterers out there, starting at just $8 per guest), but it takes a load off your plate when you're trying to prep decor for the party AND handling your child.
Agonizing over the decor – don't sweat the small stuff! That's my new mantra. Whenever I've done the decor for parties, I'll be a nervous wreck how all the colours don't match up, or if a piece of decor falls off the wall. The handicraft wasn't cut out with perfect edges? Heaven forbid! But you know what? No. One. Notices. People are busy watching their own kids and having a good time, they aren't speculating the quality (or lack thereof) of your craft work. So feel free to cut corners (literally and figuratively) and just chill out.
Not convinced?
Pretty sure you're a perfectionist and that you'll drive yourself (and everyone else) crazy planning a party?
Leave it to the professionals like Party Perfect, who will be your fairy godmother and save you a LOT of time, effort and energy (and hair pulling). We offloaded all the grunt work to them for Hunter's 3rd birthday recently, and boy, I ACTUALLY HAD SOOOO MUCH FUN!! I could completely switch off and sit back and relax, both before, during and after the party.