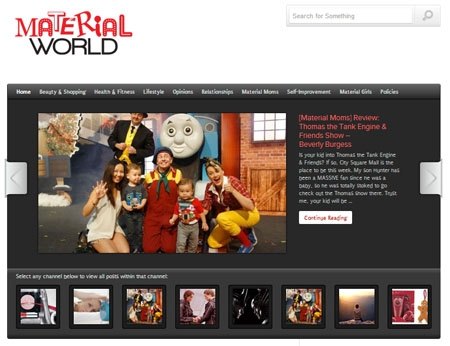 The following article was first published on Material World – a fabulous online magazine 🙂
—-
Is your kid into Thomas the Tank Engine & Friends?
City Square Mall is the place to be next week! Hunter has been a MASSIVE fan since he was a baby, so he was totally stoked to go check out the Thomas show there – never seen before worldwide!! Trust me your kid will be in total awe during the show.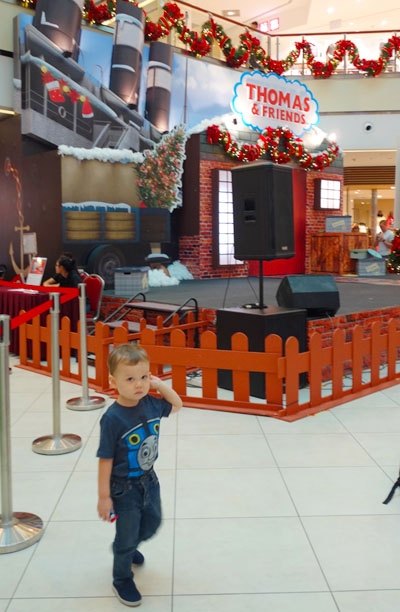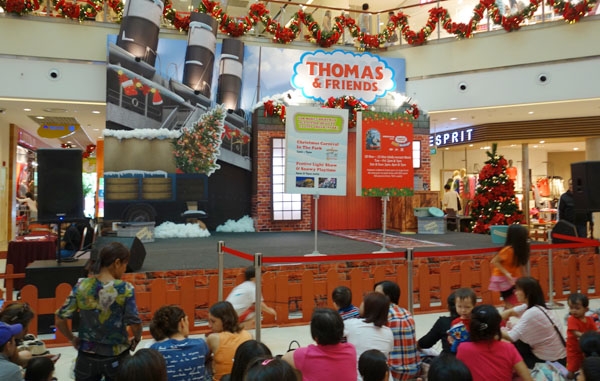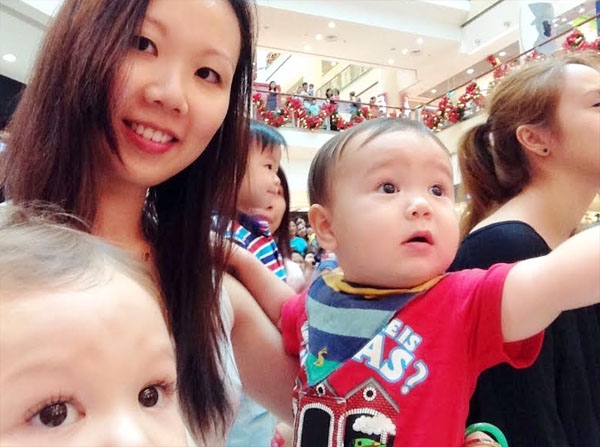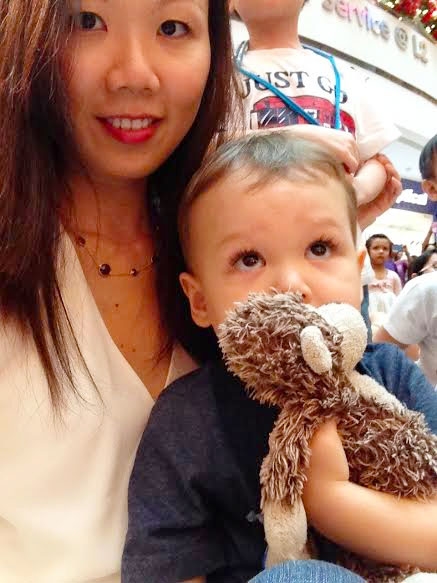 The performance's premise and theme surrounds around City Square Mall's values – which is to care for the community and save the environment. And so we kick off with Chad, asking us to help him sort through what is recyclable and what is not. I was impressed with the kids around us – they were all spot on with their answers!
There was a surprise naughty cat that made all the kids squeal with glee, but I won't give too much away 😉 There were also some (easy) Q&A for the kids, to win a bunch of Thomas bags.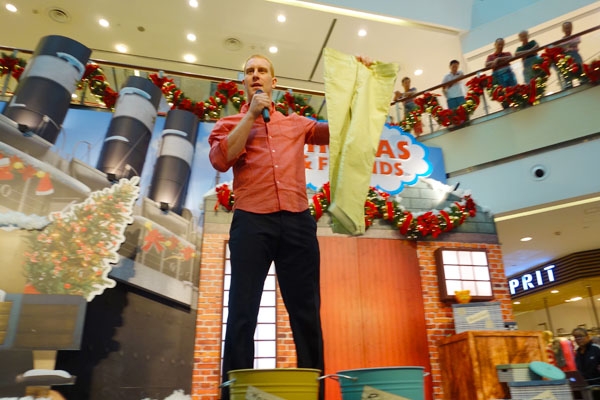 But the kids saved their biggest cheers for…. THOMAS! He arrived in a puff of smoke and was a HUGE train. He's trundled out to the middle of the stage, and his eyes move and he speaks and puffs away. You'll see the Fat Controller there, but it was Rusty and Dusty the characters that really stole the show with the kids – thanks to their crazy antics.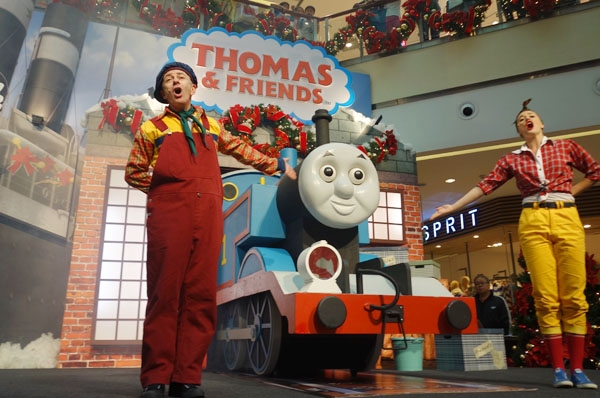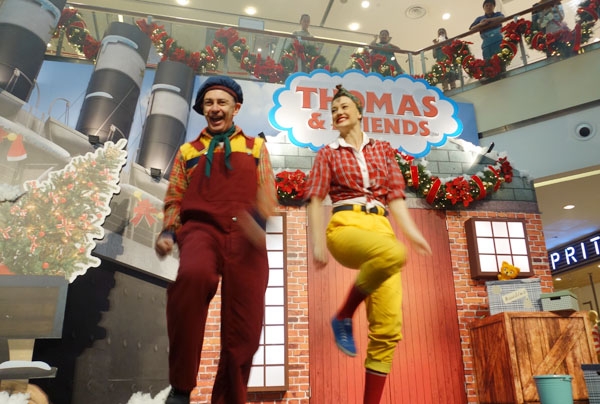 There's a little special surprise for the kids at the end… a flurry of snow! Truthfully, the first thing I thought was "Oh nooooo! This is gonna get messy." But, oddly, the 'snow' dried off and vanished, leaving zero residue or water spots on my clothes and bag, and left our hair looking normal afterwards (despite us being covered in the stuff). I don't know what it's made of, but it's pretty impressive technology!
My kids were so surprised with the snow that they just had this shell-shocked looks on their faces the whole time 😉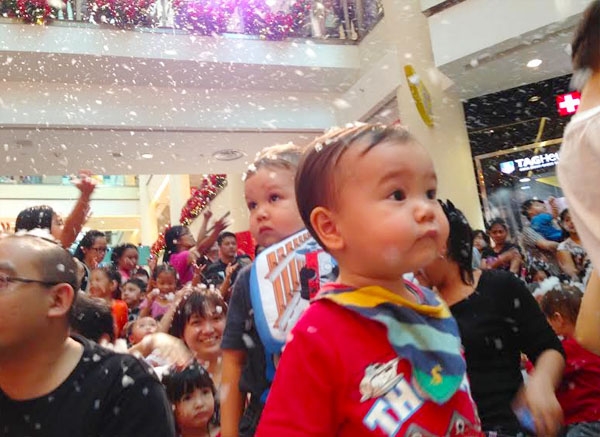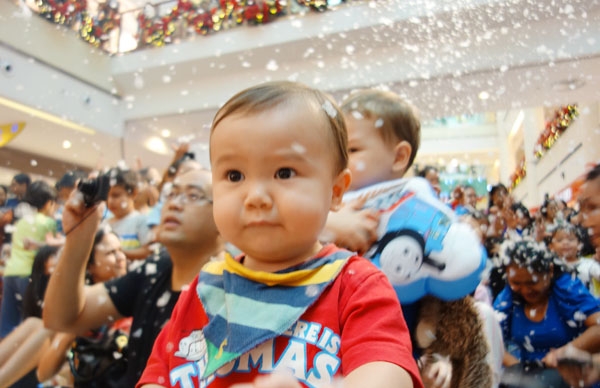 The Meet & Greet Session (just spend a minimum of $50 at the mall) is straight after the show and, boy, people are fast to jump into that queue! The characters are hilarious and come up with an infinite number of silly poses for every group of kids that come on stage.
I was pretty shocked my kids were OK with going up (the Thomas train does seem a lot bigger the closer you get to it!) and taking a photo, but they were actually really happy to do so and posed accordingly… in their Thomas tees!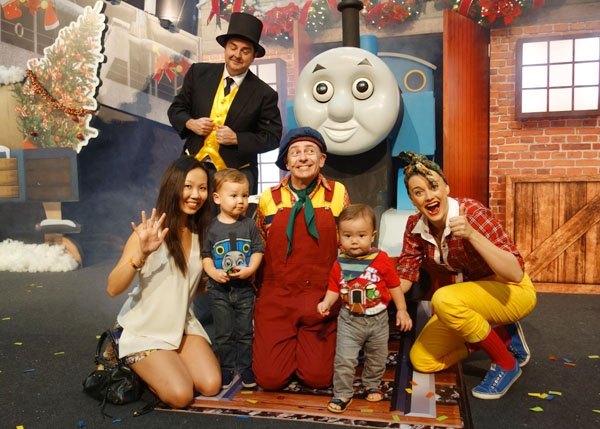 And, if you spend $200 at City Square Mall, you get a free Thomas & Friends cushion and a Christmas Carnival coupon (worth $4) for a ride or game. UOB debit/credit cardmembers need only spend $180 to quality. Limited to one redemption per shopper per day.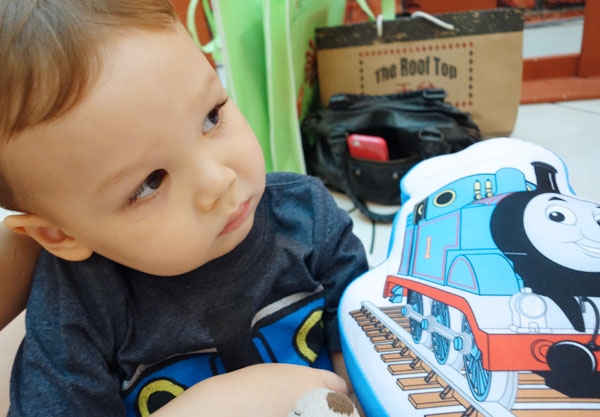 So what did we make a beeline for afterwards?
Yep. The Christmas Carnival in the Park! It has super cute rides for young kids and both of mine loved them. It's all so cheerful and colourful! Carter even managed to sit still for a whole 3-mins during the train ride – I was astounded.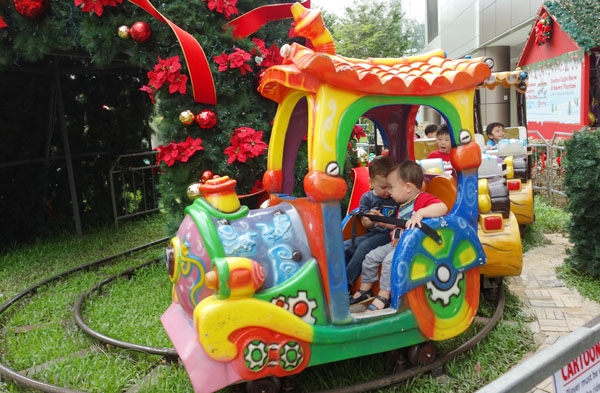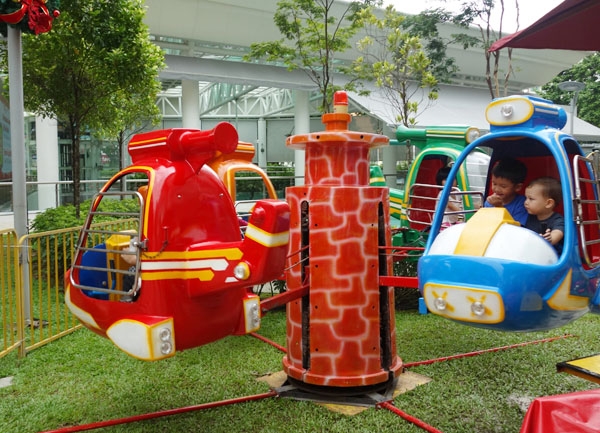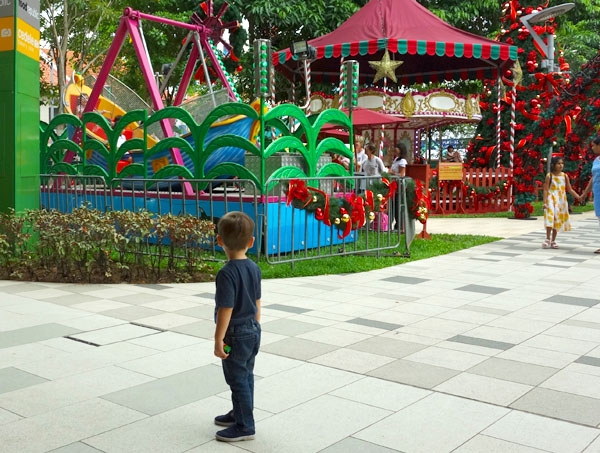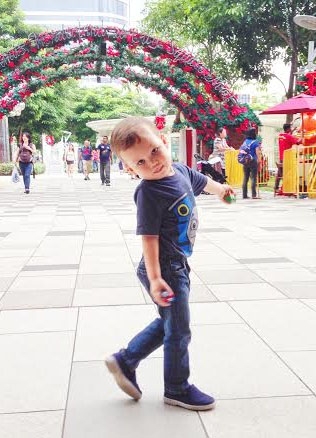 We got an opportunity to Meet the Cast afterwards as well. Considering their thick English accents on-stage, I was surprised to hear…. Australian accents when chatting with them! They hail from Sydney as well 🙂
Here are some little tidbits I learned from them:
They get equal numbers of boys and girls to the Thomas show.
Dusty and Rusty, the dock station hands, are unique characters created for this Thomas show.
They listened to cockney accents on YouTube to perfect theirs.
Kids in SG are more in wonderment during showtime, compared to other countries' kids.
The kids and I had a ball during the Thomas the Tank Engine & Friends show! It's highly-engaging, very lively, and (bonus points here) has the Thomas theme song performed both the traditional way as well as a beatbox way – hilarious! Pop on down to City Square Mall with your kids to check out the show…. and remember to go early to secure your seats 🙂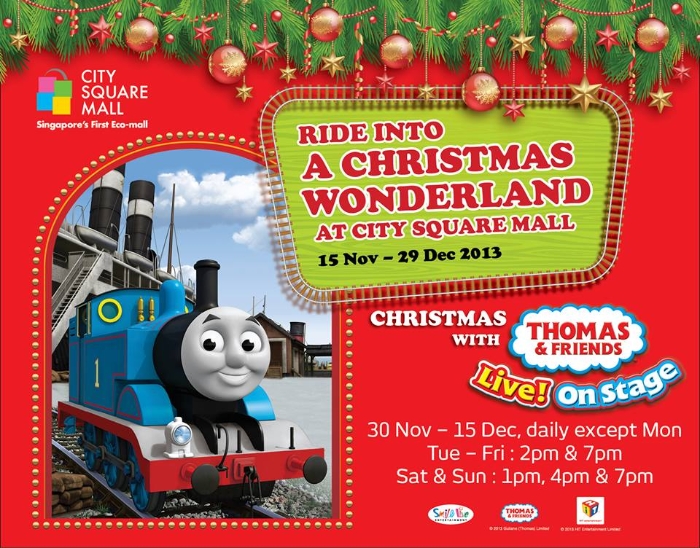 EVENT: Christmas with Thomas & Friends Live Show
DATES: From now to 15 Dec (daily except Mondays): Tue-Fri at 2PM & 7PM, Sat-Sun at 1PM, 4PM, 7PM
VENUE: Level 1 Atrium
DETAILS: Free seating. Go early!
EVENT: Meet & Greet with Thomas & Friends
DATES: From now to 15 Dec (daily except Mondays): Tue-Fri at 2PM & 7PM, Sat-Sun at 1PM, 4PM, 7PM
VENUE: Level 1 Atrium
DETAILS: Happens after the Live Show. Redeem an exclusive pass for this meet & greet session with a minimum spending
of $50 (50 passes will be given out 45 mins prior to each show)
EVENT: Christmas Carnival in the Park
DATES: From now to 15 Dec (daily): 1-9PM
VENUE: Level 1 City Green (outdoors)
DETAILS: Kid-friendly and super cute carnival rides, as well as game booths with prizes. $4 per coupon.
EVENT: Festive Light Show and Snowy Playtime
DATES: From now to 15 Dec (daily): 8PM & 9PM
VENUE: Level 1 City Green (outdoors)
DETAILS: A beautiful light show with a kaleidoscope of colours…. and snow!!