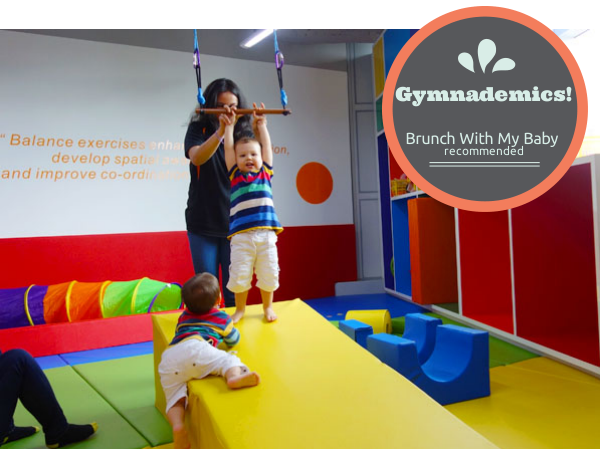 Hunter was with Gymnademics a few months ago, and did a term there. I specifically liked it because of the very different method of activity/enrichment Gymnademics offers, for children from 5 months to 5 years old.
(pssstttt: read on for a super Opening Special!!)
Gymnademics' concept is simple, and really made sense to me.
Here's me translating it into laymans terms: When a child is doing physical activity, blood volume increases and also rushes to the brain. An increase in blood flow/oxygen to the brain is known to enhance learning and memory. Gymademics builds on this to incorporate BOTH physical activity (ie. running around having fun) with academic learning (ie. looking at flash cards), to accelerate learning and provide your child with a super-fun environment. After all, NO KID likes to sit down and learn page-after-page or be drilled nonstop by a boring teacher.
Hunter attended the SAFRA Toh Payoh branch, which was an epic journey across the country for us in the morning. For that reason, I didn't continue, despite the gym sessions being so good for him (he's a very cautious kid, so I reckon he really benefits from this sort of fun and teaching).
But then………. Gymnademics opened a branch at ARC!!!!
The new location is right at Labrador Park MRT, with FREE PARKING (!) on weekends, and has two rainbow-coloured studios to play in.
We popped in there for a Free Play session (1 hr for $15, or a package of 4 hrs for $40)!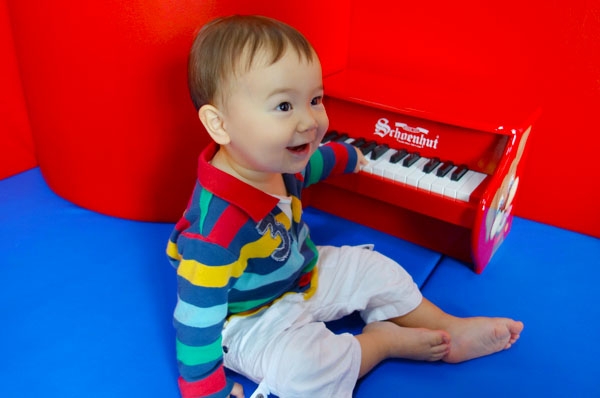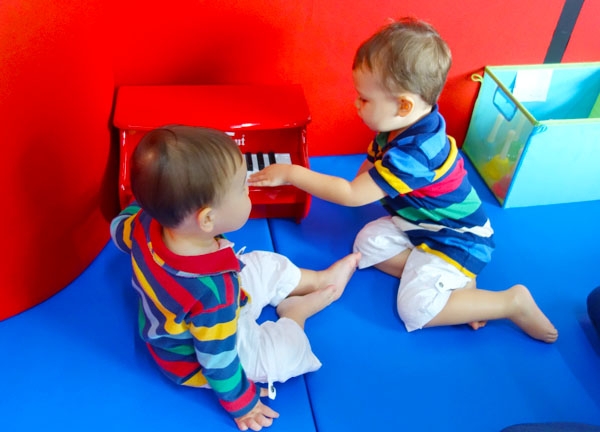 When Hunter first joined Gymnademics just when he turned 2, he was so cautious and worried about everything that he even had trouble going up/down these small cushioned things below. He got accustomed to it after a few classes and now is pretty brave!
Carter, however, was really happy to clamber alllllll over everything like a crazy little wombat.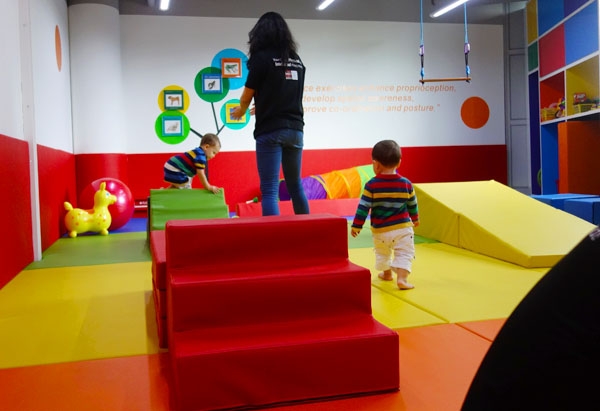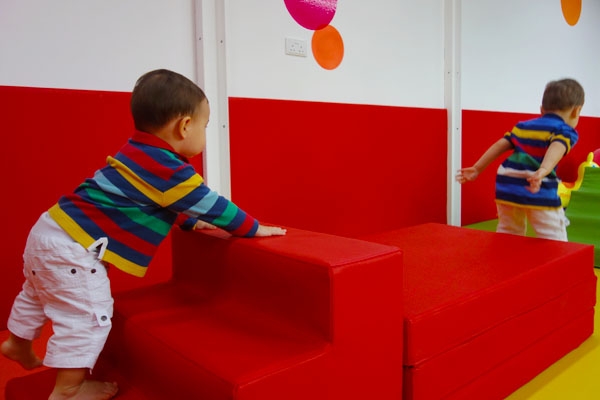 In the regular classes, they do gym activities like "forward roll", "wheelbarrow" etc. Here's Hunter demonstrating to Carter how to do the "sausage roll" (self-named haha!) where they just lie on the floor and… errrr… roll around.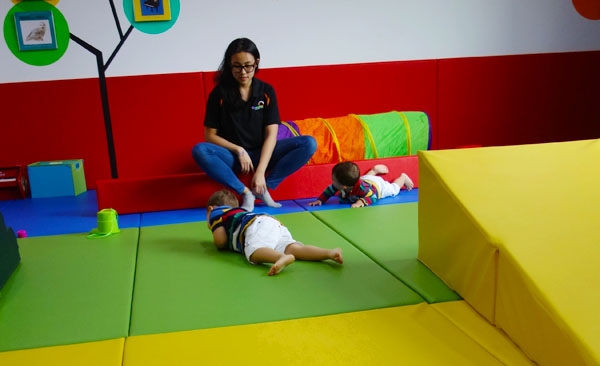 Their cousin Elliot (5 years old), and friend Caden (11 months old), joined in on the fun! It's not just gym activity, as there are toys everywhere as well during Free Play.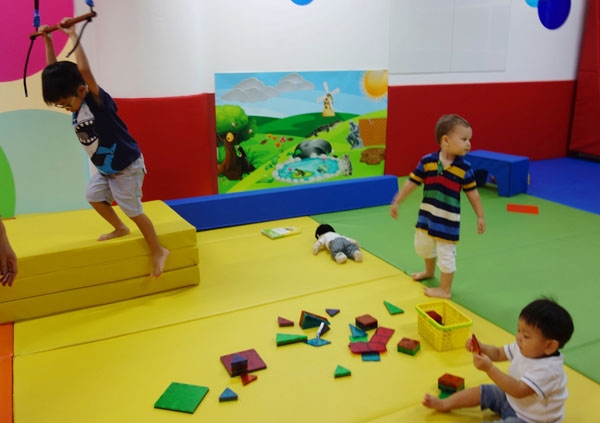 From now until 30 Nov 2013 (only SIX MORE DAYS eeeeek!!) they have an Opening Special: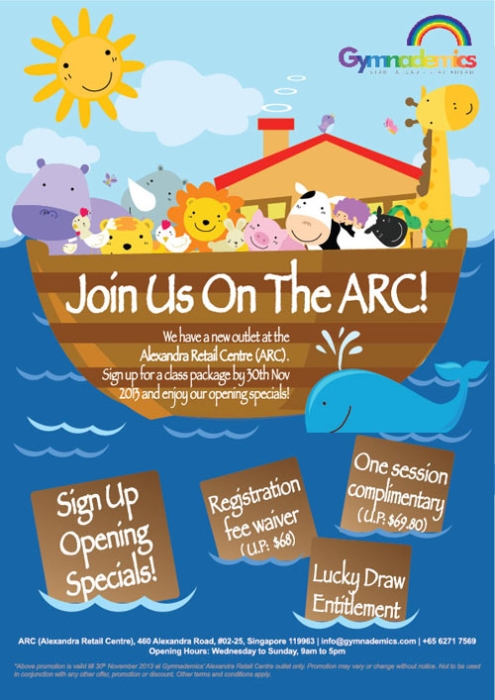 Opening Promotions:

Sign up for a class package and enjoy
o Registration fee waiver (usual price $68)
o One complimentary session (usual price $69.80)
o Lucky draw entitlement

Lucky Draw Contest (Draw Date: 30th November 2013 )
o 1st Prize: Ben & Bella Reading Set (worth $550)
o 2nd Prize: Doman Advantage Kit (worth $299)
o 3rd Prize: We Are Family! Photo Package (worth $250)
I'll be frank – Gymnademics don't often do specials (believe me, I waited and waited for one before I gave up and signed Hunter up at full price!!) so this is AWESOME. If you are keen on checking out Gymnademics, I'd hurry on down to their ARC branch to have a look around (ask for Joseph or Alison!) and decide. It honestly is a good deal that doesn't come round often (or ever??)
Carter is signed up for their classes in the new year!!! Maybe we'll see you there 🙂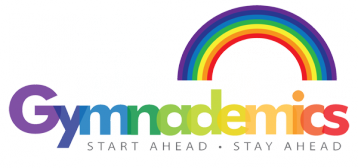 Outlet Details
Address: Alexandra Retail Centre, 460 Alexandra Road #02-25, Singapore 119963
Telephone: +65 6271 7569
Email: arc@gymnademics.com
Opening Hours: Wednesday to Sunday, 9am to 5pm