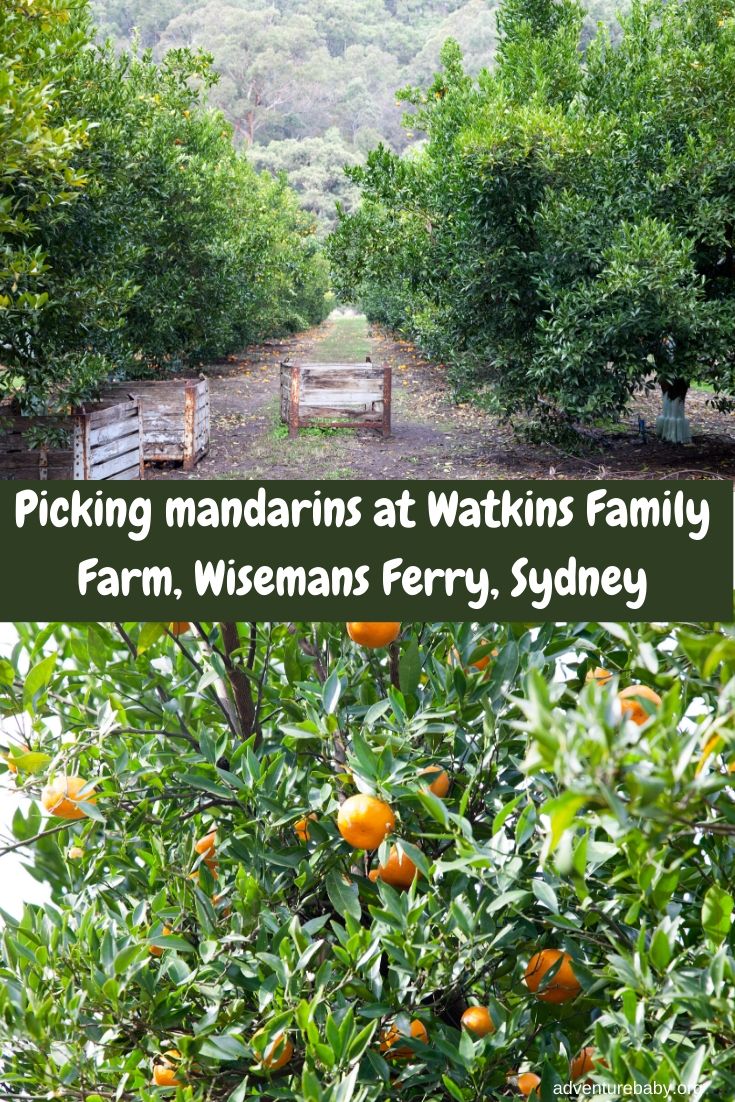 Mandarin Picking at Watkins Family Farm Wisemans Ferry
Pick your own mandarins in the crisp country air at Watkins Family Farm, in Wisemans Ferry, NSW.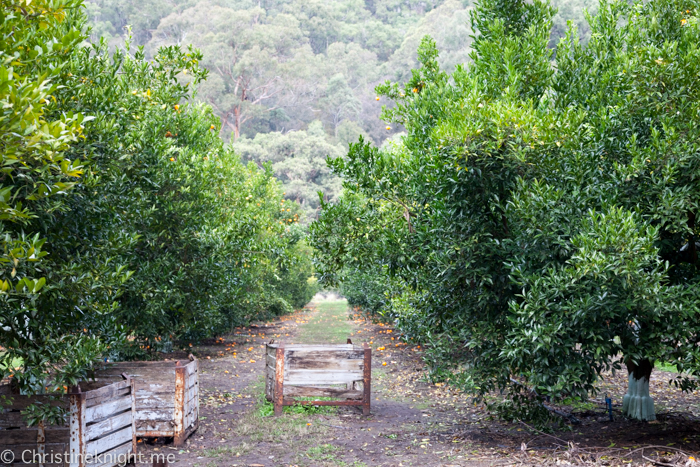 Watkins Family Farm is a family-owned business, the land being granted to James Watkins in 1867, and farmed by the next seven generations.
The end of autumn / beginning of winter marks the start of mandarin picking season at Watkins Family Farm.
With over 2000 fruit trees to pick your own fruit from and farm animals to meet and feed, a visit to Watkins Family Farm is an excellent outing for all ages.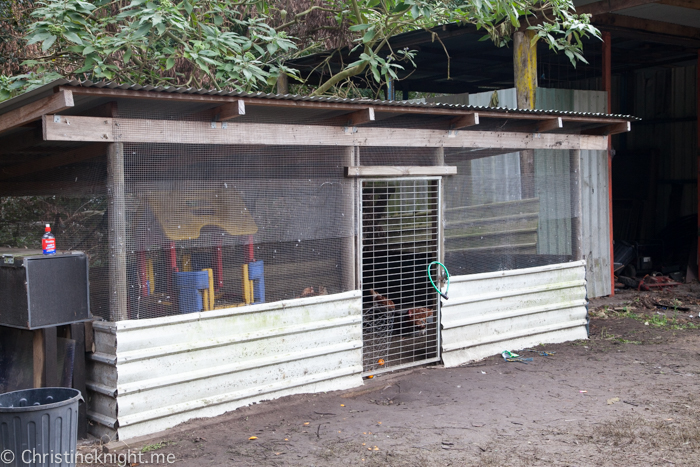 Note: During COVID-19 the farm animals are not available and there are no picnics permitted on the property. Visitors are asked to responsibly comply with social distancing rules and maintain 1.5m distance from others.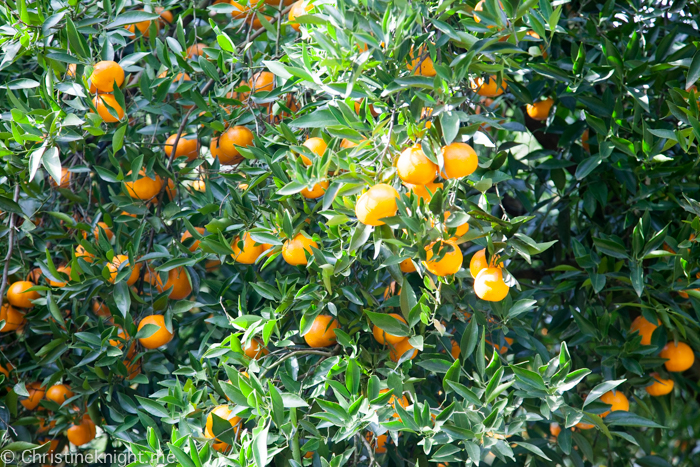 The farm specialises in mandarins: juicy imperial and hickson mandarins are on offer each season for picking.
We were surprised at how popular the farm was and how many people were there on the day we visited. A lot of the low-hanging mandarins had already been picked, but we found trees with fruit that was within the reach of our child when we walked right to the very back of the farm to the last rows.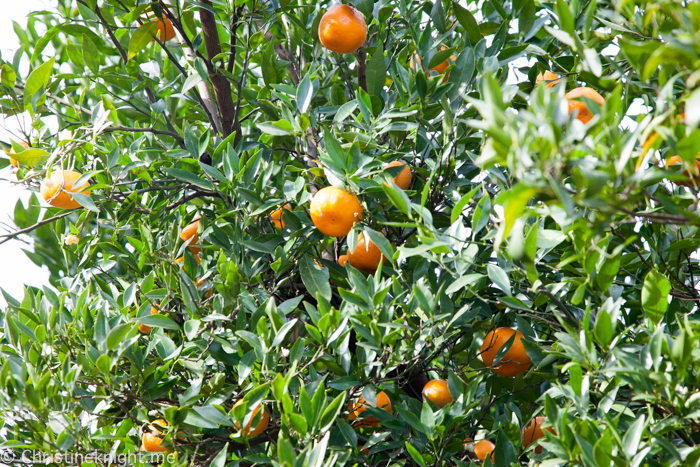 Tips for visiting Watkins Family Farm
The farm is cash only.
There is no mobile phone reception on the farm.
Wear shoes appropriate for mud and dirt.
Arrive before opening for the best experience. 9:45am at the latest. If you plan to arrive at the farm after 11am you will find it hard to get a parking spot and enter the farm.
Each adult must buy a bucket – $10 for a small bucket or $15 for a large one.
You may not take any bags into the farm, including handbags that are large enough to fit anything larger than a wallet.
The only toilet facilities are portaloos – use the bathrooms in Wisemans Ferry beforehand if you have the time.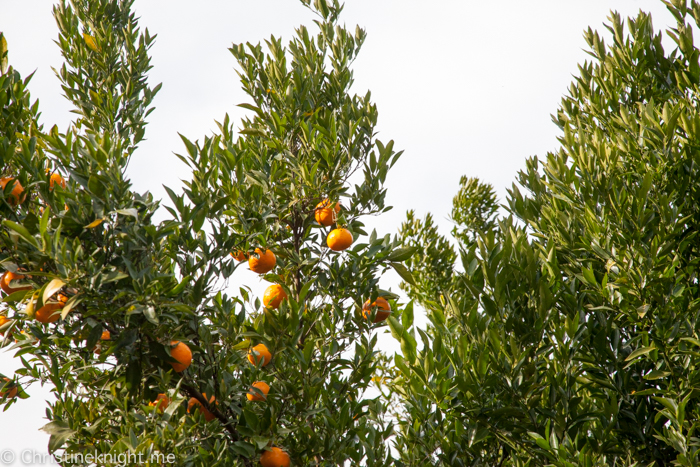 Watkins Family Farm
1006 Singleton Road, Laughtondale
Hours: 10am-4pm
https://watkinsfamilyfarm.com.au/
More things to do in Sydney
Find a list of the best things to do in Sydney with kids.
Find things to do in Sydney for free.
Get a list of the best kid-friendly beaches in Sydney.
Find the best animal experiences in Sydney.
Visit the best kid-friendly restaurants in Sydney.
Find the best high teas in Sydney.
Head to one of the best museums in Sydney.
Check out things to do in Sydney on a rainy day.
Enjoy one of the best ocean pools in Sydney.
First time visiting Sydney? Get tips for first time visitors to Sydney.
Cool down at one of these free water parks in Sydney.
Find the best vegetarian and vegan restaurants in Sydney.
Get a list of the best playgrounds in Sydney.
Find the best ice cream and gelato in Sydney
Things to do in the Blue Mountains.
Plan amazing NSW road trips.
Pick your own fruit: fruit picking Sydney.
The best things to do in Western Sydney and Parramatta with kids.