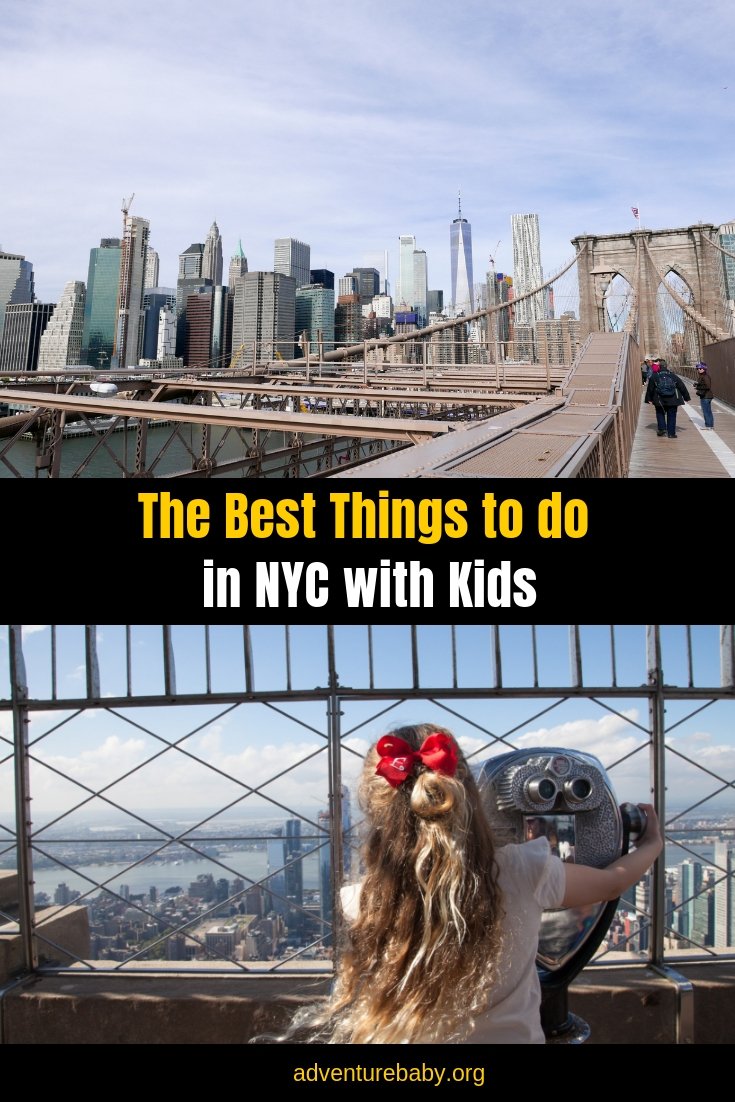 The Big Apple might appear to be a playground made for adults. However, the city that never sleeps also caters very well for our little ones who might similarly never rest, which makes it the perfect vaycay when you think about it! There are plenty of things to do with kids in NYC – so many so that you'll need to extend your trip to fit them all in!
Things To Do In NYC With Kids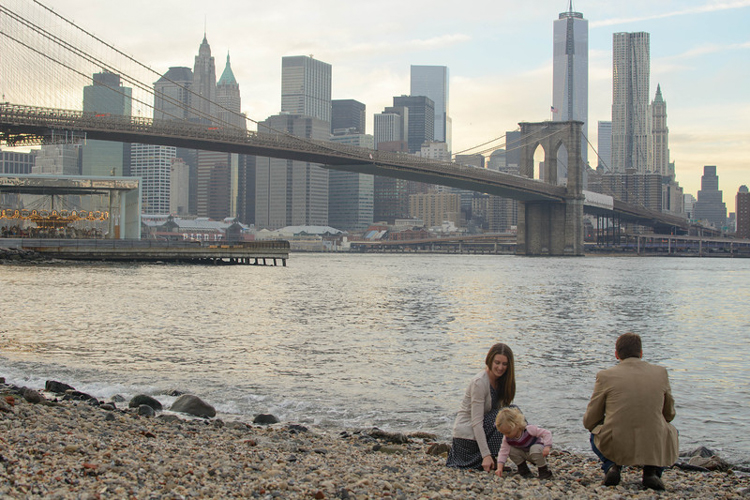 Upper West Side
Children's Museum of Manhattan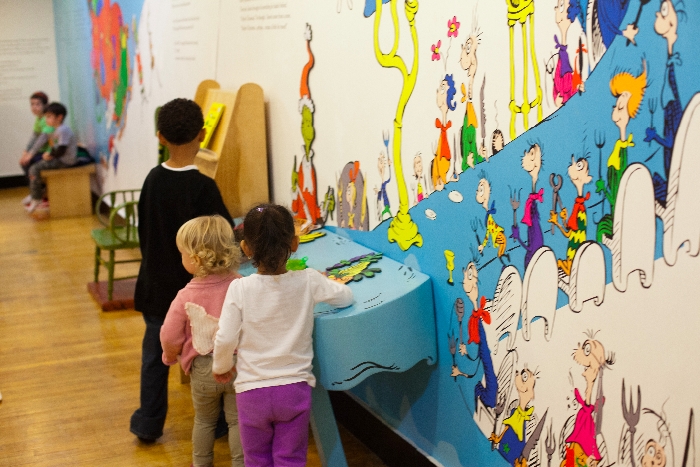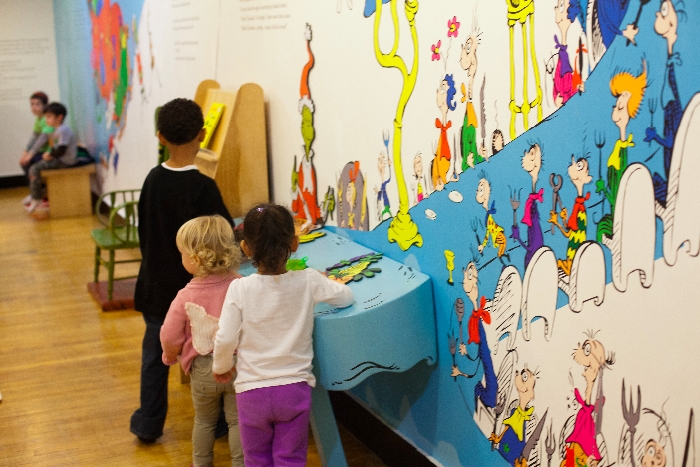 Located on the Upper West Side, the Children's Museum has several levels of interactive exhibits for kids of all ages. Cafe Lalo, right across the street, was in the movie You've Got Mail and does an amazing frozen yoghurt with fresh berries. If you've got a rainy or cold day, the Children's Museum is a perfect activity to add to your list of things to do with kids in NYC.
Read more about our experience at the Children's Museum of Manhattan here.
American Museum Of Natural History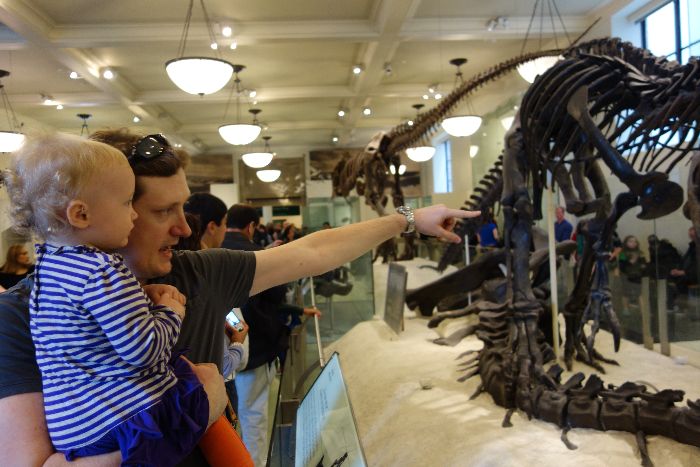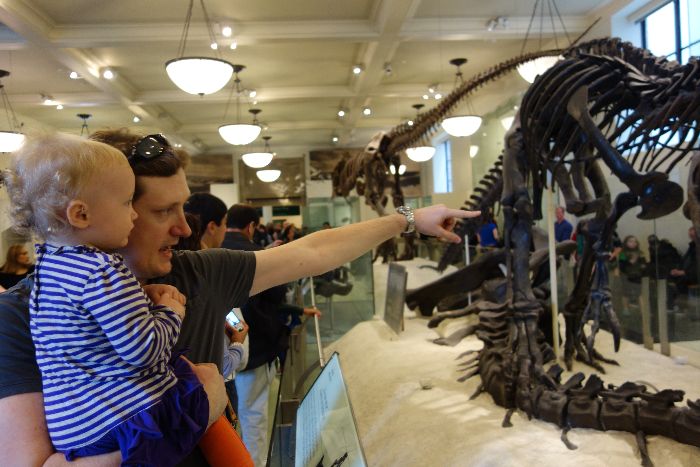 The American Museum of Natural History is home to the largest collection of dinosaurs in the world. It's also a great place for hot/cold days to let kids run free. Check out the Titanasaur, the 122-foot long dinosaur skeleton and the amazing blue whale suspended from the roof.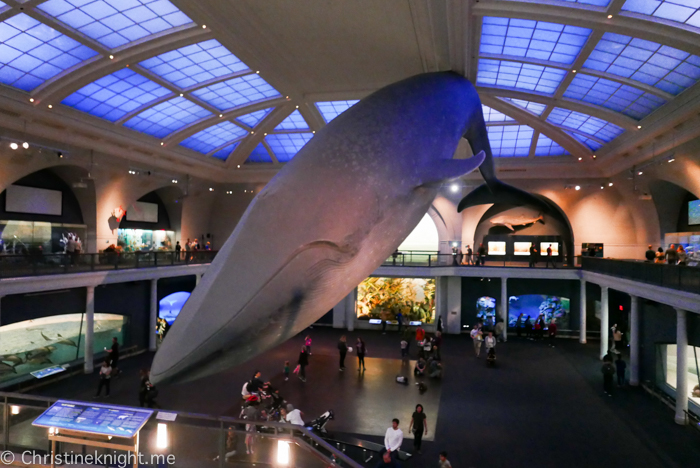 Kids will love the Discovery Room, which is a hands-on area for little ones to explore science. The room is available for certain time slots every day only.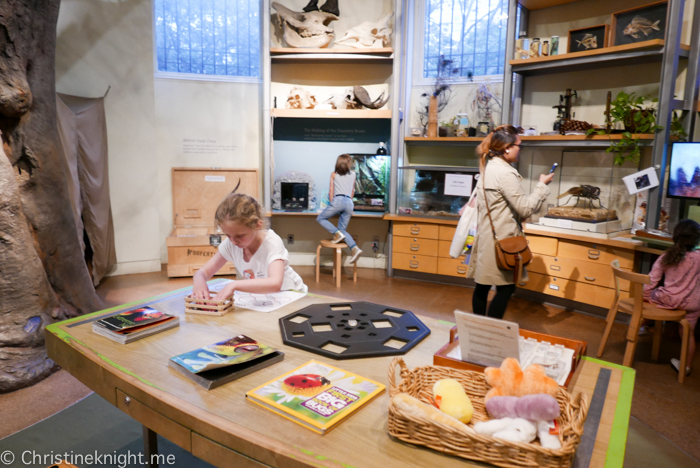 If you have a dinosaur fan, then a visit to the AMNH absolutely must be on your list of things to do in NYC with kids.
Read about visiting the American Museum of Natural History here.
Central Park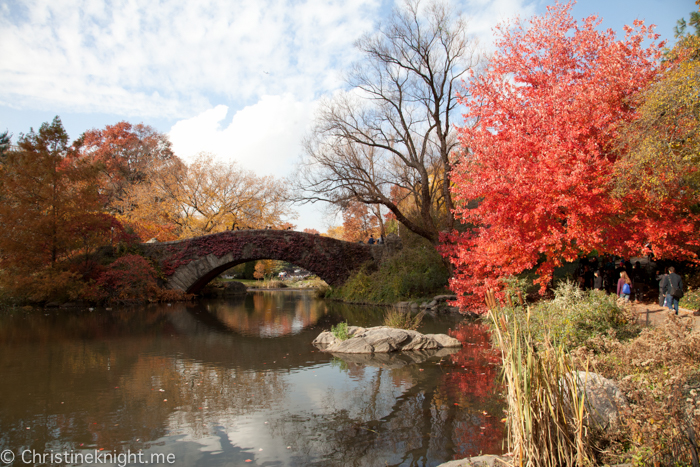 The incredible Central Park is 843 acres of sprawling lawns, large rocks, playgrounds, gardens lakes and sculptures. There is so much to see and do in the park, for adults and also kids. It is without a double one of the best things to do with kids in NYC.
Central Park Carousel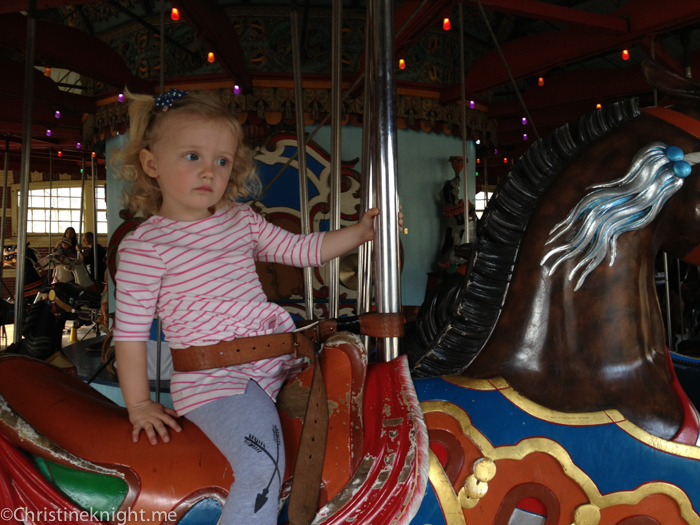 It's a bit pricier than the other carousels at $3 a ride for kids and adults accompanying them, but all horses go up and down and super fast. We regularly seek out carouses and New York has them in spades. Ticking them all off your travel bucket list is a really fun way to experience New York with kids.
Central Park Conservatory Water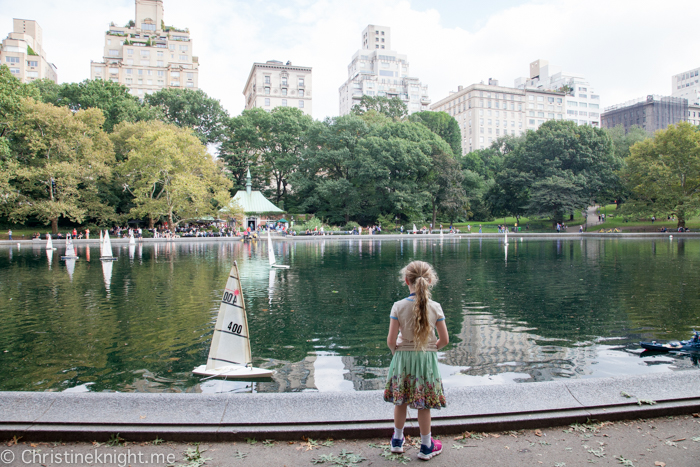 This is the pond where you can rent little remote control sailboats boats that you've seen in movies, and then climb all over the nearby Alice In Wonderland statue. The sailboats are pricey to hire and are slow to navigate but lots of kids really enjoy sailing them.
Alice in Wonderland Statue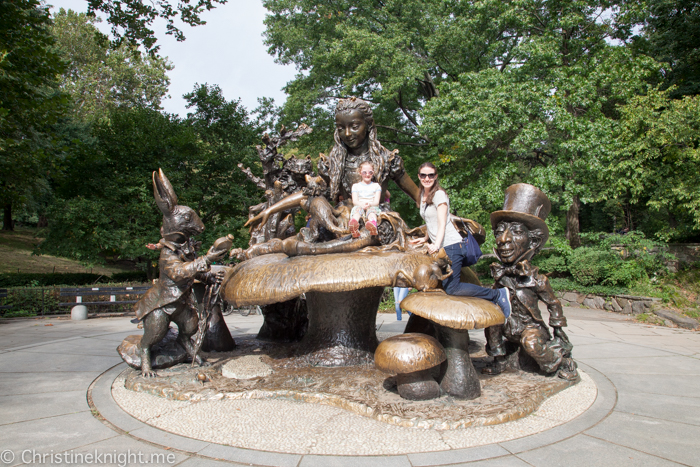 A beautiful bronze statue that kids love to climb on top of (and adults too!). Saying "hello" to Alice is a memorable way to visit New York with kids.
Hans Christian Anderson Statue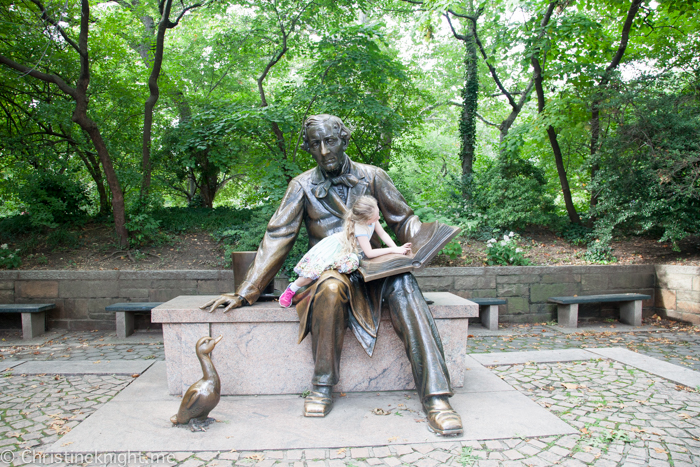 Another bronze statue in the same area.
Bethesda Fountain and Terrace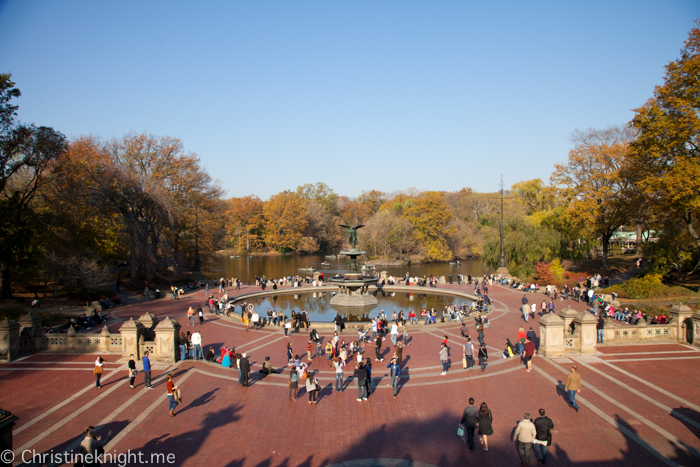 Bethesda Fountain and Terrace overlook the lake. The angel on top of the fountain is beautiful to behold. The terrace often has buskers performing.
Playgrounds
There are 16 to explore! While you might never visit them all, they are a truly local experience, and a good addition to any list of things to do with kids in NYC. Our faves are:
Heckscher Playground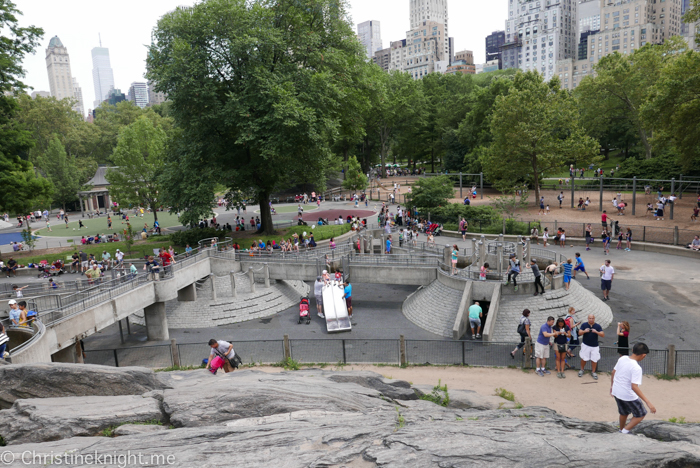 The oldest playground in Central Park, Heckscher Playground is also the largest at nearly three acres. Best suited for kids aged 6-12, it features a variety of slides, swings, and seesaws, a water fixture and giant rocks for climbing.
Ancient Playground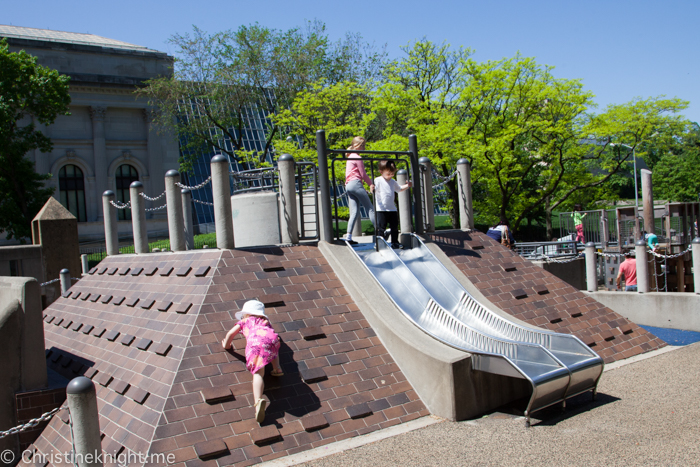 Located just north of the Metropolitan Museum of Art, the playground features pyramids, obelisk and sundial, inspired by the museum's collection of Egyptian Art. The playground is located on 85th Street right off of Fifth Avenue. The playground features equipment for kids of all ages.
Find more playgrounds in Central Park here.
Belvedere Castle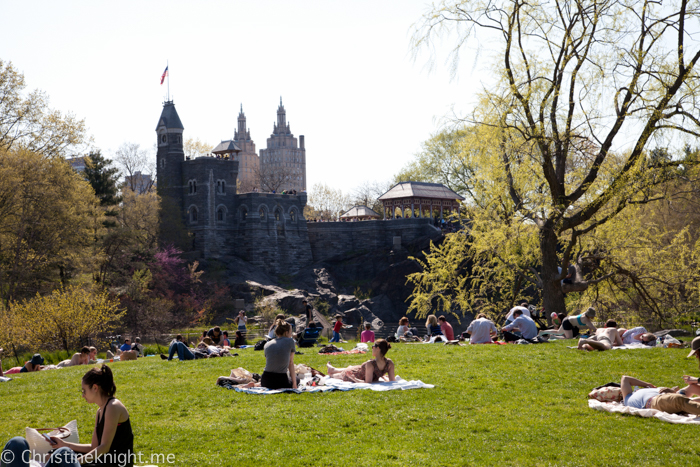 This miniature castle offers great views of the park and also turtle spotting in the water below. The castle is currently used as a visitors centre.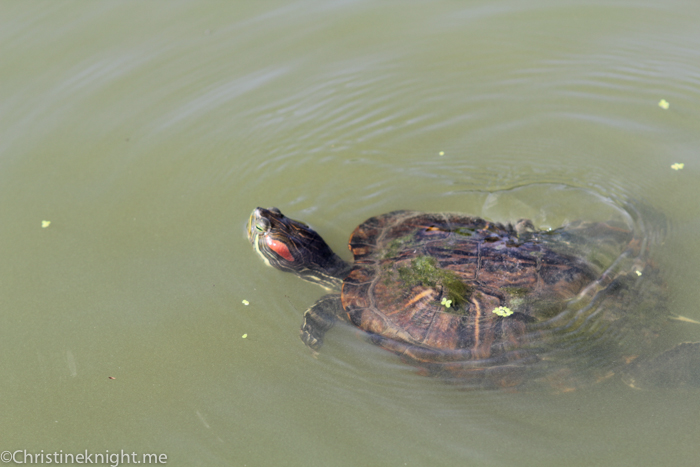 Central Park Zoo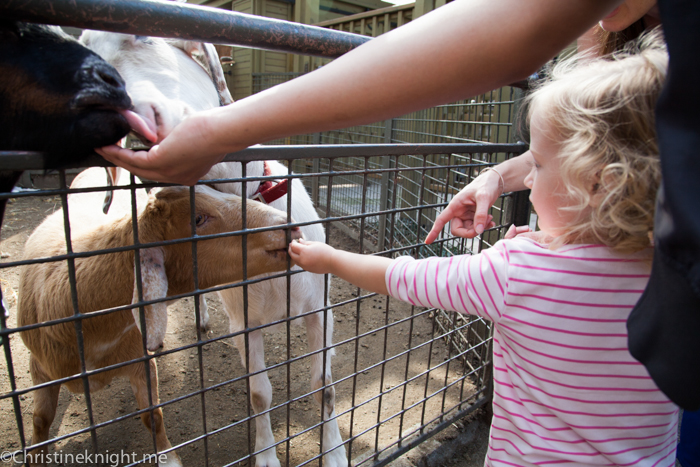 In the main part of the zoo, kids love watching the seals and penguins. The attached Tisch Children's Zoo is where you can feed animals. There's also an Imax theatre if it's a hot/cold day. Kids will also love the Delacorte Music Clock, near the children's zoo, which plays music every half hour from 8am until 5pm daily. It plays a total of 44 songs that change with the season.
Row a boat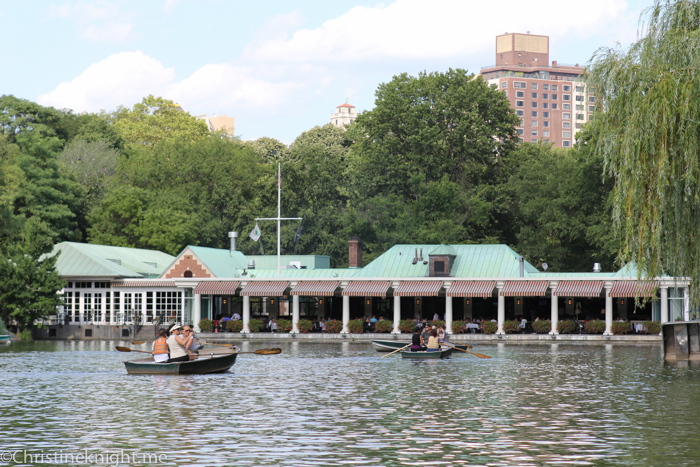 Rent a boat at the Loeb Boathouse and row around the Central Park Lake. What an iconic experience, straight out of the movies! A really fun way to create memories in New York with kids.
Get more tips on things to do in Central Park with kids here.
Ice Skating (seasonal)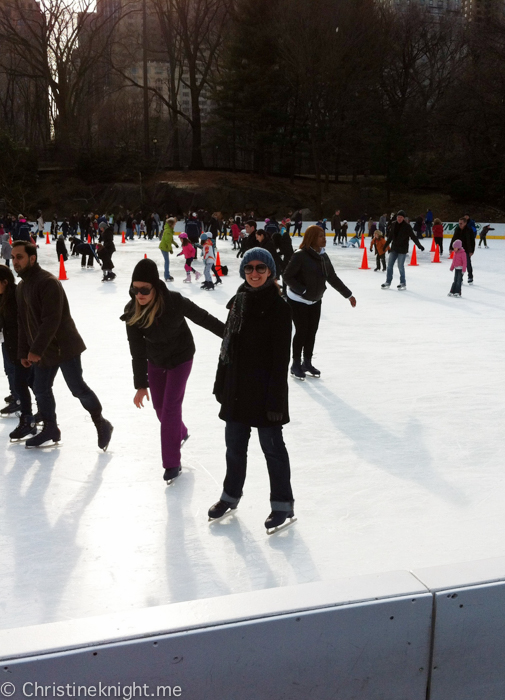 Is there a more iconic experience in New York than skating in Central Park? The Wollman Rink is located on the east side, close to the Central Park Zoo. The rick is open from late October to early April. Skate hire, bathrooms and lockers are available.
Upper East Side
Dylan's Candy Bar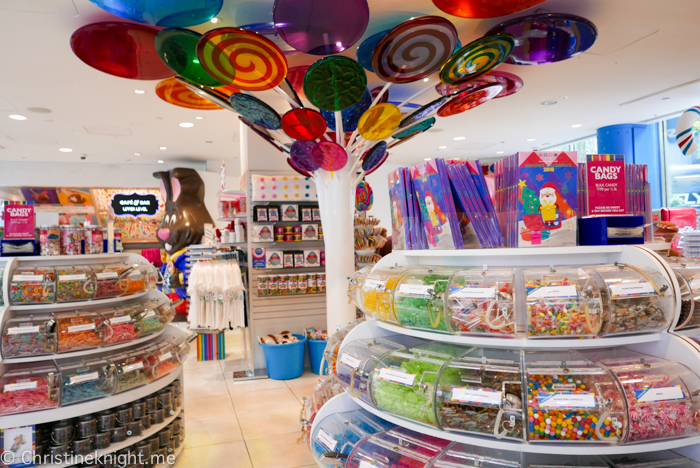 The world's largest confectionary emporium and lifestyle brand, Dylan's Candy Bar is a real-life candytopia. The original flagship location on New York City's Upper East Side features three floors of delicious treats, including a cafe on the top floor.
Read more about visiting Dylan's Candy Bar here.
Metropolitan Museum of Art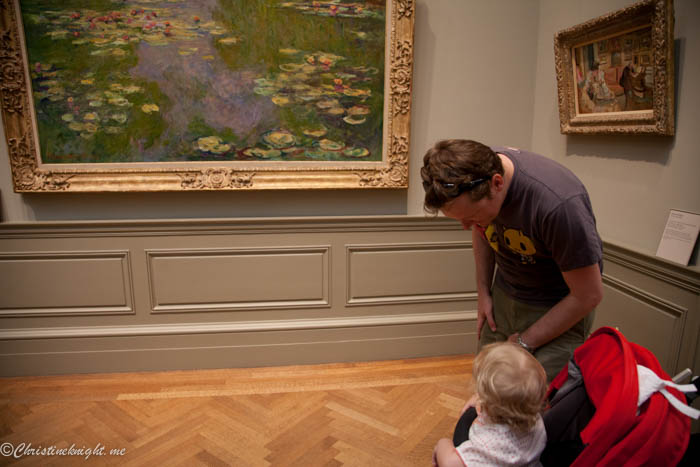 The Metropolitan Museum of Art, located on the eastern edge of Central Park along Manhattan's Museum Mile, is the largest art museum in the United States and one of the world's largest and most visited art galleries. With over two million works spread throughout seventeen departments, you could easily spend an entire day inside and still not see everything the museum has to offer.
It is very do-able with kids as it is absolutely massive and has plenty of space for strollers, with no requirement to be super quiet. You can read more about their offerings for families here.
Be sure to visit the rooftop garden if it's open for a stunning view and their latest rooftop culture offering.
Read about visiting the Metropolitan Museum of Art here.
The Solomon R. Guggenheim Museum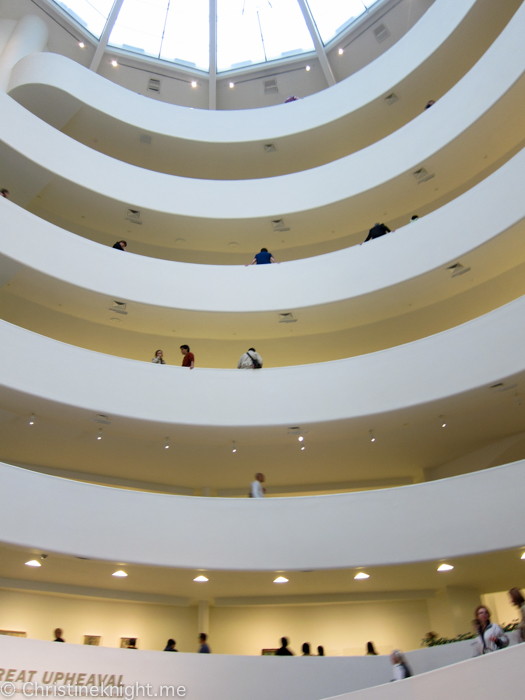 The Solomon R. Guggenheim Museum, often called "The Guggenheim" is renowned for its spiral design by A Frank Lloyd Wright. The museum is extremely kid-friendly, with activity packs, family activity guides, Find and Flip cards and a variety of family programming including stroller tours, which we did several of. Note: kids under 12 are free. Don't let them run down the ramp!
Read about visiting the Guggenheim here and the Guggenheim family programmes here.
Roosevelt Island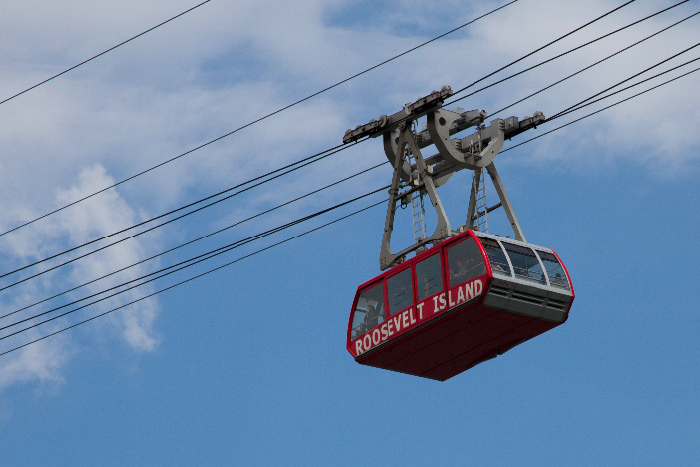 For a sunny-day outing that's out of your regular routine, catch the sky tram to Roosevelt Island. This narrow island is situated in New York City's East River, between Manhattan and Queens.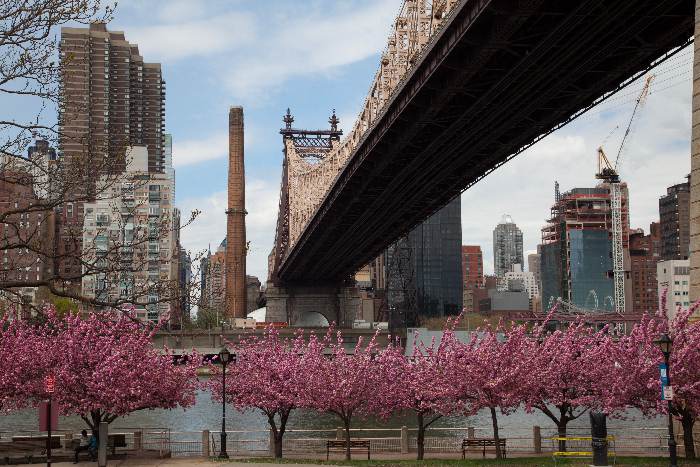 It's a tiny island, running from Manhattan's East 46th to East 85th Streets, and is only about 2 miles (3.2 km) long, making it an easily conquerable size for a fun day trip with young kids.
Read more about visiting Roosevelt Island here.
Museum of the City of New York
The Museum of the City of New York preserves and presents the history of the city, including important artefacts. They often have excellent exhibitions that are family-friendly. When we visited, the exhibition was on local author Mo Willems.
Dimenna Children's History Museum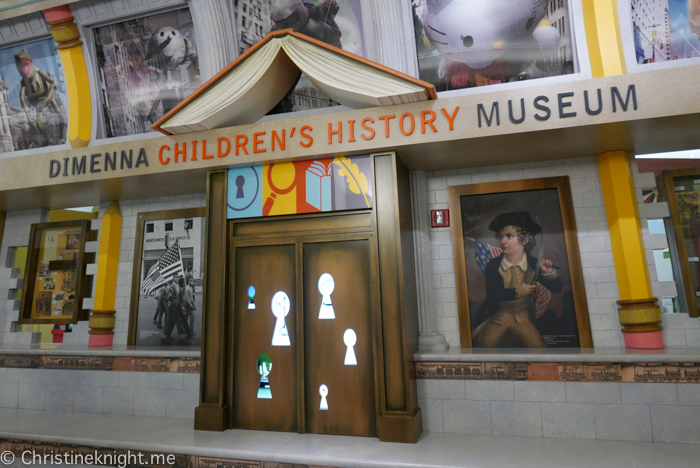 The Dimenna Children's History Museum is located inside the Museum of the City of New York. It is an excellent hands-on area for kids to learn about New York City.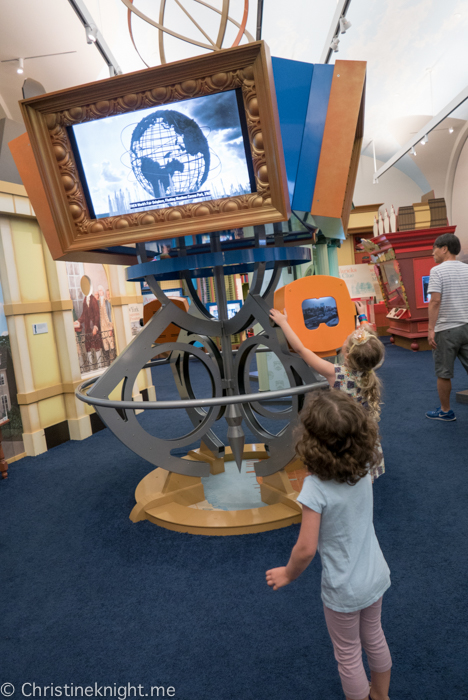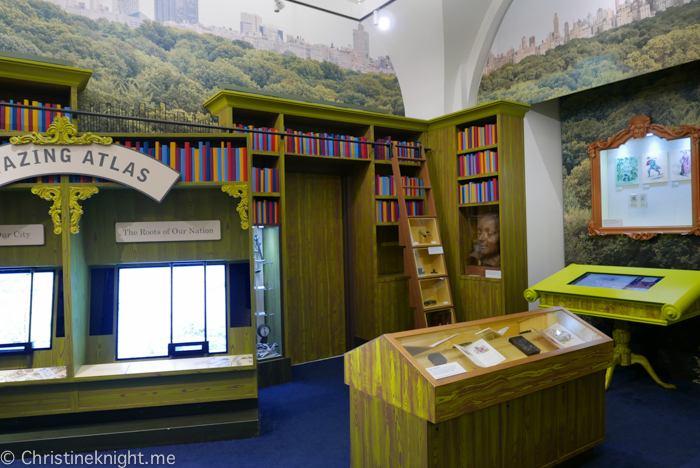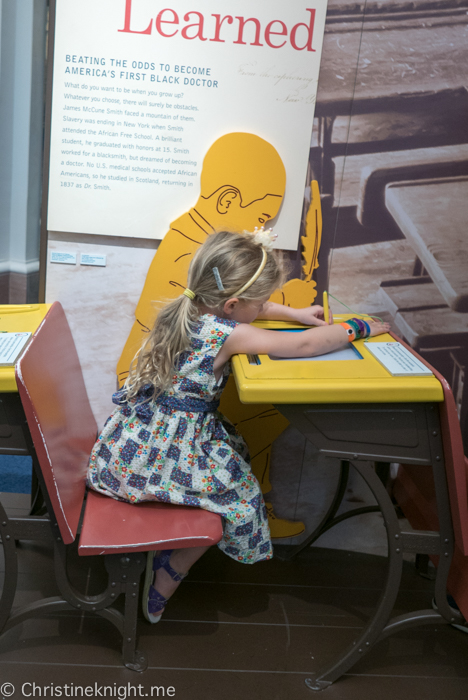 Read about visiting the Museum of the City of New York here.
Midtown
Museum of Modern Art (MoMA)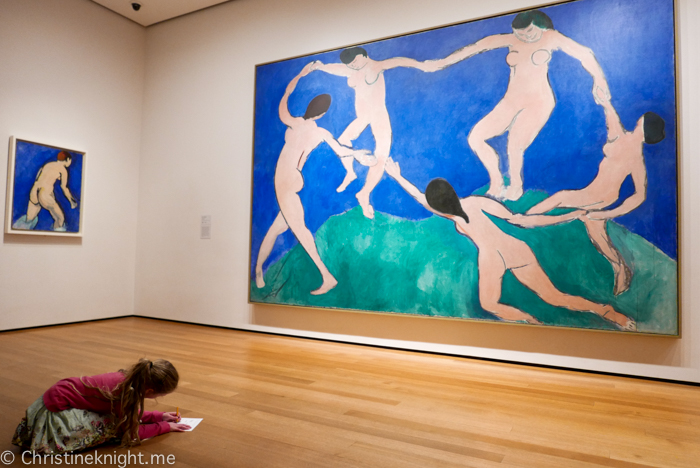 One of the largest and most influential museums of modern art in the world is also one of the most welcoming to children. The Museum of Modern Art (MoMA) is a place to take kids to encourage their creativity, let them explore and, most importantly, have fun.
Read about visiting the MoMA here.
Ellen's Star Dust Diner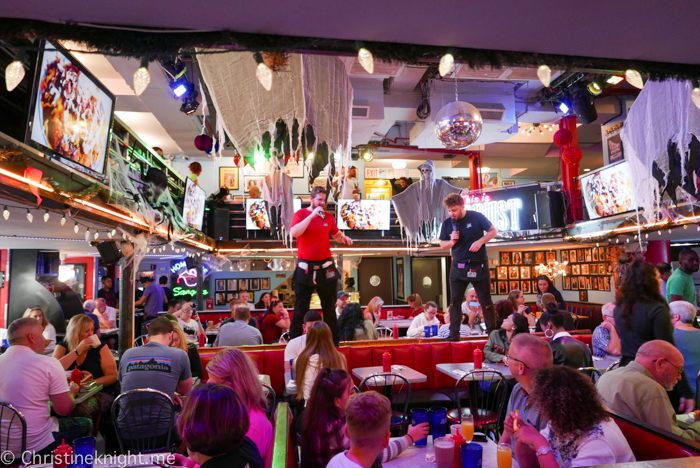 This iconic diner with singing waitstaff is a bit of a tourist trap and the food is average, but it's an amazing experience that the whole family will enjoy.
Read about visiting Ellen's Star Dust Diner here.
See a Broadway Show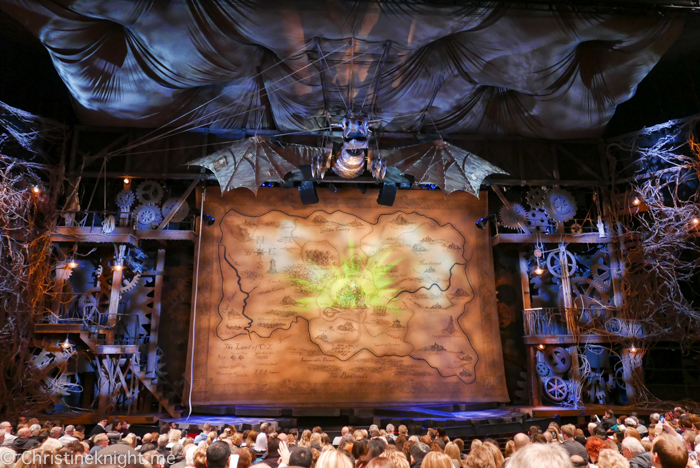 Seeing a Broadway show is always number one on my priority list when we visit New York City – and there are plenty of kid-friendly ones to choose from. Check here to see which kid-friendly shows are playing during your visit. I advise booking tickets in advance from Broadway.com or directly from the production's website. You can also score cheap tickets if you're lucky – info on how to get cheap Broadway tickets here.
When booking tickets to see a Broadway show, I highly recommend checking the age requirements and suggestions on the production's website. Each show has it's own requirement (meaning kids under a certain age are not permitted) and suggestions (its advised kids are a certain age or over but they will permit younger kids).
Remember that Broadway shows are aimed at entertaining adults and are long – usually around 2 hours 45 mins or 3 hours. They may contain adult language, concepts and visual content. Please consider the rest of the audience as well before taking young children into full-length Broadway shows.
Times Square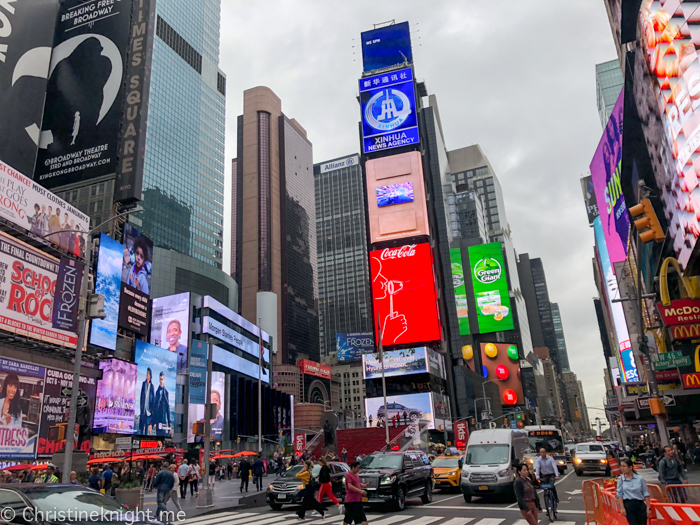 An absolute tourist trap, Times Square is a throbbing hum of people and should be approached with caution. Yes, walk through it and see the famous lights, however keep your wits about you, your bags zipped and kids tightly in hand or a stroller. There are lots of pick pockets in this area who love to target tourists.
Keep an eye out for people dressed as characters. If you take a photo with them they will harass you for money.
Disney Store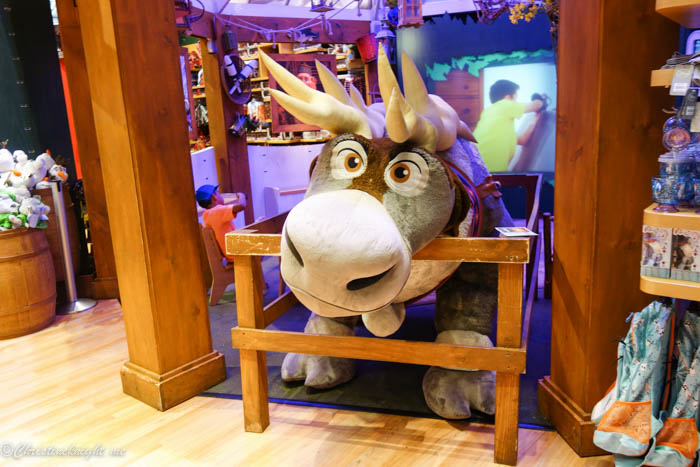 If you do visit Times Square, you must visit the Disney Store. It is absolutely massive and jam packed with everything Disney.
Hard Rock Cafe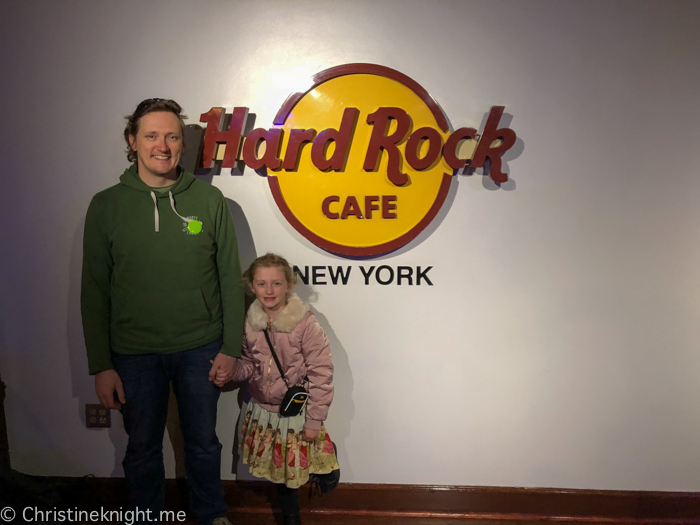 We dined at the Hard Rock Cafe and really enjoyed the experience, despite it being a bit touristy. It's a great place to grab dinner before a show and is packed with amazing memorabilia. They have a great range of kids meals and food the whole family will eat.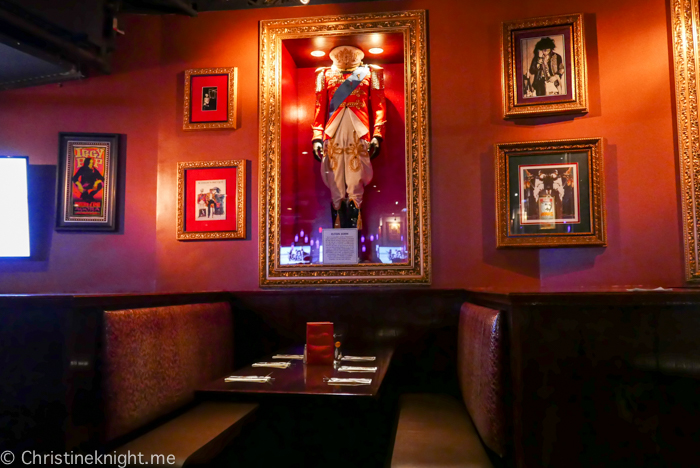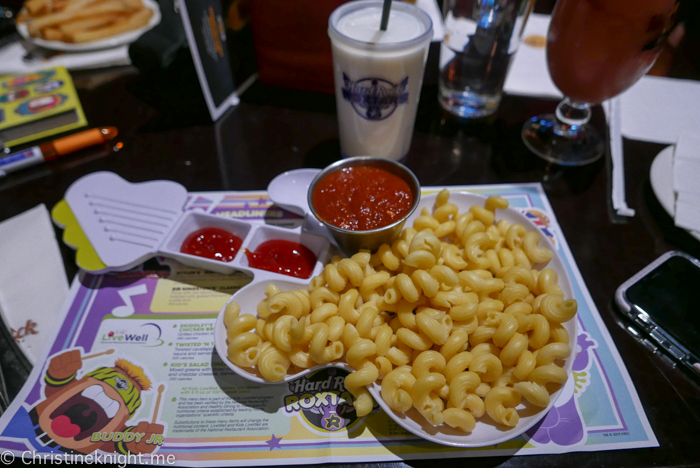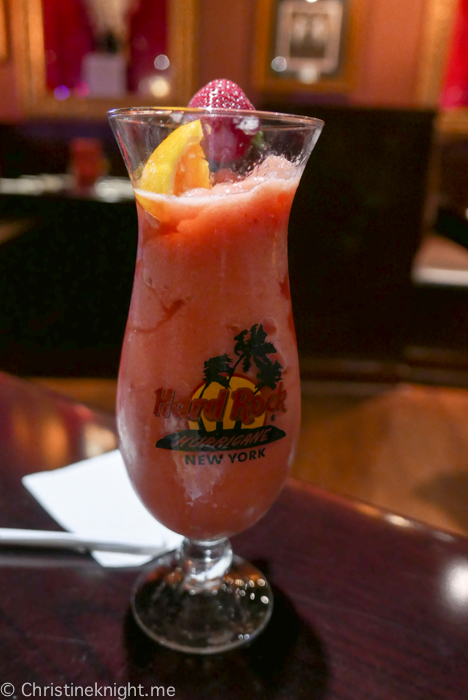 The Plaza Hotel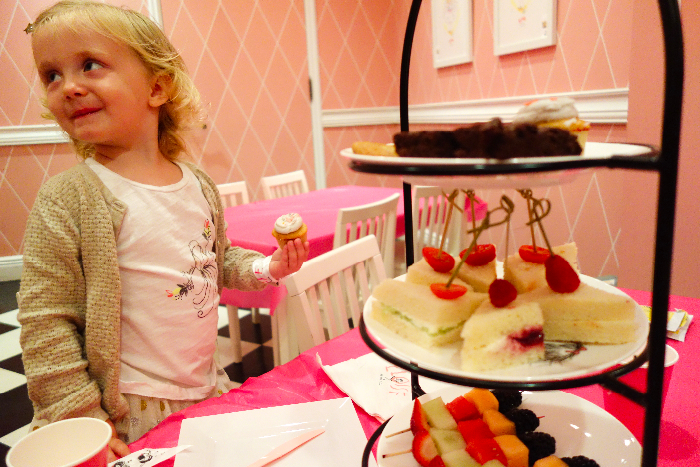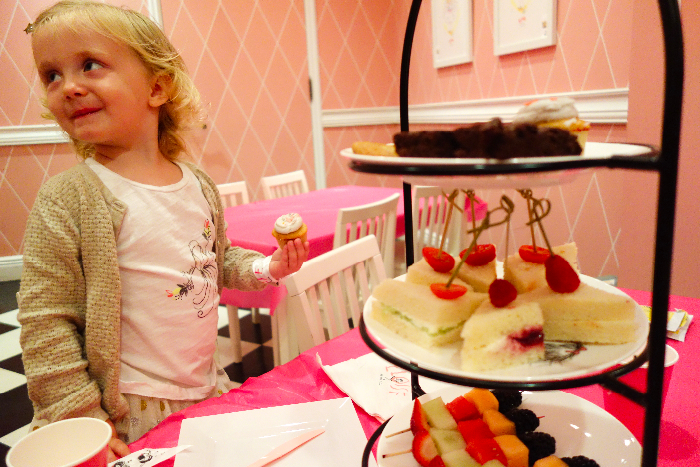 The Plaza Hotel is the perfect fancy outing for little girls. Take older kids to try the Eloise-themed high tea in the famous Palm Court upstairs, or enjoy a preschooler- and toddler-friendly rawther fancy tea party in the special Eloise room inside the Eloise store on the lower level of the Plaza Hotel. In our opinion, this is a classic experience and a must when visiting New York with kids.
Read more about the Eloise-themed afternoon tea here, and the fancy tea party the special Eloise room here.
New York Public Library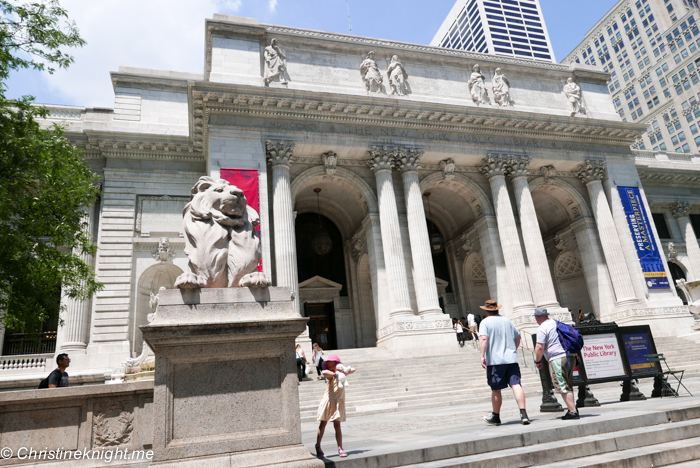 It's free to enter this iconic library – with nearly 53 million items, the New York Public Library is the second largest public library in the United States, and fourth largest in the world. It has a great children's section downstairs.
Read about visiting the New York Public Library here.
Bryant Park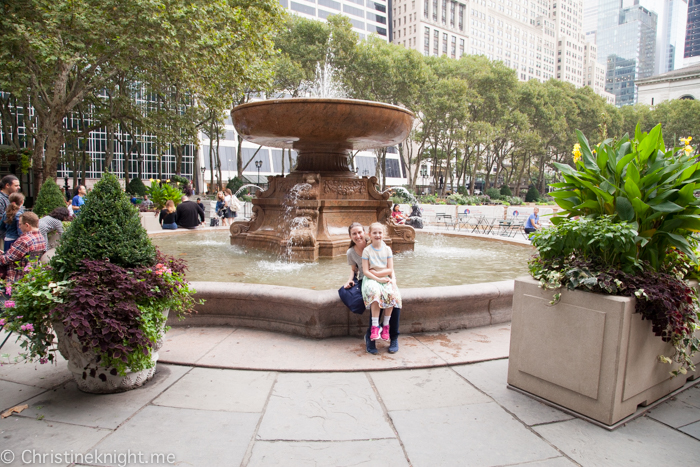 Right behind the New York Public Library is Bryant Park. It features a fountain, lush gardens and a carousel. In winter the park has an ice skating rink and large Christmas tree. The park is a fantastic spot to sit down and eat lunch or just take a break from the busy city.
Bryant Park Carousel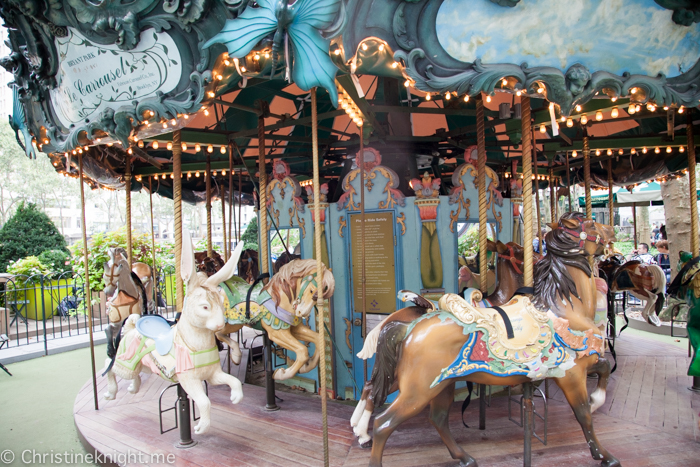 Le Carrousel in Bryant Park was especially created to complement the park's French classical style. An homage to European and American carousel traditions, the carousel is quite tiny but feature really sweet animals to ride like a rabbit and cat.
Bryant Park ice skating (Seasonal)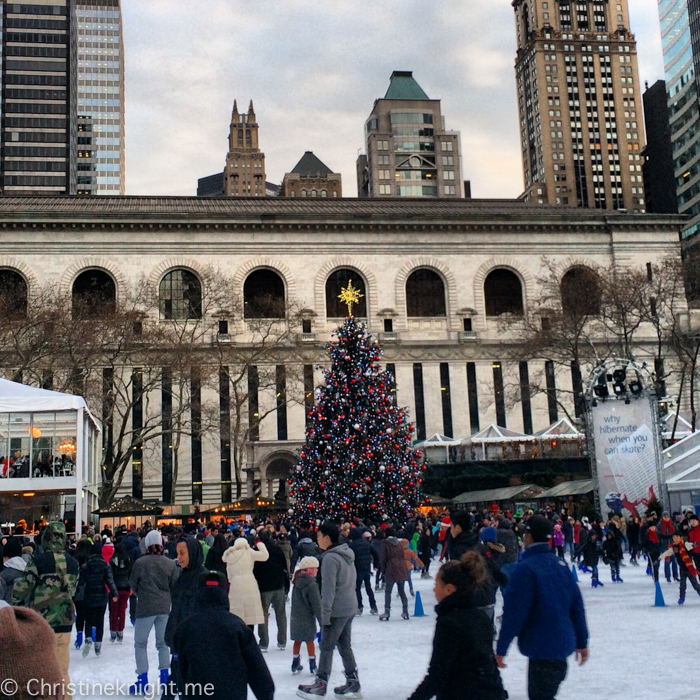 The ice skating rink at Bryant Park is open seasonally, along with the Winter Village. Typically the rink it open around October to April.
Rockefeller Center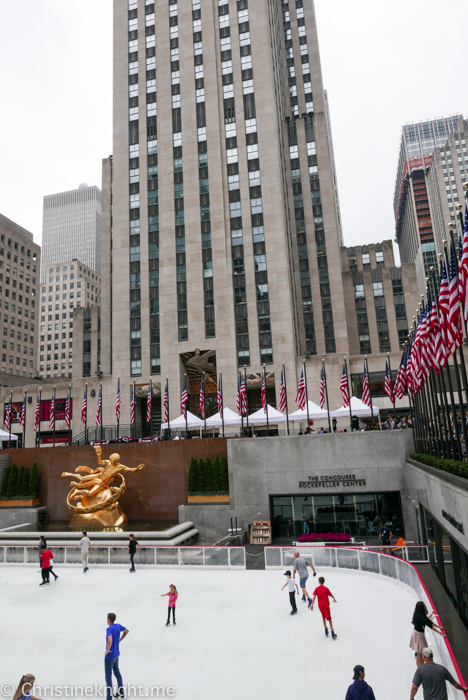 The historic Rockefeller Center is a must visit – and one of the top things to do in NYC with kids in my opinion. The centre itself is magnificent to behold, and there are plenty of family-friendly activities to do there.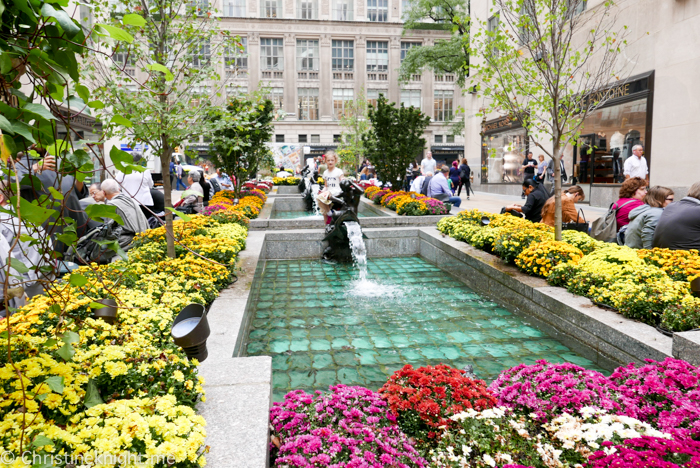 I love the seasonal displays leading down to the amphitheatre that holds the skating rink in winter.
Ice Skating (seasonal)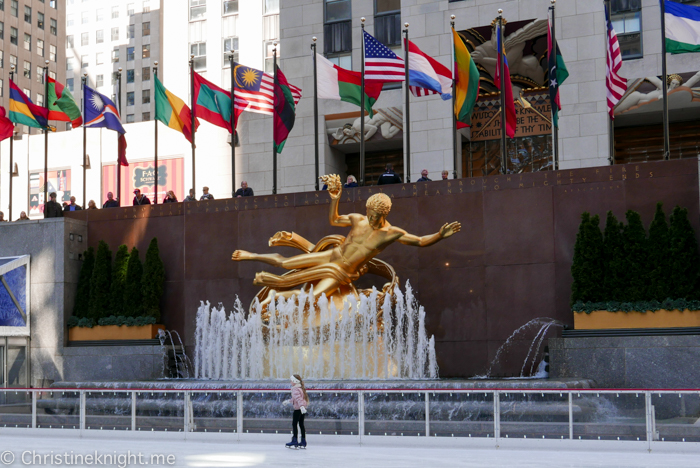 The Rink at Rockefeller is another iconic spot to ice skate during the winter months. Skate hire, bathrooms and lockers are available.
LEGO Store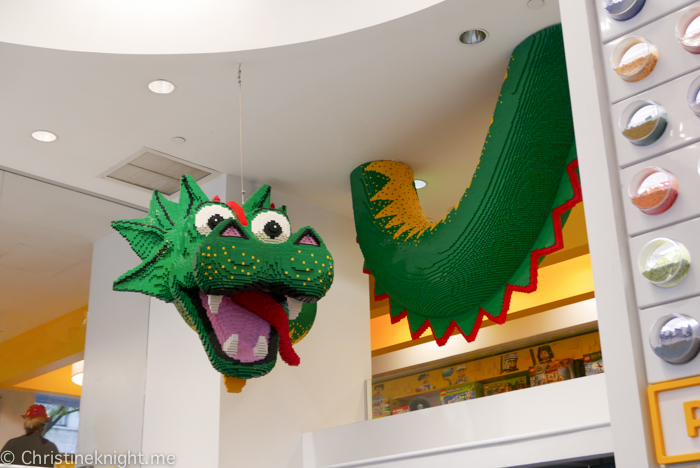 The LEGO Store features incredible LEGO sculptures, pick-a-brick areas and consumer-friendly play areas.
American Girl Place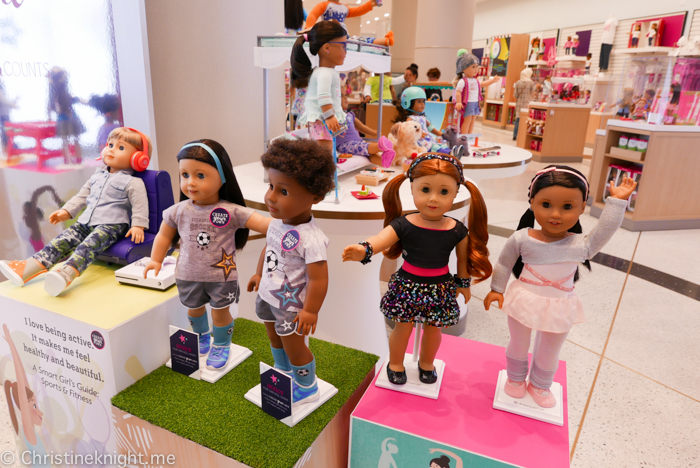 American Girl Place is the flagship store for the iconic doll brand. The store stocks the full range of American Girl dolls, clothes and accessories, a cafe and salon where girls and their dolls can get their ears pierced and receive spa treatments.
Read about visiting American Girl Place and dining at the cafe here.
FAO Schwarz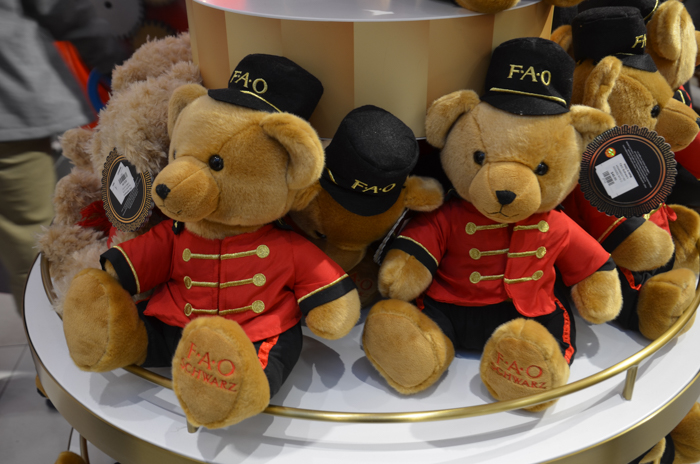 The iconic toy store re-opened in late 2018 in this new location. It's an absolute must add to a list of things to do with kids NYC, even if you're not planning to buy anything. Make music on the giant piano, hug a larger-than-life plushie, play with cars on the racetrack and much more.
Read about FAO Schwarz here. Thank you to Have Wheelchair Will Travel for the pics.
The Top of the Rock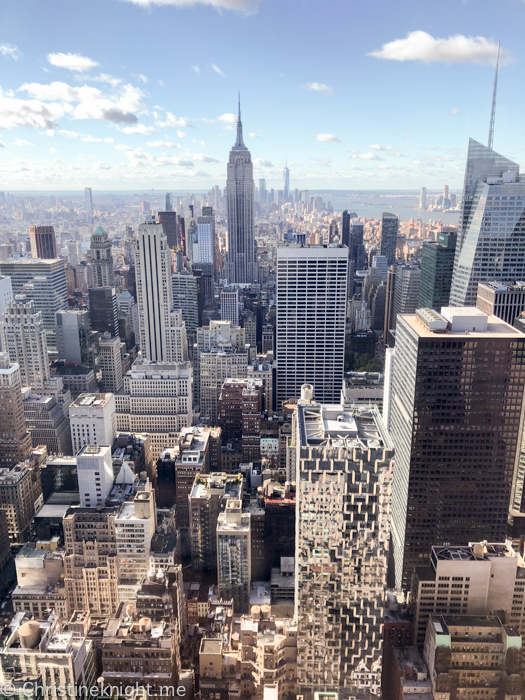 Top of the Rock Observatory sits at the top of the Rockefeller Center in the heart of New York City. From this incredible location, the Observatory offers breathtaking views of the city including the Empire State Building and Central Park.
Read about visiting The Top Of The Rock here.
Empire State Building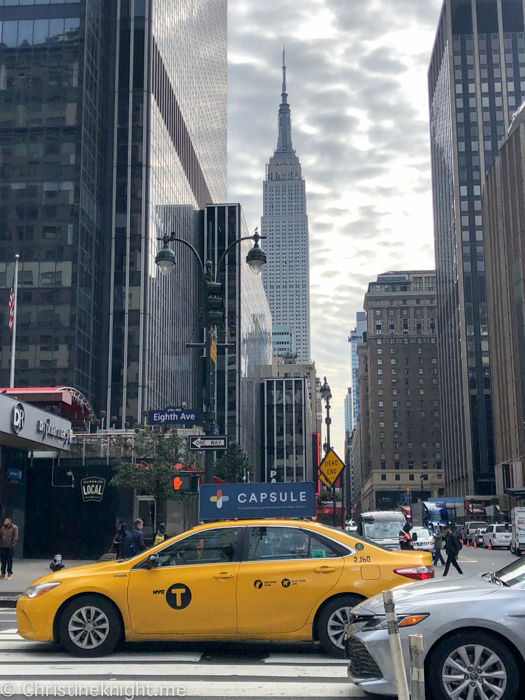 The Empire State Building in Midtown Manhattan, is an Art Deco masterpiece. Built in 1931, the skyscraper is 102-stories tall and features the highest open-air observatory in New York City.
Read about visiting the Empire State Building here.
Union Square
Murray's Bagels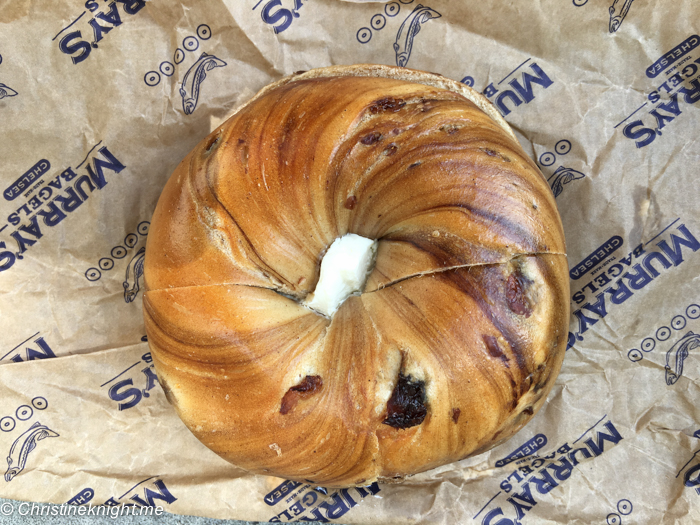 New York does bagels like no other city. It's something to do with the water. My favourite place for bagels is Murray's. Just don't ask for it toasted.
Union Square Playground


This is a really quirky playground, featuring a gleaming hemispherical dome, checkerboard rubber flooring, slides, spiral climbers and horns that seem like something out of a Dr. Seuss book.
14 St – Union Square Station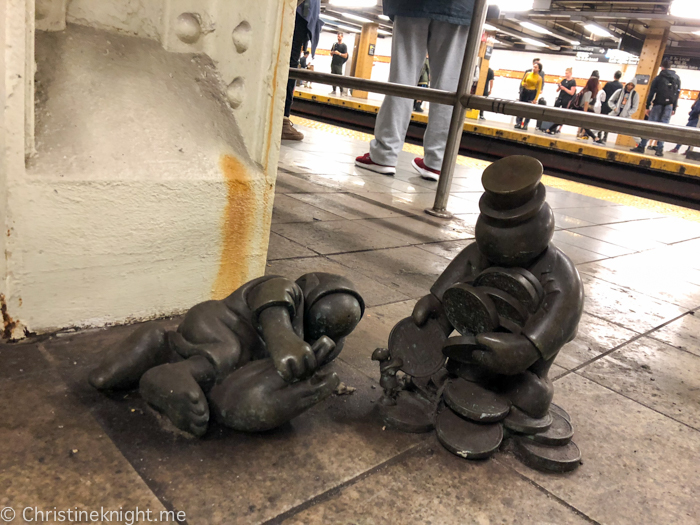 Oddly, the station is actually fun for kids. There are lots of the quirky Tom Otterness sculptures to spot everywhere and there are always street performers, usually musicians or dancers, performing.
Flatiron
Flatiron Building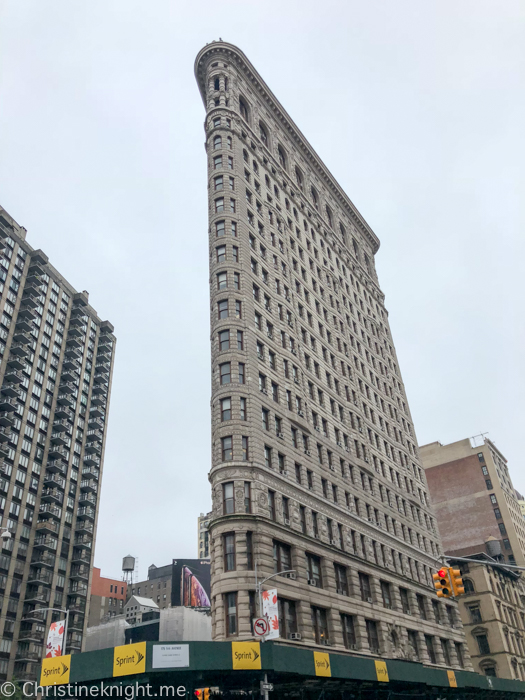 The Flatiron Building, which was originally called the Fuller Building, is a triangular 22-story, 285-foot tall building located at 175 Fifth Avenue. It might not seem like one of the top things to do in New York with kids, however in my experience kids love it because the triangular shape is so unusual.
LEGO Store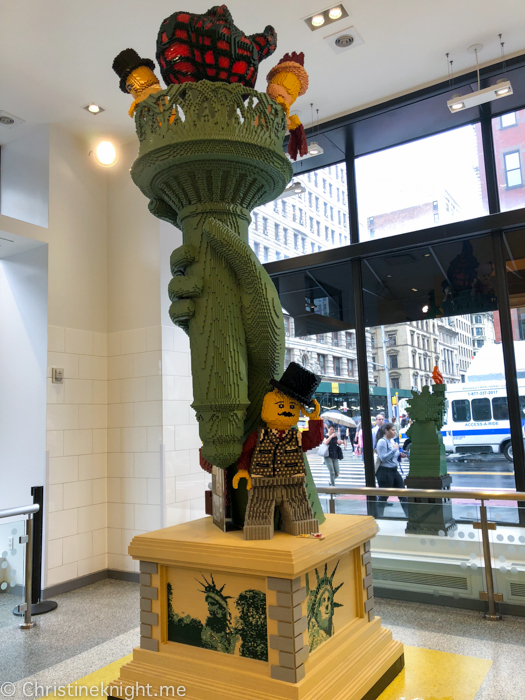 The LEGO Store is near the Flatiron Building. It is a smaller version of the Rockefeller store, featuring small play areas and plenty of LEGO sculptures.
Dylan's Candy Bar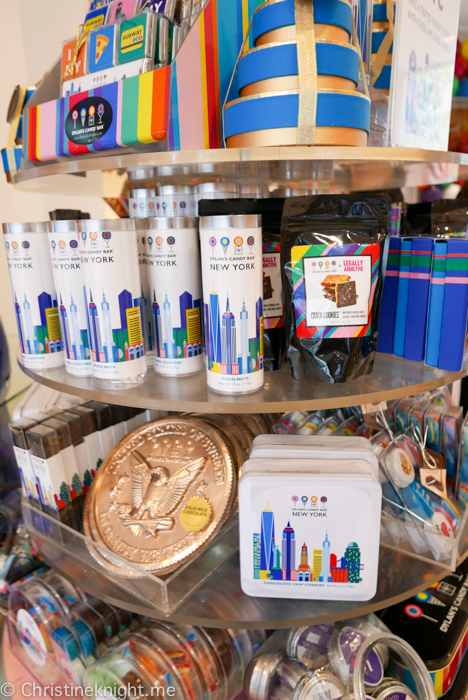 A small outlet, it's worth dropping by if you can't make it to the original Dylan's Candy Bar uptown.
The National Museum of Mathematics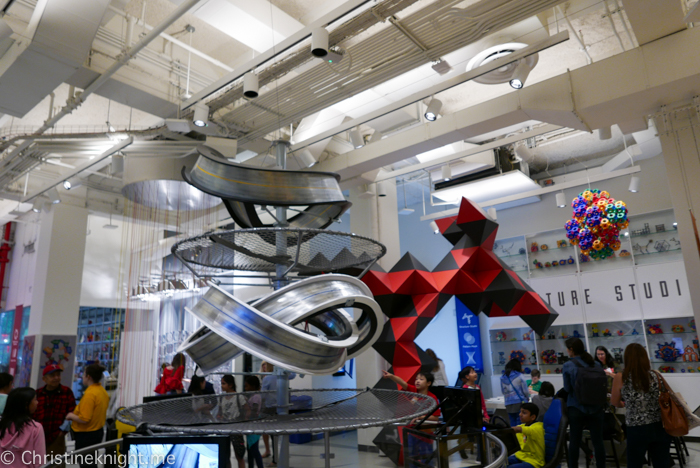 The National Museum of Mathematics or MoMath is the only hands-on science center in Manhattan. Dedicated to mathematics, the museum explores math through dynamic exhibits and fun activities. You'll never look at math the same way again!
Read about visiting the National Museum of Mathematics here.
Madison Square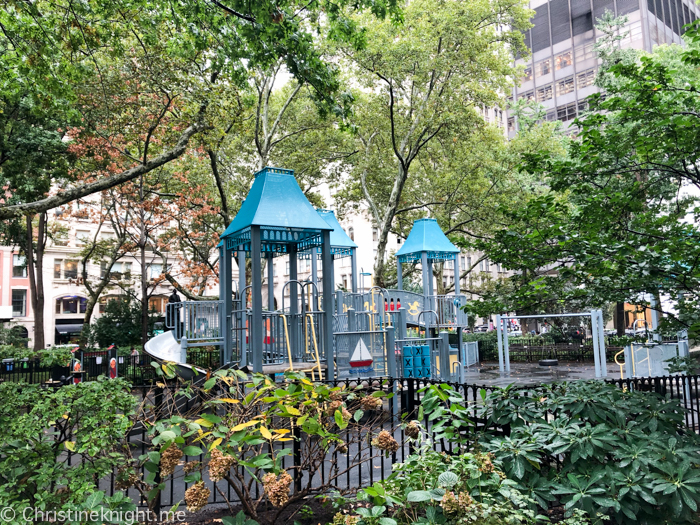 This little park has a great playground and the original Shake Shack, and is right across the road from Eataly (delicious kid-friendly place to grab lunch, coffee or gelato).
Read about things to do in Madison Square and dining at Eataly here.
Chelsea
Ample Hils Creamery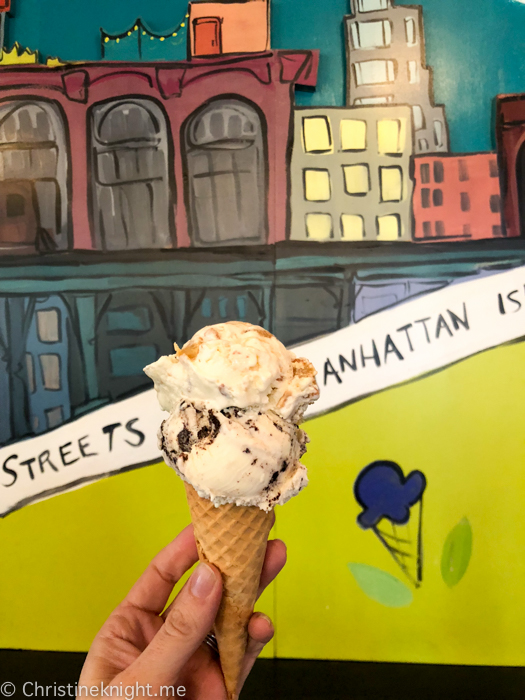 If you love ice cream then you must try Ample Hills Creamery, located near Chelsea Market. The name for the creamery came from a Walt Whitman poem, who liked to wax lyrical about what an awesome place Brooklyn was back in the 1800s (he was an early adopter). The poem goes: "I too lived. Brooklyn of ample hills was mine…" And thus, Ample Hills Creamery was born, using only the freshest local and hormone-free ingredients. The dairy and eggs come from farms in upstate New York. There are tables inside to side and enjoy your scoop.
Read about visiting Ample Hills Creamery here.
Whitney Museum of American Art
Located at the foot of the High Line, the Whitney Museum of American Art is an art museum focusing on 20th- and 21st-century American art. The Whitney is very family-friendly and their Whitney Family Programs offer interactive tours, art making workshops, and special events, with a focus on encouraging kids and adults to enjoy art together.
Read about visiting the Whitney here.
Chelsea Market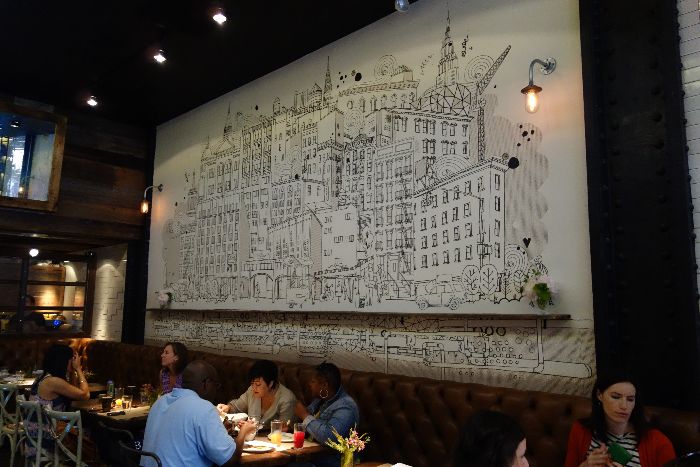 Chelsea Market is an indoor food court and office building located under the High Line. It's a great spot to grab a bite to eat or wander through on a cold or rainy day. There are restrooms and elevators inside and the food offerings range from grab and go to sit down.
Read about visiting the Chelsea Market here.
The High Line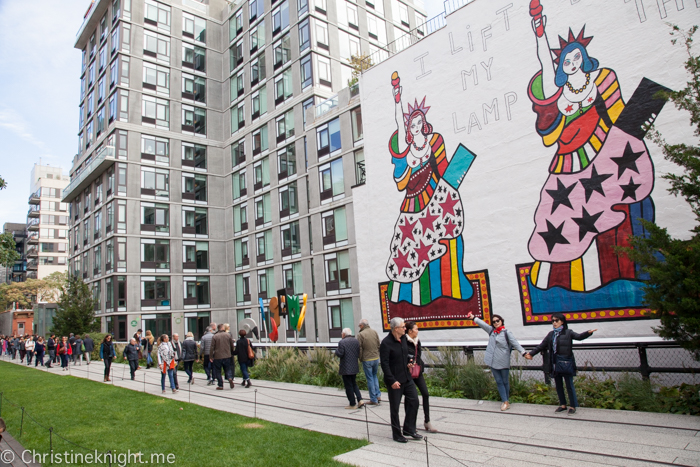 This public park is elevated above street level. It's a fantastic spot to stroll above the city through greenery and public art – with a stunning view of the streets below.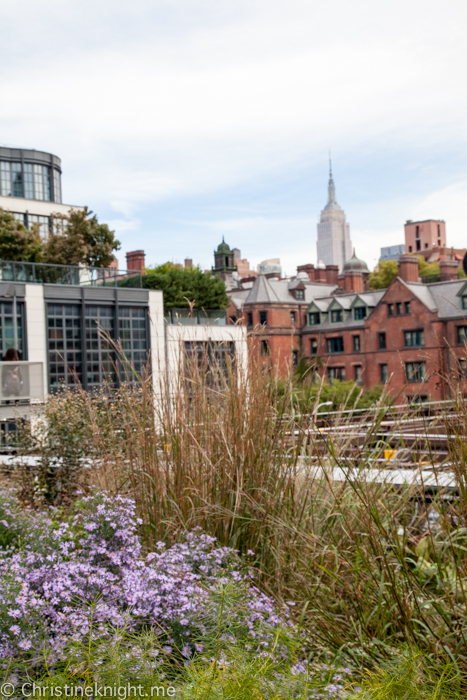 The High Line was created on the former New York Central Railroad and features points of interest along the way such as sculptures and murals and plenty of trees and plants.
The entrance at 34th street and 12th avenue has a great little area thats been designed for kids to play in. There is also a ramp at this entrance.
Read about visiting the High Line here. Get information about access points including elevator access here.
SoHo
Books of Wonder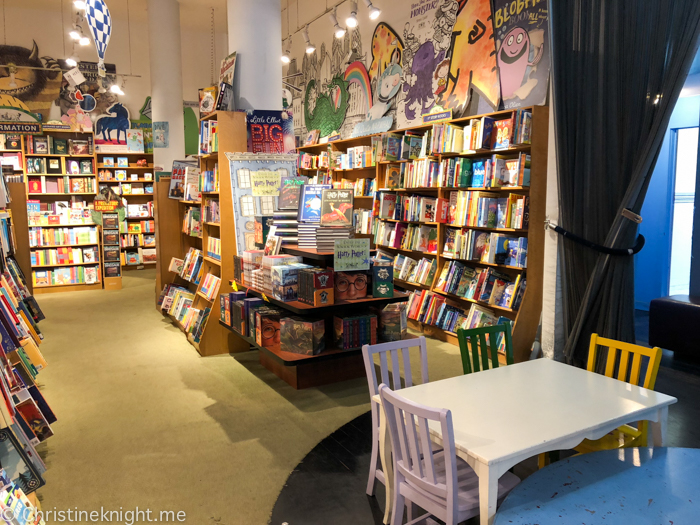 Book worms will adore New York's oldest children's bookstore (founded in 1980). Books of Wonder stocks a vast selection of books for kids of all ages: board books, picture books, novels, reference books, YA books, collectible first editions and rare children's books. Pull up at a table and read away a wet and rainy day.
Read more about visiting Books of Wonder here.
Dominique Ansel Bakery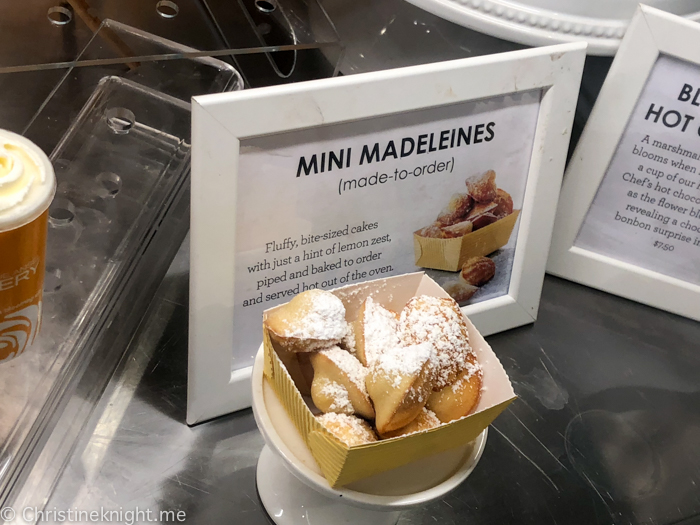 This bakery is a must-visit. The bakery was made famous by cronuts, however I prefer their made-to-order mini madeleines, which are served hot and fresh.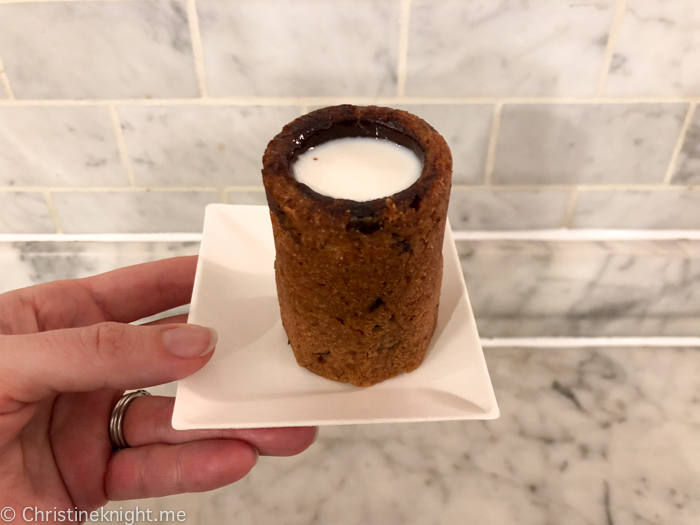 I also loved their cookie cup filled with milk – perfect for kids.
Read about visiting the Dominique Ansel Bakery here.
Vesuvio playground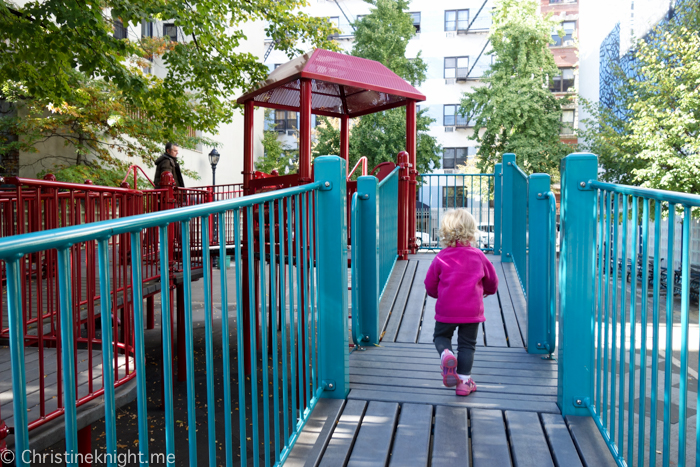 Located right behind right behind Dominique Ansel, this is a fab playground to run off steam between eating and shopping.
Children's Museum Of The Arts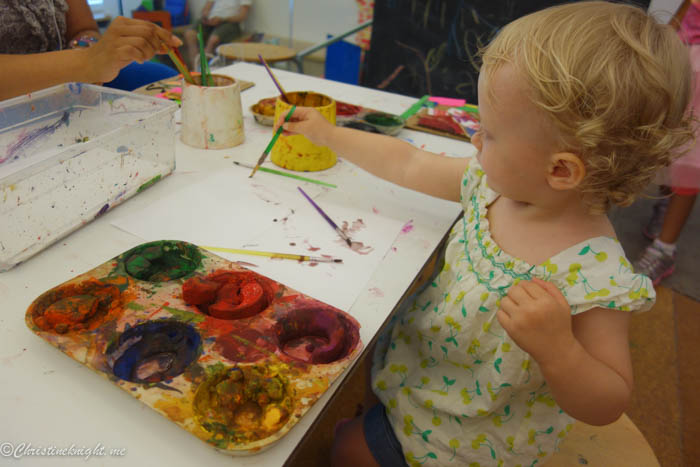 This gorgeous SoHo facility has an all-ages drop in for their art studio, full of materials for kids to just explore and create messy masterpieces. They also have a ball room to jump in with big balls and story and music times. Older kids will love the clay studio.
Read about visiting the CMANY here.
TriBeCa
Rockefeller Park & Tom Otterness "Real World" Sculptures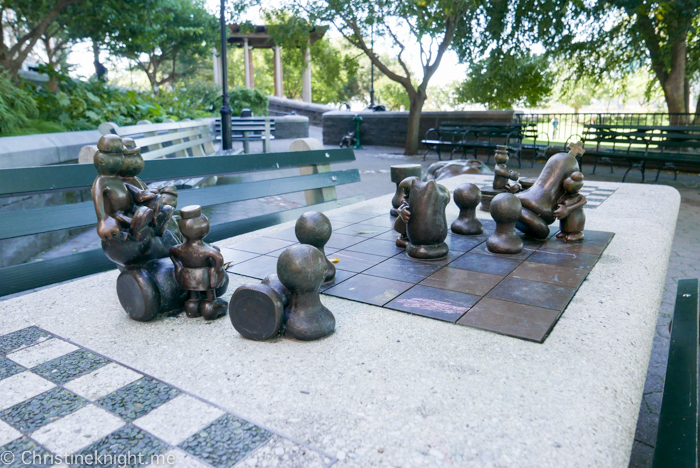 A truly unique park that is worth visiting, Rockefeller Park is home to an incredible collection of Tom Otterness sculptures.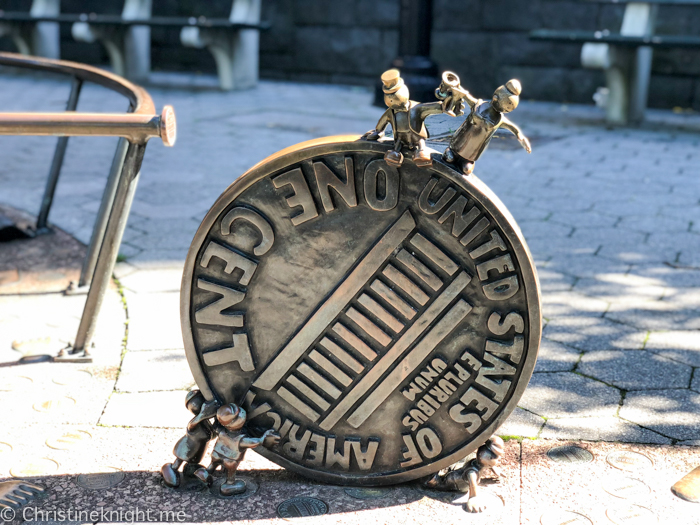 The installation, entitled "Real World" was opened in 1992. Wander though this whimsical park and enjoy the fine detail in these sculptures, which are a mix of stylised human and animal characters with reference to the financial world.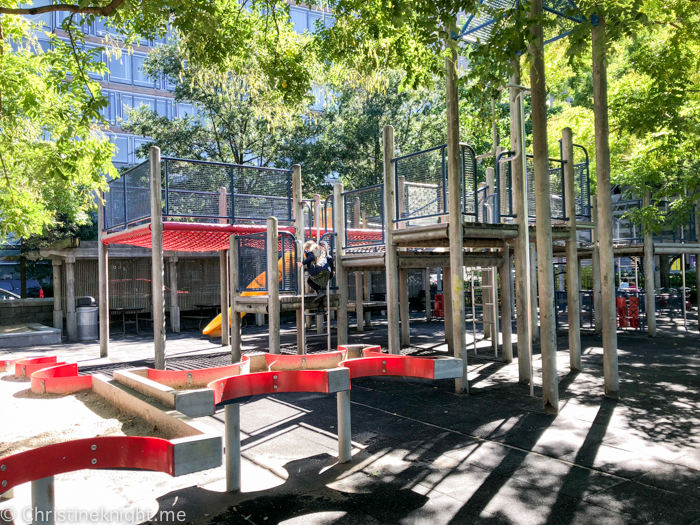 There is an excellent fenced playground near the park as well.
Washington Market Park & Playground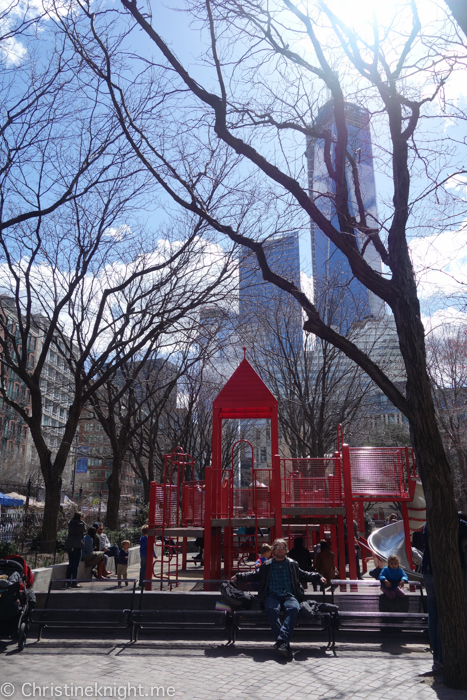 This beautiful park is an oasis of green in the city. The actual garden itself is fenced, and there are no further fences inside. Washington Market Park features a large playground with a section for older kids and one for younger.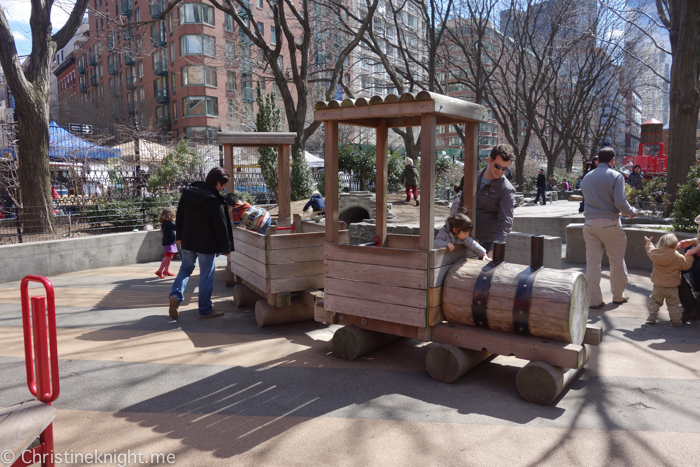 There is a cute little wooden train to play on too. The park also features a butterfly garden.
Pier 25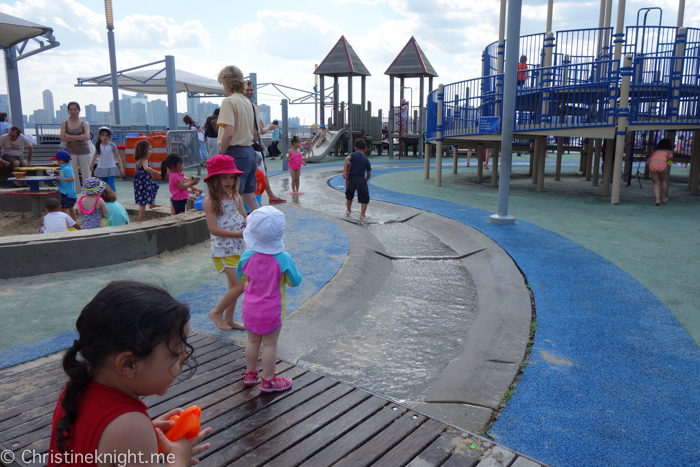 Pier 25 is an excellent little recreation spot on the Hudson River. It features miniature golf, bathrooms, food options (seasonal) sand volleyball and play areas. The playground at Pier 25 is excellent. It was recently renovated and has eight seasonal water features.
Financial District
National September 11 Memorial & Museum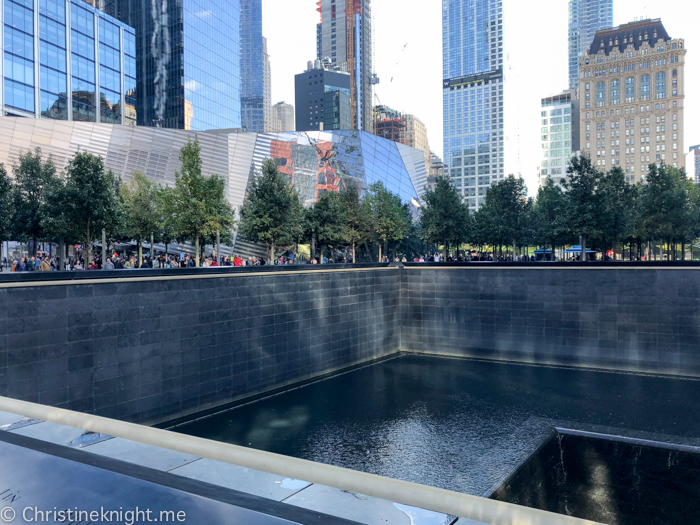 The National September 11 Memorial & Museum commemorates the September 11, 2001 attacks, which killed 2,977 people, and the 1993 World Trade Center bombing, which killed six. The Memorial Pools are free and open to the public to wander around. The museum is ticketed. We've been to the Memorial with our daughter when she was a baby and then as a seven-year-old. Babies and toddlers I would take with no hesitation as they are too small to understand what it's about. Older children I would take with caution as they will want to have the circumstances of the Memorial explained. I would only take much older children into the Museum.
Read about visiting the National September 11 Memorial & Museum here.
One World Observatory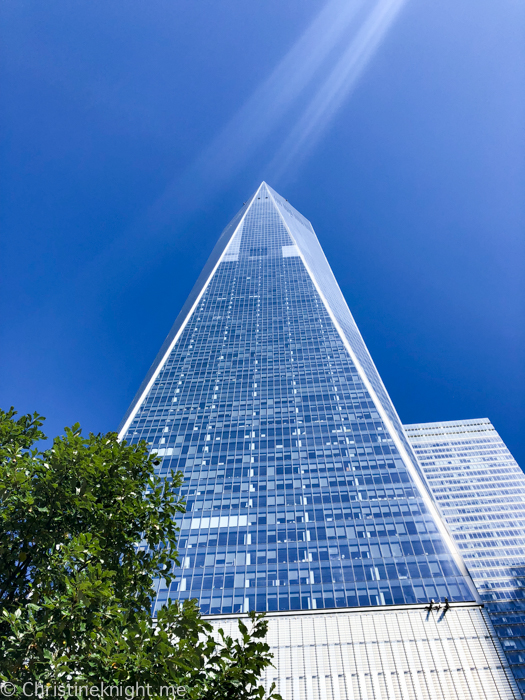 Climb to the top of the tallest building in the Western Hemisphere, the One World Trade Center, in New York City. The One World Observatory is located on the 100-102 floors with breathtaking views, restaurants and exhibits on offer.
Read more about visiting the One World Observatory here.
Oculus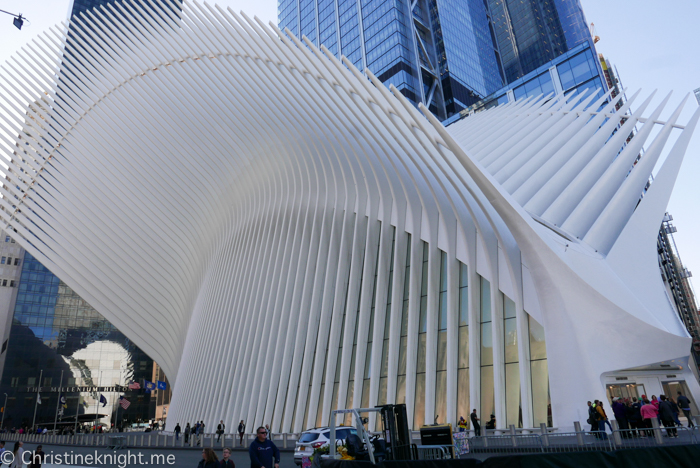 This incredible structure is a train station and shopping center, and I highly recommend a visit and walk inside to explore. It feels like walking inside a whale skeleton. The glass-and-steel structure was designed by Spanish architect Santiago Calatrava to look like a dove in flight.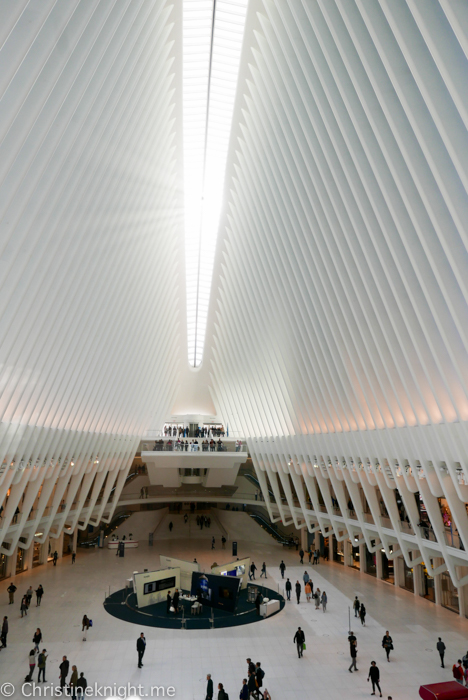 There is also some very cool street art outside.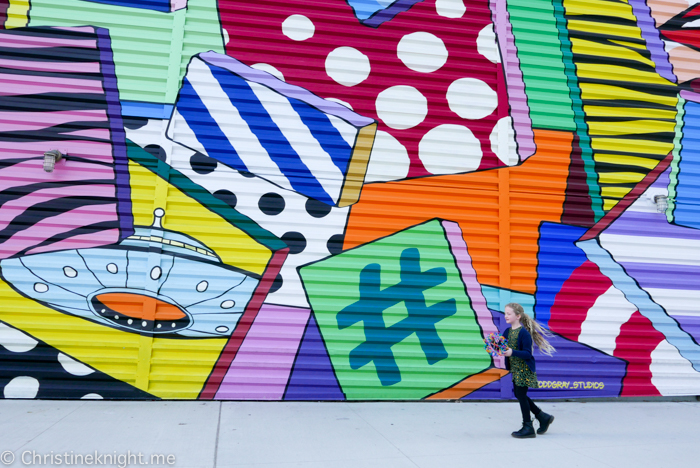 Fearless Girl Statue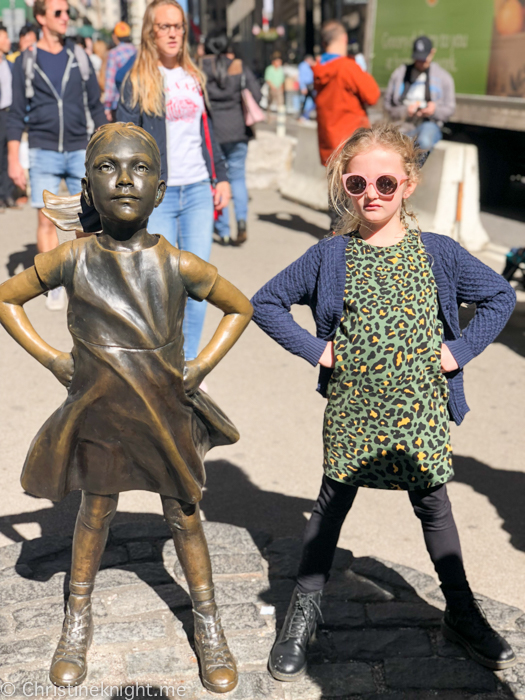 The Fearless Girl statue has been adopted as a symbol of female empowerment. It was originally placed in front of the Charing Bull sculpture, but has since been moved in front of the stock exchange.
Imagination Playground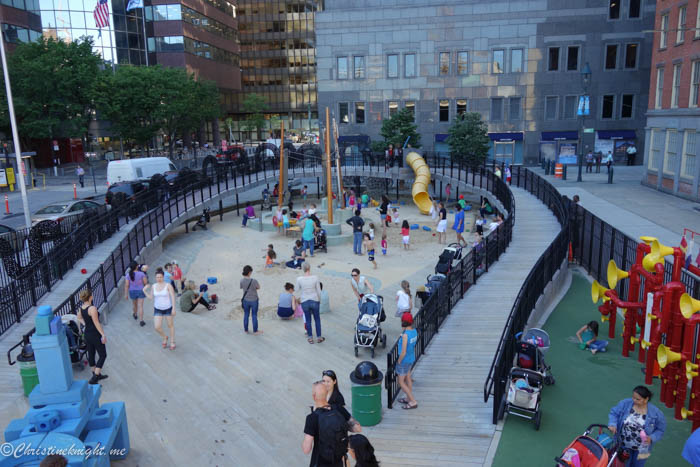 Imagination Playgrounds are famous for the blue, foam blocks that they have in the playgrounds for kids aged two and up to play with. They're basically huge shapes made out of non-toxic lightweight foam.
The blocks are only one feature of this great, Nautical-themed playground. At one end lies a huge sandpit, with a ramp running over the top and a twisty slide that ends up back in the sand. In the afternoons, this section is fully shaded, so gives a great respite from the heat if you can just get your kid to stay there.
Read more about visiting the Imagination Playground here.
Statue of Liberty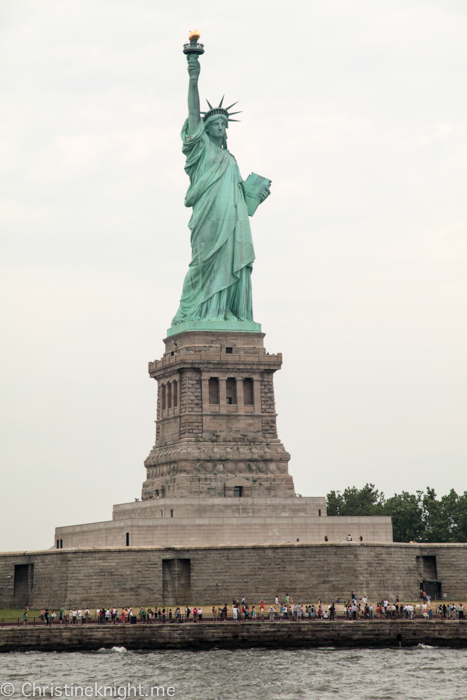 The iconic Lady Liberty was a gift to the United States from France. If you want to see her up close, your options are the free Staten Island Ferry, which goes past the island but does not land on it, or the ticketed ferry which lands on the island.
You can get all the information you need on visiting the island, including tickets and how to access the crown and pedestal here. A grounds only ticket is the easiest to get – tickets to the pedestal and crown are limited and sell out very quickly in advance. Crown tickets often sell out six months in advance.
Children must be at least four (4) feet, or 1.2 meters, tall to visit the crown but there is no height requirement to visit the pedestal.
SeaGlass Carousel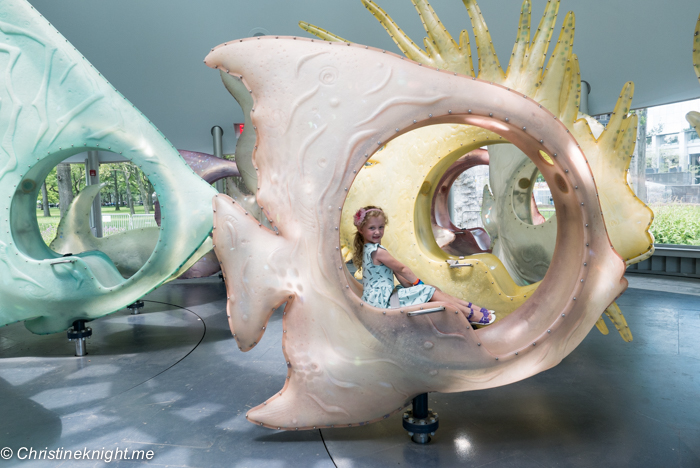 Take a magical underwater spin on the SeaGlass Carousel – a fish-themed carousel in Battery Park at the southern tip of Manhattan Island in New York City that opened in August 2015.
Read about visiting the SeaGlass Carousel here.
Governor's Island (seasonal)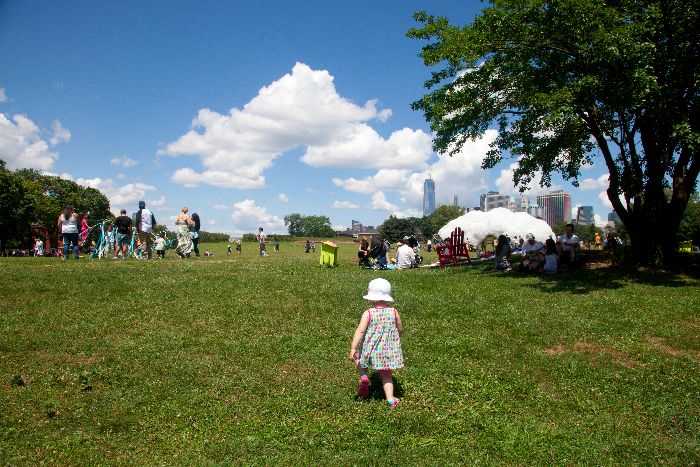 A fun day trip during summer: catch the ferry and spend the day. Get food from the food trucks, bring a ball to kick around, lounge in the giant hammocks. They have a lot of events so look on their site for anything fun happening. Ferries go from the Financial District and Brooklyn.
Read more about our experience on Governor's Island here.
Bronx
Bronx Zoo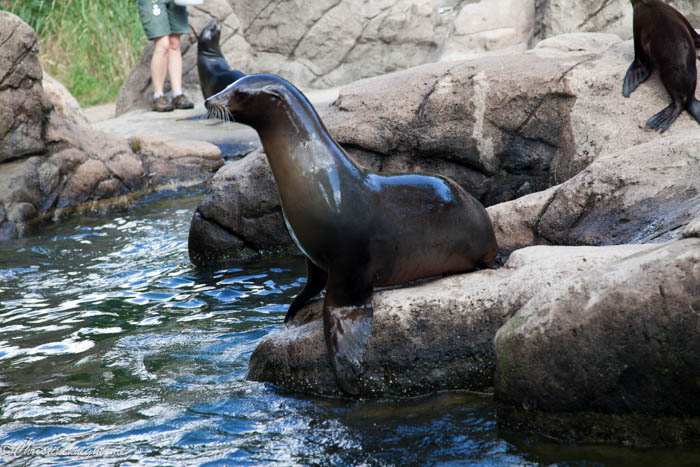 It's not as far to get to as you'd think – a fast train trip and a good option if the kids are going a bit crazy in the city. They have a fun monorail type thing where you watch all the animals around the park, a revamped kids' zoo with a bug carousel, and a lot of space for kids to run free.
New York Botanical Garden

A great trip out of the city for the day, the New York Botanical Garden is particularly beautiful in spring when all the flowers and cherry trees are blooming. Check what's on as they always have great exhibitions. The food is pretty average so I'd pack my own and have a picnic lunch.
The gardens are so easy to get to by train. The B, D or 4 are all nearby, and it's a short walk from the station to the garden. The gardens are MASSIVE. There is a tram to get around, but we always walk and haven't found it too large for strolling between each area.
Read about visiting the New York Botanical Garden here.
Brooklyn
New York Transit Museum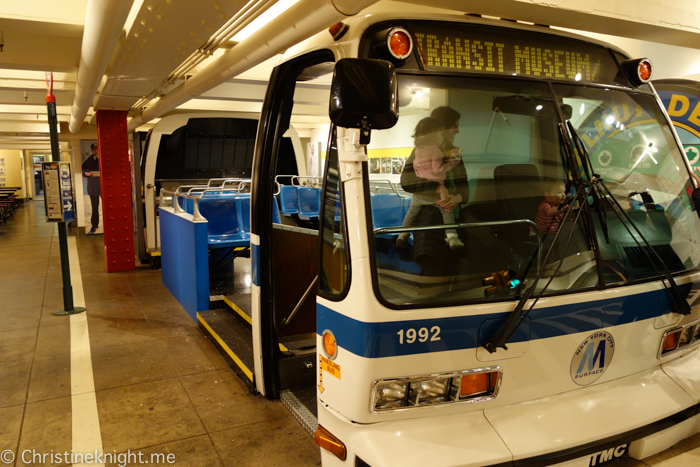 Climb aboard the transport of yesterday at the New York Transit Museum. There are plenty of trains and buses to pretend to drive as well as fascinating historical artifacts and information for adults.
Read about visiting the New York Transit Museum here.
Brooklyn Bridge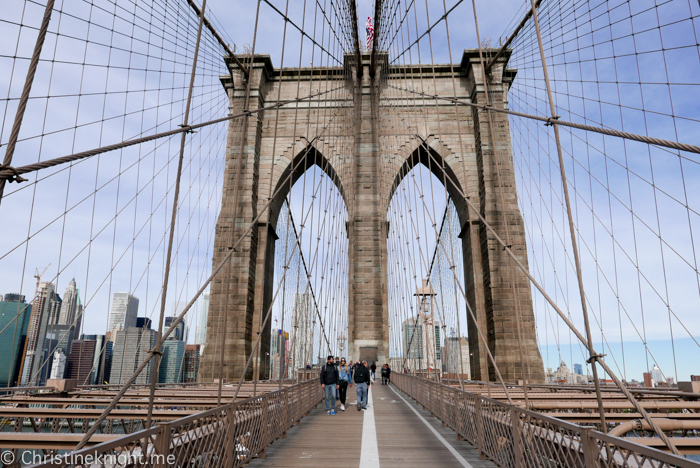 The Brooklyn Bridge joins Manhattan to Brooklyn, spanning the East River. Since its completion in 1883, the bridge has become one of the city's most famous icons. Walking across the Brooklyn Bridge is one of the best ways to explore the city's neighbourhoods and experience breathtaking views along the way. The whole route is stroller-friendly.
Read about walking across the Brooklyn Bridge here.
Brooklyn Bridge Park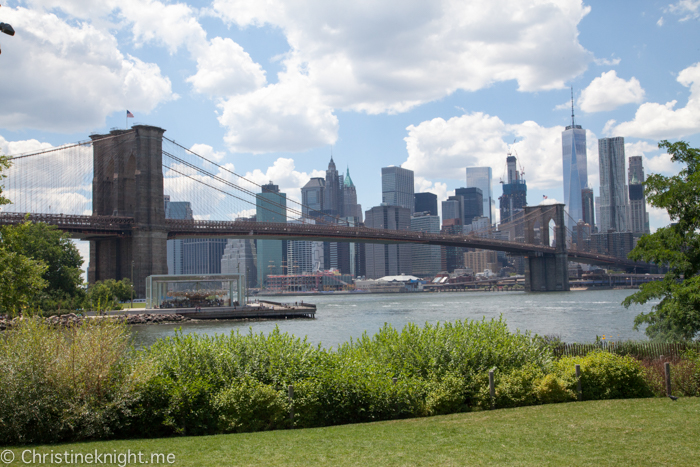 This beautiful waterfront park wraps around the Brooklyn shoreline from DUMBO to Brooklyn Heights. It has numerous sporting fields and green spaces, gardens and playgrounds spread across six piers. Bring a picnic lunch or buy lunch at one of the many restaurants along the way. Brooklyn Bridge Park is extremely stroller-friendly!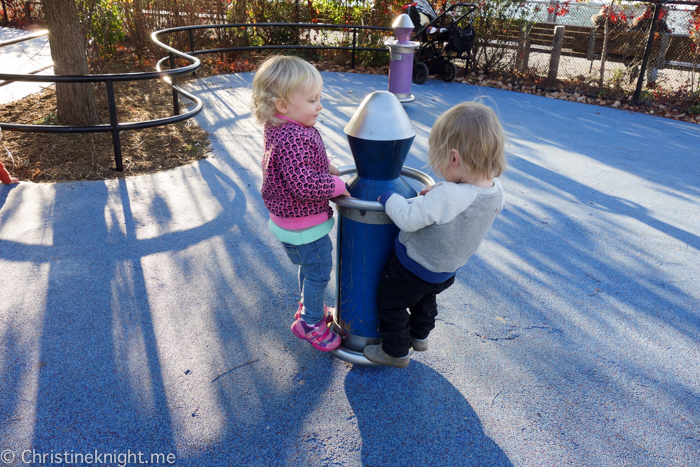 There is a toddler playground at Pier 1 that is excellent for little ones.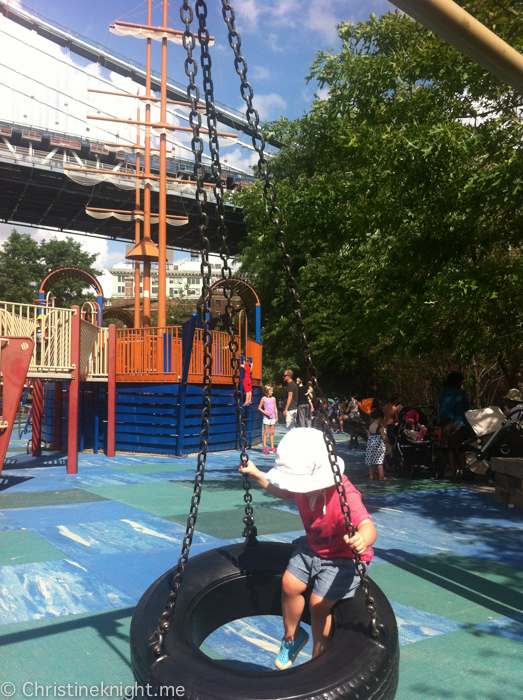 For older kids, the nautical-themed Main Street playground on Plymouth Street is a great bet.
Walk further along the entire length of the park if you have time to explore all of the green spaces and playground.
Pier 6 is home to a variety of playgrounds including the Water Lab, Swing Valley and Sandbox Village.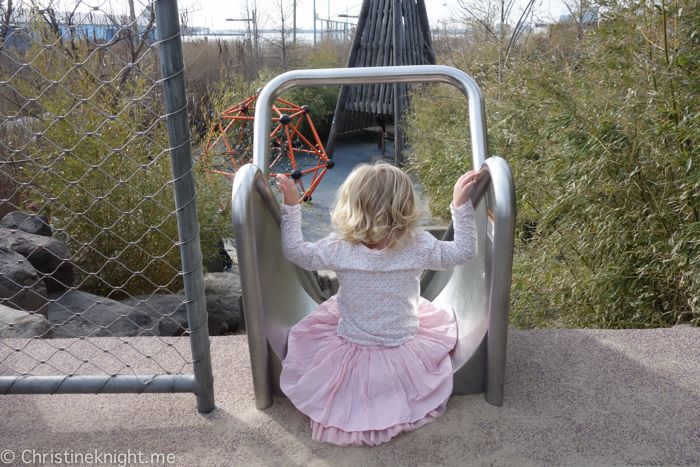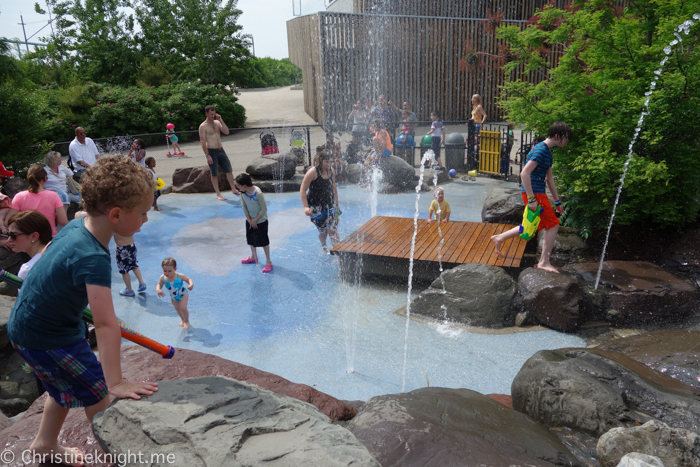 Pier 6 is also where the ferries to Governor's Island depart.
Read about visiting Brooklyn Bridge Park here.
Jane's Carousel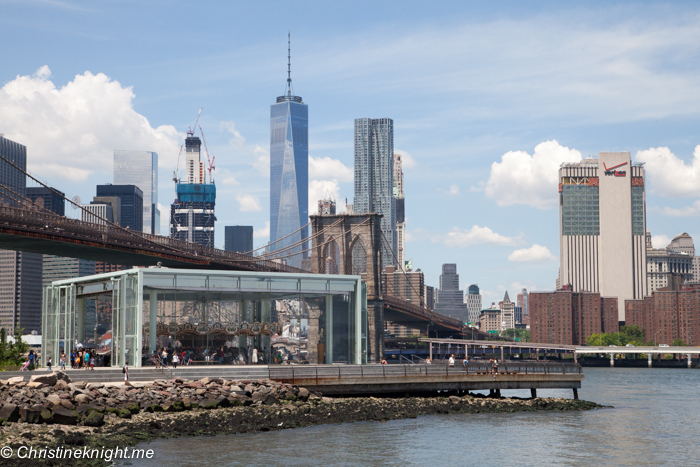 Jane's Carousel opened in the Brooklyn Bridge Park on the East River on September 16, 2011 after a full restoration. The carousel itself actually dates back to 1922.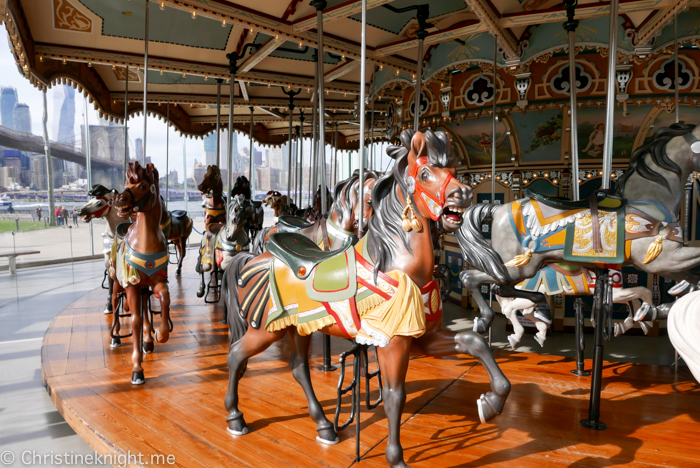 The carousel is cheap at only $2 a spin on our last visit. Check their opening days and hours carefully as they change seasonally.
Read about visiting Jane's Carousel here.
DUMBO Brooklyn Eats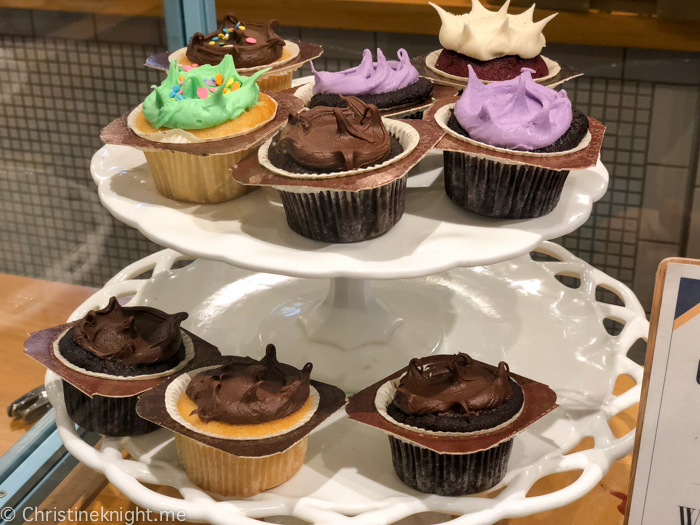 If you're walking around DUMBO, be sure to check out some of the amazing cafes and restaurants in the area. I highly recommend: Jacques Torres chocolates, One Girl Cookie (they make amazing layer cake and cupcakes), Almondine (famous for croissants and fruit tarts), pizza! (Juliana's is the best of them all), Superfine (a bar that is super kid-friendly, has a pool table and also makes amazing cocktails).
Brooklyn Children's Museum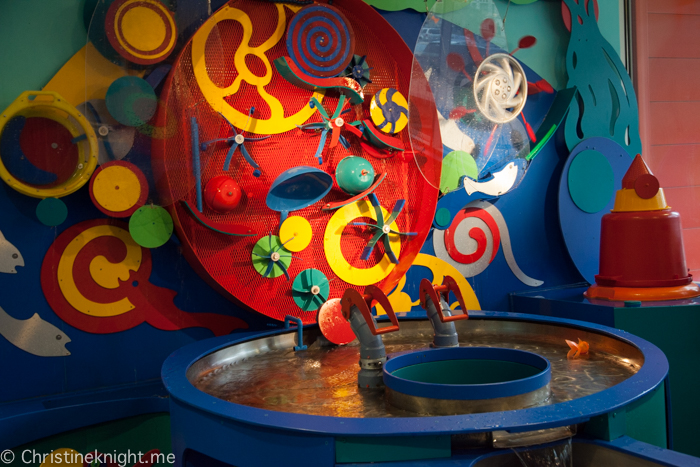 A bit tricky to get to due to its location in the residential area of Crown Heights, the Brooklyn Children's Museum was founded in 1899 and is the first children's museum in the United States (possibly also the first one worldwide).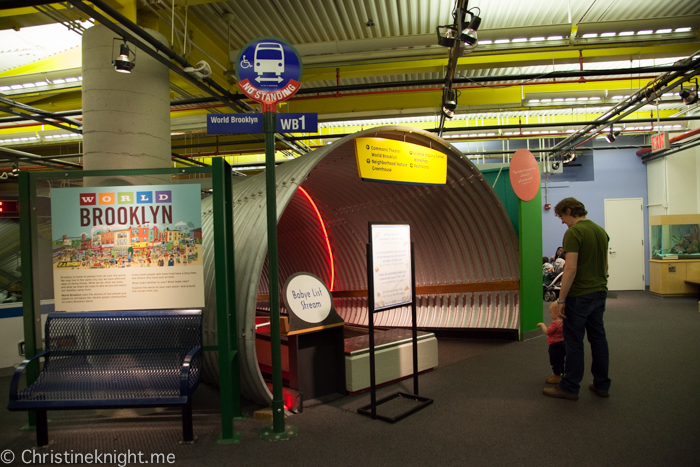 The museum features plenty of hands-on play for kids including a brooklyn-themed area, water play and sensory room.
Read about visiting the Brooklyn Children's Museum here.
Prospect Park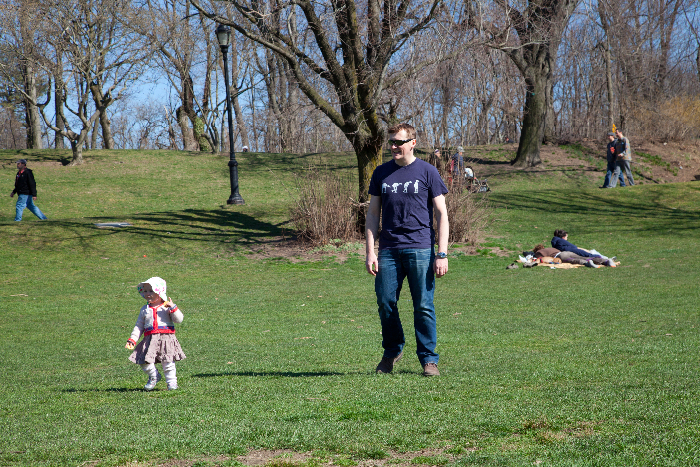 The sprawling Prospect Park was constructed between 1865 and 1895 by the same designers who created Central Park. The 585-acre park feels a lot more natural than Central Park, with plenty of foresty areas and lots of trees. The park features sporting fields, running paths and playgrounds and is simply magnificent to visit in the fall.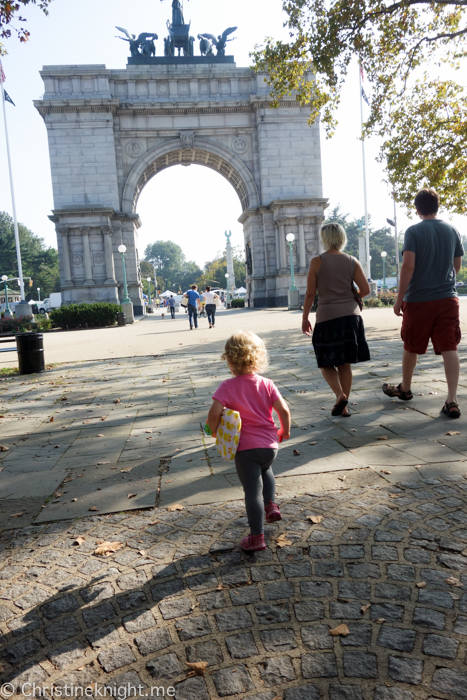 Attractions in Prospect Park include the bandshell, Audubon Center, the zoo and Grand Army Plaza.
Read about visiting Prospect Park here.
Children's Corner
This area of the park is home to several features that are excellent for kids, including the historic Lefferts Historic House, Zucker Natural Exploration Area, Prospect Park Carousel (one of the few wheelchair-accessible carousels in the world) and the zoo. The Children's Corner is located near the Willink entrance, at Flatbush Avenue and Empire Boulevard.
Prospect Park Carousel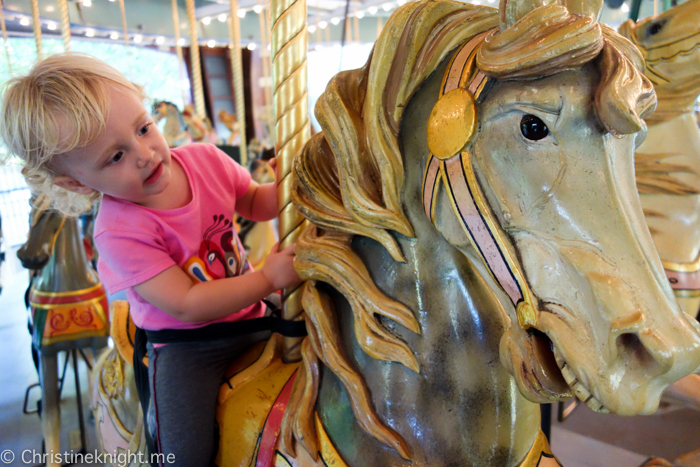 This beautiful 1912 carousel is only open between March and November. It features hand-carved horses, dragon-pulled chariots, a lion and a deer, and only costs $2 a ride.
Read about visiting the Prospect Park Carousel here.
Prospect Park Zoo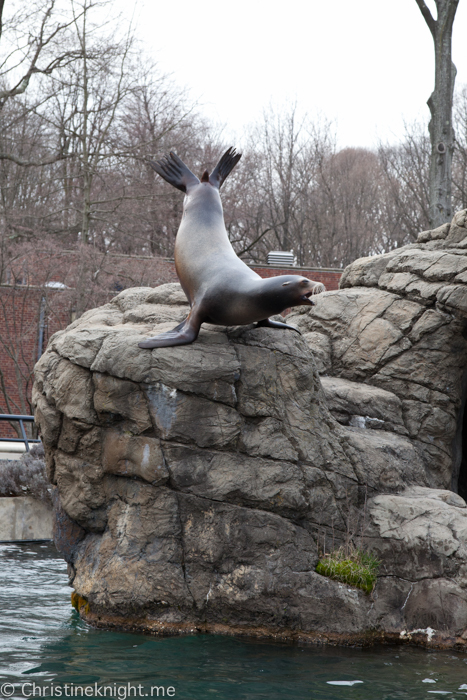 The Prospect Park Zoo makes up the Wildlife Conservation Society along with the Central Park Zoo, the Queens Zoo, the Bronx Zoo and the New York Aquarium. Home to 400 animals of over 80 species in environments that have been designed to imitate their natural habitats.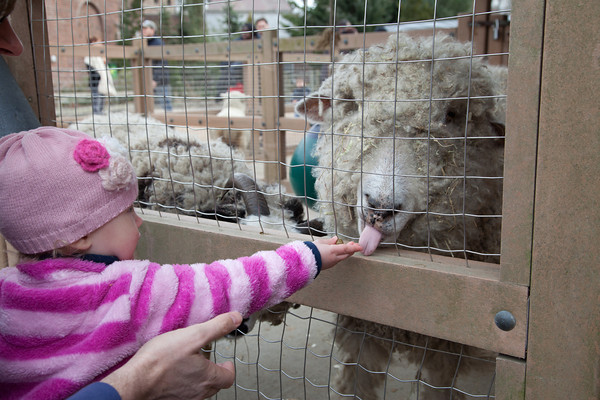 Kids will love the Barn and Garden area with farm animals who can be fed grain.
Read about visiting Prospect Park Zoo here.
Brooklyn Botanic Garden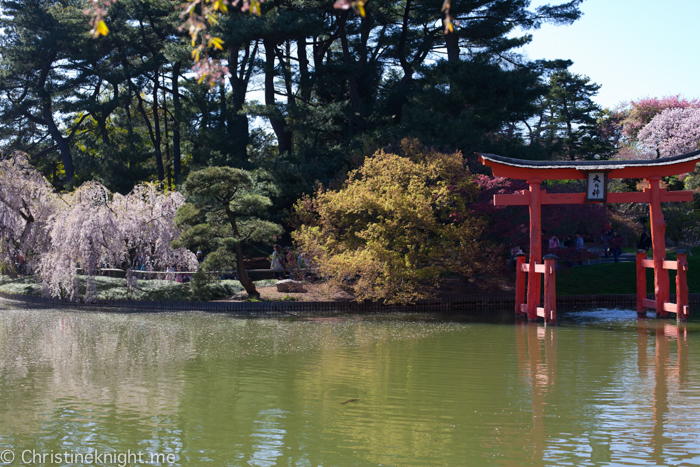 A must-visit during spring when the cherry blossoms are in full, stunning bloom. The 52-acre garden is located next to Prospect Park. They have strict rules about sitting on lawns so choose where you sit wisely.
Read about visiting the Brooklyn Botanic Gardens here.
Ample Hills Creamery
Possibly the best ice cream of all time. Crazy flavours and reasonable prices, this Brooklyn ice creamery is worth the trip to Gowanus, but you can also enjoy a scoop in Chelsea.
Read about visiting their Gowanus store here.
Coney Island
Catch the train to iconic Coney Island to people watch swim at the beach, ride the Cyclone rollercoaster or try one of Nathan's famous hot dogs.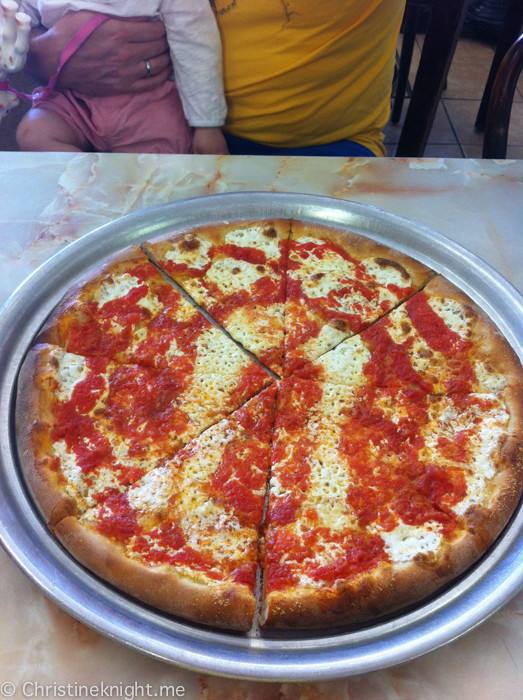 You can also get some of the best pizza in New York here – don't visit Coney Island without trying a slice from Totonnos.
Read about visiting Totonnos here.
New York Aquarium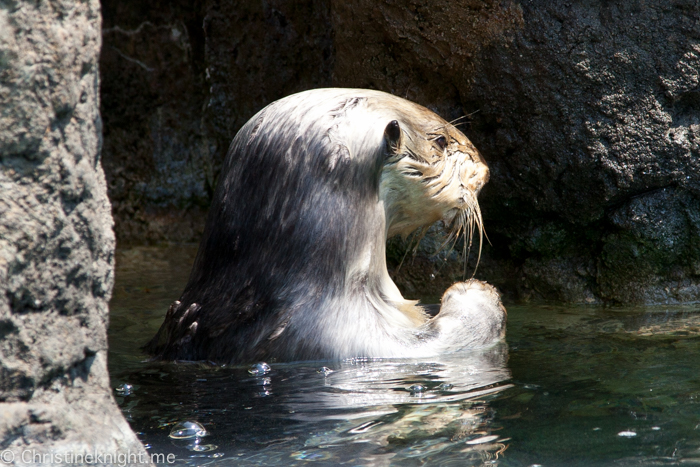 The New York Aquarium is the oldest continually operating aquarium in the United States. It opened in Castle Garden in Battery Park, Manhattan in 1896, and was relocated to the boardwalk in Coney island in 1957. The aquarium was hit hard during the 2012 hurricane and was closed afterwards for renovations (it has since reopened). It features otters, seals, sea lions, walruses and a Giant Pacific octopus.
You can read about our experience visiting the aquarium before its renovation here.
The Cloisters, Washington Heights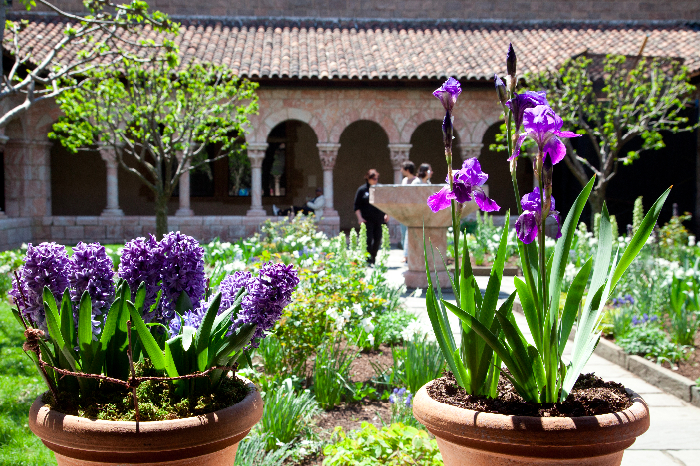 During the warmer months, a perfect family day trip is just north of the city at The Cloisters.
The Cloisters museum and gardens is the branch of The Metropolitan Museum of Art devoted to medieval European art and architecture. The building and its gardens are located in Fort Tryon Park, in Washington Heights, just a hop, skip and a jump away on the A train. Kids will love running around the gardens and smelling the herbs in the medieval garden.
Read more about visiting the Cloisters here.
Rockaways, Queens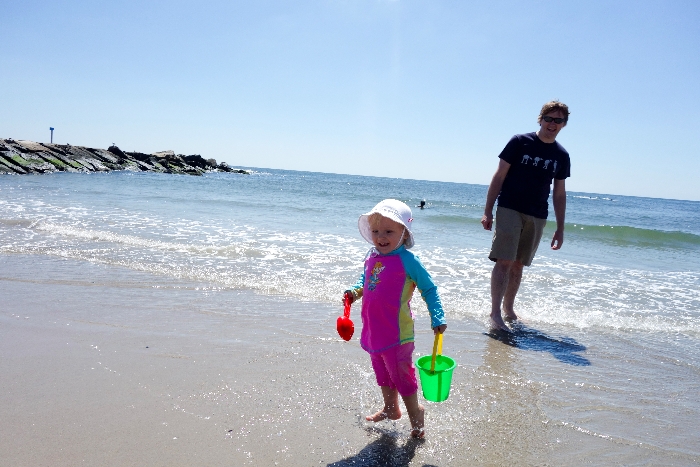 The Rockaways are a beachside community located around an hour and a bit from Manhattan. It's a quiet spot, popular in summer, and is easily access by train.
Read about a day trip to the Rockaways here.
Splash Parks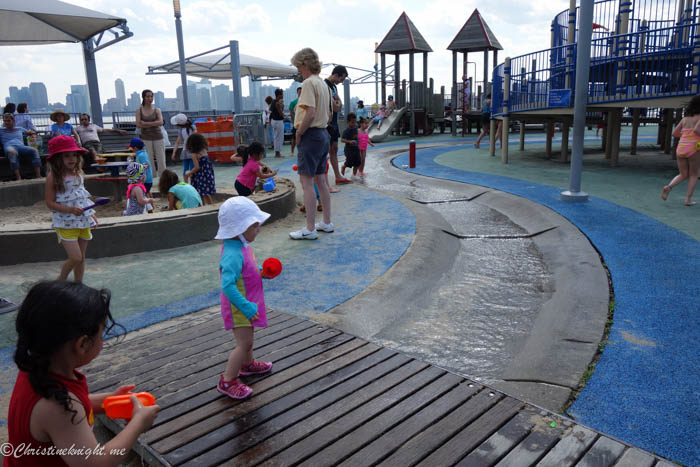 There are splash parks all over the city in summer, so if you're visiting then, bring lots of sunscreen as there are very few playgrounds with shade. Also pack shoes that the kids can run in the water in (like crocs).
Read about visiting splash parks in NYC here.
Helpful information to navigate NYC with kids
Eating Out With Kids
You can find my top list of kid-friendly restaurants in NYC here, and all of my reviews on kid-friendly restaurants here
Cupcakes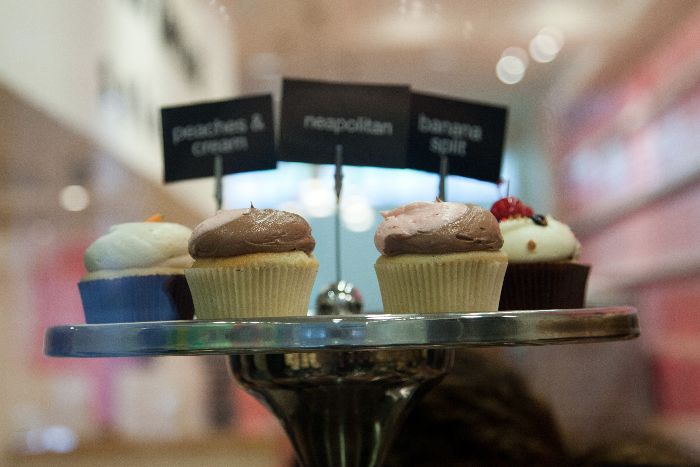 There are so. many. cupcakes. My favourites are Georgetown, Magnolia, Two Little Red Hens, Butter Lane.
What to pack
Comfortable shoes are a must. For most seasons, I suggest wearing sneakers that have already been worn in. In summer sandals can be worn – but be warned that the streets are filthy and your feet will be dirty at the end of the day.
Dress in layers as the weather can change unexpectedly. I always pack jeans, light tees, light jumpers, then a light jacket for visiting in late spring and early fall. Summer – light dresses, shorts and light tees. If you're visiting NYC in winter, you will need some serious cold weather gear. Get suggestions on what to pack when visiting NYC in winter.
A backpack or a crossbody bag with a zip is also a must – both to prevent pick pockets and also to carry all your stuff while you're walking many miles a day.
If you're visiting from outside of the US you may need a power adaptor or convertor. Read more about using electronics in the USA and what adaptor you'll need here.
Getting around
Use the subway! Get a weekly pass and take kids in either an umbrella stroller or baby carrier. Find accessible subway stations here. Up to three children 44 inches tall and under can ride for free on subways and local buses when they're accompanied by a fare-paying adult.
If you need to get a car, call Uber and request a car seat.
Tipping
Tip a minimum of 15% for service in restaurants. You'll also need to tip in bars, hotel staff, cabs, nail salons etc.
Looking for more ideas on things to do in NYC?
After some cheap holiday ideas around the USA? Check out this list.