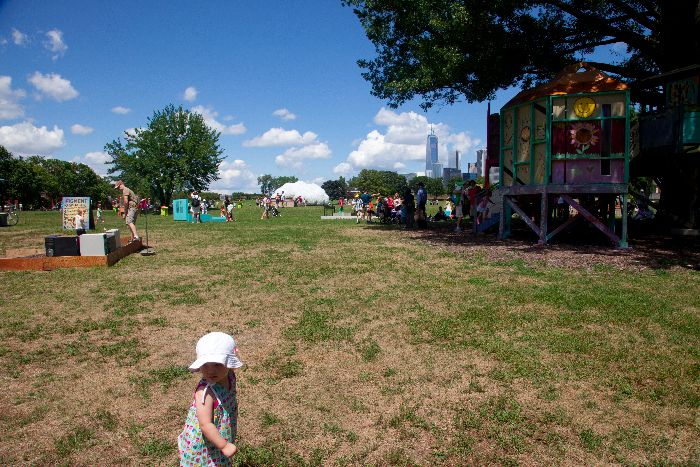 Desperate to get away from the cement landscape that is Manhattan? Us too, especially on days when the heat radiates from the ground up. One of our favourite easy escapes is an afternoon trip to Governors Island. The 172-acre island is just off the southern tip of Manhattan, near Brooklyn. Governors Island was used as a military base for almost two centuries, before 150 acres were sold to the people of New York in 2003. (The remaining 22 acres of the Island was declared the Governors Island National Monument that is overseen by the National Park Service.)
Each year, Governors Island opens every Memorial Day weekend through to the end of September, and is chock full of fun events all summer long. With a young toddler, our choices are a bit limited —so this year the best bets for us were the FIGMENT interactive installations (including the treehouse pictured, above) and a mini-golf course (open summer-long, at the Parade Grounds) the Fête Paradiso and Compost Outpost. Older kids will love the Children's Museum of the Arts Free Art Island Outpost Program, which is open all season from 11am to 3pm, at Nolan Park. Kids can enjoy hands-on workshops including painting, sound design, sculpture, animation and podcasting.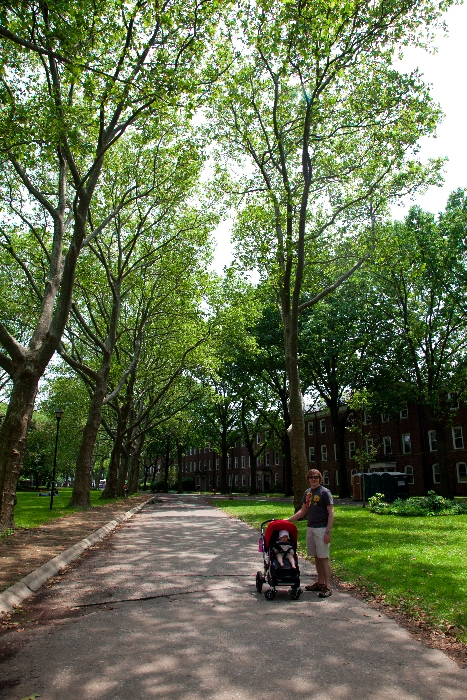 As well as enjoying the seasonal events offered, it's also really nice to simply take a walk around the island. I love this walkway  (above) through the middle of the park, with the towering trees on both sides, and the empty buildings that once housed military personal (which can sometimes make you feel like you're in a ghost town).  On a quiet day, it's an eerie vibe. You can walk or bike (BYO bike or hire one when you get there) around the entire island, to take in an amazing view of the Statue of Liberty and southern tip of Manhattan.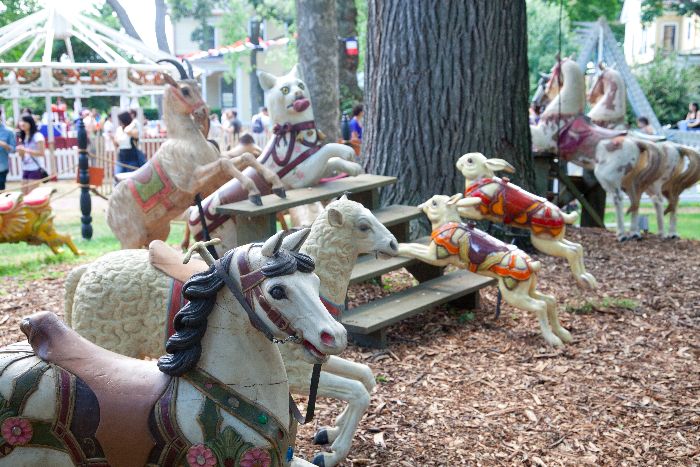 The hot event to visit this summer has been Fête Paradiso, a traveling festival of vintage carnival rides and carousels, making its American debut. The collection includes attractions from the late 19th and early 20th centuries, such as carousels, flying swings and a pipe organ. Not only is it cool seeing rare, museum-quality items in a setting as beautiful as the island, you can also ride most of the vintage attractions. Insider tip: The rides are a bit on the pricey side, particularly if you're going with a toddler. If you're riding with your kid, it will cost you each a ticket, even if you're just holding your kid while they're riding the carousel. The best value is a buying in bulk.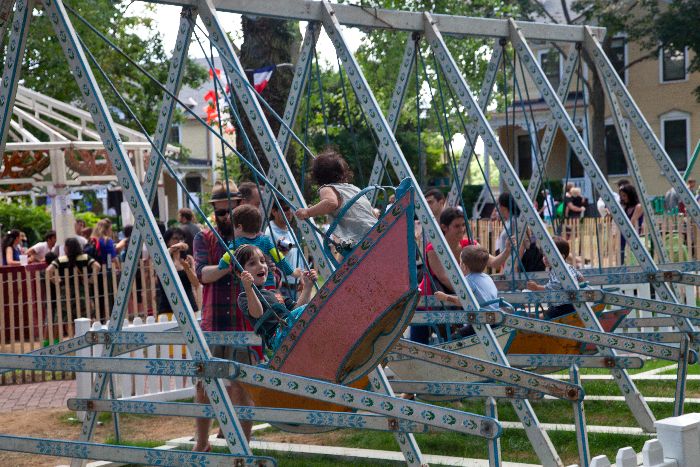 There are a lot of rides, mostly suited to adults and older kids due to lack of modern safety features. The best rides for small kids are the carousels.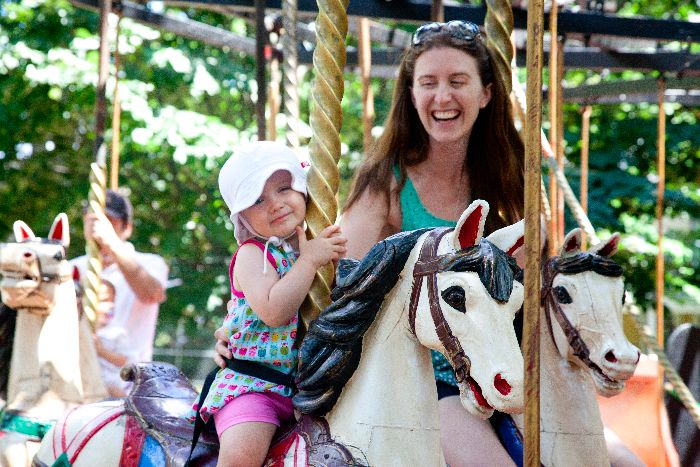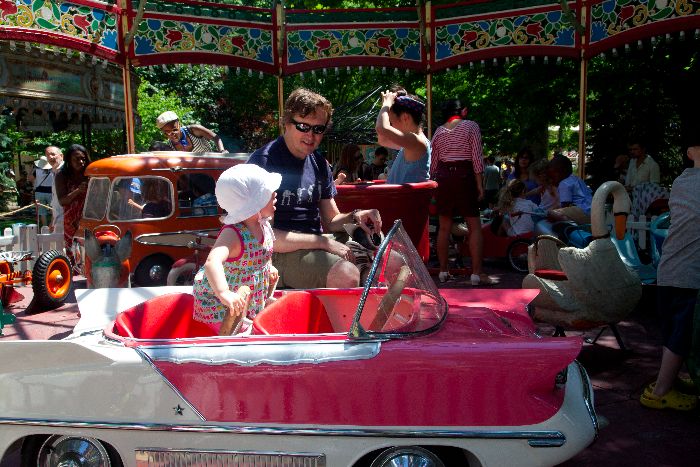 A carousel with cars was the favourite among the junior set (vroom vroom!). The only problem? No seat belts to strap the kids in, so the merry-go-round presents a couple of challenges — a moving platform, plus a moving toddler ON the platform who wants to buzz from car to car to car. TOO MANY CHOICES FOR TODDLER BRAINS!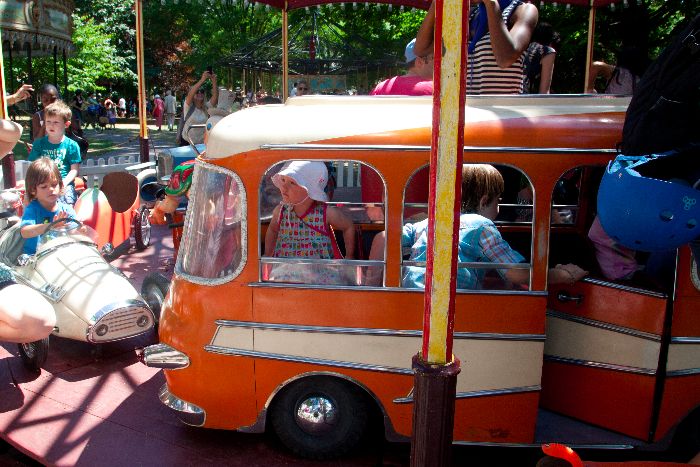 This miniature VW van was dubbed "the party bus" by the parents watching the chaos unfold, as all the kids scrambled to squeeze inside and take the wheel at once.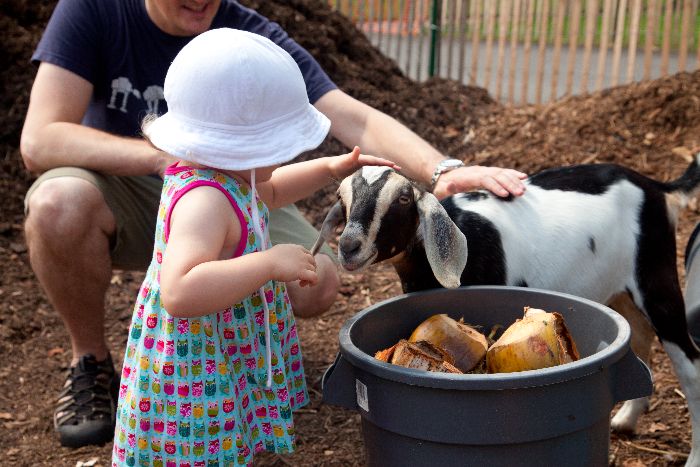 For a change of pace, calm everyone down at Earth Matter's Compost Outpost (open all season, 10am-5pm, South Battery). Kids can get up close to chickens, goats, rabbits and worms, all of whom spend their days eating compost, care of Governor's Island visitors. Older kids can learn about compost first-hand, by taking part in the daily composting.
Eating On The Island
When it comes to food, you have a few expensive choices. Fête Paradiso features an eatery inside a pavilion designed in 1900 for bumper cars. Food is available in a tent, catered by French eatery Le Gamin. You'll be able to try some traditional bistro fare like Steak Frites ($15), Croque Monsieur ($8) Salade Nicoise ($8) and sweet crepes with Nutella, lemon sugar or jam ($5). Kid-friendly options include hamburgers ($8) and Rotisserie Chicken ($10). Adults can enjoy spirits and wine from the Languedoc region of France. There is also the King Island Food Court, featuring a variety of vendors and cuisines, and picnic tables at which to sit. For a really relaxing day, bring a packed picnic and blanket.
Tips to Know Before You Go:
There's no drinkable water on the island (so no drinking fountains). You can buy water from island vendors and vending machines, but we'd advise bringing plenty of your own. Water bottles can be re-filled in the Governors Island Ferry Waiting Room at the Battery Maritime Building.
The only indoor bathrooms are located on the upper and lower level of Building 110, adjacent to the ferry landing. There are plenty of port-a-loos placed around the island if you can't hold on to find these bathrooms.
Governors Island
Open every Sat, Sun and holiday Monday from 10am-7pm through to September 29. To get there, catch the East River ferry from Manhattan (from Wall St/Pier 11 ($4) or the free ferry from the Battery Maritime Building) or the free Brooklyn ferry from Brooklyn Bridge Park Pier 6. Check out the ferry schedules before you go, and be prepared for a long line if you're heading across from Brooklyn.