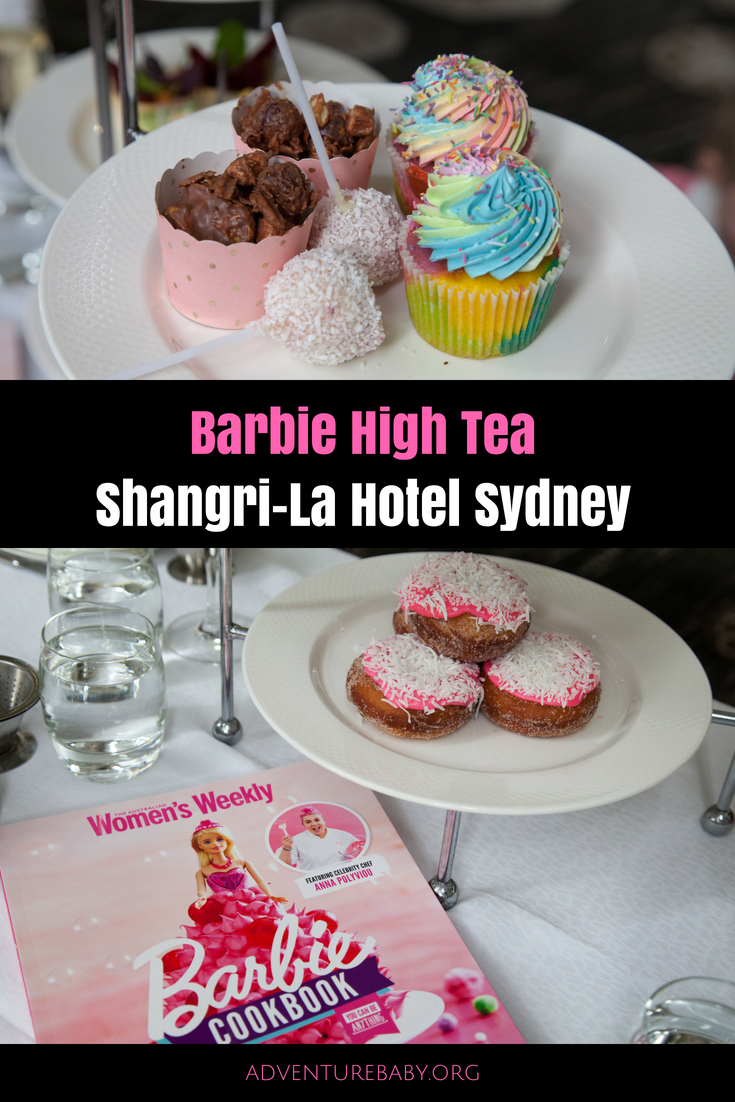 Oh la la it's a fancy outing today! It's off to the classy Shangri-La Hotel Sydney in the Rocks for a very pink high tea with friends. From June 15 – 29 2018, the Shangri-La Hotel Sydney is hosting a very special Barbie High Tea, created by their executive pastry chef, Anna Polyviou.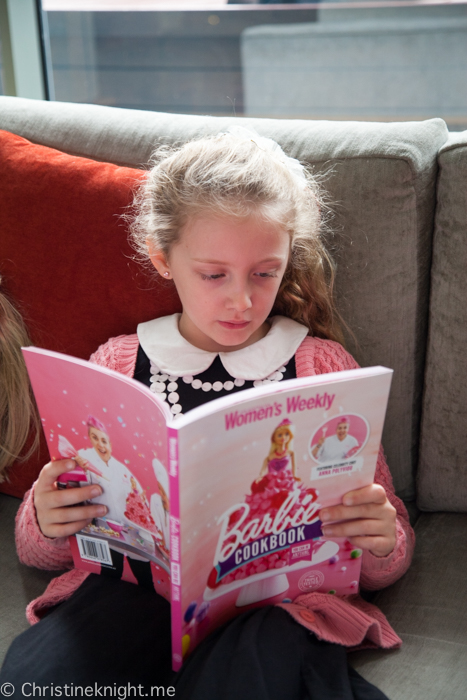 Anna Polyviou is often called the Punk Princess of Pastry, and with her bright pink mohawk she is the perfect poster girl for a new Barbie cookbook, which Polyviou has created in collaboration with the iconic Barbie brand and The Australian Woman's Weekly.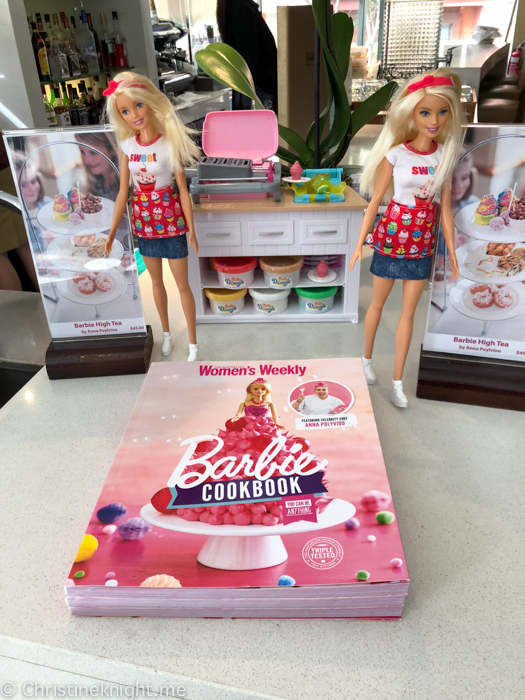 The cookbook is a fantastic edition to a young chef's collection, containing a combination of recipes that range from simple enough for kids to do either on their own or with help from adults, to some harder ones that definitely need adult intervention, but that are so imaginative that they will inspire kids to create their next birthday party around the designs.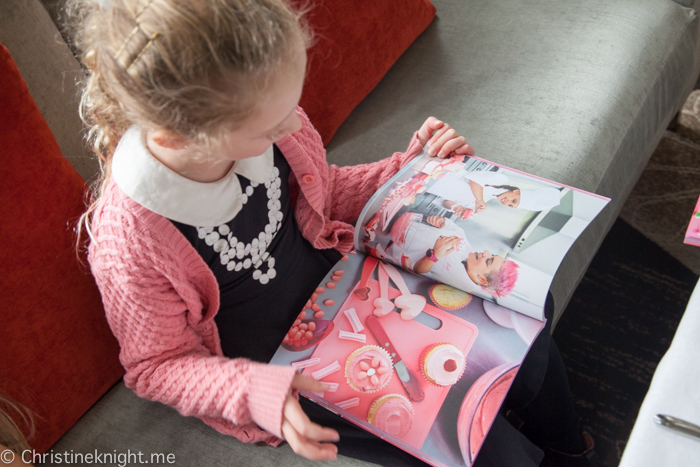 Our young Barbie (and Anna Polyviou!) fans were keen to try some of the special recipes, which are reflected in the Barbie High Tea.
Each young guest is given their own Barbie Cookbook to take home, which our three discerning diners perused eagerly while waiting for their tea, choosing which recipe they would try at home first.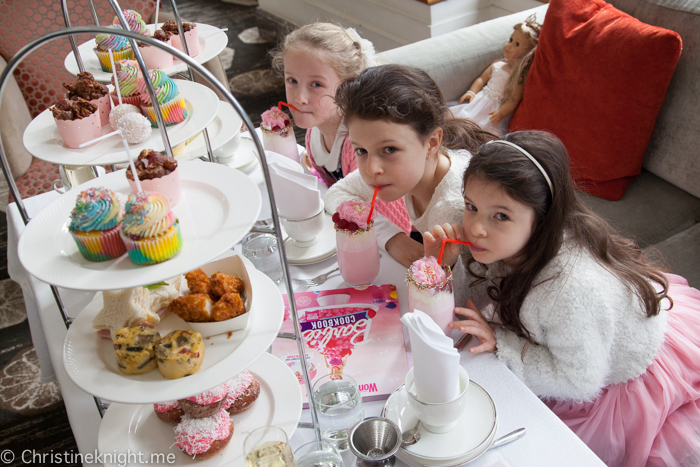 High teas are best experienced with friends, and for this special Barbie outing, we invited our usual high tea accomplices, with whom we've been sampling sugary treats in fancy frocks for quite a few years now. There is something so special about getting dressed up and having tea in delicate china cups that little girls just adore, and it's a really wonderful occasion for both us mums and the kids.
The three-tiered silver stands arrived quickly, brimming with so much pink that the girls' eyes popped out of their heads.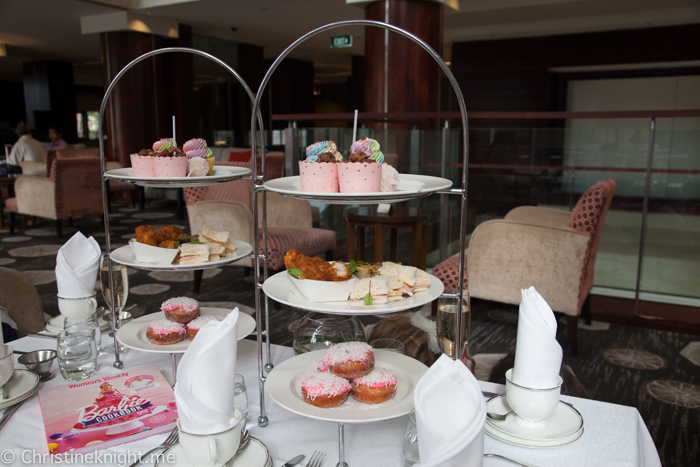 It's clear that Polyviou knows her target audience well, and the creative, beautiful AND delicious menu was 100% on pointe with this young audience who are drawn to all things pink and sparkly.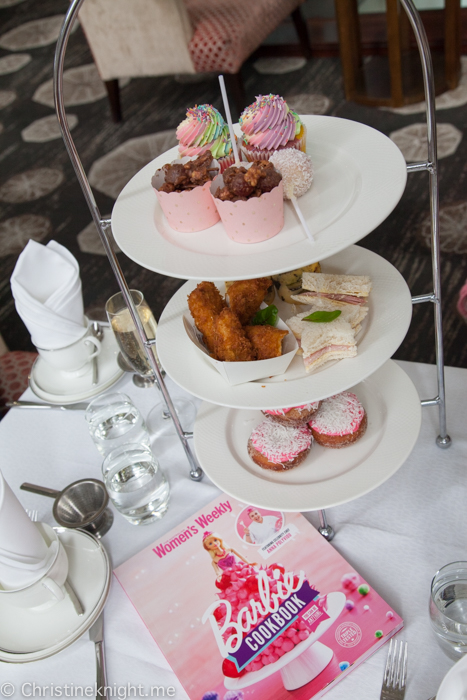 Adults and kids can both order the Barbie high tea. If you're dining with a few other adults or kids however, you might want to consider ordering the Barbie tea for the kids and the traditional high tea for the adults, and then trying a bit of everything! You can read about our delicious experience trying the traditional high tea here.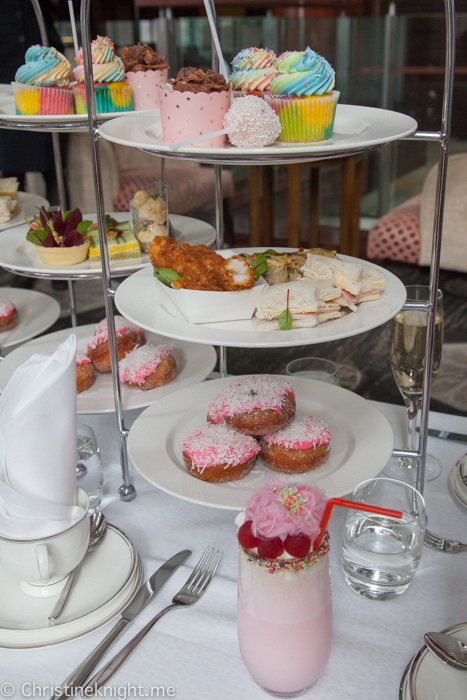 Barbie High Tea
Barbie Shake
Coconut Raspberry jelly pops
Rocky road cup
Finger bun doughnuts
Rainbow cupcake
Cheesy chicken strips
Vegetable frittata
Ham cheese stars
(As vegetarians were given a slightly different savoury option, with a deconstructed egg sandwich, beetroot tart and cream cheese and cucumber sandwiches.)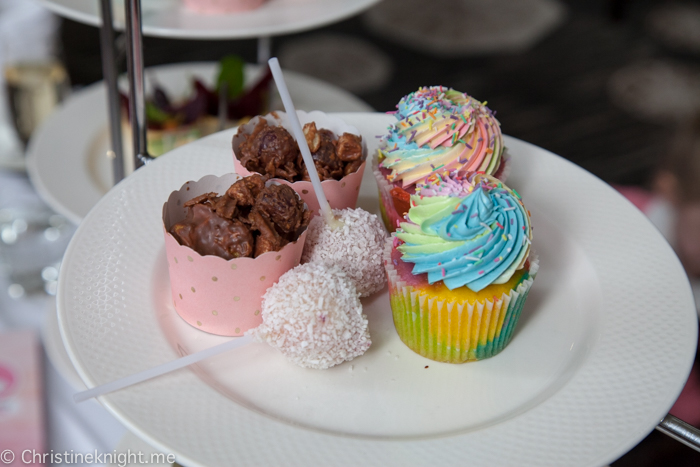 The savouries are a great kid-friendly twist on a traditional high tea. Super accessible for even the fussiest of kids to enjoy.
The sweet treats were a hit, both visually and also to eat. The rainbow cupcakes were the fan favourite, with the added bonus of sprinkles spilling out of the middle when they were bitten into.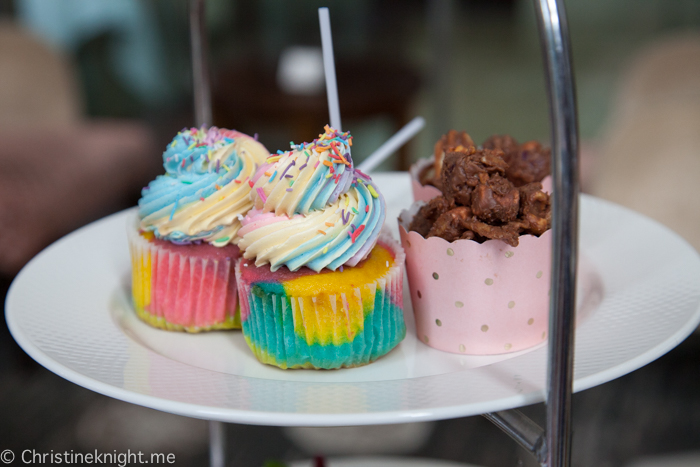 Mine and my friend's favourite dessert was the rocky road cup – a mix of packet chips and lollies covered in chocolate, it was so nostalgic of our childhoods that we just kept going back for more. Note: the rocky road cup does contain nuts.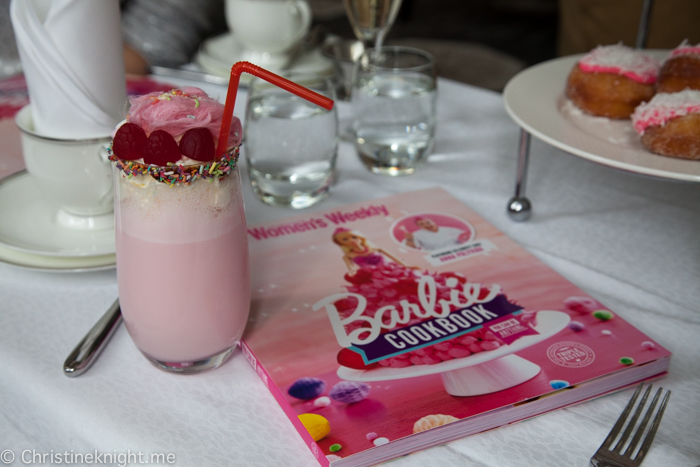 Another favourite was the Barbie shake. The strawberry milkshake base on its own was delectable, and with the addition of the Persian fairy floss and lollies it was just a mouth-watering treat that was devoured by all parties.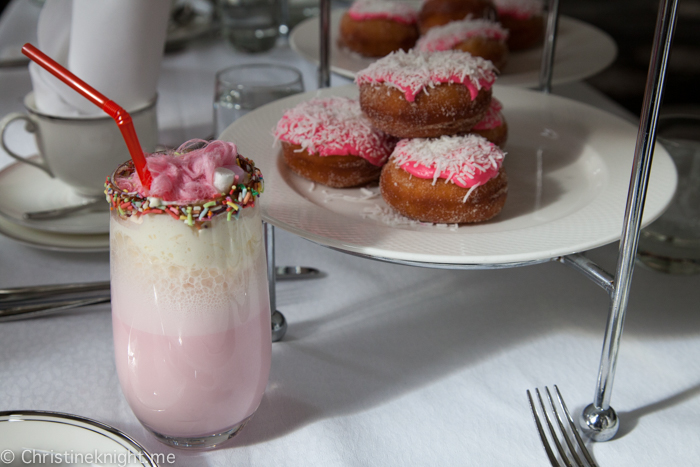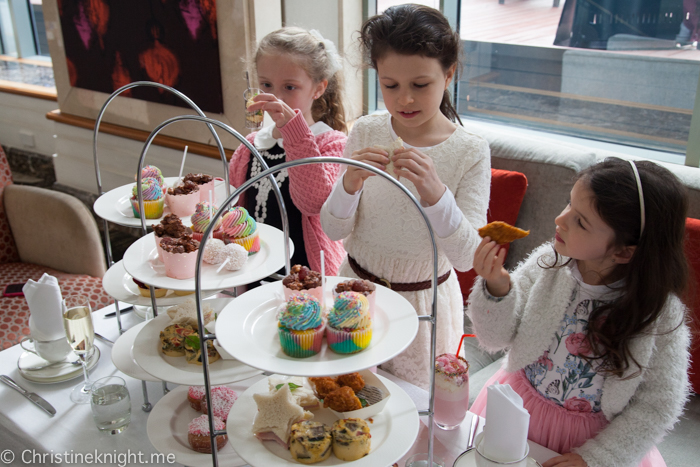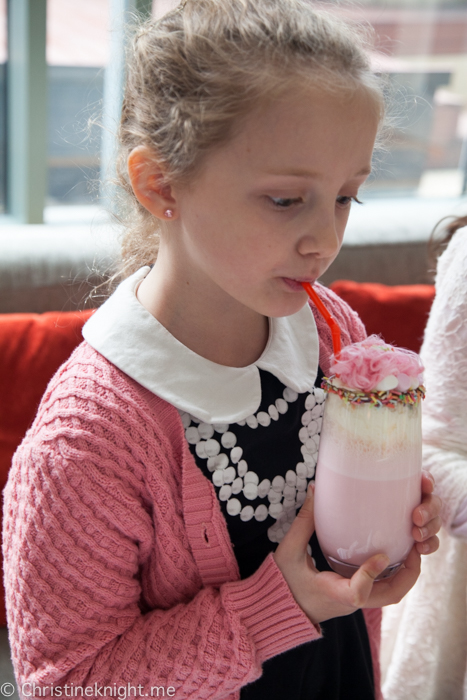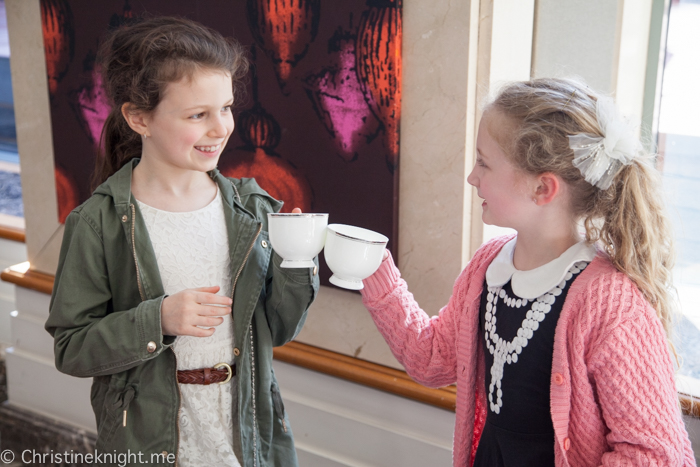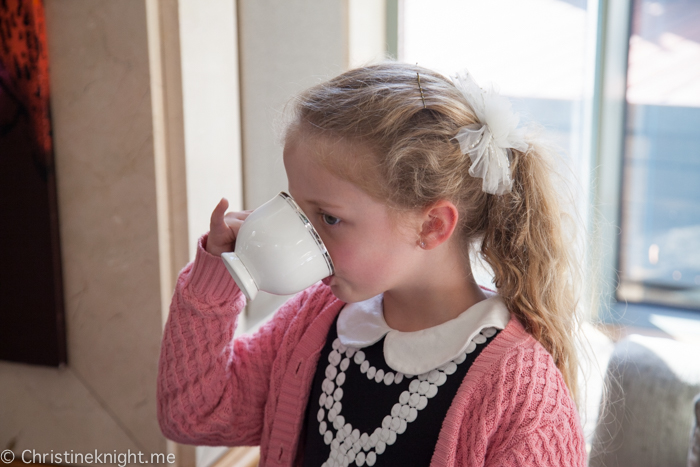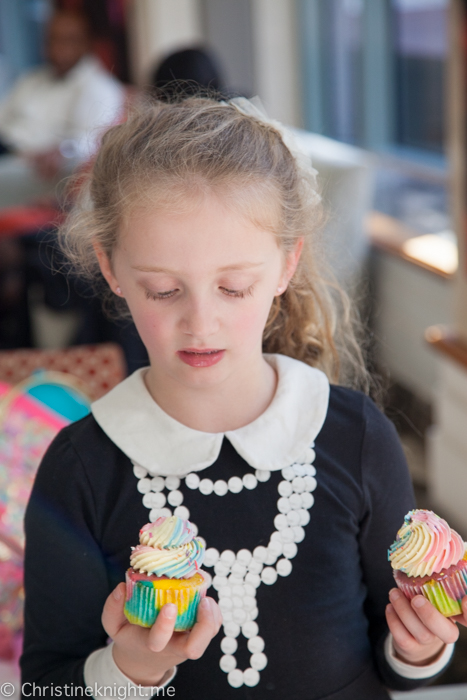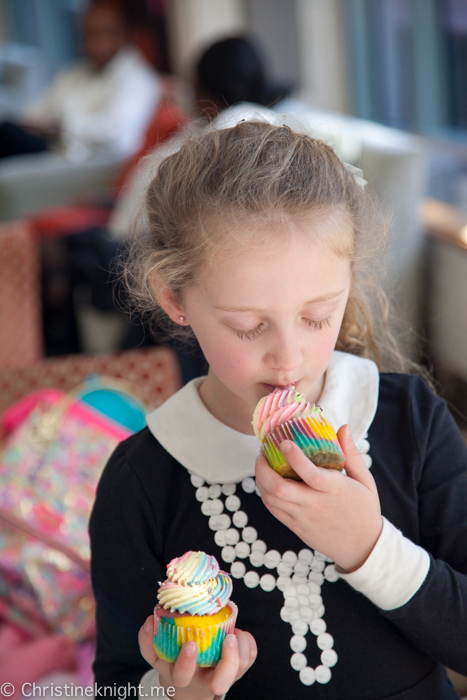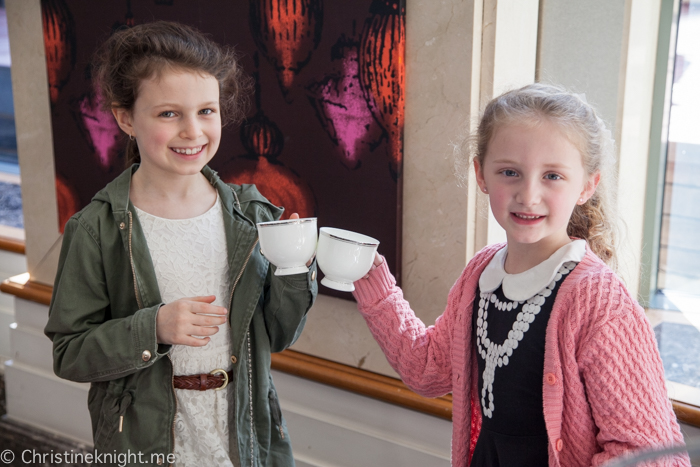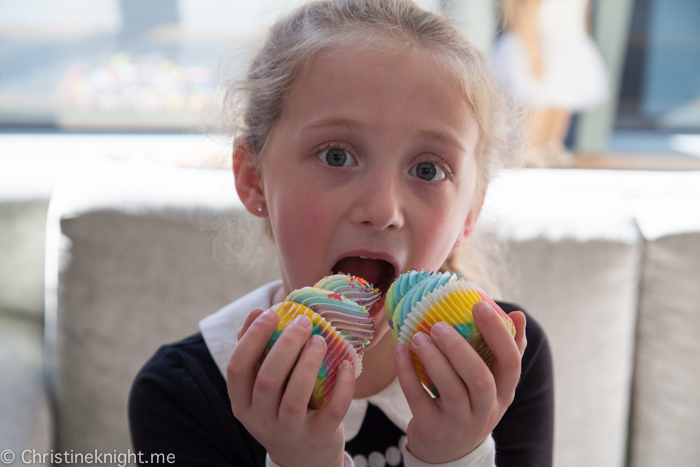 The Barbie High Tea is available from 15 June to 29 July 2018 at $45 per child. It includes a complimentary Australian Women's Weekly Barbie Cookbook which features some of Polyviou's Barbie inspired creations. For adults, it is priced at $55 per person with a glass of sparkling and at $65 per person with a glass of Champagne.
The Barbie High Tea is available daily at The Lobby Lounge, between 11:30am and 1:30pm and between 1:45 and 3:45 pm.
Shangri-La Hotel Sydney
176 Cumberland Street,
The Rocks, Sydney, NSW 2000
Phone: (02) 9250 6000
Prices: $$$
Bookings are essential. Please call (61 2) 9250 6144 or email dine.slsn@shangri-la.com
Get more information on the Barbie High Tea here.
Get Directions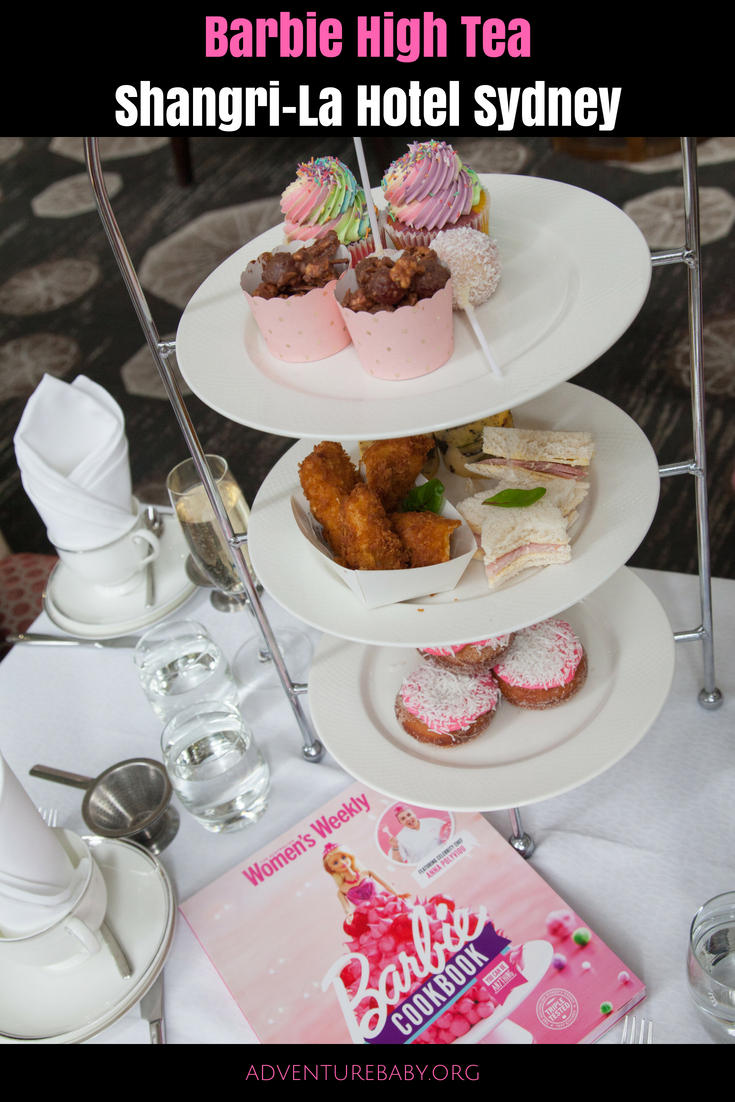 More things to do in Sydney
Find a list of the best things to do in Sydney with kids here.
Find things to do in Sydney for free here.
Get a list of the best kid-friendly beaches in Sydney.
Find the best animal experiences in Sydney here.
Visit the best kid-friendly restaurants in Sydney here.
Find the best high teas in Sydney here.
Head to one of the best museums in Sydney here.
Check out things to do in Sydney on a rainy day here.
Enjoy one of the best ocean pools in Sydney here.
First time visiting Sydney? Get tips for first time visitors to Sydney here.
Thank you to the Shangri-La Hotel Sydney for hosting us for this very special high tea. All opinions and sugar-high kids are our own.