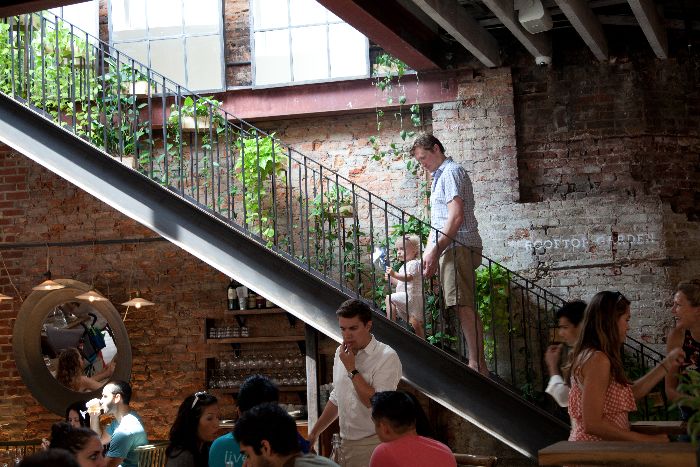 Freshly grown and picked fare is what you'll get from Rosemary's, an Italian restaurant with a rooftop farm in the heart of Greenwich Village. Created by Carlos Suarez, the owner of Bobo, Rosemary's is named after Suarez's mother and is inspired by both her home in Lucca (Tuscany) and the rich heritage of the restaurant's Greenwich Village corner.
Walking into the restaurant I was struck by several things — the sheer size (it's huge, even by non-NYC-standards!) the natural light (it's a photographer's dream), and the friendly hostess who made us feel welcome straight away with her kind words about Cheese, and with how discretely and obligingly she whisked our stroller away for us (STROLLER STORAGE!!).
Executive Chef Wade Moises serves seasonal Italian dishes that highlight the herbs and produce from the rooftop farm above the restaurant, as well as house-made pastas and a selection of focaccia — as an homage to the location's predecessor, Sutter's Bakery.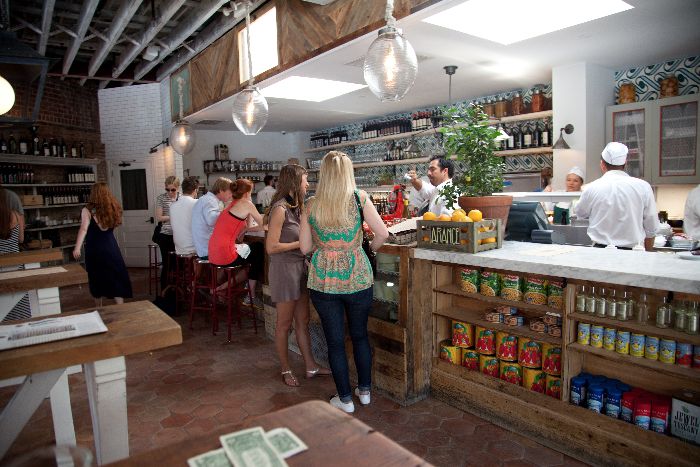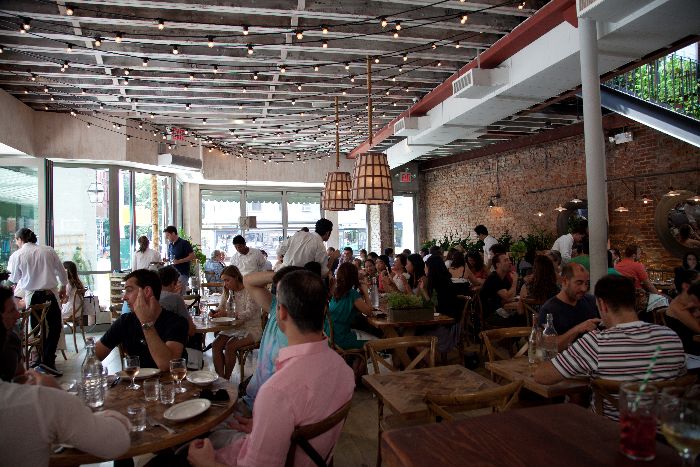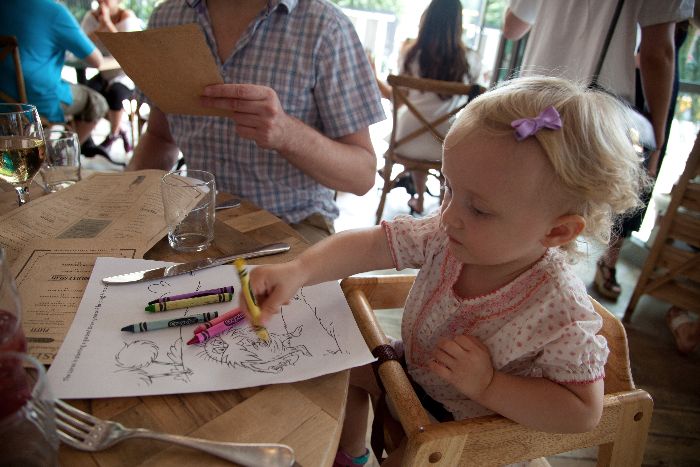 Not only was our offspring welcomed by the staff with big smiles, she was also handed a Lorax-themed coloring sheet, a children's menu, and Crayola crayons (as opposed to the generic kind most restaurants offer, that don't actually color when you try and use them). Fancy!
The food was delicious. Collectively, our table ordered the following: Salmone (smoked salmon on toasted focaccia, with mascarpone and lemon jam, $12), Orecchiette (broccoli rabe, homemade sausage, $14), Pollo Orosto  (roasted half chicken, egg salad, asparagus, spring onion, spring onion, lemon, garlic crostino $20), Frittata (vegetables, herbs, stracchino cheese, $12), and the Caprese Focaccia (mozzarella, tomato, basil, $7) for Cheese. My frittata was a bit of a letdown — it was cold and not that remarkable.
I ended up carb-loading on the caprese focaccia instead. The focaccia was nice and salty and olive oily, the cheese was mild and light. Cheese wasn't a fan, even though she usually loves all things bread — instead she ate a few Plum Organics baby food pouches (there's no accounting for toddler taste). Side bar: Does anyone else's toddler have a baby food pouch addiction?! It's getting expensive and really frustrating over here . . . especially when we are going to the effort of trying to expose her to new tastes and cuisines.
Eating out with Cheese has been a hit-and-miss experience of late. The big question looming over every meal: Will she sit long enough for us to eat, or will we take turns entertaining her and eating? This meal we got lucky. Even though she didn't want to eat the food, she loved coloring with the pack Rosemary's provided, and, when that lost its appeal, there was always our best friend, the iPhone. Her current favourite thing to do is surf YouTube for Disney collector egg videos. Yes, it's a thing. A very weird thing.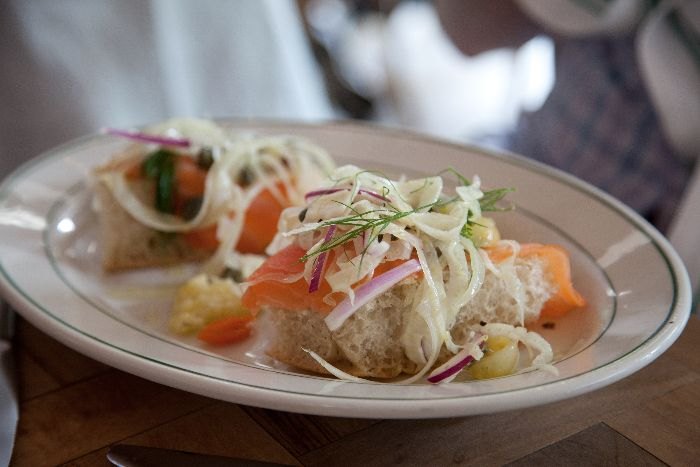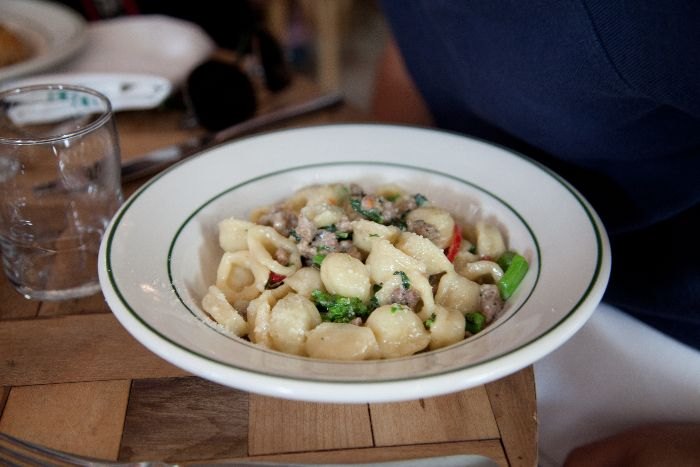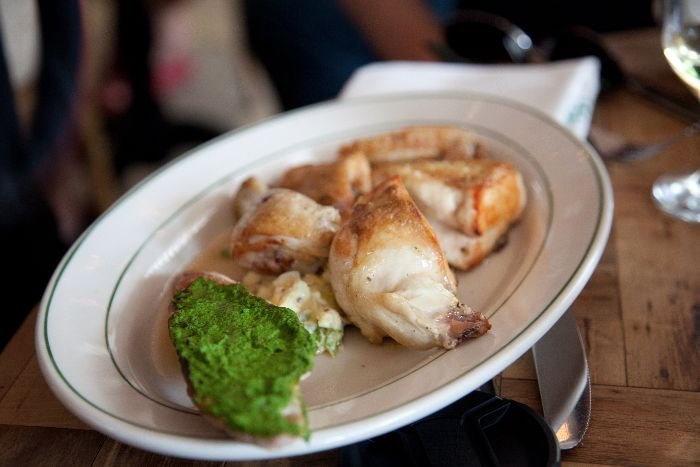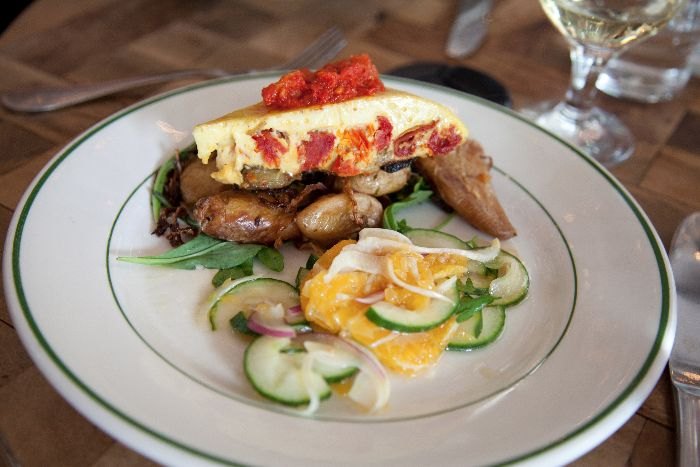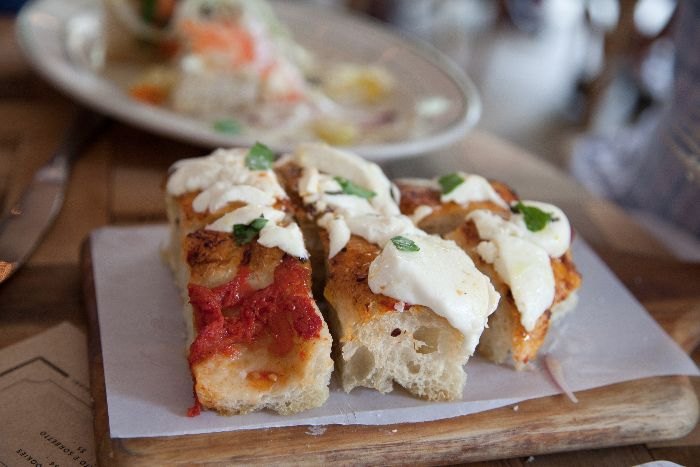 Upstairs is the rooftop garden. It's great for little ones to climb up the stairs and run around in the sun while you're waiting for your table or food. While the veggie patch is probably a hit with the older kids, Cheese is more into stairs (up, down, up down!) and trying to climb over the balcony edges. I'd like to say it was an educational experience, but in reality, it was more about trying to take super-cute pictures and preventing Cheese from injuring herself.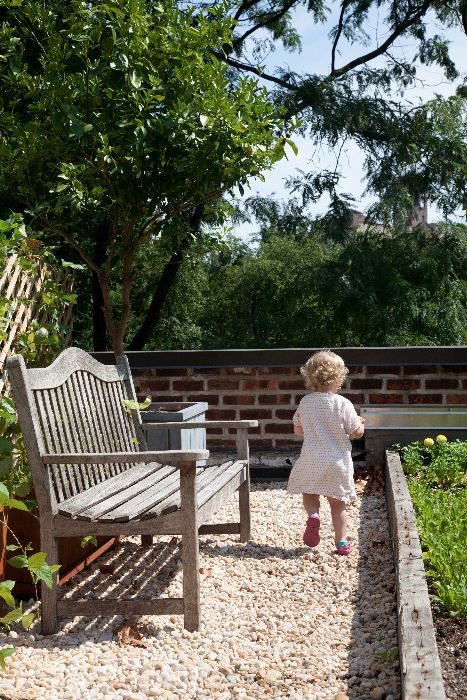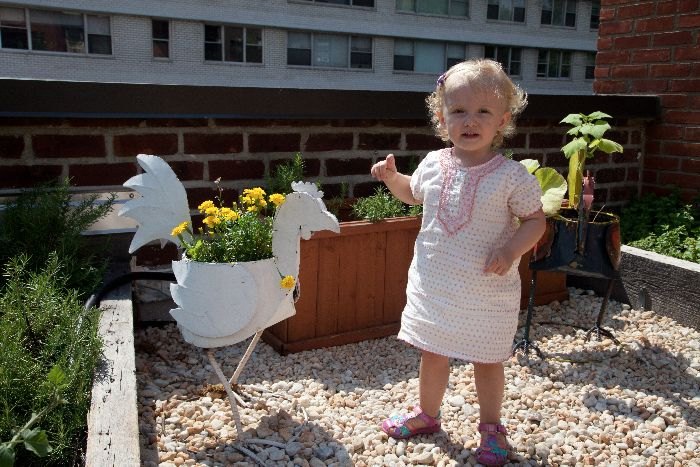 The metal chicken with flowers was a particular hit. "Bock bock bock!".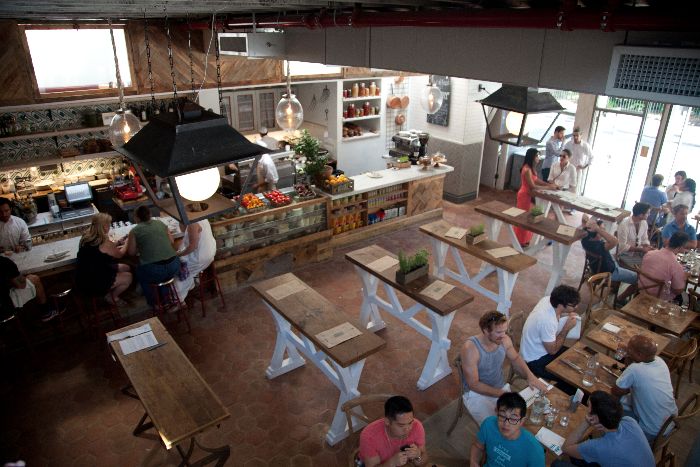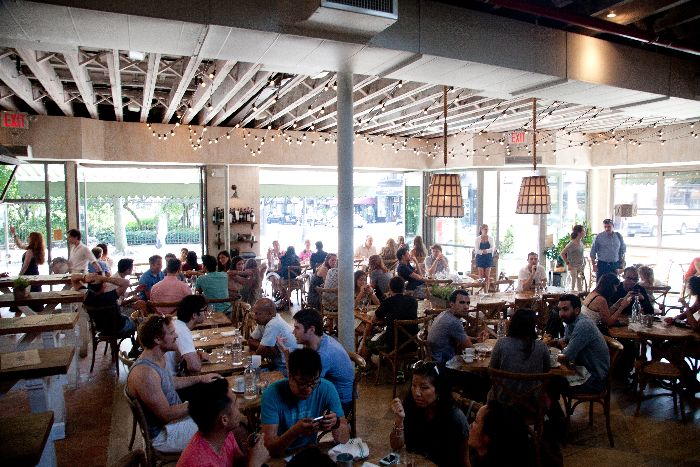 Our meal wound to an end and we took Cheese for one last run in the garden before heading off to our next destination. As far as meals with a toddler go, it was pretty relaxing, thanks to the welcoming staff and easy-going atmosphere. We often feel harried after a whirlwind meal with Cyclone Cheese, but this dining experience was remarkably stress-free, and everyone, including the toddler who hates sitting down, left in a strangely cheery mood. I'd like to thank Rosemary's for this happy dining experience.
Last bite: Rosemary's delivers a delicious and relaxing dining experience featuring extremely fresh ingredients from their roof-top farm, and is great for parents looking for a hip eatery, without the snobby atmosphere.
Highchairs: Yes.
Stroller storage: Yes.
Easy access: Yes.
Change tables: No.
Kids' menu: No.
Rosemary's
18 Greenwich Ave (between Charles St & 10th St)
New York, NY 10011
Phone: (212) 647-1818
Prices: $$$
Hours: Breakfast, weekdays from 8am-11:30am; Lunch, weekdays from noon-4:30pm; Brunch, weekends from 11:30am-4:30pm; Dinner, daily, 5pm – midnight