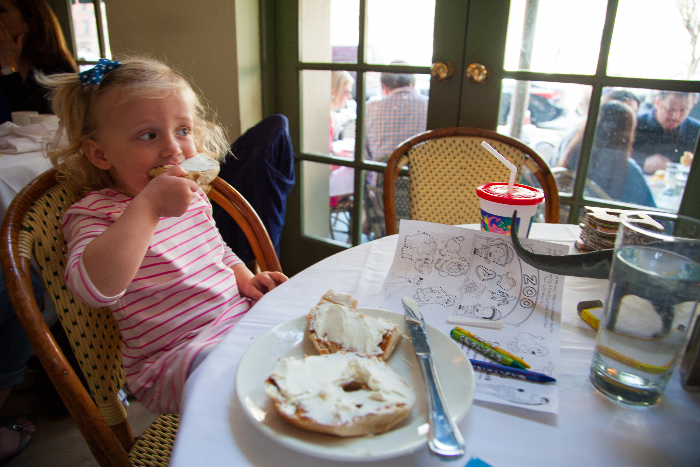 Isabella's has been our go-to restaurant of choice when we visit the American Museum of Natural History for the past two years. It's a truly delightful combination — fuel up on really delicious food, then hit up the dinosaurs and then Central Park. We've been taking Missy E to Isabella's since she was about 6 months old. Taking her as an almost 3 year old means we really get to enjoy all the kid-friendliness this restaurant has to offer.
Isabella's is popular. It has a great reputation for a reason — it's REALLY good. As such, you need a strategy to get a table with minimal wait on a weekend. Arriving when they open is one option, or after the first rush is over, at around midday. If you arrive after 1pm, forget it. The wait is pretty long. (Isabella's takes reservations, but not for brunch.)
We took E to see a new dinosaur exhibition at the AMNH during the early members hours, and then to Isabella's for late breakfast. After a short wait, we sat at our table, and were greeted by a friendly staff member bearing a "welcome pack" for our toddler. The pack contains crayons, some cool sticky stick things and a kids' menu that doubles as a coloring page. We ordered her a Bagel with Cream Cheese ($4) and asked for one of their complimentary straw cups for kids filled with water.
I always order the same thing — the Goat Cheese Omelette with marinated tomatoes and basil ($14). It comes with home fries, which I swap out for regular fries. E loves to pick at a lot of different foods, so this way she eats a decent amount of omelette, fries and bagel. She adores cream cheese. Alec ordered the Classic Breakfast Sandwich (scrambled eggs, cheddar cheese, crispy bacon, $15). On Sundays, brunch includes a beverage of choice, so we had our bellinis included. Cheers to that!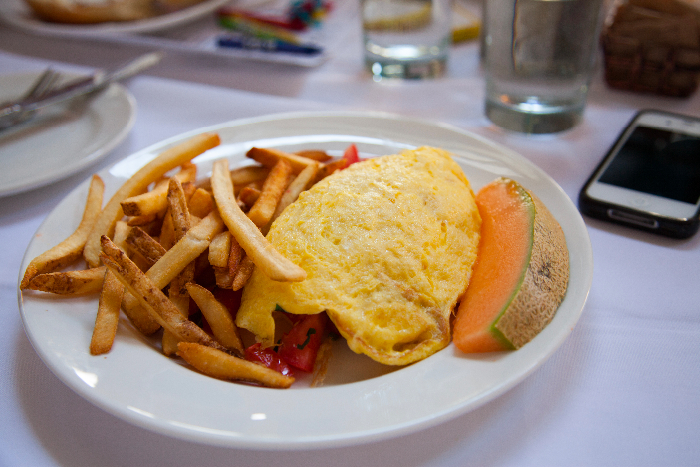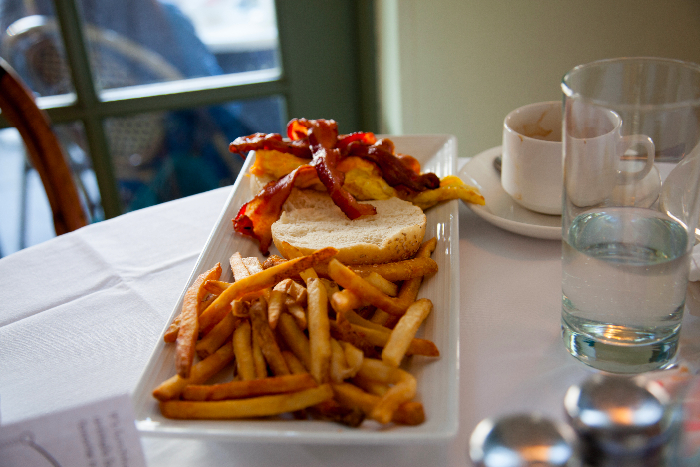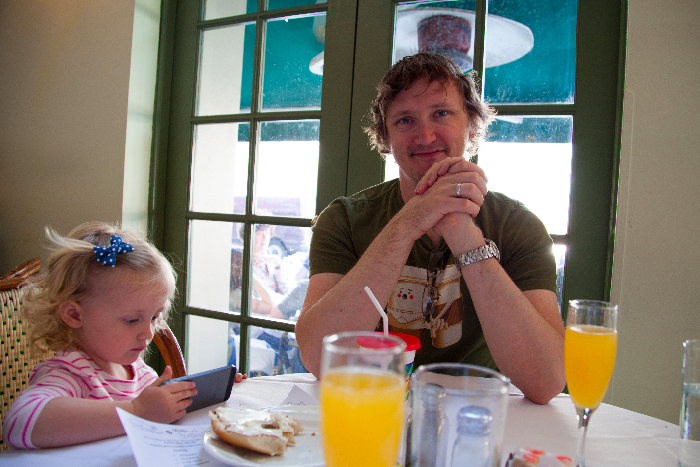 Last Bite: Isabella's is a hit with the whole family. Adults love the elegant atmosphere (without the snootiness) and absolutely delicious food, while kids are happy being well attended to and given new things to play with. 
Highchairs: Yes.
Stroller storage: Yes. Bring a folding stroller though, as during rush hour, you'll struggle to find a place for anything bigger.
Easy access: Yes.
Change tables: No.
Kids' menu: Yes.
Isabella's
359 Columbus Ave
New York
Prices: $$
Phone: (212) 724 2100
Hours: Mon-Fri 11:30am-10pm Sat & Sun 10am-11pm
Reservations
Get Directions