Central West NSW Road Trip: Your Complete Itinerary
Enjoy stunning scenery, try local cuisine and wine, and immerse yourself in history, culture and art on this epic family-friendly road trip through Central West NSW from Sydney to Orange, Parkes, Dubbo and back again via the Blue Mountains.
Blue Mountains (100km, 1.5 hrs)
Only 90 minutes from Sydney lies the first stop, the World Heritage-listed Blue Mountains National Park.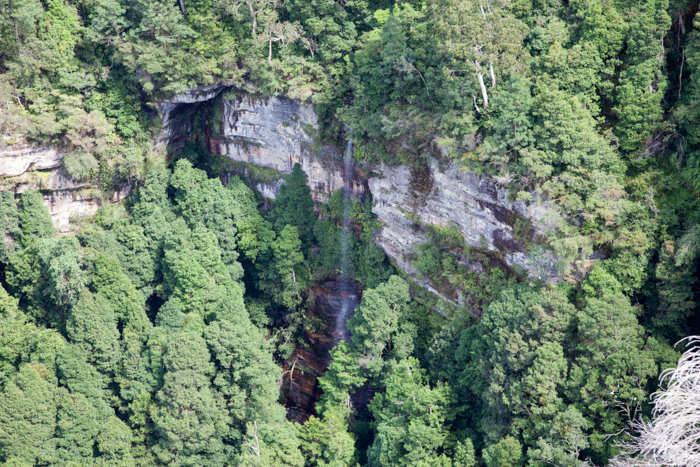 The region is full of art, history, thriving cafes and spectacular natural beauty. We highly recommend spending a few days in the area to explore Katoomba, Leura, Lithgow, Wentworth and Falconbridge.
Get ideas on bush walks, waterfalls, high teas and galleries to visit in the Blue Mountains.
Oberon (87km, 1.5hr)
This beautiful little rural town is home to many farm stays, bush walks and gardens, but is best known for Jenolan Caves and the stunning Mayfield Garden. Jenolan Caves are the largest and most spectacular caves in Australia, and among world's oldest caves.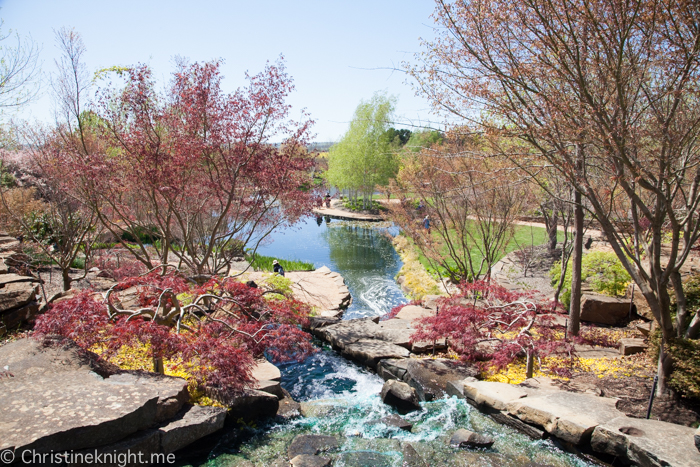 Mayfield Garden is one of the world's largest privately-owned cool climate gardens, best visited in autumn and spring but stunning year 'round.
Read more about visiting Mayfield Garden.
Bathurst (48km, 40 mins)
Bathurst is home to 1000 heritage buildings, with over 200 years of European history, and tens of thousands of years of indigenous heritage.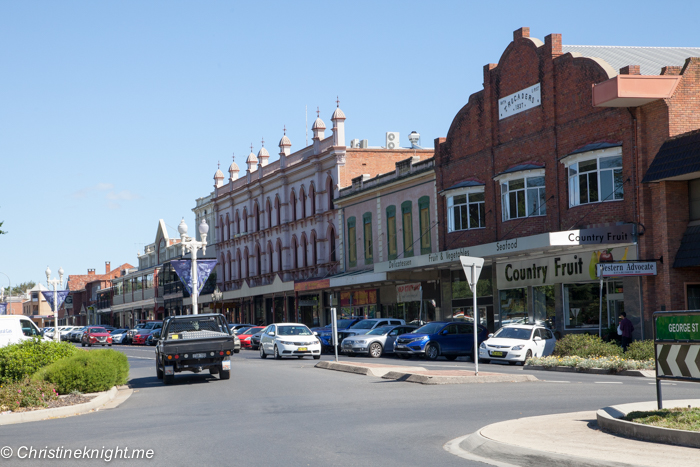 This small town is a fab spot to stop for a few days or to base yourself for a longer stay and visit outlying towns. Bathurst has fantastic cafes and restaurant as well as an excellent adventure playground, the Australian Fossil and Mineral Museum and the famous Mt Panorama racetrack.
We suggest driving from Bathurst to Orange and spending a few days at either town as a good base.
Read more about things to do in Bathurst.
Orange (56km, 1 hr)
Orange is a large regional town, with major facilities and shops. It's also a wine region and known for its fine wine and excellent food.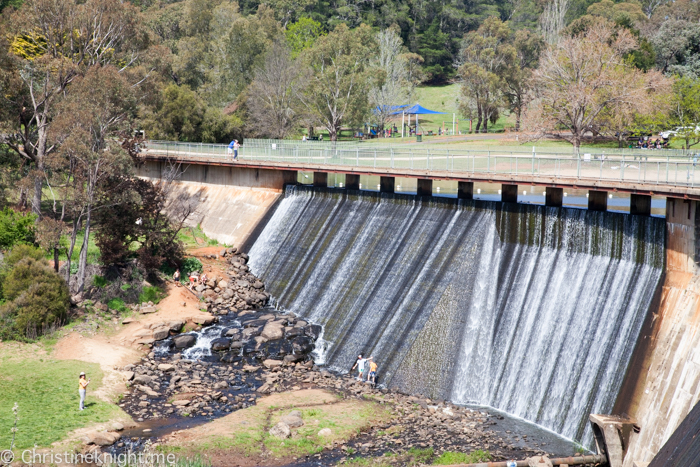 The tranquil Lake Canobolas is a must-visit in the area, a lovely recreational area for the town with swimming beaches, a large playground and picnic areas. Orange is a great location to base yourself for a few days and see other towns in the region. A visit to the Heifer Station is a must.
We suggest driving from Orange to Cowra, with visiting Millthorpe and Carcoar along the way.
Read more about things to do in Orange.
Millthorpe (22km, 20 mins)
The perfect day trip in the Orange region, Millthorpe is a heritage-listed village with historical buildings, restaurants, shops and wineries. There are plenty of ways to spend a lovely day in Milthorpe.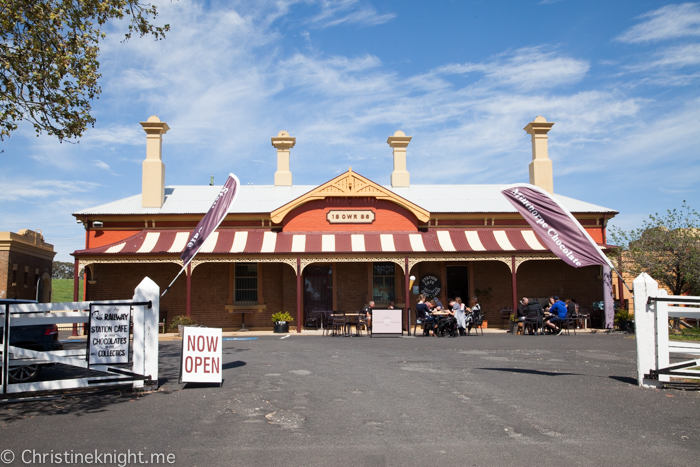 Read more about things to do in Milthorpe.
Carcoar (26km, 20 mins)
Visit the historic village of Carcoar in the NSW Central Tablelands. Take a walking tour of the preserved 19 century buildings set amongst picturesque green hills.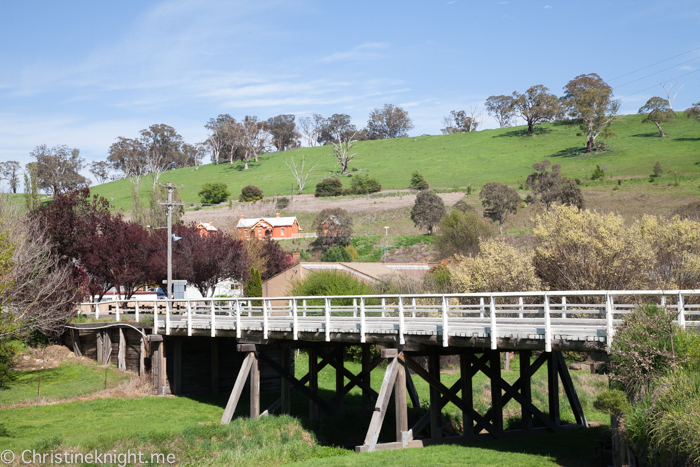 Read more about things to do in Carcoar.
Cowra (55km, 40 mins)
Discover Cowra's stunning Japanese Garden, military history and outdoor activities. Visit in spring to experience fields of gold canola!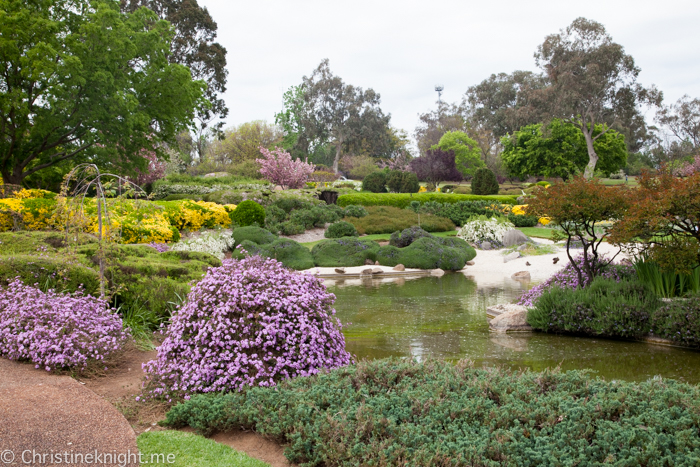 Cowra is a medium-sized country town with a fascinating history. The site of the largest Prisoner of War breakout in modern military history, Cowra has several sites to visit that speak to the town's role in WW2.
Cowra is also well known for their tranquil Japanese Garden and beautiful fields of canola in spring.
We suggest driving from Cowra to Parkes, stopping at Canowindra along the way.
Read more about things to do in Cowra.
Canowindra (33km, 30 mins)
The historic village of Canowindra is home to hot air balloons, colonial history and a fascinating collection of prehistoric fish fossils.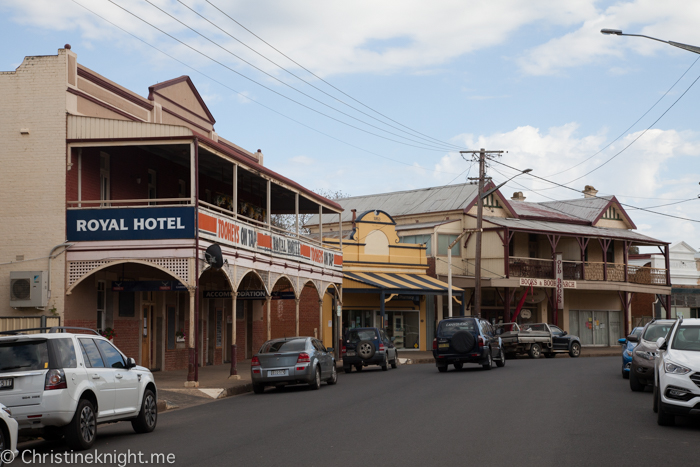 Read more about a day trip to Canonwindra.
Parkes (75km, 1 hr)
We drove from Orange to Parkes stopping in Canowindra along the way.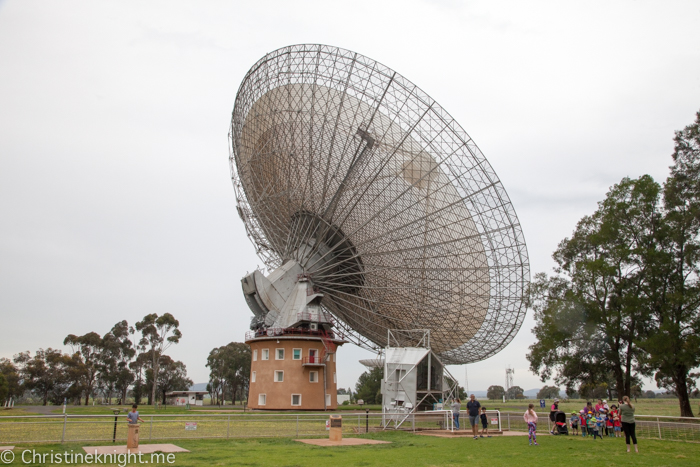 Parkes has plenty of attractions, including the world-famous Parkes Radio Telescope 'The Dish', the Henry Parkes Centre, Peak Hill Open Cut Experience and vibrant street art.
Read about things to do in Parkes.
Dubbo (120km, 1.5 hrs)
Visit the vibrant regional city of Dubbo. Go wild at Taronga Western Plains Zoo and discover the region's history and heritage.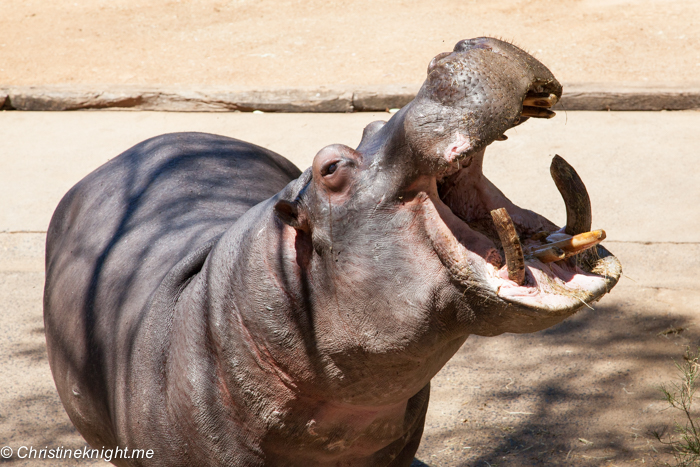 Read about things to do in Dubbo.
Gulgong (109km, 1 1/4 hrs)
Gulgong is a 19th-century gold rush town in the Central Tablelands that is absolutely worth stopping by on your drive from Dubbo to Mudgee.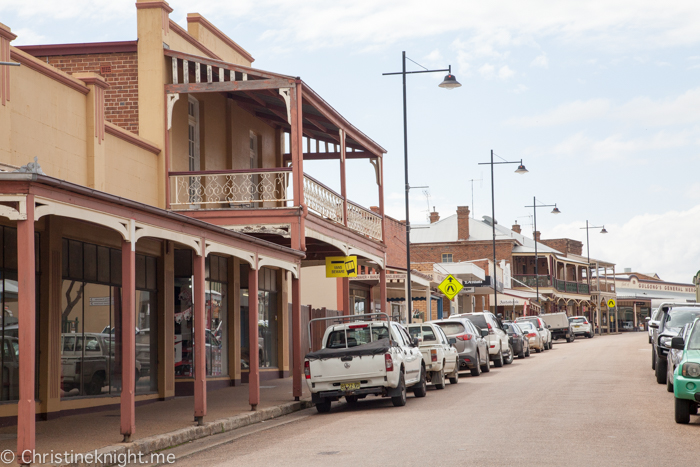 Read more about visiting Gulgong NSW.
Mudgee (33km, 1/2 hr)
The famous wine town is a must-stop to enjoy strolling past the beautiful 19th century buildings, dining on excellent cuisine, sipping some locally-pressed wine and enjoying the country air.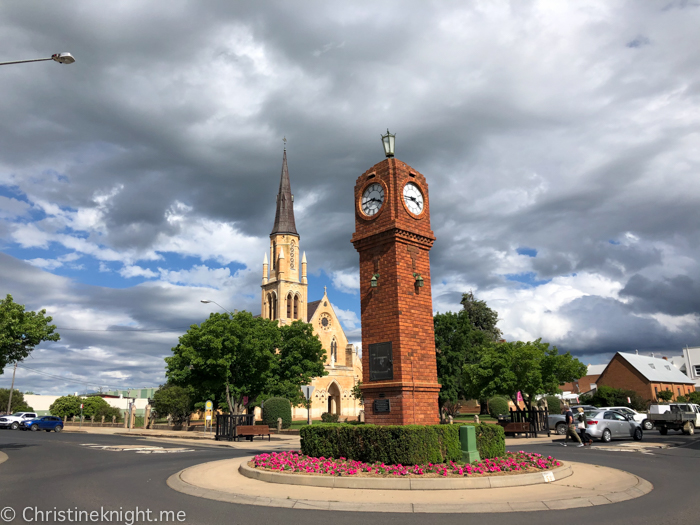 Read more about things to do in Mudgee.
Mt Wilson / Mt Tomah / Bilpin (160km, 2 hrs)
This stunning area is technically part of the Blue Mountains region, however is a bit tricky to reach from the Katoomba-side. The region is well-known for its stunning gardens, particularly in spring and autumn, and orchards which are open for fruit picking seasonally.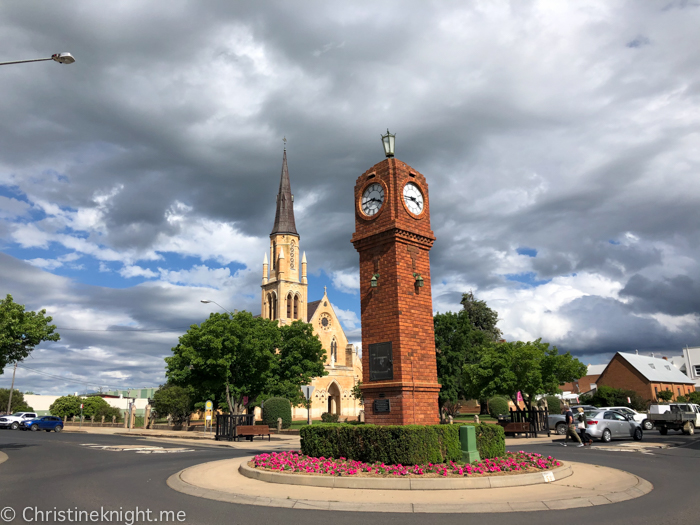 Read about our experiences at the Royal Botanic Gardens Mt Tomah, Breenhold Gardens at Mt Wilson and Wildwood Garden at Bilpin. You can also find out where and when to go for fruit picking in Sydney or more ideas for what to do in the Blue Mountains area.
Back to Sydney (125km, 2hrs)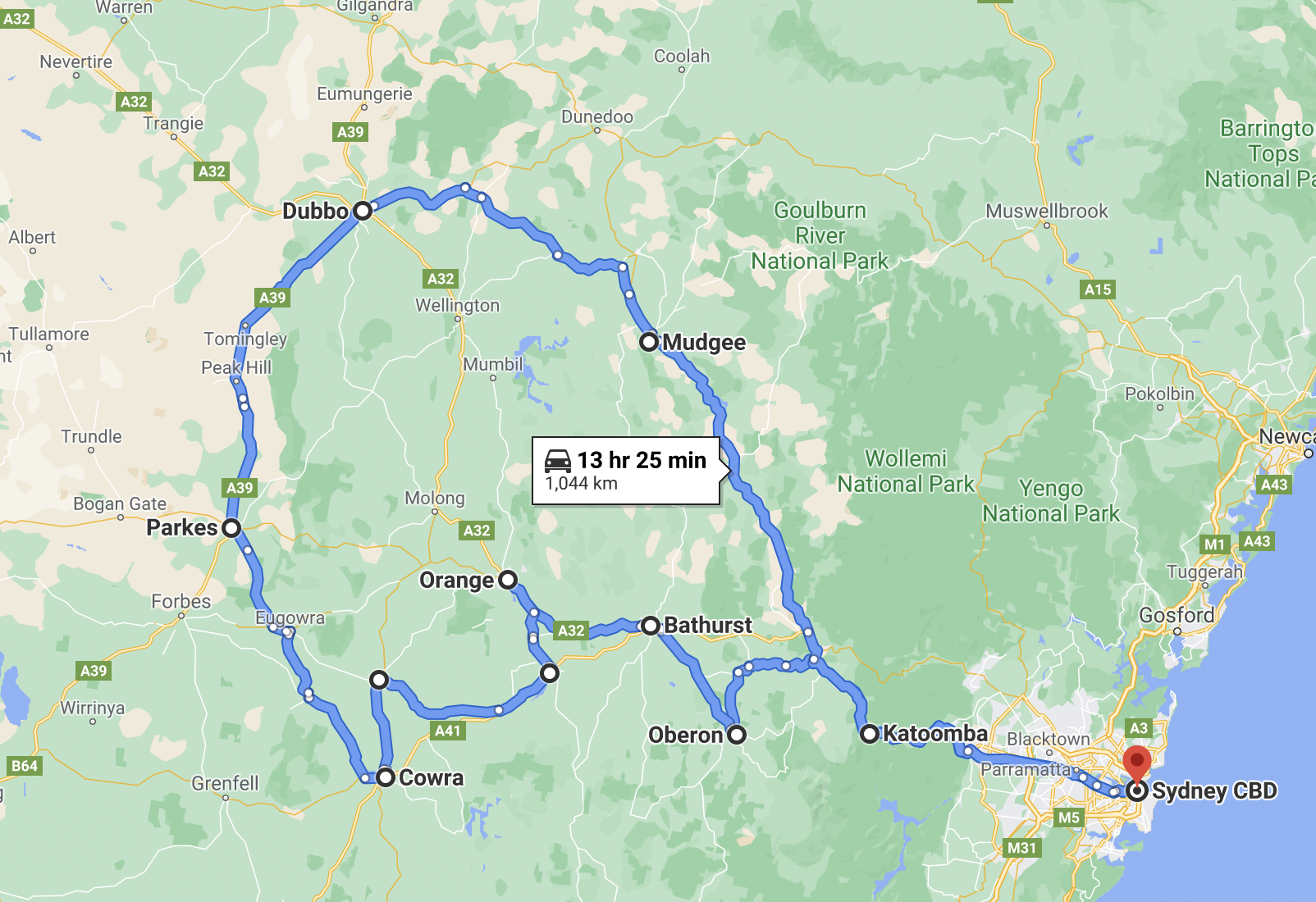 Find more things to do in the Orange NSW region including a visit to the Heifer Station.
Find things to do in Cowra NSW including the Cowra Japanese Gardens.
Enjoy the towns of Millthorpe and Carcoar.
Find plenty of things to do in Parkes.
Find things to do in Dubbo.
Read more about things to do in Mudgee.
Read more about visiting Gulgong NSW.
Find more NSW road trip ideas.

Christine is the editor of Adventure, Baby!