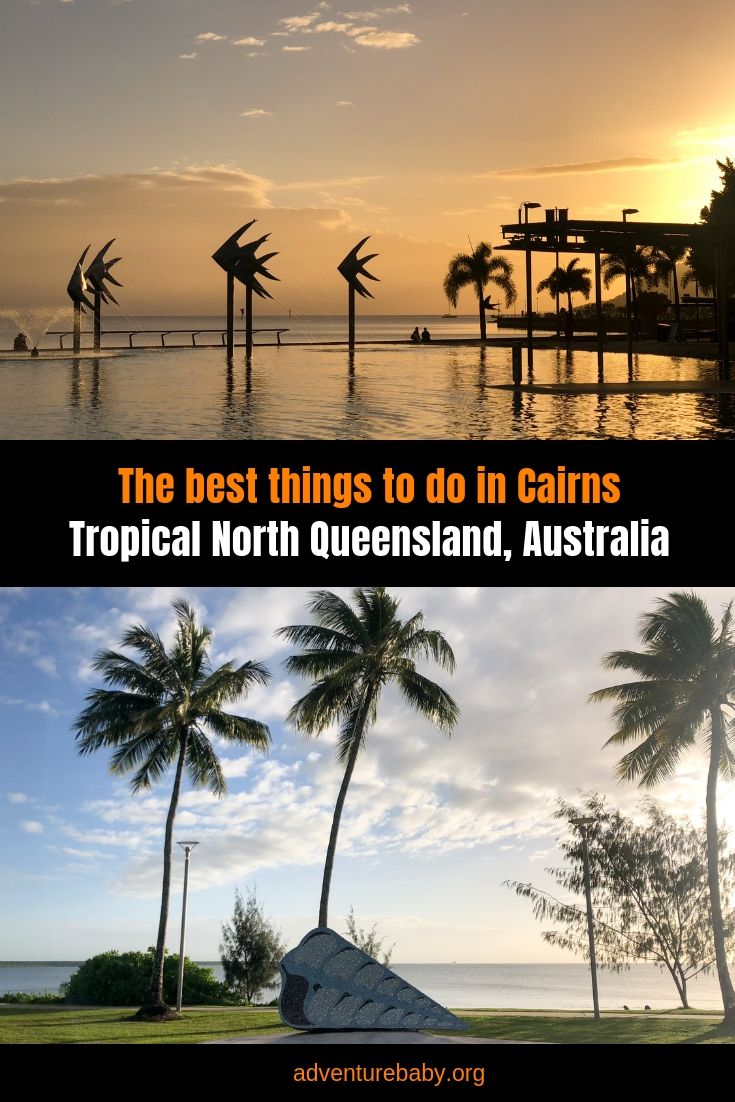 The best things to do in Cairns (with or without kids)
Cairns is the gateway city to Australia's Great Barrier Reef in tropical Far North Queensland. The perfect base for exploring the Great Barrier Reef, Daintree and attractions in Far North Queensland, there are plenty of reasonably-priced accommodation options, restaurants, grocery stores and Cairns attractions in this small city. We found plenty of things to do in Cairns and the surrounding regions to spend at least a few weeks exploring everything there is to do in tropical Far North Queensland.
Cairns attractions
Cairns Aquarium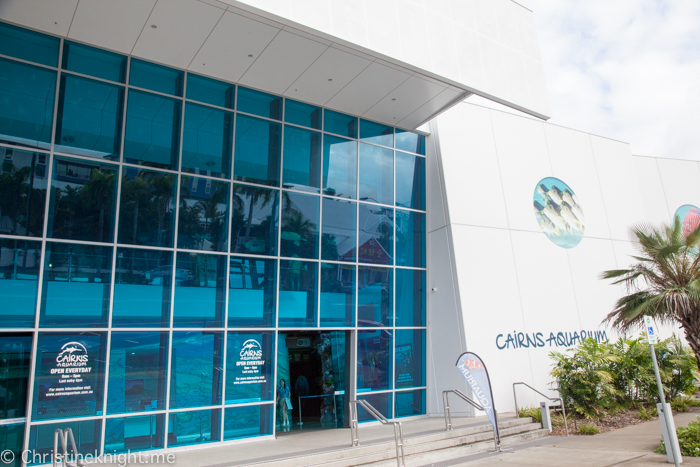 See the marine species who inhabit tropical North Queensland while keeping your feet dry at the Cairns Aquarium. The aquarium is dedicated exclusively to the habitats, animals and plants found in Australia's Wet Tropics – the region which borders The Daintree Rainforest and The Great Barrier Reef. Explore 10 North Queensland ecosystems and 71 exhibits showcasing how magnificent and unique the creatures in this part of the world are.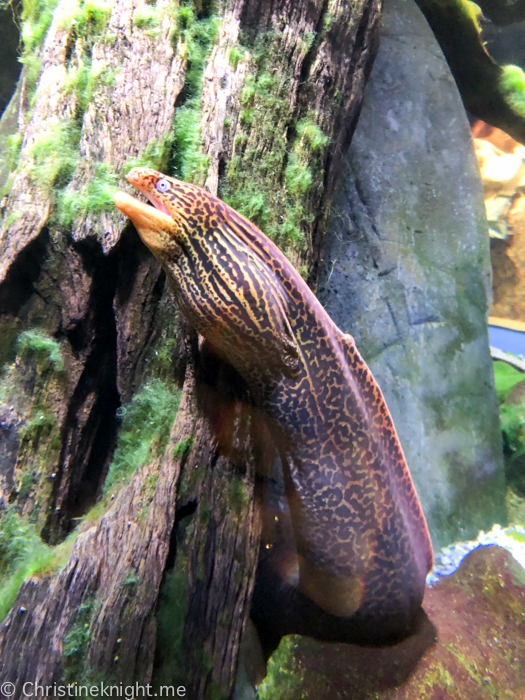 Spot the endangered Freshwater Sawfish, marvel at Grey Reef Sharks and watch the Humphead Maori Wrasse in awe. Daily animal feeding sessions and the hands-on touch tanks will keep the kids enthralled.
Read more about visiting Cairns Aquarium.
Frankland Islands day trip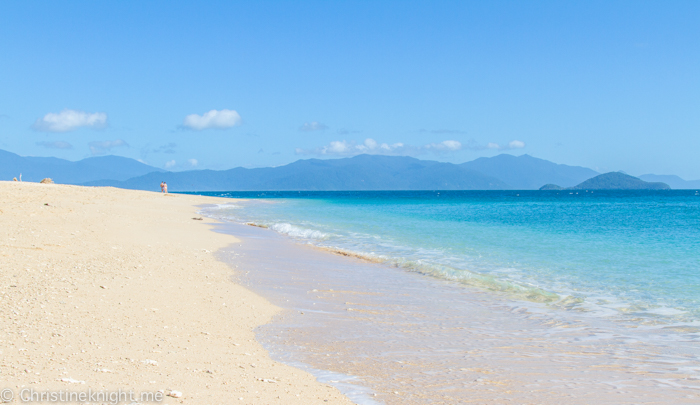 The pristine Frankland Islands are located 10km offshore, 45km south-east of Cairns. Surrounded by healthy coral that is teeming with sea life, a day trip to the Frankland Islands is one of the best and easiest ways to explore the Great Barrier Reef.
The Frankland Islands day trip is a great option for families with younger kids in particular or people who want a day of varied activies on the reef rather spending most of the day on a boat or snorkelling on the reef, or who are prone to seasickness but still want to see the reef.
Read more about our experience visiting the Frankland Islands.
Fitzroy Island day trip or longer stay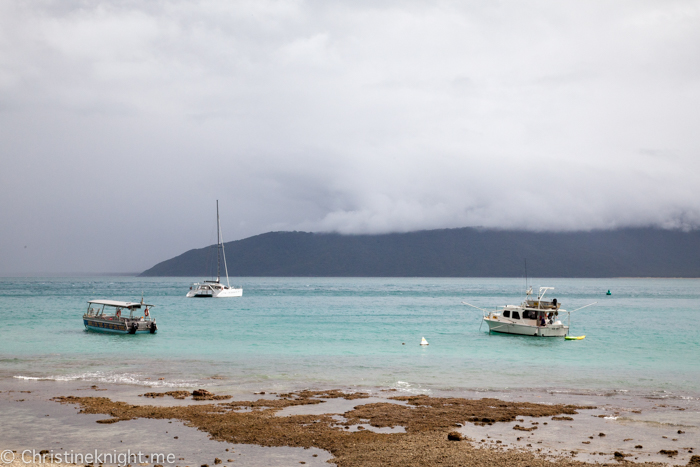 Fitzroy Island is a tropical paradise with lush rainforest and unspoiled beaches, accessed by a 45 minute ferry ride from Cairns. Take a day trip to the island or stay for a few nights.
Read more about our experience visiting Fitzroy Island.
Cairns Turtle Rehabilitation Centre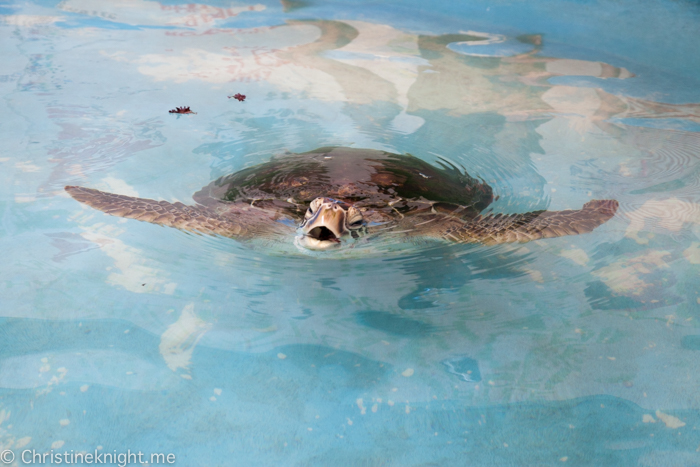 Located on Fitzroy Island, the Cairns Turtle Rehabilitation Centre (CTRC) is a volunteer-run, non-profit organisation dedicated to rehabilitating sick and injured turtles, brought in from the Great Barrier Reef and Cape York Peninsula. You can visit the CTRC when day tripping or staying on Fitzroy Island. Bookings are required to visit the CTRC which can only be made once you have arrived on the island.
Read more about our experience visiting the Cairns Turtle Rehabilitation Centre.
Cairns Esplanade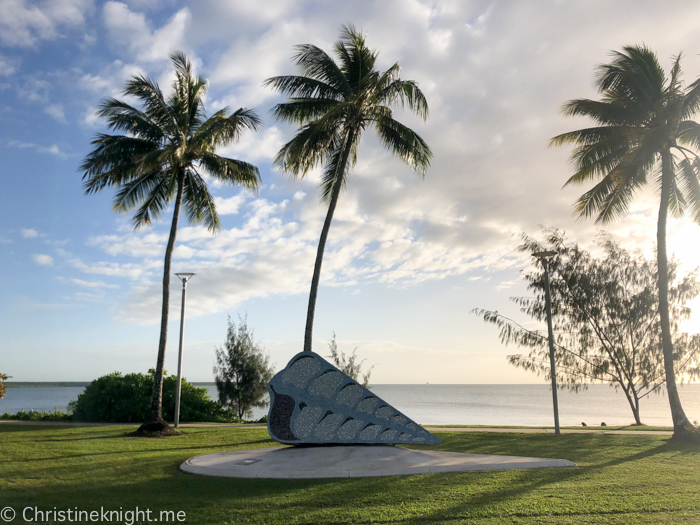 The beachfront boardwalk leads to a variety of recreational facilities that are free to use.
Cairns Esplanade Lagoon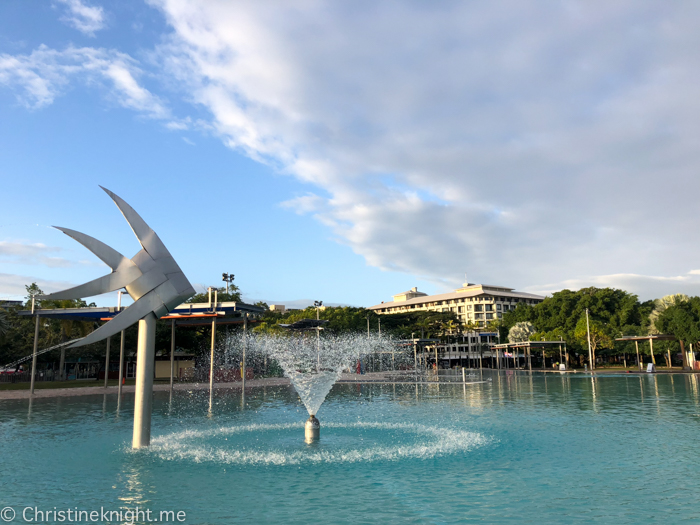 The city of Cairns has no beaches. Instead, it has the gorgeous Cairns Esplanade Swimming Lagoon which is right on the waterfront. The lagoon is a stunning spot for a swim, and with flat water and plenty of shallow areas is perfect for swimmers of all ages and abilities.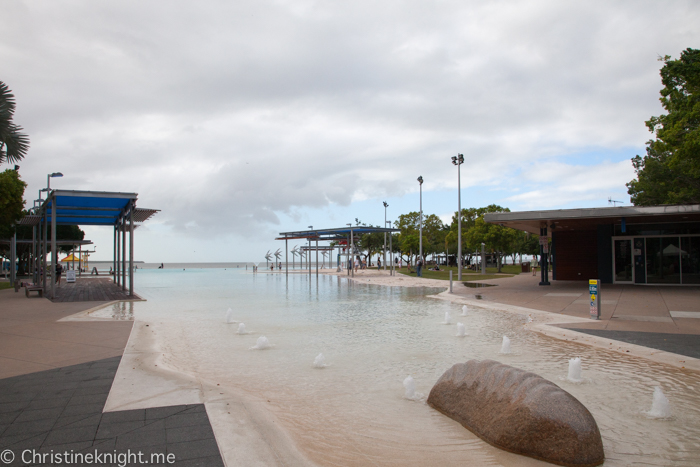 There are picnic tables and 12 barbecues nearby and plenty of grassy parkland and trees to sit under. The Cairns Esplanade Lagoon is a top Cairns attraction for a very good reason – it's perfect for swimming in year-round, needing no wetsuit in stinger season like the ocean.
Muddy's Playground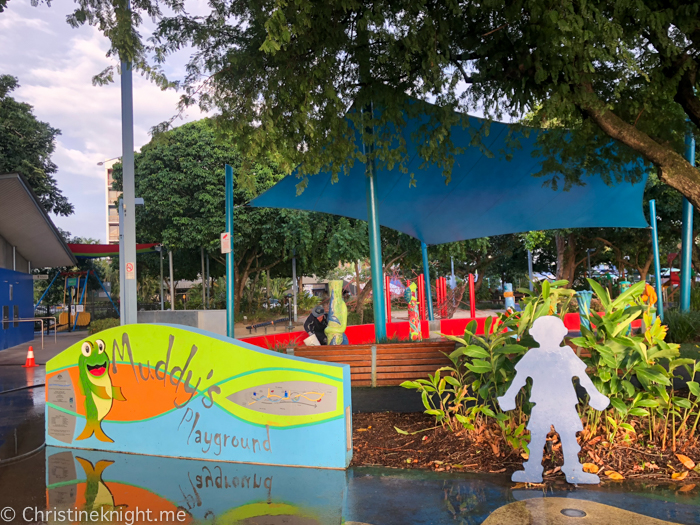 This fantastic playground has fenced areas, a splash playground, flying fox, sound chimes, track ride, rope bridge, slides, mouse wheels, play houses, story telling areas, see-saw, trick track and puzzle games. Muddy's Playground is one of the top Cairns attractions for families and it's easy to see why!
Read more about Muddy's Playground.
Healing Garden Playground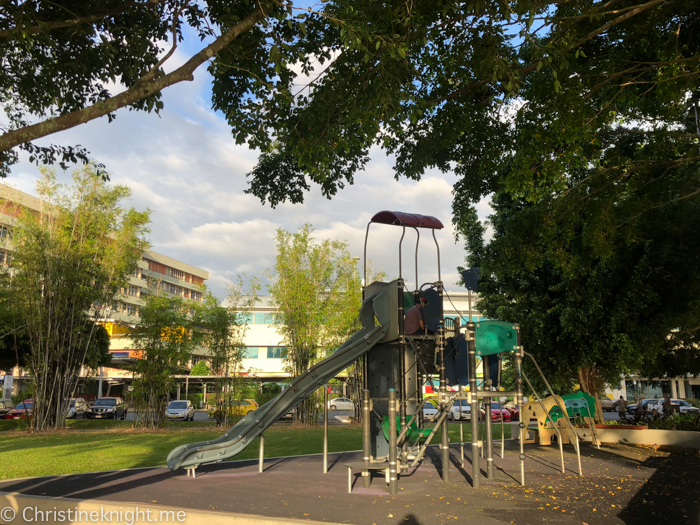 The Healing Garden is opposite Cairns Hotel and includes features to assist with balance and harmony such as bamboo which is seen as a symbol of strength and healing colours throughout the play area – pale violet to sooth soothe emotional distress and bring calm and yellow to help strengthen the mind and to assist with nerve pain.
Fun Ship Playground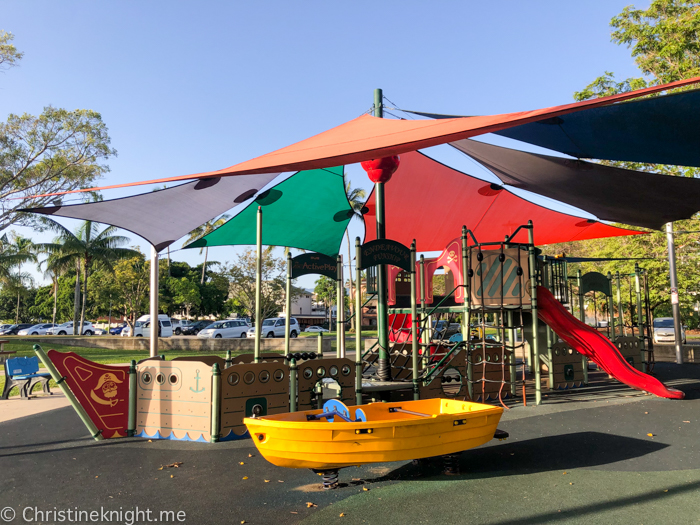 The Endeavour Fun Ship playground opened in 2006. The maritime-themed playground is located BBQ Sandpiper and picnic tables. It includes lots of climbing elements that lend themselves to nautical play.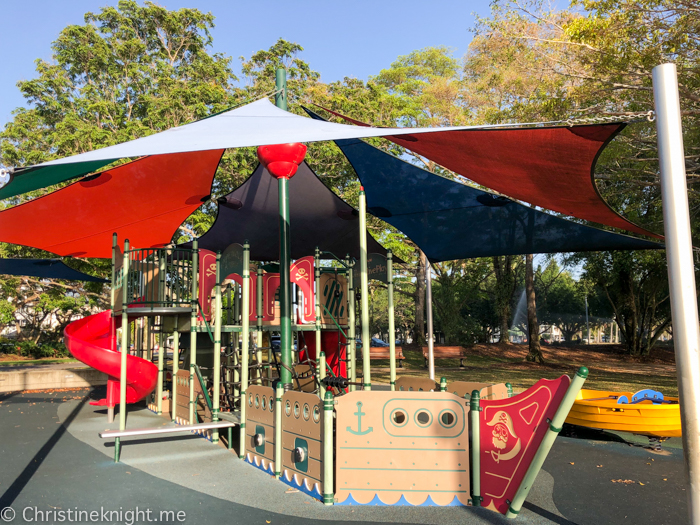 Toilets are located a short distance to the north west of the Fun Ship Playground.
Skate Plaza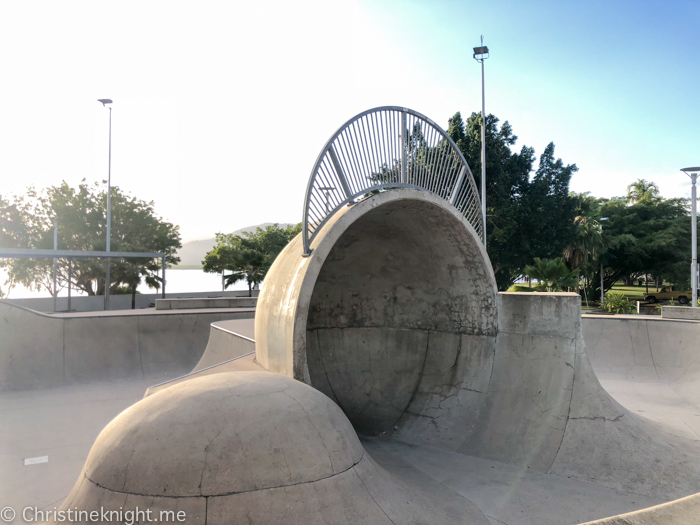 Boarders and bladers will love this skate park which includes a large bowl area.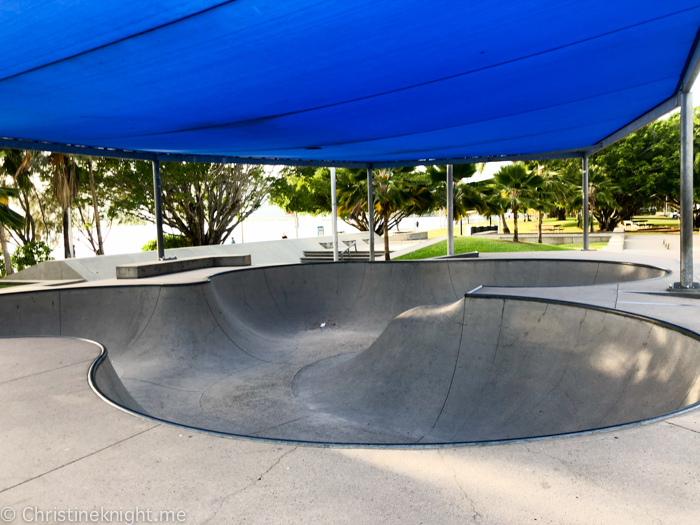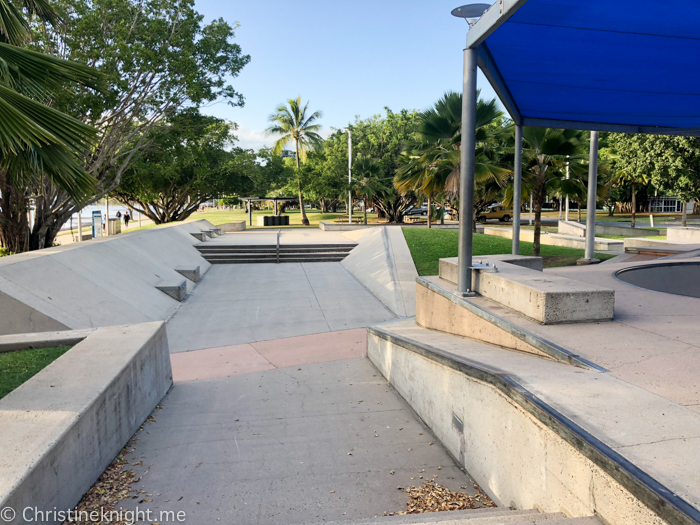 Bouldering Park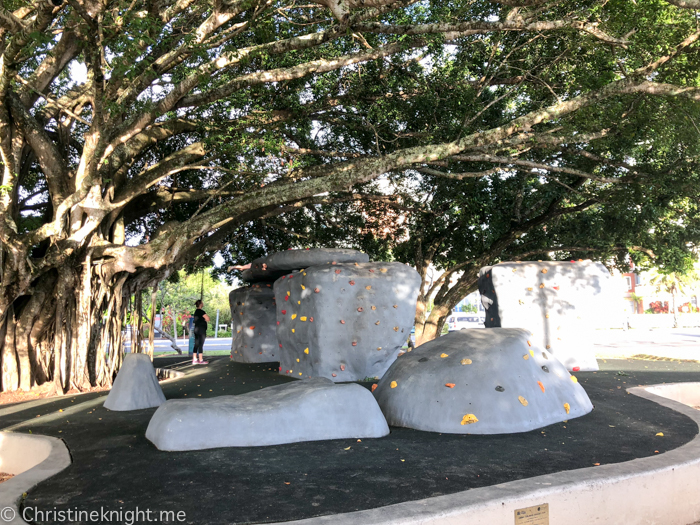 Suitable for all ages, the bouldering area is a large rock surface with climbing grips on it.
Beach Volleyball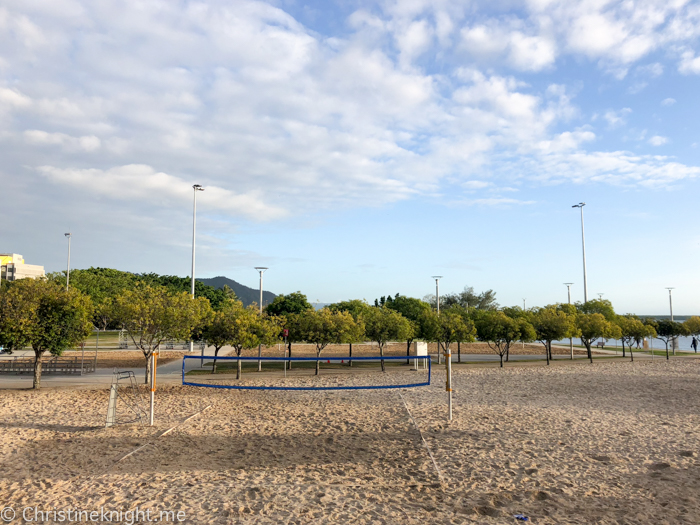 There are four international standard Beach Volleyball Courts.
Fitness Stations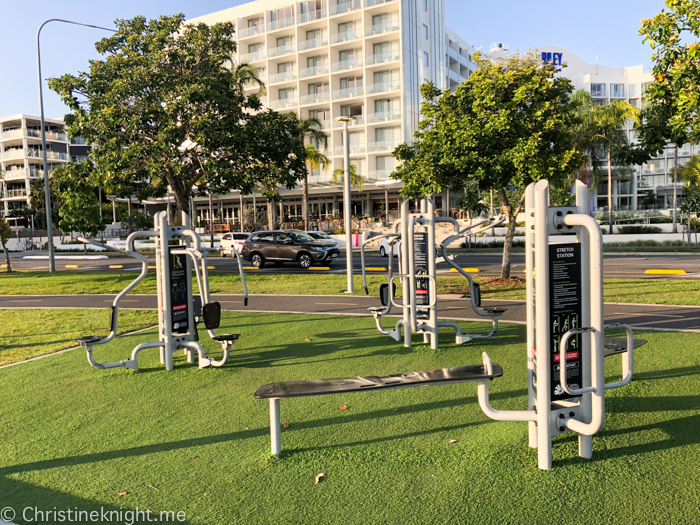 There are several fitness stations located on the Esplanade.
Petanque Court
Pétanque is a boules sports, where players roll their boules/balls towards a target ball.
Multi-use court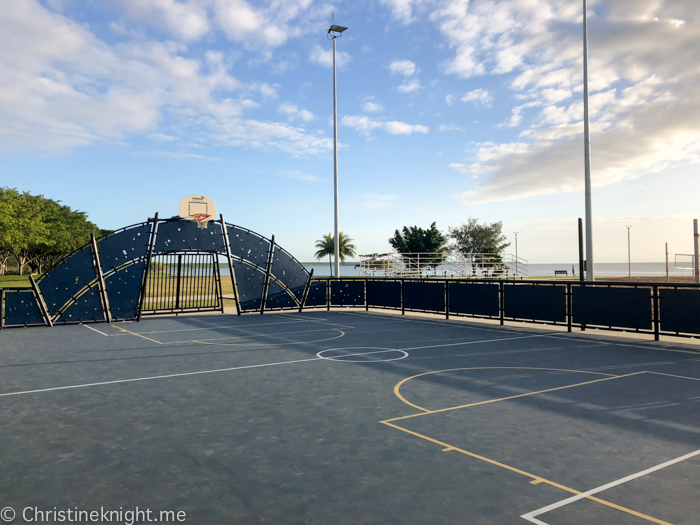 Multi-use court is located within the Northern Esplanade Activity Precinct opposite Cairns Hospital.
Fig Tree Playground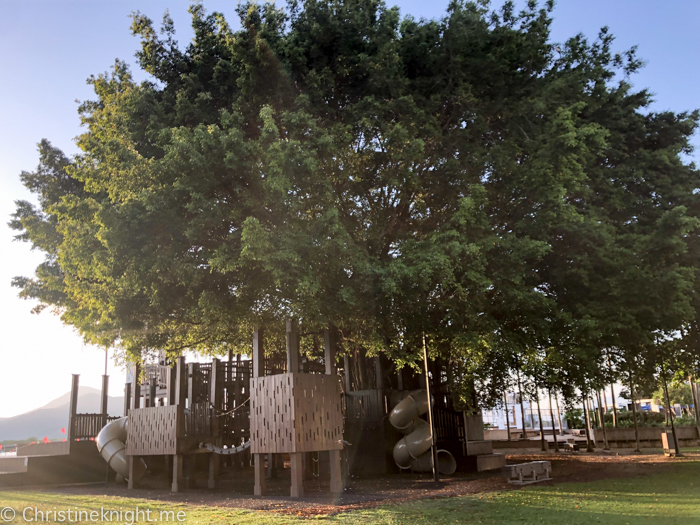 Located on the south end of the Esplanade, near the Marina, the Fig Tree Playground is a beautiful, natural climbing structure wrapped around a fig tree. It's shady, thanks to the tree, and encourages climbing, running and sliding.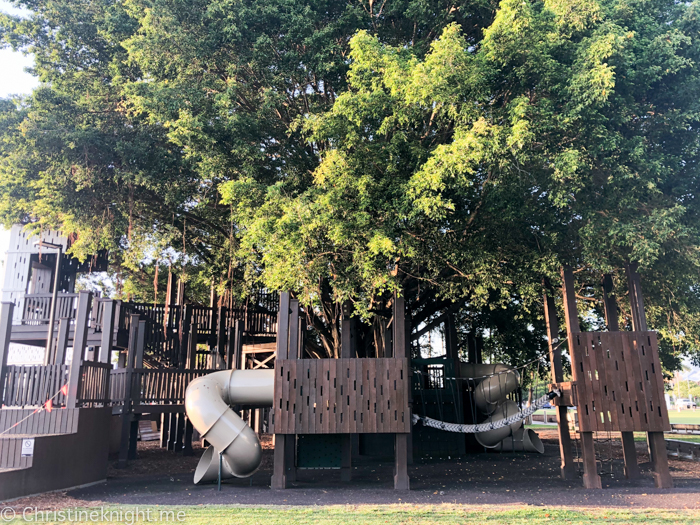 The location is beautiful too, right on the water. There are toilets nearby and the path that leads north up the Esplanade to the Lagoon and Muddy's Playground.
Read more about Fig tree Playground.
Green Island
Take a day trip to stunning Green Island and snorkel with tropical fish and turtles. Day trips leave from Cairns Marina. Green Island is a 45 minute boat ride from Cairns, making it a good option for a day trip where most of the day is spent on the island enjoying a variety of activities. A day trip to Green Island is one of the most popular things to do in Cairns and is suitable for all ages.
Get more information about Green Island day trips.
Great Barrier Reef Pontoons
Another option for seeing the Great Barrier Reef is with a day trip to one of the reef pontoons. We decided against this option as it takes a lot longer to reach the pontoons than Fitzroy, Green and Frankland Islands and as we suffer from sea sickness and had a child with us who wouldn't have enjoyed a long, rough boat trip.
If you are a strong snorkeller or diver, or want to see a large variety of sea life deep in the ocean, then a reef pontoon could be a good idea for you. Regardless of which option you choose, a day trip to the Great Barrier Reef has to be on your list of things to do in Cairns!
Things to do in Cairns and the surrounding region
Josephine Falls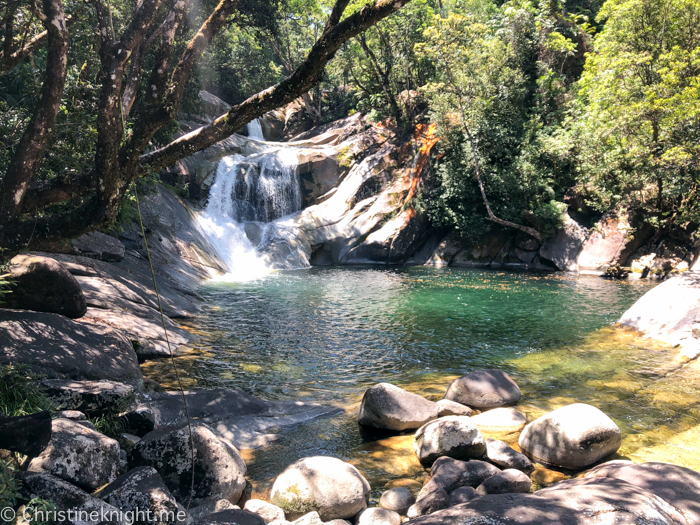 Josephine Falls is a tiered cascade waterfall located in Wooroonan, Cairns, in Tropical North Queensland.
The falls are an hours drive south of Cairns, in the foothills of Queensland's highest mountain range, Bartle Frere.
Read more about our experience at Josephine Falls.
Atherton Tablelands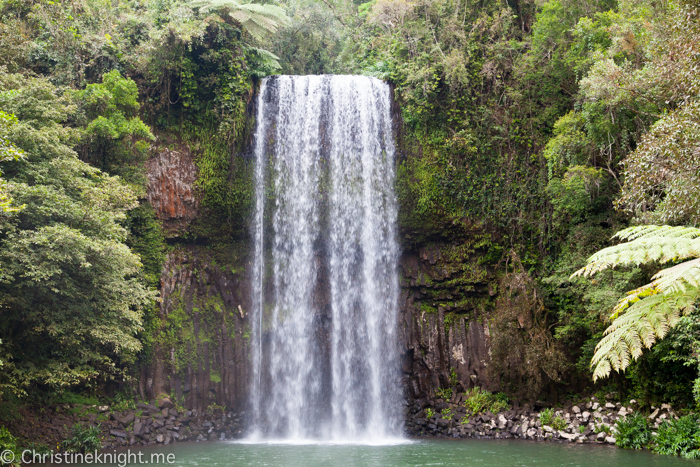 The Atherton Tablelands is a lush, fertile region around 1.5 hours drive south-west of Cairns. Renowned for its tumbling waterfalls and abundant wildlife, the Atherton Tablelands makes for a great day trip or longer stay to explore everything that is on offer.
Highlights to the Atherton Tablelands include chasing waterfalls, visiting the Tolga Bat Hospital, seeing the 500-year-old Curtain Fig Tree, spotting the rare Lumholtz's tree-kangaroo at the Nerida Tea Plantation and a delicious trip to Gallo Dairyland.
Read more about our experience visiting the Atherton Tablelands.
Kuranda Village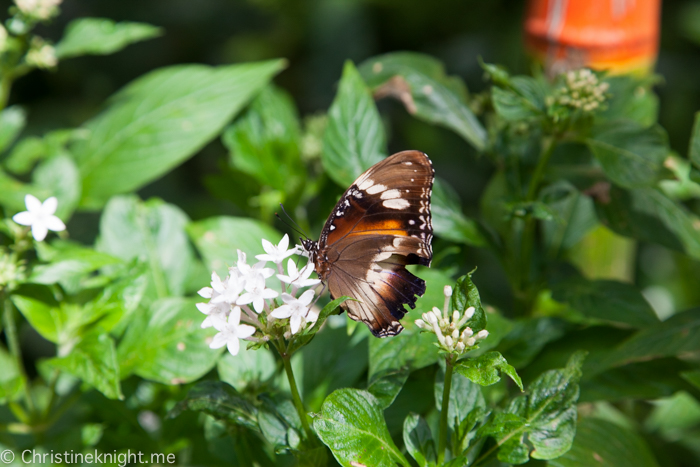 Kuranda is a mountain village that has become a popular tourist attraction near Cairns. It's a great place to take kids as there are several attractions all close to each other. Hold a koala, feed free-flying birds and dance with butterflies all in the same day in Kuranda.
Kuranda Village is accessible by car, however it is a popular destination to reach by taking the Kuranda Scenic Railway and Skyrail Rainforest Cableway.
Get more information on things to do in Kuranda Village.
Kuranda Scenic Railway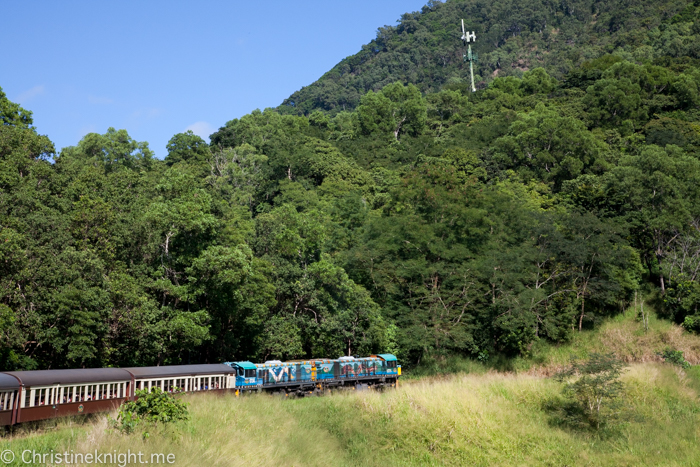 Winding its way through the World Heritage-listed Barron Gorge National Park, the Kuranda Scenic Railway is an unforgettable journey through hand carved tunnels and spectacular scenery. The Kuranda Scenic Railway runs between Cairns and Kuranda Village.
Get more information on taking the Kuranda Scenic Railway.
Skyrail Rainforest Cableway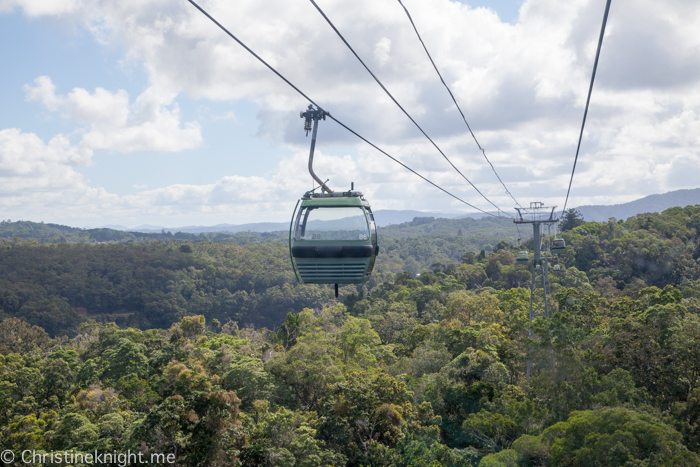 The iconic Kuranda Skyrail Rainforest Cableway is an immersive journey through and above Australia's World Heritage-listed tropical rainforest. It runs between Smithfield Terminal, around 20 minutes out of Cairns, and Kuranda Village.
Get more information on taking the Kuranda Skyrail Rainforest Cableway.
Mossman Gorge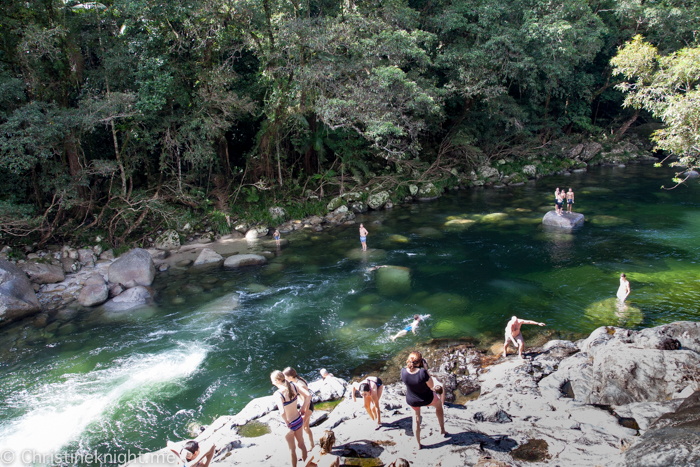 Located in the southern part of the World Heritage-listed Daintree National Park in Far North Queensland, Mossman Gorge is part of the traditional homeland of the indigenous Kuku Yalanji people.
Our time at Mossman Gorge was the highlight of our entire trip. We loved is so much we visited twice.
Mossman Gorge is around 80km north of Cairns and 5km from the nearest town of Mossman. It's also about a 20 min drive from Port Douglas. It is easily reachable by car or as part of an organised tour.
Read more about our experience at Mossman Gorge.
Daintree Rainforest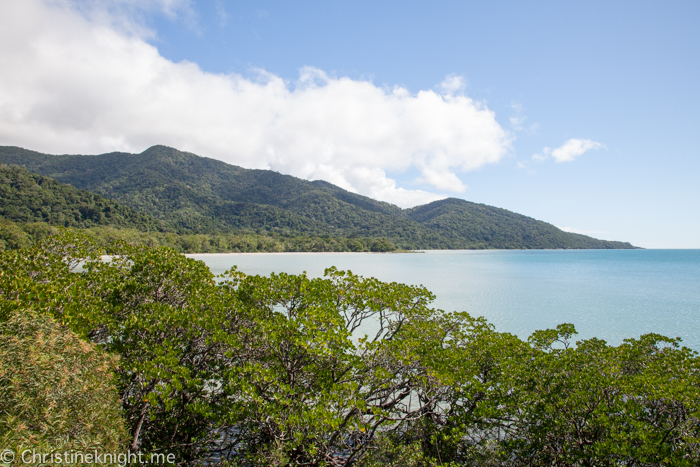 Visit the oldest rainforest in the world! The Daintree region begins at Mossman Gorge and continues over the Daintree River and north to Cooktown. A day trip the Daintree is doable from Cairns however it is a long day and you will see more if you stay in the Daintree itself like we did.
You can self-drive the Daintree in a regular car or take a tour.
Read about our experience in the Daintree Rainforest.
In the Daintree we stayed at the Daintree Ecolodge. Read about our experience at the Daintree Ecolodge.
Port Douglas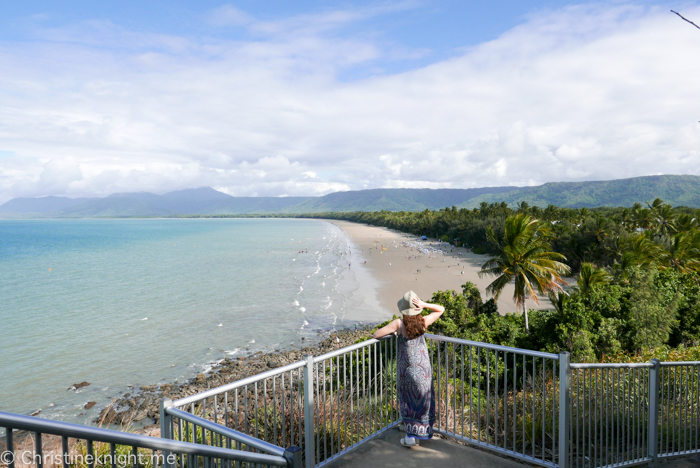 Beautiful Port Douglas is a gorgeous resort town close to the Great Barrier Reef and Daintree Rainforest. Located only an hours drive north from Cairns, it's a fab base for exploring the area, or just relaxing for a few days on the beach.
Read more about things to do in Port Douglas.
Paronella Park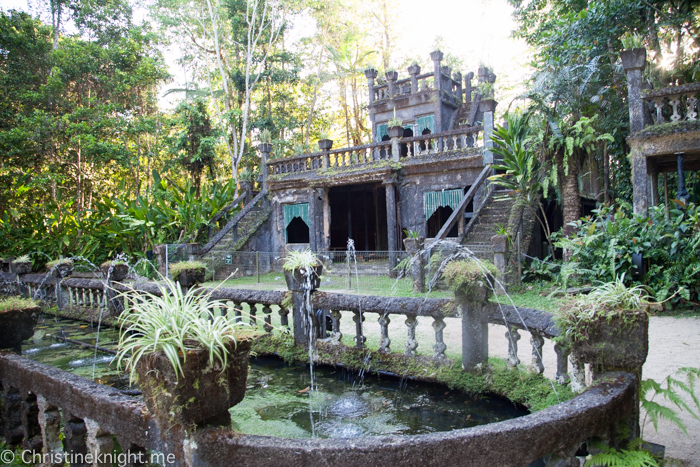 Paronella Park is a heritage-listed tourist attraction. It is located 120km south of Cairns at Mena Creek, in Tropical North Queensland, Australia.
The park has a special story that has to be heard to be truly understood for the visinary project that it was, when its founder, José Paronella, embarked on his dream to build a castle in the 1930s.
Read more about visiting Paronella Park.
Undara Experience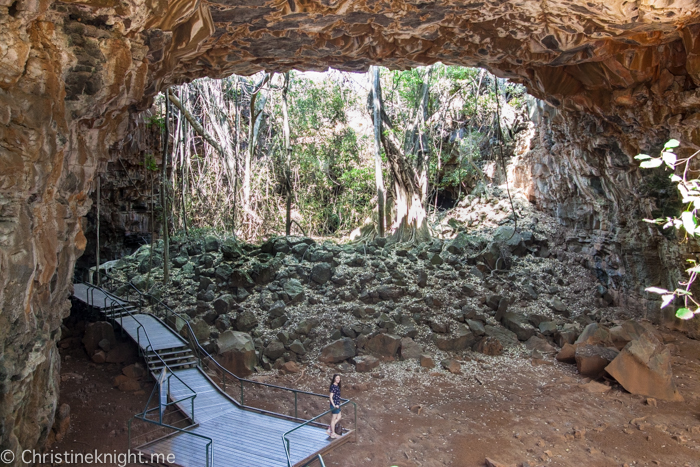 Venture into Outback Australia with the Undara Experience, in Tropical North Queensland. Explore the oldest lava tubes on the planet, sleep in refurbished train carriages and enjoy bush walks surrounded by wildlife.
Located 260km south-west of Cairns (or a 3.5 hour drive), the Undara Experience is located in the Undara National Park, a private enterprise operated by the Collins family, the earliest white settlers in this locality whose cattle have grazed in the area since 1862.
The Undara Experience was created to showcase the lava tubes located on the Collins' family property in 1987, protecting the formations for future generations by developing a sustainable visitor experience.
Read more about the Undara Experience.
Cairns accommodation
We stayed in two hotels during our time in Cairns.
Novotel Cairns Oasis Resort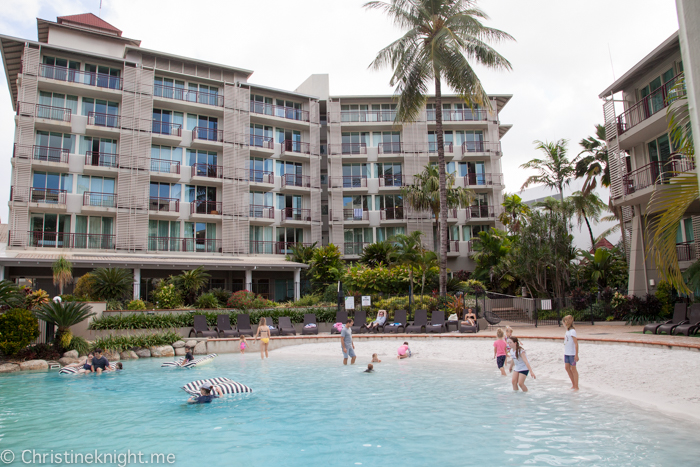 The Novotel Cairns Oasis Resort is a newly renovated hotel in the heart of Cairns. The combination of a superb lagoon pool and recently refreshed rooms, combined with its excellent location close to the esplanade, marina, restaurants, supermarket and Cairns Aquarium make this an excellent choice of accommodation in Cairns, particularly for families.
Read more about our experience at the Novotel Cairns Oasis Resort.
Pullman Cairns International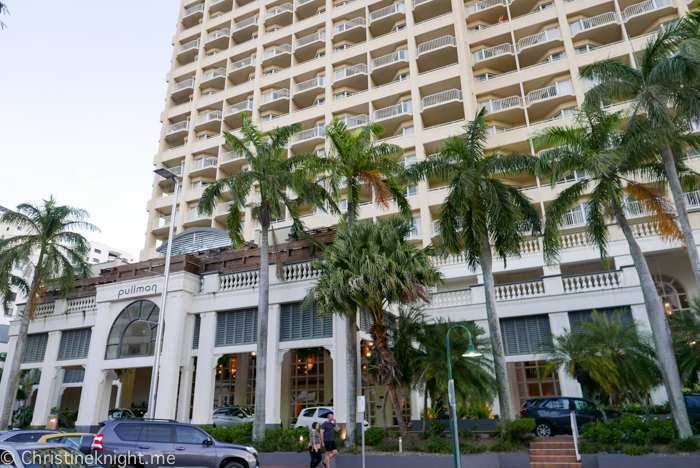 The Pullman Cairns International is a grande dame of a hotel, with a majestic soaring lobby which makes for a very impressive entrance.
The breakfast buffet at the Pullman Cairns International was sensational and worth staying at again just for this added benefit.
Read more about our experience at the Pullman Cairns International.
Riley, a Crystalbrook Hotel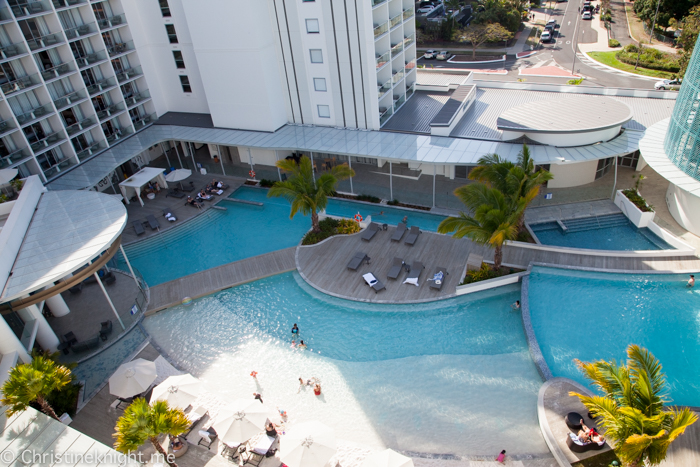 The Riley is a brand-spanking new hotel that features bright, light and stylish rooms, and a 1,000-square-metre lagoon-style pool. It has to be the most beautiful pool in Cairns.
The rooms are so quiet, comfortable and beautiful that you won't want to leave – unless it's to head to the pool!
Read more about our experience at Riley, a Crystalbrook Hotel.
Canopy Treehouses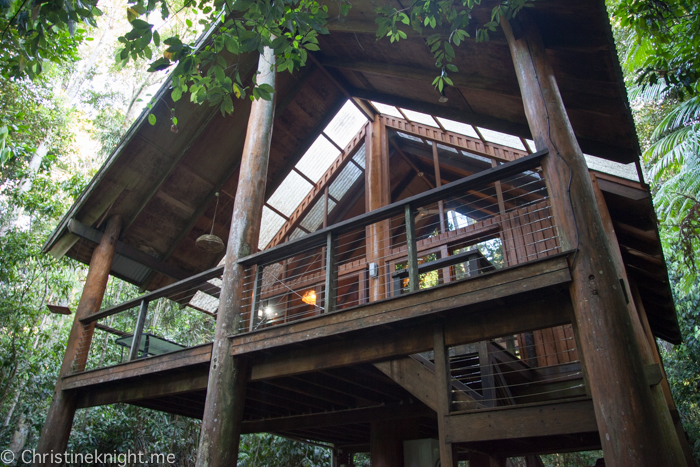 Stay in a treehouse nestled in the rainforest and get up close to Australian wildlife at the Canopy Treehouses in the Cairns Highlands, Queensland, Australia.
The Canopy Treehouses offers six extremely private treehouses set in 100 acres of rainforest, teeming with wildlife. Located 90 minutes drive out of Cairns, the Canopy Treehouses is a great option to base yourself for a few days and explore the region.
Read more about our experience at the Canopy Treehouses.
Cairns weather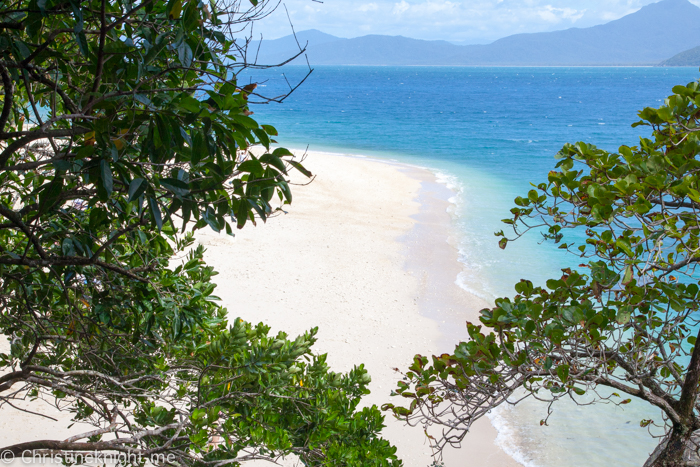 Far North Queensland is known for its hot and humid summers and mild, dry winters. We've visited in both and found January to be unbearably hot and humid but a pleasant swimming temperature, and July to be pleasant to explore the region, but a bit cold in the sea and pools. I would suggest considering what activities you want to do while you're in the tropics before selecting a season to visit.
Summer (December – February)
Average temperatures range from 23.6 – 31.4°C (74.5 – 88.5°F). The wet season begins in December, with most of the area's annual rainfall (around 2000mm / 78.7″) soaking the region in these months. When we visited in January, the skies opened daily around 4pm with a massive amount of rain. While the average daily temperature might not look too high, it is HUMID as anything!
Autumn (March – May)
I would suggest the shoulder seasons (spring and autumn) as ideal for visiting Cairns if you want to swim in warmer water without the high humidity that summer brings. The average daily temperatures range between 21.5 – 29°C (70.7 – 84.2°F), with the rain starting to subside from April onwards. The area can be windy however until August.
Winter (June – August)
Winter is peak tourist season in Cairns, mainly due to the lower humidity, low rainfall and no stingers in the ocean. We found the temperatures perfect day to day, however swimming pools are not heated so we found them chilly, and the we needed wetsuits to swim in the ocean due to the cold temperature (for us!). Average temperature in winter range from 17.5 – 26°C (63.5 – 78.8°F).
Spring (September – November)
The end of the dry season has temperatures ranging from 20.5 – 29°C (68.9 – 84.2°F). Humidity starts to build with the start of the west season at the end of spring. November is an amazing time to visit the reef to see the annual coral spawning.
Daylight Savings Time
Queensland does not observe daylight savings time. The time zone in Queensland is Australian Eastern Standard Time (AEST), UTC +10.
Sea temperature
In summer, the average sea temperature at Cairns' northern beaches ranges from 28.9 – 29.4°C (84 – 84.9°F). In winter the average sea temperature is 23.8- 24.5°C (74.8 – 76.1°F).
Stinger season
Stinger season (or jellyfish season) falls between November and May in Cairns and Port Douglas. It is advised to wear stinger suits in the water from November onwards (sometimes even October), as box jellyfish and Irukandji (the smallest of the box jellyfish family) can be deadly if you are stung.
The region's beaches are lined with stinger nets and on the Great Barrier Reef, while the risk of marine stingers is low, stinger suits are recommended and are available for hire on tour boats.
Keeping sun safe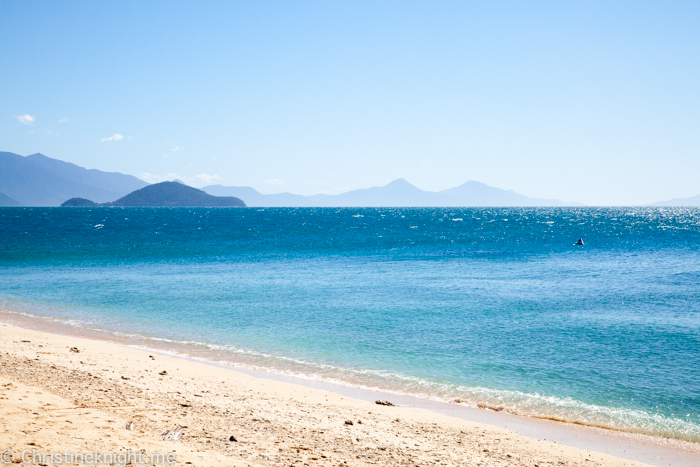 The sun in Queensland is intense, even in winter. The Ultraviolet (UV) Index can be high and cause extreme sunburn, so look in the local weather reports for the UV index, which describes the daily solar UV radiation intensity.
Wear SPF30+ sunscreen and reapply regularly, particularly after swimming. High quality sunscreen is available in supermarkets, convenience stores and pharmacies. Where possible choose reef-safe sunscreen.
Choose sun-safe clothing like light, loose shirts and dresses that cover the shoulders, chest and arms, and wear a wide-brimmed hat and sunglasses. Sunburn up here is no joke and can land you in hospital.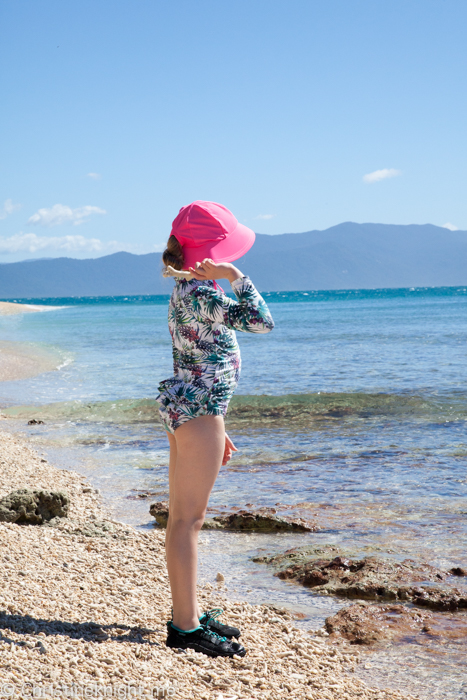 When choosing swimwear, consider longsleeved swimsuits for girls, longsleeve rashies for boys and adults. Not long do they prevent sunburn, they also eliminate the need for excessive sunscreen which is good for neither the skin nor the reef.
Looking for more things to do in Cairns, or for more Cairns attractions? Check out the official Tropical North Queensland site.