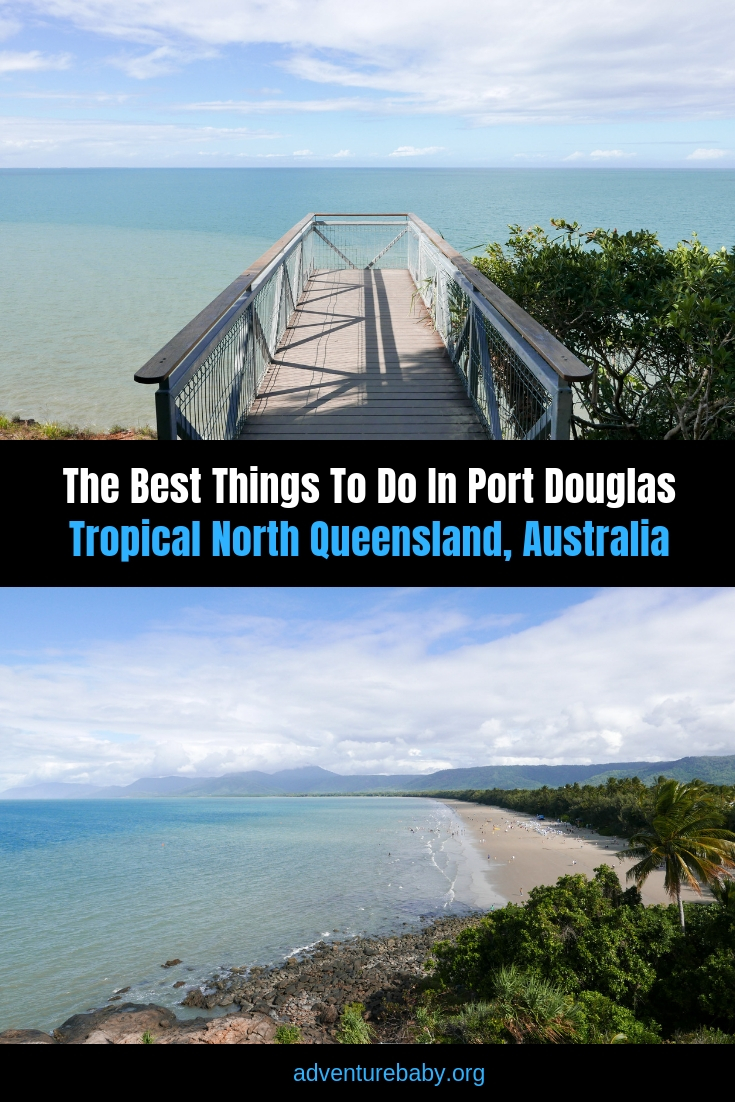 The best things to do in Port Douglas (with or without kids!)
Beautiful Port Douglas is a gorgeous resort town close to the Great Barrier Reef and Daintree Rainforest. Located only an hours drive north from Cairns, it's a fab base for exploring the area, or just relaxing for a few days on the beach. There are plenty of things to do in Port Douglas and its surrounding areas.
While we travelled Port Douglas and surrounding areas with our 7-year-old, the area is also great for adults without kids. The activities below suit people of all ages.
Four Mile Beach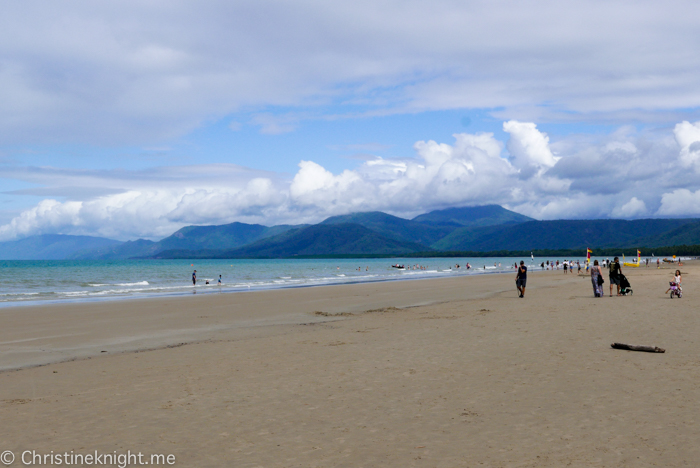 The focal point of Port Douglas, Four Mile Beach is a lovely little slice of paradise right in the centre of town.
Note: Stinger Season runs from October through to May, with dangerous jellyfish active in the area. The northern end of the beach has a stinger net during this period where it is safe to swim.
Rock Pools
The northern end of Four Mile Beach is a great spot to splash in rock pools, perfect for kids to explore and play.
Wildlife Habitat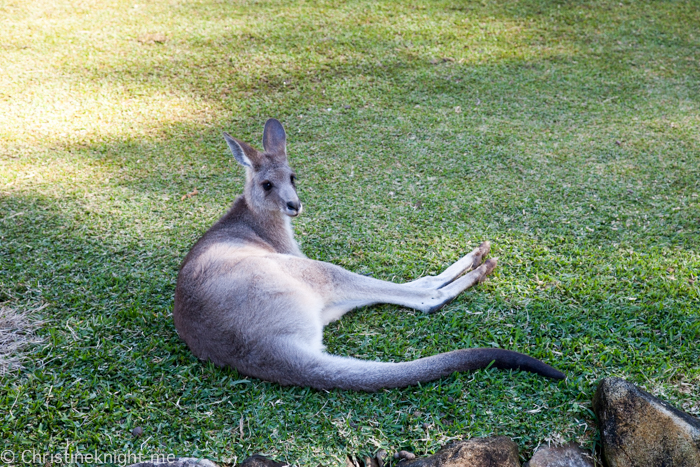 Get up close to iconic Australian animals in a natural surrounding at the award-winning Wildlife Habitat. Cuddle a koala, meet a python, see crocodiles and feed kangaroos. You can also get the chance to see the endangered Southern Cassowary and Lumholtz's Tree Kangaroo.
Get more information on visiting the Wildlife Habitat.
Flagstaff Hill Lookout & Walking Trail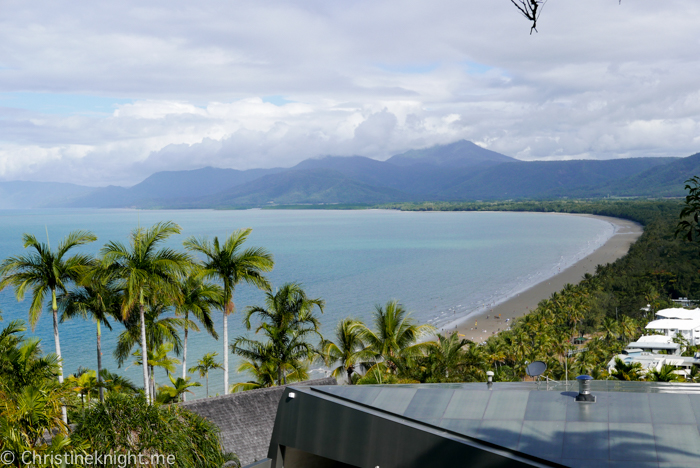 Flagstaff Hill is a short, steep walk from the main street of Port Douglass. It gives a stunning view over the Coral Sea and Four Mile Beach. The summit is accessible by car or walking trail, which starts at the northern end of Four Mile Beach.
Four Mile Beach Lookout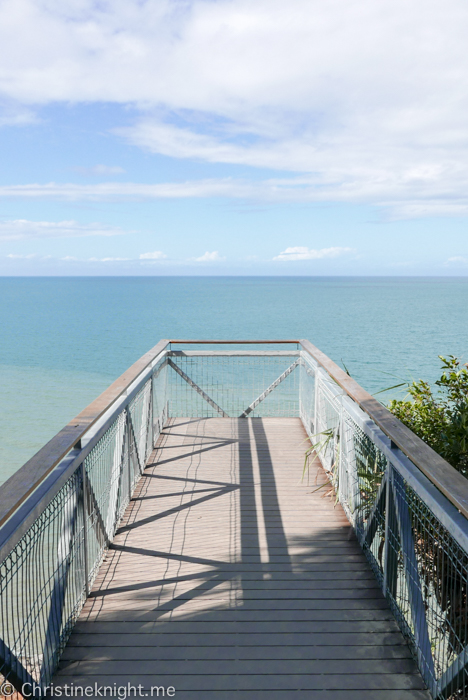 If you don't want to walk all the way to the summit you can drive up and then back down to the beach, then take a short walk up the steps to the new Four Mile Beach Lookout viewing platform that extends out over the Coral Sea.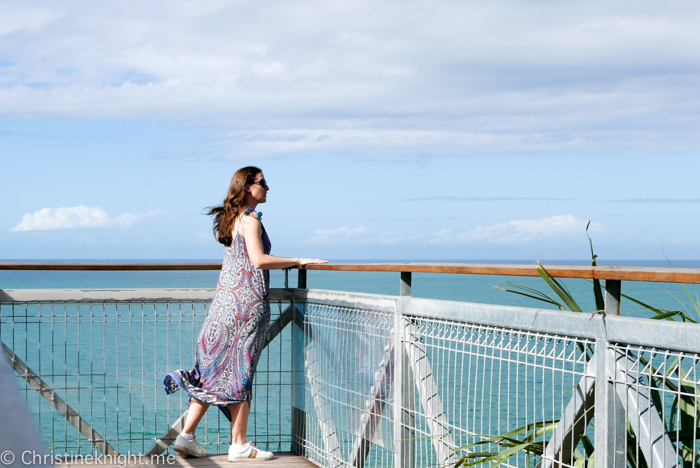 I really enjoyed this short walk and thought the view from here was much better than from Flagstaff Hill.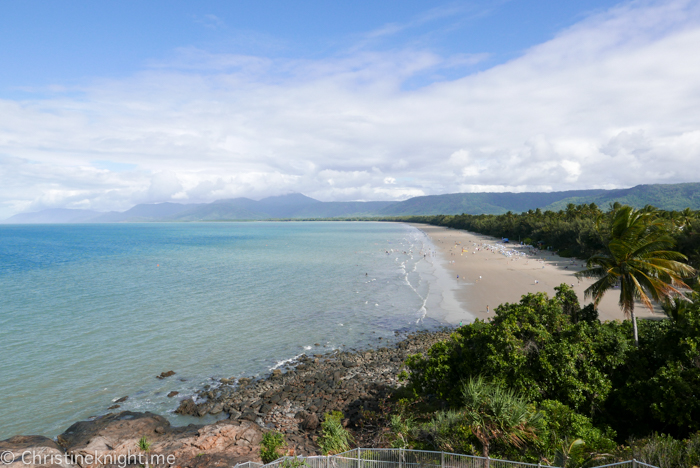 Port Douglas Markets
Drop by the weekly Sunday markets and pick up arts and crafts, jewellery, fruit and vege, books, coffee and more from vendors who travel in from all over Far North Queensland. The markets are held on the grassy Market Park every Sunday from 8am-2pm.
Thala Beach Resort Coconut Plantation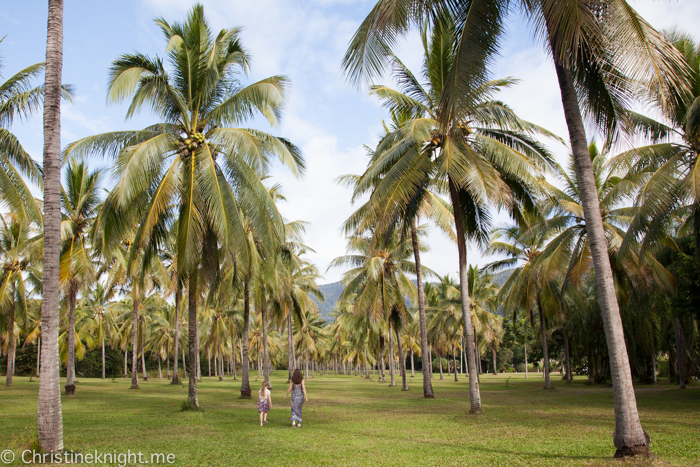 If you're coco for coconuts then you'll want to stop by the Thala Beach Resort coconut plantation, just south of Port Douglas. You can wander around the 700 coconut palms that stand sentinel at the entrance (watch out for falling coconuts!) or if you're a guest of the resort, join their free Coconut Odyssey tour to learn all about the health benefits of the coconut.
Things to do a short distance from Port Douglas
If you're after more things do in Port Douglas and its surrounding areas, I would suggest hiring a car and visiting some of these amazing attractions right on its doorstep.
Kuranda Village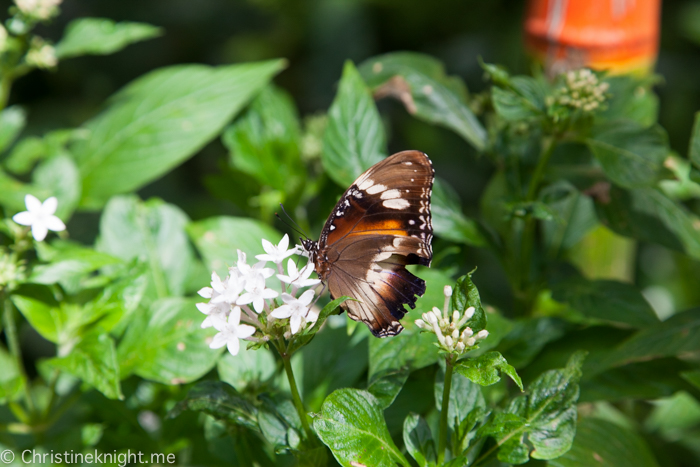 Kuranda is a mountain village that has become a popular tourist attraction near Cairns. It's a great place to take kids as there are several attractions all close to each other. Hold a koala, feed free-flying birds and dance with butterflies all in the same day in Kuranda.
Kuranda Village is accessible by car, however it is a popular destination to reach by taking the Kuranda Scenic Railway and Skyrail Rainforest Cableway.
Get more information on things to do in Kuranda Village.
Kuranda Scenic Railway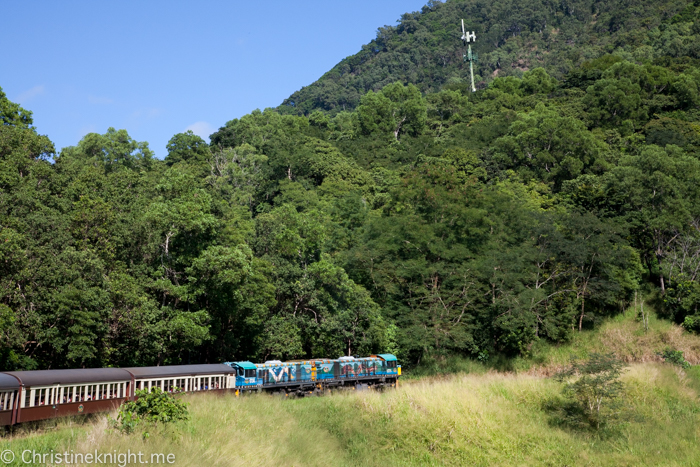 Winding its way through the World Heritage-listed Barron Gorge National Park, the Kuranda Scenic Railway is an unforgettable journey through hand carved tunnels and spectacular scenery. The Kuranda Scenic Railway runs between Cairns and Kuranda Village.
Get more information on taking the Kuranda Scenic Railway.
Skyrail Rainforest Cableway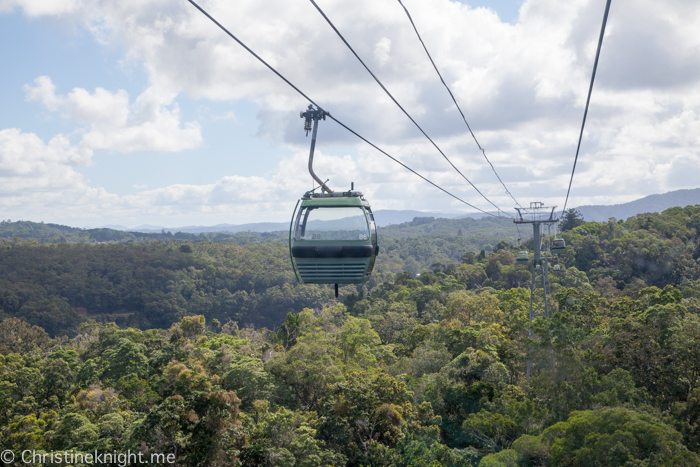 The iconic Kuranda Skyrail Rainforest Cableway is an immersive journey through and above Australia's World Heritage-listed tropical rainforest. It runs between Smithfield Terminal, around 20 minutes out of Cairns, and Kuranda Village.
Get more information on taking the Kuranda Skyrail Rainforest Cableway.
Mossman Gorge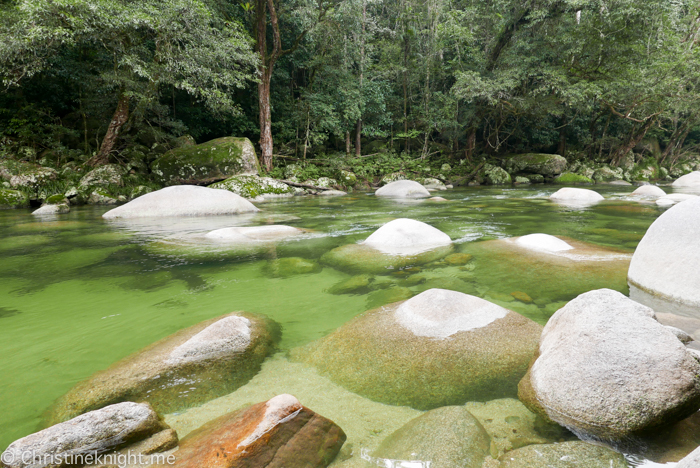 Located in the southern part of the World Heritage-listed Daintree National Park in Far North Queensland, Mossman Gorge is part of the traditional homeland of the indigenous Kuku Yalanji people.
Our time at Mossman Gorge was the highlight of our entire trip. We loved is so much we visited twice.
Mossman Gorge is around 80km north of Cairns and 5km from the nearest town of Mossman. It's also about a 20 min drive from Port Douglas. It is easily reachable by car or as part of an organised tour.
Read more about our experience at Mossman Gorge.
Daintree Rainforest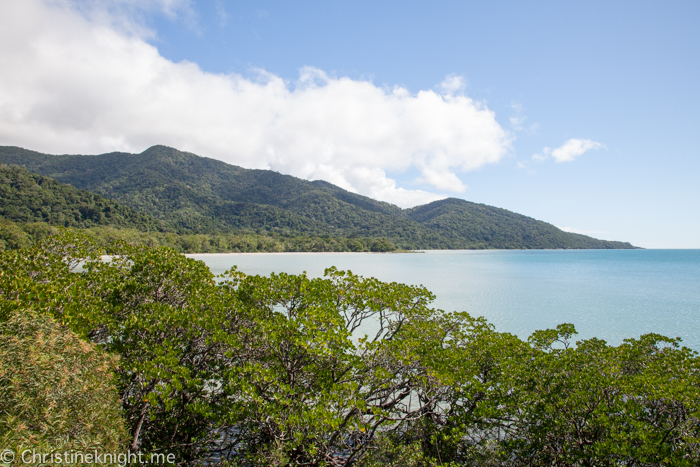 Visit the oldest rainforest in the world! The Daintree region begins at Mossman Gorge and continues over the Daintree River and north to Cooktown. A day trip the Daintree is doable from Cairns however it is a long day and you will see more if you stay in the Daintree itself like we did.
You can self-drive the Daintree in a regular car or take a tour.
Read about our experience in the Daintree Rainforest.
In the Daintree we stayed at the Daintree Ecolodge. Read about our experience at the Daintree Ecolodge.
Cairns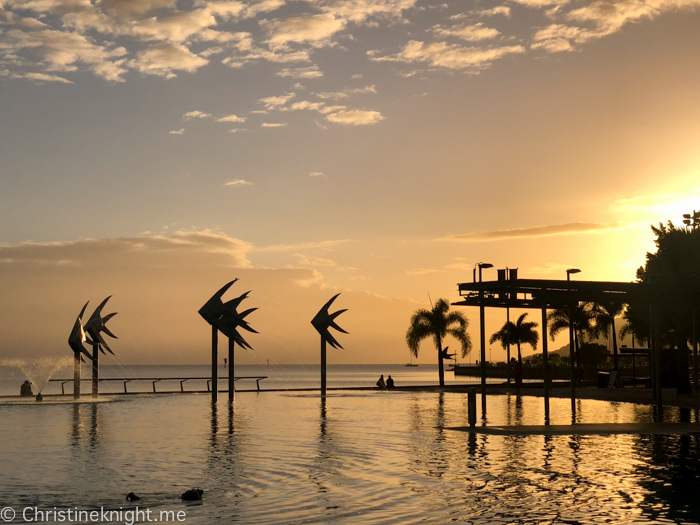 Cairns is a great spot to visit with plenty to do. Visit the Cairns Aquarium, swim in the Cairns Esplanade Lagoon, take kids to the excellent Muddy's Playground on the waterfront, or take a day trip islands including Fitzroy and Green.
Get more information on visiting Port Douglas.
Get more information on visiting Tropical North Queensland.