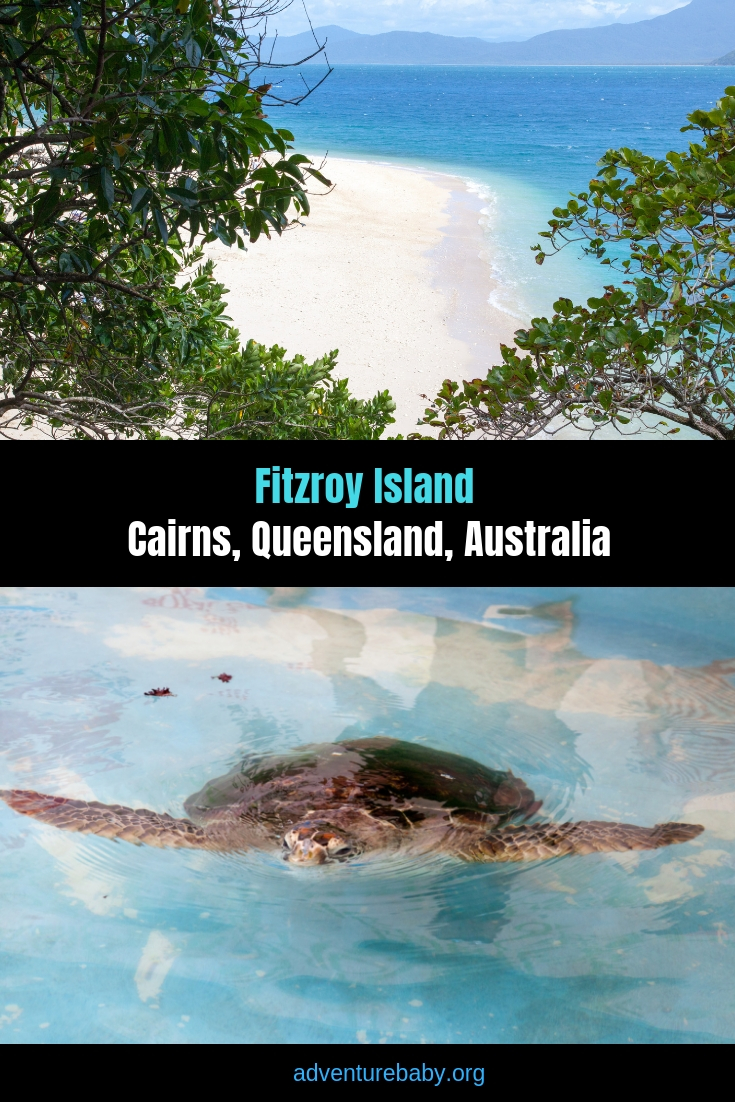 Fitzroy Island Resort & Day Trip
Fitzroy Island is a tropical paradise with lush rainforest and unspoiled beaches, accessed by a 45 minute ferry ride from Cairns, Qld, Australia. Stay at the Fitzroy island Resort for the ultimate escape from it all!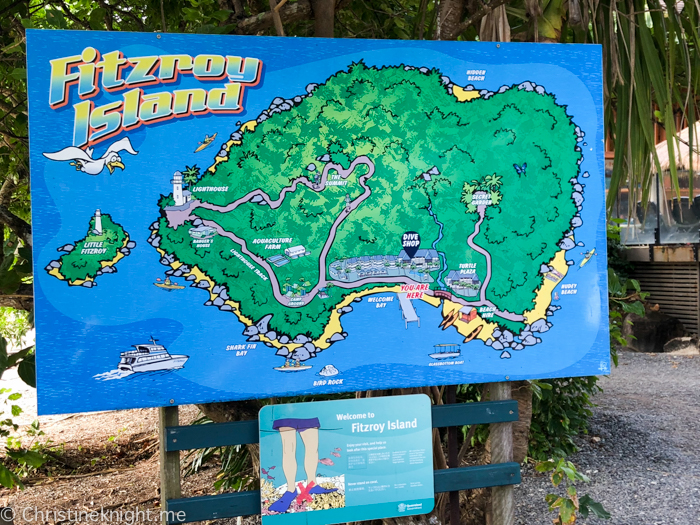 We spent two nights at the Fitzroy Island Resort in July and really loved being on "island time" relaxing, hanging out in the pool, wandering up and down the beach and through the rainforest.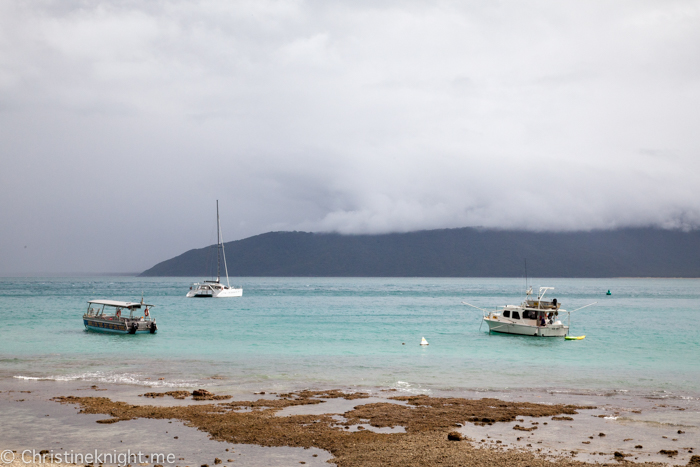 We didn't feel the need to overload with activities because it's a gorgeous spot to just sit around and do nothing! While the weather was excellent in July, if swimming is your prime purpose for visiting I would suggest coming in warmer months as I found it too cold to swim in July.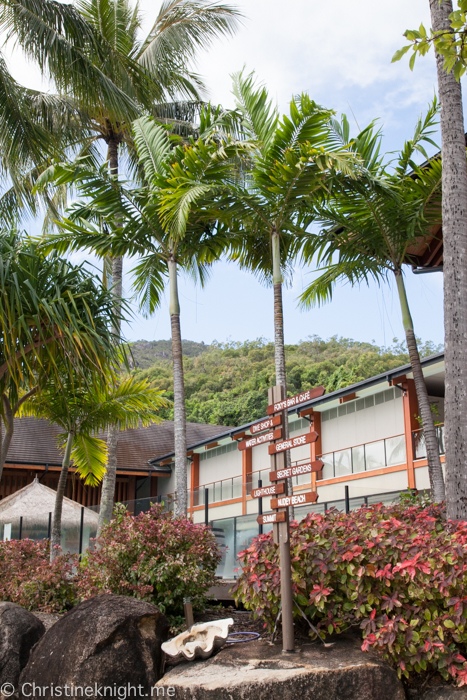 Fitzroy Island is the perfect retreat for families, so it's not surprising that the island was packed with kids of all ages. It was great for our daughter to make friends with other kids and have someone to play with in the pool, or while we ate dinner at Foxy's Bar in the evenings.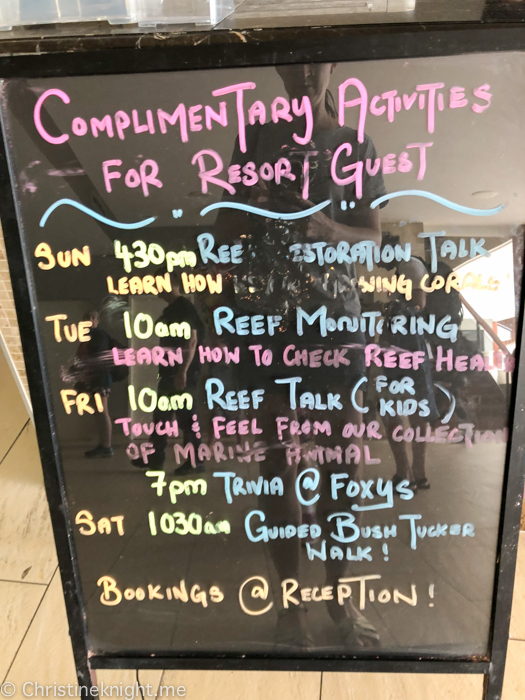 The resort offers daily complimentary activities for guests – check the board each morning to see what is on offer.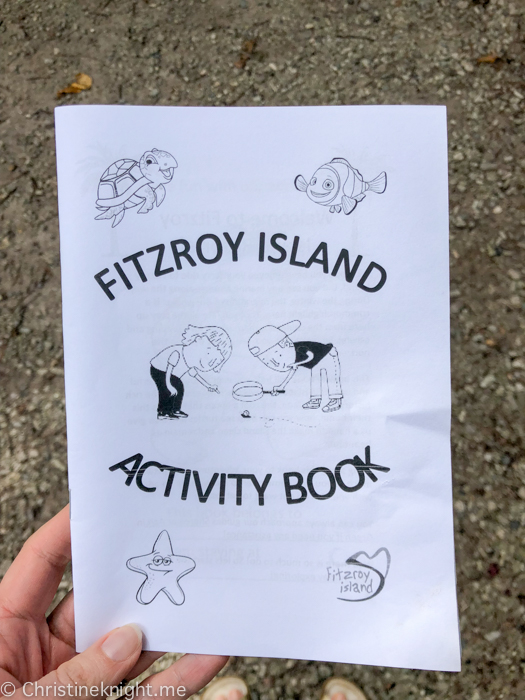 If you're visiting with kids, pick up a free Fitzroy Island Activity Book from reception. It's a really fun little booklet for kids to tick off things they do and record their stay.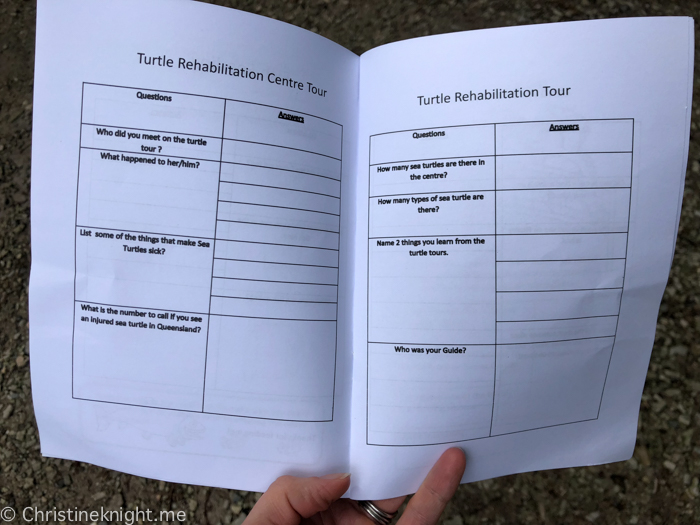 Getting to Fitzroy Island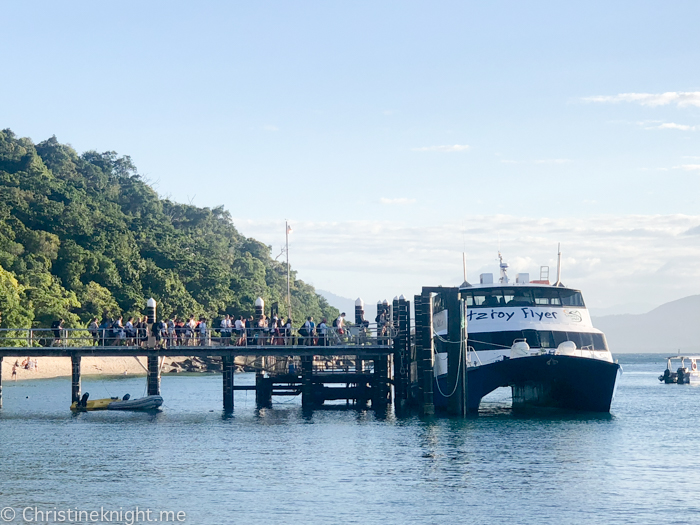 Located 29km south-east of Cairns, Fitzroy Island is extremely easy to reach by the regular ferry transfers on the Fitzroy Flyer. The ferry departs from the Cairns Marlin Marina Birth 20 three times a day.
Cairns – Fitzroy Island: 8am, 11am and 1:30pm
Fitzroy Island – Cairns; 9:30am, 12:15pm and 5pm
If you're planning to stay overnight on Fitzroy Island, this is the only way to get to the island and back again.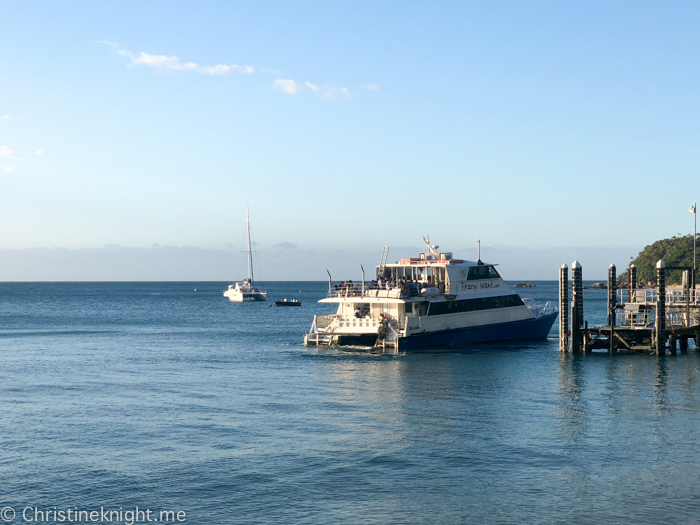 Since we were staying at the resort, we booked the Fitzroy Flyer as part of our accommodation package. Once your departure times have been booked, you are able too change them if you need to.
Wanting to day trip to Fitzroy? You have some additional options, with two other boats taking day trips to and from the island and optional inclusions for lunch and activities.
Get information on all of the transport options to Fitzroy Island Resort and packages.
Fitzroy Island Resort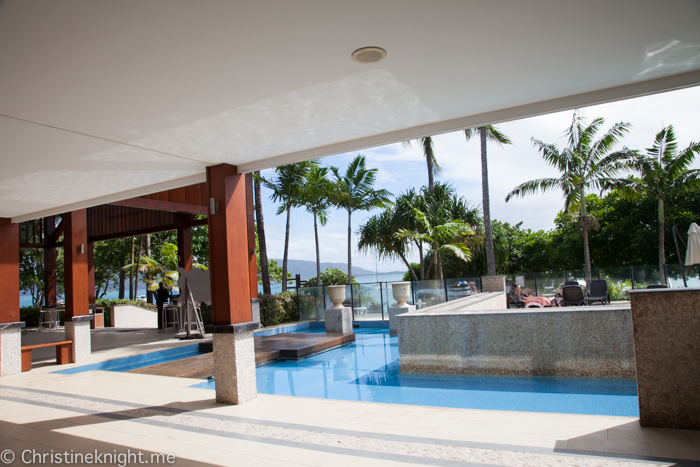 The boutique hotel on Fitzroy Island is a beautiful place to spend a few days relaxing on island time. We were blown away but how gorgeous the very well appointed rooms are. While the website advertises rooms with a kitchenette, it's basically a full kitchen with all the equipment needed to make meals.
If we stayed on Fitzroy Island again, I would take my own food over to the island in a cold bag on the ferry and make our own meals in the excellent kitchen. While there is a general store on the island it doesn't stock a lot of items and what it does stock are expensive due to the cost of transporting them.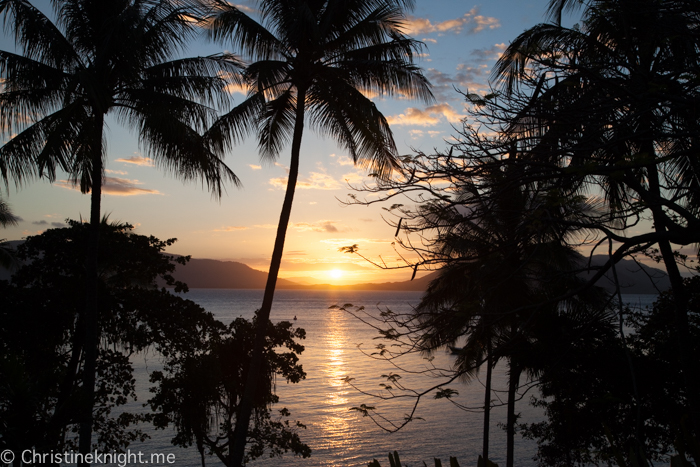 Sunset from our balcony was absolutely divine and we loved sitting there and just watching the beach and the colours float across the sky. It is absolutely worth paying for the balcony and ocean view.
Fitzroy Island Resort facilities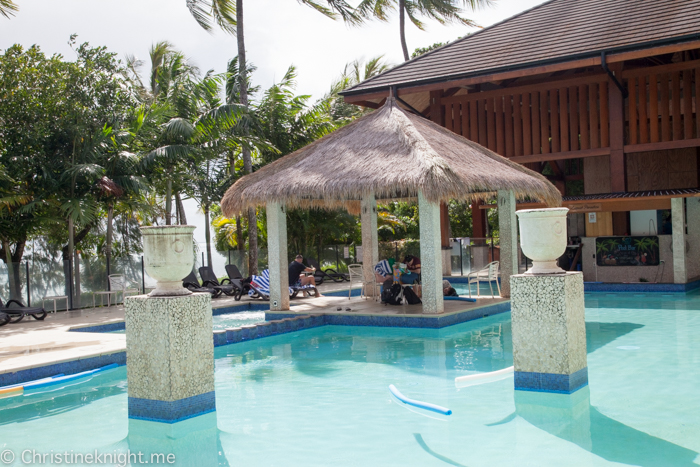 While the island is open to dray trippers, the resort and its facilities are only for use by the hotel guests.
Outdoor pool & spa
Swim up pool bar
Arcade games room
Children's play room
Movie theatre
Dive & Adventure Centre
Massage services
24-hour reception
Tour desk
Conference & meeting venues
Wedding ceremonies & functions
The movie theatre shows two movies a day, one for kids and one for teens / adults.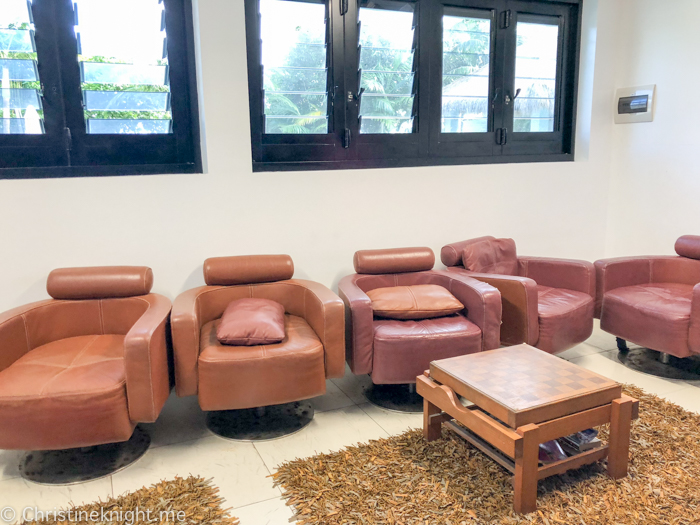 The reading room had a shelf full of books that could be borrowed as well as board games.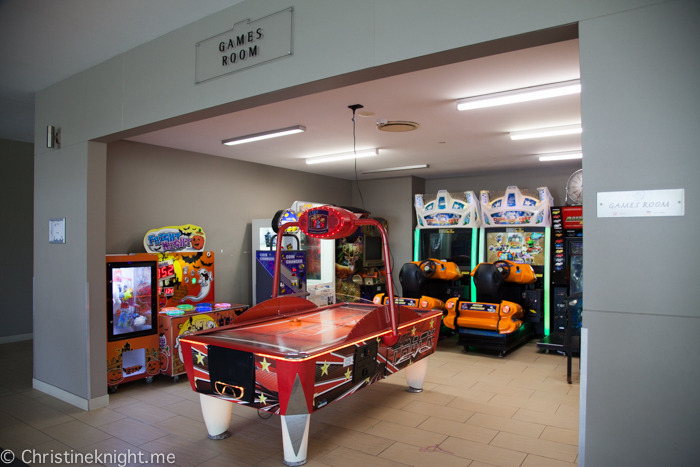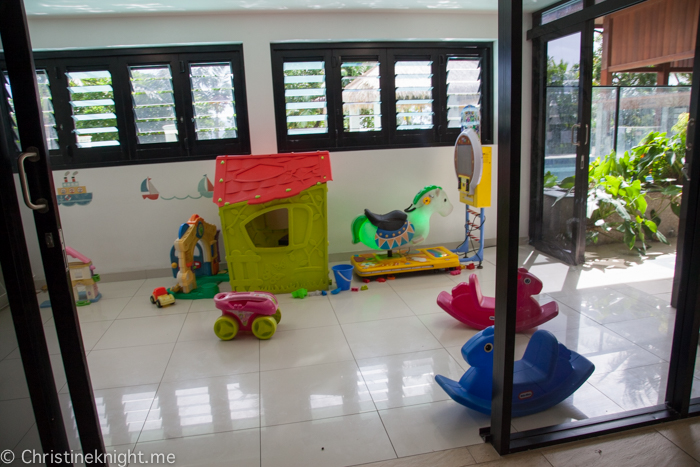 We used the pool a fair bit even though it is not heated and it was way too cold for me to swim. The cold didn't bother the kids in the slightest.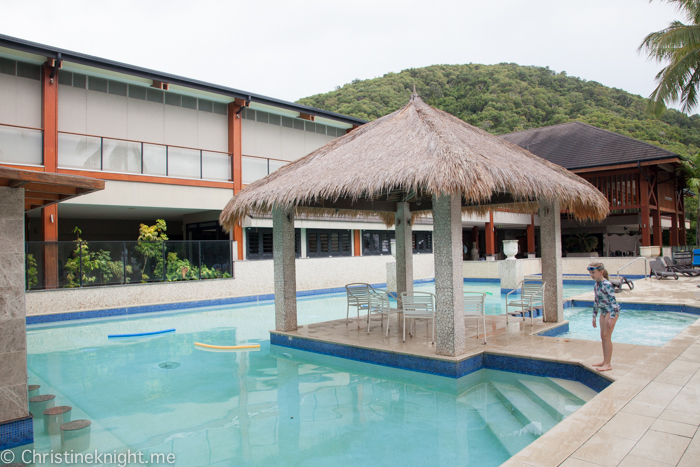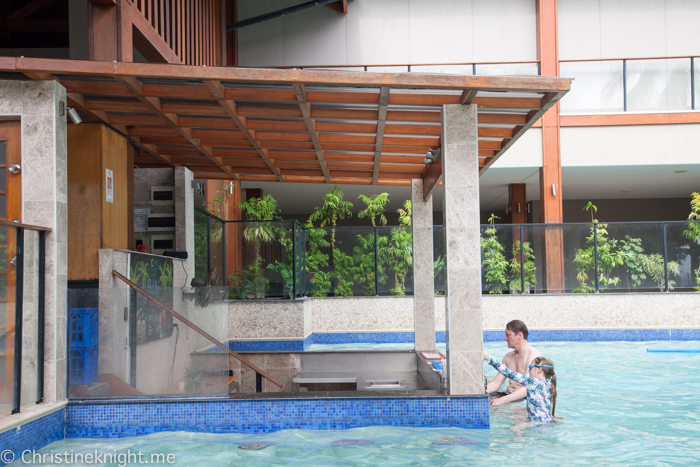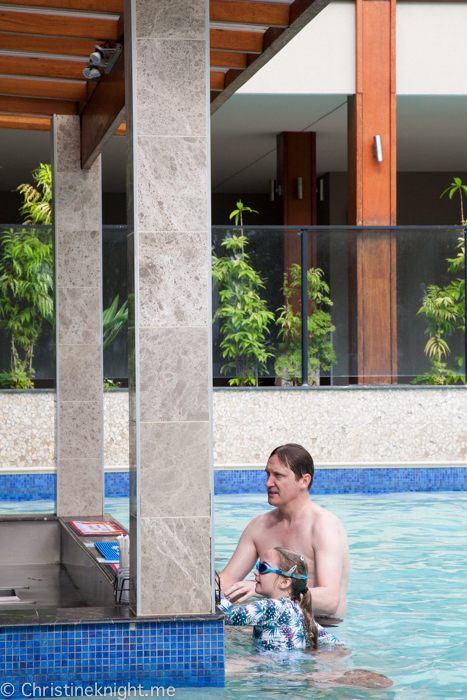 The arcade room is also popular, as is the table tennis table – free to use, just ask reception for the paddles and ball.
Fitzroy Island also has a general store and a casual restaurant and bar called "Foxy's Bar", both of which are available for use by resort guests and day trippers.
Fitzroy Island Resort Island Suite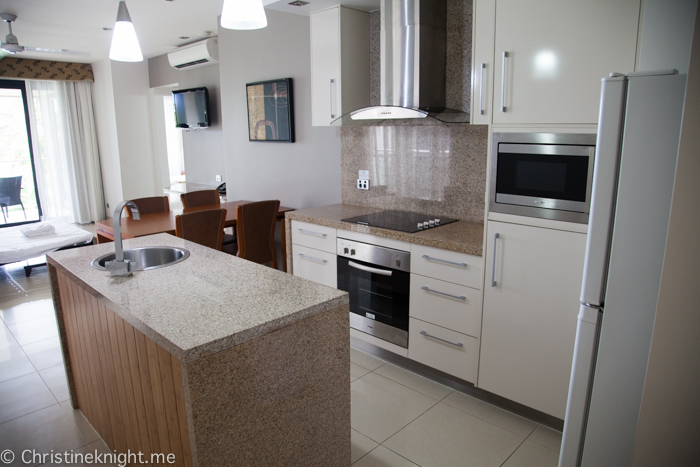 We stayed in a Fitzroy Island Resort Island Suite – a one bedroom suite with seperate dining and balcony. The bedroom included a queen bed with a pullout sofa bed in the living room.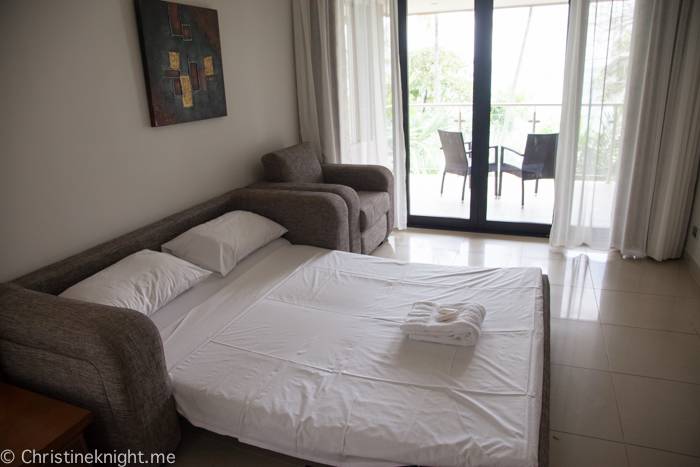 The suite also contained a kitchenette with microwave, toaster and full size fridge and tea and coffee facilities, TV, lounge and dining area and a massive en suite black marble tiled bathroom. The suite was air conditioned, which we didn't need to use in July.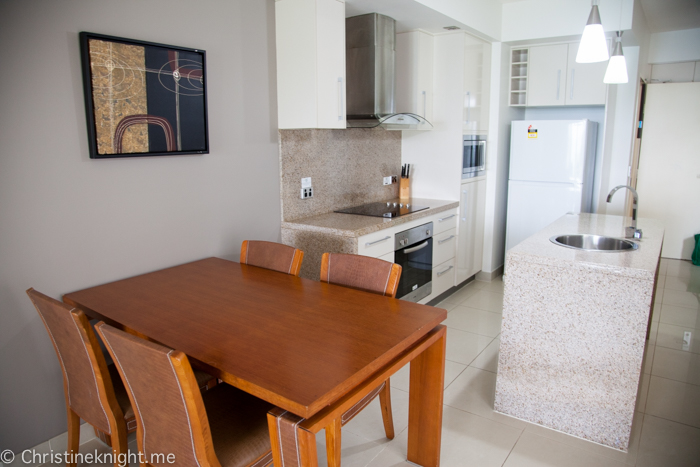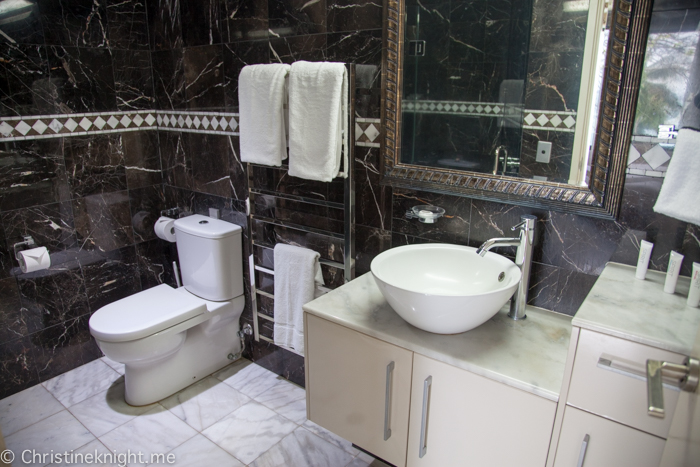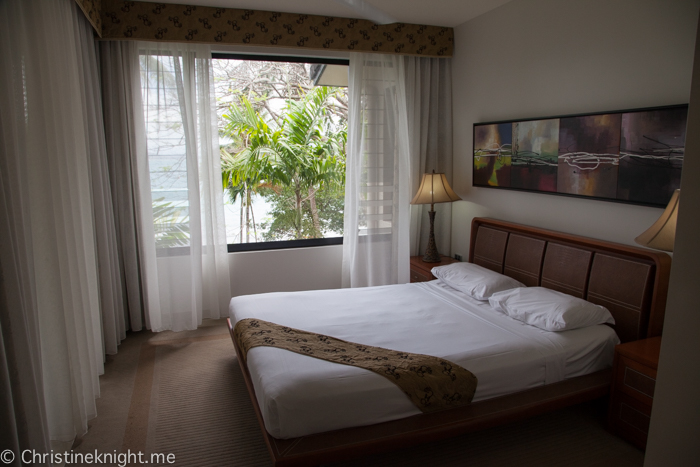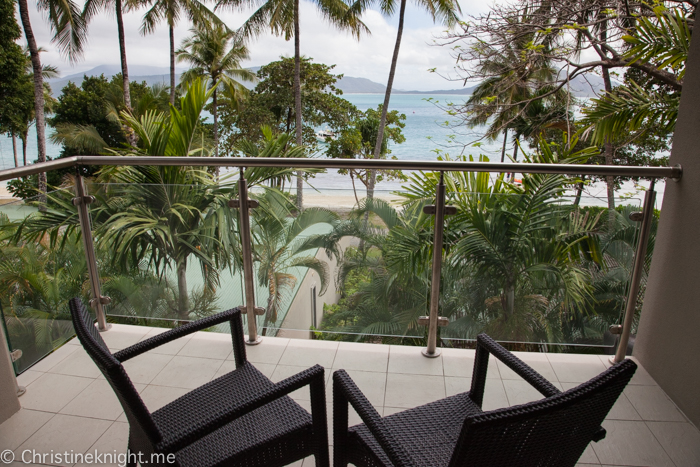 Use of shared guest laundry with lifts to all floors.
The resort building has rooms on three floors – ground, first and second, with long, sheltered outdoor boardwalks joining the rooms to the elevators and main resort area.
There are elevators and stairs to access each level.
I would highly recommend requesting a room at the very end of the boardwalk if possible even though it makes it a longer walk to get back to the resort facilities. We found that each morning at around 6am small children would run up and down the boardwalks relentlessly, which would wake us all up.
Zephyr restaurant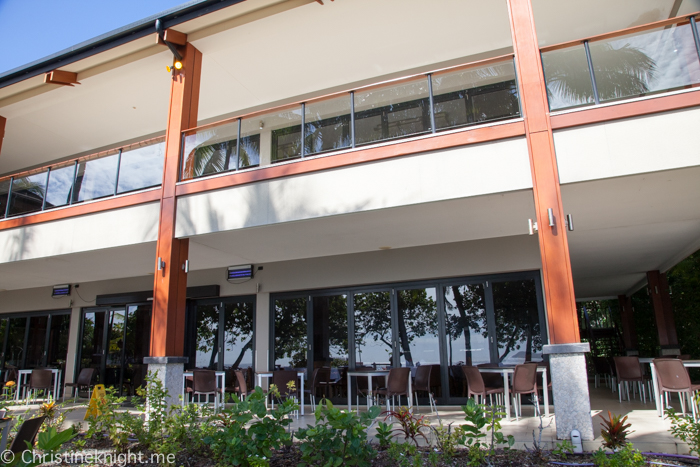 Zephyr restaurant is open in the evenings for dinner and at breakfast, which we had included in our package.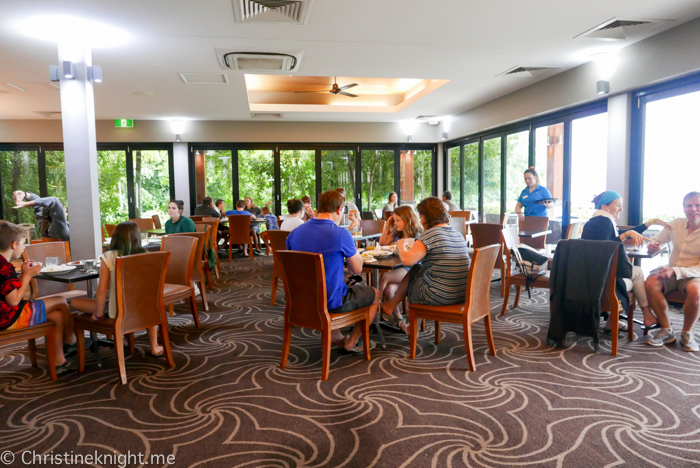 Breakfast was a very decent buffet with pre-made hot food and continental options.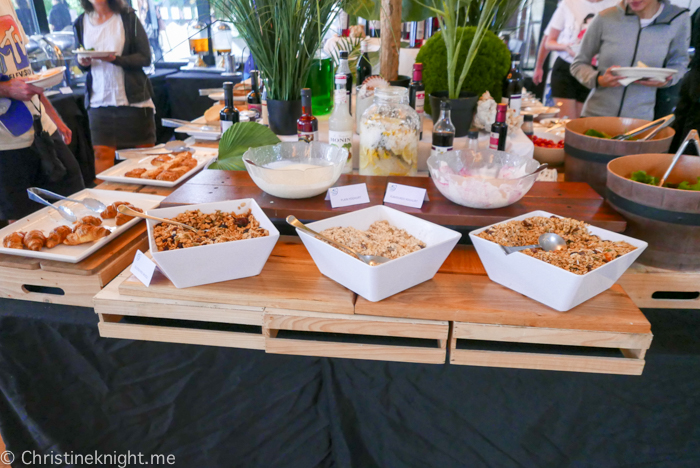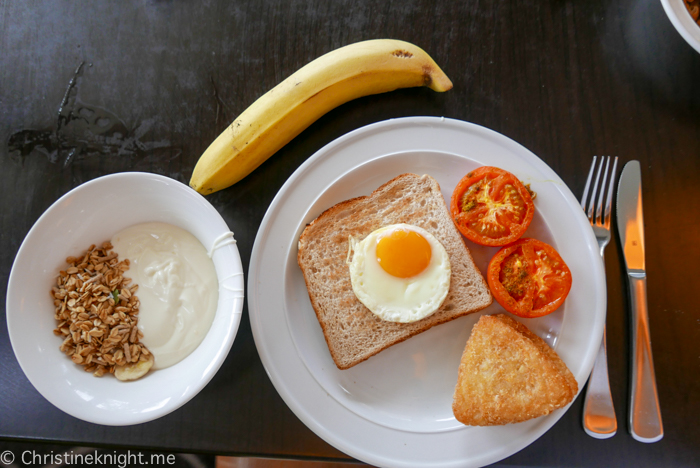 Things to do on Fitzroy Island
Fish feeding
A free daily activity. Twice a day the resort staff bring out a small amount of fish food and throw it off the jetty. It attracts all kinds of fish and if you're watching you'll get a very educational talk on what they fish are and their place on the reef.
General store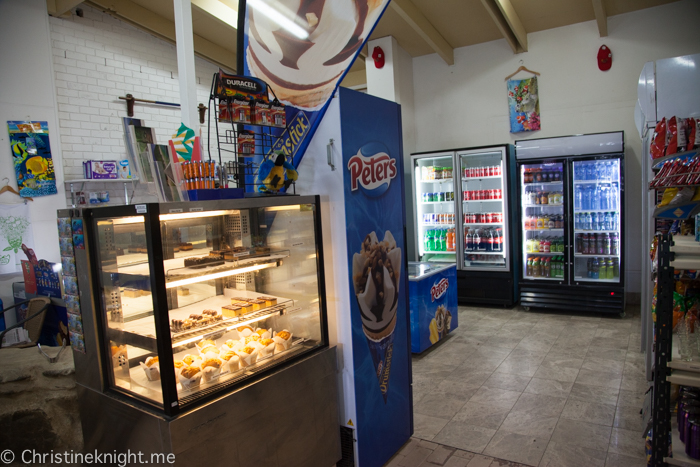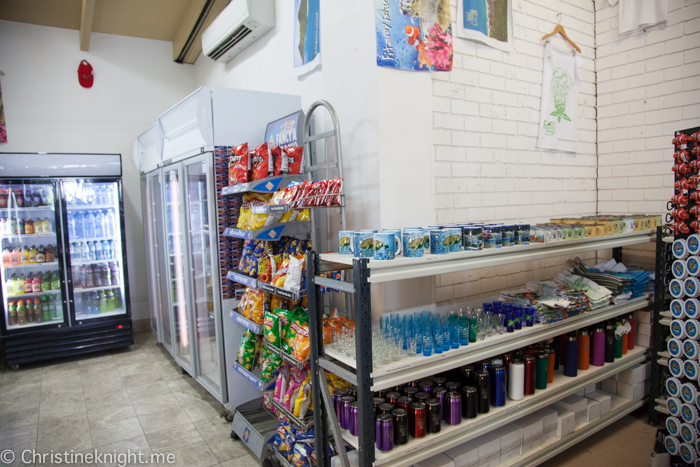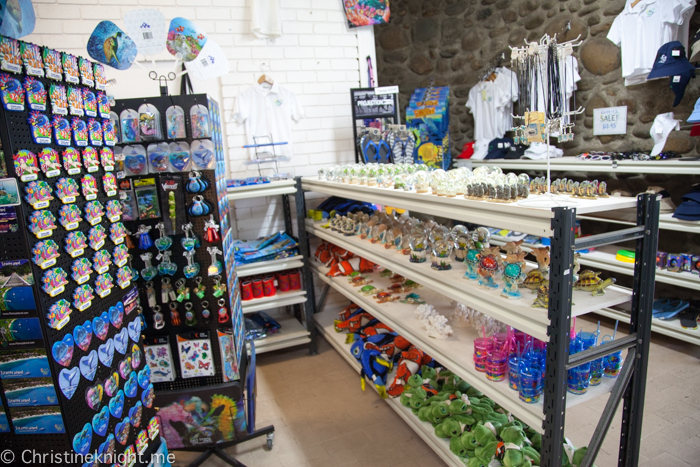 The general store sells souvenirs and basic groceries, with a few takeaway food items (such as pies). I highly advise taking your own groceries and pharmaceutical items as when we visited they had run out of things like Panadol.
Foxy's Bar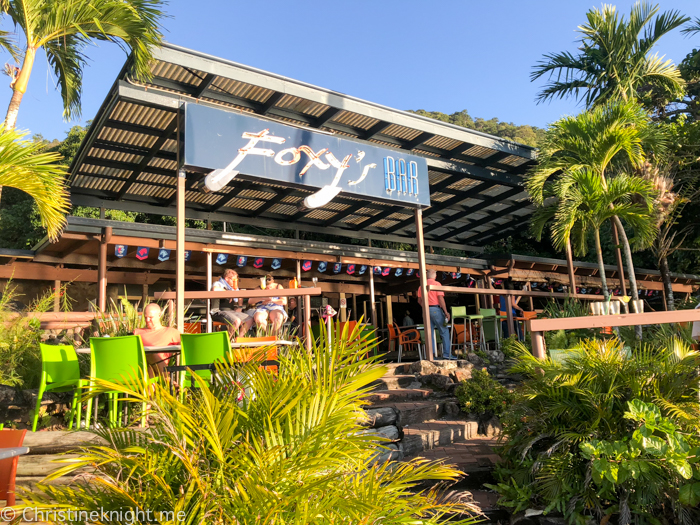 Open for lunch and dinner, Foxy's is popular with day trippers as well as hotel guests. It has a casual atmosphere and a real "island" vibe. We loved the pool tables at the bar that were also free to use.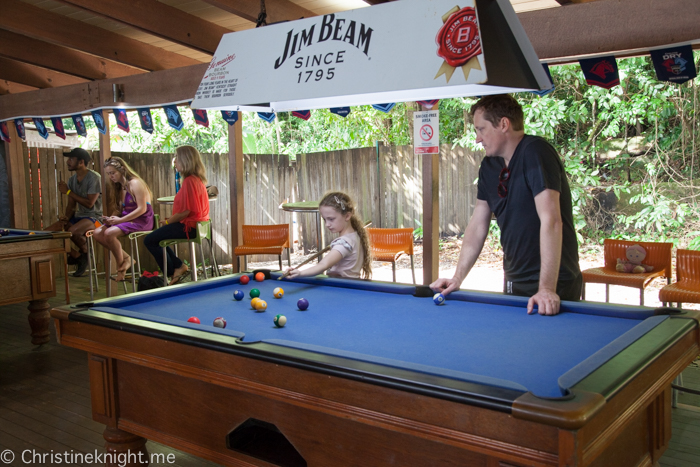 There is a dedicated kids' menu at Foxy's Bar. The menu for lunch and dinner is almost identical, with the removal of some lunch items on the dinner menu. This makes for a bit of a limited choice of food (as well as expensive) if you're staying on the island for a few days so I recommend definitely planning to make some meals yourself if you are staying longer than one or two nights. As a vegetarian I struggled with the food options being limited, too.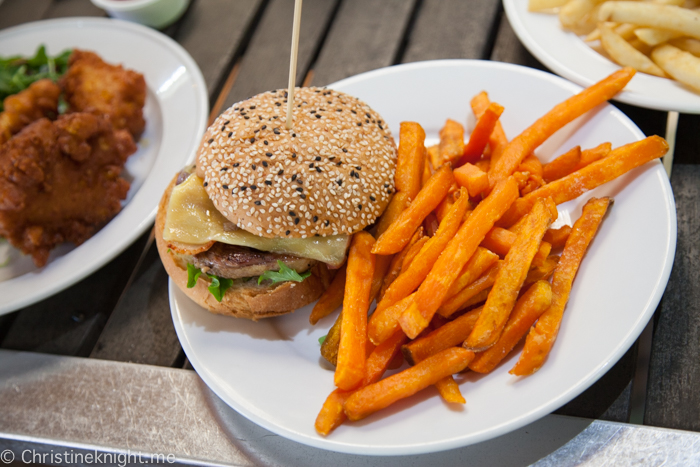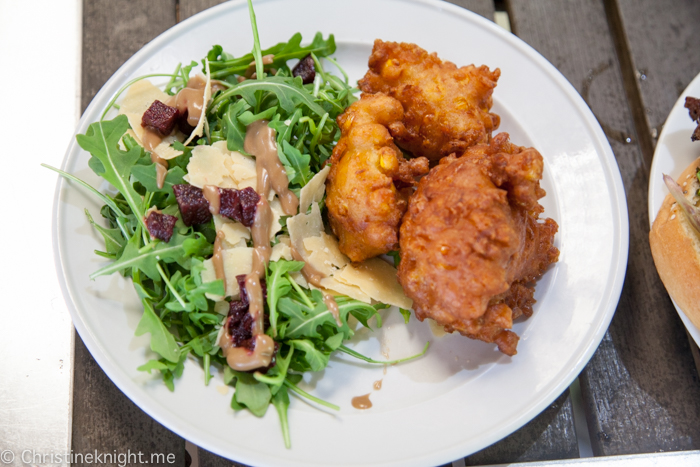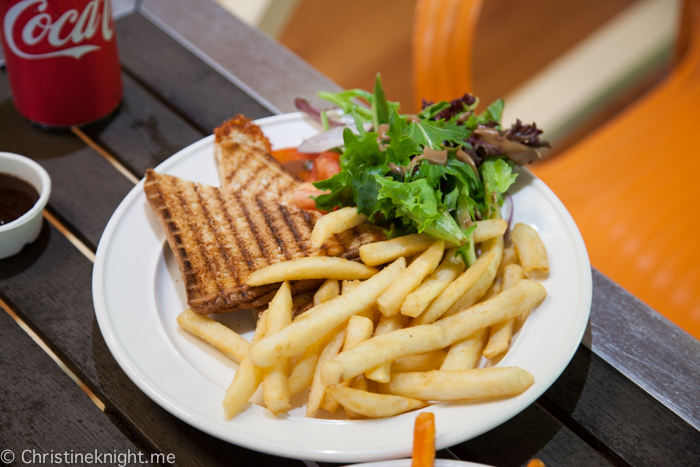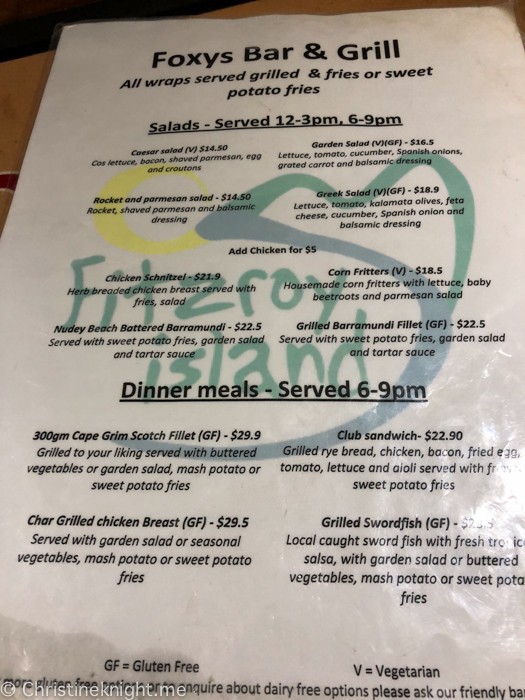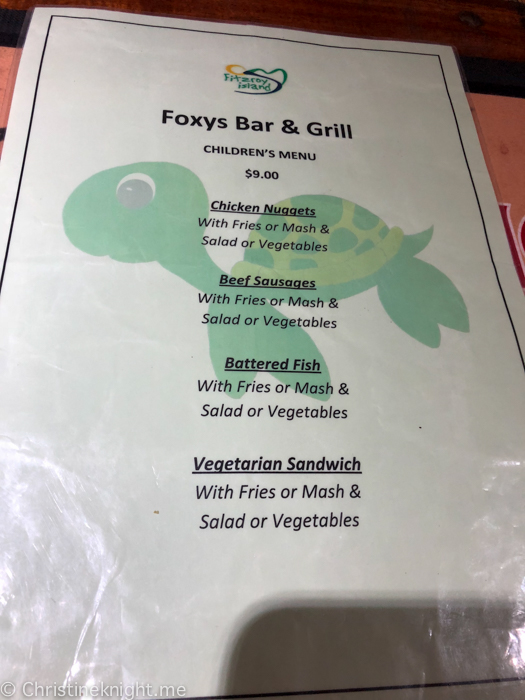 Nudey Beach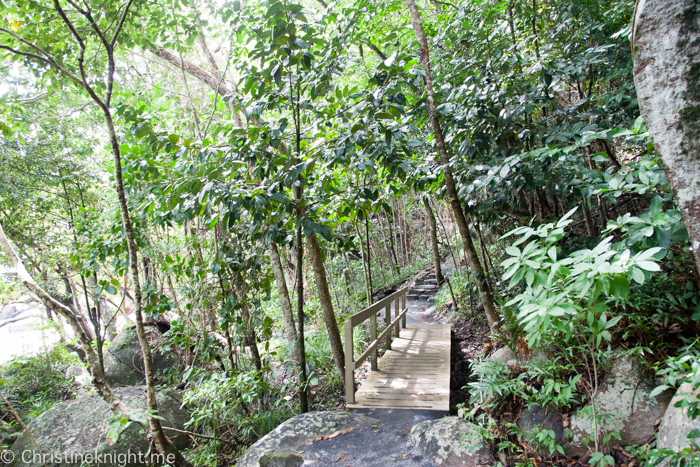 Take the short Nudey Beach Track to reach the beach (info below). The beach is absolutely stunning, but note that it is a coral beach not sand, so reef shoes are advisable.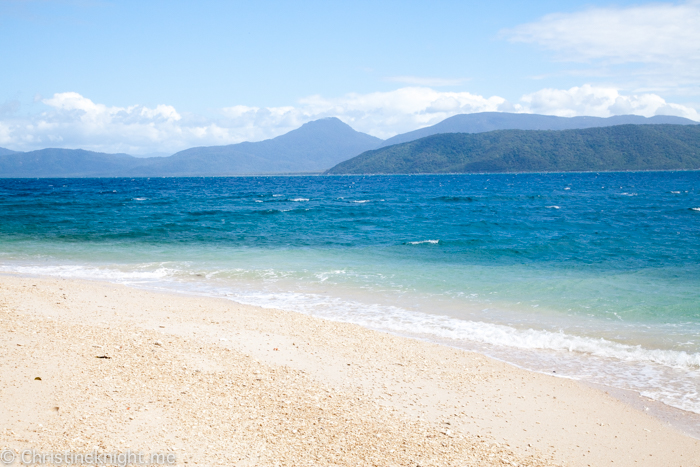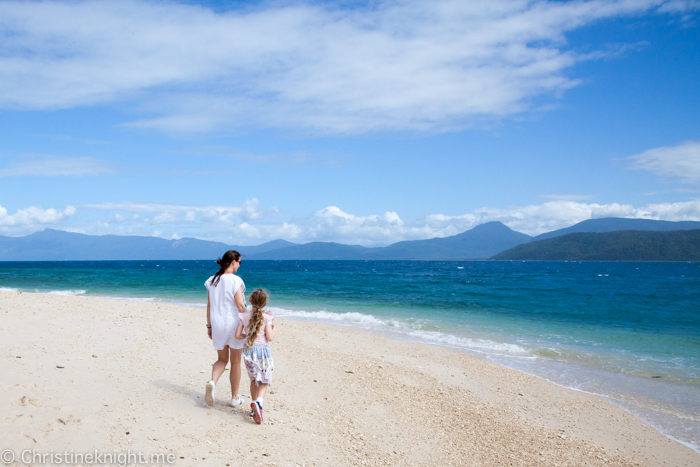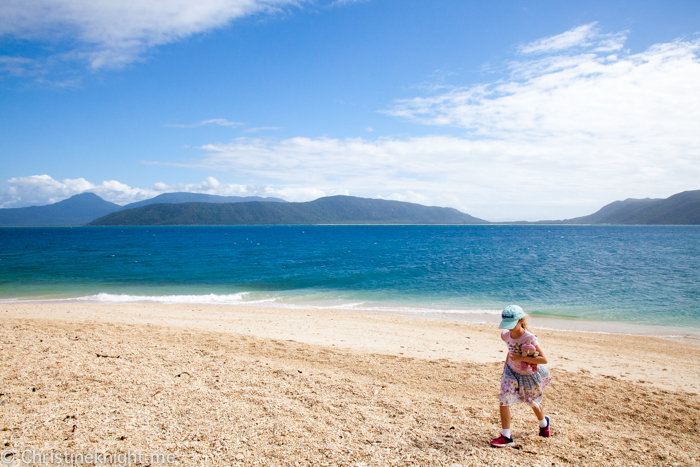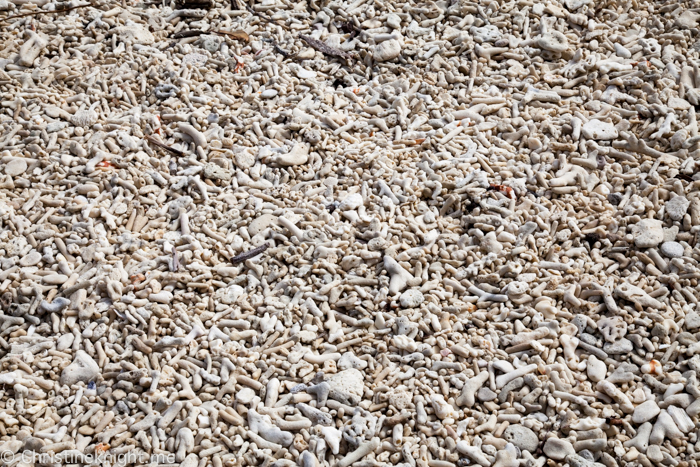 Walking and exploring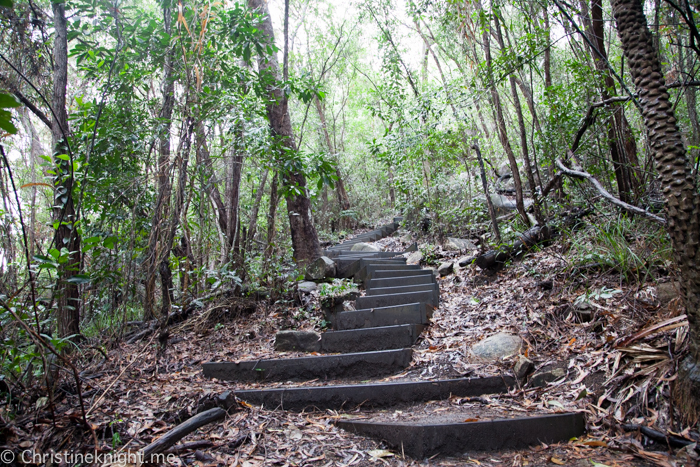 There are several bushwalking tracks on the island of varying lengths and difficulty.
Secret Garden Track 1km return – 45 mins
This is an easy, inland trail through the rainforest . Look out for the various native birds that life on the island and the skinks that dart around your feet. You might even see butterflies.
Nudey Beach Track 1km return – 45 mins
An easy walk that has some steep steps to climb up and down, the track goes through the rainforest and down to the stunning Nudey Beach. Take water and a picnic with you. There are no bathrooms on this trail or at the beach.
Lighthouse Road 3.6km return – 2 hrs
This hike goes up a steep concrete road, passing several viewing platforms, culminating at the lighthouse. There are excellent views of the island from the lighthouse – which can be accessed if a ranger is on duty.
Summit Track 2.6km return – 3hrs
Graded "difficult", this is a hike recommended for fit hikers as it takes in very steep terrain. The track goes through rainforest and opens up to stunning island and ocean views. During the warmer months, it's best to attempt the summit hike in the morning before it gets too hot. Take plenty of water and sunscreen, and wear good walking shoes.
Diving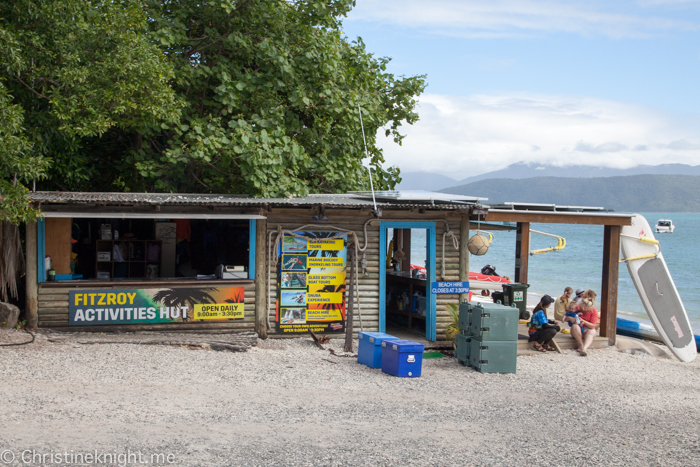 Visit the Fitzroy Island PADI accredited Dive & Adventure Centre to dive with qualified and experienced instructors. The dive centre offers PADI certified courses and plenty of dive options for experienced divers.
Snorkelling
It's easy to swim out from the beaches and experience snorkelling around the fringing coral reefs. Marine life includes clownfish and sea turtles. You can hire equipment from the Dive & Adventure Centre.
Giant ocean trampoline
The ocean trampoline is located 25m offshore, so you need to be a strong swimmer to reach it.
Glass bottom boat tour
Want to see the fish without getting wet? Take the glass bottom boat tour and get a good look at the reef and marine life without needing to dip a toe in the ocean. There are dry and wet glass bottom boat tours available – on the wet one snorkellers are welcome to get in the water and then back into the boat again. Glass Bottom Boat Tours depart twice a day, 10.30am and 3pm, bookings essential.
Sea kayaking
Hire a kayak and paddle around the island. Kayaks offer the chance to visit private beaches and snorkelling spots that aren't available by foot or boat. Sea kayaks are available for hire from the Dive and Adventure Centre.
Stand up paddle boarding
Hire a stand up paddle board and enjoy being on the ocean. Stand up paddle boards are available for hire from the Dive and Adventure Centre.
Sunlover Reef Cruises
If you're staying on Fitzroy Island and want to visit the outer Great Barrier Reef, the Sunlover Reef Cruises take visitors to the outer Moore Reef Pontoon for snorkeling or diving.
Eye Spy Sailing
Another option best suited to those staying on the island, the luxurious Eye Spy Catamaran takes guests on a midday Scenic Sail or an afternoon Sunset Sail from Fitzroy Island.
Cairns Turtle Rehabilitation Centre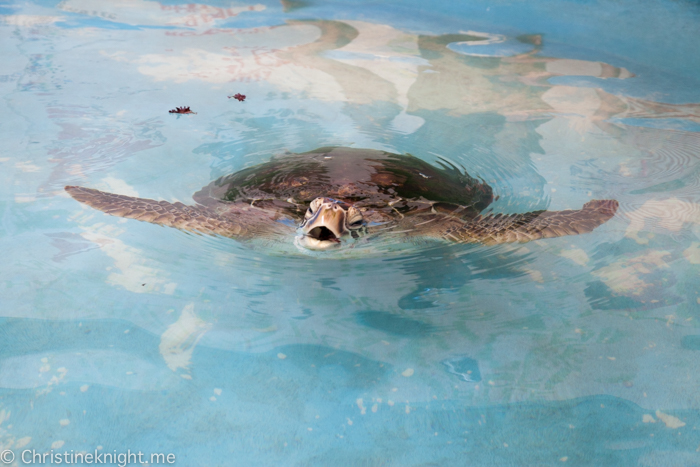 Visiting the Cairns Turtle Rehabilitation Centre (CTRC) was one of the main reasons we visited Fitzroy Island. CTRC is a volunteer-run, non-profit organisation dedicated to rehabilitating sick and injured turtles, brought in from the Great Barrier Reef and Cape York Peninsula.
The tours of the CTRC run daily from 1pm, and are approximately 45 minutes in length. Often if the tours are booked out, additional tours are added. Tours cost Cost: $11.50 Adult, $7.00 Child (4-13 years), infants free of charge.
Get more information about the Cairns Turtle Rehabilitation Centre and our experience taking the tour.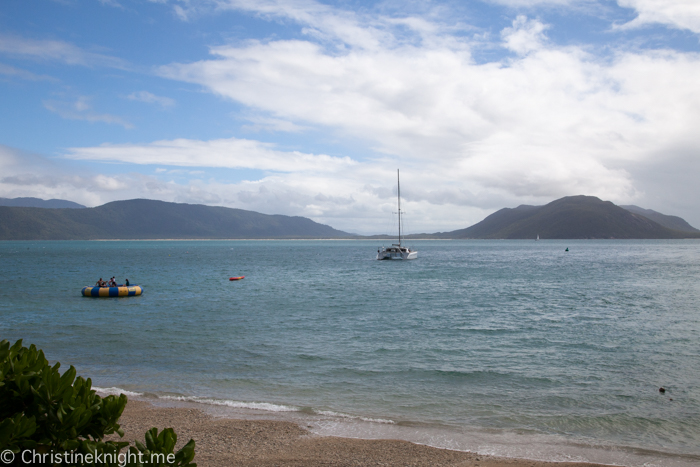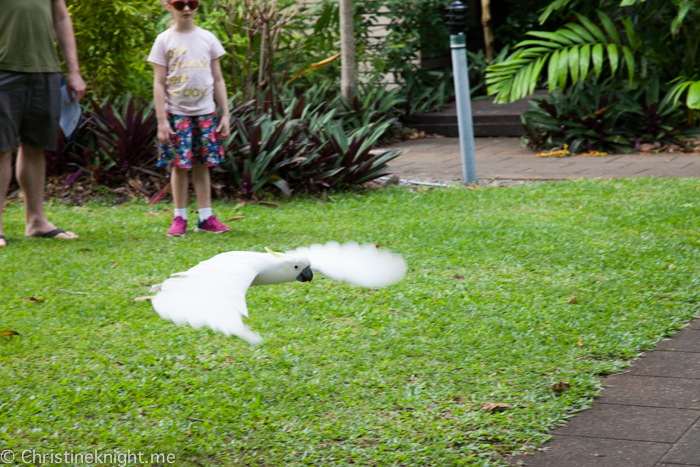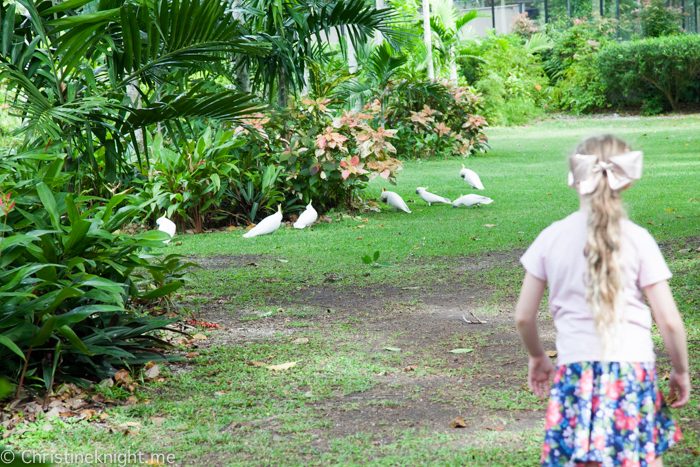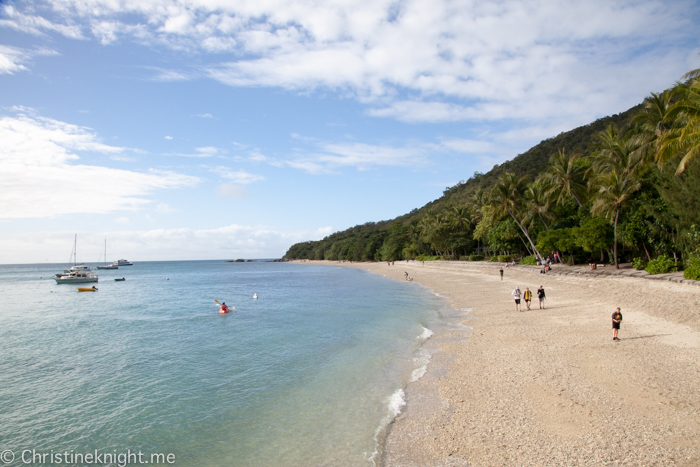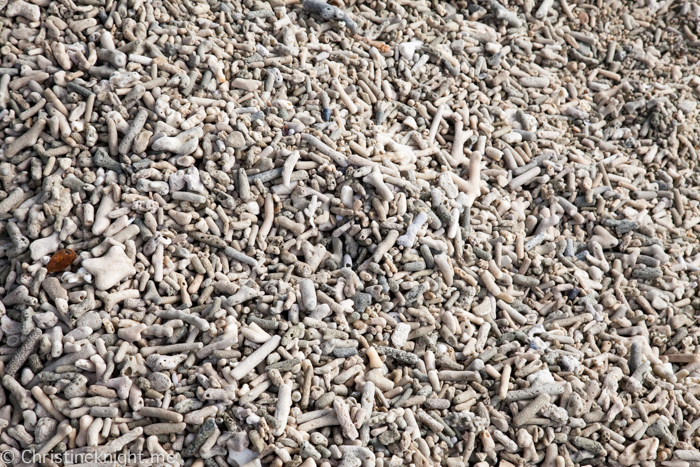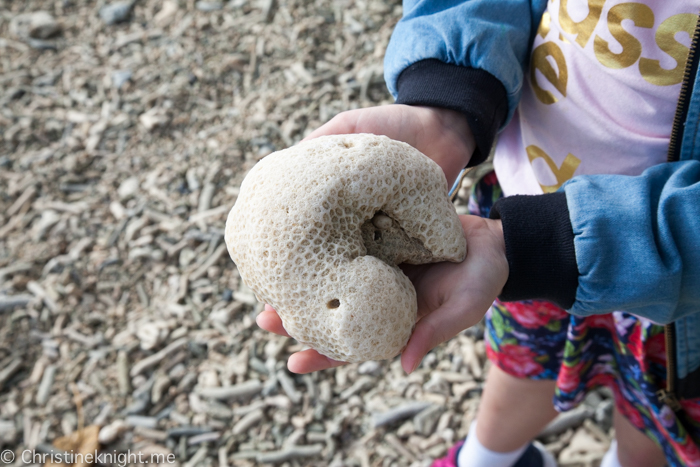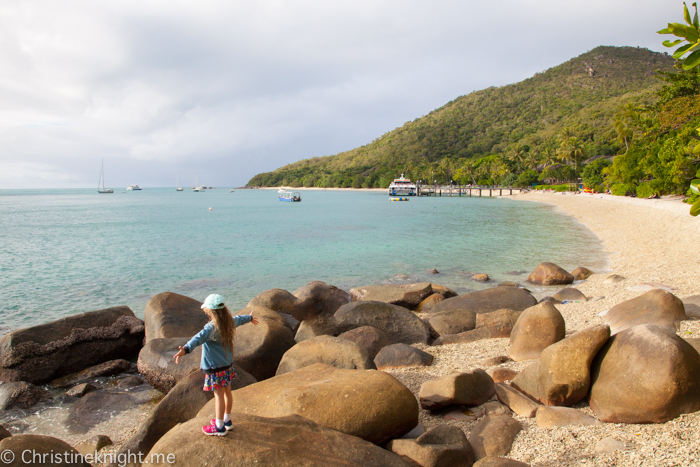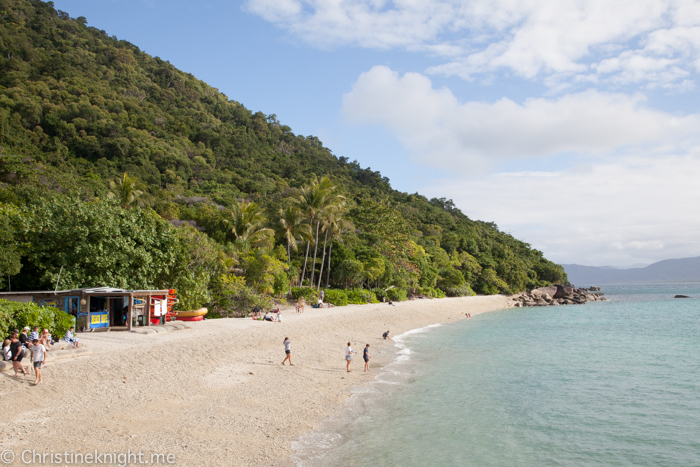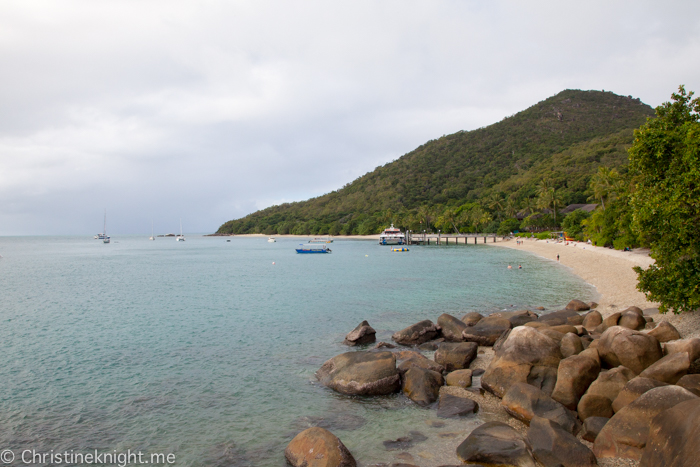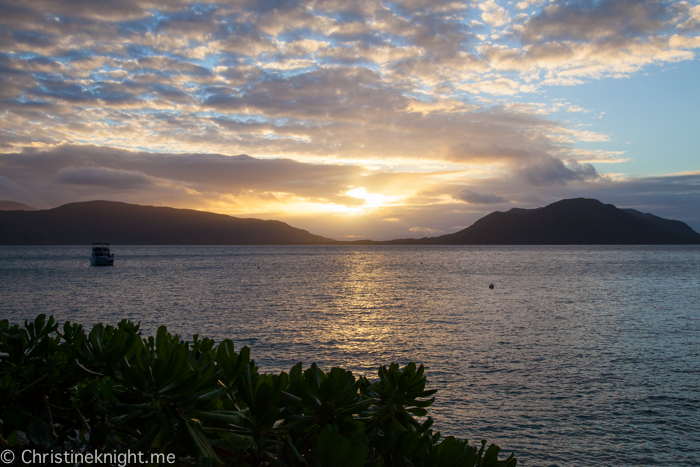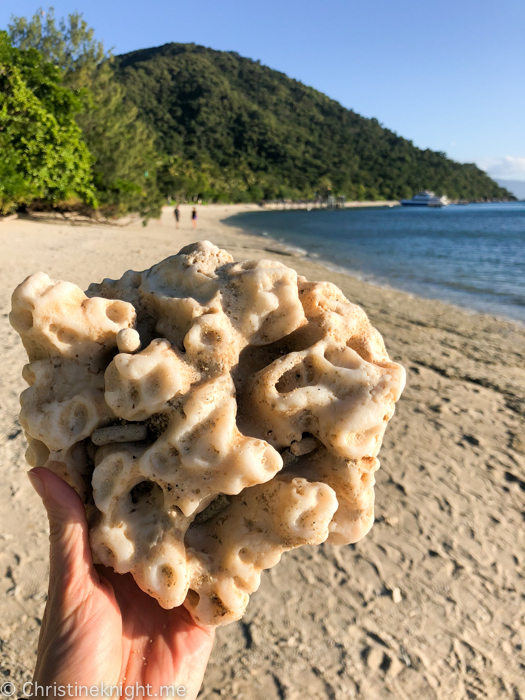 Get more information on Fitzroy Island and Fitzroy Island Resort.