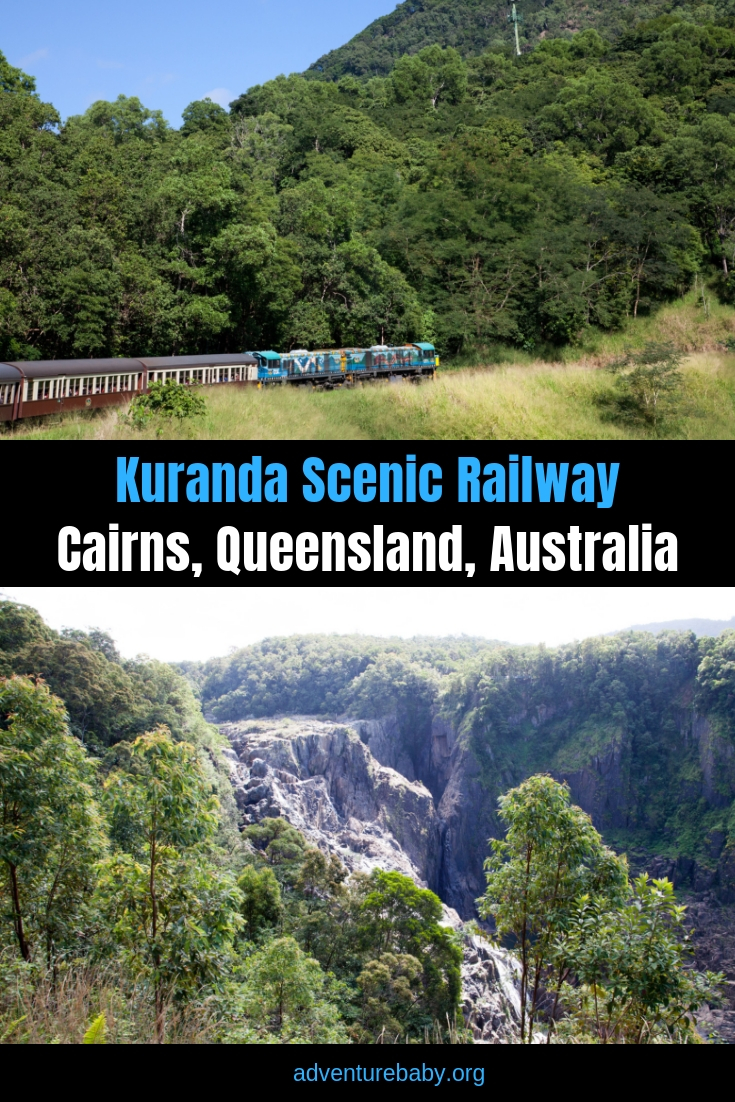 All Aboard The Kuranda Scenic Railway
Winding its way through the World Heritage-listed Barron Gorge National Park, the Kuranda Scenic Railway is an unforgettable journey through hand carved tunnels and spectacular scenery.
The Kuranda Scenic Railway has been running from Cairns, Qld, over the Great Dividing Range to the town of Kuranda on the Atherton Tableland, since 1891.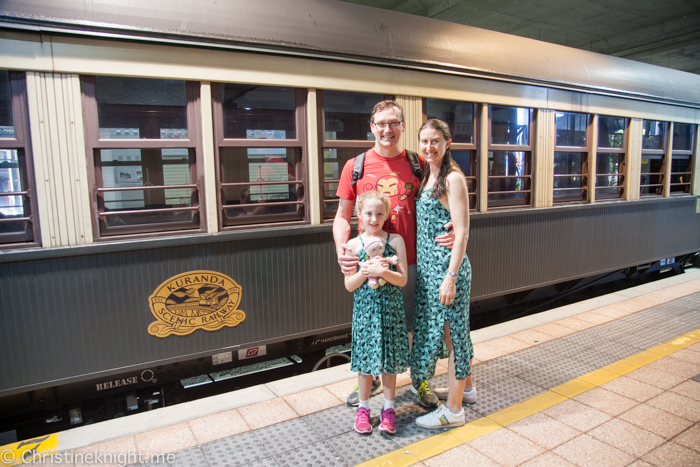 The journey takes approximately 2 hours, including a 10-minute stop at the Barron Falls Station for a quick look at the Barron Falls, and passing through 15 hand carved tunnels, 37 bridges as well as spectacular waterfalls.
Passengers can choose to start their journey in Cairns or at Kuranda, and can also select to take the train in a single direction and take the Skyrail Rainforest Cableway the other, or take the train in both directions.
We selected to start in Cairns and end our journey at Kuranda.
You can get more information on taking the Kuranda Skyrail Rainforest Cableway here.
Kuranda Scenic Railway Heritage Class vs Gold Class
The Kuranda Scenic Railway offers two ways to take this special journey – "Heritage Class" or "Gold Class".
Heritage Class just includes the basic journey in an original carriage with no added extras.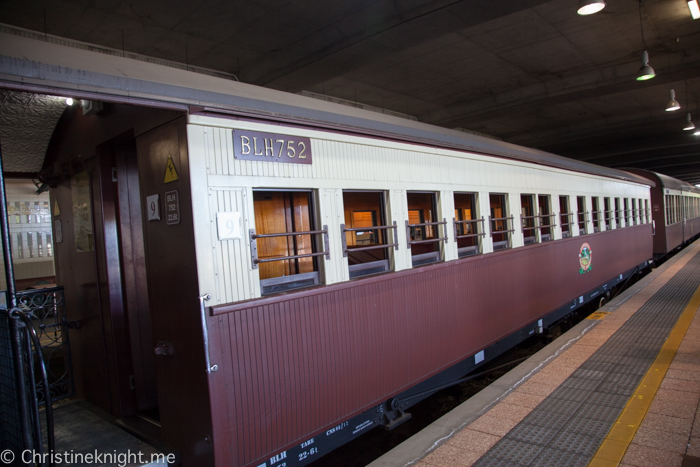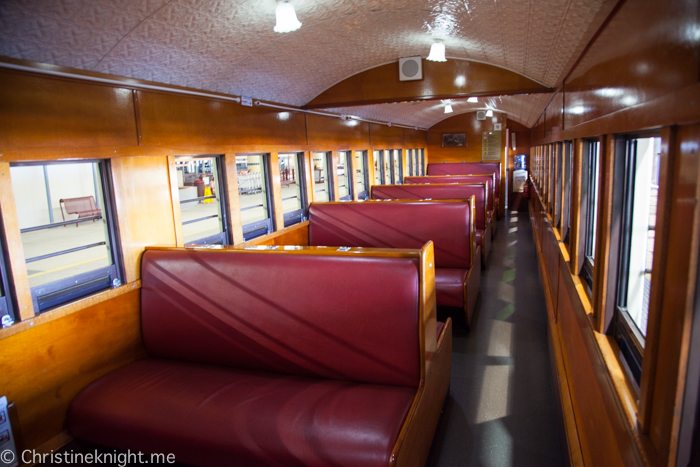 Gold Class offers the ability to travel in comfort with individual lounge-style chairs and dedicated host service.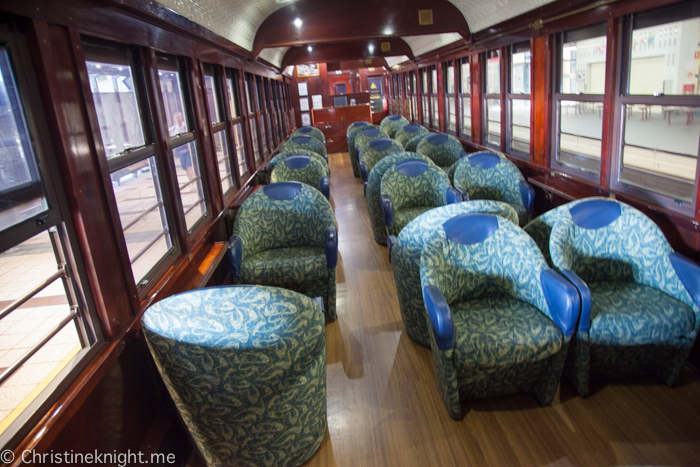 We have previously travelled in Heritage Class but decided to try Gold Class this time. Gold Class includes includes morning or afternoon tea featuring a selection of Queensland and local Tablelands produce such as Gallo Dairyland Cheese, Skybury Coffee, Wondaree Macadamias, Mango to Go (100% pure mango treat), freshly baked muffins, Sirromet wines and Great Northern Brewing Company Super Crisp Lager as well as a complimentary gift pack.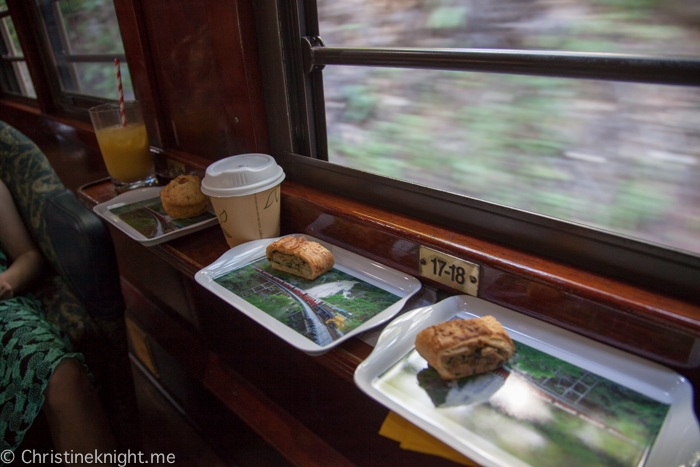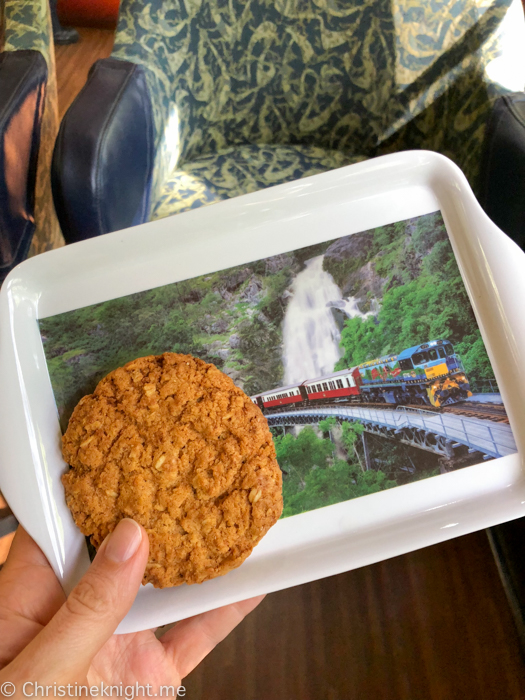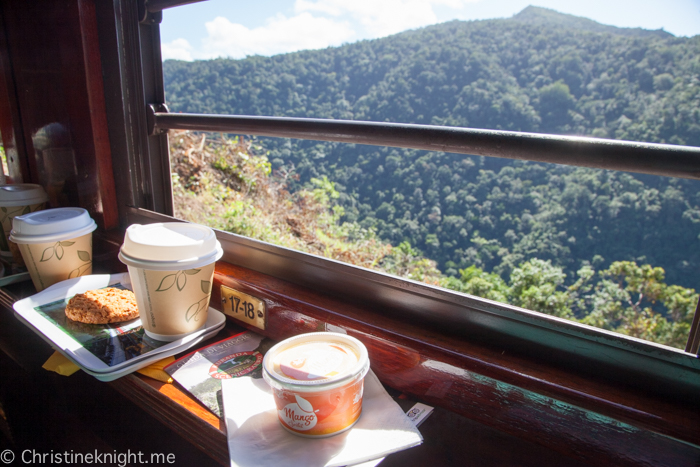 The Kuranda Scenic Railway gift pack includes Kuranda Scenic Railway badge, pen and postcard.
Gold Class also includes the option to take an exclusive tour of the Heritage-Listed Signal Cabin at Kuranda Station (for morning Gold Class service only. Ask your Guest Service Attendant for details).
Other Gold Class benefits on select departures: welcome tropical mocktails served in the pavillion area 20 minutes prior to the arrival of the train when boarding at Freshwater Station in the morning, and welcome drinks served onboard the train, 20 minutes prior to departure, when boarding at Kuranda Station in the afternoon.
The menu can't be altered if you have any dietary requirements, however the regular menu does always feature a gluten-free / vegetarian option.
Travelling Gold Class made the journey incredibly special. It was a relaxing, comfortable experience with constant snacks and drinks being supplied, in incredibly comfy chairs. We would absolutely travel this way again in the future.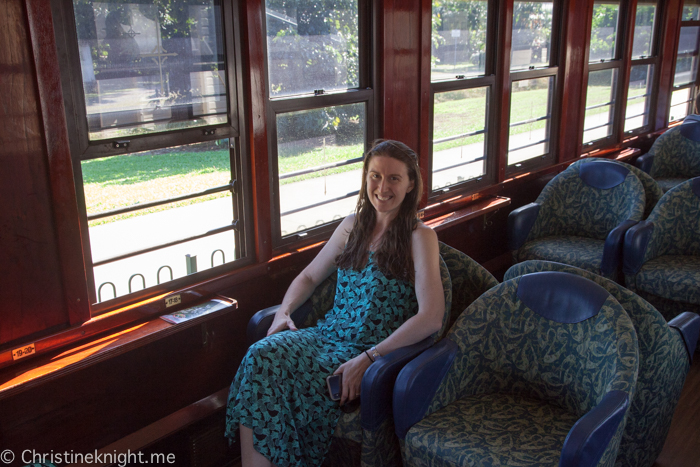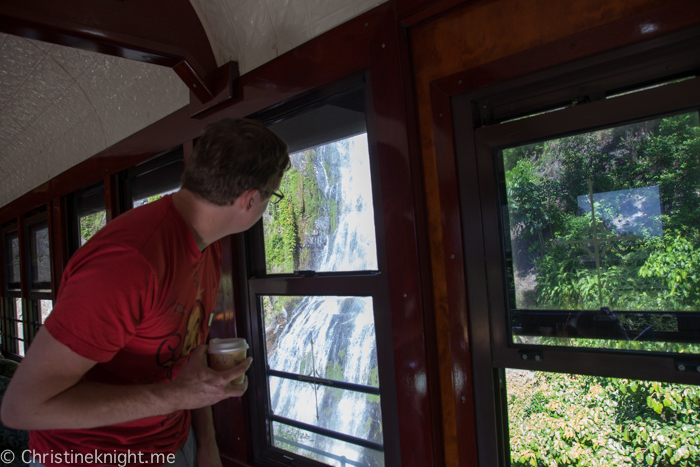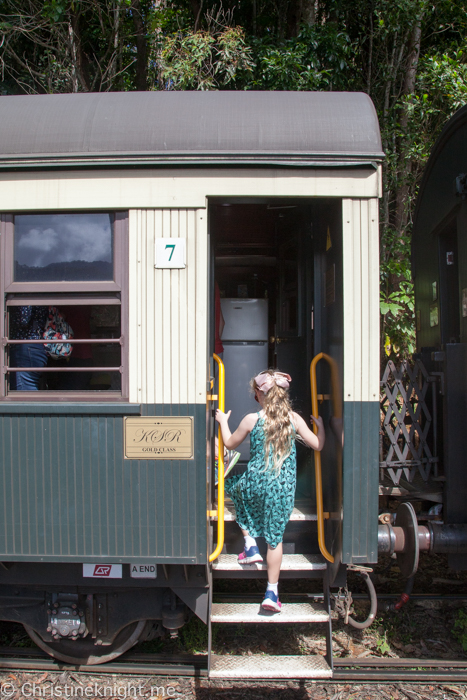 The journey from Cairns to Kuranda
We boarded at Cairns, the igirinating stop. The next stop is Freshwater, where the bulk of passangers board, followed by a pit stop at Barron Falls Station. There is ample time to get out and take photos of the beautiful Barron Falls during this time.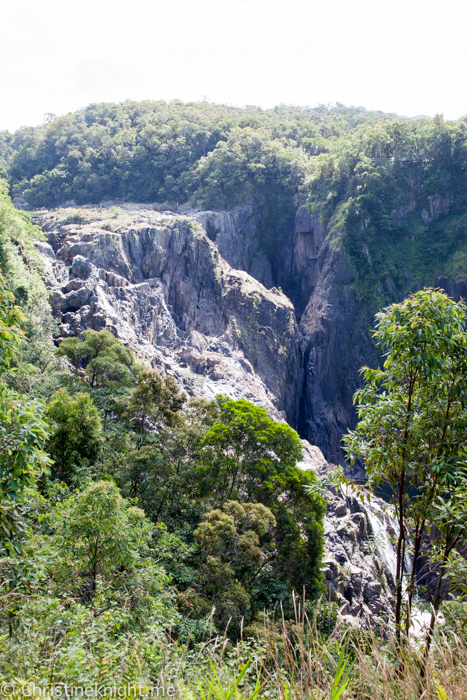 Keep cameras at the ready as the scenery on both sides of the train is spectacular the entire journey.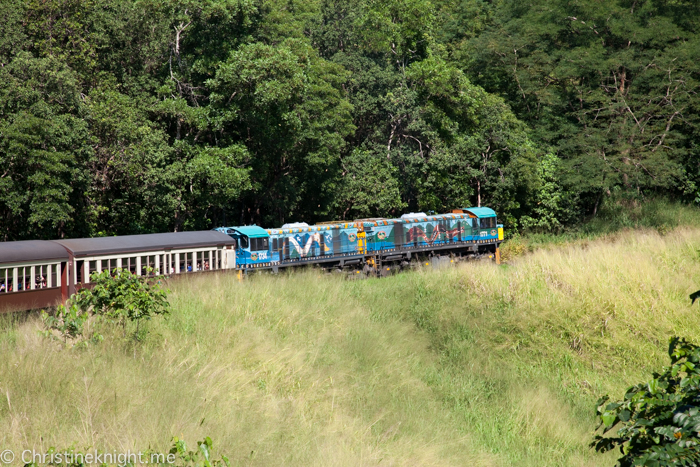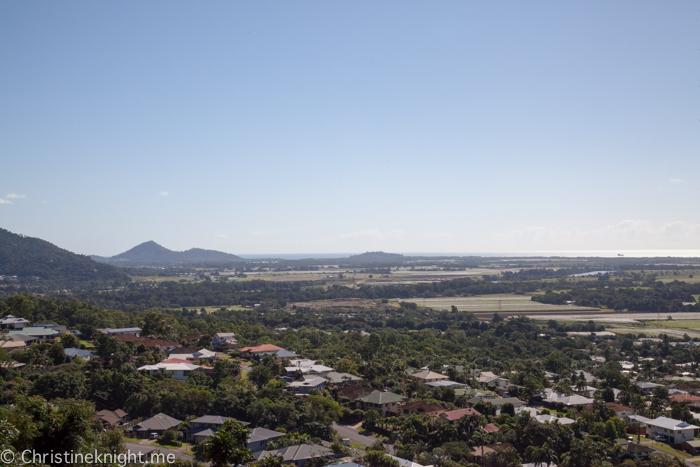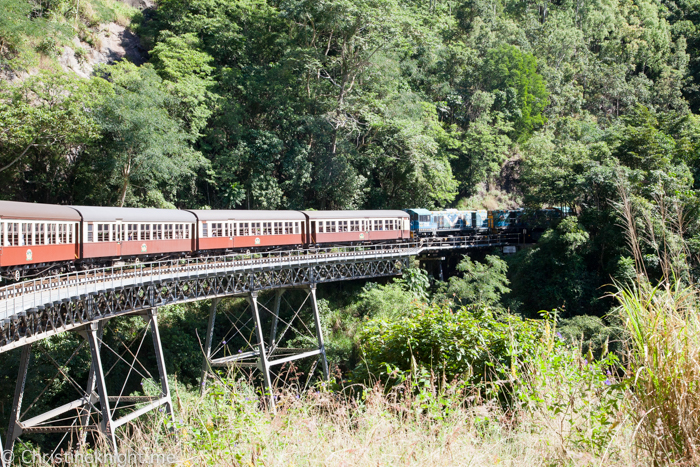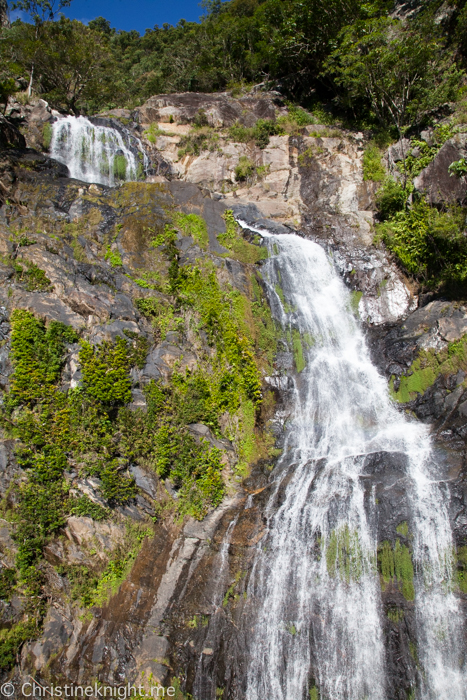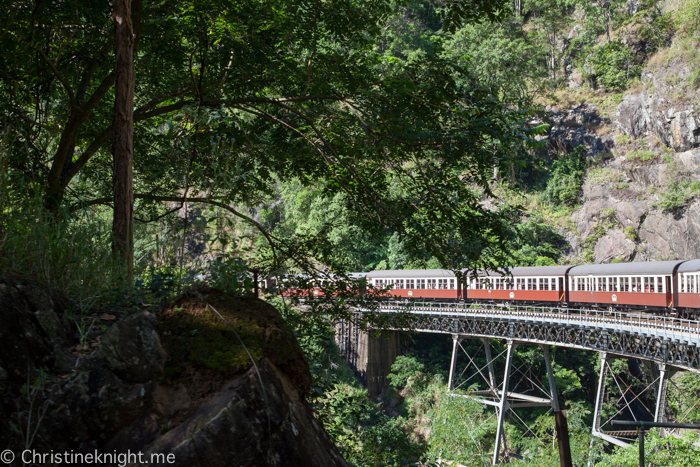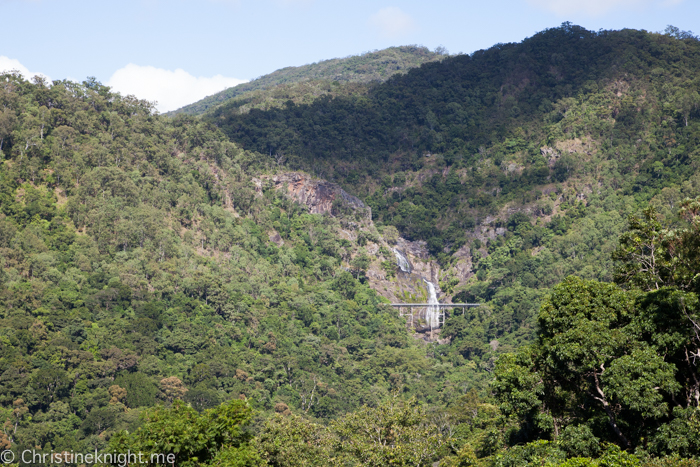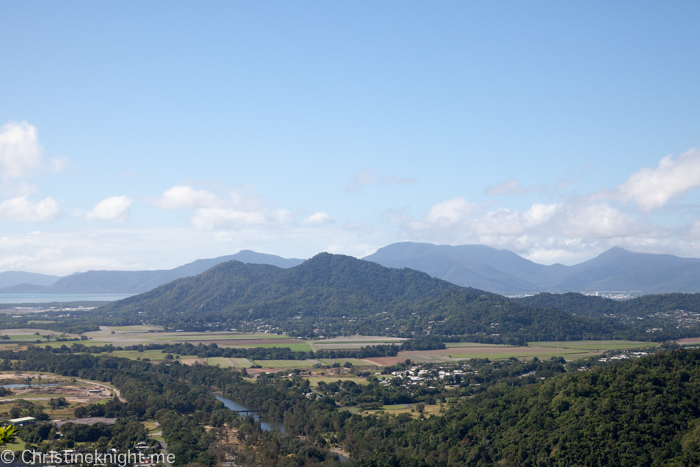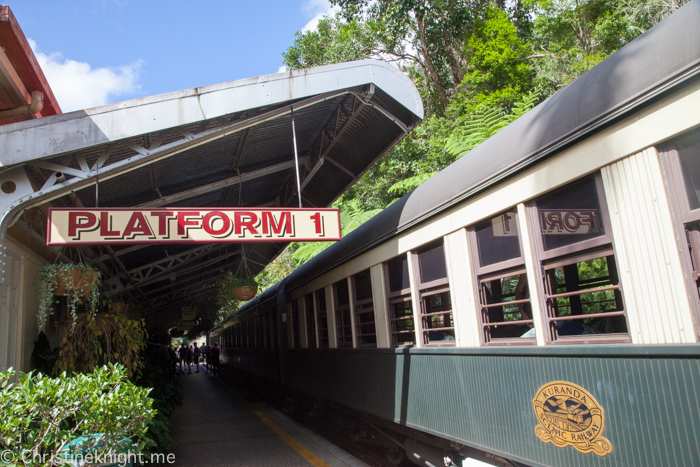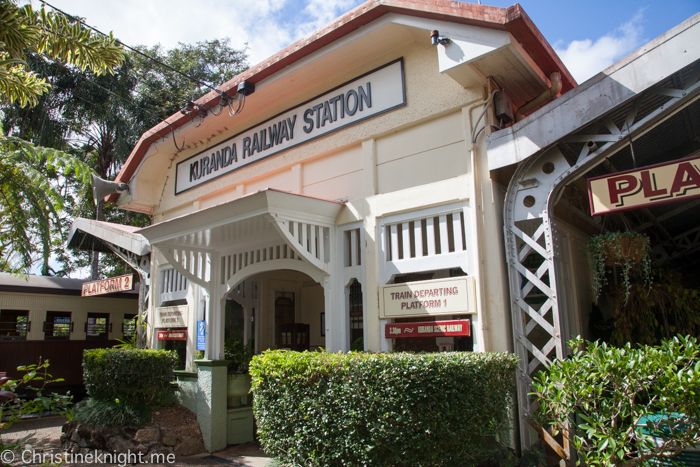 More information about Kuranda Scenic Railway
The Kuranda Scenic Railway operates daily all year, except Christmas Day.
TO KURANDA TIMETABLE
Depart Cairns station 8.30am & 9.30am
Depart Freshwater station 8.55am & 9.55am*
Arrive Kuranda 10.25am & 11.25am
FROM KURANDA TIMETABLE
Depart Kuranda 2.00pm & 3.30pm*
Arrive Freshwater 3.32pm & 5.02pm
Arrive Cairns 3.55pm & 5.25pm
*Gold Class is available on selected departures
Bookings are highly recommended. Our Gold Class cabin was completely full. I suggest combining the journey aboard Kuranda Scenic Railway with a Skyrail Rainforest Cableway experience in the other direction, and also allowing plenty of free time in Kuranda to explore.
Kuranda Scenic Railway Gold Class
Gold Class offered on the following services:
9.55am departure from Freshwater Station to Kuranda
3.30pm departure from Kuranda to Freshwater
Please Note: No Gold Class service is offered between Cairns and Freshwater Station. All customers are welcome to commence or end their journey at Cairns Station, however the special service does not run between Freshwater and Cairns Stations.
Information regarding prams and strollers
Collapsible prams and strollers can be stored under the Heritage Class seats provided they are no more than 25cm in height once collapsed.
A limited number of non-collapsible or large collapsible prams and strollers may be accepted on a Kuranda Scenic Railway service. They can be stored in the Accessibility (PWD) carriage wheelchair spaces if they aren't being used for wheelchairs, in the guards van or in the luggage storage section on each service. The acceptance of larger prams and strollers on each Kuranda Scenic Railway service is at the discretion of the onboard staff and subject to available space on the day. Children are not allowed to travel on the train in a stroller or pram for safety reasons.
Wheelchair accessibility​​
Wheel chair access at Cairns, Freshwater & Kuranda stations
Wheel chair Ramp at Cairns station
Wheel chair lift at Freshwater & Kuranda stations
Wheel chair access at Barron Falls station is unavailable
When booking please advise Reservations you require wheelchair access, so that we are able to provide the appropriate assistance
Things to do in Kuranda Village
Allow plenty of time at Kuranda Village to visit the attractions, markets and restaurants. Read more about things to do in Kuranda Cairns.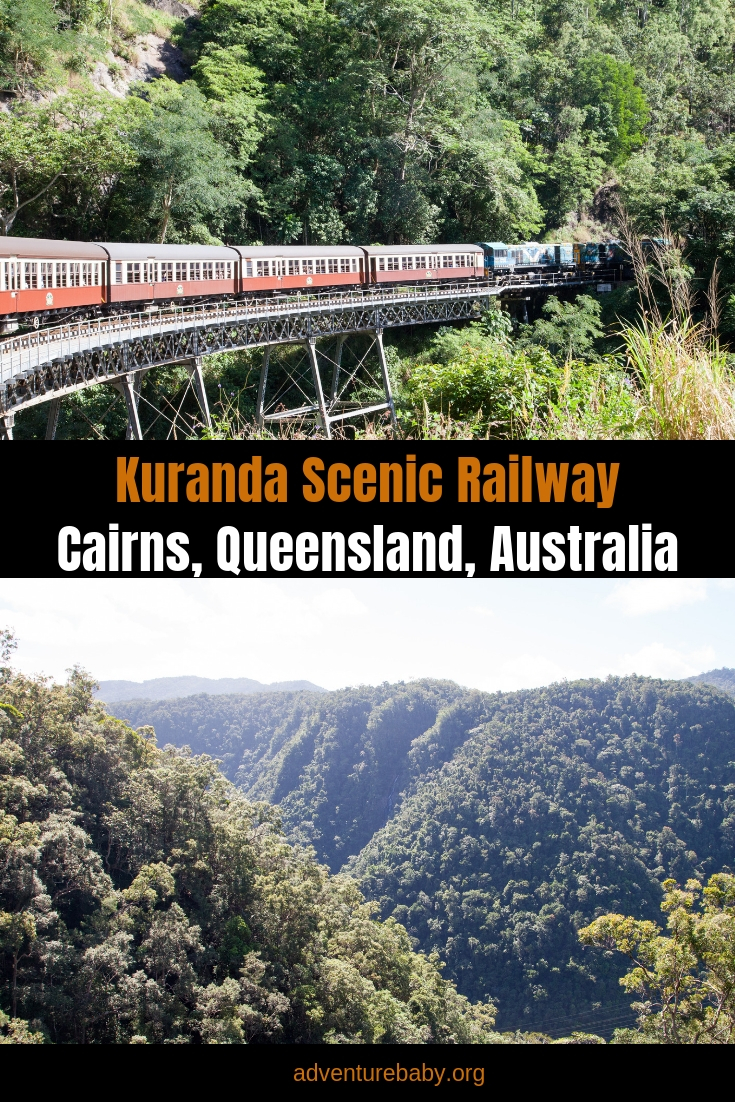 We were hosted by Kuranda Scenic Railway. All opinions are my own.