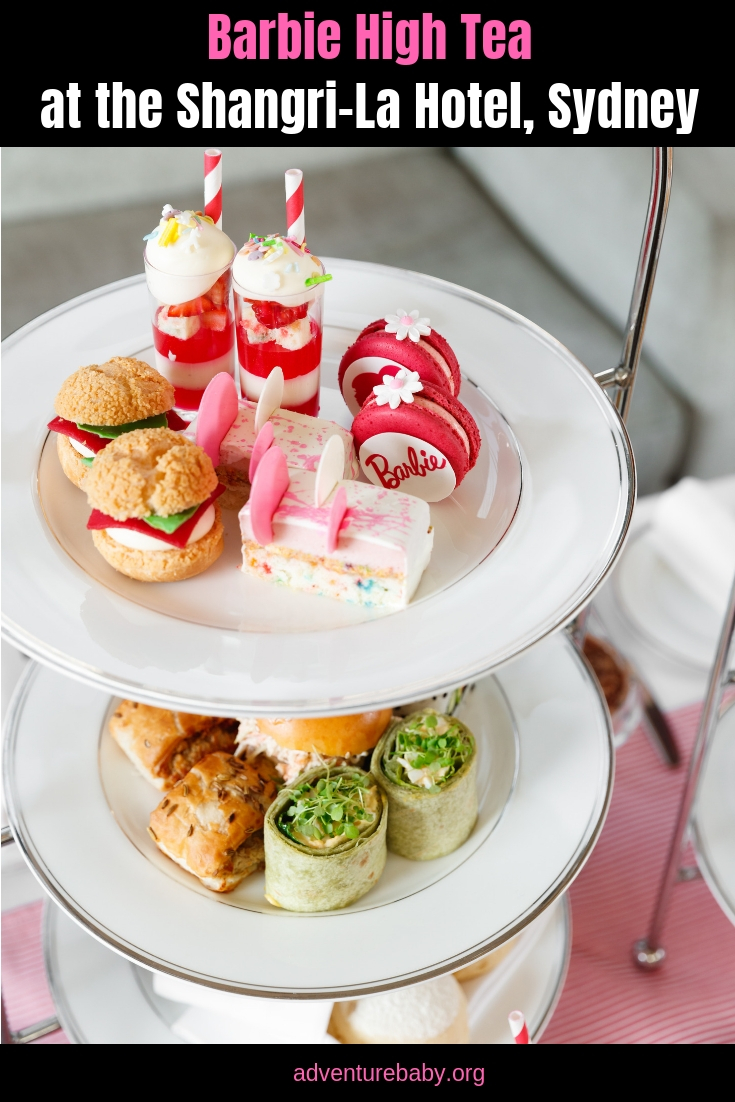 Live your Barbie world dreams out at the outrageously pink Barbie High Tea at the Shangri-La Hotel, Sydney.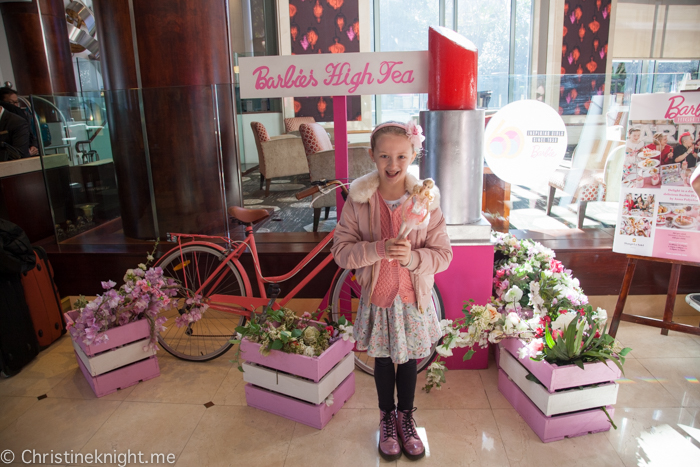 From 5 to 28 July 2019, Executive Pastry Chef Anna Polyviou's creative and delicious High Tea is on offer, themed to pay tribute to the iconic Barbie.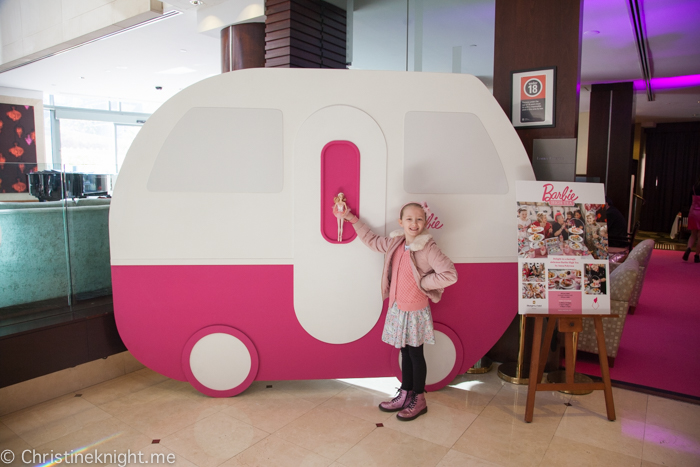 The lower Lobby Lounge is decorated beautifully in Barbie pink, including a retrospective photo wall of Barbie throughout the years and a throne for taking photos. Kids will adore the Barbie play house that is tucked into a little nook.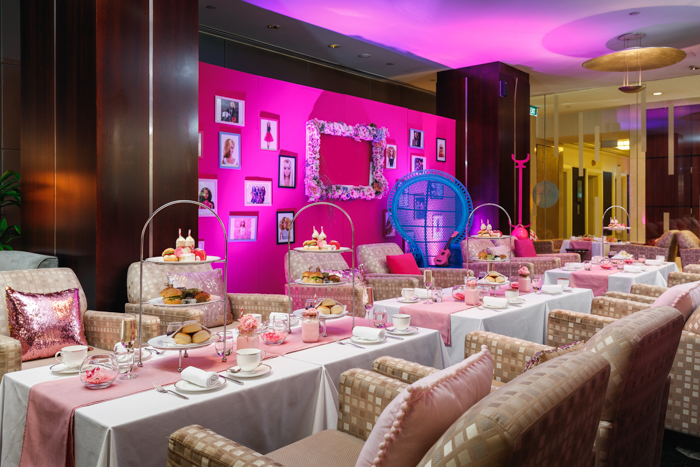 Kids can BYO Barbies or play with the Barbie that is given to each adult throughout the meal to take home and keep.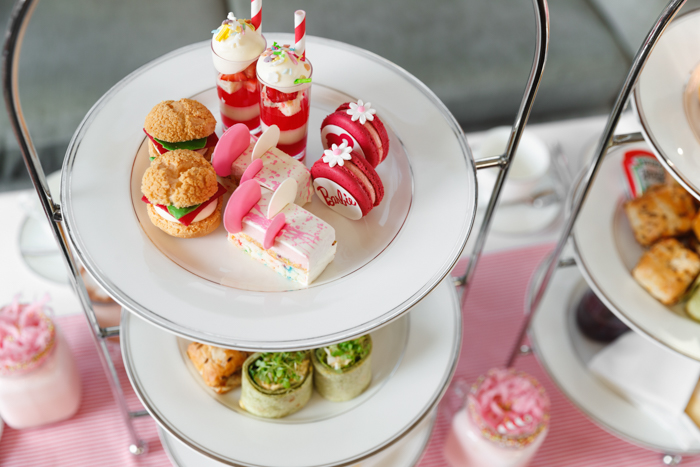 Sweet
"Fairy Bread Cake"
(white chocolate mud cake, bubble gum, Froot Loops)
"Rainbow Trifle"
(rainbow jelly, vanilla creme, fruit salad)
"Barbie Macaron"
(strawberries and cream butter creme)
"Choux Burger"
(apple compote, rhubarb jelly, cinnamon crumble)
Pink Whippy Ice Cream
Savoury
Vegetable Sushi
(avocado, cucumber, carrot)
Sausage Roll
(flaky pastry, pork mince, tomato sauce)*
Chicken Sandwich
(roast chicken, coleslaw, mayonnaise)**
Egg Wraps
(egg, lettuce, wrap)
* Vegetarian substitute was a vegetable quiche
** Vegetarian substitute was the sandwich minus the chicken
Scones
Buttermilk Scones, Clotted Cream, Mixed Berry Jam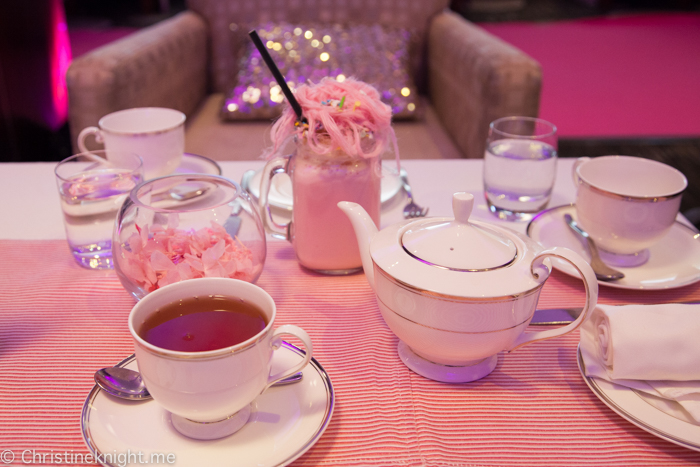 Add ons
Barbie Shake $12
Glass of Chandon Rose $15
Glass of NV Chandon Brut Sparkling $15
Glass of NV Verve Cliquot Champagne $30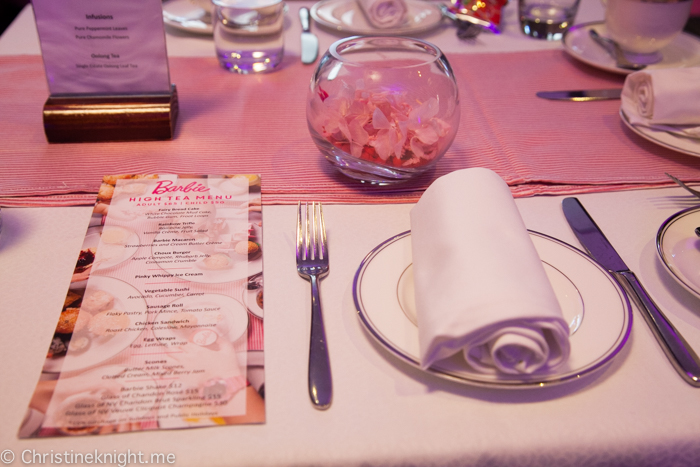 The theming at the High tea is extraordinary. Everywhere is decorated neo pink, pink, pink. With these thoughtful details, the mood is for a festive, fun dining experience.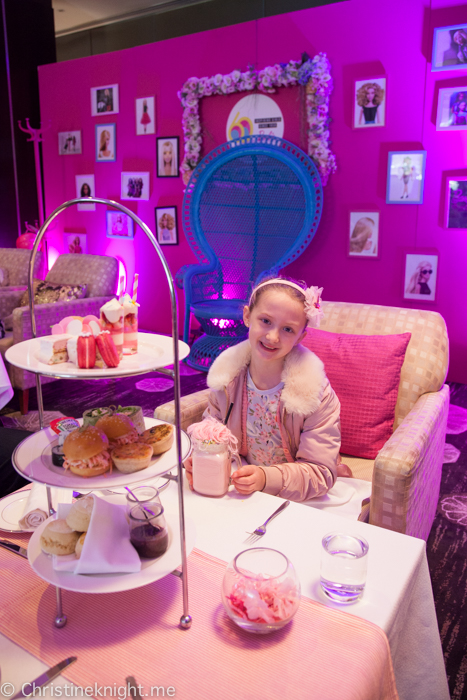 Kids are even offered a sweet treat on arrival, with a variety of vintage lollies on offer including ring pops and candy necklaces.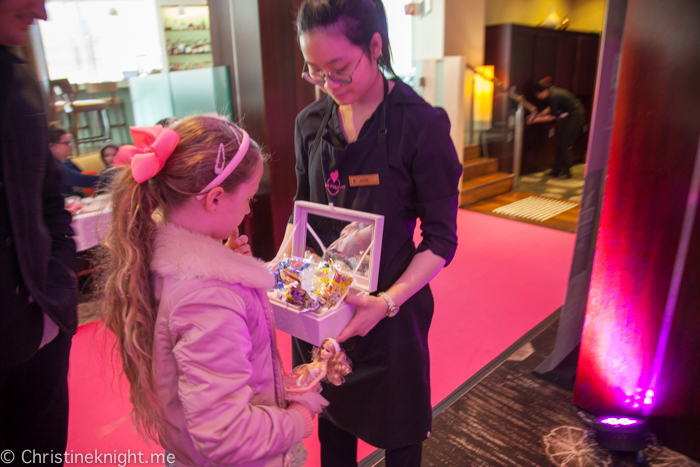 We loved the kid-friendly savoury items, with the plain sushi a hit and egg wraps my favourite. The scones were fresh, fluffy and delicious, and the sweets inventive and so bright it felt bad to eat them.
The creative choux burger was a delicious surprise – adorably made to look like a burger but tasing like an apple sweet. The rainbow trifle was the other favourite desert, with the bright, tangy jelly popping with flavour in between layers of fruit and cream.
It's a must to add the Barbie shake! So fun and delightful to look at, the kids just adored eating the fairy floss from the top before drinking the strawberry shake underneath.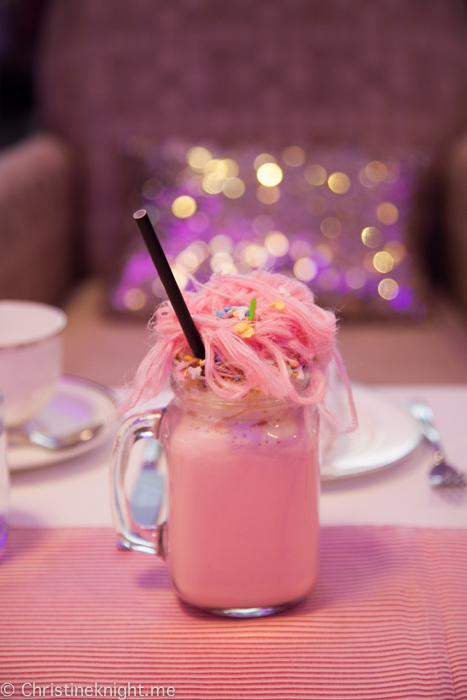 As always, at the Shangri-La Hotel, the High Tea is pink perfection!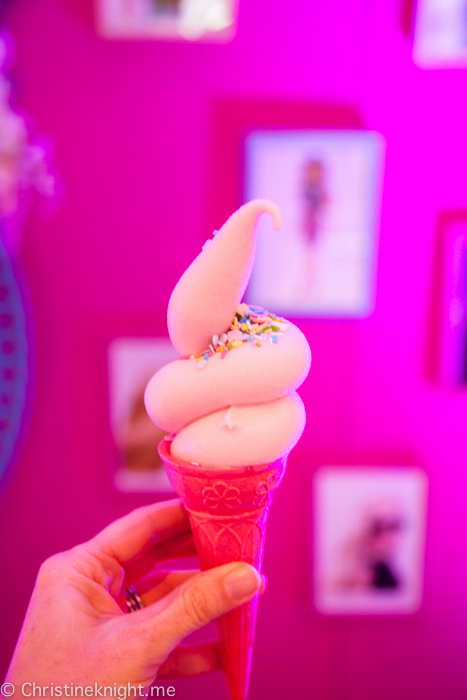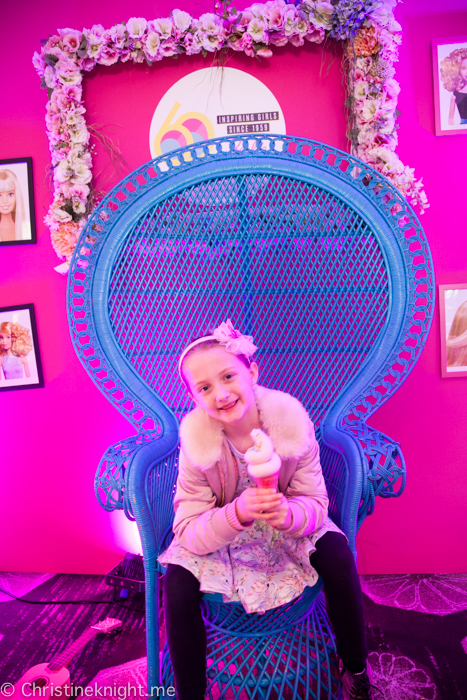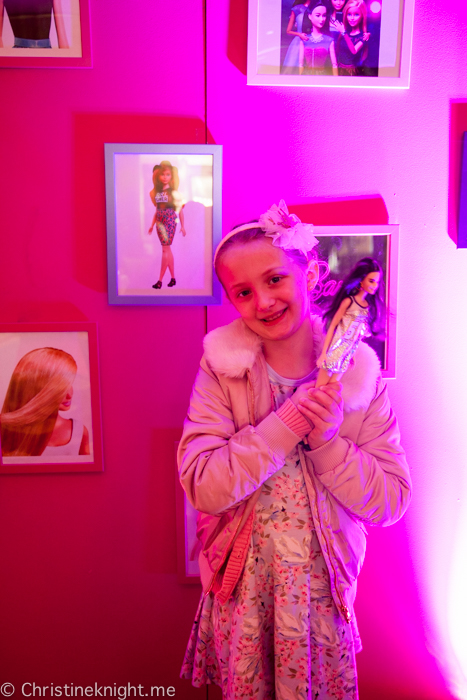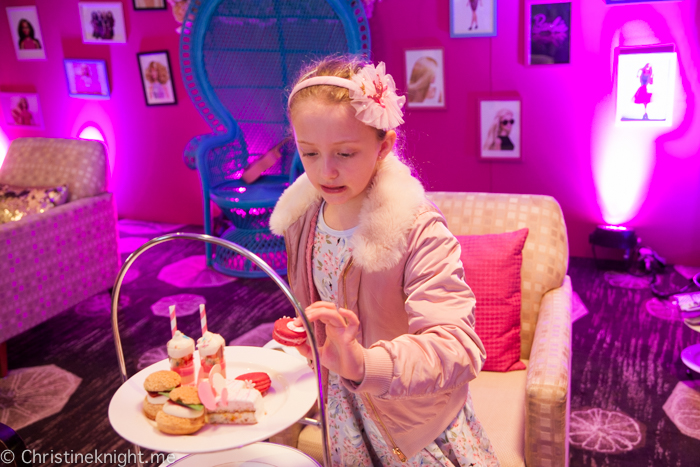 The Barbie High Tea, priced from $50 per child and $65 per adult *** (adult price includes a Barbie Doll), is available daily at The Lobby Lounge from 5 to 28 July 2019, between 11 a.m. and 12:45 p.m.; 1:15 and 3 p.m., and between 3:30 and 5:15 p.m.
***15% surcharge on Sundays and public holidays.
The Lobby Lounge, Shangri-La Hotel
176 Cumberland Street,
The Rocks, Sydney, NSW 2000
Phone: (02) 9250 6000
Prices: $$$
Bookings are essential. Please call (61 2) 9250 6000 or email dine.slsn@shangri-la.com
Online: shangri-la.com/sydney/shangrila/offer-detail/dining/easter-garden-high-tea/
Get Directions
We were hosted for this magical high tea. All opinions are my own. Additional images courtesy of the Shangri-La Hotel.
More things to do in Sydney
Find a list of the best things to do in Sydney with kids here.
Find things to do in Sydney for free here.
Get a list of the best kid-friendly beaches in Sydney.
Find the best animal experiences in Sydney here.
Visit the best kid-friendly restaurants in Sydney here.
Find the best high teas in Sydney here.
Head to one of the best museums in Sydney here.
Check out things to do in Sydney on a rainy day here.
Enjoy one of the best ocean pools in Sydney here.
First time visiting Sydney? Get tips for first time visitors to Sydney here.
Cool down at one of these free water parks in Sydney.
Find the best vegetarian and vegan restaurants in Sydney here.