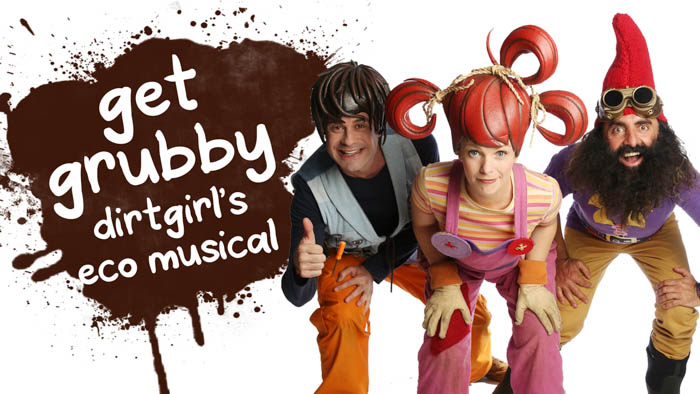 With a daughter who loves every kind of Disney princess out there and doesn't like to do anything "yucky", her latest love of dirtgirl has been a refreshing change for our family. We watch dirtgirlworld on ABC Kids, and I really enjoy the environmental messages in the show, as well as how it encourages kids to "get grubby" outside.
When I found out the dirtgirl's Get Grubby Musical was coming to the Sydney Opera House, I was keen to take Cheese to see it. The show is recommended for kids aged 3 and up, and I found my four-and-a-half year old to be the perfect age for it.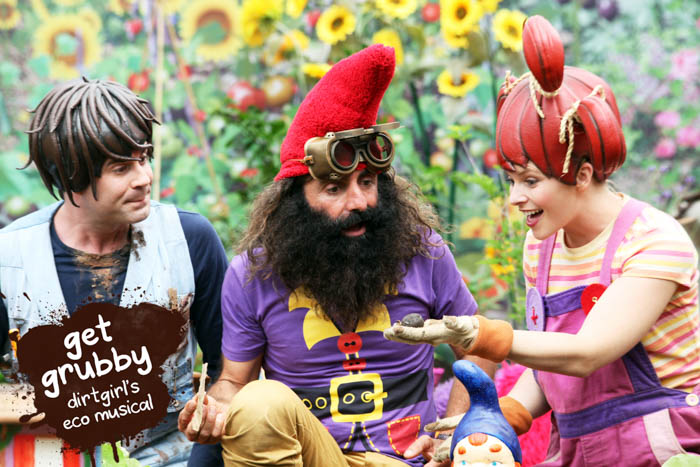 Dirtgirl, scrapboy and Costa the garden gnome appear live on stage in a show filled with upbeat music, slapstick jokes and, underneath it all, a serious environmental issue that effects our planet – the loss of our bees. It's an issue my husband and I have discussed ourselves before with concern, so it was great to see it being played out before us in a way that kids could understand and get involved with, too.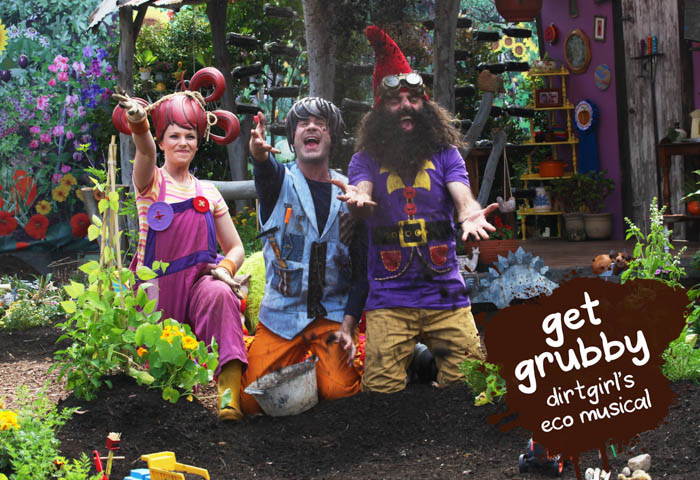 Fans of the TV show will enjoy seeing their colourful favourite charaters come to life before them, against a beautiful backdrop representing the most fantastical garden you'll ever see. When presented by these hip eco-warriors, making compost out of chook poo and saving water have never been funkier. Catchy, interactive songs engaged the young audience, with the figure-of-eight bee "bum" dance being repeated frequently on our way home.
After the show, the cast came around to the foyer to meet their young fans. They were very friendly and encouraging with their tiny grubby friends, and the kids were so excited to take pictures with them and get their autographs.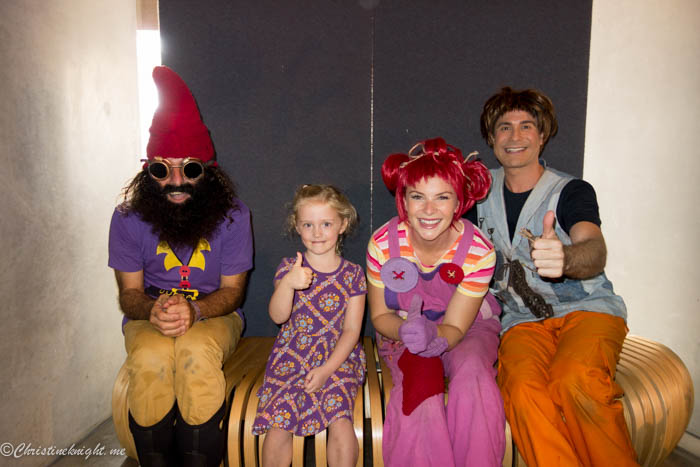 We walked away from the show thoroughly entertained, and with a desire for gardening in my daughter's head. Time to get grubby!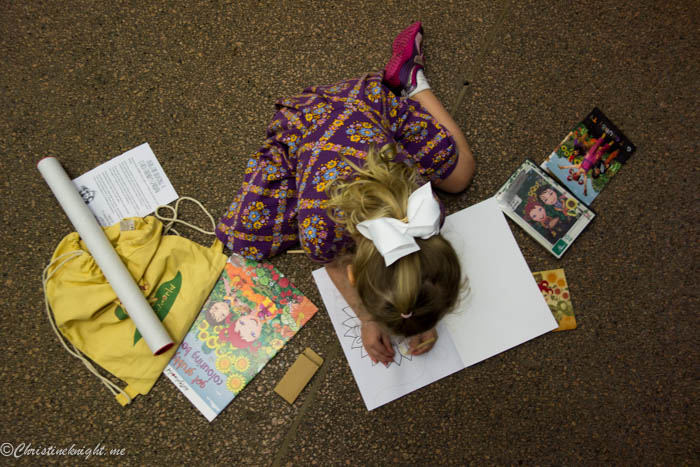 dirtgirl's Get Grubby Musical
Sydney Opera House
January 22-24, 2016
Thank you to the Sydney Opera House for hosting us. All opinions are my own.
More things to do in Sydney
Find a list of the best things to do in Sydney with kids here.
Find things to do in Sydney for free here.
Get a list of the best kid-friendly beaches in Sydney.
Find the best animal experiences in Sydney here.
Visit the best kid-friendly restaurants in Sydney here.
Find the best high teas in Sydney here.
Head to one of the best museums in Sydney here.
Check out things to do in Sydney on a rainy day here.
Enjoy one of the best ocean pools in Sydney here.
First time visiting Sydney? Get tips for first time visitors to Sydney here.