Disneyland Princess Breakfast Adventures
Enjoy a 3-course breakfast and enchanting encounters with some of your favourite Disney Princesses at Disneyland Princess Breakfast Adventures, located inside the Grand Californian Resort & Spa.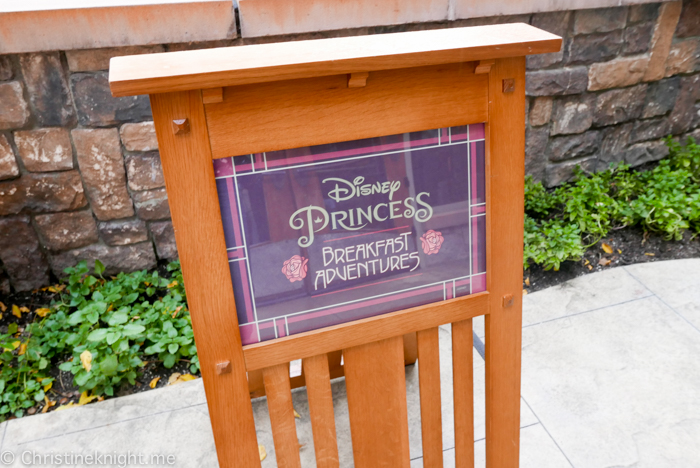 This character breakfast is a special experience to share with someone special. We booked in to celebrate our joint birthdays together, and enjoyed and unforgettable morning that was well worth the hefty price tag.
The Disney Princess Breakfast Adventures is held at the Napa Rose restaurant inside Disney's Grand Californian Hotel & Spa. More than a simple meal, this is an experience that takes an entire morning, complete with entertainment, a three-course breakfast and take-home gifts.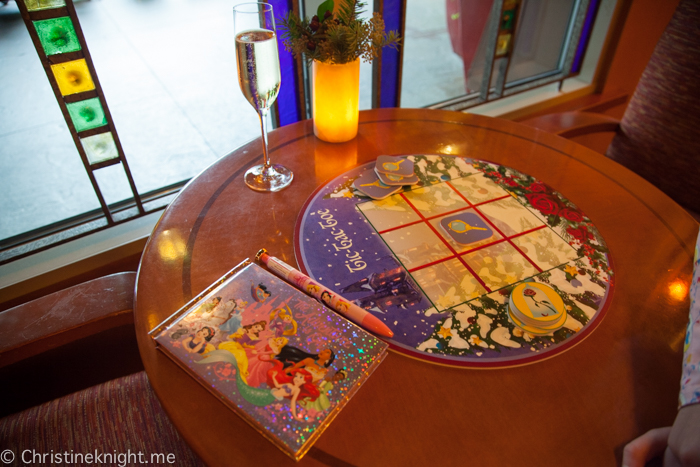 The experience begins with check in at the Napa Rose, and the gift of an autograph book and pen for each child and a glass of sparkling wine for each adult.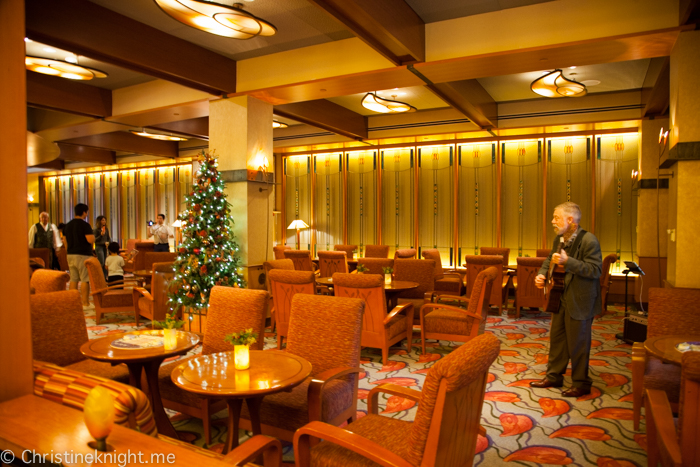 Our party of two was then shown to a lounging area to enjoy live guitar music (Disney songs, of course), and a game of Princess tic tac toe, while we waited to meet our first princess of the day, Belle.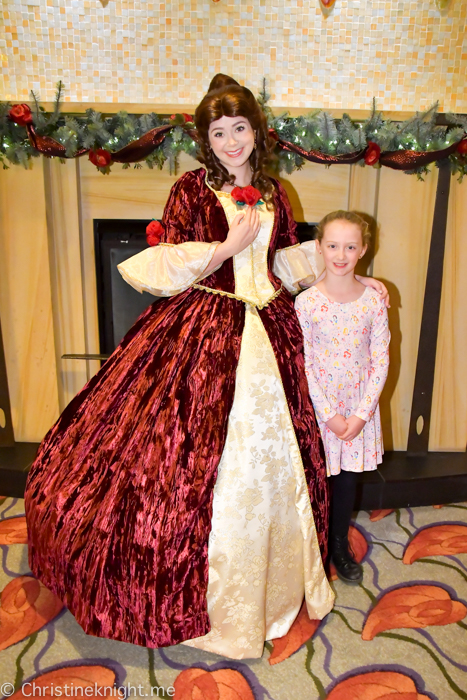 Beautiful Belle appeared in a winter dress when we met her in December, and our photographs with her were taken by a Disney PhotoPass photographer and were included in our breakfast package.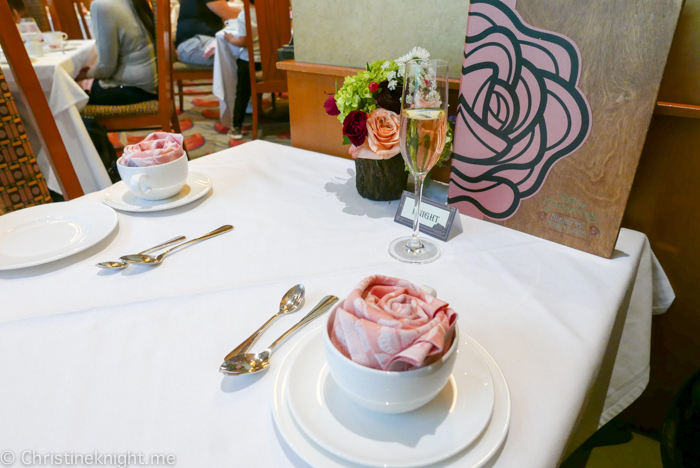 After our meeting with Belle we were shown to the dining area and sat at a table where we would receive our meal and meet more princesses.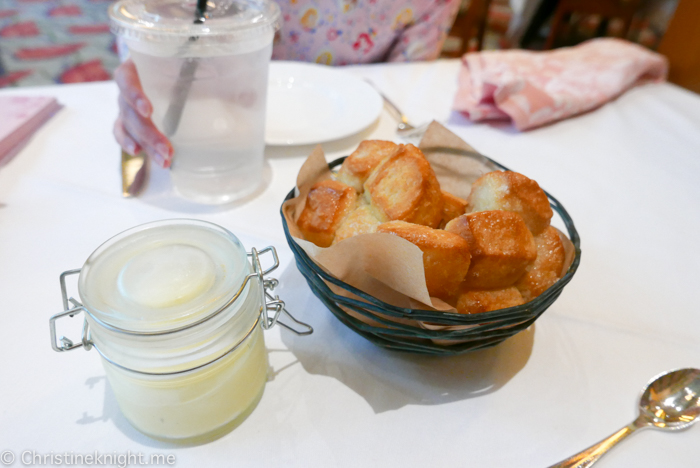 A starter of a sunrise citrus and vanilla bun with raspberry glaze, and assorted fruit slices and berries arrived first, along with a choice of beverages (unlimited iced tea for me and lemonade for the kid).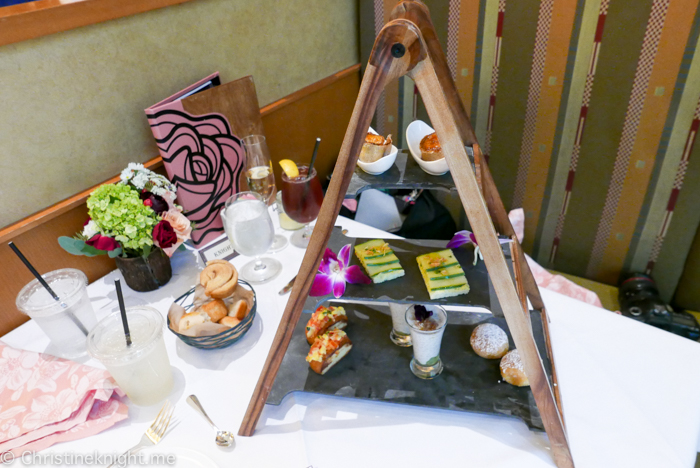 Next arrived the 3-tier tower of appetizers, which included chia and granola parfait with mango, kiwi and coconut; cucumber sandwiches, mini scrolls and a lobster salad salad crostini minus the lobster.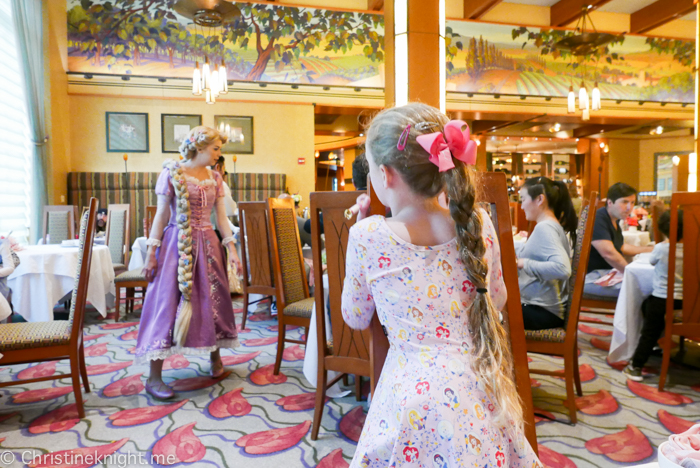 While we munched on our appetizers we met more princesses. Rapunzel, Aurora, Jasmine and Tiana. The princesses roamed the room and took a great deal of time with each party, some returning again for a second chat.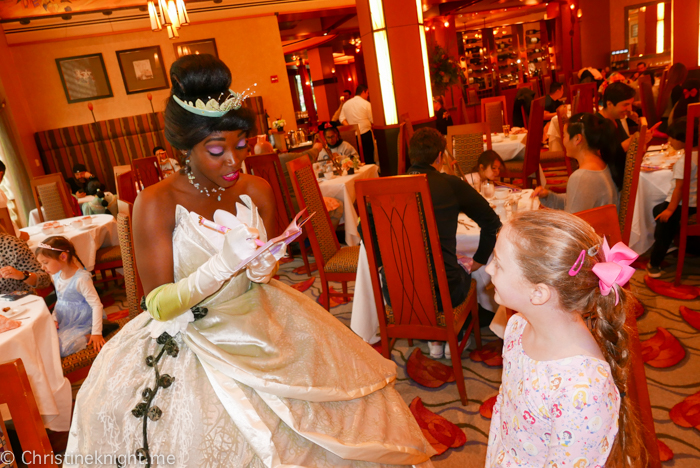 They were extremely friendly and took a lot of time and care fo question us on our trip and compliment my daughter's dress, which was printed with several of the princesses.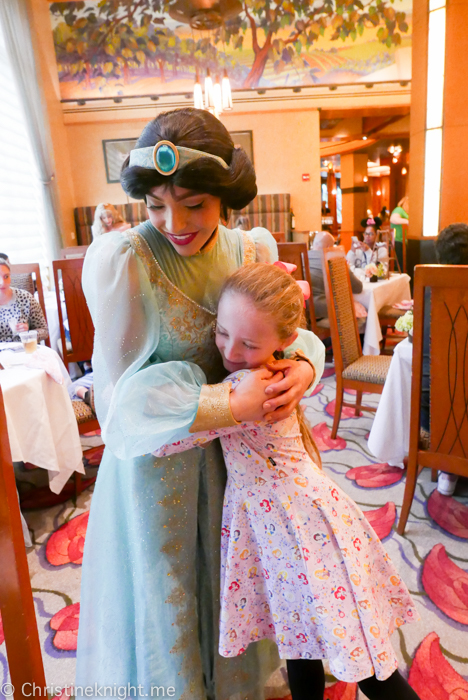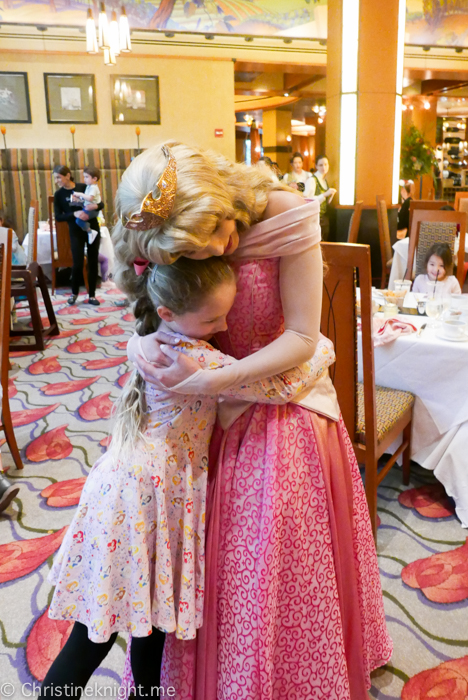 Once we had our fill of the appetizers it was time for the main course buffet. We found plenty of food to eat even being vegetarian – I'm sure the kitchen would have been happy to accomodate requests if needed for other types of food.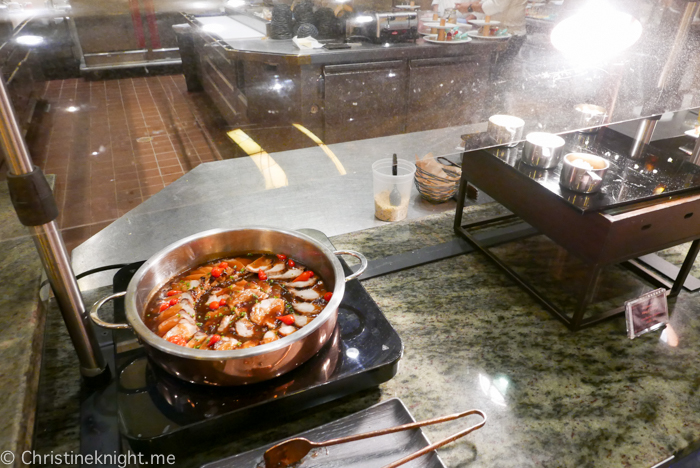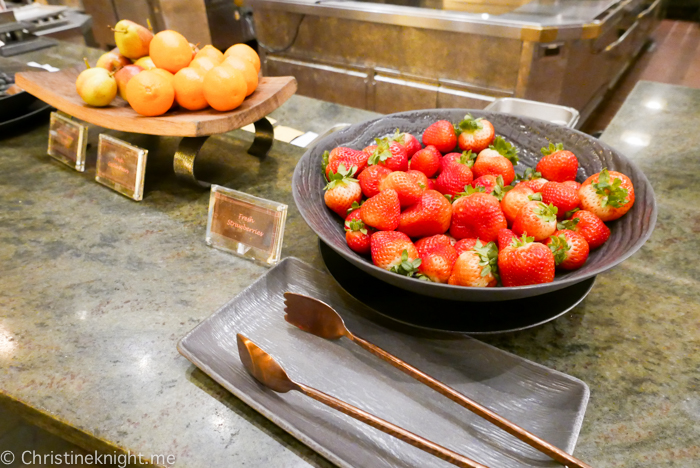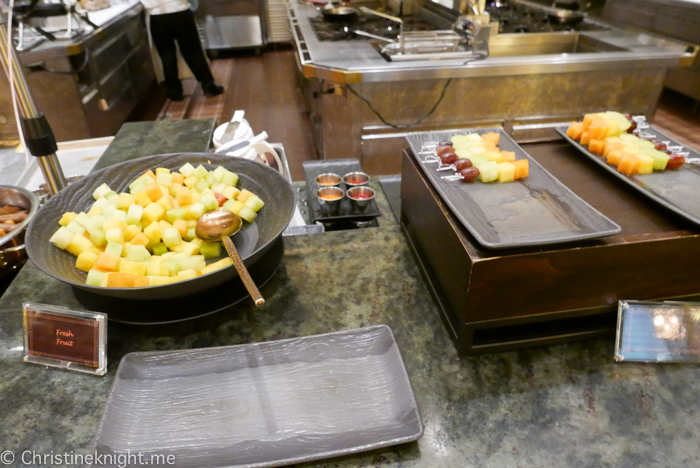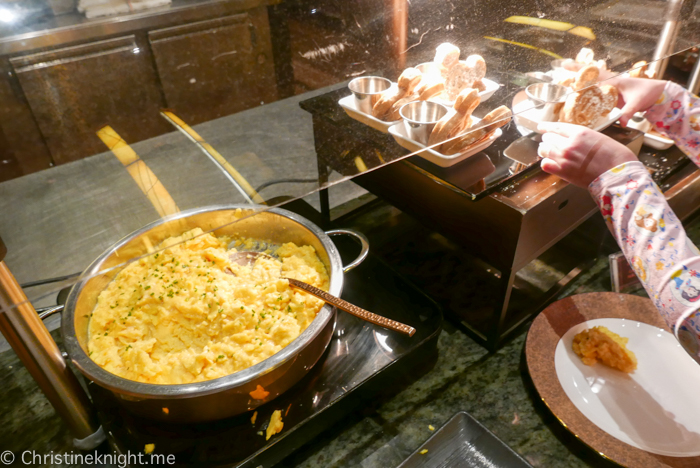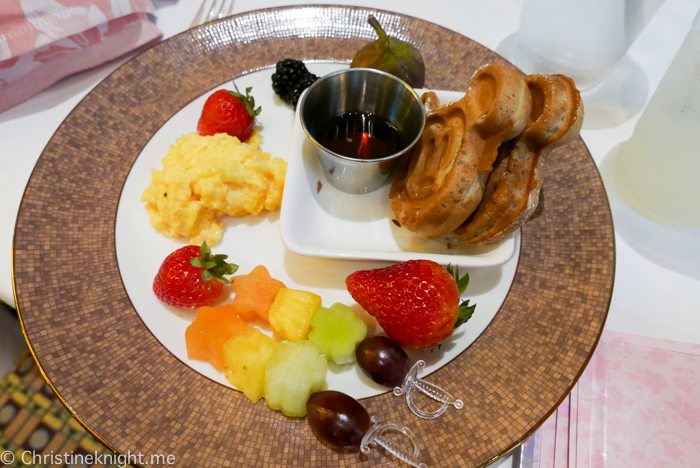 Main course buffet: Kids can choose from house-made mac 'n' cheese, princess waffles, and barbecue beef sliders. Adult options include perfect scrambled eggs, artisan turkey sausages, vegetables and a rotating selection of meats, such as roasted nueske pork belly and braised short ribs.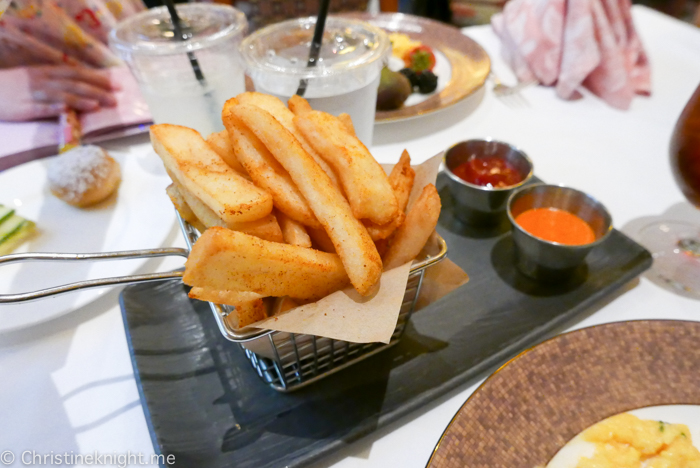 A huge bowl of amazing potato wedges also arrived at our table. The eggs were the most perfect eggs we have ever tasted in our lives and we would love to go back again just to eat these eggs.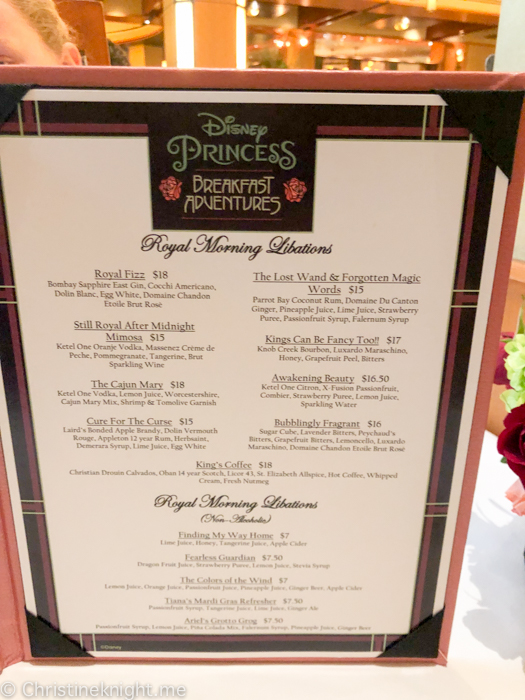 There is an additional drinks menu if you or your child desires options that aren't included in the standard package. After seeing the light-up "Colors of the Wind" $7 mocktail at another table, we had to have one. It's a light and fruity drink suitable for kids, with a take-home light up ice cube inside.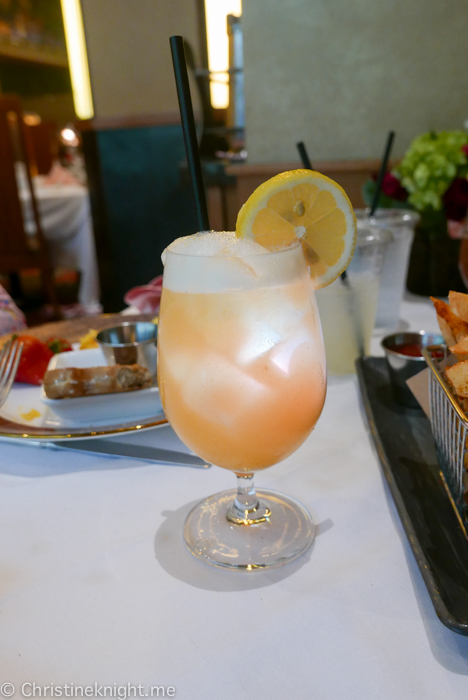 Incredibly there was more food still to come.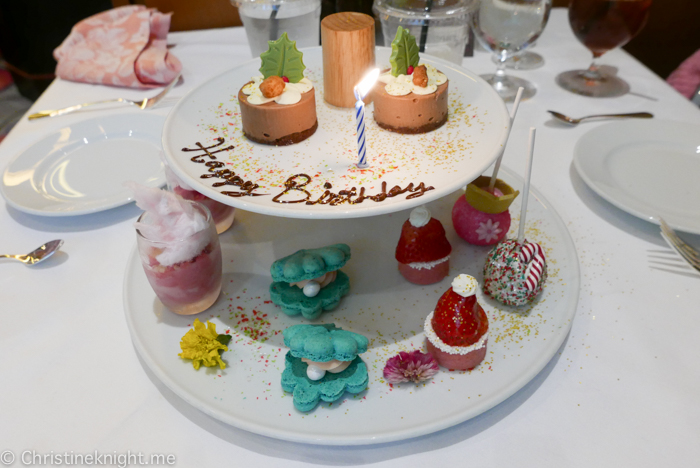 The third course is Royal Desserts: a selection of treats, such as chocolate princess cake pops, petite raspberry tarts, seashell macarons, sorbet and more.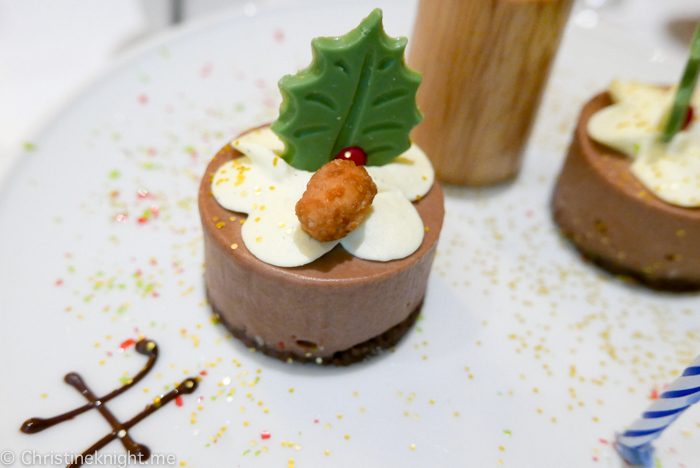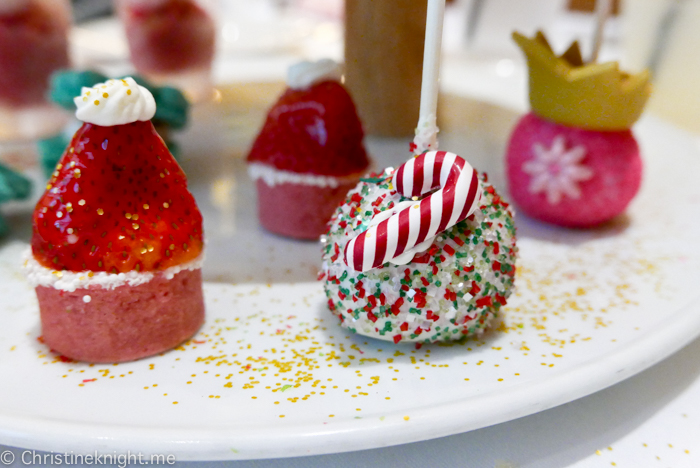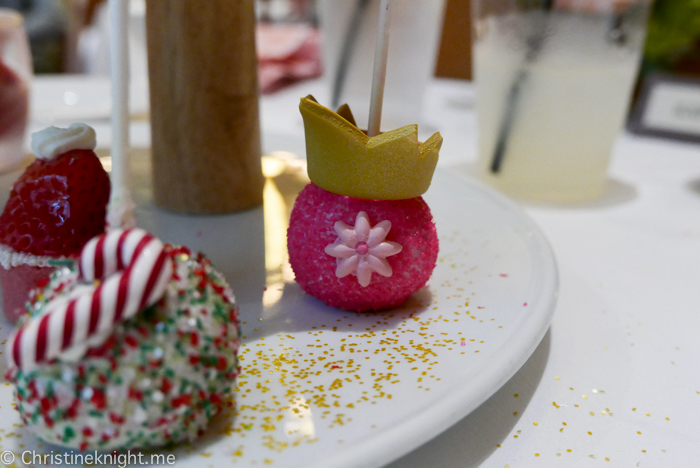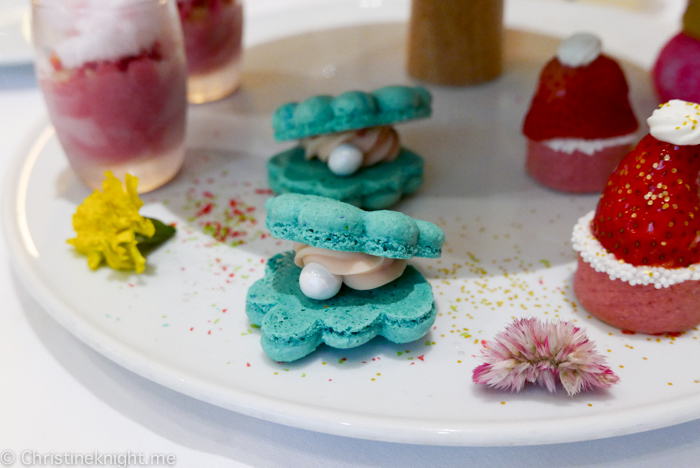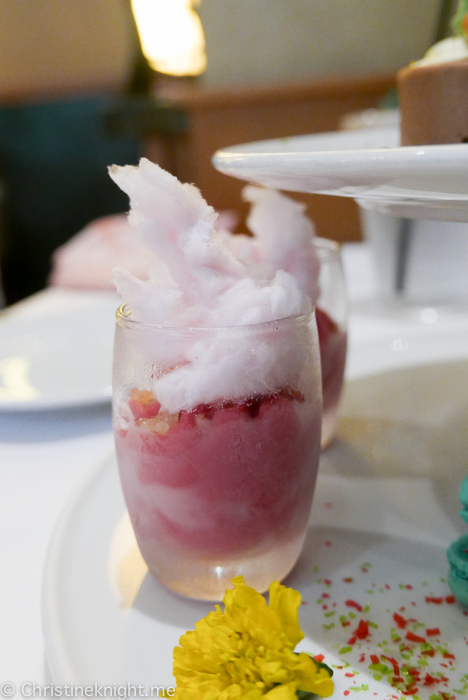 We struggled with the last course and were given boxes to take home anything we couldn't fit in.
At the end of the dining we were given a choice of gift (one per child).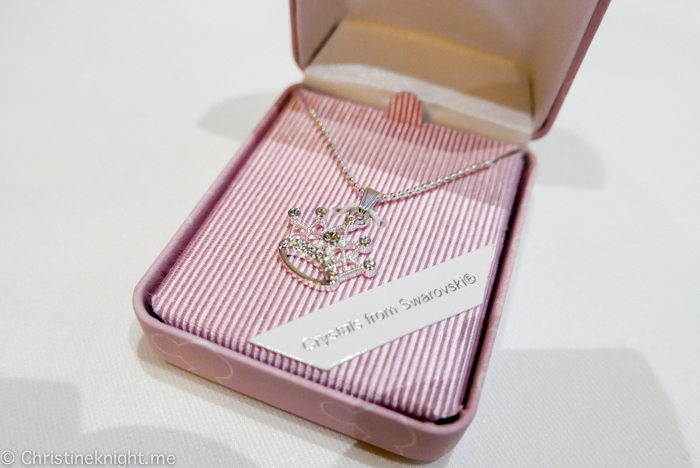 The choices were a silver necklace with a crown charm or a toy sword.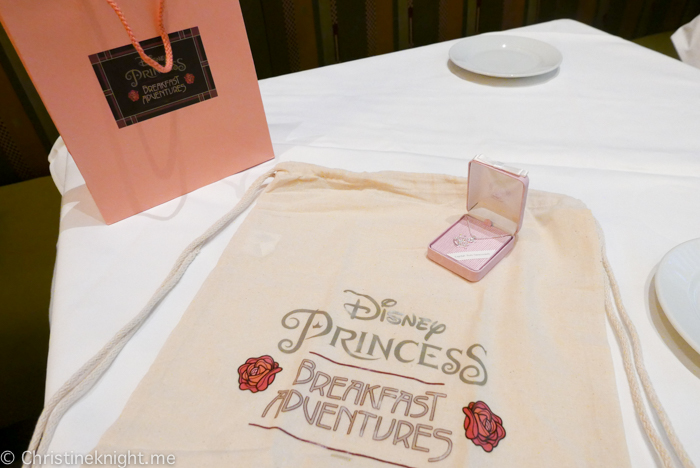 The gift comes with a drawstring bag branded with the special breakfast.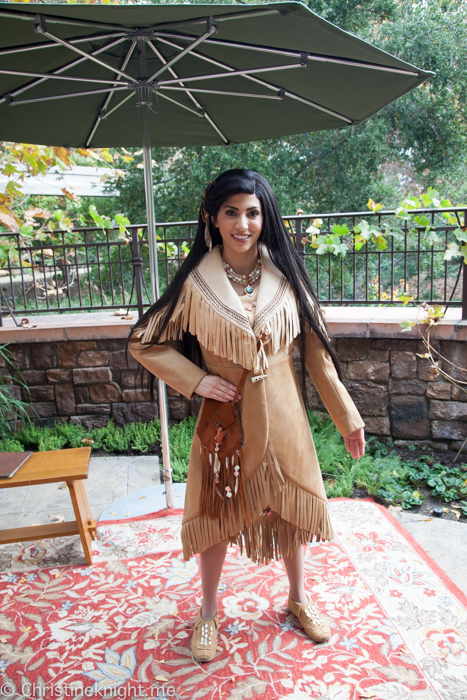 The experience wasn't over yet! We were taken outside to join in a special princess-themed activity. At the time we were there, Pocahontas was telling stories. The princesses rotate throughout the activities.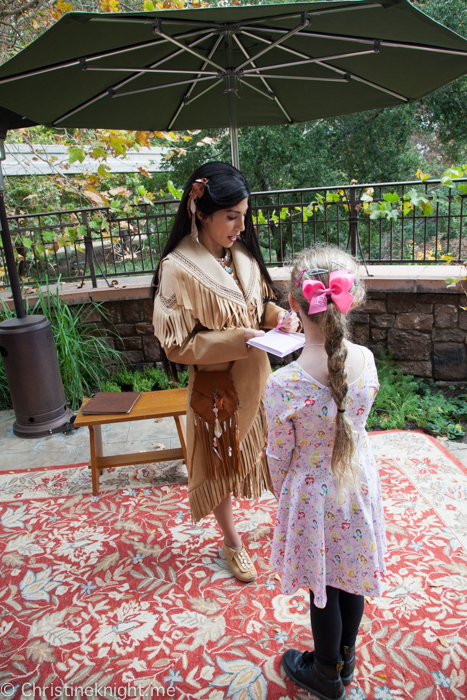 Once we had our photograph with Pocahontas, we were guided to the last princess experience, which was a photo with Ariel, taken again by the Disney PhotoPass photographer and included in our package.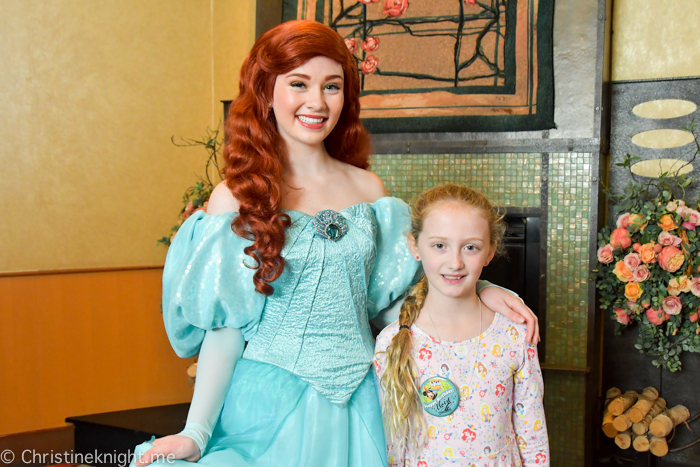 We had spied Mulan earlier in the day and inquired as to whether she was coming back. Our timing was impeccable as we were informed that we were the last guests that Ariel was seeing and if we did a look through the restaurant we would be able to return to the same spot and find Mulan there instead.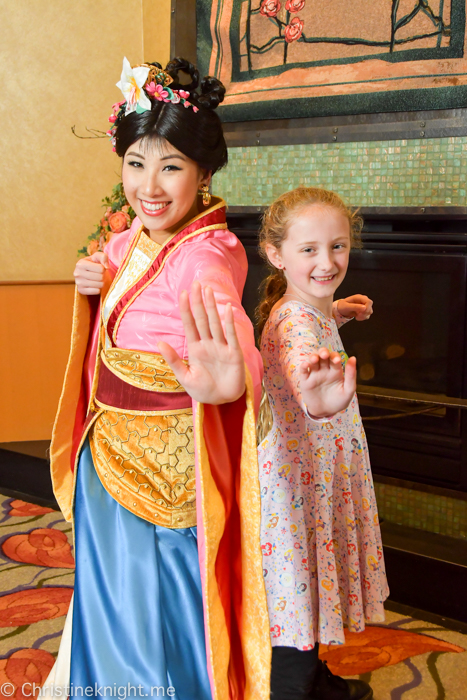 We did as suggested and are so glad that we did. Our meeting with Mulan was a highlight of the Disney Princess Breakfast experience. Mulan was just as you would imagine her to be – witty, self depreciating and really fun to meet. Our photos with Mulan were also taken by the Disney PhotoPass photographer and included in our package.
The Disney Princess Breakfast Adventures comes with a hefty price tag: At time of writing it is $125 USD (plus tax and gratuity) per person ages 3 and up. I thought for the quality and quantity of the food and entertainment, the experience was worth every cent.
Know Before You Go
Reservations
Advance reservations are highly recommended and can be made online or with the Disneyland app up to 60 days prior to your visit. Same-day reservations can be made on a limited basis and are subject to availability.
Hours
Breakfast is served Thursday through Monday from 8am-12pm.
Cancellations
You must cancel at least 1 day prior to your reservation to avoid a per-person cancellation fee. If you fail to cancel by then or are a no-show, the credit card provided at the time of reservation will be charged $25 per person.
Parking
Guests with reservations will receive 5 hours of valet parking included with validation at Disney's Grand Californian Hotel & Spa.
Disney's Grand Californian Hotel & Spa
1600 Disneyland Dr, Anaheim
disneyland.disney.go.com/dining/grand-californian-hotel/disney-princess-breakfast-adventures/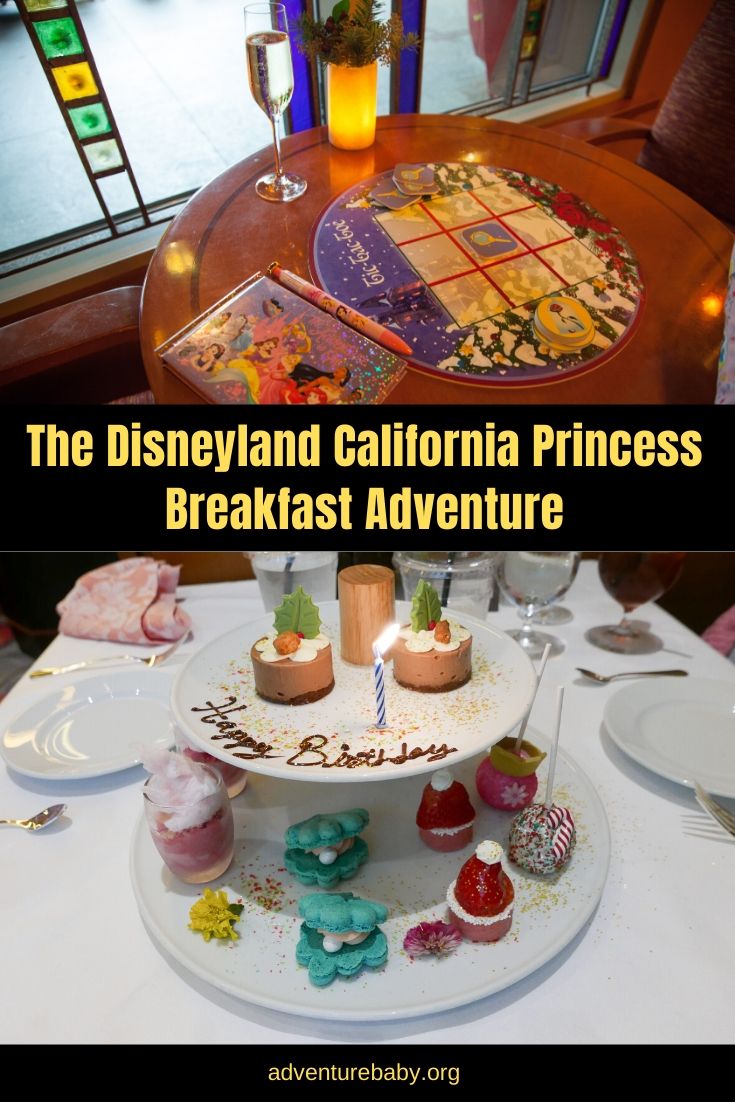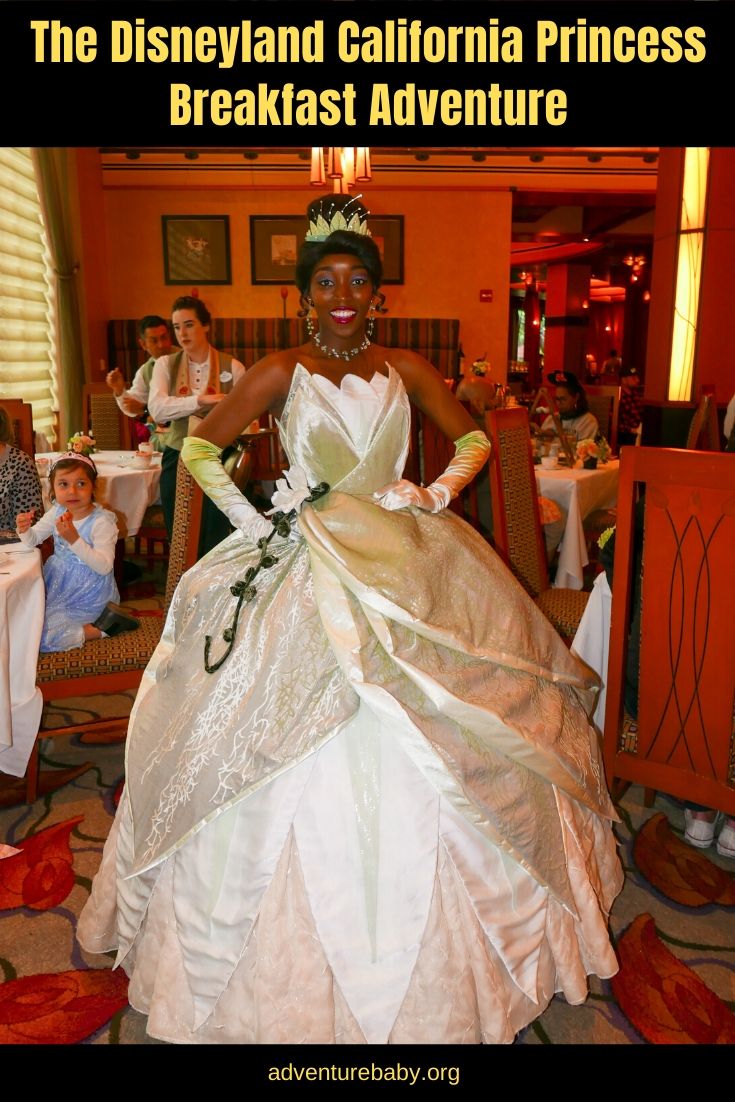 More Disneyland Resort California Tips
How to have the best Disneyland holiday ever.
A guide to using MAXPASS At Disneyland.
Celebrating Halloween at Disneyland.
Celebrating the holidays at Disneyland.
Hotel review: The Grand Californian Resort & Spa.
Character Dining: Goofy's Kitchen.
Character Dining: Minnie & Friends Breakfast at the Plaza Inn.
Character Dining: Mickey's Tales of Adventure.
Our favourite Disney souvenirs.
The best bits of Disneyland with little kids.
Bibbidi Bobbidi Boutique at Disneyland.
How to survive and enjoy Disneyland with a toddler.
Frozen Live at the Hyperion Theater.
Building a droid at the Droid Depot, in Star Wars: Galaxy's Edge.
Savi's Workshop Lightsaber Building Experience.
Enjoy a drink at Oga's Cantina.
A guide to Star Wars: Galaxy's Edge.