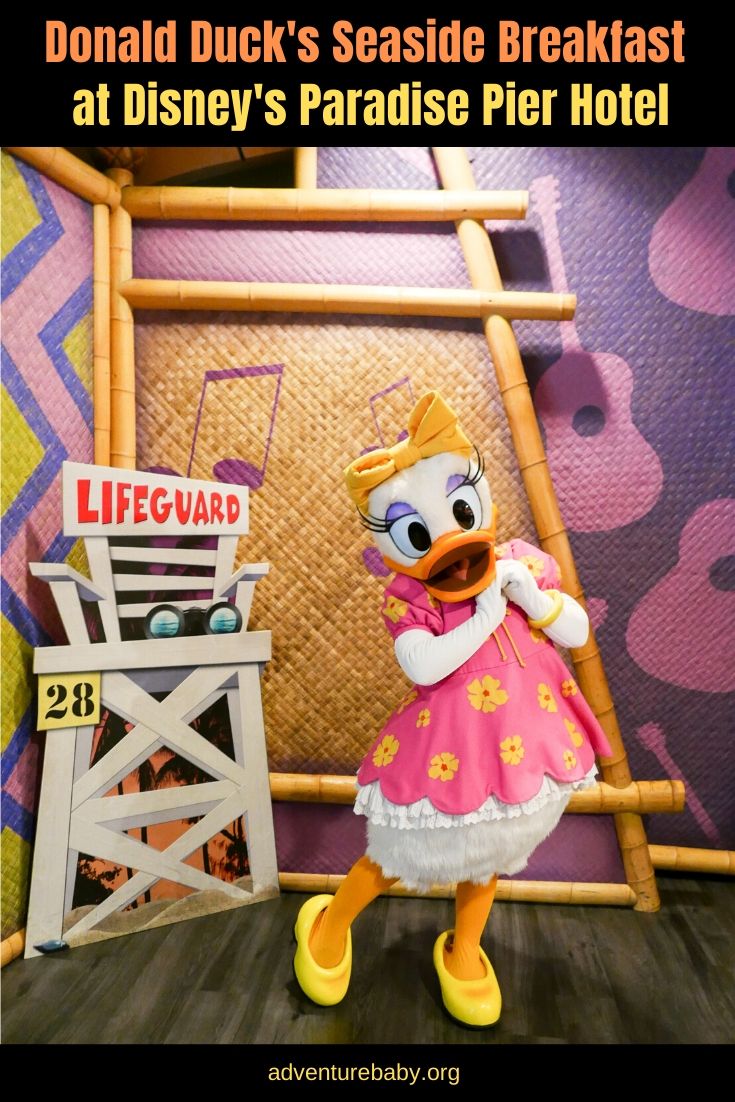 Meet favourite Disney Characters at a tasty breakfast and brunch buffet during Donald Duck's Seaside Breakfast at Disney's Disney's Paradise Pier Hotel.
This beach-themed character dining experience is a fun way to kick off the day with a breakfast or brunch buffet and entertainment from some of Disney's most beloved characters.
Note: Disney's PCH Grill is also open for dinner, however characters do not appear during that meal.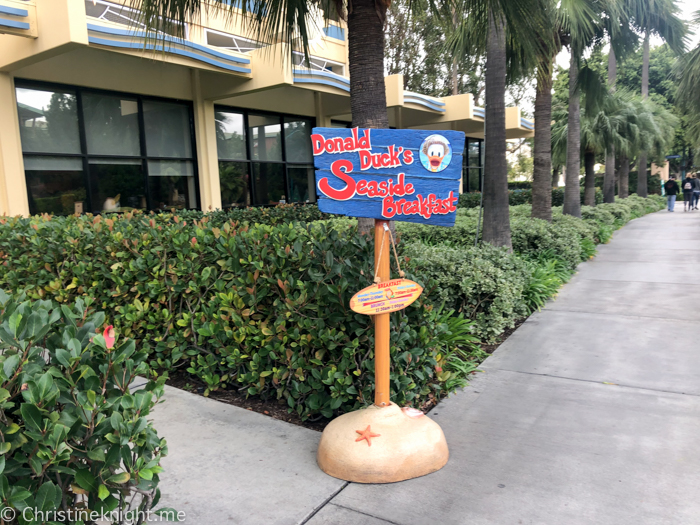 Bookings are highly advised for this popular character dining experience. Even with a booking you may have to wait a significant time to be sat at your table (we waited for almost an hour past our booking time).
The breakfast buffet includes: build-your-own-parfait station (with plain and strawberry yogurt, fresh berries, dried fruits, and housemade granola), eggs benedict, scrambled eggs, chilaquiles (with shredded beef, salsa verde, and queso fresco), chicken and waffles, omelettes, assorted breakfast pastries, muffins, breakfast breads, bagels, smoked salmon, sliced seasonal fresh fruits and berries, assorted breakfast flatbreads, egg white frittata, bacon, country pork sausage, chicken apple sausage links.
The kids' buffet includes: Mickey waffles, Minnie pancakes, a selection of hot and cold cereals, sausage, bacon, seasonal fresh fruit, grilled peanut butter and banana with chocolate-stuffed French toast.
The brunch buffet includes popular breakfast items, like Mickey-shaped waffles, lunch specials including soups, salads, pasta, pizza, rotating seasonal options, mini pastries, beignets with dipping sauce, homemade bread pudding and other dishes.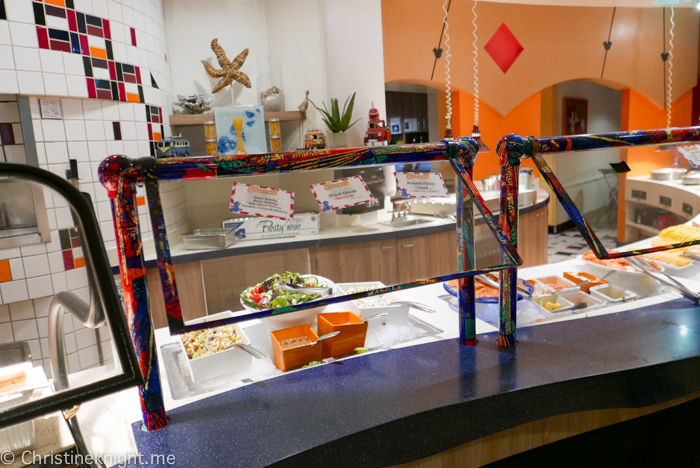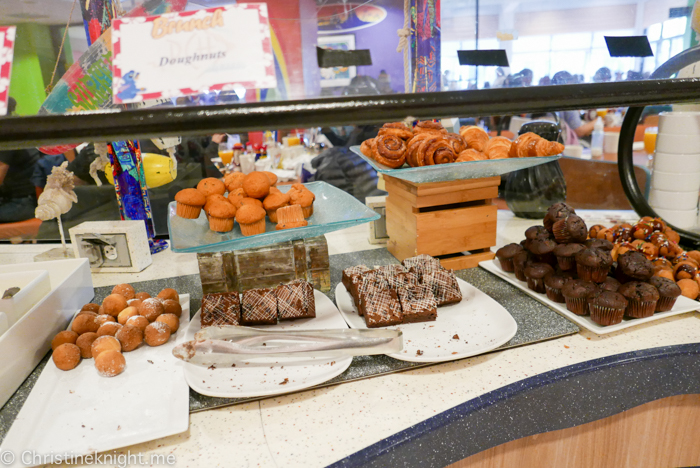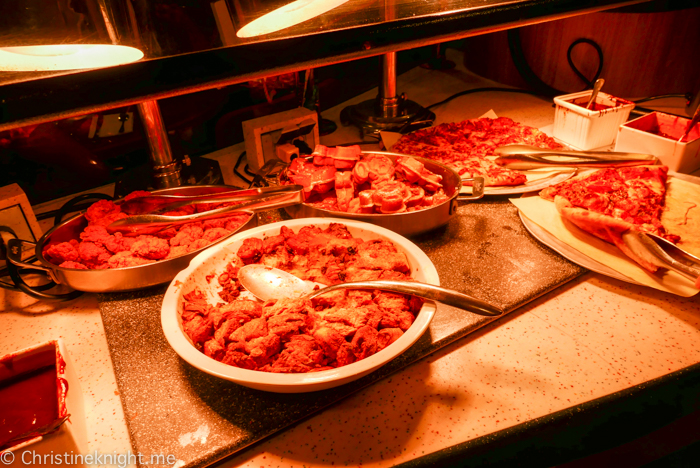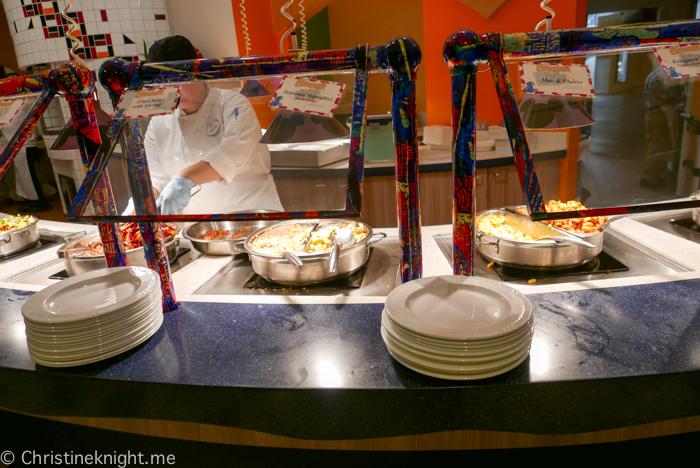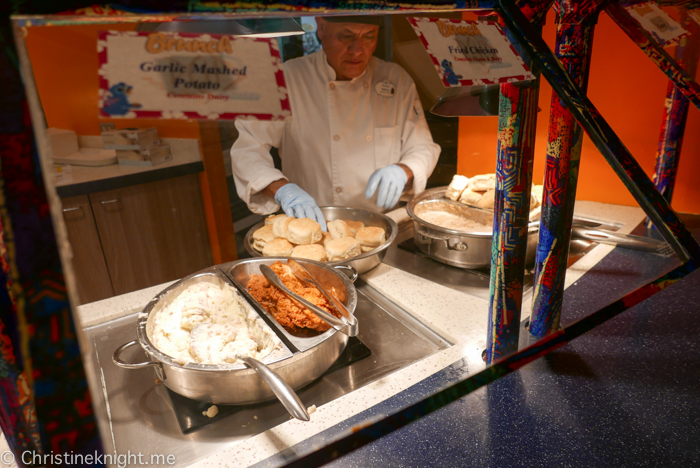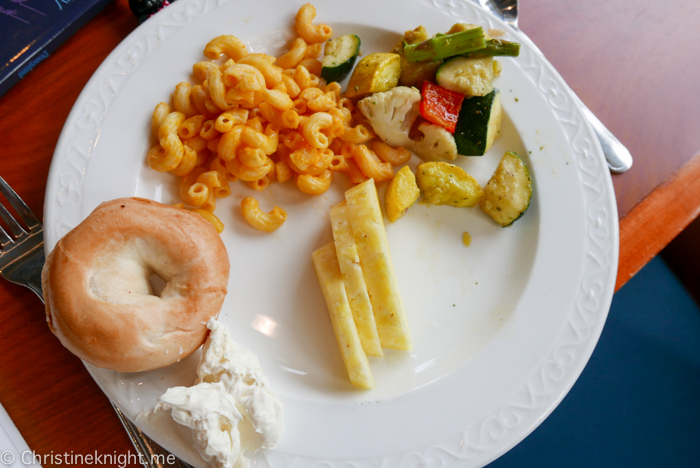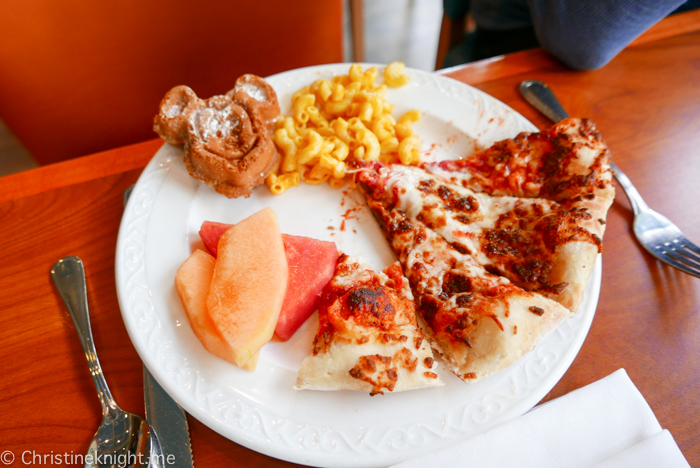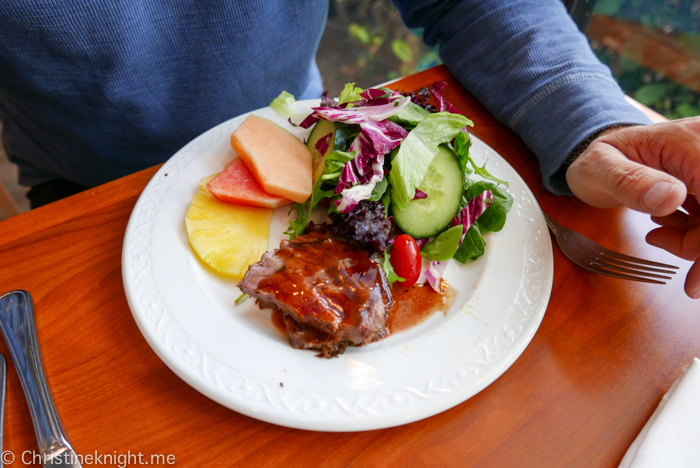 We had the brunch menu and found there weren't many vegetarian items to choose from, so the chef very kindly made me a special vegetarian dish he had been working on – an incredible vegan burger and quesadillas.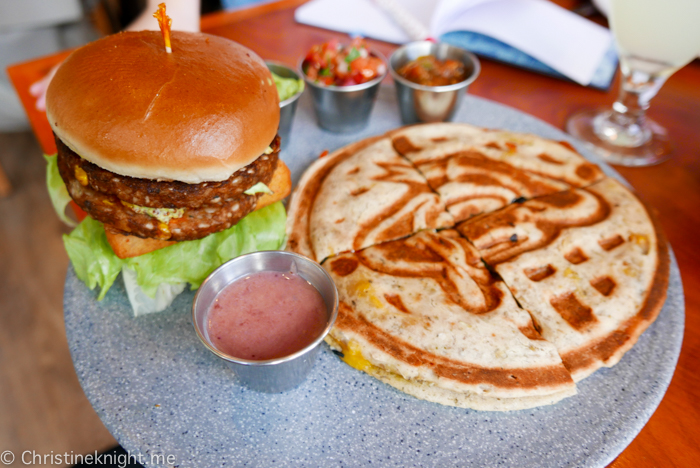 The main character at this dining experience is Donald Duck. He is generally located at the entrance and does not visit the tables. Minnie Mouse, Stitch and Daisy Duck all visited our table at least once during our stay, and spent a lot of time with us.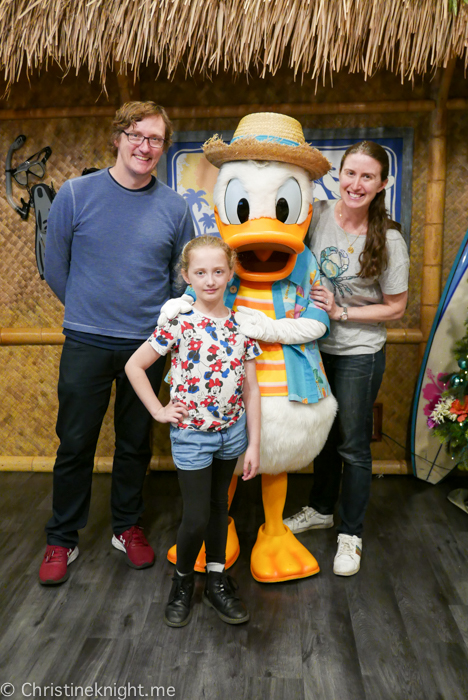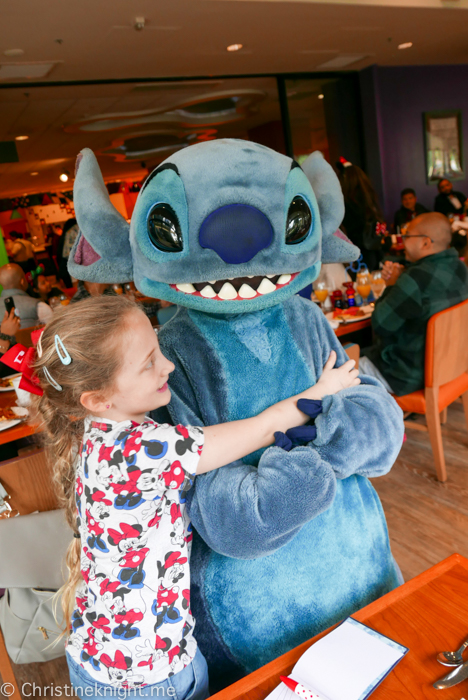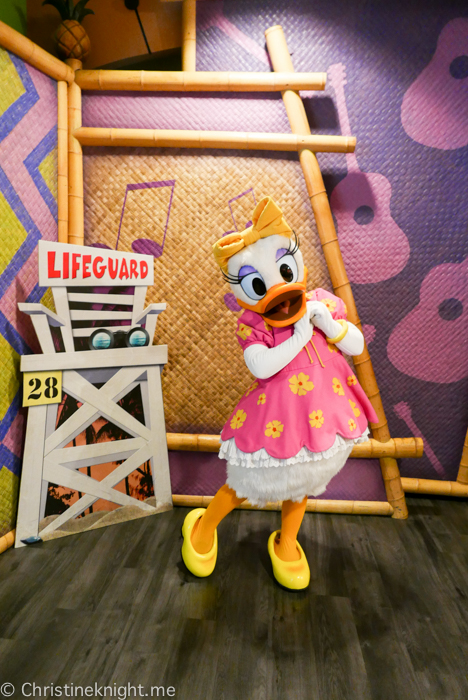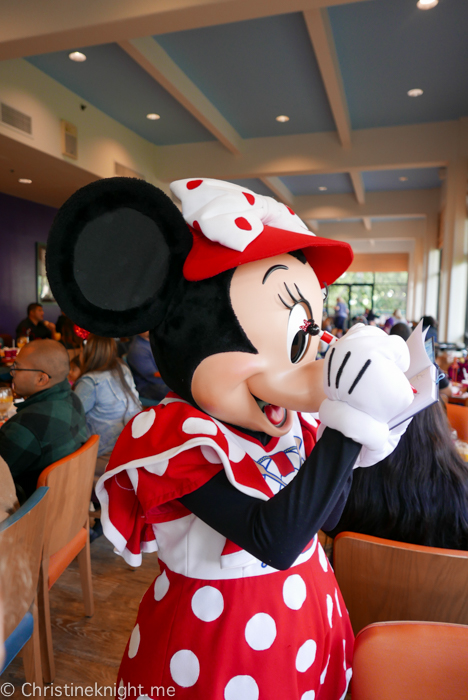 Minnie Mouse leads kids in a fun, beachy dance number during the brunch.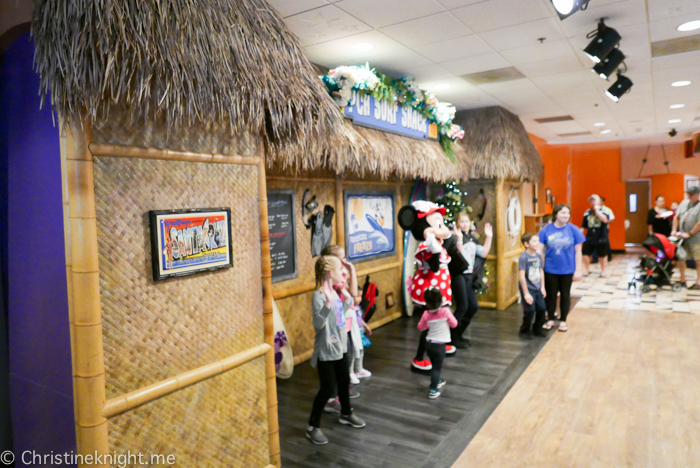 Reservations
Advance reservations are highly recommended and can be booked online up to 60 days prior to your visit. Reservations can also be made in person on a limited basis, subject to availability.
Parking
Complimentary 3-hour parking—your choice of either valet or self-parking—is included with a Disney's PCH Grill validation and is available at Disney's Paradise Pier Hotel.
Disney's Paradise Pier Hotel
1717 South, Disneyland Dr, Anaheim, CA
Breakfast: 7am-11:25am
Brunch: 11:30am-1pm
Dinner: 5:30pm-9
disneyland.disney.go.com/dining/paradise-pier-hotel/disneys-pch-grill/