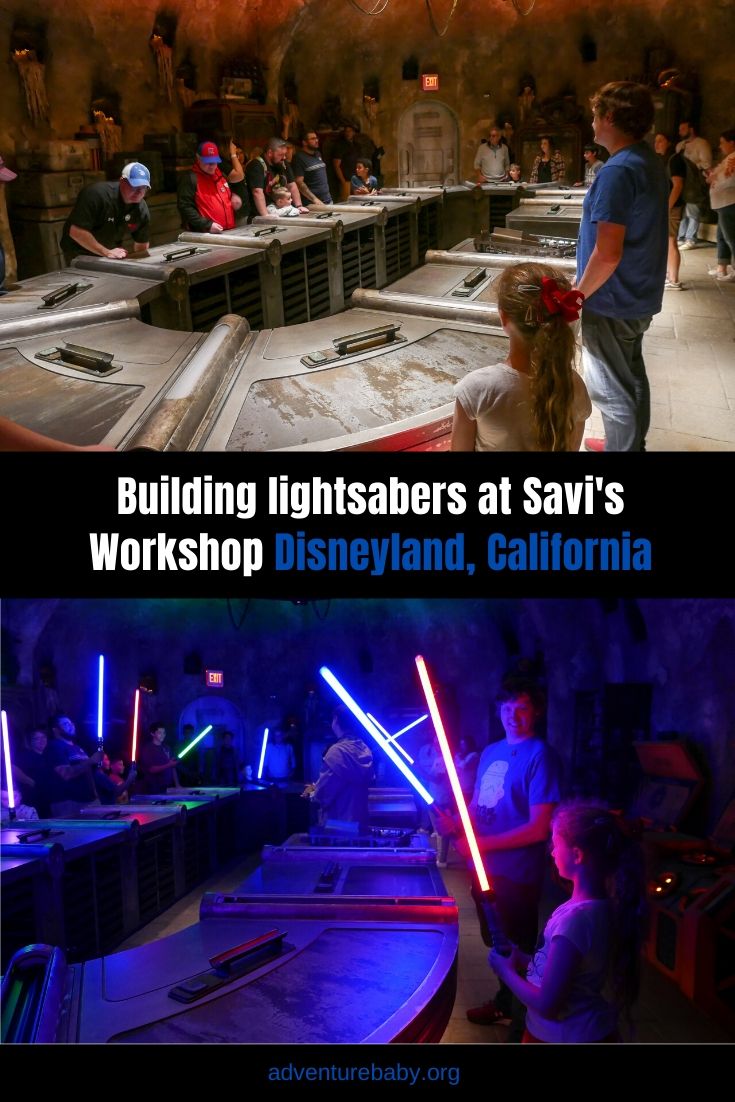 Savi's Workshop Lightsaber Building Experience, Disneyland Resort California
Build your own lightsaber at Savi's Workshop – Handmade Lightsaber Building Experience, Star Wars: Galaxy's Edge, Disneyland Resort California.
The Savi's Workshop Lightsaber Building Experience, located in the Black Spire Outpost, is as much of an immersive experience about joining the Force as it is about taking home a fancy souvenir.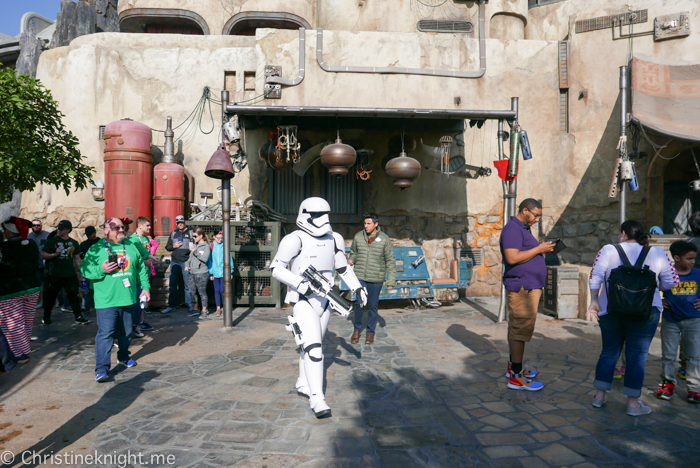 The journey to becoming a Jedi is a covert one. It was quite tricky to find the workshop entrance as it's not signed anywhere – look for a small group of people gathering in a little alcove area (pictured above). This area is a hotspot for storm troopers and Kylo Ren to drop by and interrogate people, so prepare your promises to serve the dark side incase of an encounter.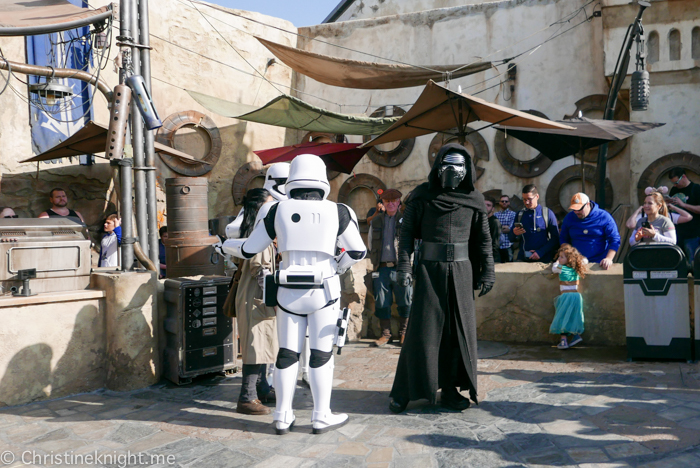 The lightsaber experience must be booked in advance. Limited amounts of walk-ins are taken each day, depending on how booked out they are. Bookings open 60 days in advance and I suggest making your booking then to ensure you get the time slot you want.
The experience was running behind when we checked in and we ended up having to wait around 30 minutes. I would suggest not having anything booked or scheduled after the lightsaber building for an hour in case of this.
Choosing and building a lightsaber
When checking in for the experience with the "Gatherers", you will be asked to choose from one of four hilt themes and will receive a special cloisonné pin to identify your selection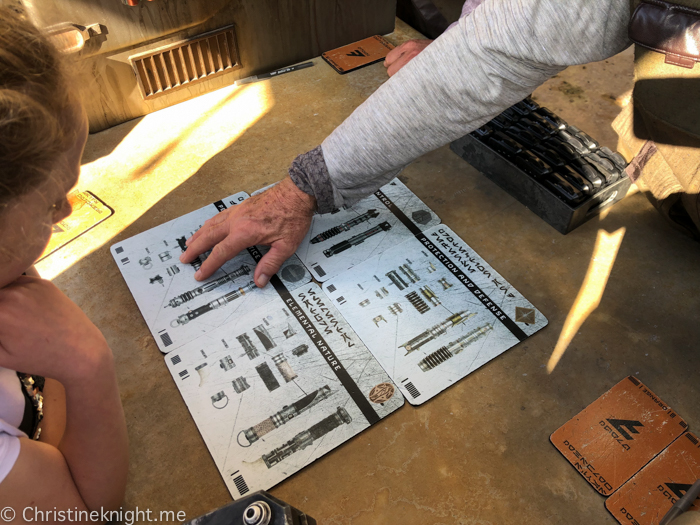 Peace and Justice
Salvaged scraps from fallen Jedi temples and crashed starships in these Republic-era designs honor the galaxy's former guardians.
Power and Control
Originally forged by dark side warriors, this style features rumored remnants from the Sith homeworld and abandoned temples.
Elemental Nature
This theme embodies the Force—an energy created by all living things, like Brylark trees, Cartusion whale bones and Rancor teeth.
Protection and Defense
Hilt materials bear mysterious motifs and inscriptions that reconnect users with the ancient wellspring of the Force.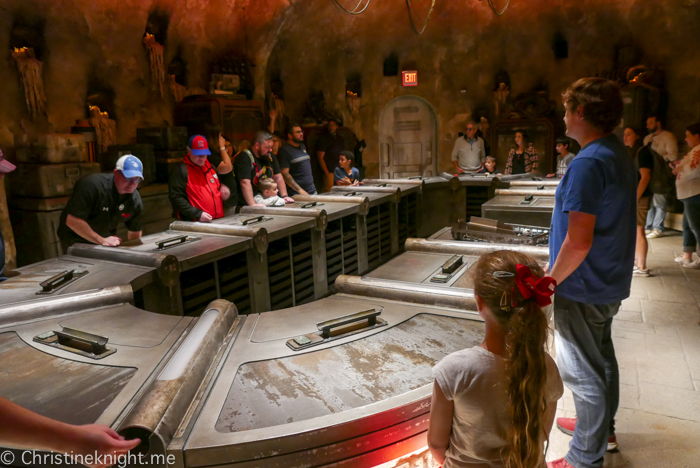 Once the group has been called inside the workshop, the experience begins in earnest.
The lightsaber makers gather around the long table while guests can stand at the edges of the room.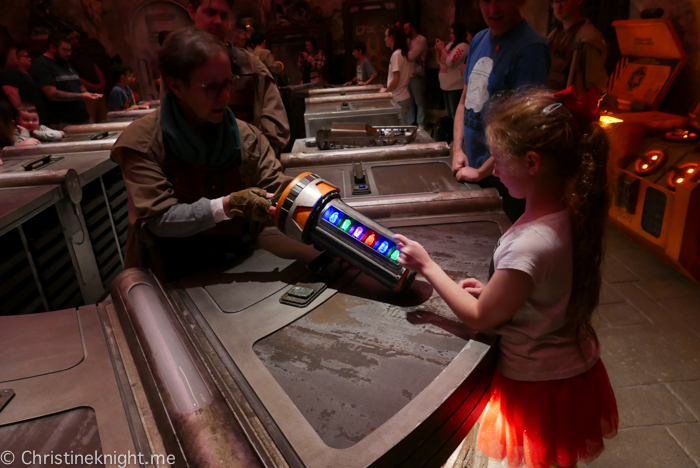 The Gatherers help each participant select the heart of their lightsaber – a kyber crystal, which is available in red, blue, green or violet.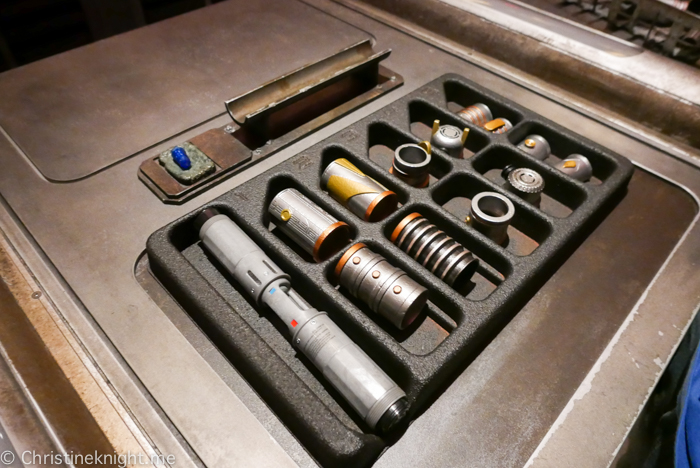 Next is assembling the hilt. Each theme receives its own box of parts to choose from.
Each box of parts includes:
1 hilt
4 sleeves (pick 2)
2 emitters (pick 1)
2 pommel caps (pick 1)
2 sets of activation plates and switches (pick 1 set)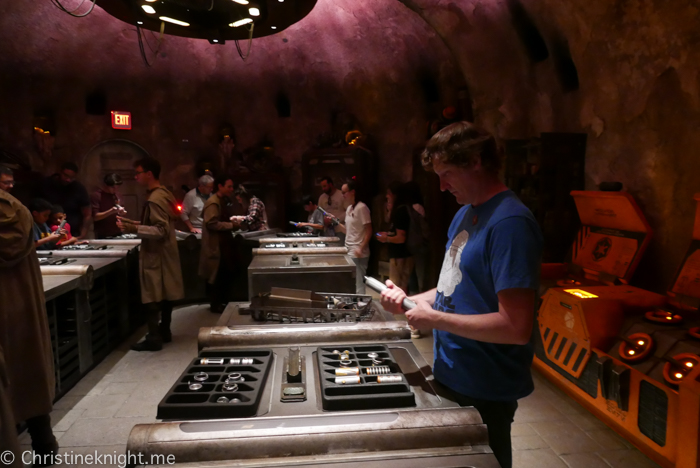 Upon hilt completion, the unused parts are collected by the Gatherers and returned to Savi's inventory.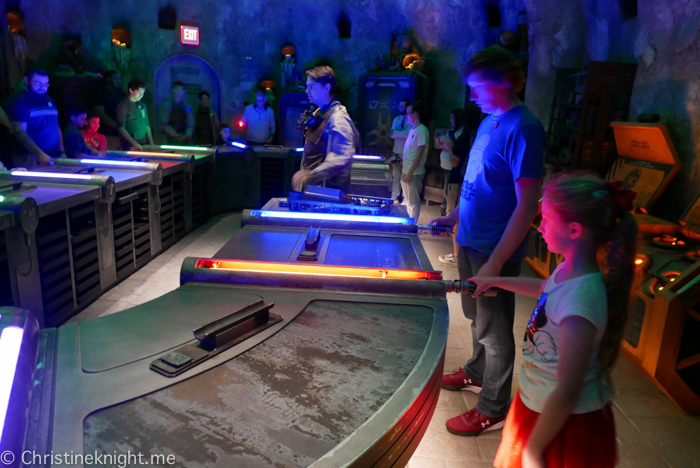 The final step is the lightsaber blade. The Gatherers provide instruction on how to correctly do this and assist with this step. Each hilt is connected to a 31" lightsaber blade that can be lit and removed from the table.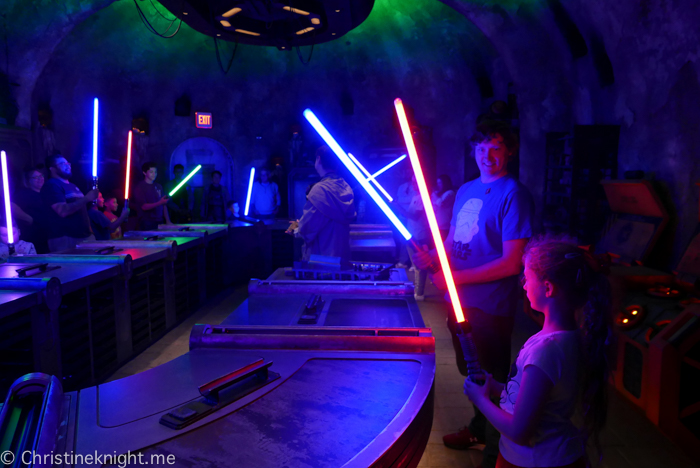 The whole experience is so immersive that if feels like you are becoming a Jedi and about to join the ranks of Skywalker (or Kylo Ren if you've chosen the Dark Side). There were more adults than children in the room, experiencing their childhood Jedi dreams coming to life right there in their hands.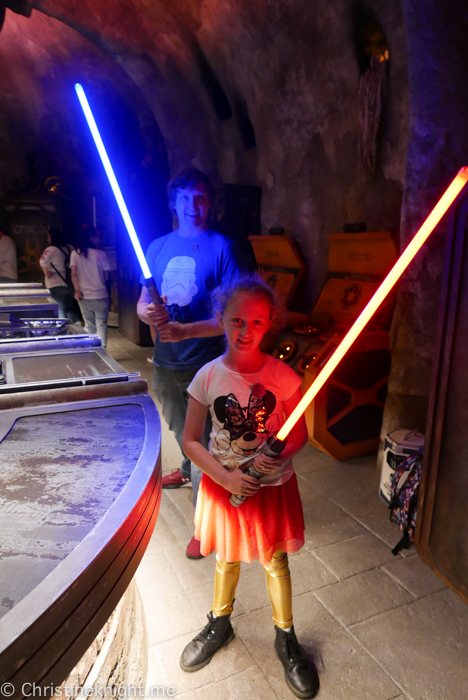 The lightsabers themselves are amazing quality. Extremely sturdy and with excellent lights and sounds.
Upon leaving the room, each participant is given a carrying case for their lightsaber that can be slung over their back for transportation. Be warned that is is very big and bulk and I would suggest taking it back to the hotel if that is an option.
Need to know details about building lightsabers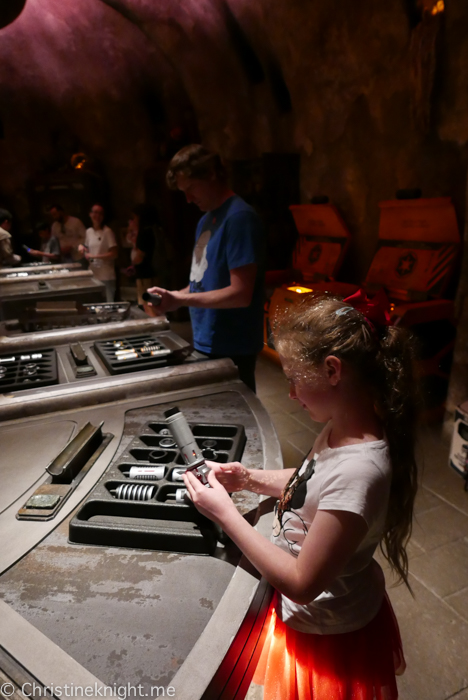 The lightsaber experience does not come cheap. The cost is $199.99 per lightsaber, plus tax.
Reservations can be made 60 days in advance and a credit card is needed to secure the booking. You must cancel at least one day prior to your reservation to avoid a per builder cancellation fee. If you fail to timely cancel and are a no-show, the credit card provided at the time of reservation will be charged $199.99 per builder.
One lightsaber per builder per experience.
There are additional lightsaber customisation items available for purchased at Dok-Ondar's Den of Antiquities.
The age recommendation for this experience is 5 years or older and I would absolutely agree with this and add that if you have a child under the age of 10 then it would be advisable to have someone accompanying them who can assist them if needs be as the constructing can be quite tricky and move quickly along – at times too quickly for your kids to keep up.
Younger children may accompany builders as a guest and watch the experience, however the workshop is inside a small, dark room with lights and noises that may frighten younger children (and did in fact terrify a toddler in our group to the point where he had to be removed for the remainder of the experience).
The experience area is limited to the builder and 2 Guests. At least one person in the party must be age 14 or older.
Check in no earlier than 15 minutes before your reservation time but also be prepared for the experience to be running late. Present your reservation confirmation, photo ID and the credit card provided at the time of booking on arrival.
The whole experience goes for around 30 minutes.
Transporting the lightsabers home
We took our lightsabers on an international flight from LA to Sydney with Qantas. We removed the hilts easily on our hotel and wrapped them in thick clothes, then placed the hilts in our hard cased suitcase.
We then took the blades onboard as a carry-on item. With the hilt removed the blades fit inside the overhead bins easily. We had no issues with security or customs on either end of our trip, and the lightsabers arrived safely and were easily reassembled on our arrival.
Disneyland Resort
Disneyland Dr, Anaheim, CA
disneyland.disney.go.com/shops/disneyland/savis-workshop-handbuilt-lightsabers/
More Disneyland Resort California Tips
How to have the best Disneyland holiday ever.
A guide to using MAXPASS At Disneyland.
Celebrating Halloween at Disneyland.
Celebrating the holidays at Disneyland.
Hotel review: The Grand Californian Resort & Spa.
Character Dining: Goofy's Kitchen.
Character Dining: Minnie & Friends Breakfast at the Plaza Inn.
Character Dining: Mickey's Tales of Adventure.
Our favourite Disney souvenirs.
The best bits of Disneyland with little kids.
Bibbidi Bobbidi Boutique at Disneyland.
How to survive and enjoy Disneyland with a toddler.
Frozen Live at the Hyperion Theater.
Building a droid at the Droid Depot, in Star Wars: Galaxy's Edge.
Enjoy a drink at Oga's Cantina.
A guide to Star Wars: Galaxy's Edge.