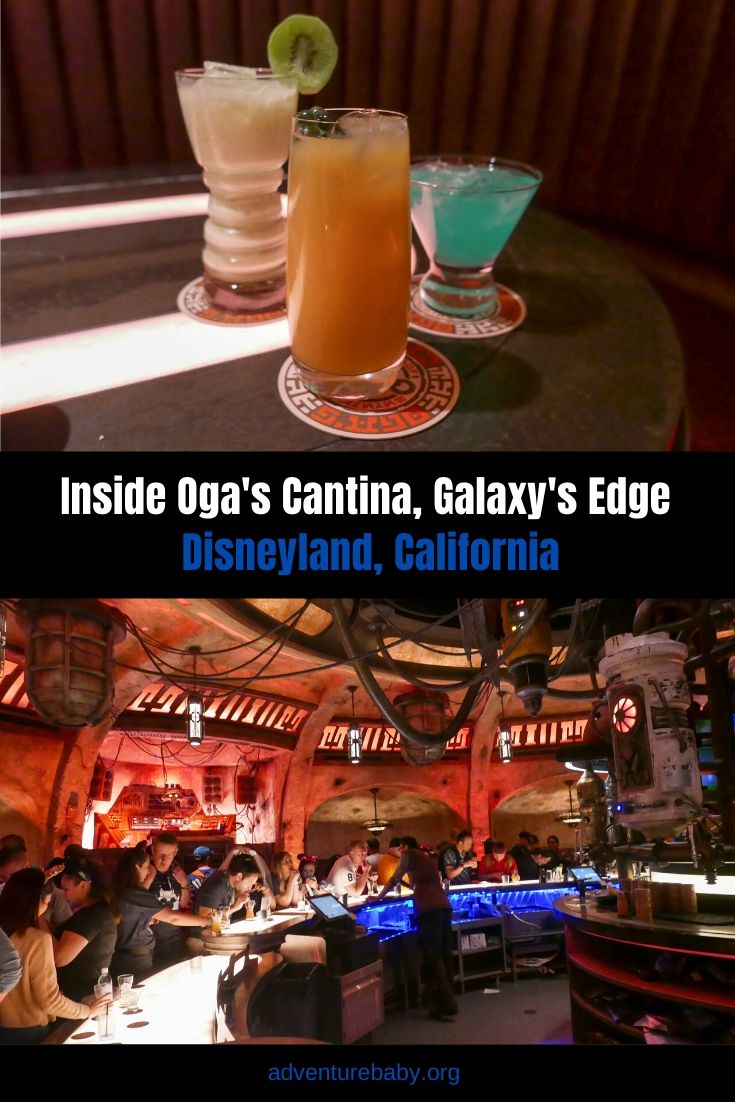 Oga's Cantina at Star Wars: Galaxy's Edge, Disneyland Resort California
One of the galaxy's most infamous watering holes comes to life at Oga's Cantina. The cantina specialises in fantastical drinks that will delight even the youngest crew members (that's right, this is a family-friendly bar inside Disneyland!).
A drink at Oga's Cantina is one of the hottest tickets at Disneyland. There is no point lining up for this experience at this time – reservations are essential and can be made 60 days in advance online or on the app. Walk-ins will be accommodated when possible.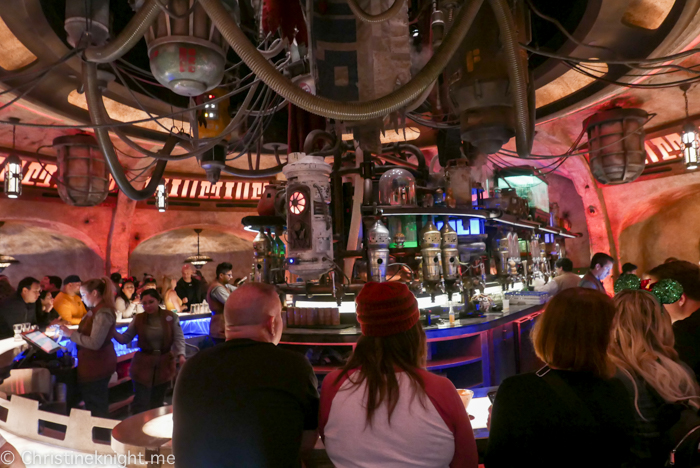 Oga's Cantina serves drinks and very basic snacks. There is a menu with alcoholic and non-alcoholic drinks available – plus "secret" items that aren't listed on the menu (ask the bar staff for current items not listed on the menu).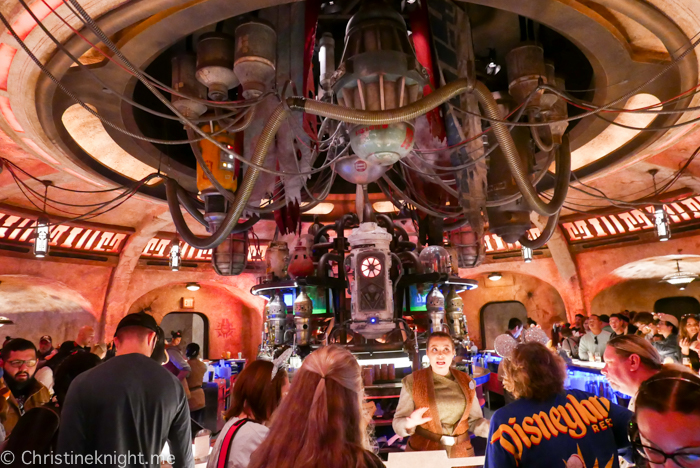 Kids are welcome at Oga's Cantina, but I wouldn't say it's very kid-friendly. Oga's is a small, tight space with very little room to move around and no room for kids to play. Oga's is definitely aimed at adults and tolerant towards kids.
What to expect inside Oga's Cantina
Due to its extreme popularity there are lots of rules regulating this themed bar.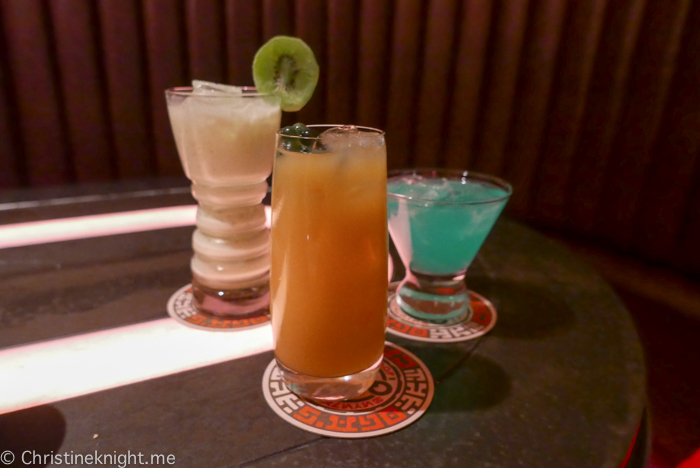 If you have a reservation, check in no earlier than 15 minutes prior to your booking. We lined up for around 15-20 minutes and were eventually admitted inside.
In order to manage the crowd inside the cantina, guests are shown to a spot where they can either stand or sit. You will be placed right next to strangers even if you are sat at a table, so be prepared to get squishy and make some new friends.
There is very limited seating – Oga's Cantina mostly consists of standing room. Large parties may be separated.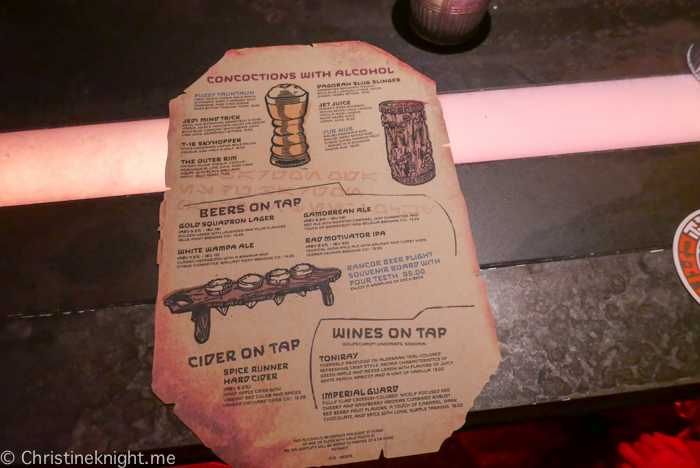 You will need to show your ID to order alcoholic drinks. There is a two-drink maximum per person.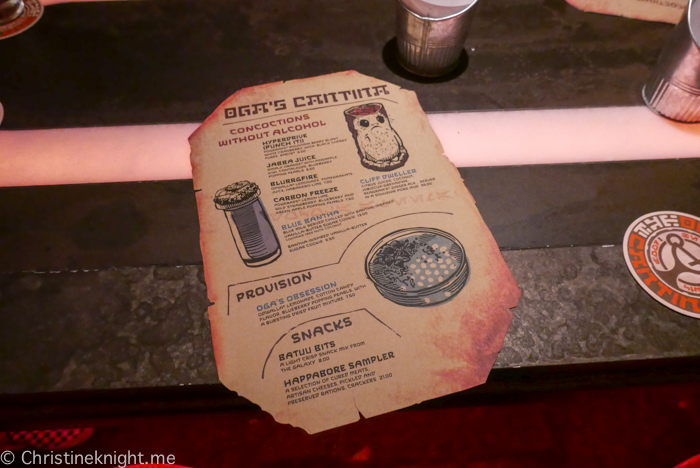 Be prepared for how expensive the drinks will be! They are pricey but they are also good. We ordered the .
Drinks arrive fast and you pay your server directly.
There is a 45 minute time limit to time spent inside the Cantina. After that time you must leave or you will be gently reminded to do so.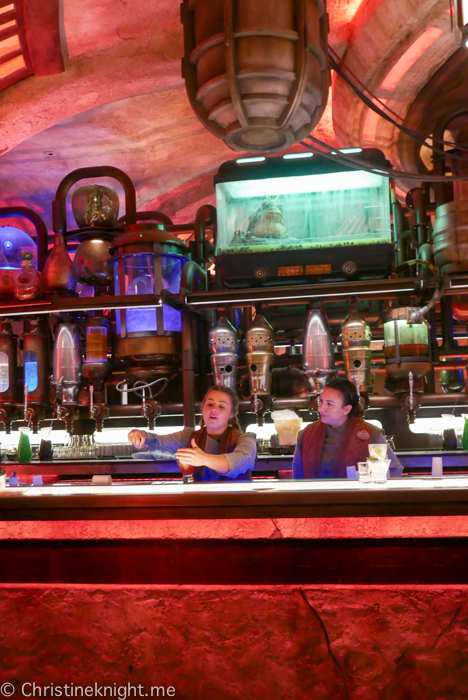 If you want to take a look around the Cantina (and you absolutely should!) do so after you've finished your drinks and are ready to leave – as soon as you vacate your designated spot, new people will be shown in.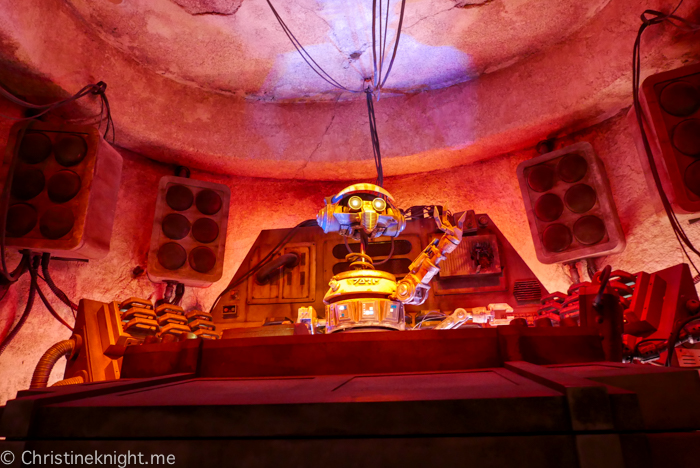 There are some fantastic details around the bar that deserve a closer look. It is a bit tricky to navigate with the sheer number of people.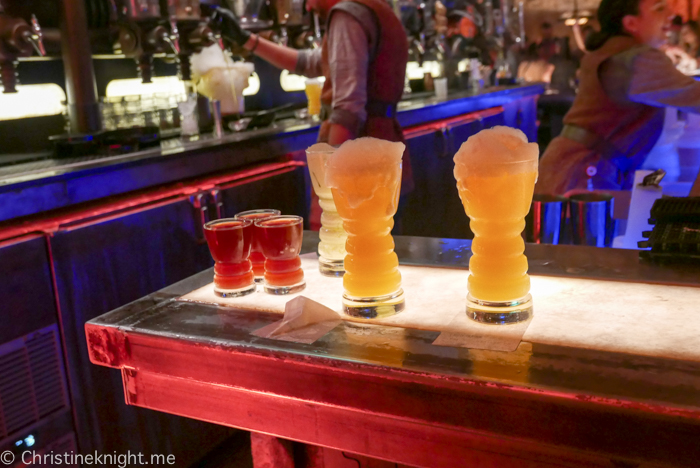 The coasters are very cool and yes you may take them home as a souvenier. Ask your server for a few brand new ones to take.
Oga's Cantina Rules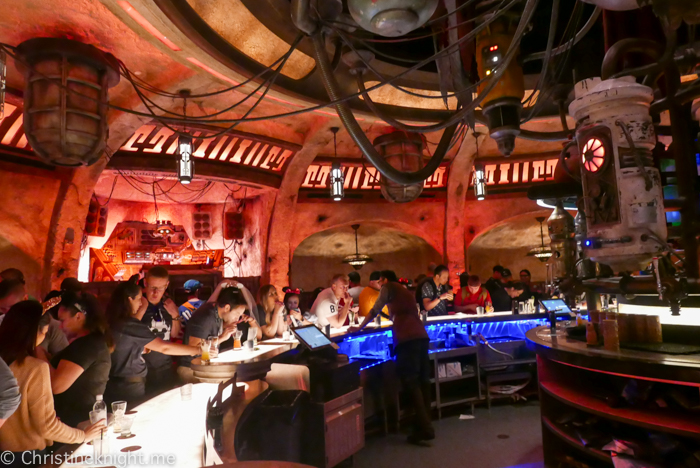 At least one person in the party must be 14 years of age or older.
Reservations are non-transferrable and may not be sold or bartered.
Each person in your party must be present upon check-in. Please be prepared to present your reservation confirmation email, photo ID and the credit card provided at the time of booking.
Alcoholic Beverages: Guests must be 21 years of age or over to consume alcohol; valid photo ID is required. There is a maximum of 2 drinks per Guest.
Cancellations: You must cancel at least one day prior to your reservation to avoid a per person cancellation fee. If you fail to timely cancel and are a no-show, the credit card provided at the time of reservation will be charged $10 per person.
More Disneyland Resort California Tips
How to have the best Disneyland holiday ever.
A guide to using MAXPASS At Disneyland.
Celebrating Halloween at Disneyland.
Celebrating the holidays at Disneyland.
Hotel review: The Grand Californian Resort & Spa.
Character Dining: Goofy's Kitchen.
Character Dining: Minnie & Friends Breakfast at the Plaza Inn.
Character Dining: Mickey's Tales of Adventure.
Our favourite Disney souvenirs.
The best bits of Disneyland with little kids.
Bibbidi Bobbidi Boutique at Disneyland.
How to survive and enjoy Disneyland with a toddler.
Frozen Live at the Hyperion Theater.
Building a droid at the Droid Depot, in Star Wars: Galaxy's Edge.
Savi's Workshop Lightsaber Building Experience.
A guide to Star Wars: Galaxy's Edge.
Disneyland Resort
Disneyland Dr, Anaheim, CA
disneyland.disney.go.com/dining/disneyland/ogas-cantina/