Finding a great vegetarian hotdog is like discovering a unicorn in Prospect Park. That's how much I love a good, veggie dog. Last summer I discovered Bark Hotdogs when they set up shop in Brooklyn Bridge Park. I won't lie, I ate at their concession stand at least three times a week. Bark Hotdogs are actually based in Park Slope – right smack in the middle of our walking path between our home and Prospect Park, making them the perfect stop-off for a really kid-friendly meal.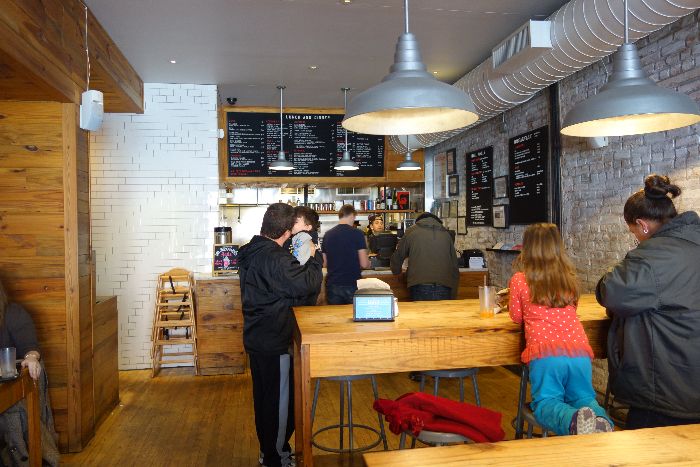 Bark is super kid-friendly, as evidenced by the random kids we captured just in the picture above. The menu is full of things kids love to eat (hotdogs, burgers and fries, oh my!) as well as beer and wine for adults. I appreciate how both parties are well catered for.
Order and pay at the counter, and park your stoller in the big space there if it doesn't fit by your table.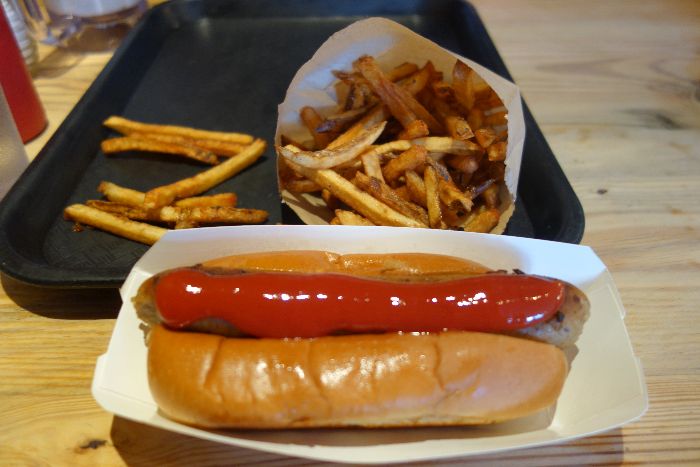 What makes their hotdogs so good? For me, is basically that they taste amazing (kind of smokey), without that weird, rubbery texture you usually get with fake meat dogs. My husband always gets the regular meat dogs and he says they're delicious, so it would seem Bark offers something for everyone.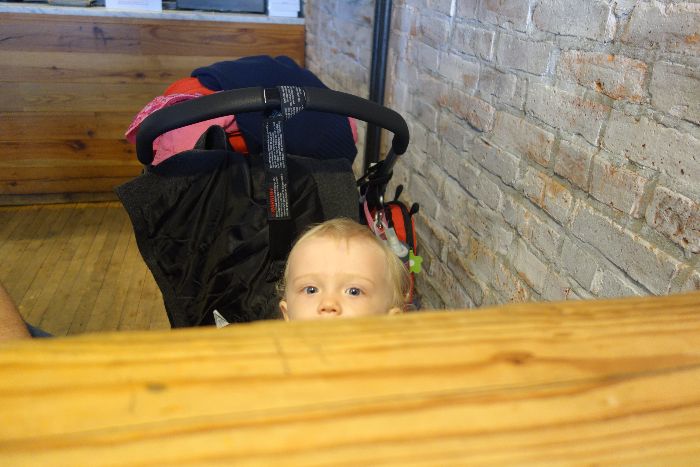 While there are highchairs, there are only two tables of regular height, so when we put Cheese in a highchair, this is what she looked like. Instead we popped her on our laps until space at a regular table opened up.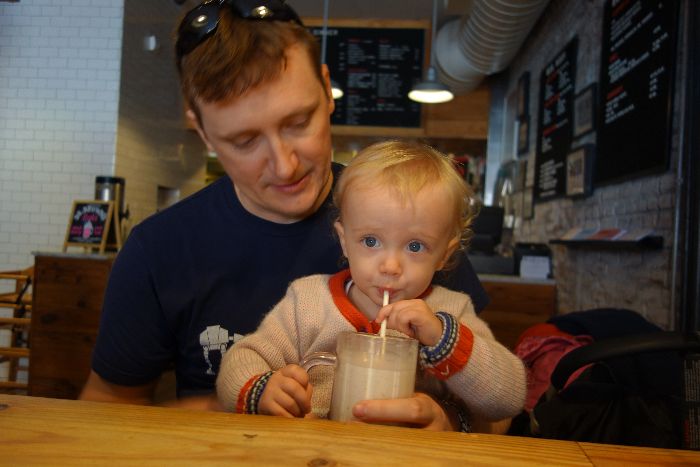 The shakes deserve a mention because Cheese and I (ok, just me then) are obsessed with finding the perfect shake. We ordered a classic vanilla malt, and, as you can see, Cheese was a huge fan. It was everything a shake should be – thick, very malty, and totally delicious.
Last bite: Delicious food, fast service, lots of space. The perfect place to bring kids of all ages.
Highchairs: Yes.
Stroller storage: Yes.
Easy access: Yes.
Change tables: No.
Kids' menu: Not a specific menu, but the entire menu is kid-friendly in general.
Bark Hotdogs
474 Bergen St,
Brooklyn, NY
Phone: (718) 789-1939
Hours: Mon-Thur 12pm-11pm, Fri 12pm-12am, Sat 10am-12am, Sun 10am-10pm