Spring finally on its way means saying au revoir to giant coats and muted hues, and bonjour to color and fun-in-the-sun again!
Our absolute favorite place to spend a sunny day in NYC is Jane's Carousel in Brooklyn. It's really the perfect playground. There's lots of space to run around, grass to kick a ball on, and then, of course, there is the carousel itself. For only $2 per horse, you can take a ride with your little one. It's the best value carousel in the city, with the best view.
On this particularly perfect spring day in Brooklyn, Missy E wore Egg by designer Susan Lazar. I've loved dressing E in Egg since she was a little baby, because the designs are adorable and the fabric is so soft against her skin.
Egg hatched in 2003, when Lazar decided to create a lifestyle brand designed around the needs of stylish mothers and children. Egg uses natural fabrics and simple designs. Perfect for parents who love clean lines, and want clothes for their kids that are made with movement and comfort in mind. The result is fashionable yet timeless baby and kids' clothes of the highest quality. For little ones with sensitive skin, Egg also has an organics line, featuring soft organic cotton.
The 2014 Egg spring line is inspired by the South of France, evident in the delicate floral and fruit prints for the girls line, and the cool nautical motifs for boys.
The theme of this line, like most of Lazar's designs, is very subtle — evident in the motifs and colors, but not obvious or gimmicky. "Each season the collection starts with a theme," she says. "For example, Spring 2014 was inspired by the South of France — the wild flowers, the sea and the chicness of France. The theme is only a starting point and I never want the collection to be too trendy of costume-y". The end result is a line of clothing that I wish came in my size too.
Being such big fans of Egg already, I was really excited to try out three outfits from the new Egg spring line.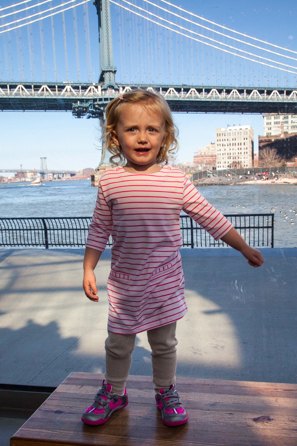 The Shift Dress in pink is made from a super soft cotton-modal blend, perfect for running around town. This dress is designed with active kiddos like mine in mind. This super comfortable dress was a hit with E — she adored putting her hands in the double front pockets, and I particularly liked the buttons on the neckline, making it easy to get on and off. The bright pink stripes make this dress fun and bright for spring, while the three-quarter sleeves are the perfect length for days that still hold a hint of chill in the air.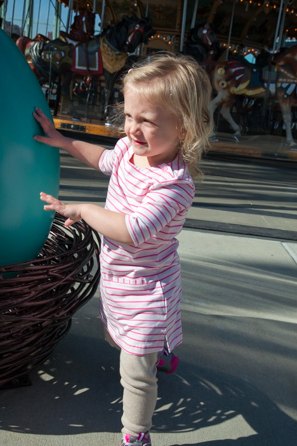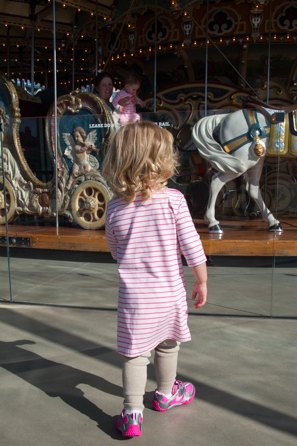 The Pocket Dress in green is E's favourite of the outfits. She loves the delicate floral print, accented with tiny birds, and the floaty skirt with little pockets in which she can hide rocks or other treasures. The dress is incredibly lightweight (perfect for keeping cool in high summer), and is 70% cotton, 30% silk. It looks super chic, but is still extremely comfortable as you can see from the photos of Miss E running, jumping and, her current favorite activity, climbing rocks.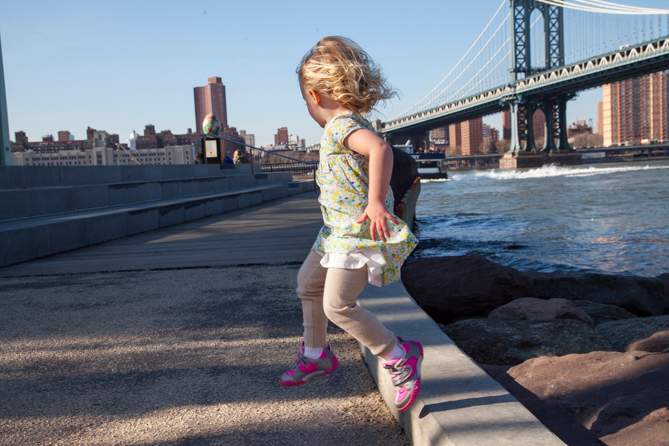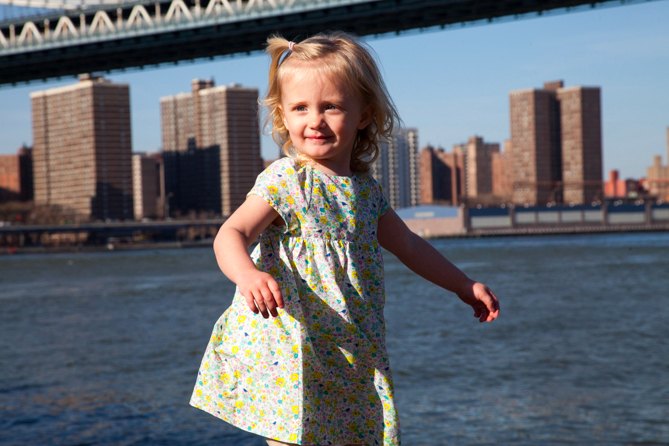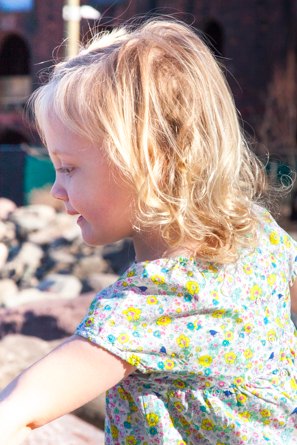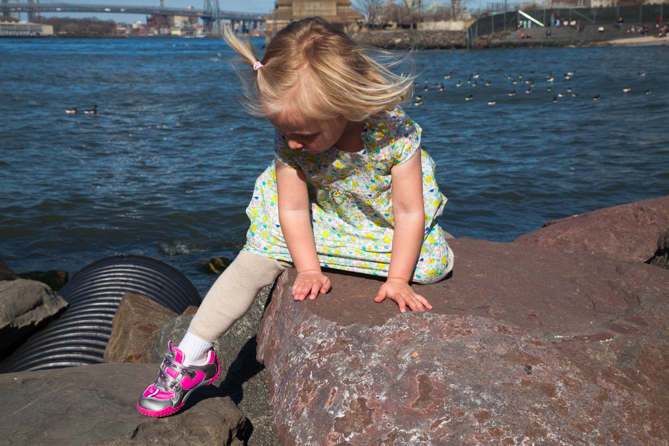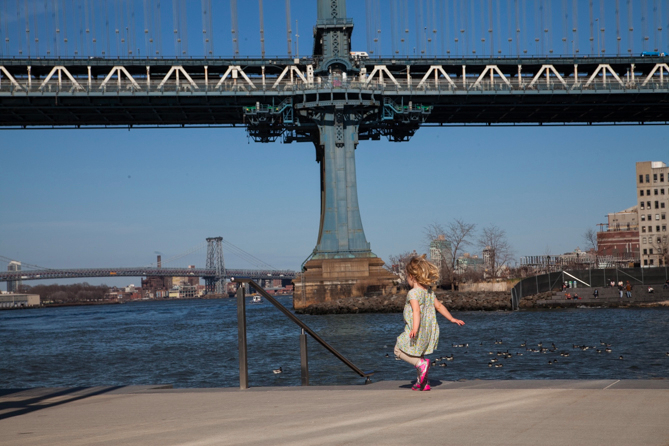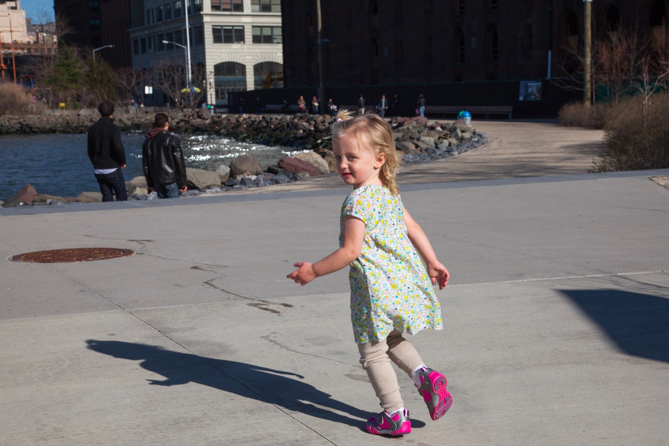 The T-shirt Dress is fun and bright, and perfect for an active toddler. The big yellow pineapple on the front is the standout feature, and is such a cute print that isn't typically seen on clothes for little kids. This dress is made for kids who are on the go. Perfect for running, climbing and having fun — being made from a super light weight cotton blend it will last throughout the summer, too. It's cute without being fussy, and fun without being too "little kid". Perfect for this sassy baby Brooklynite.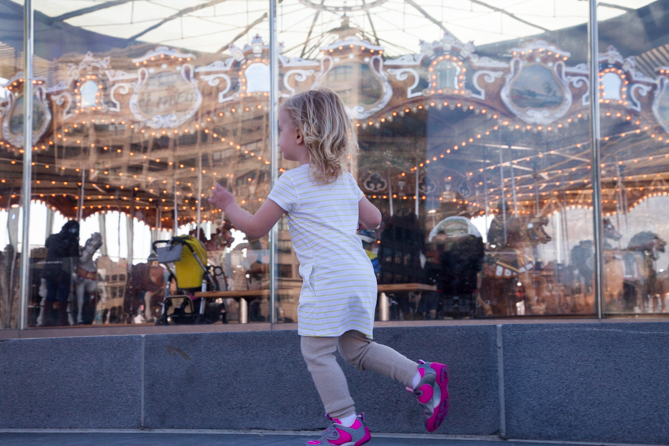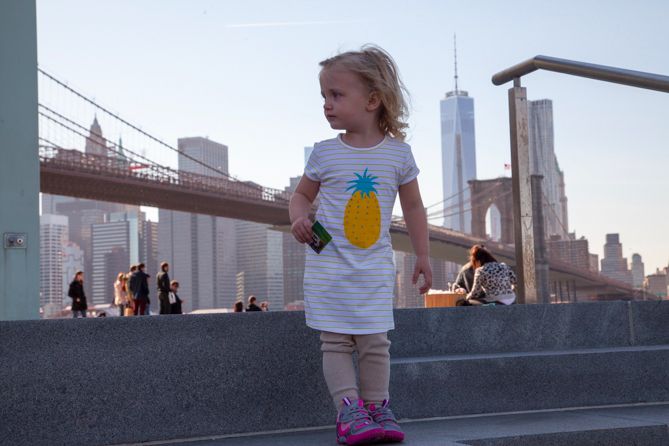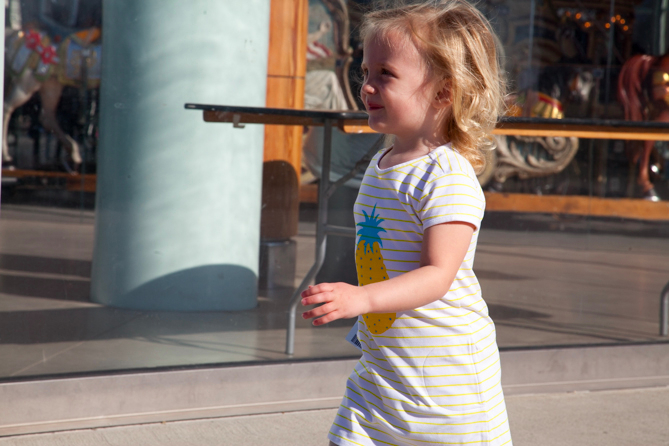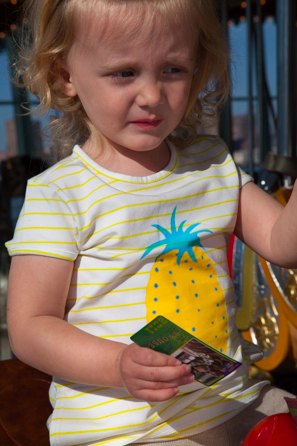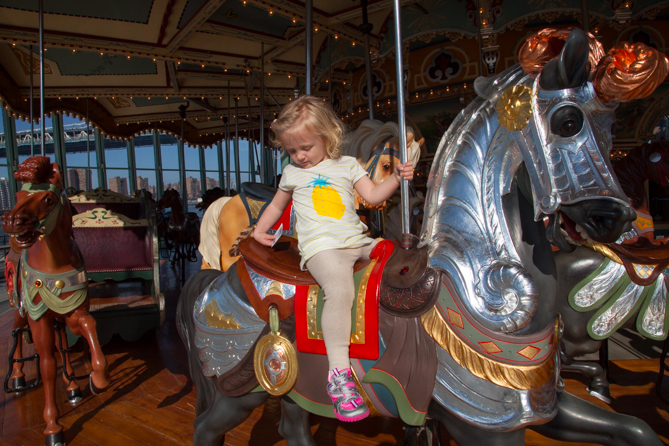 The Egg line is available online and in stores.
Brunch With My Baby received compensation for this post from Egg. All opinions are, as always, our own.