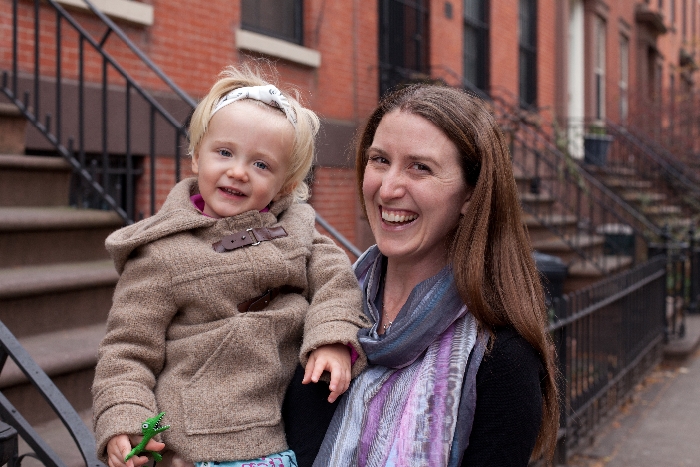 One of the crappiest things about crappy weather is having to do all your usual toting around of your kid, but now with tons more layers and accessories. The one bright spot? Winter layers that have style and street cred, like these scarves from The Brooklyn Block.
The Brooklyn Block folks have created a line of scarves that represent different neighborhoods in Brooklyn, like DUMBO, Red Hook and Clinton Hill. The process is something to geek-out about: First, they take videos of the various locations across Brooklyn, then they process them into code to generate specific patterns. The generated pattern is then printed on a scarf, reflecting the colors, layers and textures of that particular neighborhood.
Since we're full of Brooklyn pride, Alexis and I were eager to take these scarves out into our own 'hoods; Alexis in DUMBO, and me in Clinton Hill.
Each scarf is its own little work of art. Notice how beautifully each scarf picks up the colors of the specific Brooklyn neighborhood it represents. In DUMBO, Alexis's scarf picked up the mellow shades of blue and grey of a late winter afternoon. And in Clinton Hill, Christine's scarf played off of the subtle purples of the brownstones, and the grays from the wrought iron railings on the stoops.
The Brooklyn Block scarves are currently available online. Current blocks you can wear are Clinton Hill/Fort Greene, Red Hook, DUMBO and Dekalb Market. No news yet on if Park Slope will make the cut.