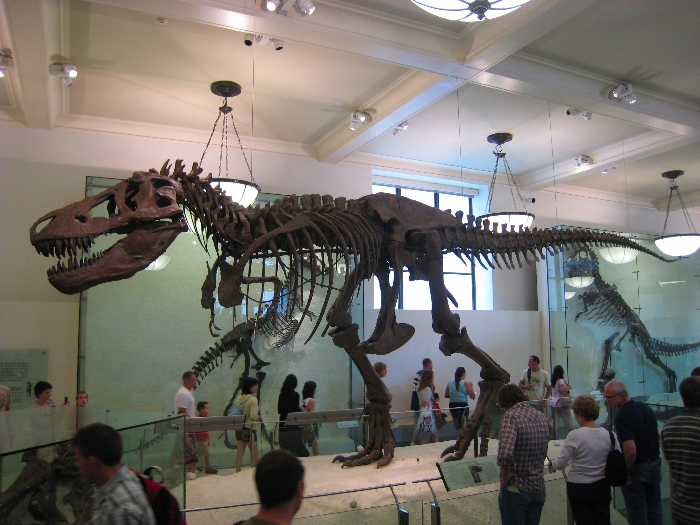 Right, so this cold snap means we need to find places that are warm and entertaining for a toddler, FAST. The American Museum of Natural History (AMNH) is the the perfect place to take an active kid. It has enough rooms, exhibits and general cool stuff to occupy kids of all ages all day — and their parents too (praise be!).
The AMHN has plenty of special exhibits on as well as the permanents like ye olde dinosaurs. If you're planning a day at the museum (and with toddlers, two hours often feels like a whole day), make sure you visit these toddler-pleasers: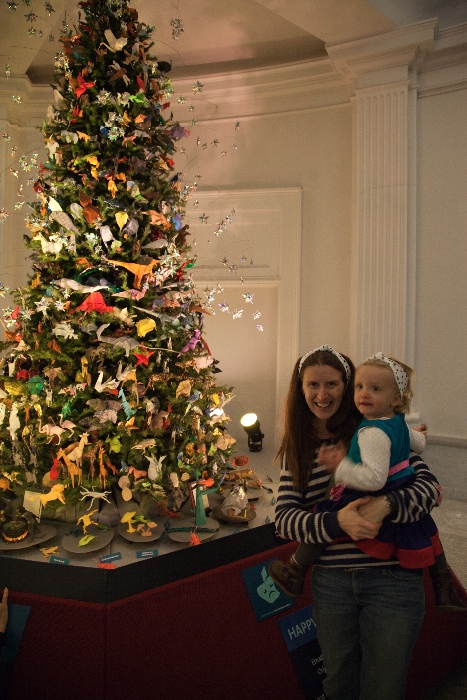 Origami Holiday Tree
The Origami Holiday Tree is a tradition that goes back 40 years at the museum. Volunteers start folding the ornaments in July to complete the hundreds of creatures that are displayed on the tree. Every year the tree has a different theme — this year it's Wicked, Wild, and Wonderful, in honor of the Museum's new exhibition The Power of Poison. The animals are mostly easily identifiable, even for toddlers, so you can easily spend a long time just at the tree, asking your toddler to show you the different animals, and pointing out those they they might not be able to identify themselves. It's also a good photo op.
Dates: Through January 12, 2014
Entry: Included with general admission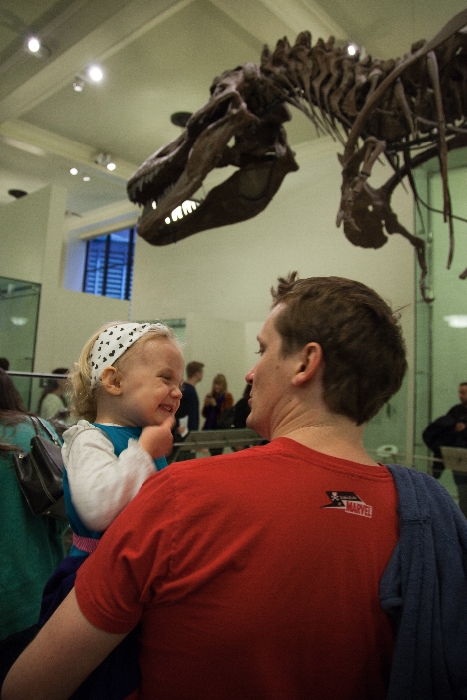 Dinosaurs
Everyone's favourite dinosaurs are crowd pleasers for the toddler set too. We like to let Cheese loose in the dinosaur rooms and watch her roar at the T-rex. If your kid (or spouse) is a dinosaur freak, take the "Dino Tour" suggested by the AMNH website to help visitors take in all the dinos on offer. The most entertaining part of the dinosaur exhibits for us is when Cheese tells her dad that the T-Rex needs to brush his teeth (see pic above).
Dates: Permanent exhibit
Entry: Included with general admission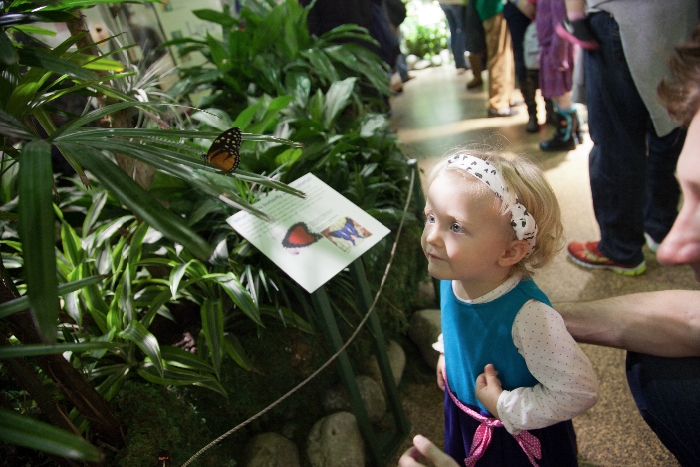 The Butterfly Conservatory
These beautiful insects flutter into the museum every year. Entry is timed, so you need to buy a ticket for this special exhibit, and play close observance to the rules. I'd suggest taking only babies or older toddlers who can follow directions into this exhibit, as the butterflies are within toddler-reach at all times. The butterflies like to land on visitors — making for some very exciting times for toddlers when they experience their light touch. An enchanting experience, not just the toddlers.
Dates: Through May 26, 2014
Entry: Additional ticket required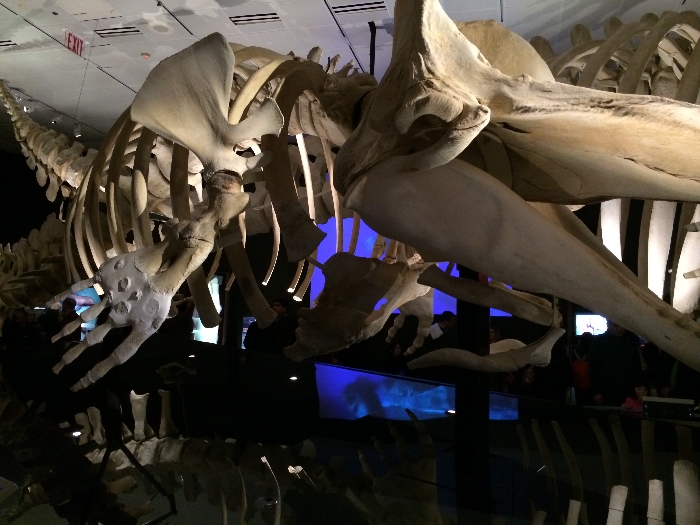 Whales Of The Deep
This exhibit is fascinating for adults, and fun for kids. There is a life-sized whale heart that kids can crawl inside, and a massive sperm whale skeleton. Cheese's favourite part of the exhibit was the sound chamber where you could spin a wheel and select a whale, and then listen to its distinctive sounds.
Dates: Through January 5, 2014
Entry: Additional ticket required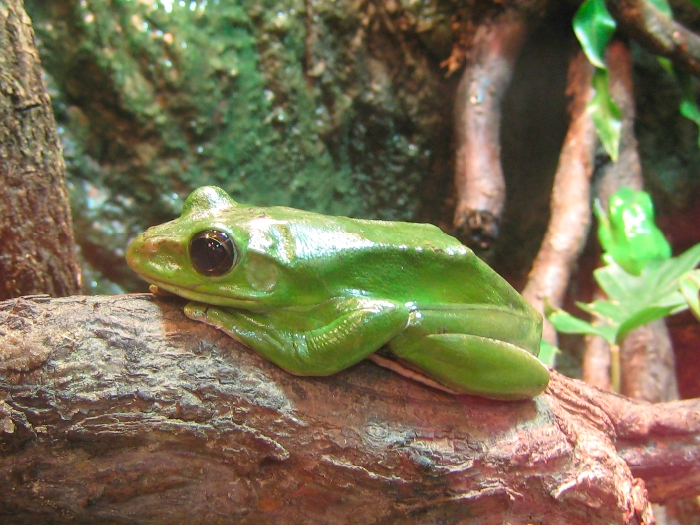 Frogs: A Chorus Of Color
This live exhibit features frogs in bright orange, blue and red. Toddlers and kids of all ages will enjoy seeing such a large variety of frogs from around the world. It's a rare chance to get up close to these critters, not to be missed for frog-lovers of all ages. 
Dates: Through January 5, 2014
Entry: Additional ticket required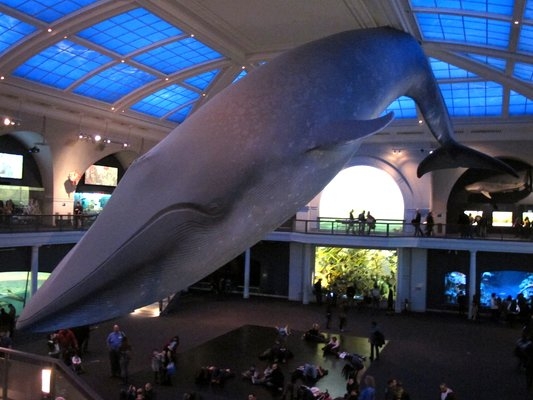 Milstein Hall of Ocean Life
The 94-foot-long, 21,000-pound model of a blue whale hanging from the ceiling is a must-see for every visitor. The hall has recently been renovated, and now features 750 sea creatures, including computerized glowing jellyfishes, and includes modern technology in the exhibits, such as high-definition video projections and interactive computer stations. The best spot in the room is lying directly underneath the whale on the floor. No kidding. It's amazing how different the world looks from down there.
Dates: Permanent exhibit
Entry: Included with general admission

American Museum of Natural History
79th Street and Central Park West
New York, NY
After (or before) your visit, check out these delicious places to eat that are right around the corner.