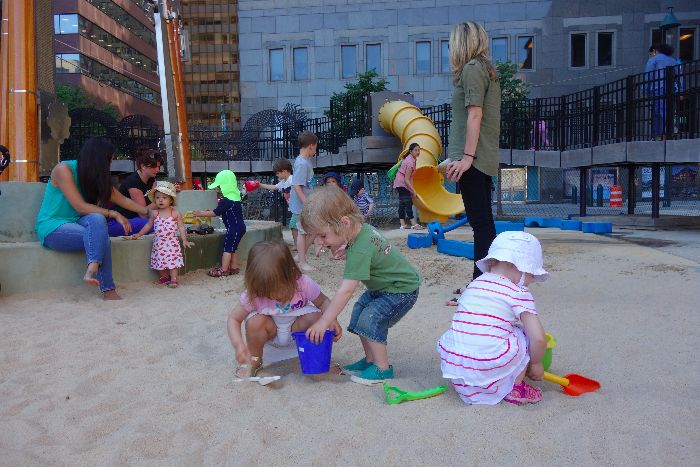 With the temperature (finally!) rising, life with a kid is all about finding ways to cool down. There are only so many times you can go to your closest splash park before you literally go bananas from boredom (sorry, it's the truth!). So why not venture out of your neighbourhood to try something new? You're not the only one who will enjoy checking out a new playground – and getting there and back is just part of the adventure.
A great afternoon (and cheap!) outing we recently took was jumping on the East River Ferry to Wall st/Pier 11, and the Imagination Playground at the South Sea Port. It's worth noting that the ferry trip alone made for a great adventure for the kids. They were insanely excited to sit in a big person seat next to the window, and see Manhattan quickly approaching. There is a cool breeze through the middle of the ferry while it's on the water that will make you want to stay on the ferry and spend the entire day just going up and down the river…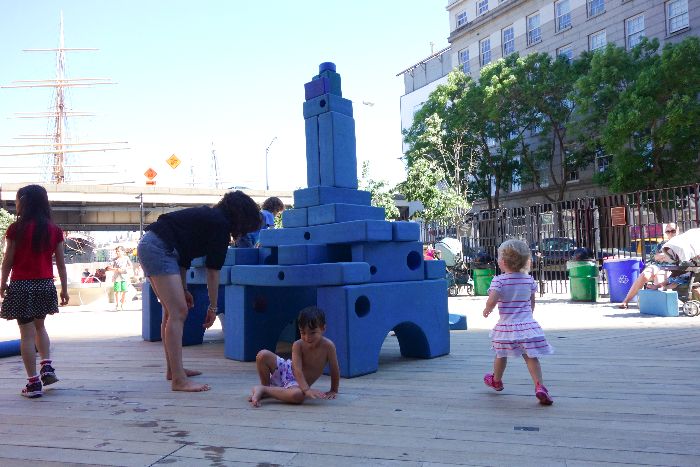 We decided to test drive the Imagination Playground because we really wanted to see how the toddlers enjoyed playing with the blue, foam blocks that the Imagination Playgrounds are famous for. Imagination Playground blocks are suitable for kids aged two and up to play with. They're basically huge shapes made out of non-toxic lightweight foam. The blocks come in a variety of shapes (curved and sharp angles) and sizes, and encourage kids to use their imagination to transform their play space into anything they can dream up. A robot, a play house, an animal or rocket ship – the only limit to what can be built with these blocks is a child's imagination.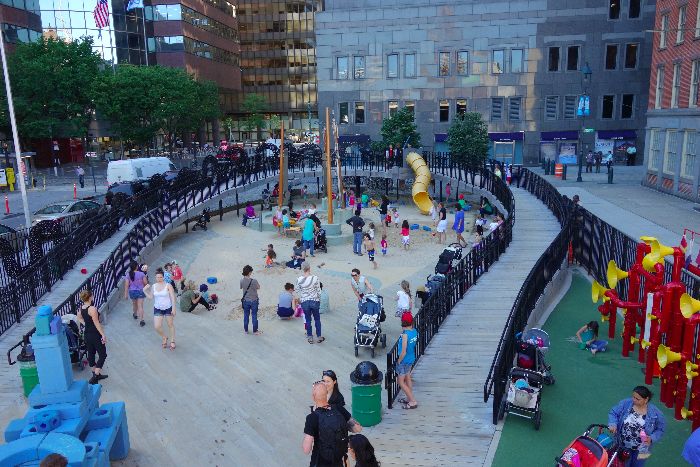 The blocks are only one feature of this great playground. At one end lies a huge sandpit, with a ramp running over the top and a twisty slide that ends up back in the sand. In the afternoons, this section is fully shaded, so gives a great respite from the heat if you can just get your kid to stay there.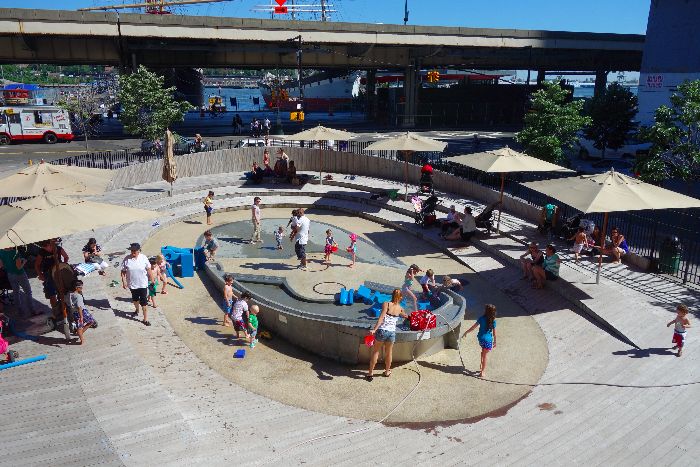 At the other end of the playground lies the sprinklers, and a whole host of kids of all ages trying to cool down. Tip: dress your kid in their swimwear and water shoes, so they can run around from one area to the next without dirtying their regular clothes. Don't bother with a swim diaper (the kids won't get THAT wet), but do remember a hat and the water shoes in particular.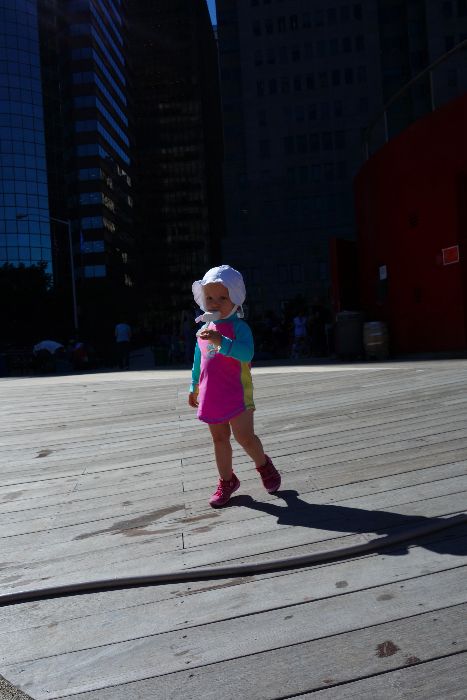 My toddler's splash park outfit this summer consists of a long-sleeved swim top (better sun protection and less time spent trying to cover her in sunscreen while she wiggles and objects), a swim diaper (I put it over her regular diaper if we are somewhere that only has a basic sprinkler as she doesn't get very wet, just so she has something to wear that's water-friendly with her top) a hat and water shoes (we upgraded to the Natives shoes after taking these photos because the water come straight out, so your kid can wear the shoes in the water, and then all afternoon without getting wrinkly, soggy feet).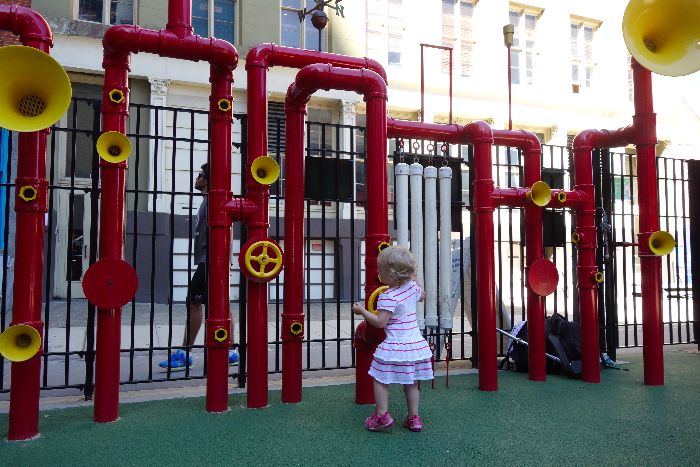 One last feature of the playground is an array of pipes and turning wheels, that older kids enjoyed climbing and the toddlers enjoyed spinning the wheels. Like everything else at the playground, each item can be played with by kids of all ages and abilities.
Imagination Playground at Burling Slip
Cost: free
Hours: Daily, 9am-6pm
Front St., John St., and South St.
Manhattan
East River Ferry
Cost: $4 per trip, $12 for an all-day pass
Hours: Ferries run ever every 20 minutes on weekdays, and every 15 minute on weekends. Be sure to check the schedule and your closest terminal. The trip from Brooklyn Bridge Park/DUMBO to Pier 11/Wall St only takes five minutes.