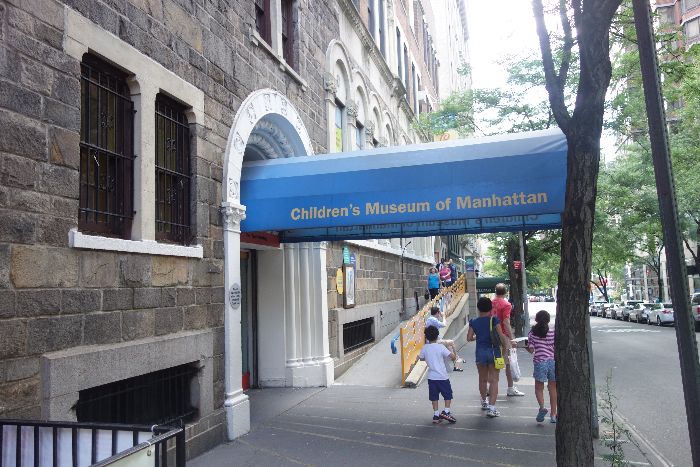 On a stupidly hot day, we were dying for an indoor space with super strong air-conditioning, where Cheese could also run around. We caught the A/C train straight up to 81st street to check out the Children's Museum of Manhattan (CMOM).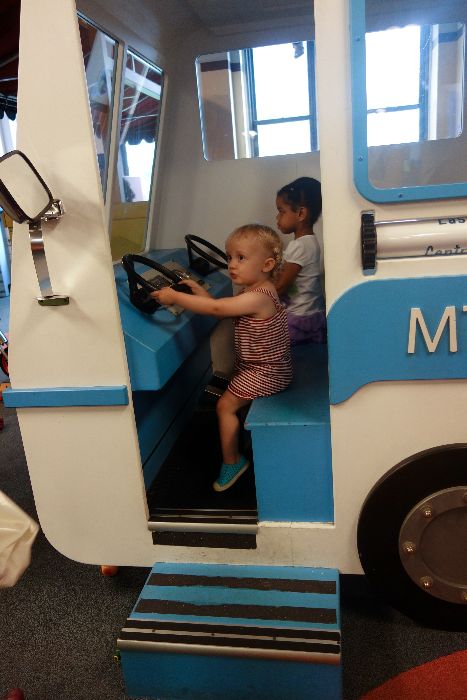 The CMOM is a five-story paradise for kids. Each floor contains either permanent or special exhibits, which are highly interactive, and suitable for children of all ages— from birth on up. Cheese, at 22 months, particularly loved the "PlayWorks" exhibit, featuring a fire truck, MTA bus and a giant talking dragon who "eats" letters.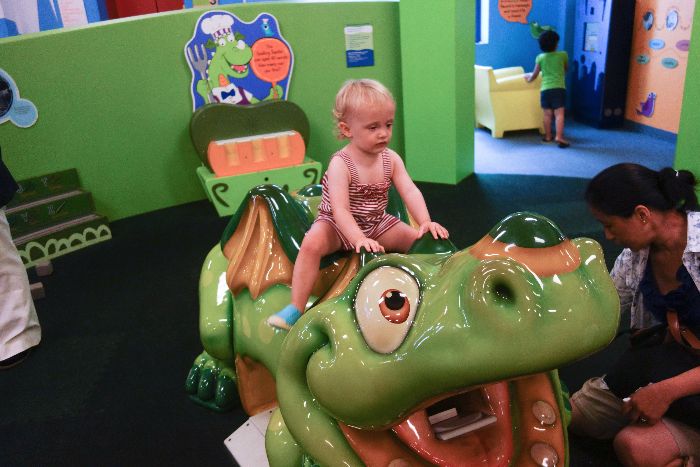 Other exhibits of note included an outdoor water play area in summer, a mural wall for kids to play on, a sand pit, a soft play area for babies and a Dora The Explorer rainforest world (with a jungle canopy and play exotic animal exhibits for kids to discover).
We went on the 4th of July holiday and it was not overly busy, which you'd expect on a public holiday (maybe everyone was out barbecuing?).  You'll need to check your stroller at the entrance, so bring a carrier for kids who aren't strong walkers. Also, there are  easy-to-access bathrooms with change tables available.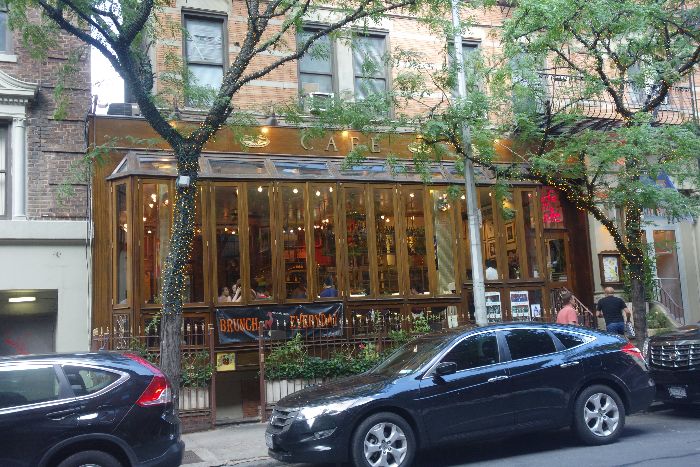 After working up an appetite we ducked into Cafe Lalo across the street (which is worth a visit on its own any day!) for a snack.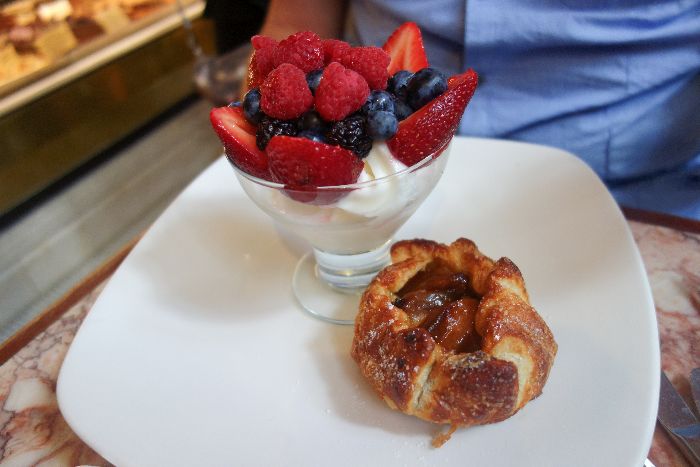 Since it was so hot, we each ordered the "Lalo's Special" ($11.50). It's a bowl of frozen yogurt with your choice of berries, fruit or nuts, and a fresh-baked breakfast pastry of your choice. We both ordered ours with the berries and went with an apple danish and cranberry scone since they were only two remaining pastries. As always, the yogurt was perfect, with the fresh mixed berries giving sweet zings of flavour to the tart yogurt. While the pastries weren't our first choices (I'd usually go for a pain au chocolat, and Alec a plain crossant), they were delicious. The apple danish was flaky with big chunks of apple, and the cranberry scone was densely packed with sweet bursts of cranberry.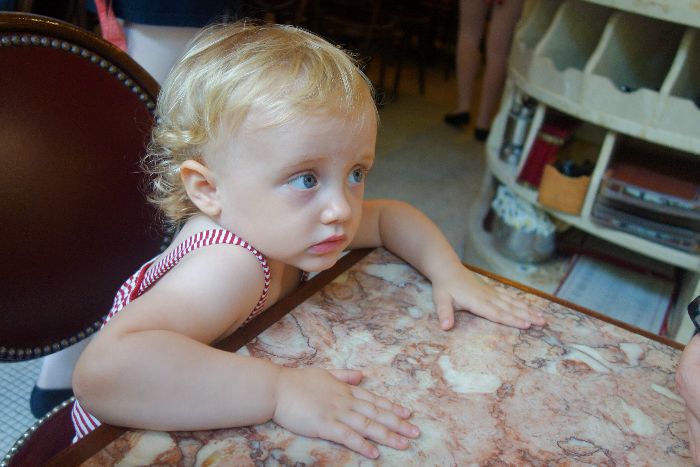 We let Cheese share our dishes—she loved the yogurt and berries most of all.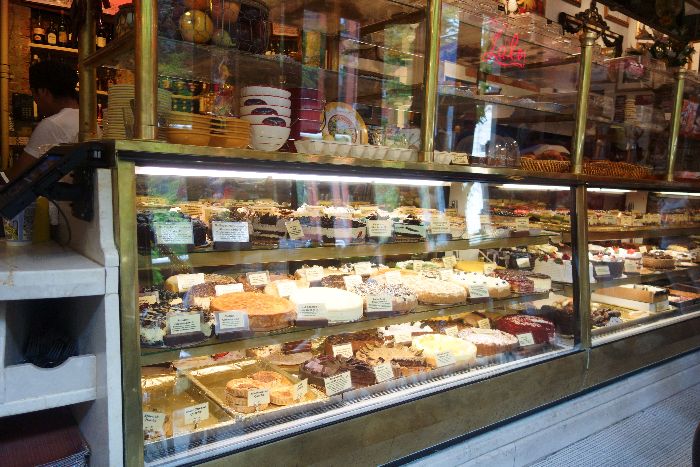 Cafe Lalo is actually known for two things—desserts (they have over 100 whole cakes, pies and tarts available), and for a famous scene in the movie "You've Got Mail", starring Tom Hanks and Meg Ryan. As such, it's always packed, either with lovers of sweets like myself, or busloads of tourists—who showed up at just the same time we did that day. The tourists mostly stayed in the front of the cafe to order a dessert to go, so it wasn't as obtrusive as you'd expect.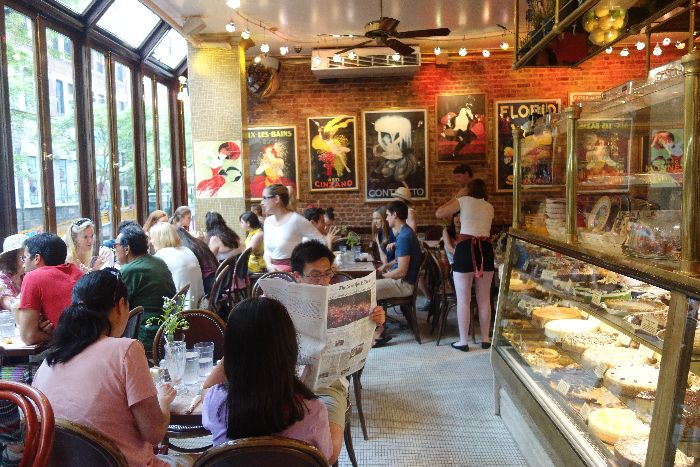 The interior—with its walls covered in Toulouse Lautrec-esque prints—is charmingly Parisian. If you block out the decidedly non-European voices around you, it's easy to imagine you're in a cafe in Paris.
Taking children to Cafe Lalo is a mixed bag. They're not especially set up for kids, so come prepared for your visit —you'll need to leave the stroller outside, and be sure to speak up and ask for anything you need for your child.
Last bite: Drop by for a snack or dessert for a touch of Paris on the UWS. Kids are welcome—order them a pastry or share a "Lalo's Special" for a fun afternoon (or morning) treat.
Stroller storage: You can't bring your stroller inside, but they'll store it for you somewhere mysterious under the restaurant.
Easy access: No. Quite a few steps.
Change tables: No. The bathrooms are pretty small.
Kids' menu: No, but there's so much to choose from, from bagels and muffins to steamed eggs or homemade waffles.
Cafe Lalo
201 West 83rd St. (between Amsterdam Ave. & Broadway)
New York, NY 10024
Phone: (212) 496-6031
Prices: $$
Hours: Mon-Thur 8am-2am; Fri 8am-4am; Sat 9am-4am Sun 9am-2am. Holidays until 4am.
Children's Museum of Manhattan
212 W. 83rd St (between Amsterdam Ave. & Broadway)
New York, NY 10024
Phone: (212) 721-1234
Hours: Sun-Fri 10am-5pm; Sat 10am-7pm. Closed Mondays.