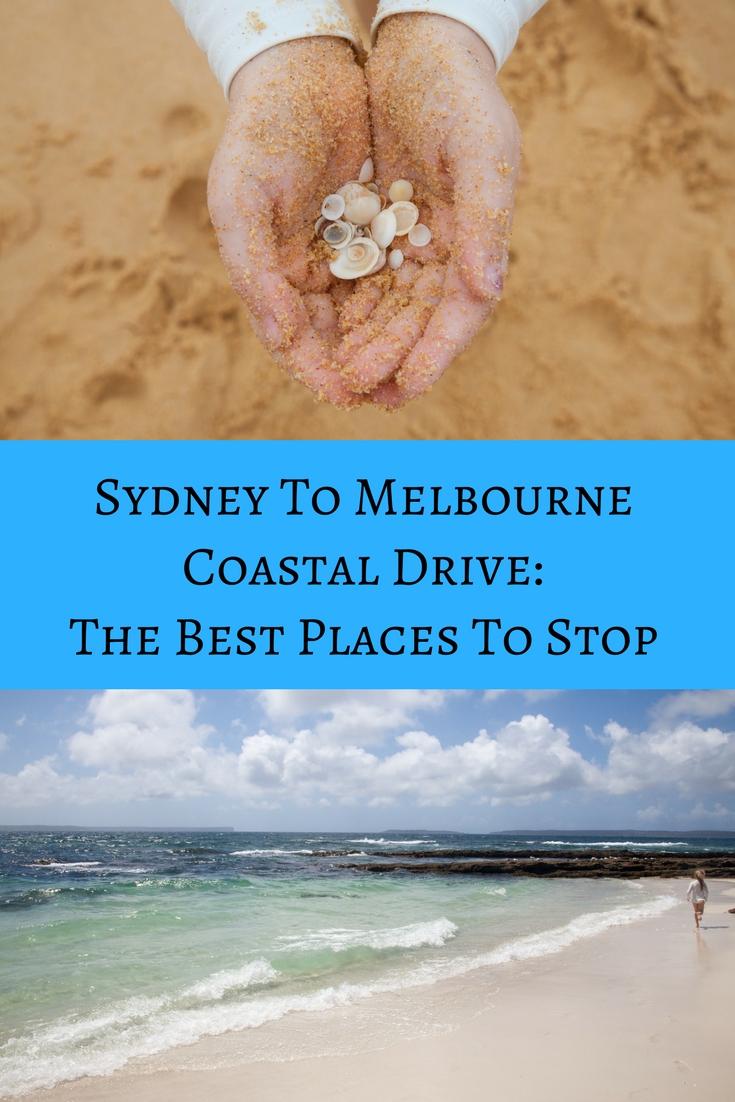 The scenic Sydney to Melbourne coastal drive stretches around 1280 kilometres past stunning beaches, quaint seaside towns and through lush valleys. If you drove directly it would take you around 10 – 11 hours or so, but why would you want to do that when there are so many beautiful places to stop and enjoy along the way?
For us, the joy of a road trip is in discovering the small things between point A and point B, such as a gorgeous beach to splash at or a delicious brekkie at a country cafe. The best bit about driving vs flying is that the journey can be just as enjoyable as the end destination.
Sydney to Melbourne Coastal Drive: The Best Places To Stop
Kiama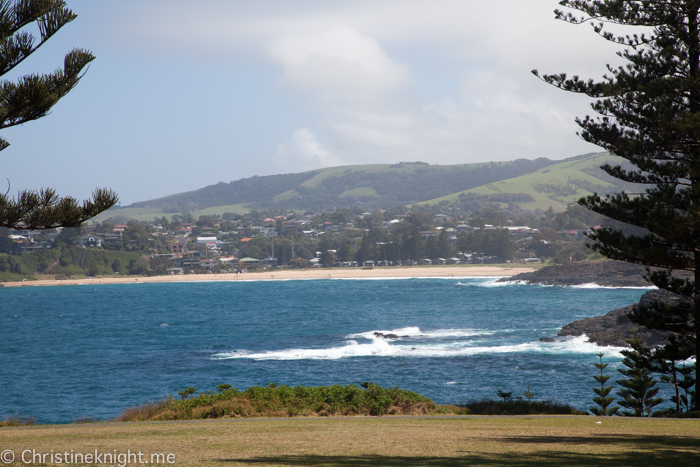 We've been visiting Kiama since we were kids to see the largest blowhole in the world. Sadly the hole wasn't blowing on the day we visited, so the photos below are from a visit when I was about the same age that Cheese is now. Thankfully there are now fences installed for safety! Note: The hole might not be "blowing" when you visit as there's been erosion inside the mouth of the blow hole in more recent years, meaning it now only "blows" in high tides, stormy weather type of days.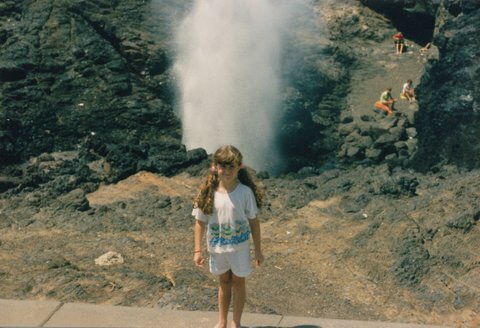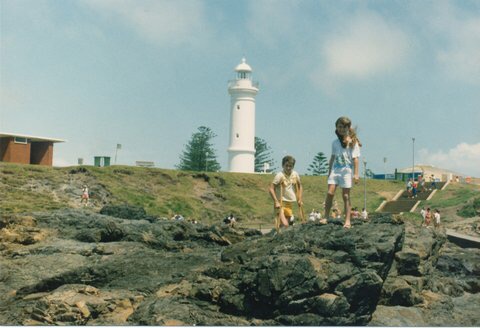 The famous Kiama Blowhole has attracted visitors for over 100 years. The nearby lighthouse was built in 1887 and is worth a visit as well. If you have time walk down to Surf Beach, the main beach in town with calm water for a dip. Near the beach you'll also find parkland with a playground and plenty of shops and cafes.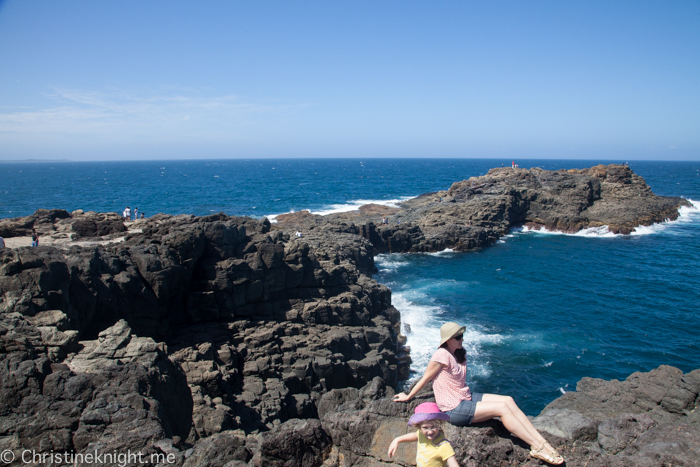 Spend a few days in Kiama and explore a points of interest including the Little Blowhole, Cathedral Rocks, whale watching, Kiama Fish Market, the Kiama Coastal Walk and the Pilot's Cottage Museum for some local maritime history.
Berry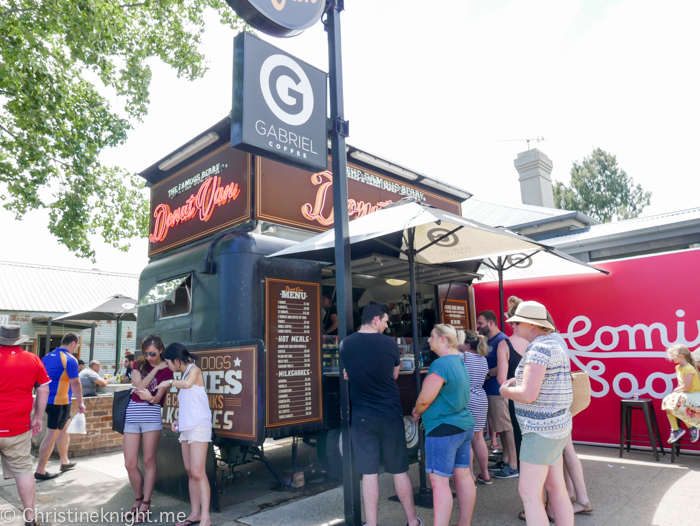 The rural town of Berry is known for its beautiful gardens, boutique stores, arts and crafts. I highly recommend stopping by for a stroll up through this pretty town, and a piping hot donut from the Famous Berry Donut Van. Cinnamon donuts are made freshly to order and handed out so hot they burn the fingers.
Jervis Bay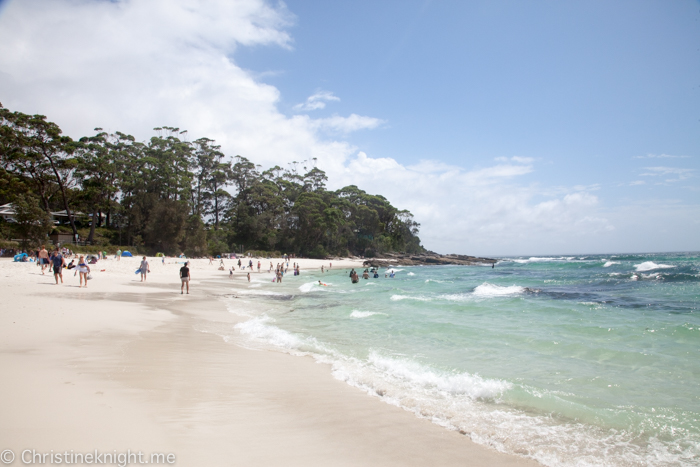 You could easily spend a week just in this beautiful spot on the NSW South Coast. There are plenty of picturesque seaside towns to explore, such as Calalla Bay, Huskisson, Vincentia and Hyams Beach. In the sparkling water of the Jervis Bay Marine Park live bottlenose dolphins, fur seals, sea dragons and migrating whales.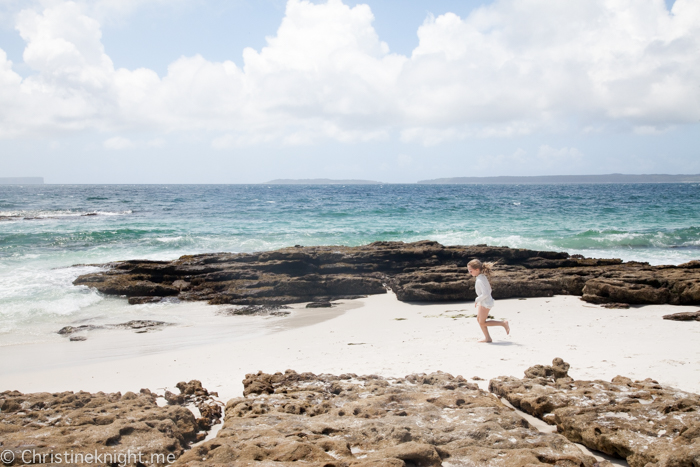 We enjoyed Hyams Beach, a small beach in a residential suburb that has surged in popularity after being awarded the title of "whitest sand in the world" by the Guinness Book of World Records. It's well worth a visit as the beach is just stunning, but be warned – parking is tricky.
Read more about visiting Hyams Beach.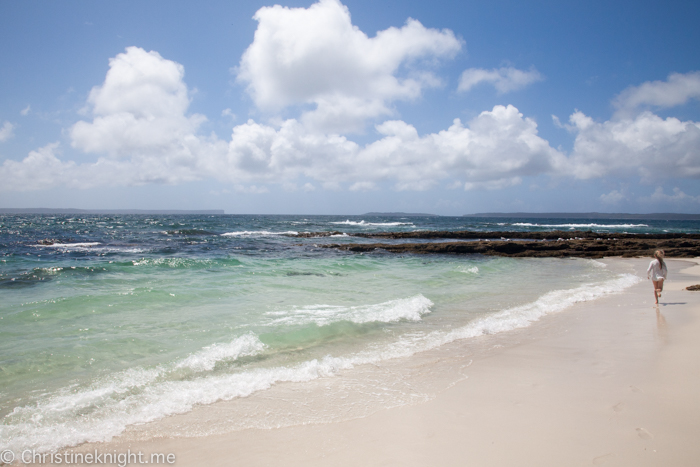 In our opinion, this part of the NSW coast is just breathtakingly beautiful, and a highlight of the Sydney to Melbourne coastal drive.
Read more about things to do in Jervis Bay.
Read more about Jervis Bay accommodation.
Bateman's Bay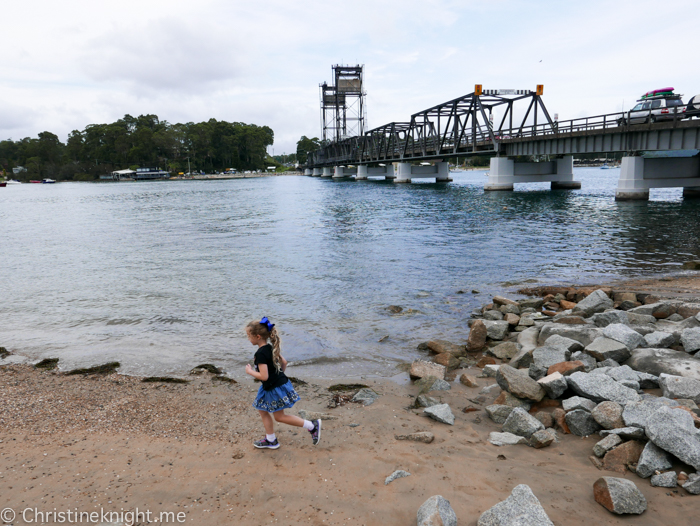 We stopped overnight in Bateman's Bay, a seaside town located at the entrance of the Clyde River. Captain Jams Cook gave the town its name in 1770 on his first voyage. The water at Bateman's Bay is very clear, making it a great place for snorkelling. Visit Clyde River National Park for bushwalking, kayaking and fishing, or Birdland Animal Park and get hands on with native Australian animals. Bateman's Bay is also an area for simple pleasures. Cheese really enjoyed climbing rocks under the bridge and playing in the riverside playground.
Bodalla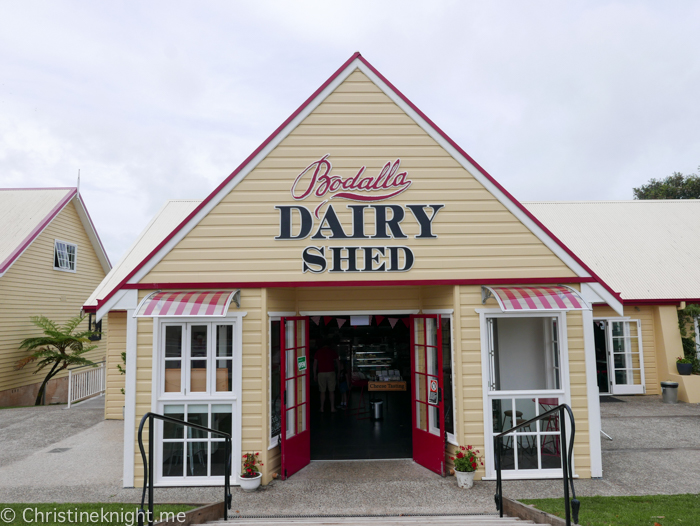 Of course we had to take our daughter Cheese to taste cheese! Stopping at the Bodalla Dairy Cheese Factory was a spur of the moment decision that we were very grateful that we did. Inside the factory you can try a range of delicious locally made cheese and milkshakes (they have other food too).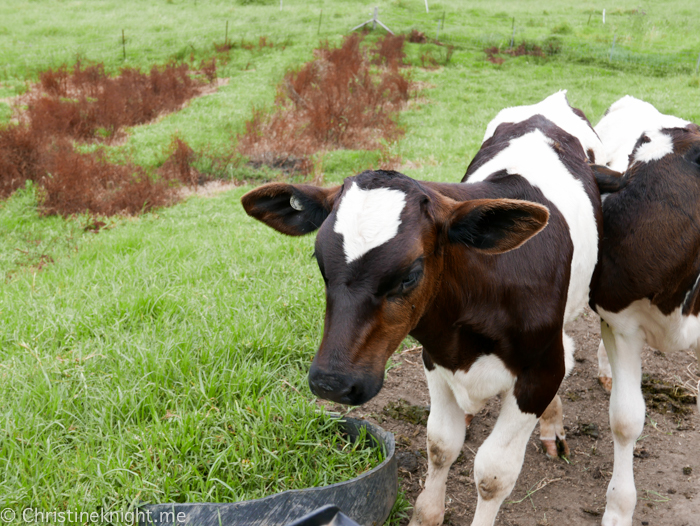 The farmyard out the back is a gorgeous spot where kids can pat the animals and bottle-feed calves daily at 10am and 4pm.
Bega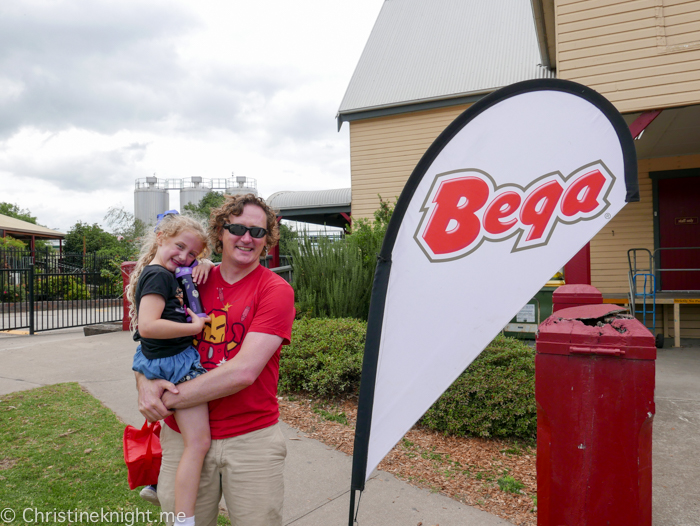 Driving through Bega was one of the prettiest spots on the road trip. The lush, undulating valley where Bega sits is so picturesque that you can imagine some very happy cows live here, munching on grass all day long, while their milk is being turned into sensational cheese. Visit the Bega Cheese Heritage Centre and sample some local cheese.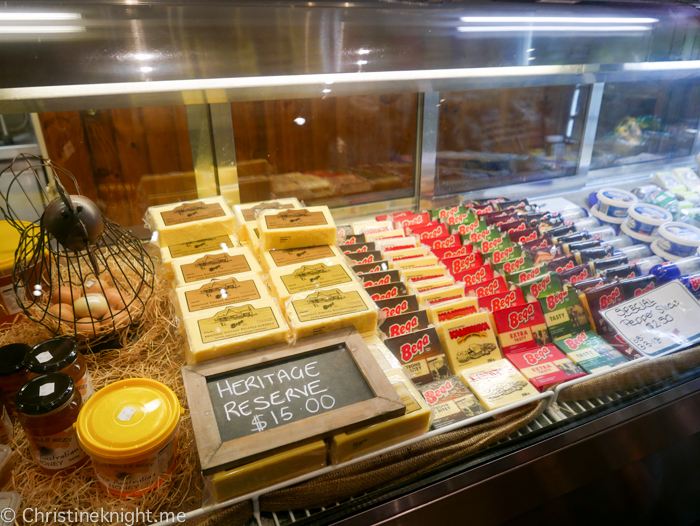 There are a few varieties that are only available here – we particularly loved the Heritage Reserve cheese. Honestly, you can't take the Sydney to Melbourne coastal drive and NOT try some cheese at Bodalla or Bega.
Merimbula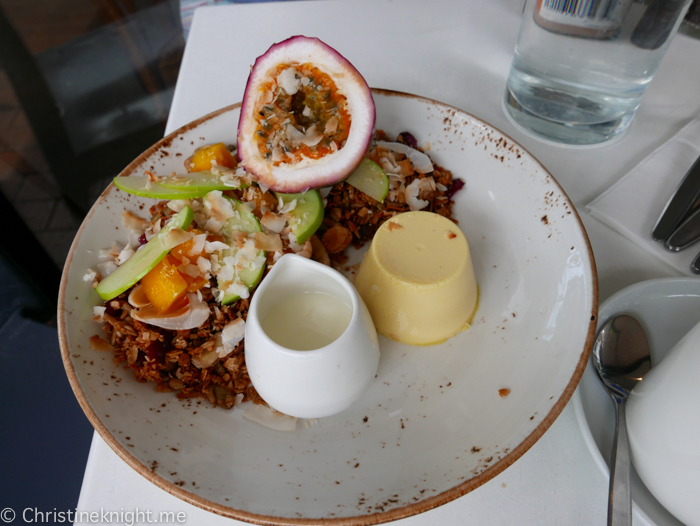 This little seaside town on the Sapphire Coast is a popular holiday spot for families. Merimbula, derived from the Aboriginal word for "two lakes", is a great place for water sports, whale watching, relaxing and eating! We had an amazing brunch at the Waterfront Cafe while stopping in Merimbula. Great food, and located next to a fenced playground.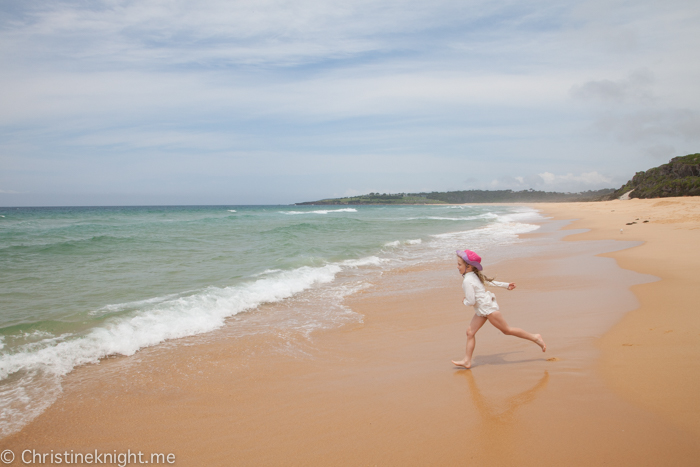 With its calm waters, sailing, kayaking and stand-up paddle-boarding are fun sports to try when visiting the area. There are plenty of beaches in the area too, including the Merimbula Main Beach, Short Point, Bar Beach (where you'll find good snorkelling) and Spencer Park Beach, which is a good spot for families as well a having a playground.
We also ventured to nearby Tura Beach and enjoyed it. Merimbula is a pretty little spot and it's easy to see why many people break their journey on the Sydney to Melbourne coastal drive here for a few days.
Milton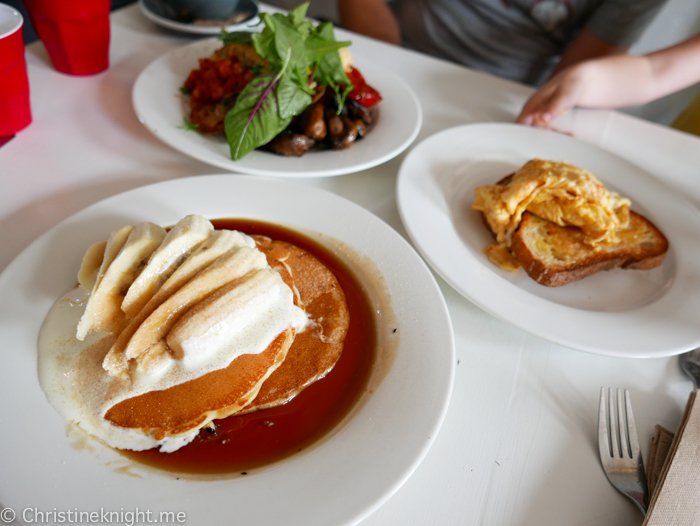 We were lured to Milton by excellent reviews I read for its vegetarian cafe, Pilgrims. The food was incredible, but the town is a really lovely historic spot, and worth a visit in its own right. Milton was founded in 1860, and is located near Mollymook and Ulladulla. I would highly recommend a stop in Milton for a look at its art galleries, antique stores, fashion boutiques and delicious cafes. If you have more time, take the detour to Mollymook for a walk on the beach.
Pebbly Beach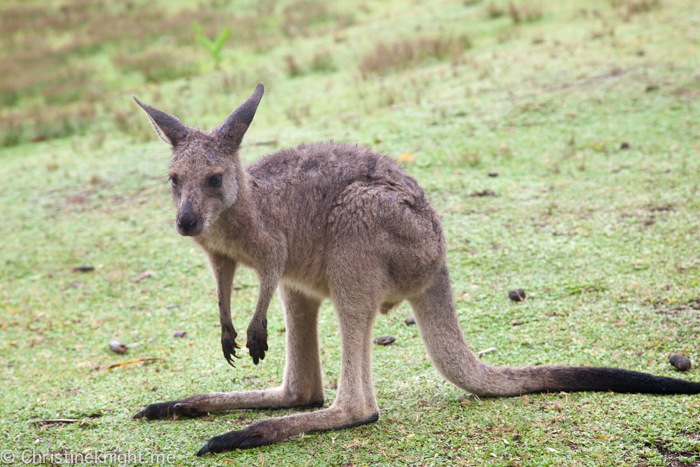 A photograph of a kangaroo in the low surf at Pebbly Beach has given rise to stories of "surfing kangaroos". Sadly there are no surfing kangaroos, but there are a lot of resident roos at the beach, many of whom are friendly and apparently like a pat. I wouldn't risk this myself, as wild animals are just that, but we did get very close to them with no issues on our visit to Pebbly Beach.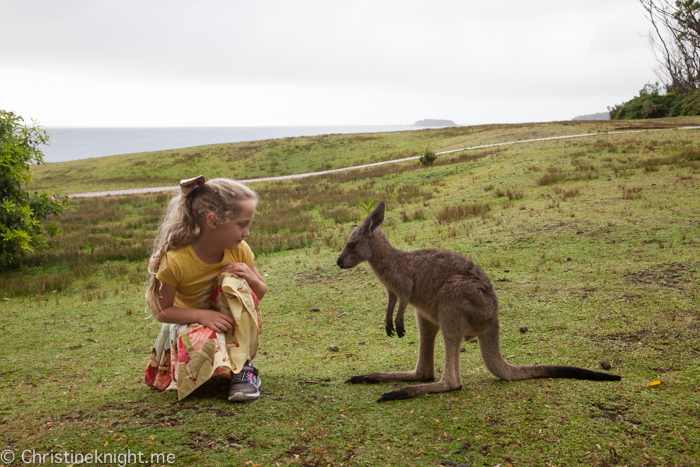 Located in the Murramarang National Park, Pebbly Beach is also a popular camping area. It rained when we visited so we didn't see the beach in all its glory, but it was still gorgeous despite the weather.
Lake's Entrance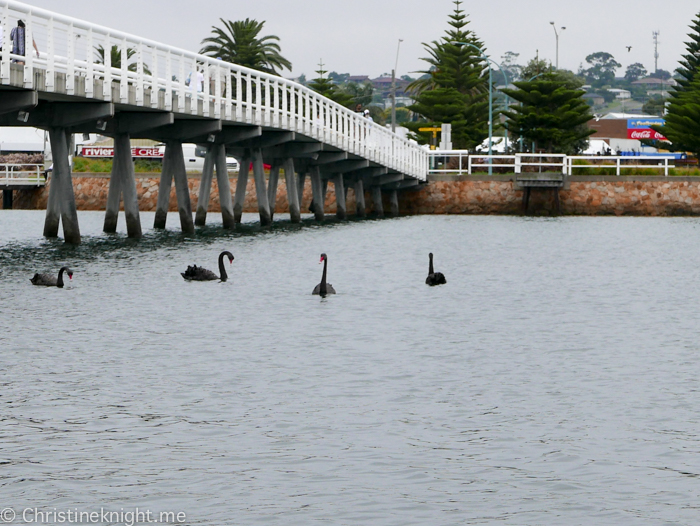 Another popular spot for young families to vaycay, Lake's Entrance boasts the largest inland network of waterways in Australia. Located on the edge of Ninety Mile Beach, where the Gippsland Lakes meets the Southern Ocean, Lake's Entrance is a fab spot to stay the night, like we did, or even a day longer. Water sports are a popular past time here, with kayaks, boat cruises and paddleboats all easily accessible.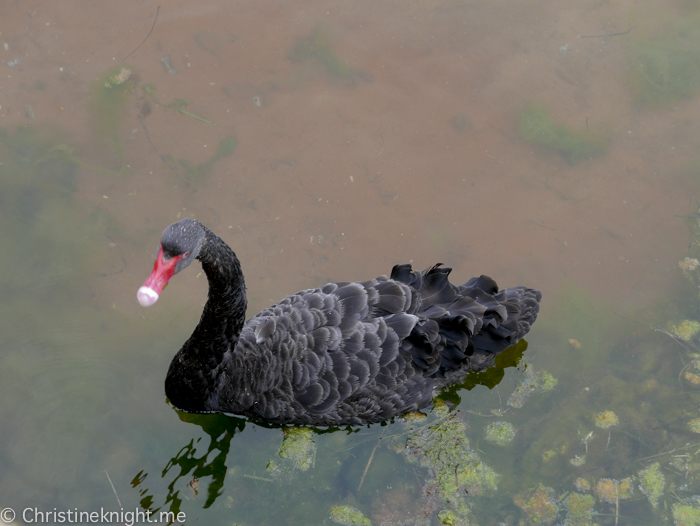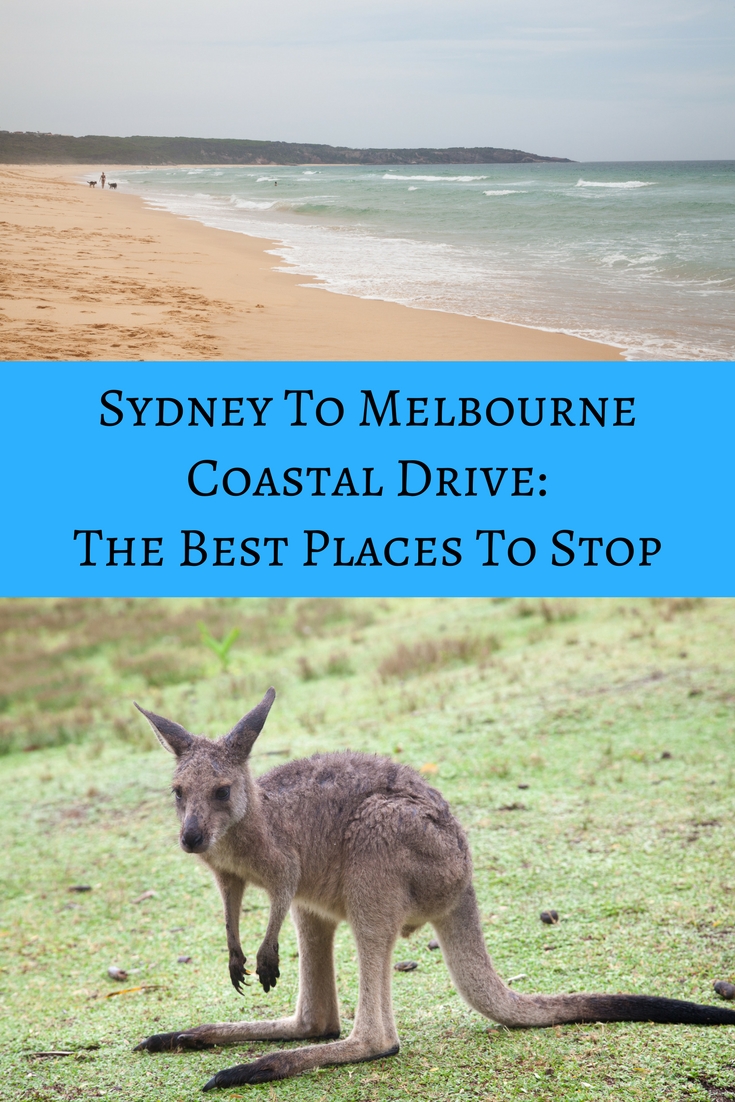 If you're headed to Sydney after your drive, here's a list of things to do in Sydney with kids, things to do for free in Sydney, the best beaches in Sydney, and best ocean pools in Sydney.