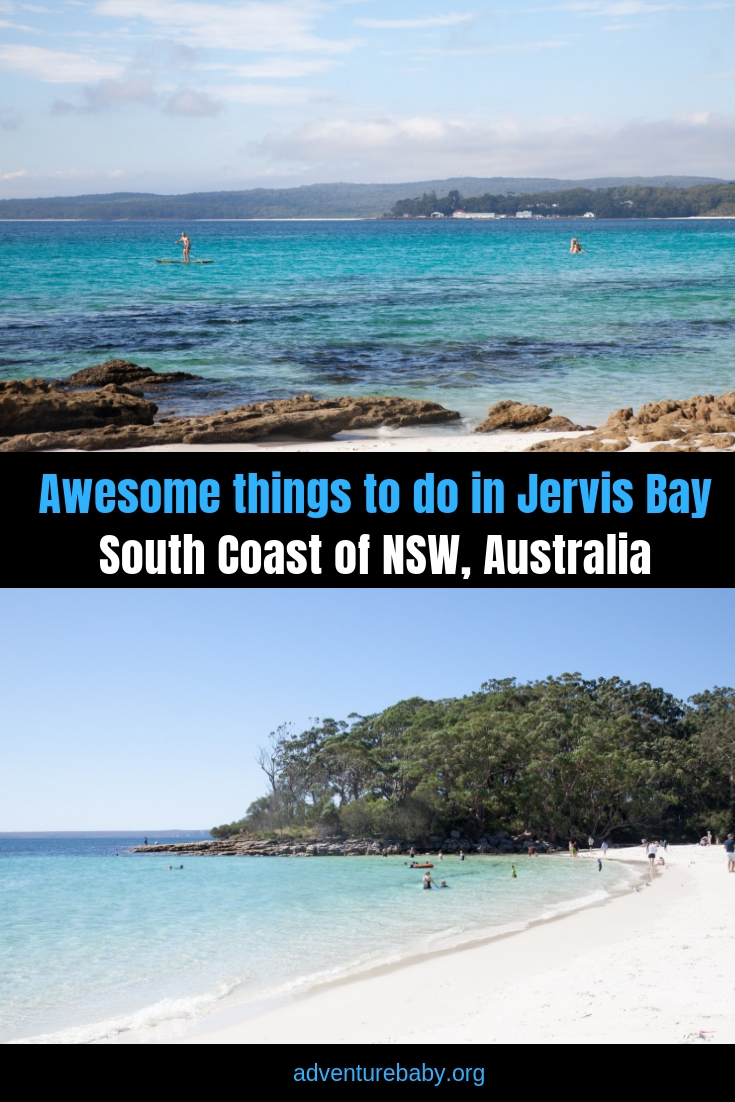 Jervis Bay, in the Shoalhaven region of NSW, is a seaside haven with white sand beaches and wildlife galore. Located two-and-a-half to three hours drive south of Sydney, Jervis Bay is the perfect spot for a getaway for all ages. Stay a weekend or longer if you can. Jervis Bay will steal your heart and make it hard for you to leave. There are so many things to do in Jervis Bay!
Things to do in Jervis Bay
Huskisson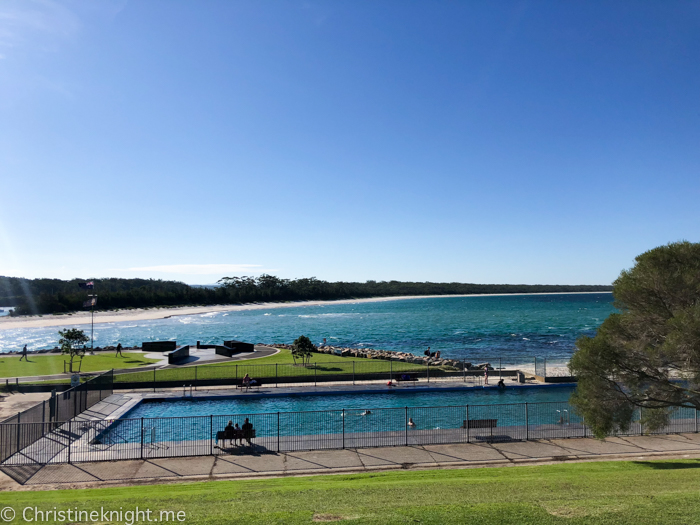 The main town in Jervis Bay, Huskisson is always pretty busy during tourist season. It's full of cafes, places to shop, galleries and other amenities but it's also hard to find a parking spot. Huskisson is on the shore of the Jervis Bay Marine Park, which is full of marine life including bottlenose dolphins, fur seals, little penguins and weedy sea dragons.
Boat tours leave from the jetty here and you can also hire kayaks. Kayaking is the perfect way to explore the stunning waters of Jervis Bay.
The Huskisson Bakery & Cafe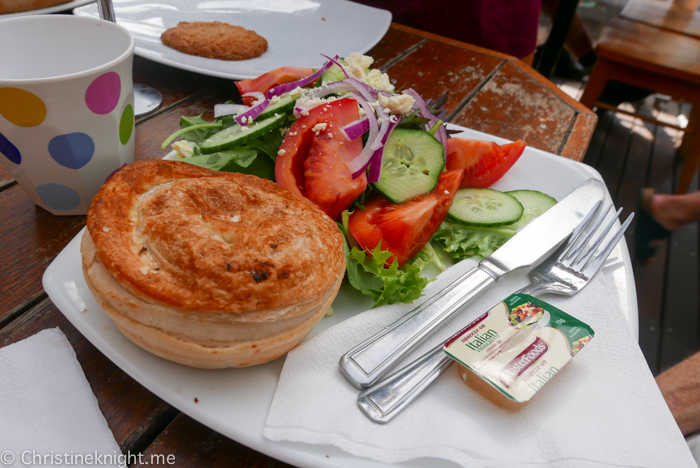 Drop by the iconic Husky Bakery for a pie. They are famous for their pies for a good reason – they're delicious! The bakery has a large outside undercover eating area with play equipment to keep kids entertained, too.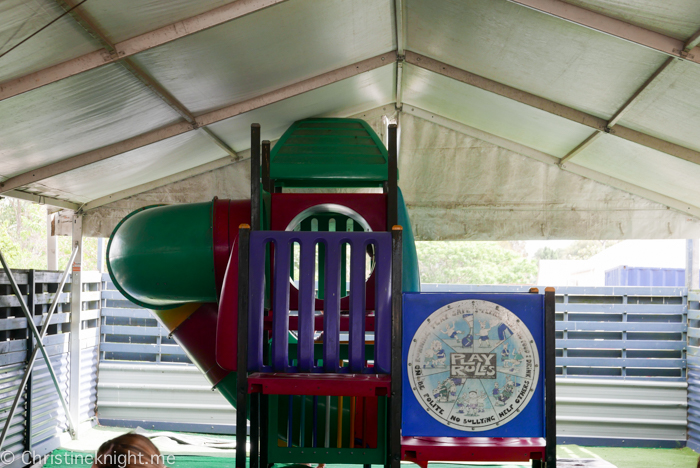 If you don't like pies, not to worry – there are plenty of things on the menu to choose from that aren't pie-related, too. Veggie pies and other options such as sandwiches and egg dishes are on offer.
Read our full review on the Huskisson Bakery & Cafe here.
Pilgrims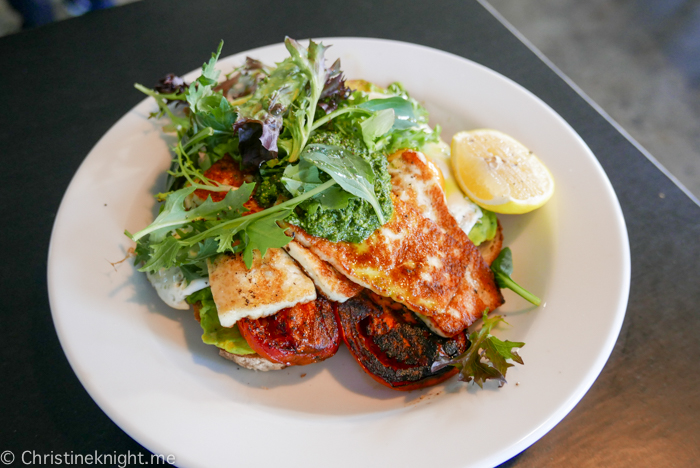 This vegetarian cafe serves up wholesome meals in generous portions. The menu is healthy and full of both vegetarian and vegan options for vegetarians.
Read our full review on Pilgrims here.
Huskisson Ice Cream Parlour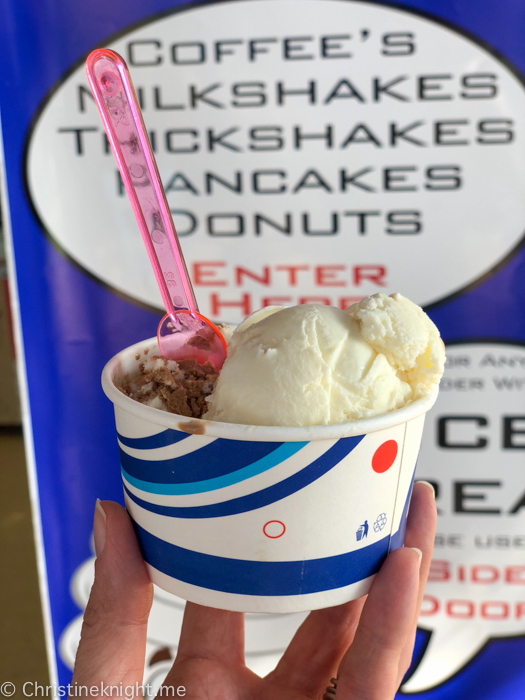 You can't visit the beach and not have ice cream! Have a double scoop, it's delicious.
Read more about the Huskisson Ice Cream Parlour here.
Fudge Addiction

Sweet tooths will adore this little shop, packed with a huge range of traditional confectionery such as house-made fudge, toffee, Turkish delight, nougat, rocky Road, Coconut Ice and a range of Chocolate-coated products.
Read more about Fudge Addiction here.
Boobook on Owen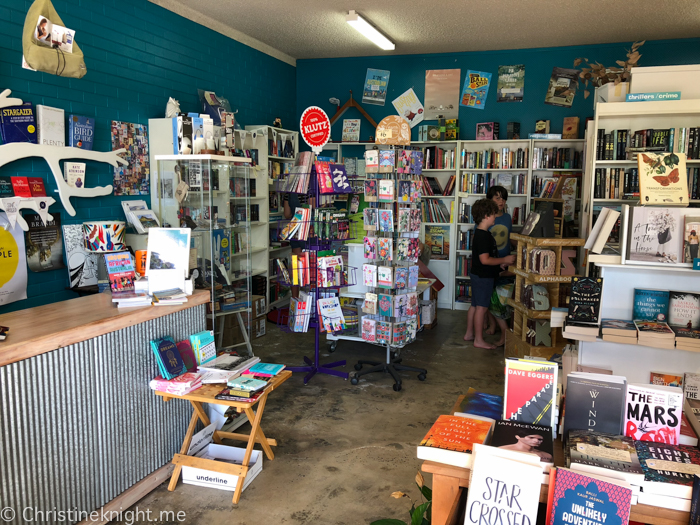 Not just a bookshop, Boobook is a quirky collection of the most interesting, popular and 'never want to put down' books, handpicked by staff. There is an excellent kids section plus a 2nd hand bargain area.
Read more about Boobook on Owen here.
Vincentia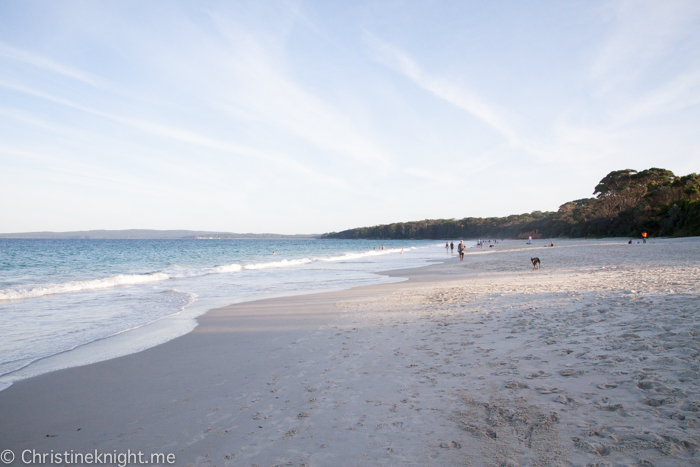 The next town south from Huskisson is Vincentia. It's only a few minutes drive but is much quieter. It still has a few cafes and supermarkets but without the crowds. Vincentia has plenty of pretty beaches to choose from including the dog friendly Nelsons Beach.
Nelsons Beach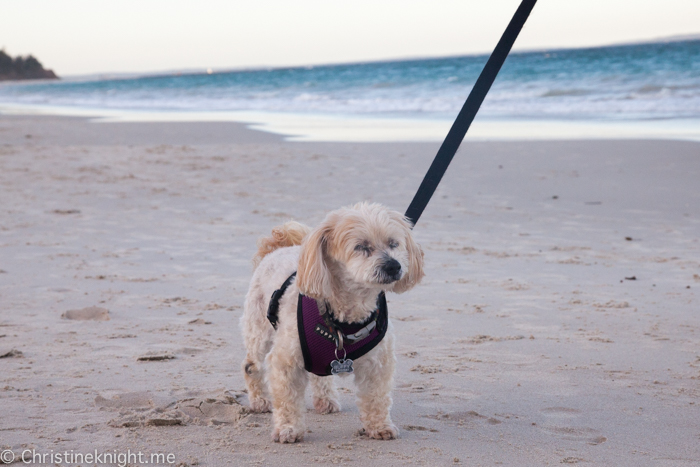 One of the quieter beaches in Jervis Bay, Nelsons Beach has lots of white sand and nothing else in sight. You won't find shops or cafes here but you will find space to spread out on the beach and spend a peaceful day at the beach with your family. Dogs are welcome at Nelsons Beach and in the mornings and evenings it resembles a dog park! Sunrise and sunset are both stunning at Nelsons Beach.
Greenfield Beach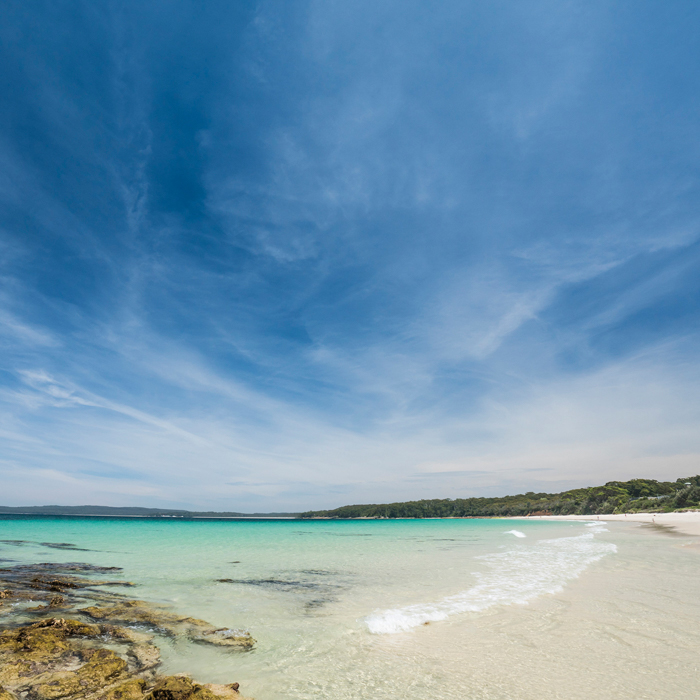 Another stunning beach set in the Jervis Bay National Park, Greenfield Beach has crystal clear water and powdery white sand. It also has walking tracks, free electric barbecue, clean drinking water, cold showers, flush toilet, sheltered eating area and wheelchair access, making it a perfect day at the beach. There is also a lot of wildlife in the are to be discovered on the walking tracks.
Greenfield Beach is also the start of the White Sands Walk.
Image courtesy of Destination NSW.
White Sands Walk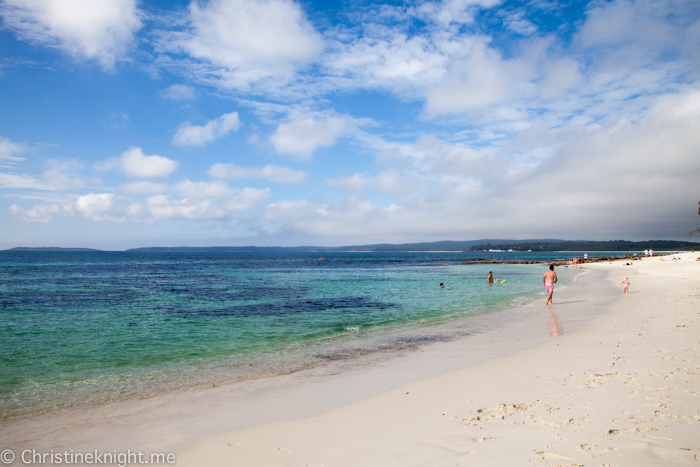 This beautiful walk takes you through the Jervis Bay National Park, past some of the South Coast's most stunning beaches.
The walk starts at Greenfield Beach picnic area in Vincentia and takes you past beaches that include Chinamans, Seamans and Hyams beaches, with easy-to-follow directions. Bottlenoiose dolphins are often seen from this trail, as are fur seals, little penguins and humpback and southern right whales during their annual migration along the coast between May and November.
At Hyams Beach, where the walk ends, return via the Scribbly Gum track that goes inland through tall forests, back to the top of Greenfield Beach picnic area.
Callala Beach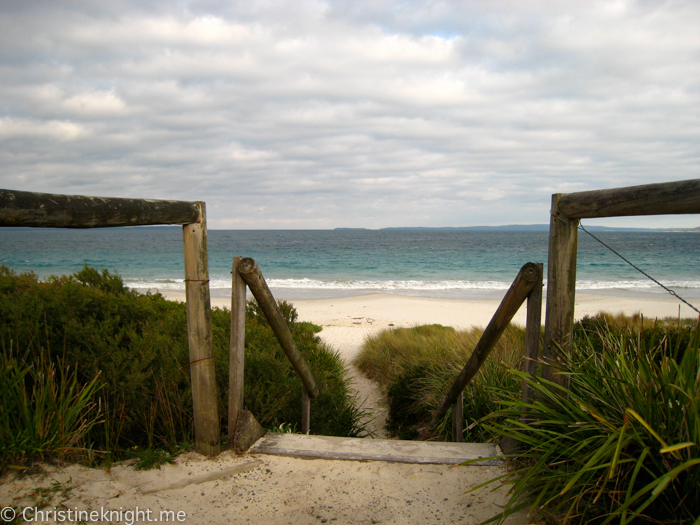 Callala Beach is the longest beach in Jervis Bay and is also dog-friendly. Calalla is a small town that is quiet and has only a few basic amenities, and is a bit further drive north out of Huskisson.
Hyams Beach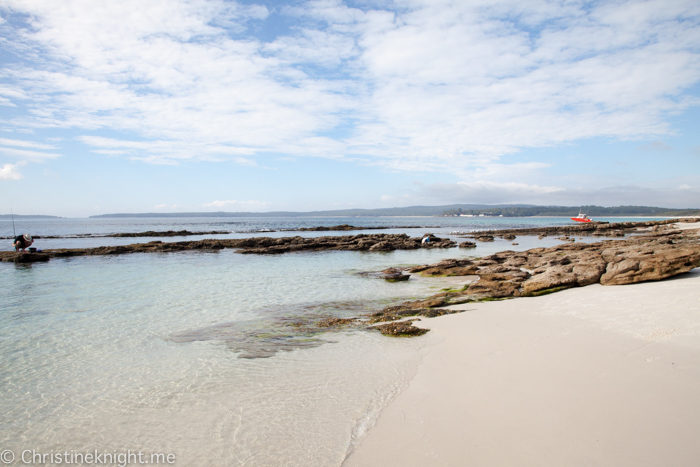 A residential area, Hyams Beach is now inundated with tourists and busy during the popular tourist times. There is one cafe to drop by for lunch or a coffee – a better idea is to pack your food for the day.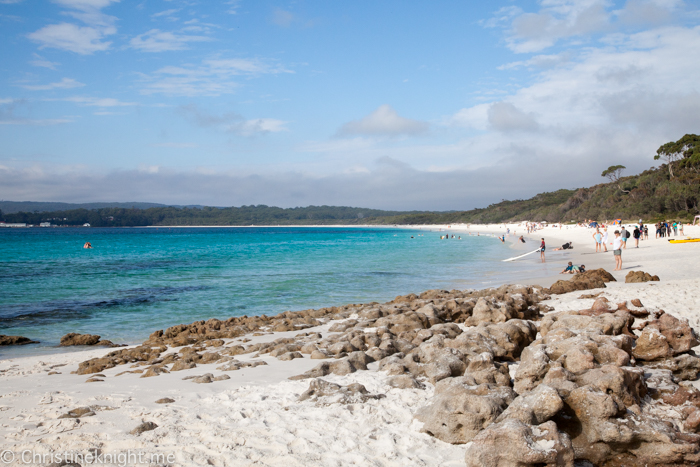 With the influx of tourists, driving and parking around the area can be painful – however, the beach itself is lovely and well worth visiting. The rock pools between the north and south beaches are a lovely spot for kids to splash around. Hyams Beach is a short drive south of Vincentia.
Farm Stay at The Woods Farm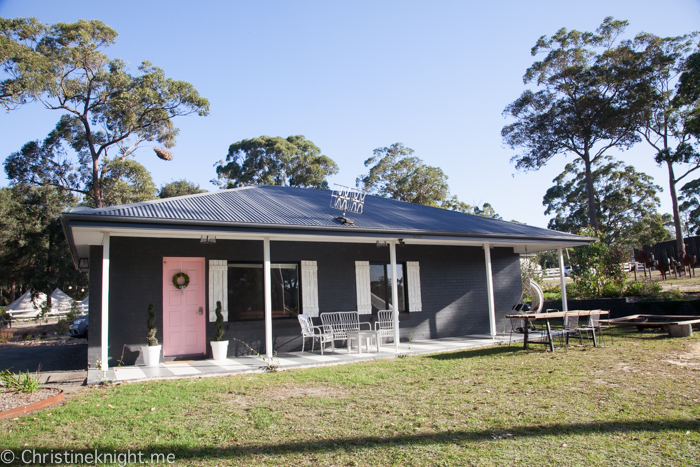 A 15 minute drive inland from Huskisson, The Woods Farm is a farmstay with a bit of luxury. Daily animals feedings of the chickens, alpacas, feisty goats horse and miniature pony are a hit with the kids.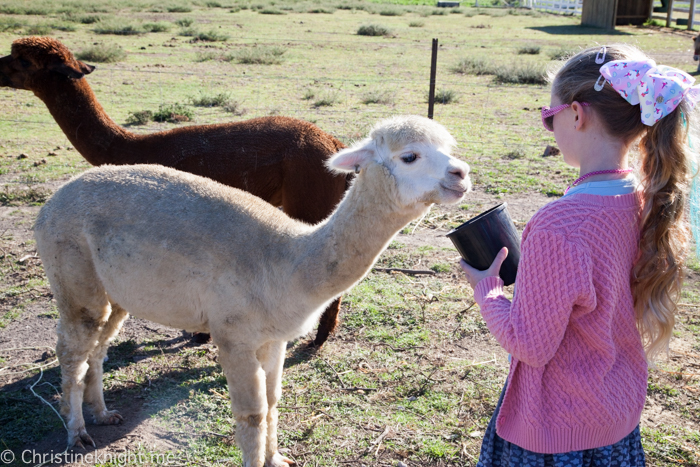 There are eight individual cottages to choose from, each with three bedrooms and 1.5 bath plus a glamping tent out the front that can be added on for an extra $150 a night. We stayed for two nights and enjoyed our stay, however found it a bit pricey for the experience offered. Be aware that there is a cleaning fee of $250 in addition to the nightly rate.
Get more information on The Woods Farm here.
St Georges Basin
The largest town on the late of the same name, St Georges basin is perfect for those who love fishing, boating and swimming. St Georges Basin is on the northern shore and near Sanctuary Point, only a short drive from Huskisson and Vincentia.
Read more about visiting St Georges Basin here.
Moona Moona Creek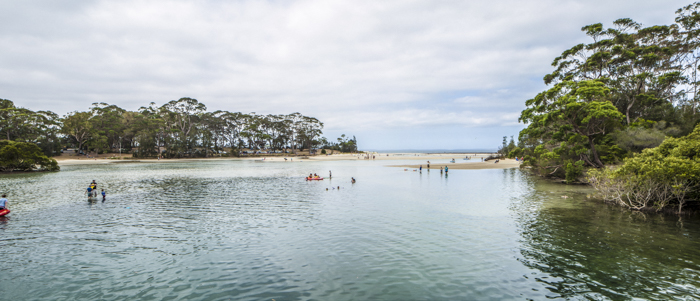 A top spot to swim with kids! The entrance to the Moona Moona Creek is popular with families who love to swim in the shallow water. Nearby Moona Moona reserve is a great spot for a picnic with barbecue facilities, outdoor showers and shady areas.
Read more about visiting Moona Moona Creek here.
Image courtesy of Destination NSW.
Point Perpendicular Lightstation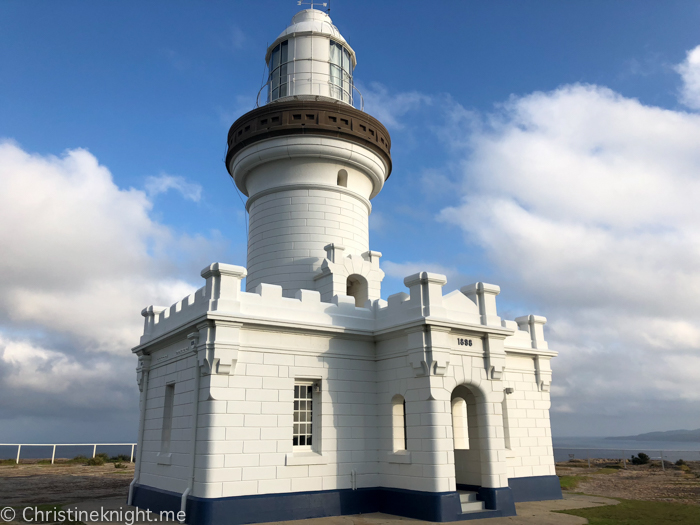 I love a good lighthouse! It's a bit of a drive to get to Point Perpendicular, but the view at the end of Jervis Bay escarpment is worth it. The historic lighthouse was active from 1889 to 1993. There is no access inside the lighthouse but I thought the view was worth the drive.
Read more about visiting Point Perpendicular Lightstation here.
Booderee National Park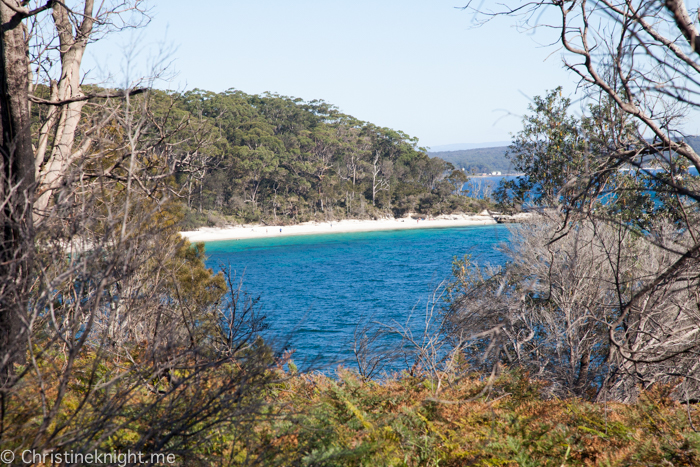 Booderee is a spectacular place to visit and stay, with white sand beaches, dramatic cliffs and teaming with wildlife. You need a park pass to enter the Booderee National Park, which you can buy at the entrance.
Jervis Bay Village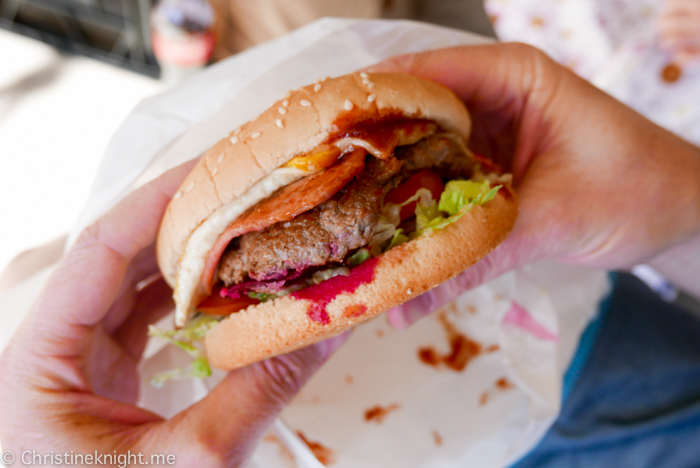 The Jervis Bay Village is the spot to to stop to pick up supplies from the general store or order a meal from the takeaway shop. We ordered burgers that came out old style and delicious. They even had several veggie options on offer including a spinach and ricotta roll and veggie burger.
Green Patch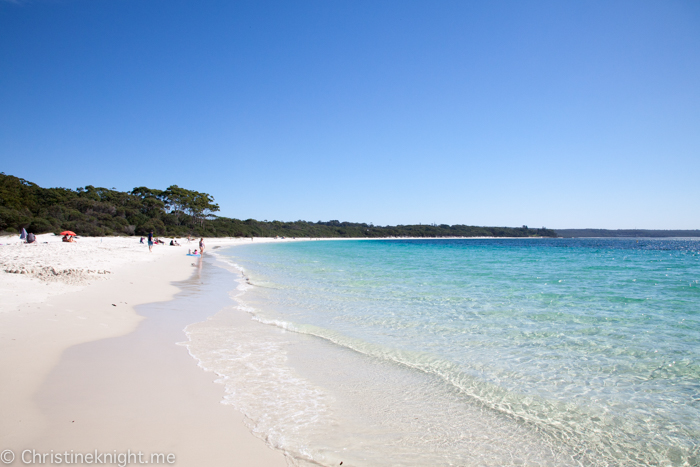 Green Patch is a popular spot for its spectacular beach. The white sand and bright blue water is just as stunning as nearby Hyams, with the added tranquility of a bush surrounding. You will find plenty of wildlife in the surrounding bush such as kookaburras and kangaroos. There are extremely clean public restrooms here.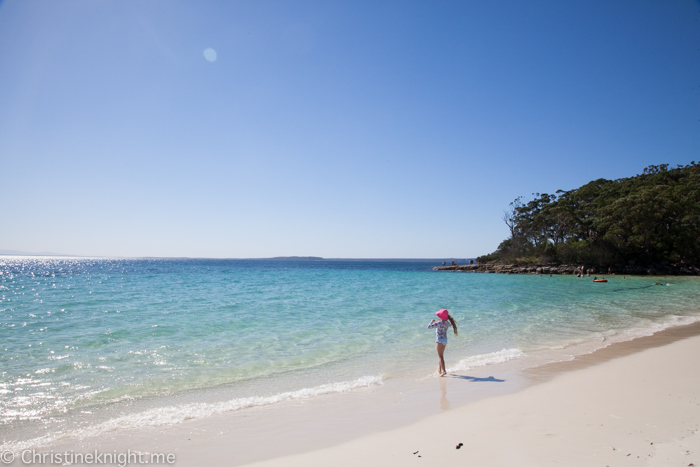 We rated Green path as the prettiest beach and as one of our favourite things to do in Jervis Bay.
Cave Beach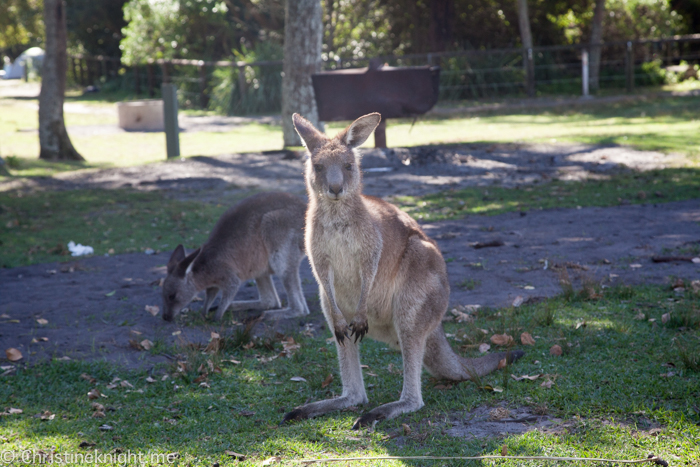 Cave Beach is famous for residential kangaroos who can usually be found munching on grass in the camping area behind the beach. Be careful as the kangas can get a bit aggressive if they smell food on you so leave food in your car.
Hole in the Wall Beach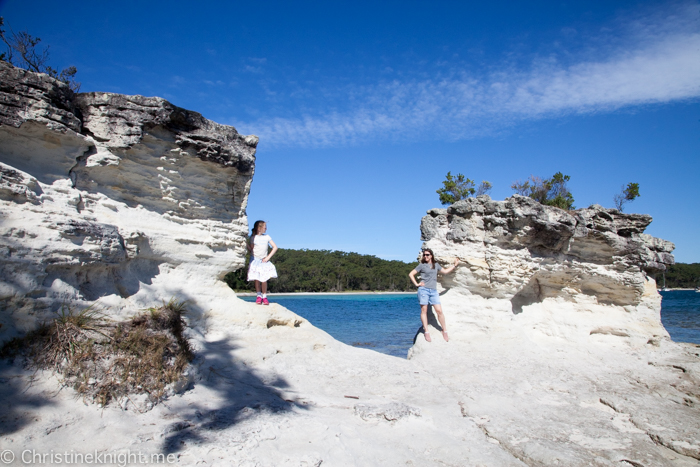 We loved walking along the beach to the sandstone rock wall at its eastern end with a U shaped hole in it that gave the beach its name: "Hole in the Wall Beach".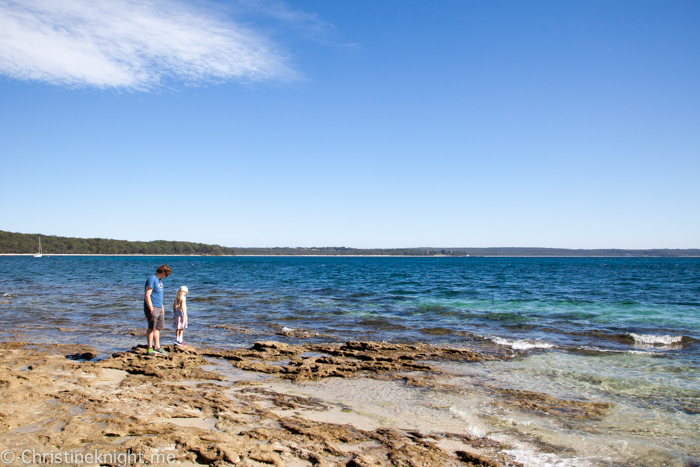 The hole (well, now U shape) is a popular photography spot especially in the early morning. We also enjoyed the rock pools we found walking up the beach to the rock wall at the end. Around the U hole are more rock pools and a longer walk. Exploring amazing places like this is one of the best things to do in Jervis Bay.
Murrays Beach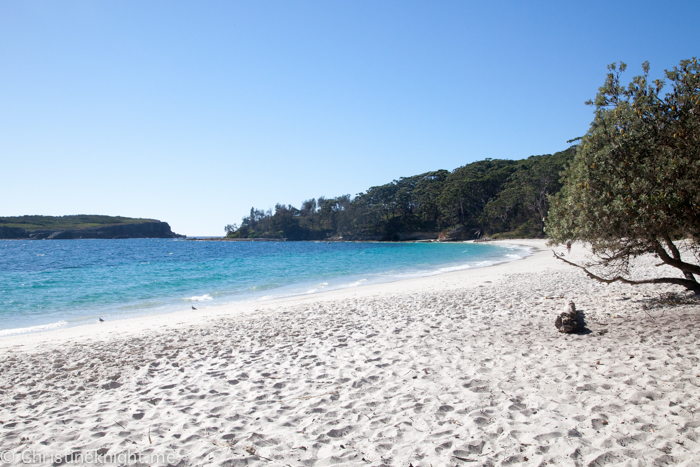 The perfect family beach, Murrays has pristine, calm water perfect for swimmers and snorkelers with sparkling white sand. Murrays Beach is located in a protected bay which is sheltered by Bowen Island.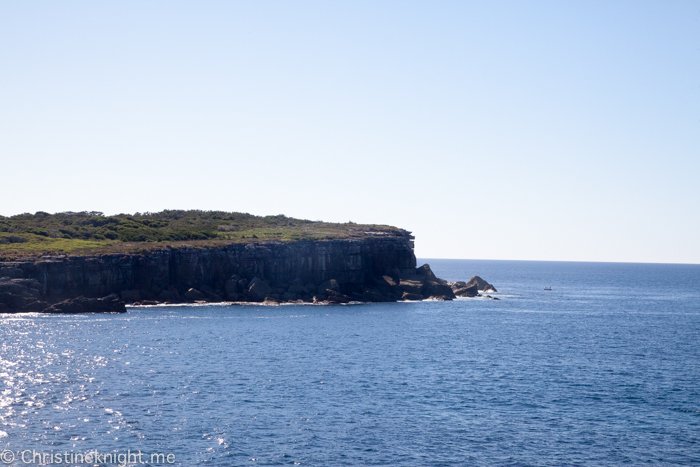 You can take several walks around Murrays Beach for stunning views of the bay as well as Bowen Island, which is off limits to tourists and is a haven for penguins. We didn't see any penguins but we weren't there in peak penguin season.
Where to stay in Jervis Bay
There are plenty of options from hotels to vacation rentals and camping.
Find the perfect accommodation in Jervis Bay for your budget and taste here.