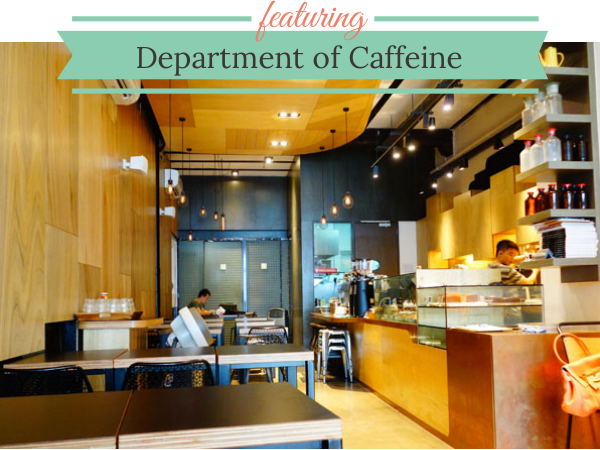 Department Of Caffeine is lies behind an innocuous door along Duxton Road, so much so that it's pretty easy to walk straight past without realising that there's a cafe there.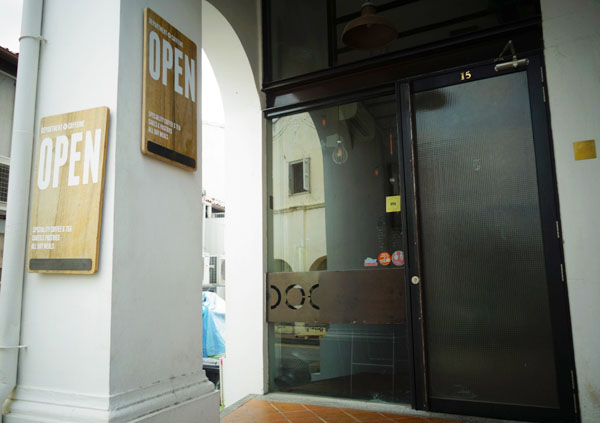 I wasn't impressed with their service. This makes or breaks an F&B joint, in my book.
My girl friend and I arrived just after 10AM, and they open at 10:30AM. Fair enough. They were setting up, and since she's pregnant and can't stand for long, I poked my head in and asked if they would mind if we sneak a chair and sit down until they open.
The young man there was having none of it. Zero smile, zero apologetic note in his voice. He abruptly just said "No. We open at 10:30" and turned his back on us. That's a real shame, because it gave me a very bad opinion of the cafe almost immediately. Normally, I'd have told him off for his rude behaviour and never return, but I didn't want to drag my pregnant gf around to hunt for another place, so we actually did wait until they opened.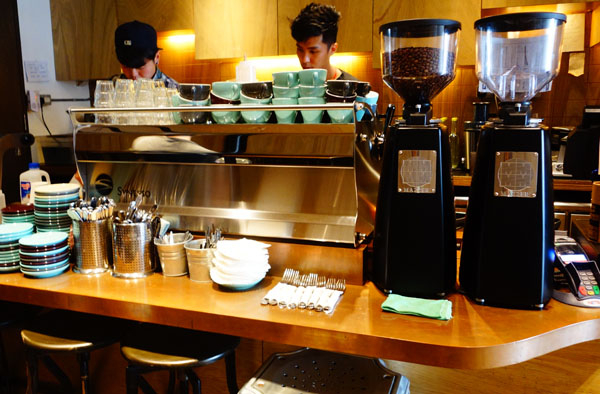 Some of the pre-made food is on display in the glass counter near the cashier. It's a great idea because I love being able to see what I'm about to order.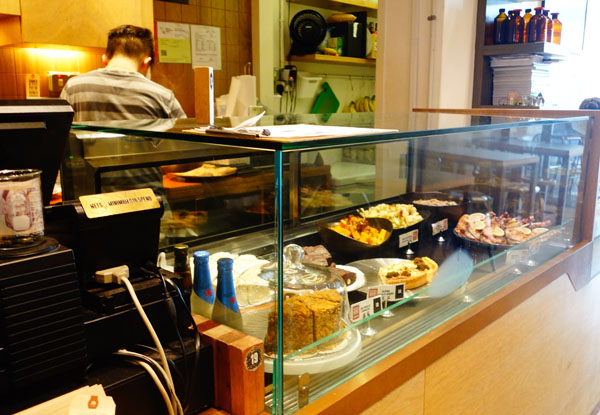 I decided on a Soy latte ($5.60) and regretted that decision when it arrived. It looked miserable, with no coffee art (I know this is not a necessity, but it is nice and shows pride in a barista's work). Perhaps it's because it was soy milk, which can't make coffee art? It was my first time ordering soy milk, so I can't be sure if that was the reason, or if the barista was just lazy.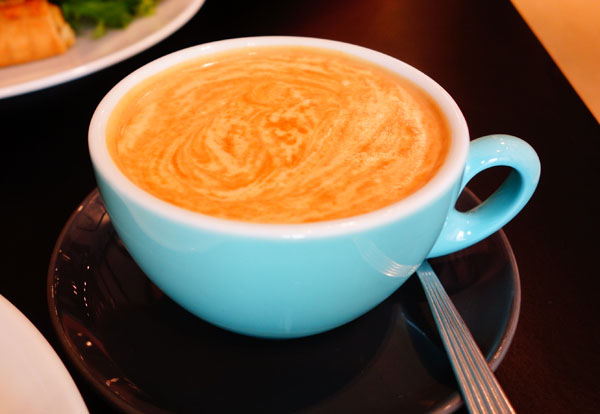 The Orange, fresh mint, elderflower ($5.50) drink fared much better. It was bang on AWESOME! Refreshing and fizzy, this really hit the spot on a hot day.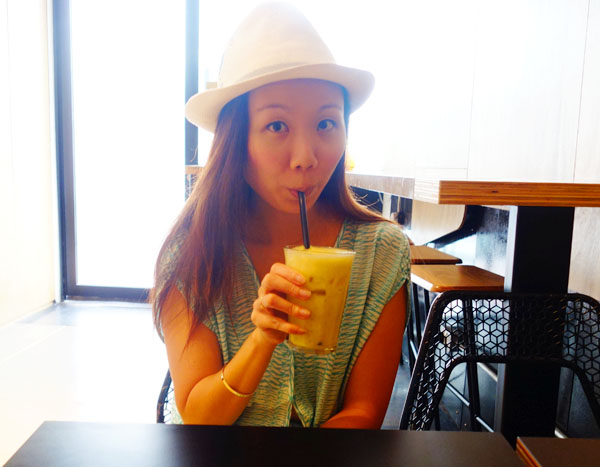 The Crispy chicken fingers with house made tangy spiced mayo ($7.50) were recommended by my cousin, and I'm glad we got this. The chicken was tender and moist, encased in a crunchy batter. The dipping sauce was the perfect accompaniment. Only downside was the pool of oil at the bottom of the bowl, as the chicken was not drained well.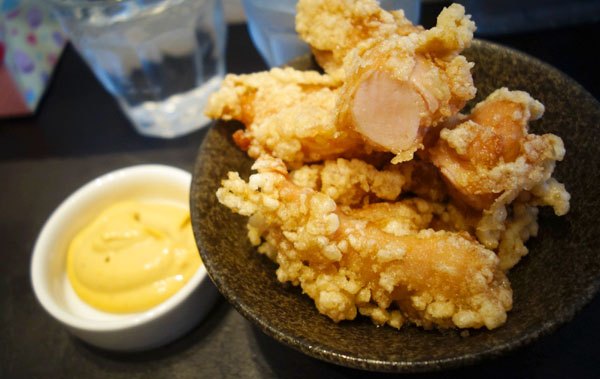 Their Breakfast quiche comes in a pleasingly large portion, served with a scattering of salad greens.I didn't try this, so I can't comment on how good it was.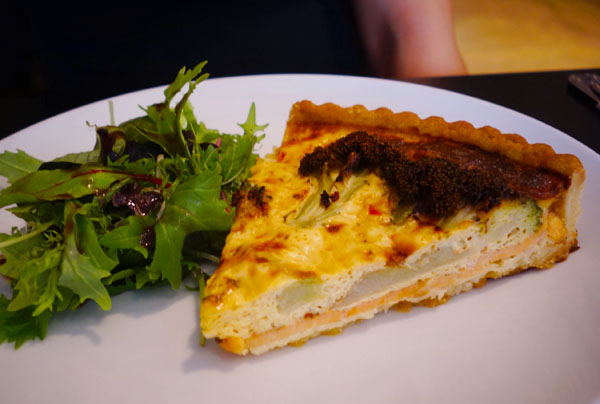 The Poached salmon with dill and mint sauce with two side salads ($15) is precooked, yet is absolute PERFECTION. The salmon isn't fishy, but meltingly tender and creamy. It was delicious with the sauce, and was an exquisite, healthy meal.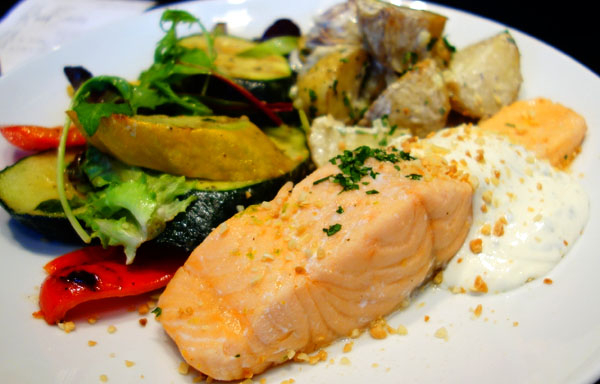 Special shout out for their roasted butternut squash, which is one of the side salad choices. The squash was cut in thick fingers, and they were sweet as well as beautifully tender.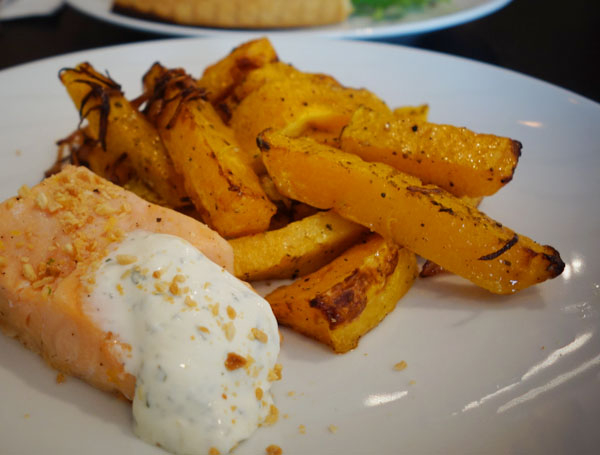 I was SO eager to try the Sundried tomato & herb waffles with streaky bacon, scrambled eggs and maple bacon jam ($17), which sounded amazing. But, I was horrified when I realised the scrambled eggs were BADLY over-salted. So bad that the eggs were completely inedible, and left behind on the plate (no one asked how the food was, or why the eggs were uneaten).
The bacon was okay – I cannot think of any other descriptive word here.
The waffles were delicious though, cooked well and with a lovely savory flavour.
The bacon jam we were promised on the menu was either invisible, or omitted. Instead, we got a pot of syrup. And no explanation as to why the bacon jam was missing.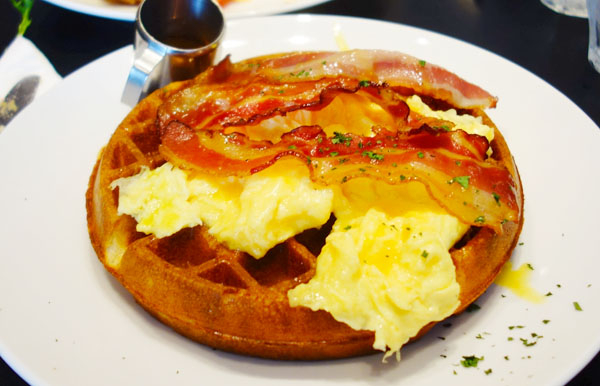 Last Bite: Department Of Caffeine has some hit and miss dishes, but offers a cozy and relaxed atmosphere. Just don't expect excellent service here!
Highchairs: No
Easy access: Yes
Change tables: No
Kids' menu: No
Department Of Caffeine
15 Duxton Road
Singapore 089481
Phone: 6223 3426
Prices: $$
Hours:
Mon – Tue: 10:30 am – 7:30 pm
Thu – Fri: 10:30 am – 10:30 pm
Sat – Sun: 9:30 am – 7:30 pm