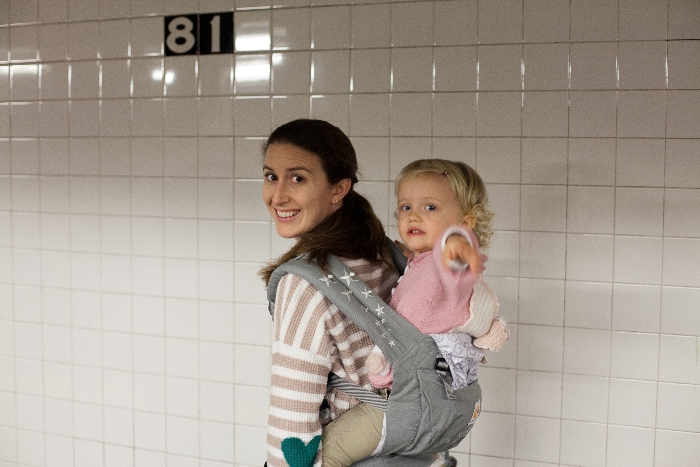 Toddlers are tricky little creatures. While they can indeed walk, they can't walk for long distances yet, so when going on long outings, some form of transport is still required for them (unless you're happy to carry them on your shoulders for hours and end up with a serious neck ache).
Since Missy E is now over two, she is pretty heavy. For the most part I throw her in the stroller when we're going out, but foul weather always tricks me up. Trying to fit the stroller with a rain cover and pushing it while holding an umbrella over myself is always a disaster in the making. Particularly since a certain little person really hates being covered in the stroller.
The easiest way for me to get out and about with E in bad weather is still the good ol' carrier. I also use the carrier if I need my hands free, or know I'll be taking a lot of stairs and don't want to haul a stroller around.
We take a lot of day trips with E where the carrier becomes super handy — like our recent one to the Children's Museum of Manhattan. Since it was, indeed, raining again, we bundled E up in the carrier (she calls it her "packpack"), and set off, hands-free, for a great indoor play (I mean educational experience …) option with a toddler.
The Ergo is really a wonderful carrier. It's super comfortable, and designed for newborns (when using the infant insert) to children aged four. The Ergo guide recommends wearing toddlers over the age of 24 months on your back (rather than strapped to your stomach), which is what we do now with our big  Miss E. Thanks to the padded waist belt, E's weight is evenly distributed between my hips and shoulders, while the cushy padded shoulder straps mean I don't end up with massive shoulder pains.
The Ergo is designed to carry children in a natural sitting position, which is good for maintaining healthy hips. I've carried E in a carrier since she was newborn, so she's very used to being strapped in. She particularly loves the Ergo because she is really comfortable in her "seat", and is high up so can see lots of great things at my eye level — like fire trucks when they're coming from a distance. She occasionally yells "STUCK!" in my ear when she wants to get down, and also enjoys using my hair to play peekaboo with strangers on the subway.
A big bonus about carrying an older toddler is they can actually assist in getting into the carrier. To get E into the Ergo, I strap it around my waist and kneel down. I ask her to climb on my back and (most times) she obligingly grabs onto my neck and climbs up. Ell I need to do is reach back for the shoulder straps and clip them together, and we're off. I can even strap her in by myself when I'm on the subway.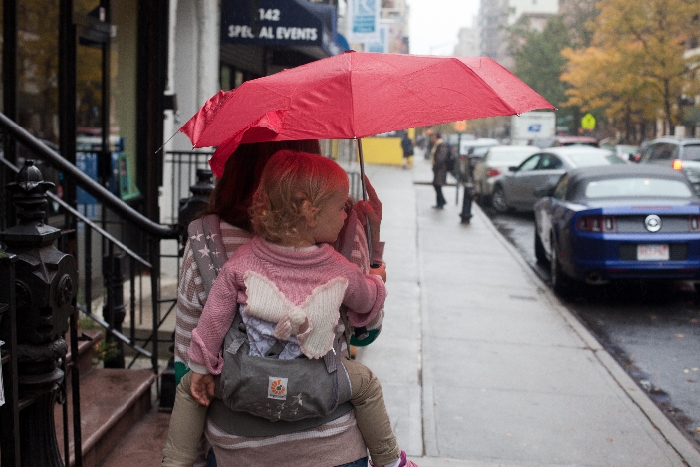 Carrying E in the Ergo also means I have my hands totally free. Days like this rainy one are suddenly so much easier to manage! It does however begin to pose a problem when the toddler can reach the umbrella and wants to hold it too . . .
Our Ergo is from the Original Collection range, in Galaxy Grey. Other helpful features include a hood, perfect for protecting baby's head when they're napping, and a large zippered pouch to throw in keys and cash, so you truly can leave home with your hands free.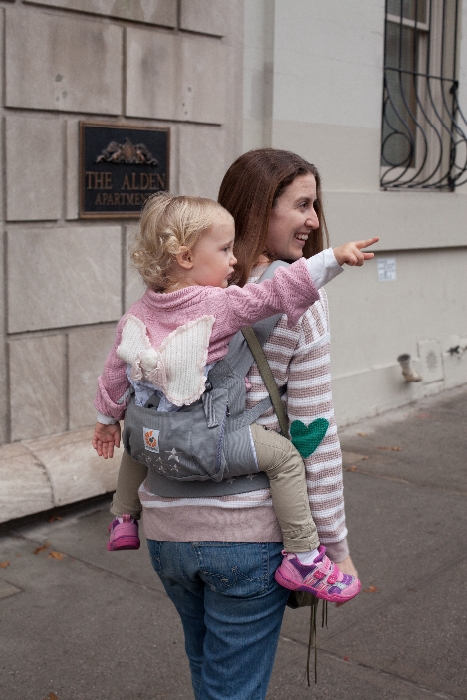 Upon our arrival at the Children's Museum, we folded up the Ergo and checked it at the front door. Since it's all made from material, it folds up really easily into a reasonably small bundle — great for travel or throwing in your diaper bag.
The Ergo carrier is available from the Ergo website for $135 including the infant insert.