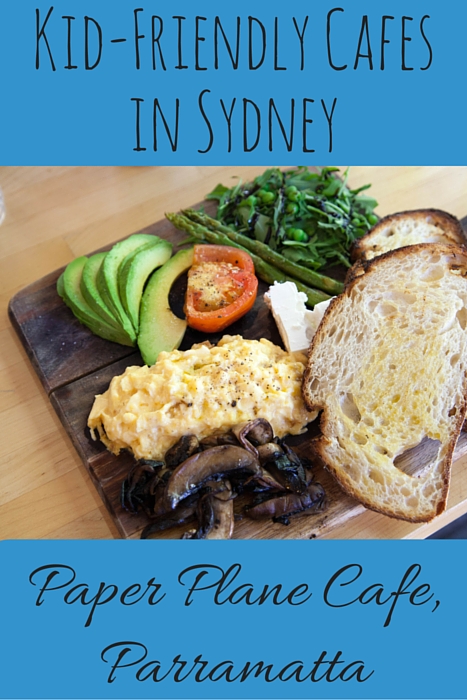 Paper Plane Cafe is quirky little place in Sydney's South West serving all-day (well, till closing at 2pm) brekkie and burgers. The cafe is a few streets back from the main drag, giving it a bit more of a peaceful feel than you'd expect for the centre of Parramatta.
On the day we visited (a hot Sunday) the cafe was humming with activity, but not so crowded we couldn't get a seat.
I ordered The Vegetable Plate (platter of scrambled eggs with truffle oil, portobello mushroom, tomatoes, asparagus & sourdough toast with pesto & feta, $19.50). It was so big it could have fed two of us. I regret that I ordered more food for Cheese as she ate one of my pieces of toast and avocado. I loved this massive dish, but would have preferred the eggs without the truffle oil.
The Tiny Dancer (Platter of poached eggs, smoked salmon, capers, avocado, sauteed spinach, tomatoes, asparagus, bocconcini and sourdough toast with Hollandaise sauce, $20.50) was another massive dish that hubbie Alec managed to completely devour.
Extras: Flat White, $3.50, Babyccino, side of Fries.
We had an excellent experience at Paper Plane Cafe. The staff were extremely friendly and welcoming, and the food was really delicious. Although they didn't have any "small" dishes on the menu that I could order for Cheese, I appreciated their suggestion that I could order a side of fries, despite this not being on the menu. In big bold letters on the menu states "no substitutions", which, as any parent knows, is often the death knell of a dining experience with kids if the menu isn't a large one to begin with. Thankfully Cheese was happy with the fries and picking at my dish too.
We will be back to try some of their other delicious-sounding dishes such as the French toast.
Highchairs: Yes.
Stroller storage: Yes.
Easy access: Yes.
Change tables: No.
Kids' menu: No.
Paper Plane Cafe
5/2 Horwood Pl,
Parramatta
Phone: (02) 8677 4372
Prices: $$
Hours: Mon-Fri 8am-2pm, Sat & Sun 9am-2pm
Get Directions