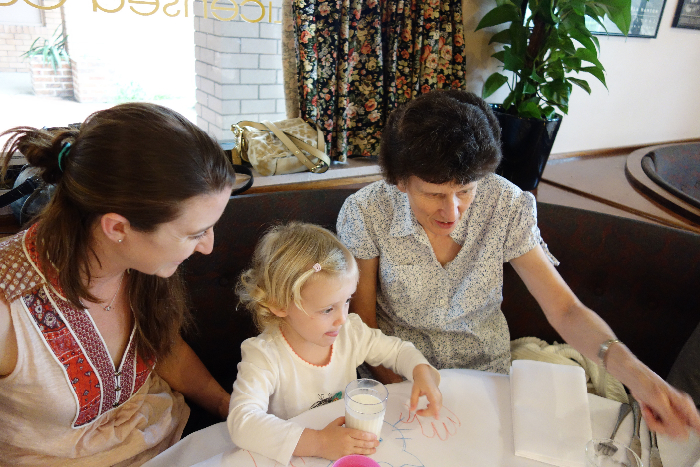 I've been dining at Davo's Trattoria with my family for years. It's been the one constantly good restaurant in the neighborhood where I grew up, and we've been dining at Davo's for celebratory events since it opened in 1990. This was my first visit with a child, and, as always, Davo's was a delicious and delightful experience.
The food at Davo's is really solid Italian cuisine. I always have the Gnocchi Napoletana ($15.90 for an entree serving is plenty for me). We also ordered Garlic Bread ($3.50, serves four), Potato Fries ($6.50), Lasagne di Casa ($20.90), Atlantic Salmon ($29.90, served on a bed of sweet potato mash and with baby bok choi and marinated cherry tomatoes finished with honey glaze) and the Black Angus Eye Fillet ($33.90).
The staff couldn't have been more welcoming and accommodating to our wriggly toddler. We especially appreciated the crayons to draw on the paper table cloth with. Tracing outlines of everyone's hands is endless fun (or, at least, fun until dessert arrives).
We always order dessert at Davo's. I usually have the Chocolate Mousse, which is perfection, but this time I tried the Trio of Pavlovas, of which I wasn't a fan – they were more like merangues than pavlovas. We also ordered the Kid's Ice Cream with chocolate topping, Tiramisu (my dad's all-time fave), a tropical sorbet and tropical panna cotta. The rest of the desserts were all delicious – next time I'll order my old favourite!
Last Bite: Davo's serves delicious Italian food that has been pleasing local families for many a year.
Highchairs: Yes.
Stroller storage: Yes.
Easy access: Yes.
Change tables: Yes.
Kids' menu: Yes.
Davo's Trattoria
9/101 Nuwarra Rd,
Moorebank NSW 2170
Phone: +61 2 9601 0449
Prices: $$
Hours: Tues, Wed & Sun 5:30pm-9pm, Thur 12pm-3pm, 5:30pm-9pm, Fri 12pm-3pm, 5:30pm-10pm, Sat 5:30pm-10pm
Get Directions

Christine is the editor of Adventure, Baby!