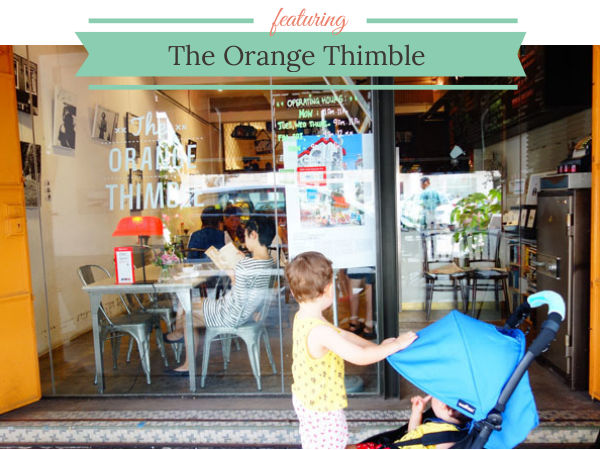 Situated along the popular strip of cafes along Tiong Bahru, The Orange Thimble is a hipster cafe priding itself on merging art and coffee into one space.
Step into the cafe and you'll be met with vintage-yet-industrial decor. It works. The space seems tiny, until we realised that a small doorway at the back of the cafe leads to a spacious seating area(s) as well as an outdoor sheltered area. It actually turned out to be a pretty large cafe! The way it is segmented into various nooks make it a great place to have brunch, feeling like there is no one else around you.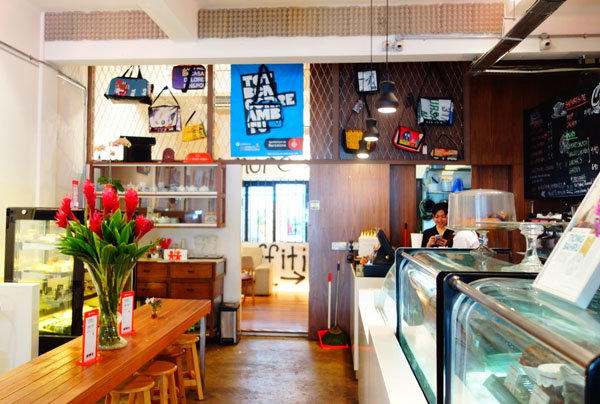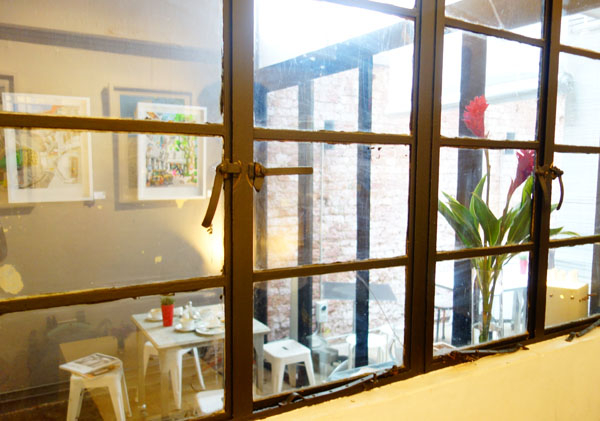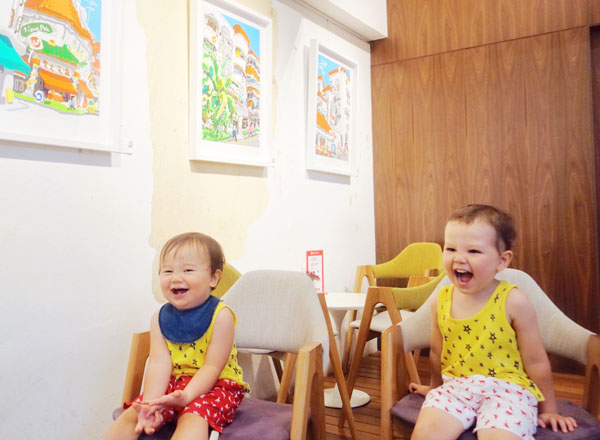 The menu is fairly limited (see below) but prices are reasonable. There is NO service charge and NO GST – huge props to them and may more cafes follow their stellar example!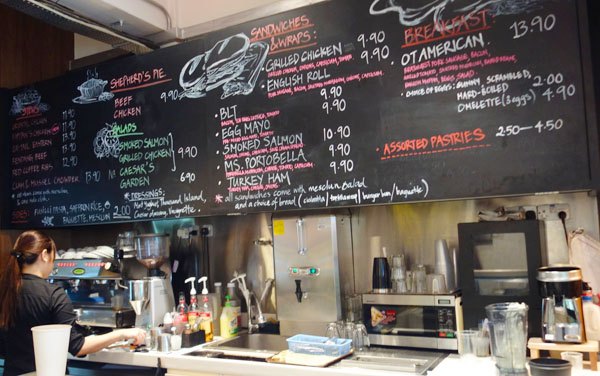 Our American Breakfast ($13.90) is pleasingly sufficient for a big eater. The sausage is delicious and juicy, the eggs are well scrambled (my kids gobbled it all up straightaway), and everything goes together very well to make this a more-than-decent big breakfast.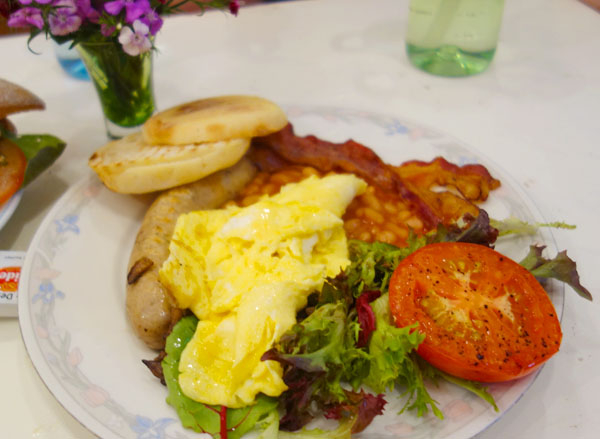 The Egg mayo sandwich ($9.90) is pretty gigantic, thanks to the large ciabatta bun. It contains salad and a generous helping of chunky-cut hard boiled egg mixed with mayo. It's tasty, and props to the extra greens on the plate.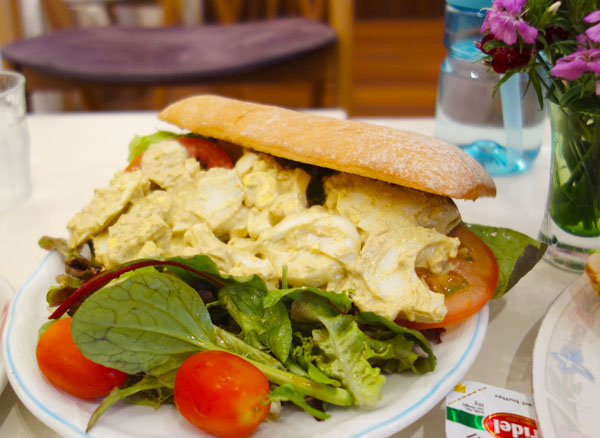 Their croissant ($2.50) is freshly baked and INCREDIBLE. The outside is flaky, and the inside superbly soft and buttery. The kids adore this, and so do I, so we promptly order another one.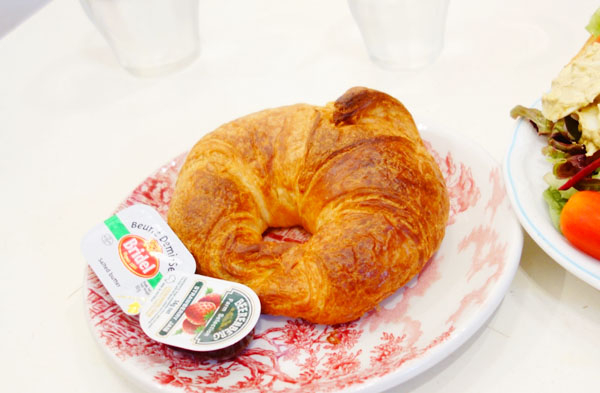 The Iced latte ($7) is a little on the steep side, but at least it comes in a large glass. It still has a rich coffee flavour, despite being an iced drink.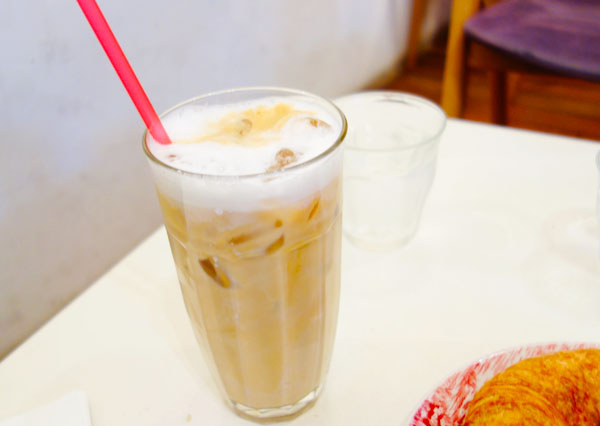 The kids share an Avocado milkshake. They drain it to the last drop, so I suppose they give it the thumbs up! I did manage to sneak a sip in and was very impressed – the milkshake is thick and creamy, and the gula melaka syrup used is not too overpowering. Luscious.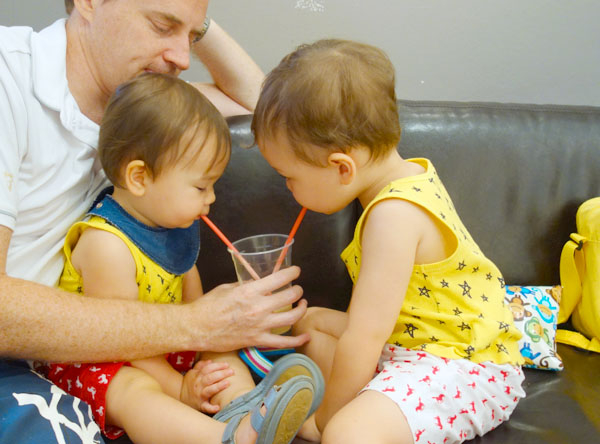 The artworks on the wall are adorable – brightly coloured and featuring scenes around Singapore. Prices are listed so you can purchase them to bring home.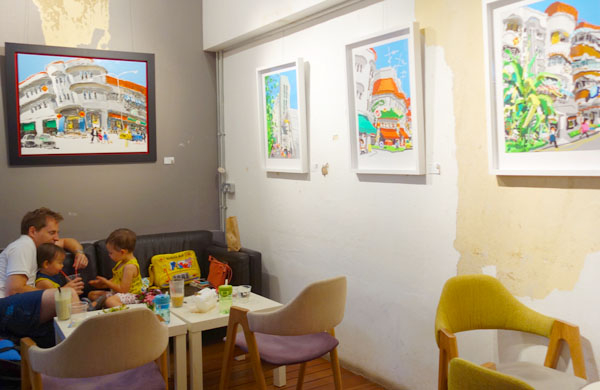 Last Bite: The Orange Thimble charges no GST or service charge, and serve up delicious food at very reasonable prices. The segmented layout of the cafe allows for more private dining, though we particularly love the sofas for young kids to lounge on!

Highchairs: Yes
Easy access: Yes
Change tables: No
Kids' menu: No
The Orange Thimble
56 Eng Hoon Street, 01-68
Singapore 160056
Phone: 6223 8068
Prices: $$
Hours:
Mon: 11:00 am – 11:00 pm
Tue – Thu: 9:00 am – 11:00 pm
Fri – Sat: 9:00 am – 12:00 am
Sun: 9:00 am – 11:00 pm