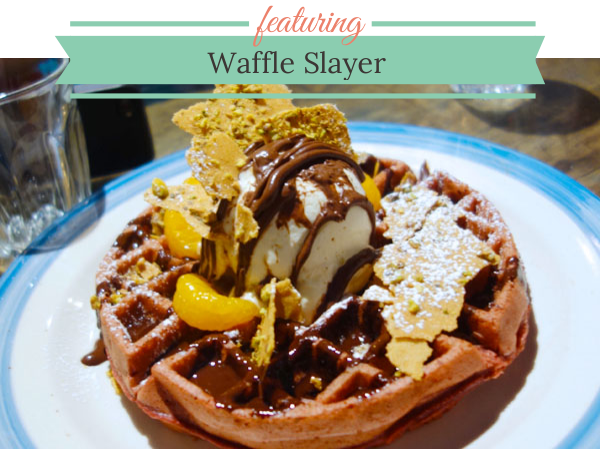 We were originally planning on hitting Strangers Reunion, but it was jam packed with people and we had four kids in tow, so we headed to the cafe next door instead, called Waffle Slayer. Turned out, they're owned by the Strangers Reunion folk anyway!
The industrial chic cafe has almost zero signage, and the glass doors reflect very well.. so I actually walked straight past the cafe without realising what it was. The door panels that open up are fairly narrow – something to note if you have a very wide pram.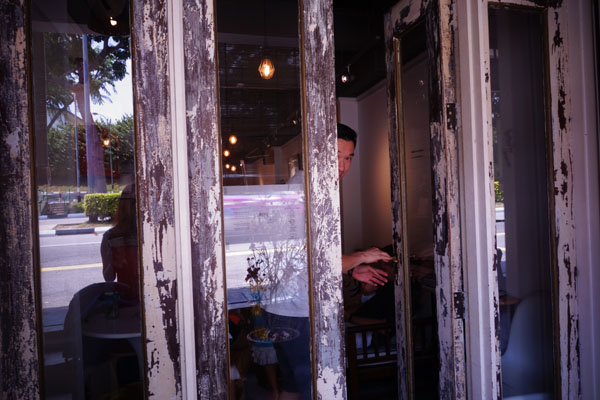 The narrow but long space is jam packed with tables and chairs, with most of the patrons being female (the guys were all there with their female counterparts, no tables were men-only).
Service is pretty quick, and very friendly, despite looking a bit short-staffed.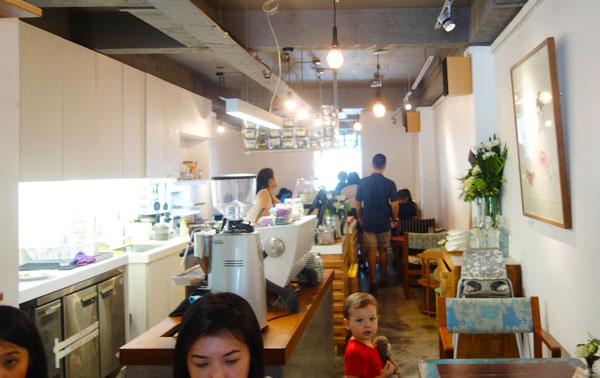 Complimentary water for the table, served in a big bottle. Major props!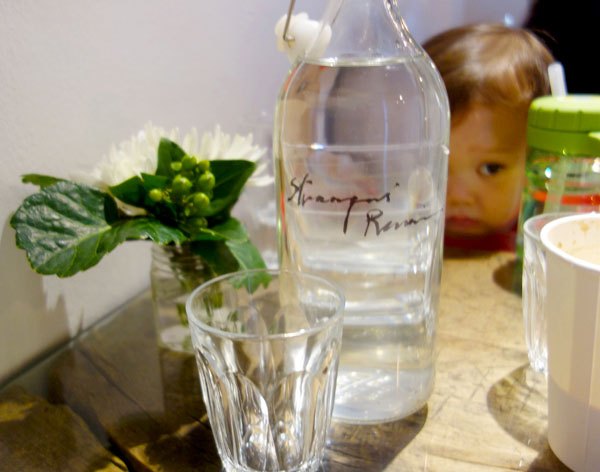 The cafe is crowded on weekends, and not great for kids to run around in. Though I'd imagine the enclosed place would be alright when not as crowded on weekdays.
The older kids were kept occupied watching a movie on the iPhone.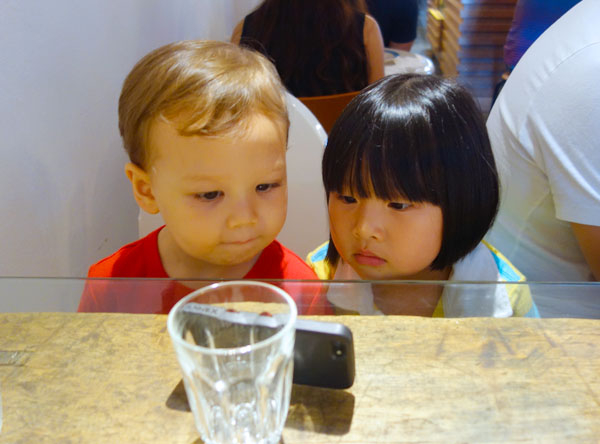 We ordered the Za'atar-spiced eggplant fritters with lemon yogurt ($12.90) which I forgot to photograph – whoops! The kids enjoyed this because it was cut like fat chips, and they were really tasty. A great appetizer/snack to share.
Our Red velvet buttermilk waffle with pistachio tuile, chocolate fudge and vanilla ice cream ($14.90) disappointed me at first, because the entire waffle was soft and floppy and soggy. To me, a good waffle is crisp on the outside, and yields to a fluffy moist interior. But this texture was almost exactly like a microwaved waffle (despite it being freshly cooked in their waffle maker – I assume).
Fortunately, it did taste nice. Not blow-me-away fantastic, because of the miserable texture, but nice. The red velvet flavour actually wasn't very strong, but the waffle had a lovely flavour and the large dollop of vanilla ice cream went down well.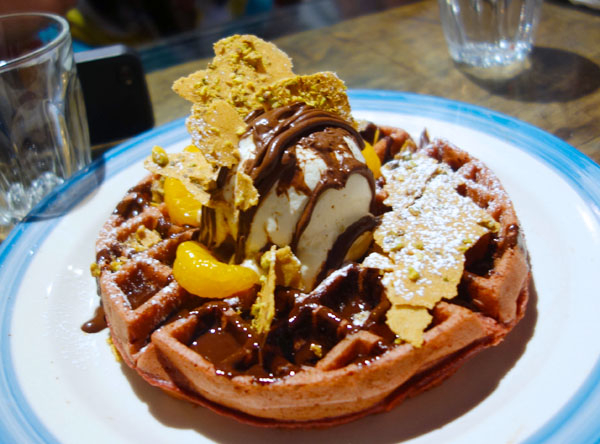 Last Bite: Waffle Slayer specialises in, you guessed it, waffles! Ours arrived rather floppy and soggy, but their (large selection of) other dishes satisfied us.

Highchairs: Yes
Easy access: Yes (though be warned of the narrow entrance)
Change tables: No
Kids' menu: No
Waffle Slayer
37 Kampong Bahru Road
Singapore 169356
Phone: 6222 4869
Prices: $$
Hours: Mon – Sun: 11:00 am – 10:00 pm