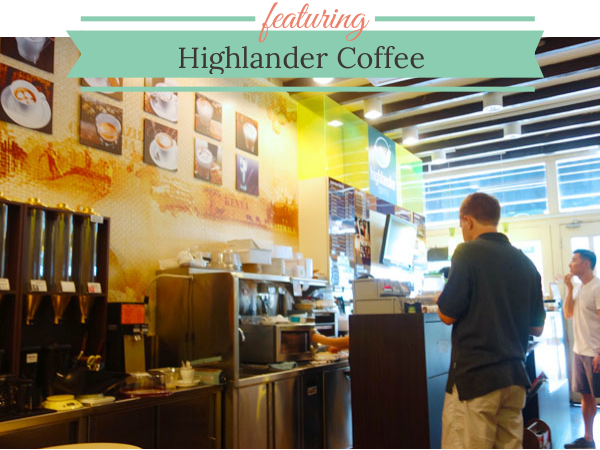 It was by recommendation of a girl friend, who said they had "excellent coffee", that brought us here to Highlander Coffee. The cafe is tiny and houses only a few tables, but we were fortunate to score the corner ones since we had four (!) kids in tow.
You see, Highlander Coffee isn't a place you go for food. It's a coffee place, first and foremost. Founded a decade ago by two brothers, they are a hands-on barista workshop (located in a separate room at the back of the cafe) as well as a coffee appreciation workshop.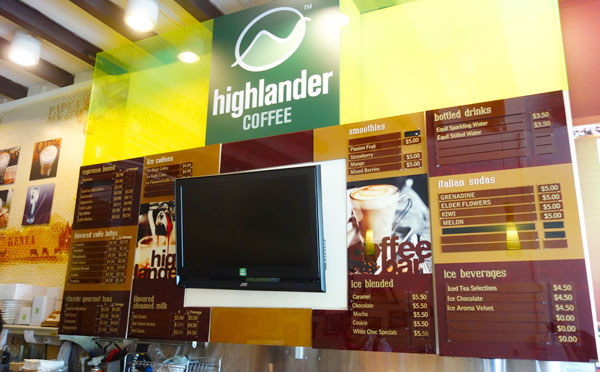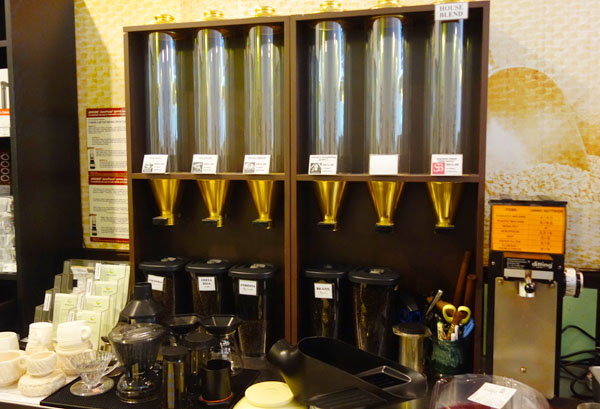 Apart from the impressive coffee equipment around the cafe (which is also for sale), the cafe decor and tables/chairs are about as basic and simple as you can get. It's pretty stark, with  plain stools and round white tables. It's obvious people go there just for the coffee.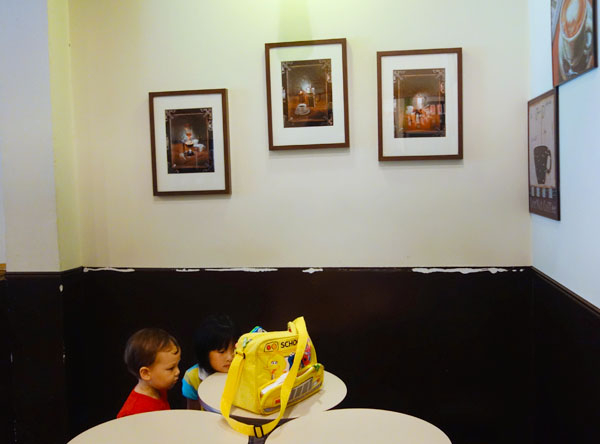 And of course their coffee is lovely. My Flat White has a gorgeous creamy layer of crema, and the flavour is subtle but still flavourful. The Iced latte is impressive, because it still packs a powerful punch of coffee flavour, which often lacks in other cafes' iced coffees (as they get too diluted due to the ice cubes melting).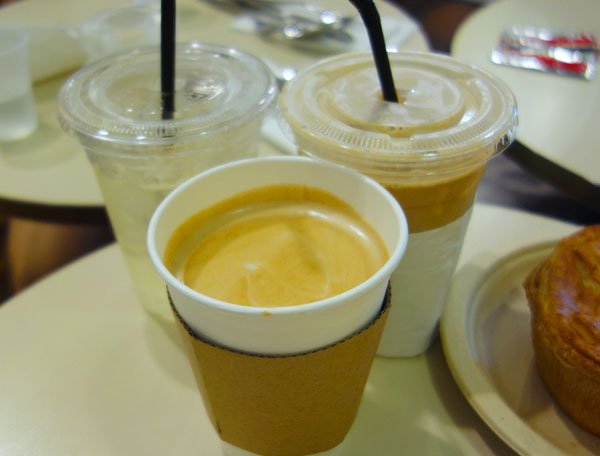 Food-wise, it is clearly not Highlander Coffee's forte and we find the food all edible, but nothing to shout about. Everything is pre-made and, if necessary, zapped in the toaster or microwave.
The Chicken salad croissant is happily packed with lots of fresh-looking salad, which I appreciate. The chicken is moist and tender, and I would consider this dish very similar to Delifrance's version.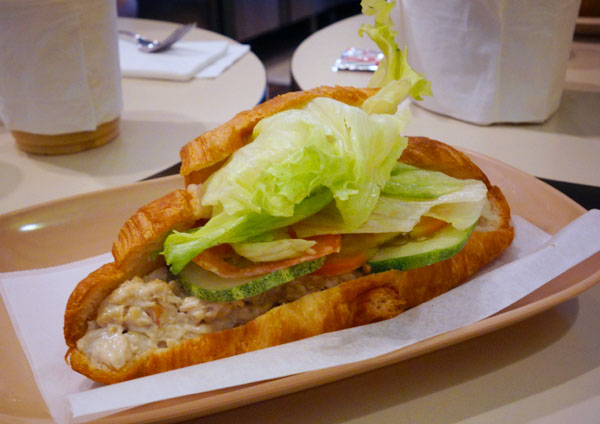 The Lasagne is tasty and full of melted cheese, so it's pretty popular with the kids. There is not one single vegetable detectable in this dish though, so I'm pretty sure it's not exactly up there in the Healthy Foods To Eat category..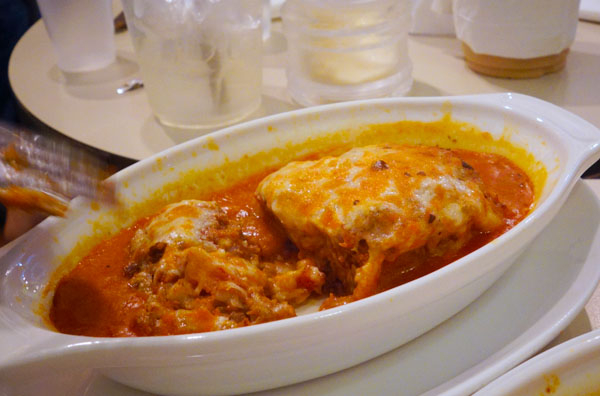 Their pies are pre-made and popped into the toaster oven to reheat, but the Chicken pie is still pretty good. It's a shame it's not served with a side salad or on a proper plate (it arrives unceremoniously on a paper plate), which would have elevated it into more of a real cafe dish instead of looking like a I-grabbed-this-at-the-petrol-station quickie.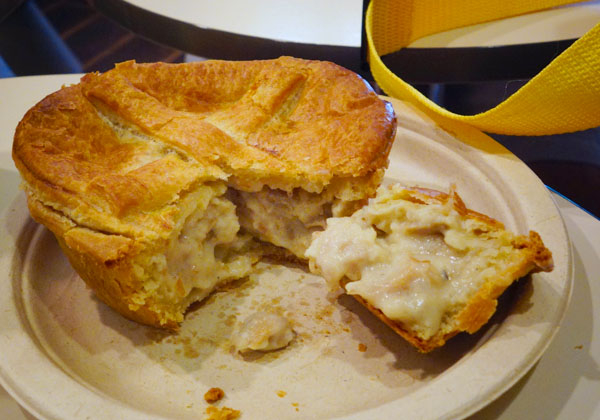 The Tuna sandwich looked the most basic and homemade out of all the dishes. It was even served on plain old white bread, not even croissant or homebaked bread or focaccia or anything! Fine to order if you're desperate, but fair warning here that you'll be completely unimpressed.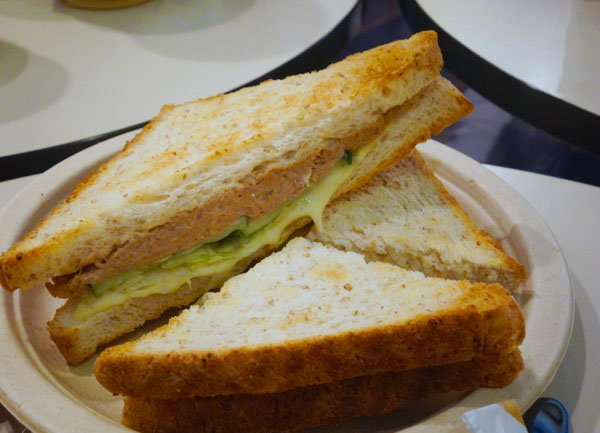 The Pasta bolognaise is pretty much exactly like the Lasagne above, except with macaroni pasta. It's a bit on the oily side, due to all the cheese, but Hunter likes it so I won't complain.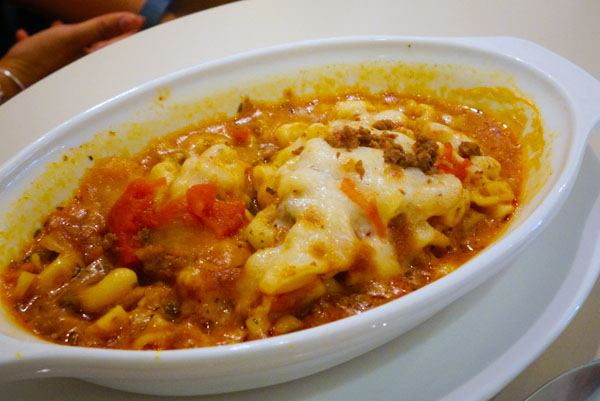 Last Bite: Higherlander Coffee may not offer freshly-cooked or impressive food, but it's their outstanding coffee (and expertise) that people go for. Their Iced latte is excellent!
Highchairs: No
Easy access: Yes
Change tables: No
Kids' menu: No
Highlander Coffee
49 Kampong Bahru Road
Singapore 169362
Phone: 6226 1686
Prices: $$
Hours: Mon – Sat: 9:00 am – 6:00 pm