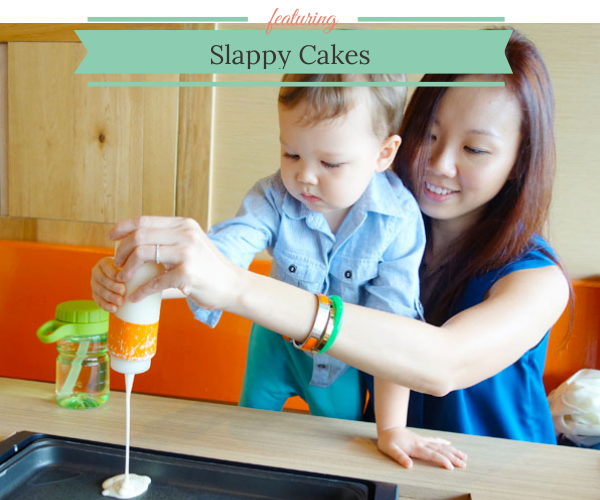 Make-your-own-pancakes, you say?
Why can't I just mix the batter by myself and make it in my own kitchen?
Good point. You absolutely can. But what's the fun in that?! 
So that's what you're paying for at Slappy Cakes – a whole lotta fun. The large tables have flat grills that work impressively well. They require no oil, and are totally flat, so any lousy cook can make a yummy pancake with little chance of creating a disaster. And this is what makes it extremely kid-friendly – our 2 year old and 4 year old could easily squeeze the batter out and even flip the pancakes by themselves! And boy, what fun they had 🙂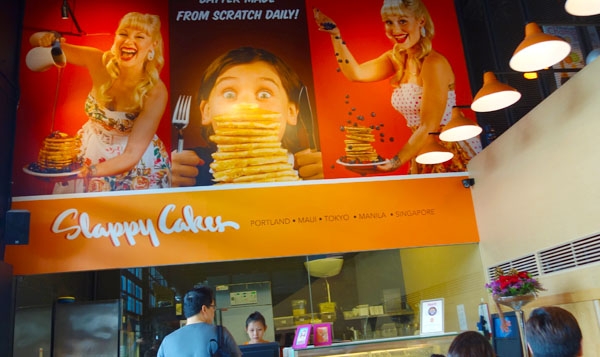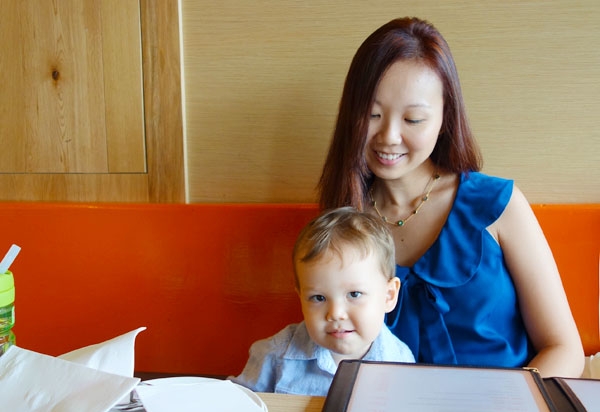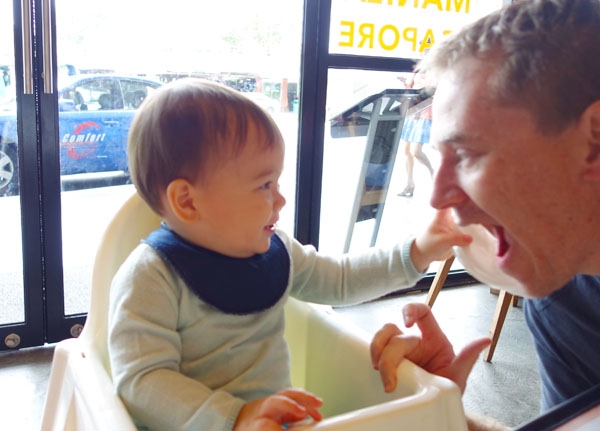 Brought to Singapore by the Tung Lok Group, the premise is simple:
Step 1: Pick your batter – Buttermilk/Whole Grain/Chocolate/Zucchini/Peanut Butter ($8 per bottle)
Step 2: Pick your fixings- they start from $1.50
Step 3: Pick your toppings – ranging from $1.50-$3.00.
One bottle of pancake batter will actually fill the average person right up. Some reviews online say each bottle will feed "2-3 people". I have no idea who they're referring to, but probably half-starving, super skinny people. One bottle is NOT enough for 2-3 people, it's enough for 1 person with a normal appetite.
The fixings and toppings are a range of sweet and savory. It's hard to narrow down! You'll feel compelled to order everything 😉 Fair warning though – the portion sizes are phenomenally tiny. I'd expected double the portion. It's enough for one person but nowhere near enough to share with more – so that was disappointing.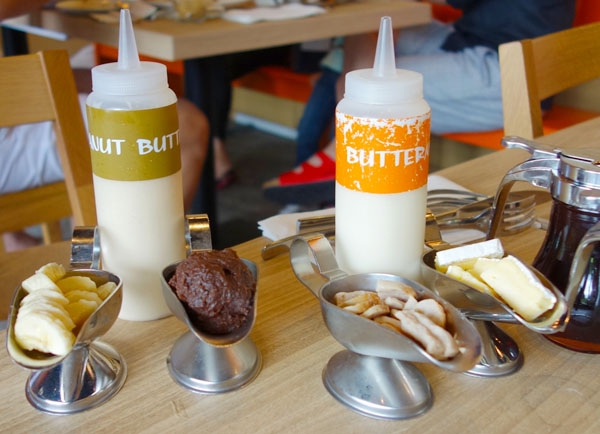 So off we went!
We did mostly round pancakes because when you have kids jumping around, and everyone is hungry, it was kind of the easiest to whack out. Not the most exciting, but it worked 😉
The Buttermilk pancake batter is superb, by the way. It had a beautiful buttery flavour and was a delight to eat.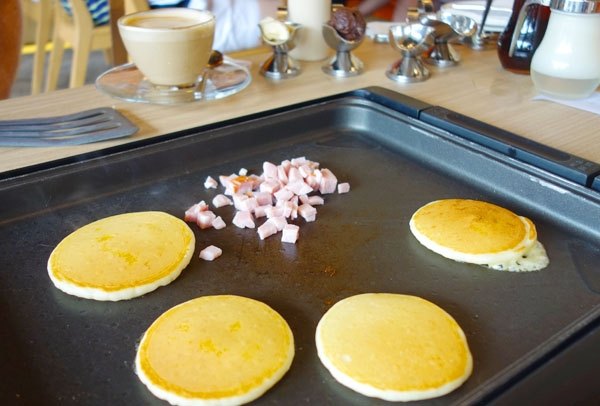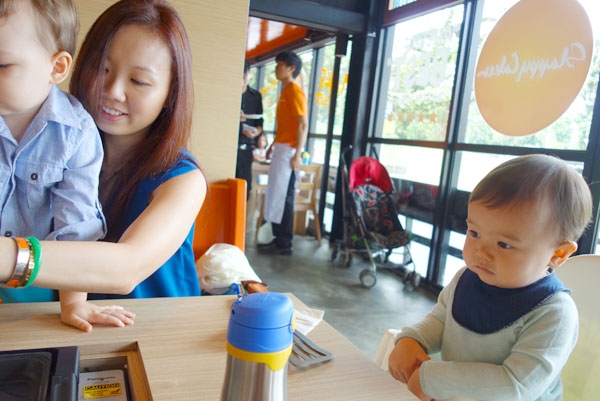 This was my favourite 'creation' – Buttermilk pancakes, with grilled ham and Brie cheese (baked into the pancake)!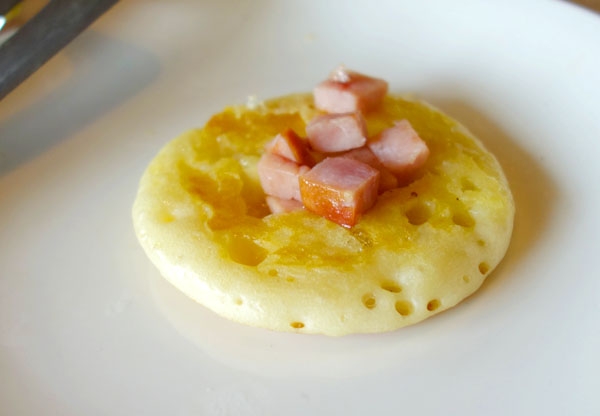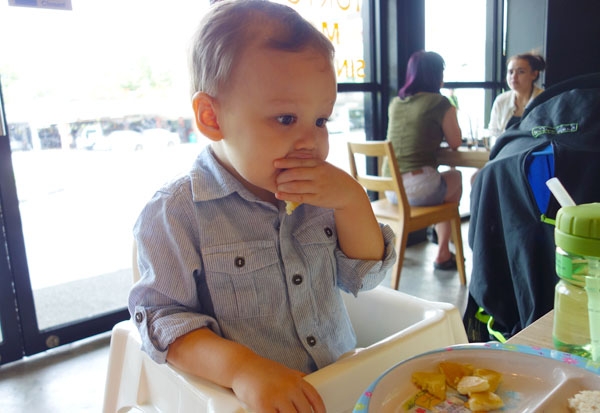 We did make a couple of cute shapes, and it's easy to because the bottles come with a small nozzle. The kids were highly excited by the shapes, and made all their requests 😉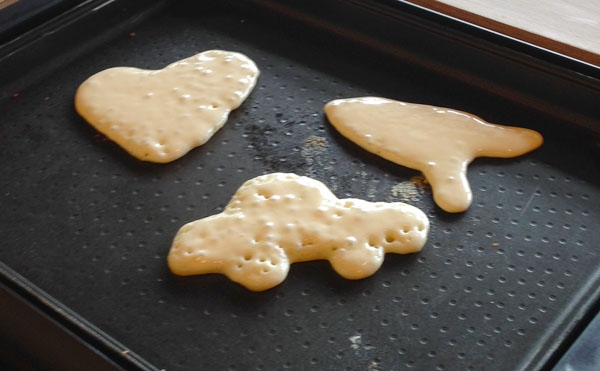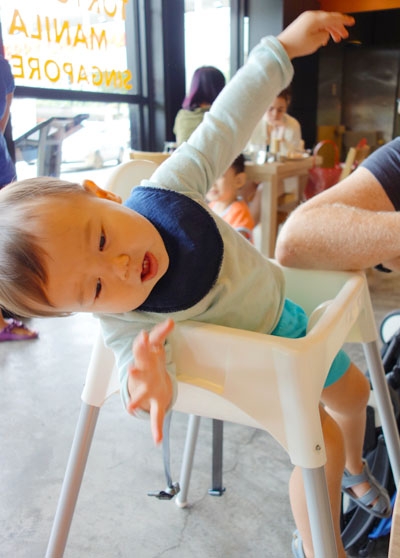 Oh! They also have other brunch-type items on the menu. Here, we have Roasted mushrooms caramelized red onions, spnach and crispy bacon scrambled with eggs and topped with cheddar cheese. Served with breakfast potatoes and toast ($15). It was served with sour dough and breakfast potatoes. It was good, and helped fill the kids up a little (I didn't want them to eat just pancakes for a meal).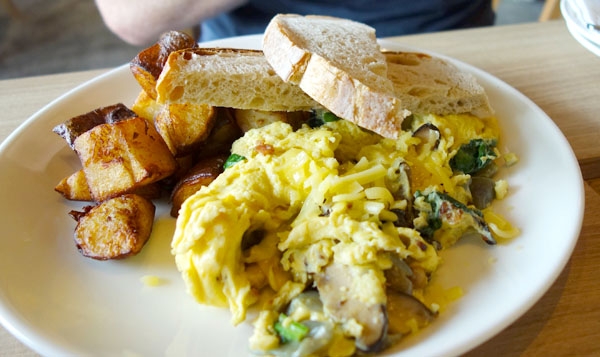 This is the Peanut butter batter, with homemade chocolate-hazelnut and bananas. It was kickass.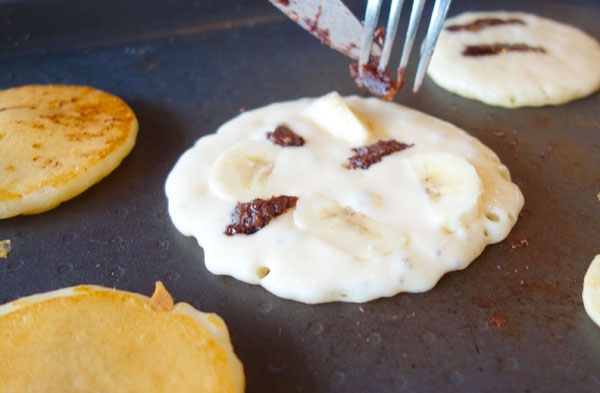 And this is the Chocolate batter with bananas. The chocolate flavour was dense and really came through, but is a bit much if you're having the whole bottle to yourself!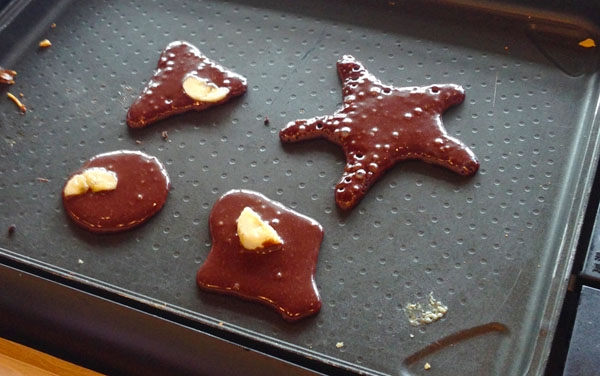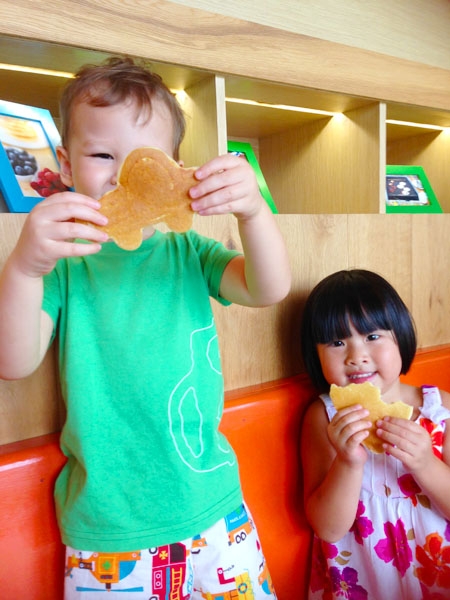 Last Bite: Have a blast making cute (and delicious) pancake designs at Slappy Cakes. The kids will love joining in on the fun!
Highchairs: Yes
Easy access: Yes
Change tables: Yes (in the mall)
Kids' menu: No
Slappy Cakes
The Grandstand, #01-20/21
200 Turf Club Road
Singapore 287994
Phone: 6465 1814
Prices: $$
Hours: Mon – Fri: 10:00 am – 9:30 pm, Sat – Sun: 8:00 am – 9:30 pm