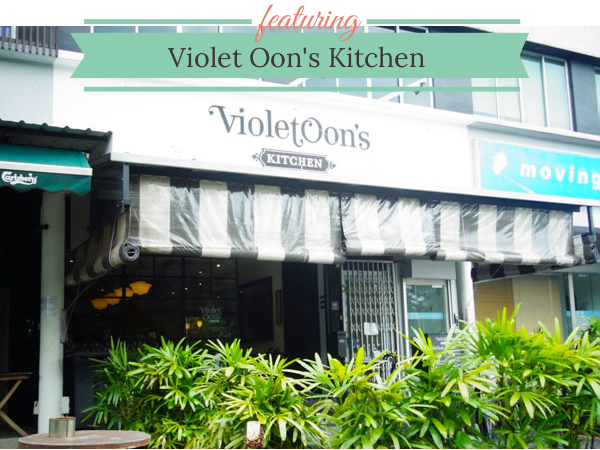 I've been to Violet Oon's Kitchen a couple of times previously, but this was our first time there during Restaurant Week. The black-and-white bistro features signature Nyona food with a slight fusion twist, making the restaurant a very unique find in Singapore.
The kids were particularly pleased with the paper tablemats, which I could flip over and they could draw to their hearts content on.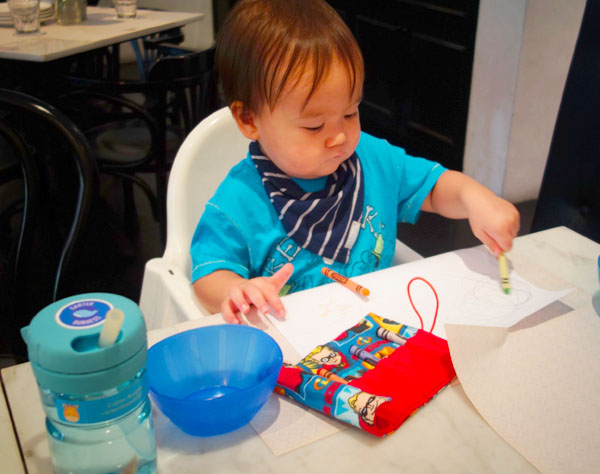 The appetizer trio was beautifully presented, and was very very petite but pretty adorable. The Ngo Hiang was crispy on the outside but moist on the inside, and it was basically like a Chinese sausage. The Nasi Kuning had a lovely coconut flavour and was tinged bright yellow, however the rice was slightly on the hard side so the kids had a bit of trouble swallowing it! My piece of Beef Rendang was ATROCIOUS and inedible – it was simply one piece of gristle/chewy tendon and zero meat. When I pointed this out to the server, he was nonplussed and just said "Oh ok", without doing anything about it.
A restaurant should always empower staff to fix problems and mistakes swiftly and positively.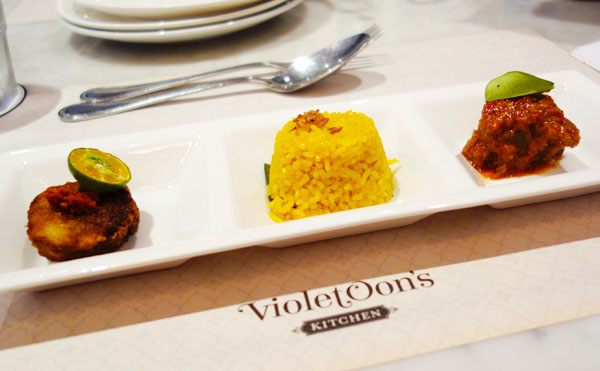 I adored the Meatless meatball pasta. Yeah, you heard that right – they're meatless meatballs!! And yet, they're DELICIOUS. Made with walnuts and parmesan, these balls are fat and moist and just divine. This is the 3rd time I've had this dish, and I love it every time.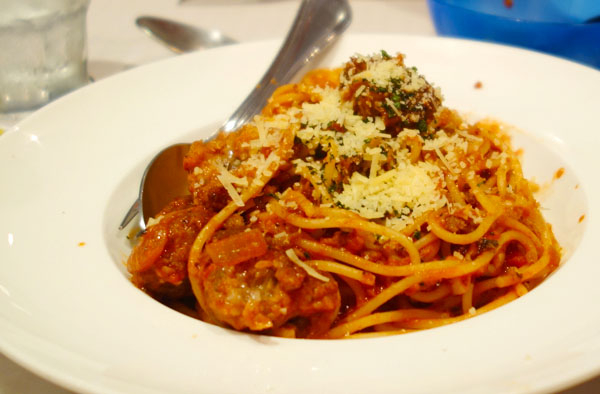 Their signature Vio's shepherds pie arrives piping hot in a small pot. The potato is creamy and very buttery, and the meat inside is extremely tender though highly over-salted. 50% less salt and this dish would have been perfect. Wonderful comfort food on a rainy day 🙂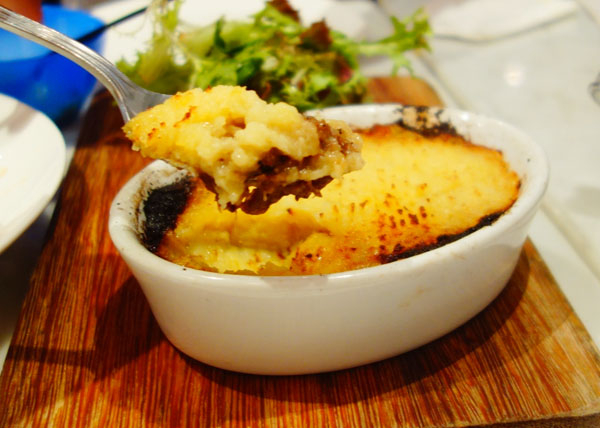 The Dry laksa features a coconut-based reduction and packs a real taste-punch! If you like laksa, you'll like this. It's spicy and sour and comes with fat prawns. Unfortunately for me, it also came with bean sprouts..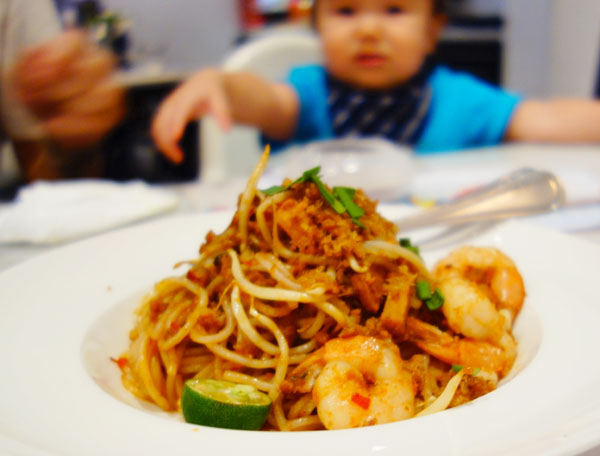 Their desserts are massive! The Bread and butter pudding with whiskey sauce needs to be shared between two people or you'll overload on your carbs 😉 It's a fat chunk of moist pudding, sitting in a pool of whiskey sauce that is pretty potent!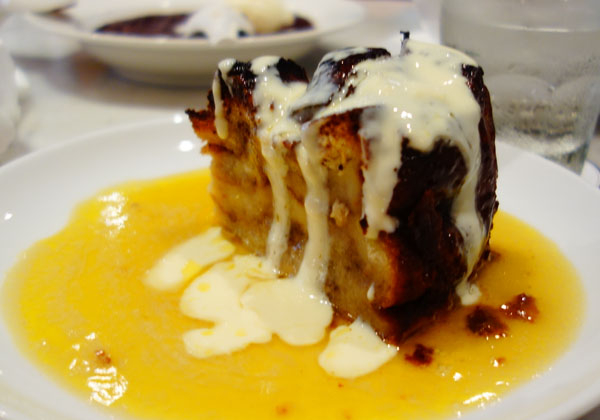 The Pulot hitam with vanilla ice cream was pretty overwhelming, as it came in a large deep dish with a giant scoop of ice cream. It's sure to delight a dessert lover because it will fill you right up! I really enjoyed this – the plainness of the black rice went very well with the sweetness of the ice cream, and the hot and cold temperatures worked. I also like to tell myself that this is healthier than many other desserts out there…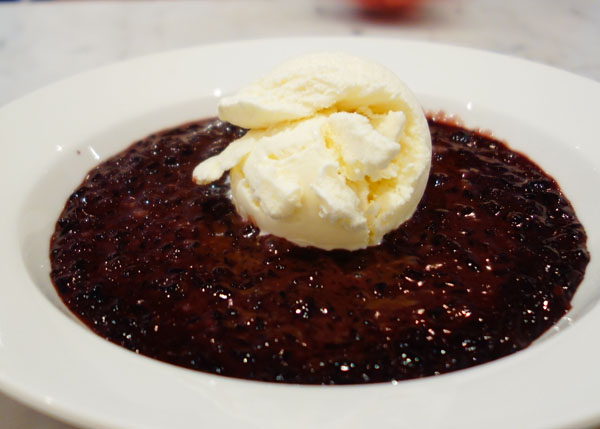 Last Bite: Violet Oon's Kitchen features traditional Nyonya food with a fusion twist, in a lovely bistro that's comfortable and not too crowded. Be warned: their desserts are huge!

Highchairs: Yes
Easy access: Yes
Change tables: No
Kids' menu: No
Violet Oon's Kitchen
881 Bukit Timah Road
Singapore 279893
Phone: 6468 5430
Prices: $$$
Hours:
Tue – Thu: 11:30 am – 10:00 pm
Fri: 11:30 am – 11:00 pm
Sat: 9:30 am – 11:00 pm
Sun: 9:30 am – 10:00 pm