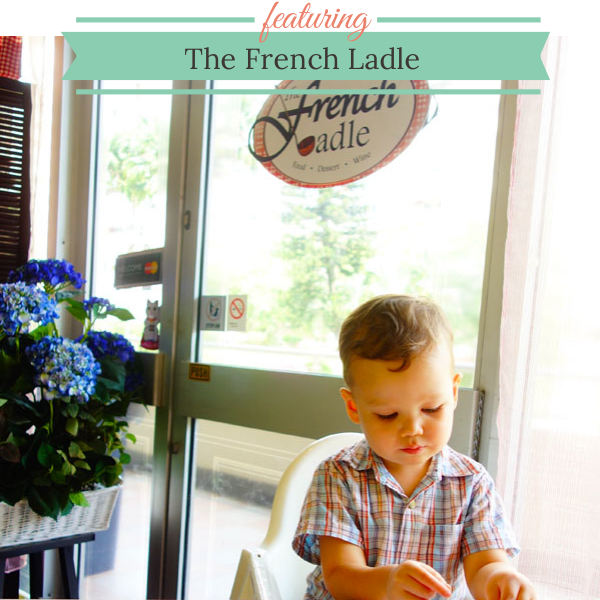 I have such a soft spot for The French Ladle. It's pretty close to where we live, and is what I consider to be a kickass French restaurant in a neighbourhood area. The service is good. Always good. And their food? It never fails to impress us, and I've been there almost ten times!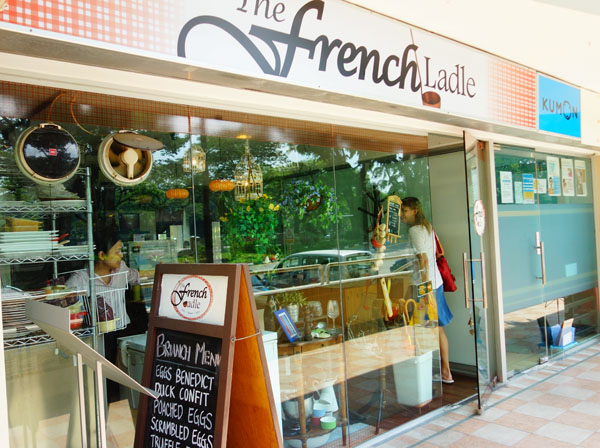 The inside feels really homely, and seats just a few tables. It's busy on weekday lunches and weekends, but is quieter on weekday evenings. Specials are written up on the blackboard.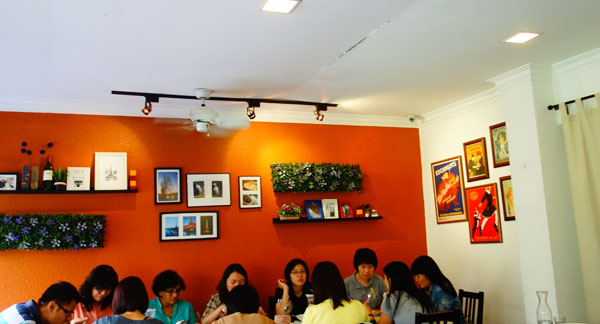 Look! Hunter was presented with some paper and a set of coloured pencils to draw with. He loved scribbling away, and I was delighted that he was kept amused during the meal.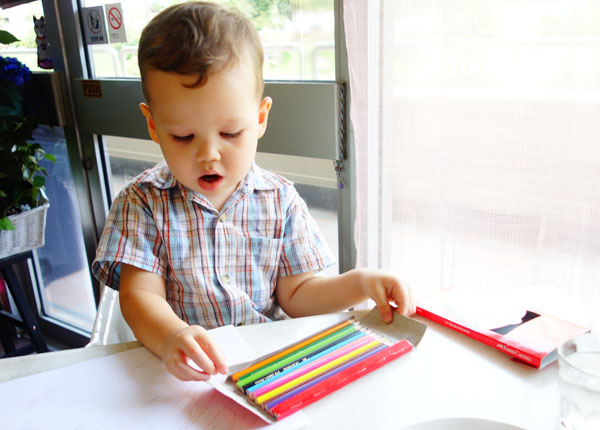 Complimentary warm baguette with salted butter. There is much to be said about a restaurant that serves complimentary chilled water AND a bread basket. It is SO appreciated, especially because we all know about kids and their insane obsession with carbs….. Hunter self-buttered each slice and… errr…. ate the whole basket.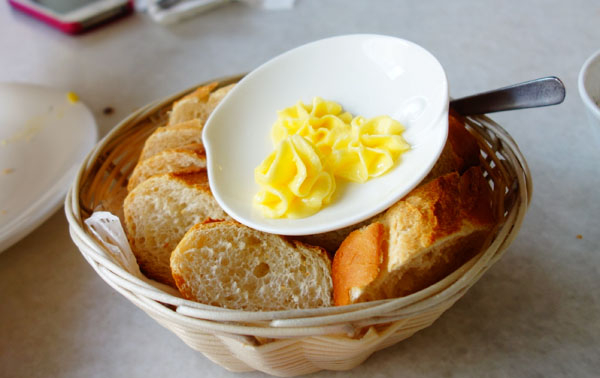 Their Mushroom soup comes thick with mushrooms, and is served piping hot.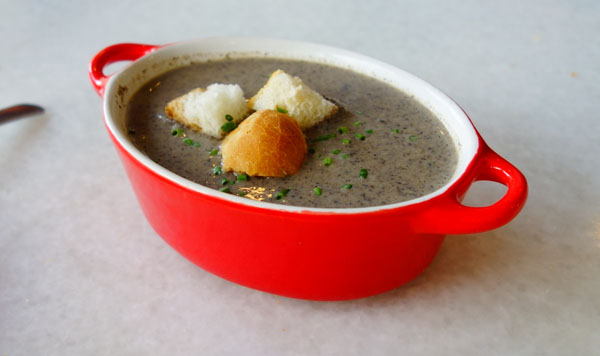 I was initially disinterested with the Mushroom risotto when it arrived. It's a vegetarian dish – not my cup of tea 😉 But…. I LOVED it when I had a bite, and proceeded to scoop more onto my plate 😉 The dish was laden with fat chunky mushrooms (of various varieties), draped with creamy risotto rice and perked up with shaved Parmesan. Oooo… it was delicious! The sweetness of the mushrooms really came through, contrasting with the softness of the buttery risotto.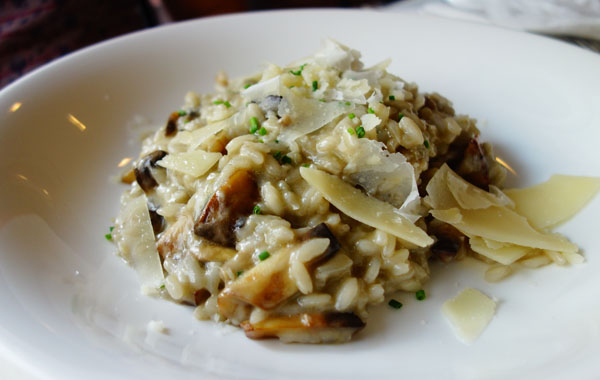 We were so impressed with their Steak frites. The shoestring fries were a hit with Hunter (no surprise there), but it was the steak that I loved. It was meaty, and a great bite, and was served with just a small dollop of herbed butter so the beef flavour really came through. It was cooked to perfection. Served at a sizeable portion, this is great if you're into red meat.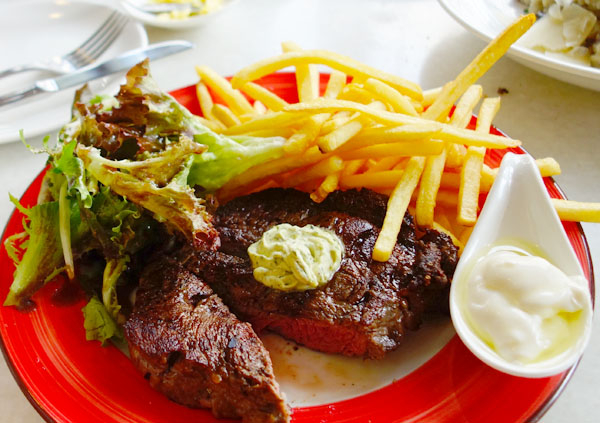 And… what I thought was the best dish.. the Duck confit pasta. I think this is one of the best pastas I've eaten – ever. The spaghetti was cooled el dente, enveloped in a light cream sauce (that was not too thick or overpowering), and scattered with Parmesan. But it was the duck confit that had us reeling – it was astonishingly tender and moist, and in FAT chunks! In fact, I ended up with lots of duck left over, and not much noodles to go around 😉
An absolute must-order!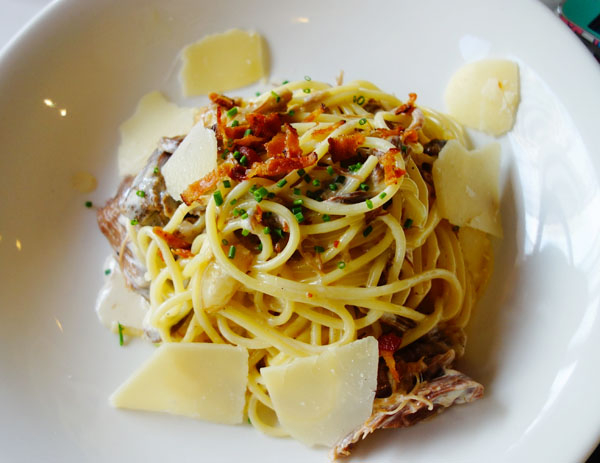 Last Bite: The French Ladle offers home-style French food that is absolutely delicious. We never fail to leave impressed. Their Duck confit pasta is a winner in our book!

Highchairs: Yes
Easy access: Yes
Change tables: No
Kids' menu: No
The French Ladle
2 Pandan Valley
Pandan Valley Condominium #01-206
Singapore 597626
Phone: 6467 7505
Prices: $$$
Hours:
Tue – Fri: 12:00 pm – 3:00 pm, 6:00 pm – 10:00 pm
Sat: 11:00 am – 3:00 pm, 6:00 pm – 10:00 pm
Sun: 12:00 pm – 3:00 pm, 6:00 pm – 10:00 pm