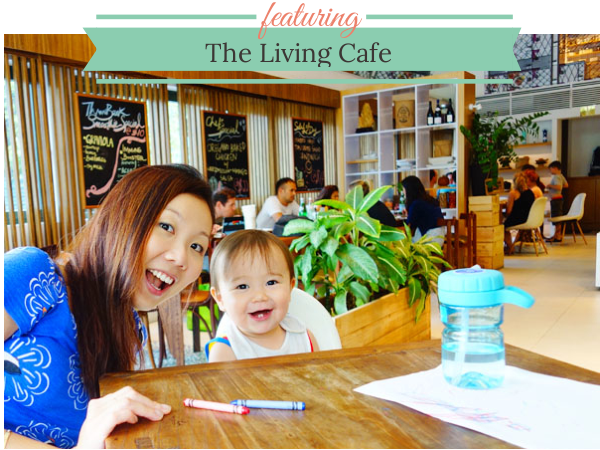 Remember I visited The Living Cafe a couple of weeks ago? Back then, all I had was a Soy latte, which is a pretty poor effort for a food review 😉
Well, I went back! With Chris in tow! He was both horrified and interested at The Living Cafe, after learning that they do no red meat, no cow dairy, no white sugar, no preservatives, no additives, no artificial colorings and include gluten free alternatives on the menu. The specialise in raw food, or raw-fusion food. And that sort of spiel is enough to make a grown man shudder 😉
And it was surprisingly packed out on a weekend brunch. Almost every table consisted of at least one foreigner, so I suppose it's pretty hot with the expat community. I don't think your typical 'ol local Singaporean auntie or uncle is going to be able to stomach this kind of food.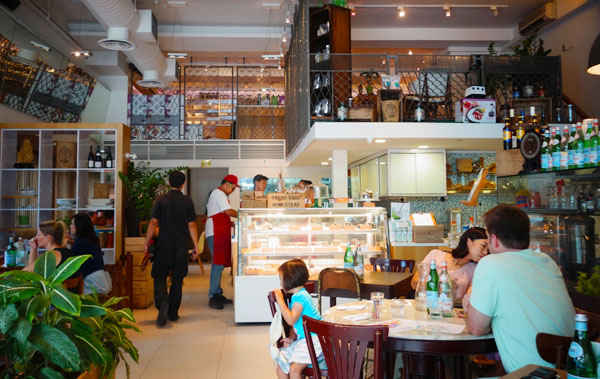 I didn't realise the last time I went, but the cafe provides colouring paper and crayons for kids, which is popped on a small stool near the front entrance. It's actually the kids menu (which looks good), but Carter had a grand ol time scribbling all over it with gusto.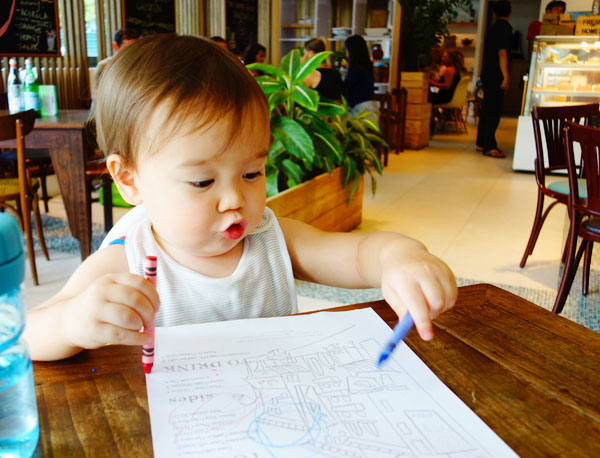 I had a Flat white with hazelnut milk ($5.50) and, I gotta say, it's way better than soy milk. It basically tasted like it was made with regular milk! Sadly though, no nice foam art so the coffee looked pretty basic, and it was served in a tiny cup.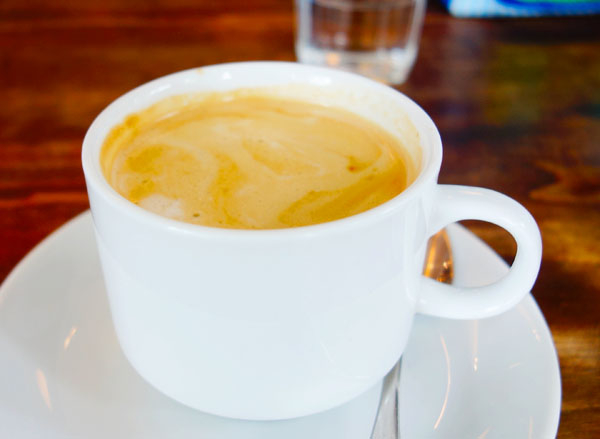 The 6th Avenue rosti ($20) Sweet potato rosti, smoked salmon, avocado, poached egg, wasabi mayo was outstanding. TRULY AMAZING. I personally thought it was one of the best brunch rostis I've had. The sweet potato used is a winner (as compared to the regular potato version), and the egg was poached to perfection. The avocado (it was originally asparagus but I swapped it to avocado) was perfectly ripened, and the whole dish was a luscious explosion of sweet and salty, crisp and creamy.
The portion size is very small, and would be best made 50% larger, but at least it is kick-ass amazing.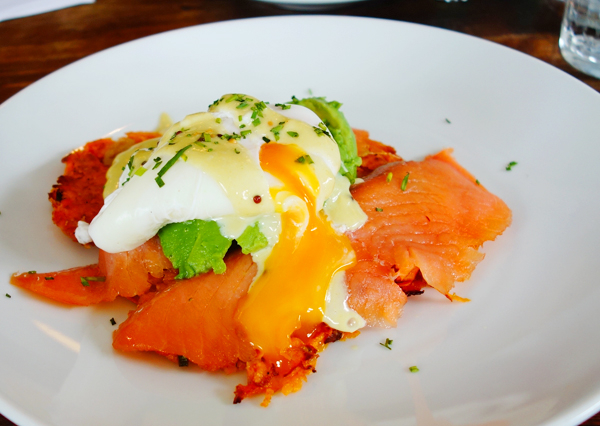 Chris opted for the Hormone free chicken, onions, goats cheese, cashew cheese pizza ($20), and it actually did come out looking like a pizza! The base, however, didn't taste like a regular pizza base. It has more of a pita texture and floppiness (it's very thin), and very grainy because of all the wholemeal flour used. I'm not saying this is bad, but it was just very different to regular pizza dough. If you're aware of this and embrace the fact, you'll like it 🙂
The toppings were delicious – the chicken was tender and chunky, and the cheese gave it the necessary kick of flavour. The pesto was a little on the skimpy side, so the edges became a tad dry (because, again, the wholemeal flour is different to regular pizza dough).
Still, a very impressive effort to recreate a healthy wholemeal pizza, and it was pretty good!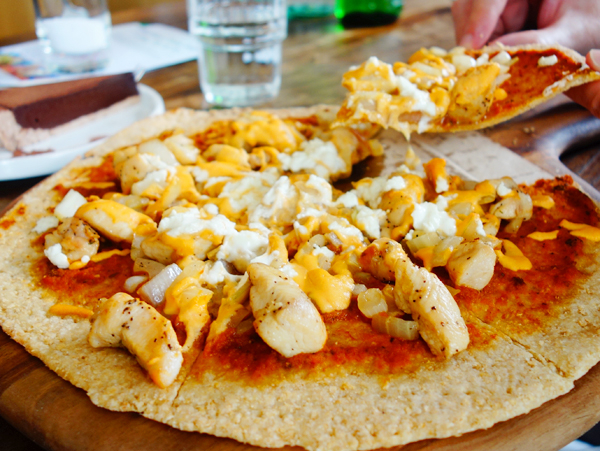 Oh boy, their Raw chocolate ganache tart ($8.90) is fabulous. Ask for it to arrive with your food, and set it aside to come to room temperature by the time you finish your mains. It's not chocolate, it's cacao, but it damn near tastes just like chocolate! Very rich, very creamy chocolate, in fact.
The base is a mix of nuts and coconut oil, so it does give off a strong coconut flavour. I normally don't like coconut, but this sat well with me. It's a bit chewy, a bit crumbly, and very good paired with the rich creamy chocolate.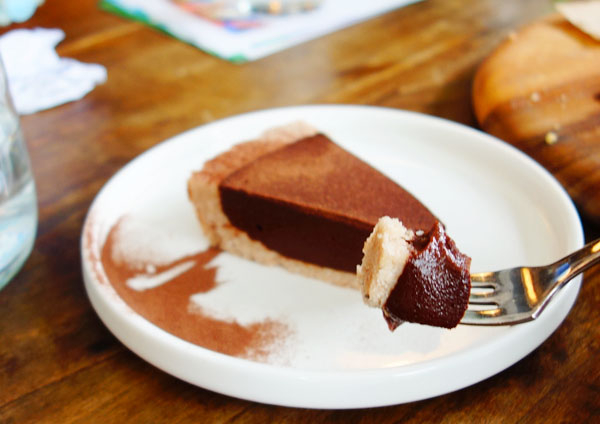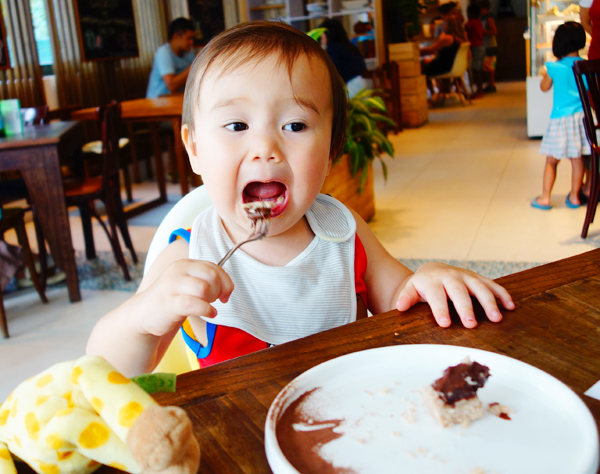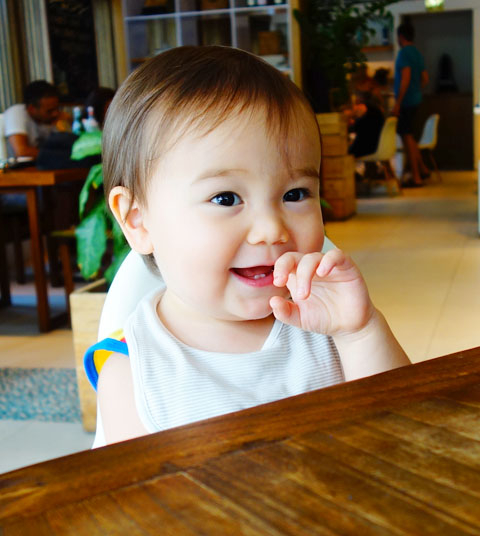 Last Bite: The Living Cafe's brunch menu truly impressed us with it's thoughtfully cooked and delicious food. Their 6th Avenue Rosti is a mustorder!

Highchairs: Yes
Easy access: Yes
Change tables: No
Kids' menu: Yes
The Living Cafe
779 Bukit Timah Road
Singapore 268759
Phone: 6762 8029
Prices: $$$
Hours: Mon: 11:00 am – 7:00 pm, Tue – Fri: 11:00 am – 10:00 pm, Sat: 9:00 am – 10:00 pm, Sun: 9:00 am – 7:00 pm