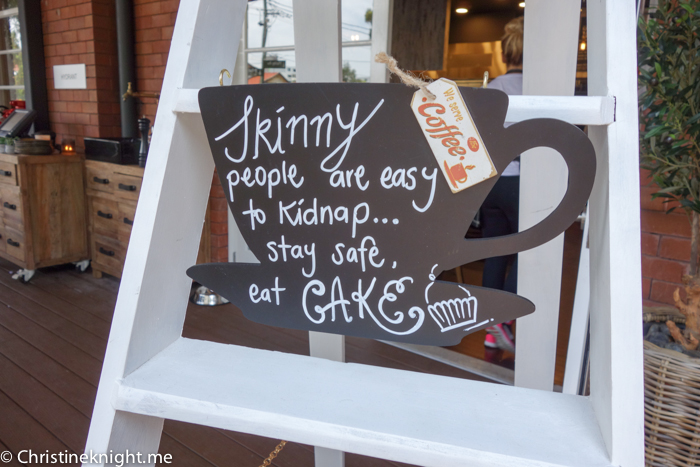 Rosebery in Sydney's inner east has been exploding lately with new cafes. The latest I've noticed is 5th Earl Rosebery, a cute little place that opened a week ago near to my favourite Black Star.
When I saw the sign encouraging cake eating, I knew we had to try it out.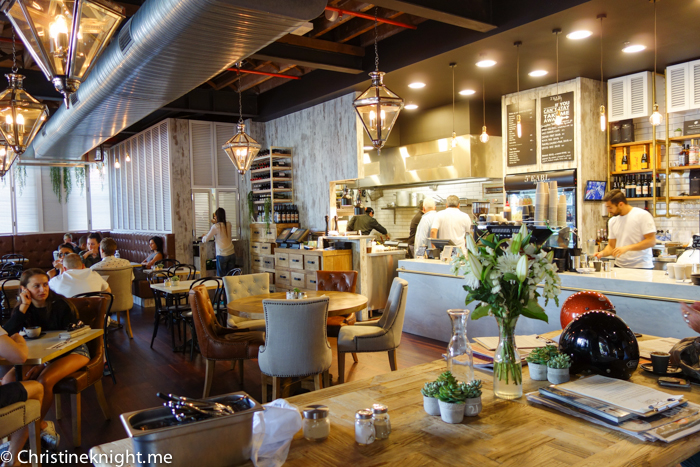 The cafe has a large indoor and outdoor area with plenty of tables and space. It has a bit of an eclectic vibe, with miss matched chairs and chalkboard menus.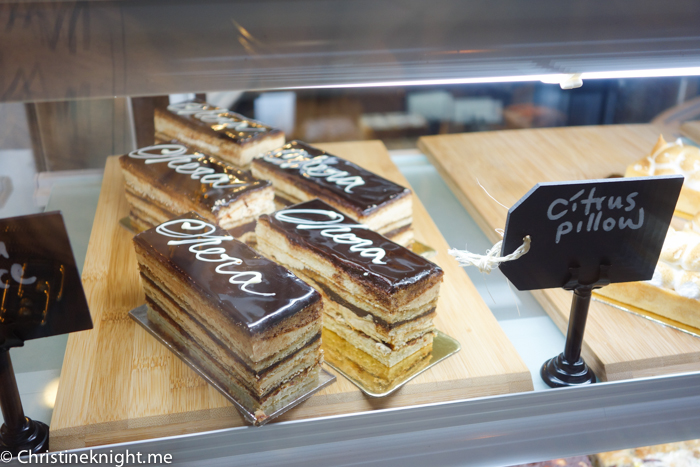 At the counter lives a delicious looking assortment of pastries, including croissants by Grumpy's.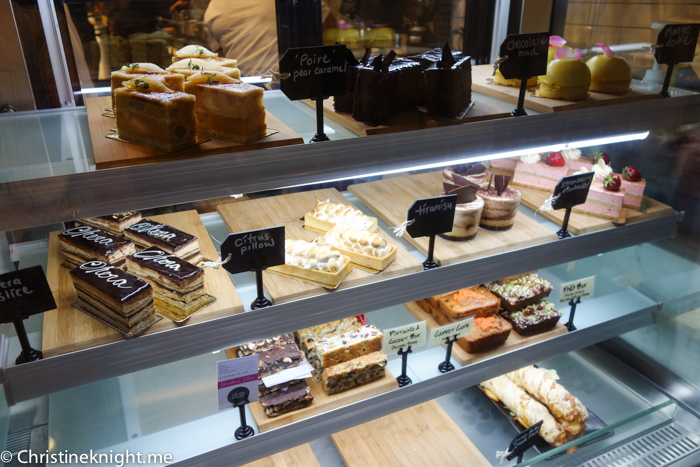 We arrived during a particularly busy period and were delighted by the particularly good service. I'm pretty sure it was the owner who greeted us and cleared a table for us pronto, on the outdoor baloney area (always my fave place to sit cos the lighting is better!). The balcony is completely covered, so no chance of sunburn in high summer.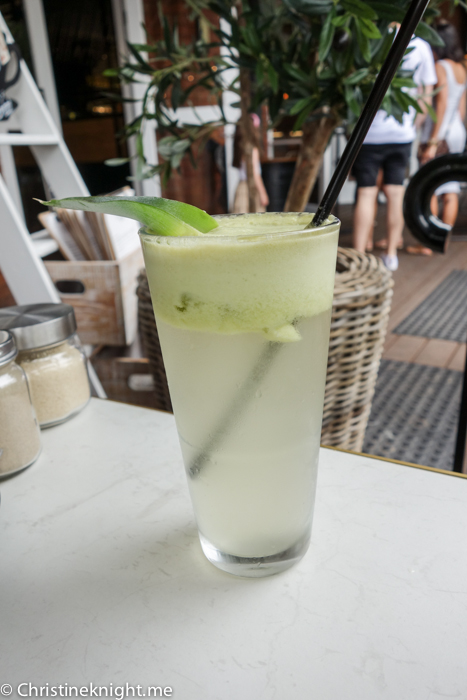 We ordered a fresh Apple Juice ($6), kids' Bacon And Eggs (with bread soldiers, $9), Zucchini and Corn Fritters (with asparagus, shaved Spanish ham – exchanged for avocado – roasted tomatoes, 2 poached eggs and pomegranate molasses, $17) and the Burger (with fries, price unknown).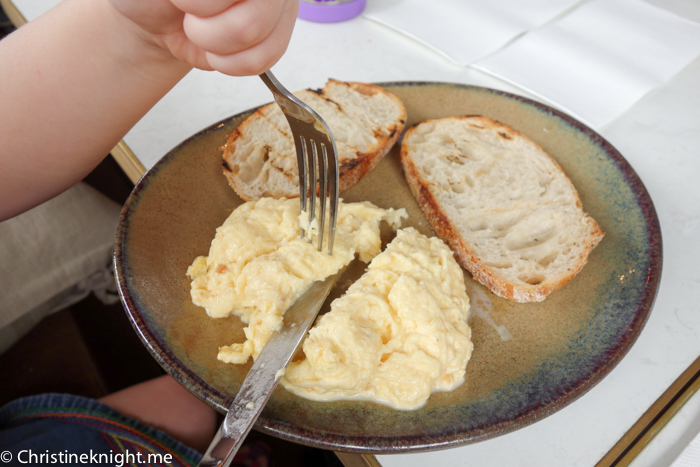 The eggs were a large serving and come in a choice of fried, poached or scrambled. We don't eat bacon, so that's not in the picture.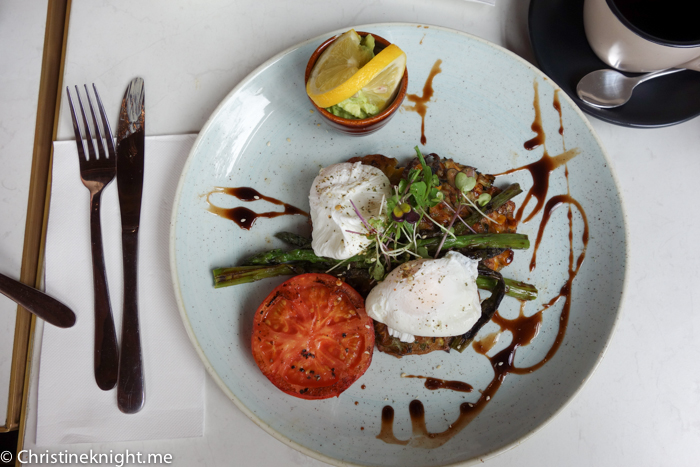 I appreciated the option to swap the ham for a vegetarian ingredient. I really enjoyed the fritters. The asparagus was a nice touch (love asparagus!), the roasted tomato was nice and juicy and the eggs perfectly poached.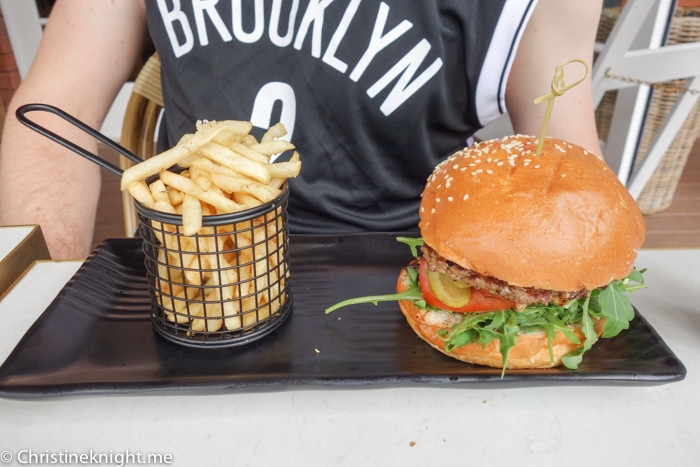 Alec's burger was a great size with a cute little container of fries. The apple juice was deliciously sweet. Really once of the nicest juices I've had in a long time.
The service was particularly noteworthy. After sitting down next to a large group, we were told that it would take 20-25 minutes for our meals and did we still want to wait. I really appreciated being told, particularly with the little one who has a short attention span.
The staff kindly put through Cheese's dish quickly and ours followed soon after. Despite the warning of a long wait, the food all came out within 15 minutes of ordering. The staff repeatedly came and checked on us and our meals too, in case we needed anything. It's service like this that turns curious diners into regulars.
Highchairs: Yes.
Stroller storage: Yes.
Easy access: Yes.
Change tables: No.
Kids' menu: Yes.
5th Earl Rosebery
34 Morley Ave,
Rosebery
Phone: (02) 8338 1110
Prices: $$
Hours: Daily 6:30am-3:30pm
Get Directions